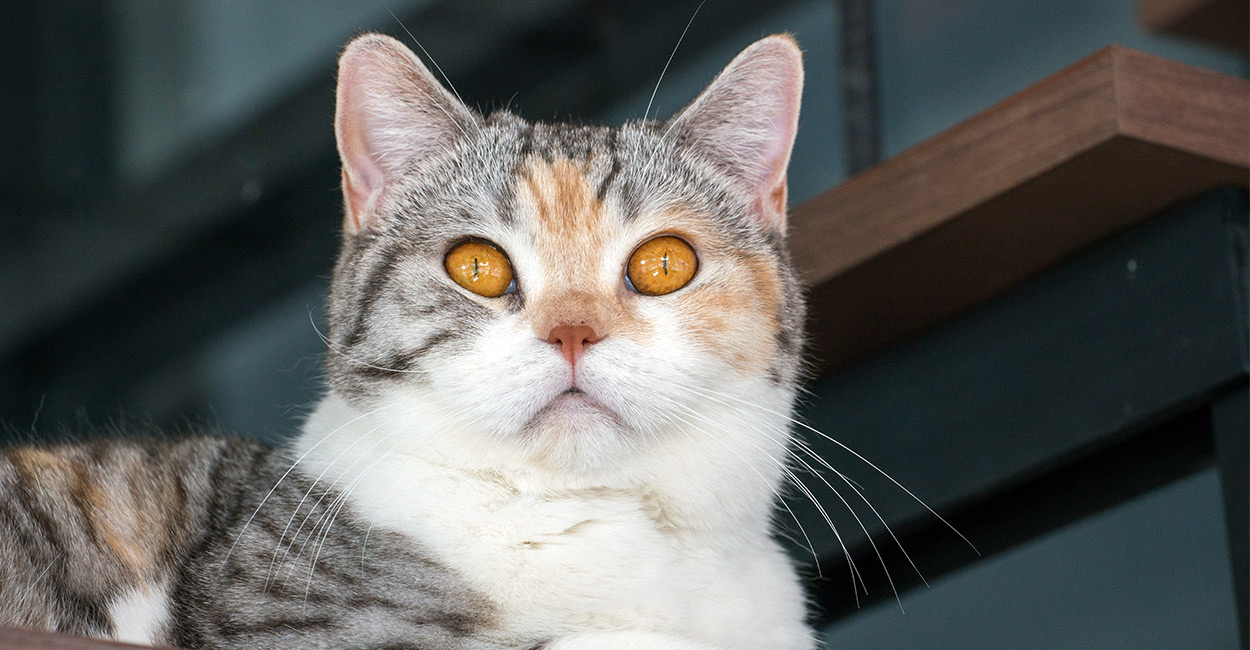 The American Wirehair cat is an unusual breed of domestic cat with dense, springy and slightly crimped fur. The Wirehair is a medium sized cat, with a sweet, calm temperament and comes in a wide range of colors.
As a relatively new breed , it can be hard to find all the information you need in one place, but this article has it all!
We will look at the history behind the American Wirehair cat breed, and discuss its looks, health, and personality.
All so you know exactly what you're getting if you decide to buy an American Wirehair kitten.
This research is a great way to make sure you're getting a cat that will suit your family, and a good way to make sure you're choosing the best breeder!
To start things off, let's look at the history of the American Wirehair!
What is an American Wirehair cat?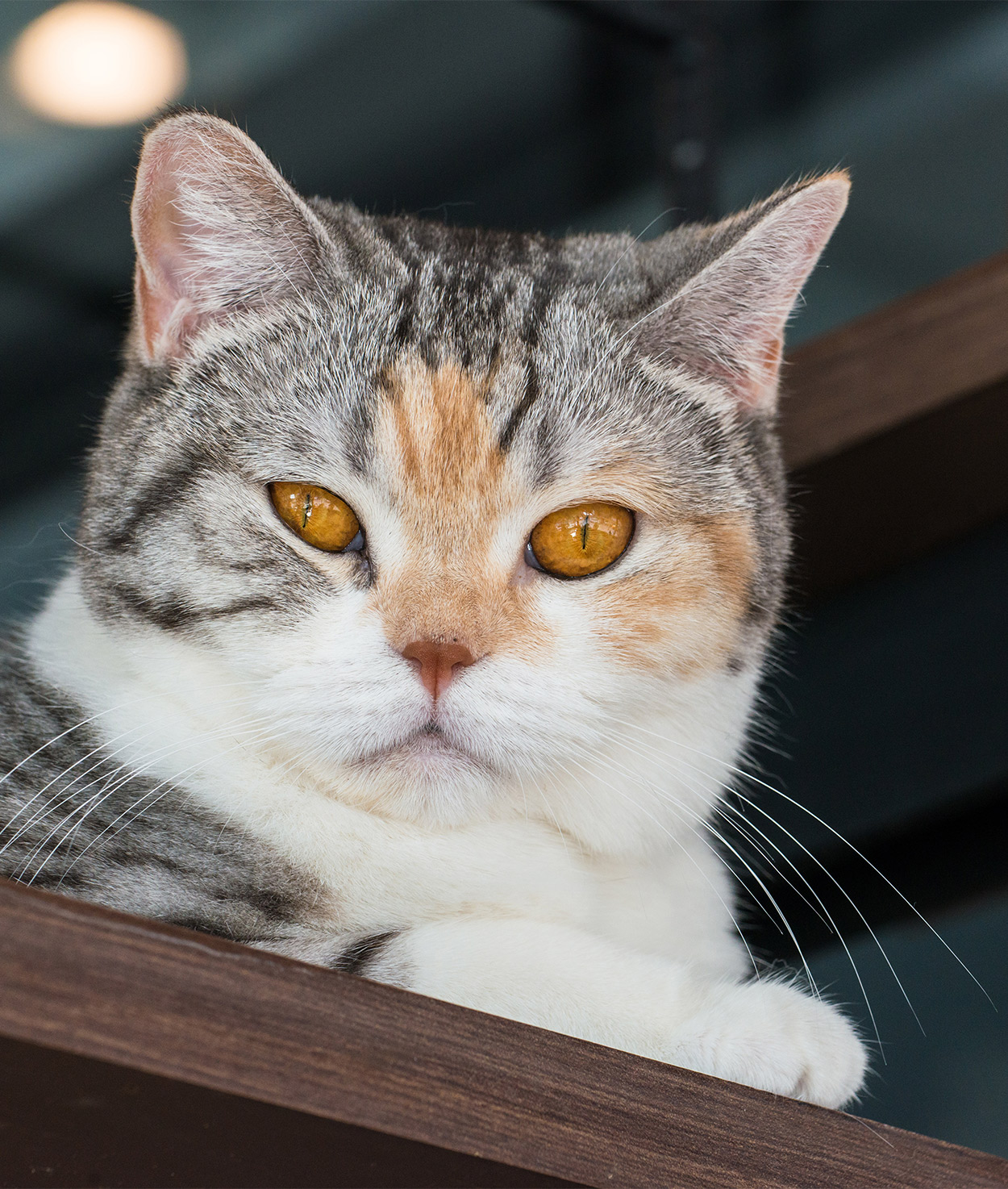 American Wirehair cats, as you can probably guess from their name, originate in America!
Specifically, from a litter born at Council Rock Farm in New York back in 1966.
The parents of this litter were ordinary, normal-coated domestic shorthairs, but a genetic mutation caused one of the kittens to be born with wiry hair and crimped whiskers!
This kitten was given to a neighbor of the farm owners, who bred it on to produce more kittens with a similar, coarser coat.
The rise of the American Wirehair cat
The gene that gives American Wirehairs their uniquely thick, steel-wool like fur is dominant.
This means that if an American Wirehair has kittens with any another cat, the litter could contain some, or all, wirehair kittens.
So it was quick and easy to breed further American Wirehair, and the breed is now gaining popularity across America and other countries, like Canada.
It's loved for its unique fur, which can appear crimped, giving it a much different look to other cats!
Wirehair cat characteristics
American Wirehair cats seem very similar to the American shorthair at a first glance, but their coat distinguishes them.
They are medium-sized cats, built in a distinctly average cat shape (not that that's any bad thing!)
The main feature that distinguishes the American Wirehair breed is their steely fur, although the degree of coarseness can vary.
Just because the cat's coat is wiry does not mean that it isn't soft like other breeds!
American Wirehairs still have soft fur, but it will spring back into place once touched.
A wide variety of coat colors
Although the fur of the American Wirehair breed will always be wiry and crimped, it can vary hugely in color and pattern.
Most American Wirehairs have short, thick fur, but occasionally they are bred to have longer coats, especially if they are to be used in shows.
Their fur can come in the full spectrum of colors, so you're spoilt for choice.
If there's a particular pattern or color you would prefer, you might be able to find exactly what you want when you're searching for a kitten!
American Wirehair cat personality
The personalities of American Wirehairs mean they are a great breed choice for families with children
They are relatively calm cats, and typically very easy going, which is part of what makes them so good with children.
However, they do also have a playful streak, and are intelligent cats, so are likely to show off an inherent curiosity about the world around them.
This playful, energetic streak also extends to their hunting instincts.
Your American Wirehair will enjoy roaming around outside hunting birds and other small creatures, or attacking its toys while it plays with them!
Wirehair cat health
A careful breeding programme, has helped to ensure that this is so far, a relatively healthy breed.
Which with a little luck means your American Wirehair may need less medical care over the course of their life than some other breeds with a high rate of inherited diseases.
However, this does not mean that your American Wirehair cat will never fall ill.
Genetic health
American Wirehairs are still quite rare and this is not ideal when it comes to genetic health.
A study published in the Journal of Feline Medicine and Surgery in 2015 found that crossbred cats have a higher longevity than purebred cats.
This is not surprising as small populations always increase the risk of new diseases appearing and American Wirehair breeders need to be mindful of this over the coming years.
General healthcare
Just because inherited diseases have not yet been recognized in the breed, it doesn't mean every cat is guaranteed a full healthy life.
You should still watch out for anything unusual in your cat's behavior and maintain regular checks with your vet.
You'll also need to take some steps to ensure that your cat's skin remains healthy and free from infection (see grooming section)
Preventing illness and accidents
Regular vaccinations are important, even for cats that live indoors.
Before you decide whether or not to let your cat enjoy the outdoor world, it's important to have them neutered.
Kittens can start breeding at an early age, have several litters a year, and are more likely to stray and get into fights than neutered cats.
Do check on the types of predators in your location. In some parts of the world outdoor cats are vulnerable to large birds, coyotes and other larger predatory animals
Although this breed has no known hereditary health issues so far, it does have some important grooming requirements that any potential owners should be aware of
The next section will deal with these needs in more detail.
American Wirehair grooming
The natural fur of the ancestors of our domestic cats is short, dense and has a fairly weatherproof surface.
This 'natural' fur type is still the default in most cats and needs very little care and attention from humans.
However, when we breed cats with different or unusual types of fur we risk disrupting the natural order of things and purebred cats with special fur, often need special care and can be prone to skin problems.
Because American Wirehair cats have thicker, coarser fur than other breeds, their fur needs to be looked after.
Despite the thickness of individual fur strands, American Wirehairs have delicate coats, and they need to be treated with care.
The kinks in the individual hairs can leave them prone to breakage, so your cat's fur becomes sparser than normal, even for an American Wirehair!
Looking after an American Wirehair cat's skin
Some of the main issues American Wirehairs can have concern their skin: many American Wirehairs are prone to sensitive skin, or even oily skin.
To tackle these problems, you should gently and regularly bathe your cat with a mild, vet-recommended shampoo.
This is a better solution than brushing your American Wirehair, as brushing its fur can cause further breakage.
Skin sensitivity can also mean that these cats are vulnerable to sunburn if they are left outside unprotected against the sun.
Cleaning an American Wirehair cat's ears
Additionally, the thick hair can lead to an excessive buildup of wax in your cat's ears.
If this happens you should use a cotton bud to gently remove extra wax.
Your vet can show you the best way to do this if you're worried about hurting your kitty's ears!
American Wirehair lifespan
The lifespan of American Wirehairs will vary depending on each cat, so it's difficult to pin the lifespan to an exact year.
However, they are known to live anywhere from 14 – 20 years – a similar lifespan to American Shorthairs!
This makes them a great choice for families that want a cat that will be a long-term pet, one that will become a part of the family itself!
This potential lifespan means you must be prepared to own and care for a cat for a long time!
American Wirehair kittens
American Wirehair kittens are usually sold between twelve and sixteen weeks of age.
These kittens will already be showing their wiry fur, sometimes even looking as if their fur is crimped!
American Wirehair kittens can come in a variety of colors, and this can be a huge factor that influences your choice!
The patterns on their fur, and its color, will depend on the characteristics they inherit from their parent cats.
American Wirehair price
If you're liking the sound of American Wirehairs as a choice for your new pet so far, you need to start considering how much it will cost to get one!
Like any other breed of cat, you will need to be prepared to pay for any vet appointments, inoculations, flea treatment and worming.
And don't forget cats also need food, toys and bedding.
Once you know you're able to provide all of this, you'll need to know the price of a kitten!
Generally, the price of American Wirehair kittens can range from as little as $800, to as much as $1200.
This price will usually depend on the breeder you choose, but you need to remember a high price does not necessarily guarantee a healthy, happy kitten.
You will always need to put a bit of research into the breeder you choose and the condition of that cats they use – we will cover this in the next section.
American Wirehair breeders
When choosing a breeder from which to get your American Wirehair, you should never be afraid to research them!
Don't be embarrassed to ask a breeder for references and testimonials – they'll be happy you asked!
A good breeder will love to hear that you are committed to being a good cat parent.
When you visit them, check out the conditions the parent cats and kittens have been kept in.
The litter's mother should clearly be a well-loved family pet, in good health, and who knows their own name.
Is an American Wirehair cat right for me?
Any cat – even the easy going and robust American Wirehair – is a big commitment.
American Wirehair cats are quite people-oriented, and they thrive with interaction and attention.
They might not be the best choice if you and your family are all out at work all week, or will be spending large amounts of time travelling away from home.
If they are left to get bored and lonely during the day, you might find when you get home that the fun they've created to pass the time was rather destructive!
If you have other pets, you don't need to rule out the American Wirehair – this breed's easygoing nature extends to its nature around other animals.
Most importantly, you should make sure you have enough time to commit to keeping your cat's fur well-groomed and looked after.
If you think you can provide the American Wirehair with the right environment for a happy life, and to look after its distinctive fur, it sounds like this breed is perfect for you!

Do you own an American Wirehair cat?
If you have an American Wirehair cat, tell us about them in the comments!
How did you find looking after their coat?
Do you have any tips for people who are looking to bring an American Wirehair into their family?
Sources
O'Neill et al. Longevity and mortality of cats attending primary care veterinary practices in England. Journal of Feline Medicine and Surgery 1015