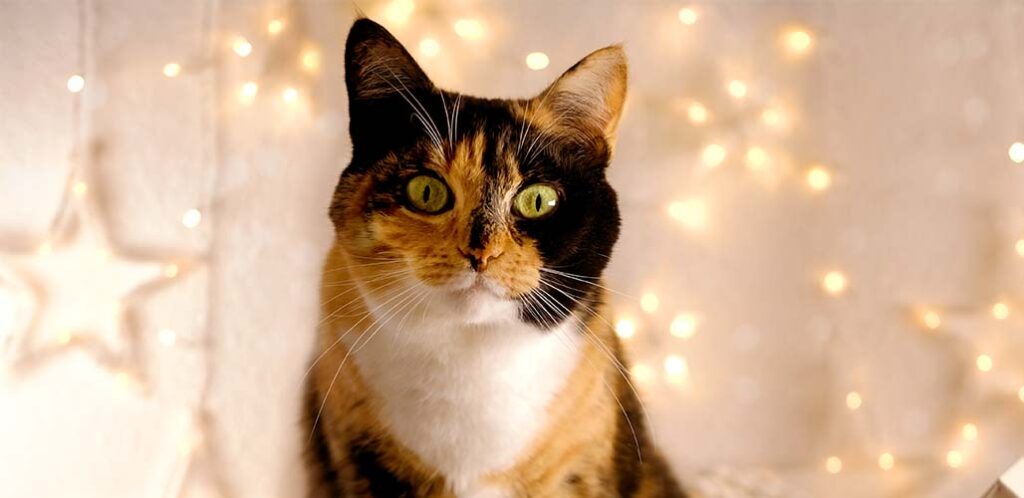 How big do tortoiseshell cats get? The tortoiseshell pattern appears in a variety of cat breeds, which means tortoiseshell cats (or torties) can come in a range of sizes. Your cat's size will depend on her breed, rather than her color pattern. Even though most torties are girls, some breeds can be very large, weighing up to 25 lbs! But, because there's so much variation, it can be hard to predict your cat's size without looking at their breed instead. In this guide, I'll take a closer look at tortie size, and some tips to predict how large your kitten is going to grow.
Contents
How Big Do Tortoiseshell Cats Get?
On average, domestic cats weigh approximately 12 pounds and are about 28 inches long from nose to tail. Because torties are not limited to one specific breed, the same average sizes apply. However, because this is only an average, tortie can also be much larger and much smaller than this.
The tortoiseshell pattern occurs frequently in Maine Coons. And a healthy Maine Coon can weigh up to 25 pounds. On the other hand, many torties are Cornish Rex cats. Cornish Rexes usually weigh between 6 and 9 pounds. Torties that come from larger cat breeds get big, but others do not. Factors like gender and genetics are going to have a larger impact than fur color or pattern!
Do Torties Have Big Attitudes?
Tortoiseshell cats tend to have big attitudes, regardless of breed. The legendary personality of these cats is known as, "tortitude". Studies have confirmed that cats with tortoiseshell fur are feistier than cats with other colorings. Still, each tortie has her own personality. As all cat owners will tell you, every cat is special. Torties are no exception.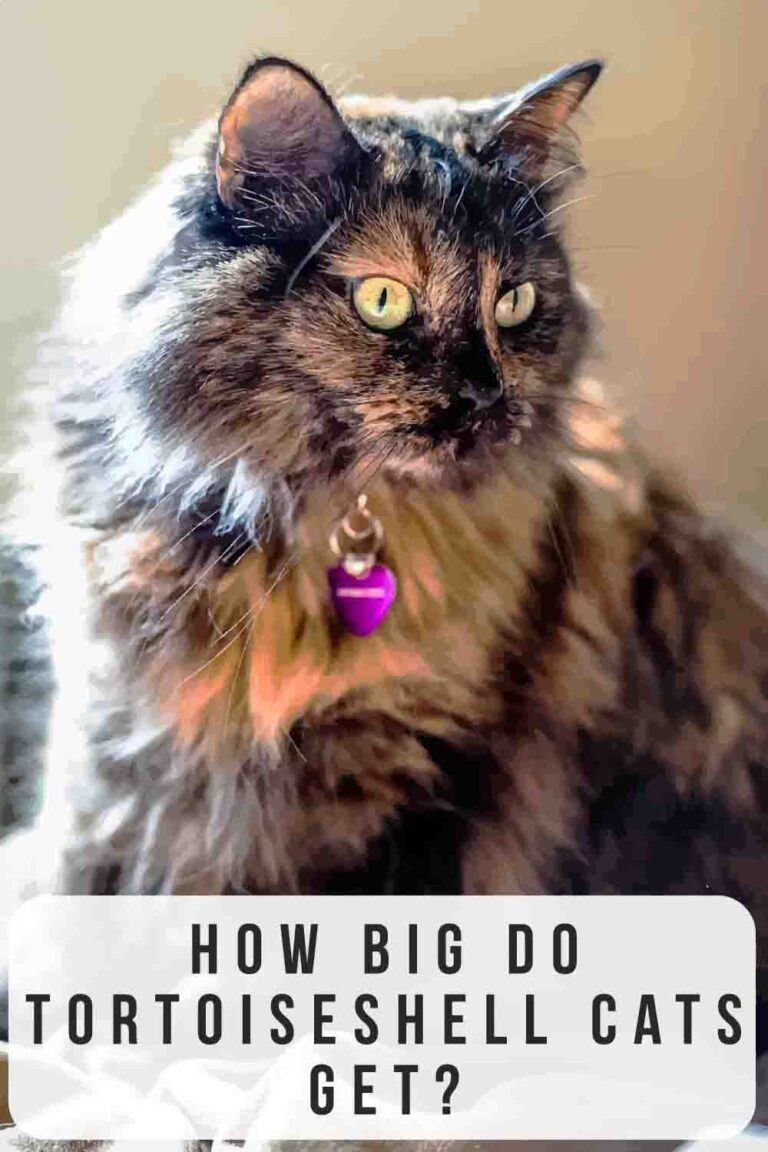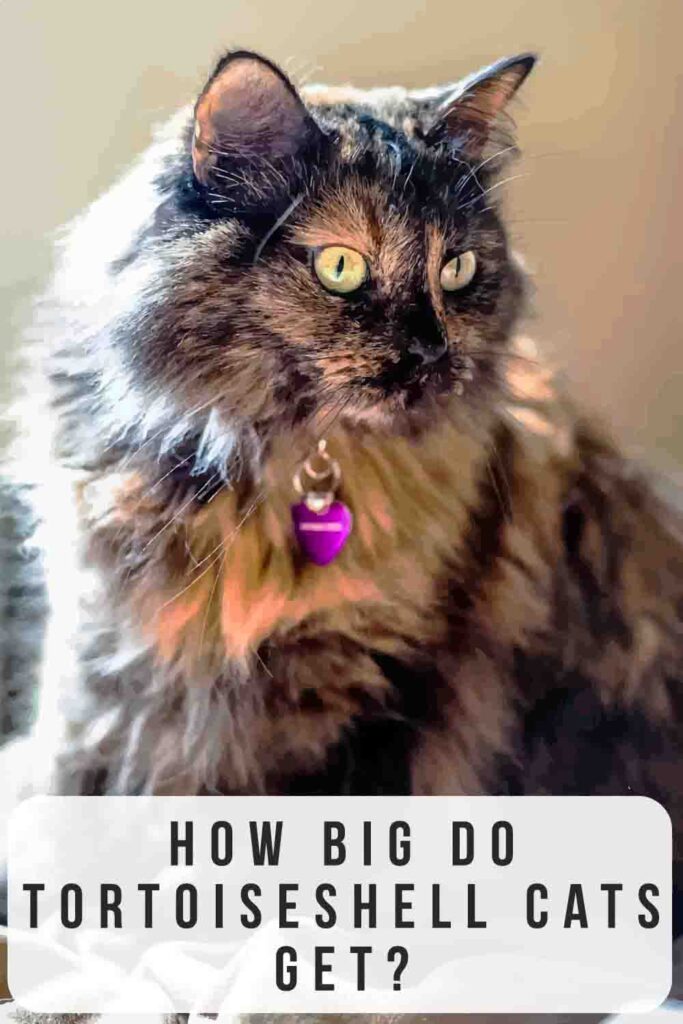 Do Tortoiseshell Genetics Affect Size?
Yes and no. Most tortoiseshell cats are female because the gene that determines the color of a cat's coat comes from the X chromosome, and female cats have two X chromosomes. In tortoiseshell cats, one X chromosome says one color, and the other X chromosome says another color, resulting in the tortoiseshell pattern (or the calico pattern). In other words, female tortoiseshell cats can get a different color from each parent.
While these specific feline genetics give some cats interesting coats, they don't affect their size. Rather, the size of your tortie comes from her breed, which is also determined by genetics but not necessarily by X chromosomes.
This stuff may seem complex, but don't worry! You don't have to get too wrapped up in genetics to know your tortie will be a stunning sweetheart. If you're really lucky, you may even get a male tortoiseshell cat with an XXY mutation – these guys are truly 1 in 3,000.
Does Gender Affect Size?
You bet! Tortoiseshell cats are almost always female, so they will typically be slightly smaller than males – even males of the same breed. Like most other mammals, male cats are bigger than female cats.
However, while gender may influence your tortoiseshell cat's size, it will not determine it because cats are generally about the same size. Also, I don't have a tortoiseshell, but I do have a tabby, and she is huge – bigger than any male cat I've had so far. That being said, I don't know what her littermates look like, so her brother may well be bigger. Either way, it can be hard to tell how big your kitty is going to be by gender alone.
How to Predict Your Tortie Kitten's Size
You can estimate how big your tortie kitten will get by plugging her current age and size into an online calculator. You can also do a DNA test to discover your tortie's origin breed. Further, you can ask a veterinarian to examine your kitty and make an estimate.
Anecdotally, I could tell my cat was going to be big based on the size of her ears and paws, but this method certainly wasn't scientific. When in doubt, DNA tests and vet exams are the most reliable. You can also make a prediction by examining your kitten's parents, if possible. If size is important to you, consider adopting a purebred cat.
Remember, the calico pattern occurs in Maine Coons, Cornish Rexes, Persians, Ragamuffins, British Shorthairs, American Shorthairs, and other breeds, so you should have your pick of the litter.
How Big Do Tortoiseshell Cats Get? A Summary
Tortie fur can appear on many breeds of domestic cats, which means they come in a variety of shapes and sizes. Most tortoiseshell cats are female, and many come with "tortitude," so be prepared for a big personality no matter the size of your kitty. If you have just adopted a tortie kitten, and you want to know how big she will get, purchase a DNA test or ask your veterinarian to make an estimate.
The only way to know for sure how big (or small) your tortie is going to be is to choose a purebred kitten from your preferred breed. If you want a bigger cat, for example, opt for a tortoiseshell Maine Coon, and if you want a smaller cat, go with a tortie Cornish Rex.
Learn More About Torties
References