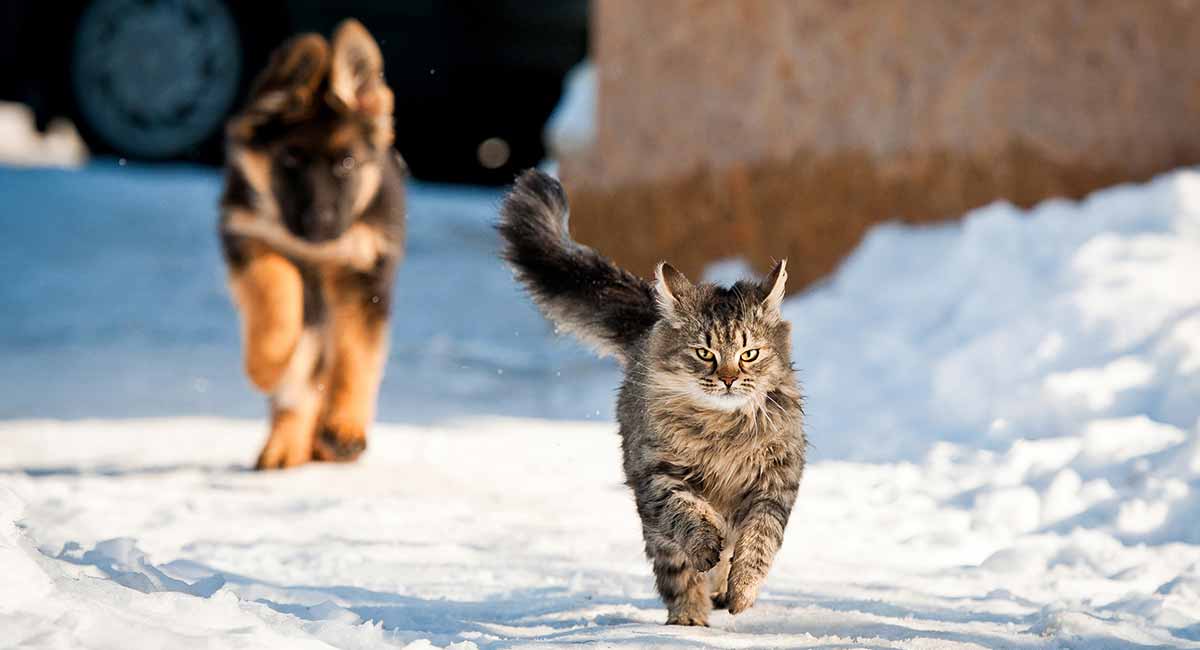 How fast can a cat run?
Cats make for loving, quirky companions. They have made their way into homes and hearts all around the world.
But the cat's history is decidedly wild, and these fuzzy critters have a lot of fascinating abilities.
One is their speed. Born hunters, cats of all sizes can move surprisingly quick. But how fast can a cat run?
The average cat speed might surprise you.
The Need for Speed
First off, why are cats fast?
In the wild, the modern cat's ancestors hunted to survive. Even today, farm cats and strays hunt birds, small reptiles and even bugs in order to feed themselves.
Since cats are so small, they obviously can't overpower larger prey like many hunting mammals could.
So, cats had to rely on speed—and cunning—to secure their catch.
The domestic cats that we know and love today still have those intense hunting instincts.
And with those instincts comes an ability and a desire to move fast.
How Fast Can a Cat Run?
Are you wondering how fast cats run?
The top speeds of cats depend on a variety of factors. Mostly, it depends on the kitten's genetics and breed.
Below, we've answered how fast cats can run in two sections: domestic cats and wild cats.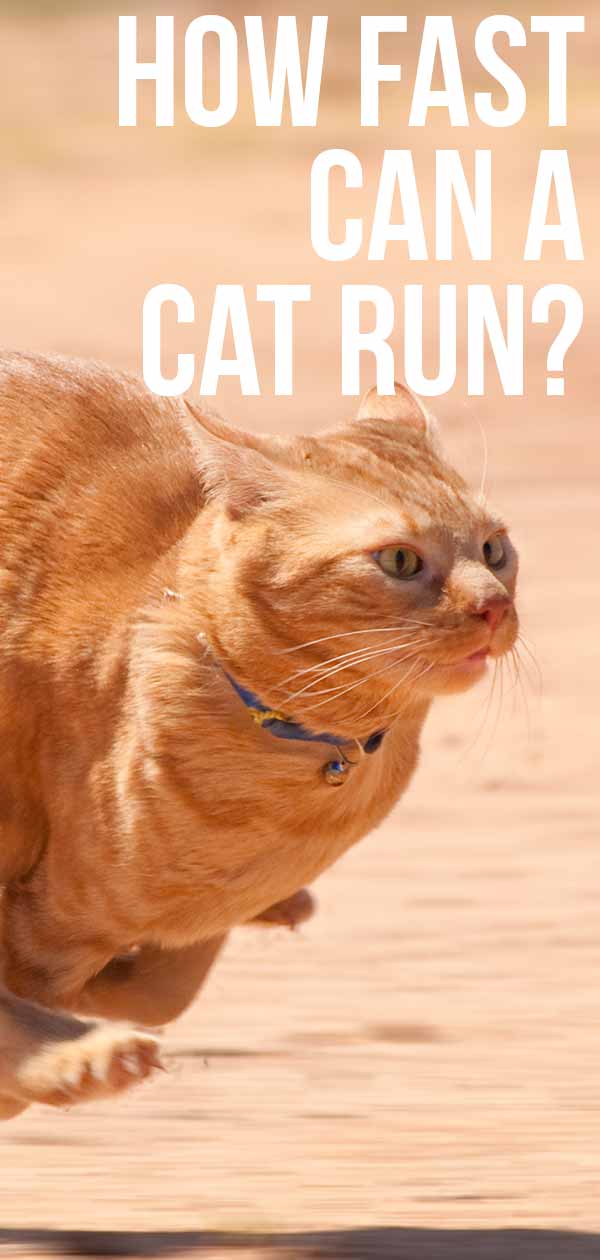 How Fast Can a Domestic Cat Run?
It can vary based on the cat's breed and genetics.
However, a domestic cat can run up to 30 miles per hour or about 48 kilometers per hour.
To put this in perspective, Usain Bolt, the fastest human alive, tops out at 30 miles per hour.
This means that the kitten snoozing on your lap might be as fast as an Olympic champion.
Now, keep in mind that these speeds are for very short distances. The cat is primarily a sprinter, not an endurance runner.
The top speeds vary by breed. VetStreet compiled a list of some of the fastest domestic cat breeds.
How Fast Can a Wild Cat Run?
Wild cats can potentially run even faster, although it depends on the breed and size of the cat.
If you think of a fast running cat, chances are your mind will jump to the cheetah.
We all know the famous cheetah, which can top out at 75 miles per hour for quick-burst sprints.
Cheetahs are so quick that they would outrun vehicles on most major highways.
And speaking of keeping pace with vehicles, the cheetah's acceleration is also incredibly impressive.
A cheetah can go from a dead stop (zero miles per hour) to 60 miles per hour in just three seconds.
For comparison, one of the fastest accelerating cars in the world, the $3 million Bugatti Chiron, has a zero-to-60 time of 2.5 seconds.
So years of research and development going into a $3 million dollar vehicle just barely beat the acceleration of nature's fastest animal.
Other wildcats have similarly impressive speeds.
The Lion, a much bulkier creature, can sprint up to 50 miles per hour.
How Do Cats Run So Fast?
All types of cats, from the legendary cheetah to the common domestic cat, are built for speed.
Nature's design, coupled with centuries of evolutionary progress, has built a body that's designed for quick-burst sprints and impressive acceleration.
Cats use their powerful hind legs, which have inspired designs for human robotic legs, and movement of their spinal column to enhance running speed.
Cats typically have flexible spines, which also contribute to their speed.
The spine of a domestic cat can compress slightly as the cat prepares to leap or sprint, which builds up a spring-like boost to their acceleration.
Cats also run in a different way than they walk.
While walking leisurely, the cat moves both left legs, then both right legs, and so on.
However, while running, the cat uses both back legs to spring forward, followed by both front legs and so on.
This gives the common kitten an impressive bound.
They move so fast that it can be hard to see. But next time your cat takes off, try to look closely at a feline's leg movements.
How Fast Can a Cat Run While Sprinting?
How fast can a cat run for short sprints?
Cats are sprinters, so their fastest speeds always refer to short-run sprints.
Thus, domestic cat speed for sprints is usually 20-30 miles per hour, depending on the breed.
Wild cat speeds for sprints is 20-70-plus miles per hour, depending on the breed.
The distance considered a "sprint" can also vary.
Generally speaking, most domestic cats don't like to run further than 50 or 100 yards.
You'll likely notice that even when cats enter their signature "crazy cat mode" and run around your house, they typically do so in short bursts.
How Fast Can a Cat Run for Long Distances?
How fast can a cat run long distances? The short answer is not very fast.
Cats are sprinters, plain and simple. They are not built for endurance.
For instance, the cheetah's legendary 75 miles-per-hour speed is limited to very short distances, usually maxing out at about 600 yards/550 meters.
In order to obtain such insane speeds, the cheetah's heart rate skyrockets to dangerous levels.
After just a few seconds of sprinting, the cheetah must rest to avoid brain damage or cardiac arrest.
The cheetah's incredible sprint speed is an example of specialization in nature.
The legendary runner has evolved for ultimate speed and little else.
In fact, some experts believe that the cheetah may represent overspecialization.
They are so fine-tuned to sprint speed that they have little else to aid in their survival.
For instance, cheetahs often successfully kill their prey, but then lose it to bigger animals.
The cheetah is not strong enough to defend itself from larger animals, like lions.
And the cheetah must rest for several minutes before it can eat.
While less extreme, the domestic cat's distance speed is similarly hampered by their natural design.
Cats have impressive quick-burst energy, but they are not endurance runners.
Particularly in the modern age, domestic cats have little reason to run fast for distances more than a few dozen yards, at best.
Even when faced with a dangerous situation, like being chased by a predator, most cats choose to hide or climb rather than run away.
The feline's superior climbing ability, speed and cunning make them difficult for predators to catch.
However, if faced with a lack of places to hide or climb to safety, a domestic cat struggles to outrun most predators.
Factors Influencing a Cat's Running Speed
The biggest factor in determining how fast can a cat run is the cat's genetic makeup.
Certain breeds are simply faster than others, while others are built more for cuddling on the couch than for high-speed hunts.
Another factor is the cat's activity level.
If your cat is generally active and spends time outside, chances are it will maintain more speed than her homebound peers.
Some cats can get pretty lazy over time, which may slow them down.
Whether that's a matter of actual changes to their physique, or just pure laziness, is a matter of debate.
Of course, a cat's age also comes into play. Cats obviously lose some speed and flexibility as they age.
Cat Running Speed Summary
Cats are built for speed but only for short distances.
Your average domestic cat likely tops out at 20-25 miles per hour, while some breeds can reach up to 30 miles per hour.
Wild cats are even more impressive, with speeds of 30-75-plus miles per hour.
So, if your cat ever challenges you to a race, say no. Or at least insist on an endurance race.
References and Further Reading:
"Basic Facts About Cheetahs," Defenders of Wildlife
"Cheetah," National Geographic
Kim, Y.K., et al., 2014, "The Role of Relative Spinal Motion during Feline Galloping for Speed Performance," Journal of Bionic Engineering
Park, J., et al., 2014, "Design of Biped Robot Inspired by Cats for Fast Running"