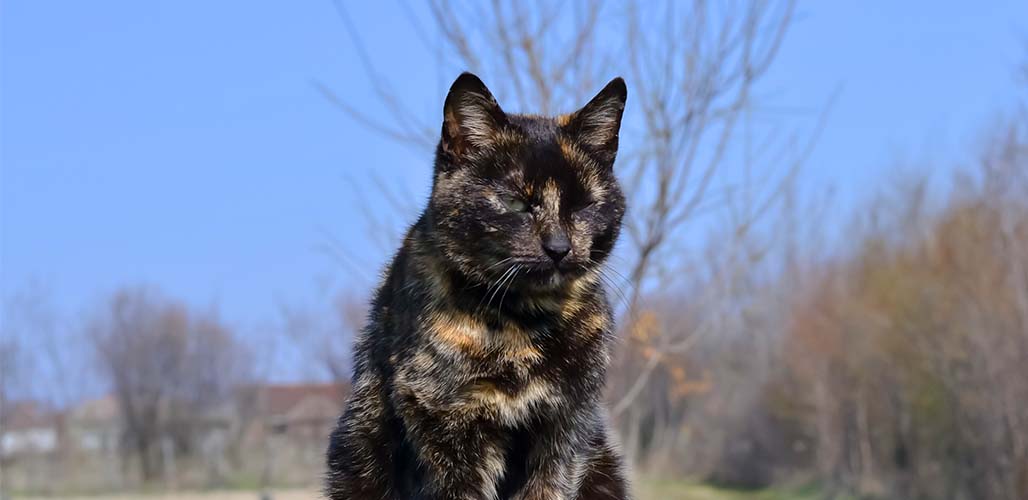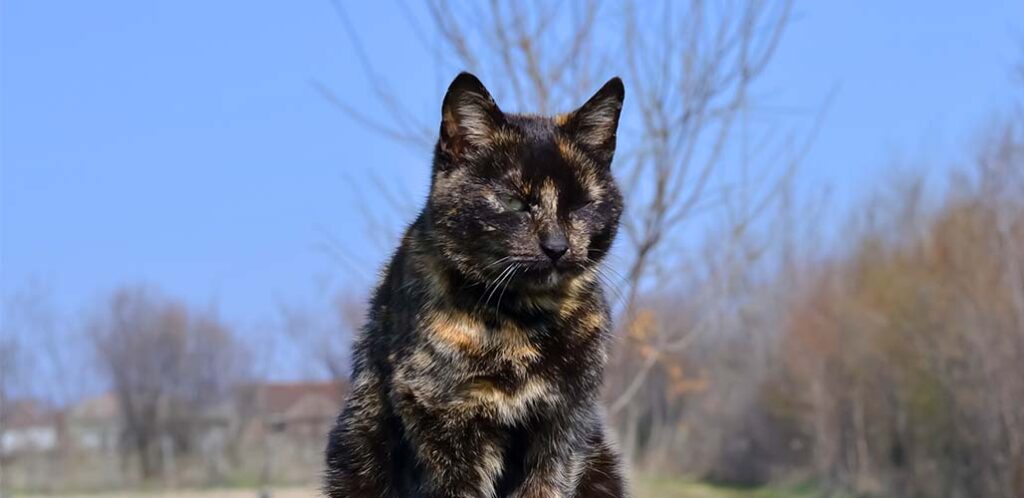 How long do tortoiseshell cats live? I felt like I was trying to throw darts at a bullseye while blindfolded trying to find the most accurate answer to this important question! Tortie cats are not a single breed. Instead, this is a unique coat color pattern that can occur across several distinct breeds. So, the genetics involved can vary a lot from one tortie cat to the next. For example, recently a female tortoiseshell cat named Tiffany Two celebrated her 26th birthday. Guinness Book of World Records celebrated with her by giving her the title "world's oldest living cat". She then lived until the ripe old age of 27! In this guide, I'll take a closer look at whether your own beloved kitty could live this long, and whether there's an average.
Contents
How Long Do Tortoiseshell Cats Live?
The answer to this question isn't as straightforward as you'd first think! As I mentioned a moment ago, this is because the designation "tortoiseshell" refers to a fur color pattern, not to an actual cat breed.
The basic tortie cat color palette includes colors like basic black, red, orange, brown, yellow, cream and white. With such variation, you can be sure no two tortoiseshell cats are ever going to look exactly identical. This pattern can occur in many different purebred and mixed breed felines. Tortie fur is found on:
Ragdolls
Persians
Maine Coons
American Shorthairs
Ragamuffins
Cornish Rex
British Shorthairs
and Japanese Bobtails.
This is why establishing an exact lifespan is so difficult! It is first necessary to identify the average lifespan of all cat breeds that carry the genetics to produce the tortie coat color pattern and then to average those together to arrive at a more premise life expectancy.
Some Average Age Estimates
Did you know that not one but two different tortie cats have held the Guinness Book of World Records title of "longest lived cat"? And both received their titles at the age of 26! This is a pretty whopping age for any cat to reach. And if two torties have managed it, perhaps there's a link to their fur color, right? Well, to find out let's look at the average life expectancy for some purebred cat breeds that have the necessary genetics to produce the tortoiseshell coat color pattern.
| | |
| --- | --- |
| Cat Breed | Average Lifespan |
| American Shorthair | 15 – 20 years |
| British Shorthair | 14 – 20 years |
| Persians | 12 – 17 years |
| Maine Coon | 10 – 15 years |
| Cornish Rex | 15 – 20 years |
| Ragamuffin | 12 – 18 years |
| Japanese Bobtail cats | 12 – 16 years |
Add all of this up and what we get is an average life expectancy of 15 years for a purebred or crossbred cat with tortoiseshell coat coloration. But, of course, there are plenty of cats who will exceed average ages for a specific breed. So, your cat could well live into their 20s, like some of our tortie record holders!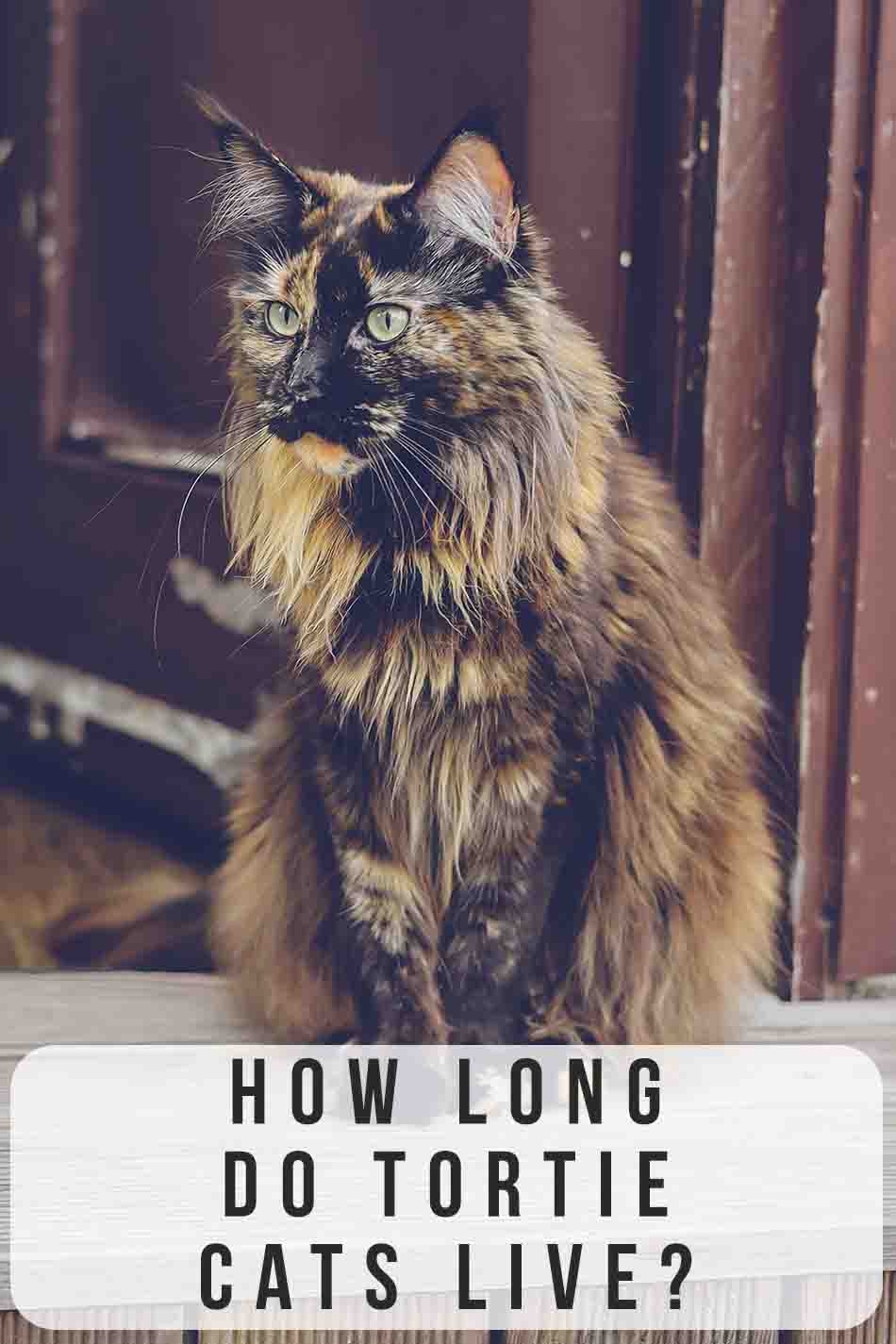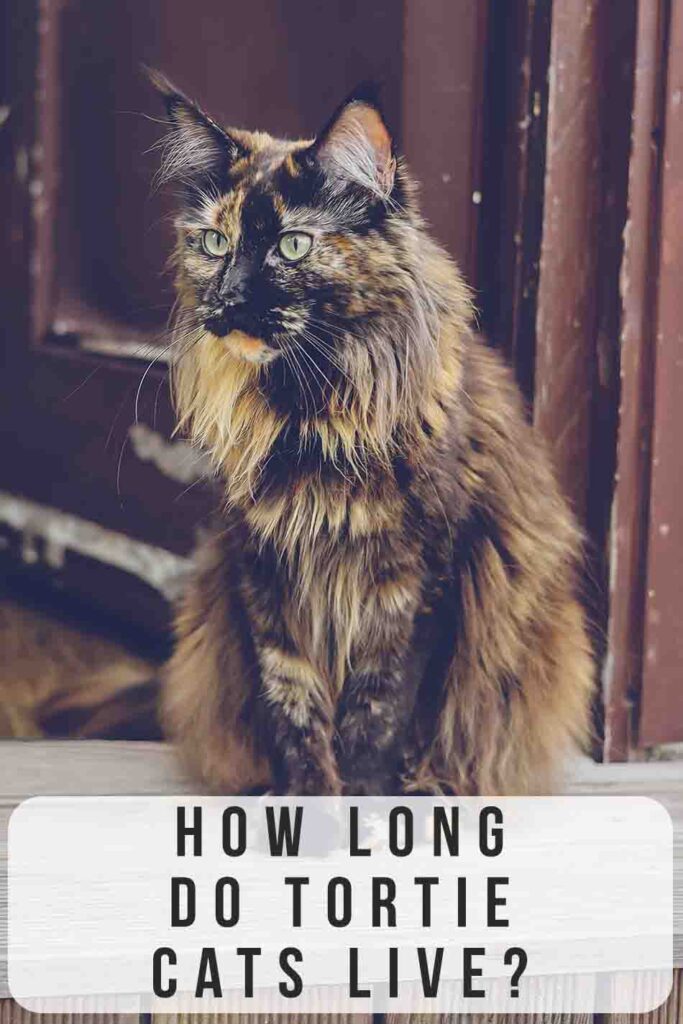 Do Tortoiseshell Cats Have Health Problems?
There are three known health issues that seem particularly linked to the tortoiseshell cat. This is because the genes that control feline coat color may also have other functions. The first known health issue is related to the cat's gender and only occurs in male tortie cats. The second is linked to temperament and the underlying reason is not yet known. There is also a third lesser known variable that can influence your female or male tortie cat's health and longevity. I'll explain each of these in a bit more detail next.
Gene-Linked Male Tortoiseshell Cat
In order for a cat to inherit this coat color pattern, the cat first has to inherit a very unique set of genes. These particular genes are X-linked, which means they are passed from the mother cat to a kitten. Without getting too complex, two different copies of the X-linked gene are required to produce the tortie coloration. This is why tortoiseshell cats are nearly always females.
However, there are some cases where a male kitten may inherit the tortoiseshell genes. In these cases, there is likely going to be some type of underlying genetic mutation. Luckily, the worst outcome from these unusual genetics is likely to be that the male kitten will be sterile.
The bottom line is that male tortoiseshell cats are incredibly rare and typically only occur in the presence of equally rare genetic abnormalities. However, what little data is available indicates these kittens will grow up to be reasonably healthy in all other ways. So, their average lifespan may not differ too much from the one I calculated above.
Temperament in Tortie Cats
Research has identified a possible link between feline aggression and cat coat color. Owners of cats with more colorful coats, including tortoiseshell cats, self-reported an increase in aggressive behaviors over owners of cats with single-color coats. Personality won't necessarily affect your cat's natural lifespan. But, aggressive cats may be less likely to find homes, and can be the first to be put down in shelters if no one is willing to adopt them.
Epigenetics in Tortie Cats
What might account for the incredible longevity of Tiffany Two, the cat I mentioned in the introduction to this article? Or how about the previous Guinness Book record holder, Flossie, who lived to the amazing age of 26? Yet another tortie cat, Marzipan, famously lived out his 21 years at Australia's Astor Theater.
Researchers do not know why some tortoiseshell cats enjoy such extended longevity. But they suspect it has something to do with epigenetics, which (simply put) describes how genes interact with the environment. Epigenetics is at the root of why nearly all tortie cats are born female. Could it perhaps also account for isolated cases of extended longevity in tortoiseshell cats? It is certainly possible.
Female Tortoiseshell Cat Lifespan
As I mentioned in the previous section, the vast majority of tortoiseshell cats are born female. This means the vast majority of data collected on tortie cat lifespan comes from owners of female tortoiseshell cats. What we know from this data is that the average female tortoiseshell cat lifespan is 15 years.
Of course, some may outlive this age, and others might not quite reach it. But, if you choose a healthy kitten and keep up with your veterinary appointments, you can expect your kitten to live well into their teens.
Male Tortoiseshell Cat Lifespan
With so few male torties cats to study, there is no solid data to indicate male torties and female torties have different life expectancies. In the absence of data to suggest otherwise, we default to what the available data for female torties tells us, which is that the average male tortoiseshell cat lifespan is 15 years! Of course, this average can be affected by breed, health, and more.
How Long Do Tortoiseshell Cats Live? The Bottom Line
So now you know why a simple question like how long do tortie cats live isn't quite so simple as it sounds! Tortoiseshell cats are found in several different purebred cat breeds and can also occur from mixed breed or hybrid breeding pairings.
Happily, these beautiful cats are relatively long-lived and can make wonderful companions for the right person. Could that person be you? Are you considering adding a tortie cat to your family or are you already living with one of these colorful kitties? Share your stories in the comments!
More Tortie Cat Care
References