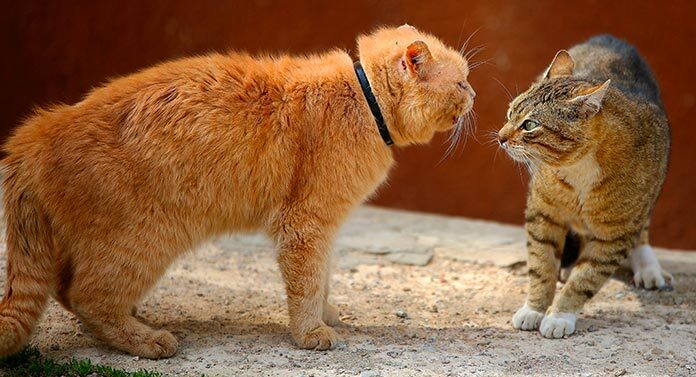 It's impossible to plan how to stop a cat from being a bully without establishing why they're using bullying behavior first.
In this article we will be investigating this and exploring how we can try to prevent bullying behavior.
How To Stop A Cat From Being A Bully
It's hard to imagine that your precious feline furball could be a veritable Attila the Hun when he steps paw outside.
Does he really rampage around the neighborhood beating up any cat that dares cross his path, when he spends so many waking hours at home making you go all gooey?
It's this Jekyll and Hyde quality that we cat owners find very difficult to come to terms with.
That is if we know about it in the first place.
It might only be when several neighbors have complained about your cat's extra-curricular activities that you realize there must be some truth to it.
Even if the bullying is taking place within the home, right under your nose, it can be covert. And if it isn't it's an incredibly distressing behavior to live with.
But what turns a cat into a bully?
What Makes A Bully Cat?
When cats live in close proximity to each other, be this indoors or outside, relationships are formed based on their own unique personalities.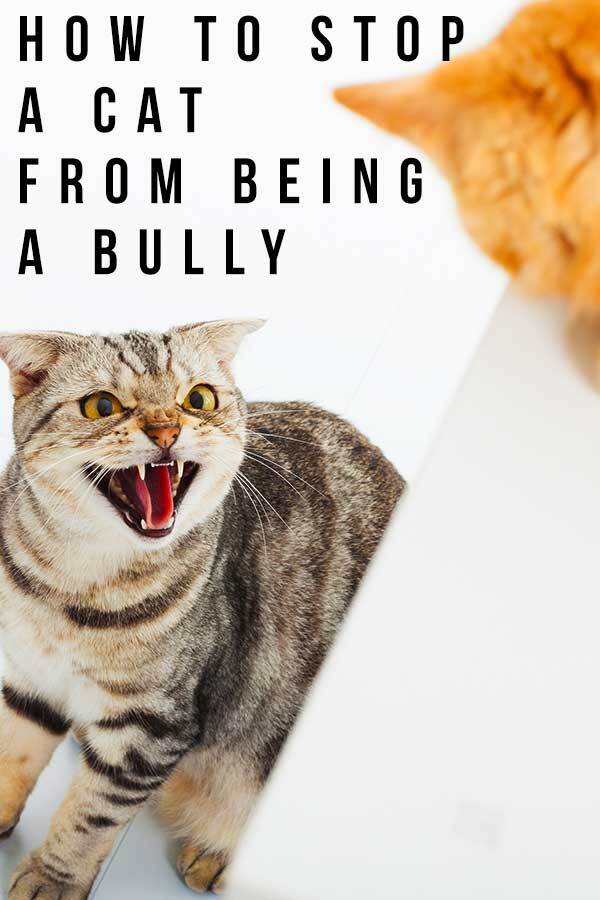 Cat personalities are created through genetics and experiences that a cat has throughout its life.
Early socialization plays an important role in shaping how a cat responds to other cats. So does neutering in males.
It is a combination of all the above variables that makes some cats bold, and others unable to stand up for themselves.
When the latter group consistently submits to their more assertive counterparts, they are more likely to be taken advantage of, repeatedly.
Why Do Cats Become Bullies?
We've seen why some cats may be more likely to have a bullying character, but there has to be a reason why they bully.
There is, and it's all about territory.
As far as cats are concerned, they haven't been put on this earth to keep us happy, but to establish a territory, then defend it to the hilt.
Cats are highly territorial creatures and much bullying behavior from one cat towards another comes about because that cat wants to drive the other out of his territory.
Uneasy housemates
This is why it can be so tricky to add a new cat to your existing feline household.
If he is an assertive cat, he will try extremely hard to make your home his new territory by pushing other cats out.
If your cat doesn't stand up to the newcomer, the bullying becomes a successful strategy, which will continue until your existing cat leaves home.
I've seen this happen time and again.
Competition for resources
Another major cause of bullying is competition.
Cats haven't yet grasped the concept of sharing their indoor resources.
And if you have a bully cat, he will demand priority access to favored resources and be prepared to do all it takes to maintain this.
Is My Cat A Bully?
Overt tactics employed by a bullying cat a cat may include
jumping on the back of the target cat
biting his neck
chasing
swiping
pouncing
cornering
and pinning down.
He might also ambush his frightened feline housemate as he is exiting a hooded litter tray, or entering/exiting the cat flap.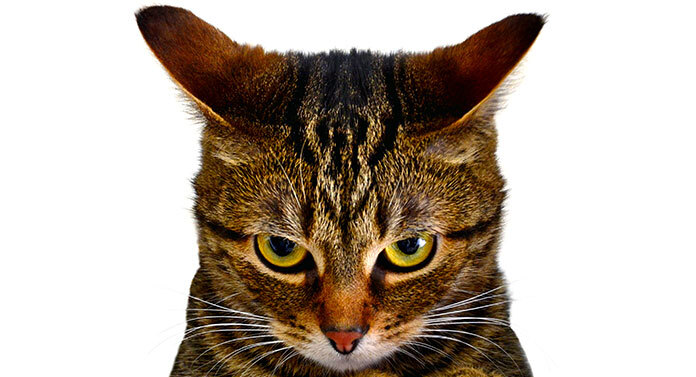 Less obvious techniques employed by bully cats include
constantly focussing on the target cat
stiffening their limbs and ears
blocking access to important resources such as the litter tray and cat flap
and general intimidation that we might not notice.
Often, the victim cat will try and avoid confrontations by looking away, lowering his ears slightly, turning his head away or leaning back.
If it looks like the two cats are about to cross paths, he will try and put space between him and the bully by deviating off his chosen course and moving away.
When Does Cat Bullying Take Place?
Cats might bully outdoors, or indoors, or if you're very unlucky, both.
This is no laughing matter. When this happens it not only inflicts costly damage on property and other cats, but also on your pocket in the form of hefty vet bills.
It can also cause a great deal of conflict between neighbors.
Cat owners get particularly upset when a bully cat enters their home and wreaks his own particular brand of havoc.
Whether or not your cat or another cat is the culprit, here are some suggestions for you and your neighbours to deal with this delicate matter.
Preventing Cat Bullying Outdoors
Ensure that your male cat is neutered.
Encourage a bully cat to stay indoors at night, as this is when most fighting occurs. Feed him a tasty late-night treat at the same time every evening so he has an incentive to come home.
Keep communicating with your neighbors. If one cat will be confined at night, informed everyone of this so that they know when it's clear for their cats to venture out.
Conversely, if a bully cat is more nocturnal in his habits, keep him indoors during the day to provide other cats with a chance to enjoy the outdoors. Again, inform neighbors accordingly. Where neighbors enjoy a good relationship with each other, these kinds of timeshare arrangements can be very useful. Make a note of all communication between neighboring cat owners for future reference.
The advent of the microchip cat flap has heralded a new age of cat security and where home invasions by other cats are the norm, there is no excuse not to have one fitted. If your neighbours haven't heard of microchip cat flaps, it would be a good idea to enlighten them.
Add a bell to a bully cat's safety collar to warn neighbors and their cats that danger is lurking nearby.
As far as possible, block all 'cat' routes into your yard.
If your cat is the culprit, always appear to be doing your very best to resolve the problem.
Encourage a bully cat to spend more time inside his home environment by making it as attractive as possible. Provide him with warm beds, high perches, scratching posts and healthy treat food.
Show him that he can have fun indoors by engaging him in regular energetic play and using a puzzle feeder.
If you are very lucky the neighborhood aggressor will move to a new house.
If not, you may end up moving to a new house yourself, which is exactly what one of my clients did!
A Word About Stray Cats
I've lost count of the number of owners that have told me that their cat has 'chosen them' by turning up on their doorstep unannounced and helping himself to their warm, cosy and food-abundant homes.
However, if you already have a cat this can be a recipe for disaster.
As strays they are used to living on their wits. They can be aggressive, territorial and competitive, especially males that have not been neutered.
If there is no evidence of an owner, the kindest thing you is to request assistance for humane trapping, neutering and re-homing.
Bullying In The Home
We all want our cats to get on with each other.
So strong is this desire that it's easy to consider a lack of hissing and fighting as evidence that there's no conflict between the cats inside our homes.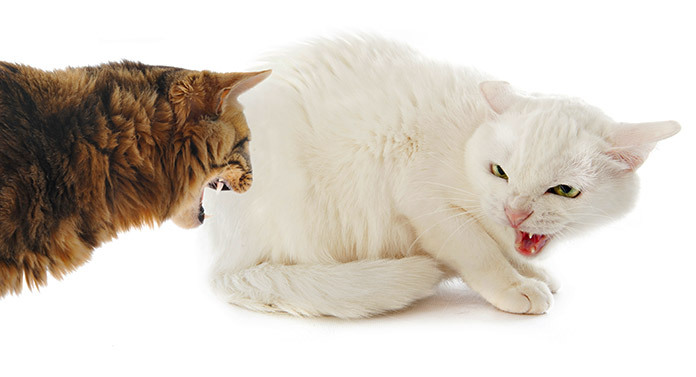 What we might not be aware of however, is the 'silent bullying' which often goes unnoticed.
But it is a major cause of chronic stress to victim cats, especially when they have no outdoor access.
Bullied cats are more likely to display stress related behaviors such as
house soiling
urine spraying
excessive chewing or scratching of household objects
over-grooming
constant anxiety
hypervigilance
hiding
refusing to pass or come near a bully cat
avoiding litter trays
eating rapidly or having a reduced appetite
and even physical symptoms such as stress-related cystitis.
Preventing Cat Bullying Indoors
If you suspect that bullying is taking place inside, try these strategies:
Introduce a new cat and an existing cat very slowly.
Where possible, leave dry food for the cats to graze on all day. This will give them a sense that there is plenty of food and take away some of the pressure around set mealtimes.
If possible, provide at least two separate entry and exit points to your home, to avoid the risk of guarding or blocking.
Talk to your veterinarian about anti-anxiety supplementation for the victim cat.
Consult with a qualified behaviorist who may be able to observe issues that aren't obvious to you.
In some cases, rehoming the bully may be the best, and the kindest option.
Managing access to resources
When resources are scarce, bullying usually intensifies.
Having an appropriate number of resources in your home will give your bully cat a sense of abundance in his core area.
Consequently, he won't need to beat up your other cats to access them.
This means one per cat plus one of the following resources, located in separate areas throughout the house:
Food stations
Water stations
Hiding places
Open litter trays
A variety of resting places so that each cat can establish his own favorite. For example hammocks, radiator beds, shelves, perches, and cat climbing frames.
Scratching posts
Position food bowls away from walls give the cats a 360-degree view around them.
How To Stop A Cat From Being A Bully – Summary
There will always be feline bullies in this world
And unfortunately unless they meet their match they will continue in their villainous ways.
Not all cats are capable of standing up to bullies.
And as owners we have a duty of care to protect them, both in the home and outside.
Clare Hemington DipCAPBT is a cat behaviorist ​and member of the COAPE Association of Pet Behaviorists and Trainers.