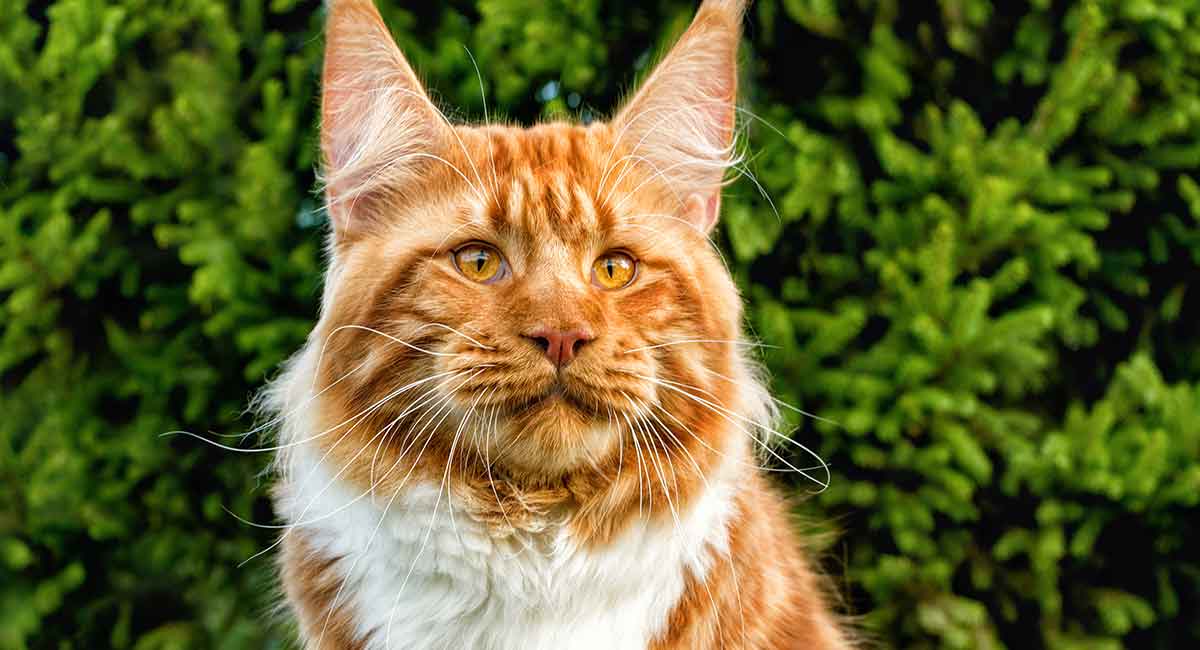 Large cat breeds are physically bigger and heavier in size than smaller cats. But, they should not be confused with being overweight or obese. These big house cats have all the traits of their wild relatives combined with the docile temperament of a regular house feline.
Some examples of big domestic cats include the Maine Coon, the Burmese cat, the Bengal cat, and more.
However, the Maine Coon is one of the most popular large house cat breeds. This breed is known for their bushy tails and brown coats and is typically gentle and loving.
Lets take a look at the best large cat breeds in more detail.
Large Cat Breeds
Having a lion or a tiger as a pet might be considered impossible. But owning a large domestic cat breed is both an enjoyable and fun alternative! In this article, we'll be giving you information on the biggest domestic cats.
First, we'll consider their general health challenges, then we'll look closely at some large cat breeds. Finally, we'll look into how to care for these cuddly large cat breeds and some other things to consider when owning big house cats.
Large Cat Breed Health
Large cat breeds are generally healthy. While no breed of animals is free completely free of disease, large cat breeds have little known maladies in common. However, they do have individual health concerns that you may want to review if you're interested in a specific breed.
Now let's look at specific distinguishing features of several large cat breeds.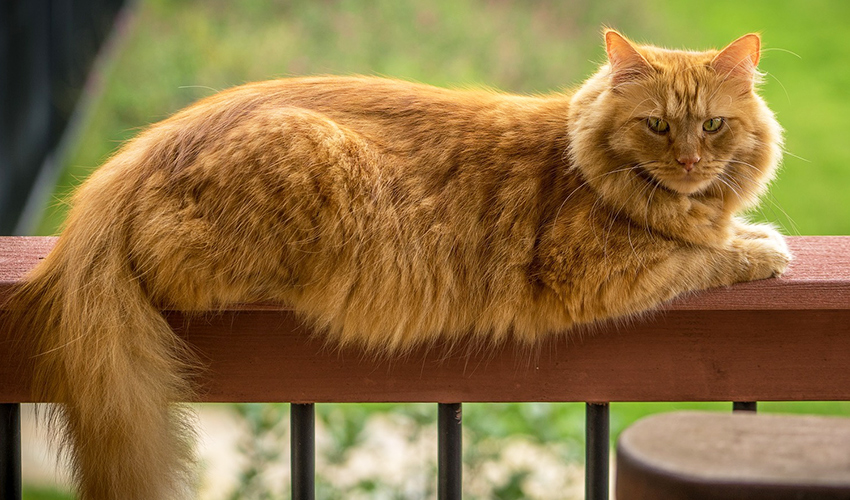 Large Cat Breeds with Blue Eyes
Ragdoll
Ragdoll cats are famous for being gentle, playful, and unusually friendly. The breed has striking blue eyes and a semi-long-haired coat. The Ragdoll cat is a big house cat — one of the biggest. Typically, this large cat breed weighs between 10 to 20 pounds, depending on gender.
While they're predisposed to heart disease, kidney issues, and some infections, this breed is generally healthy. They also live for a fairly long time — 15 years and up on average.
Although sociable and affectionate, these cats are also independent and not overly demanding. Their calm and easy-going natures make them excellent pets. They also get along well with children. Read our full article on the Ragdoll breed here.
Large Cat Breeds with a Long-Haired Coat
Maine Coon
The Maine Coon is one of the most popular big domestic cats.
This long-haired, massive cat originated from the State of Maine in the USA. It was often seen on ships as well as on farms as a mouser.
The Maine Coon is one of the world's largest domestic cat breeds. These cats are both long and tall, and weighing up to 25 pounds in adorable fluff!
Due to their bushy tails and brown coats, many thought that the Maine Coon was the result of cats mating with racoons. But this theory is impossible. It is more likely that these large cats were brought to the US by European sailors or Vikings in the 1700s.
During that time, 40% of Maine Coons were polydactyly (extra toes) due to a genetic mutation. It acted well as snowshoes during the harsh snowy winters in Maine. Interestingly, sailors considered them a source of good luck.
However, this feature was frowned upon and eventually bred out of the breed. But now, it's slowly being reinstated and is very popular with some cat fanciers.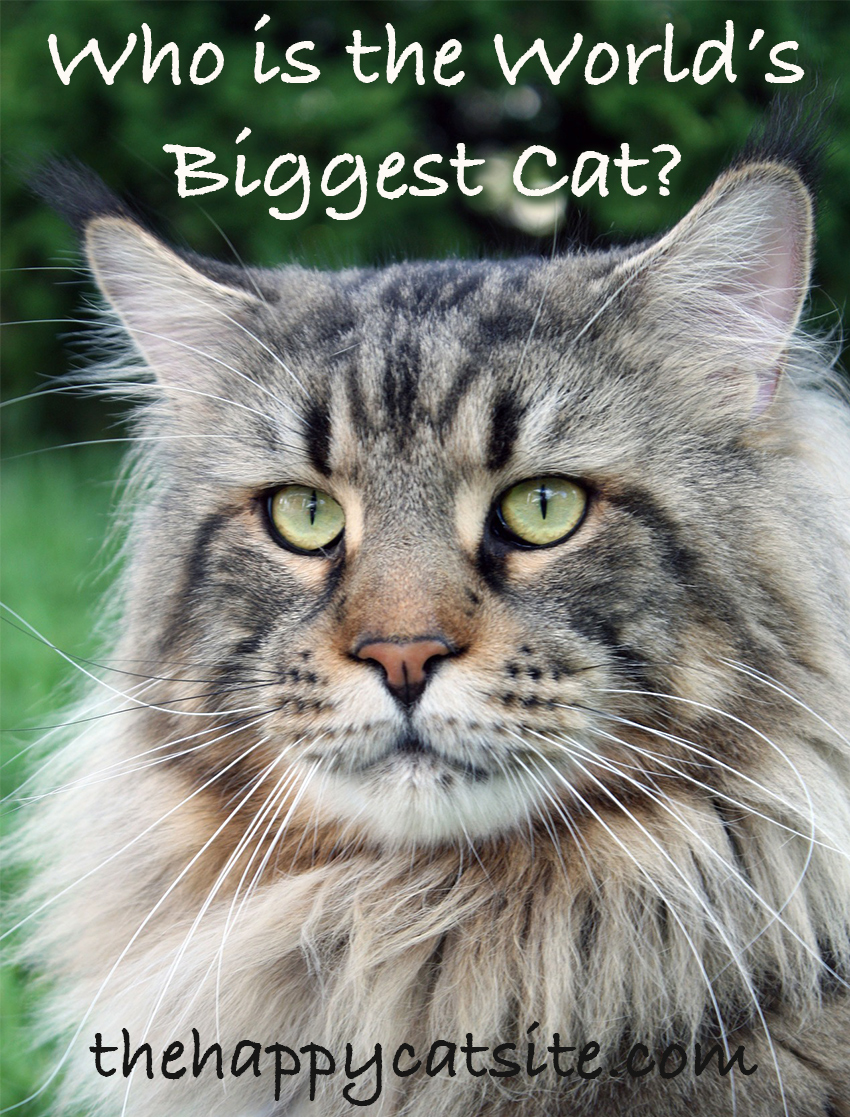 Personality, Health, and Lifespan
The Maine Coon is a smart and active cat, requiring lots of stimulation and exercise. They are proficient swimmers and enjoy being in the water. Many can even be taught to walk on a leash and fetch toys. These big house cats weigh between 12-18 pounds, with males generally being heavier.
Maine Coons have gentle, loving personalities with a kind nature. They are excellent with children and get on well with other animals, making them the perfect family pet. These cats live an average of 11 years and may have health problems due to low genetic diversity. Hip dysplasia is a common issue.
Interested in adopting a Maine Coon? Read our full post on these big house cats here.
Norwegian Forest Cat
The Norwegian Forest cat directly descended from Nordic wild cats. The Vikings took these big house cats on their graceful Drakkar (Viking ships) for the purpose of controlling the rat situation onboard.
Depending on who you ask, the Norwegian Forest cat is anywhere between 500 and 2000 years old. Some believe this particular feline could date back as early as 1000 AD, although the exact ancestry to support this is unknown.
Then, there's also the theory that they were crossed with American wildcats to form ancestors of the current Maine Coon. While both cats are similar, it's hard to say this theory is true. These large cats weigh between 12-16 lbs. Males typically weigh a bit more, while females can fall a bit under 9 lbs.
In fact, alongside the Maine Coon and Ragdoll, it is one of the three largest breeds of pedigreed cats in the world.
They are intelligent, mischievous, and affectionate. But these cats are no sissies — they're also very strong and fast. They can be entirely happy living the sheltered life of an indoor cat, and may even prefer it thanks to their social nature and desire for company.
Norwegian Forest cats can live up to 12 years of age on average and are fairly healthy cats.
If you'd like to adopt one of these, check out our full post on these big house cats.
Large Cat Breeds with a Short-Haired Coat
Burmese Cat
The strikingly beautiful Burmese cat is much heavier than it looks. It's often described as a "brick wrapped in silk." These short-haired, friendly cats love their owners, possessing many similar qualities to a dog.
They are quite clingy pets and do not like to be left alone. But their vibrant energy and playfulness will keep you entertained. They often rumble like a wild cat when they want your attention and can be very chatty!
The unique Burmese breed started with a little cat called Wong Mau. She was imported in 1930 from Burma to California and crossed with a Siamese cat, before being mated with her son.
Due to the constant inbreeding, nearly every Burmese in the world today is traced back to Wong Mau.
Sadly, a study carried out in 2007 showed that the Burmese cat has the lowest genetic diversity of any breed. These domestic large cats are at risk of extinction unless breeders act.
Adult Burmese cats often weigh between 8 and 13 pounds. As with other large cat breeds, males are noticeably bigger than females. They may weigh up to 3 pounds more.
American Burmese cats come in four distinct colors. Sable (a deep, rich brown), champagne, platinum (a pale, silvery grey Burmese cat) and blue Burmese cat.
On the whole, Burmese are a healthy breed. Unfortunately, however, Burmese cats have shown a tendency for diabetes (particularly in older cats). Still, these cats live for a fairly long time. Burmese cat life expectancy is normally between 16 and 18 years.
In 2004, the Guinness World Records awarded a Burmese cat the title of world's longest-living cat. Kataleena Lady, who lived in Australia, was 27 years old at the time. Read our full Burmese Cat post.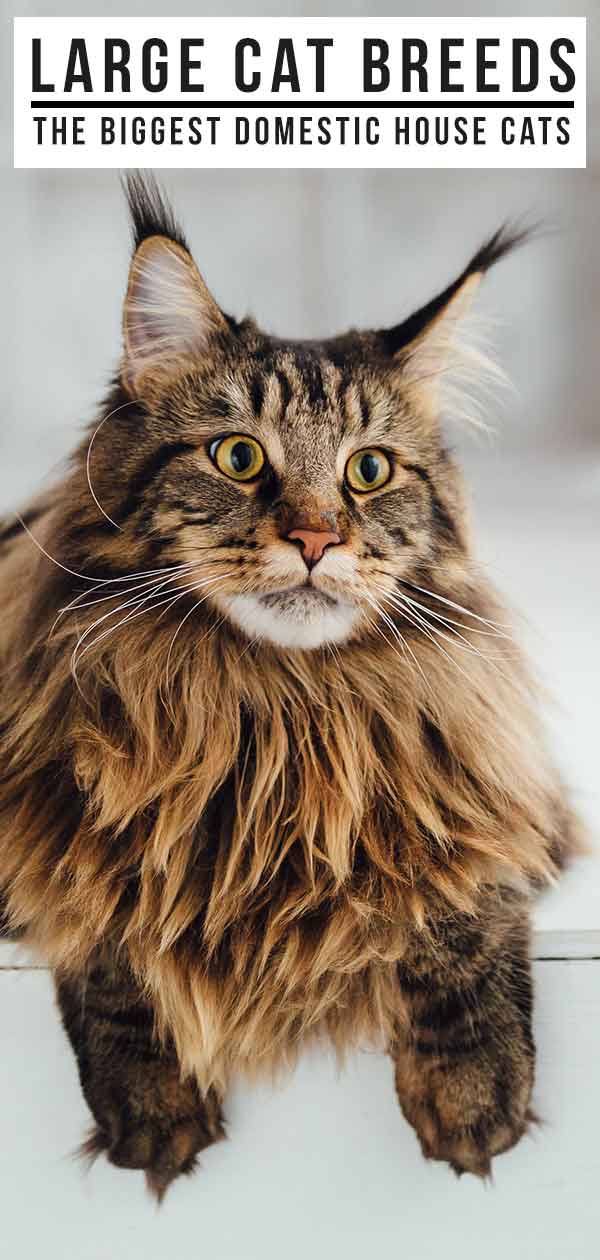 Large Tabby Cat Breeds
Bengal Cats
With their unique, spotted coat and large, muscular physique, the Bengal combines the look of a wild jungle cat with the personality of a domestic feline.
The breed was accidentally created by cat breeder Jean Sugden. She crossed her pet female Asian Leopard cat (in the 1950s and 60s you could buy them in pet stores) with a domestic male cat by mistake.
The breed was developed and then used for research by D.r Willard Centerwall in the 1970s.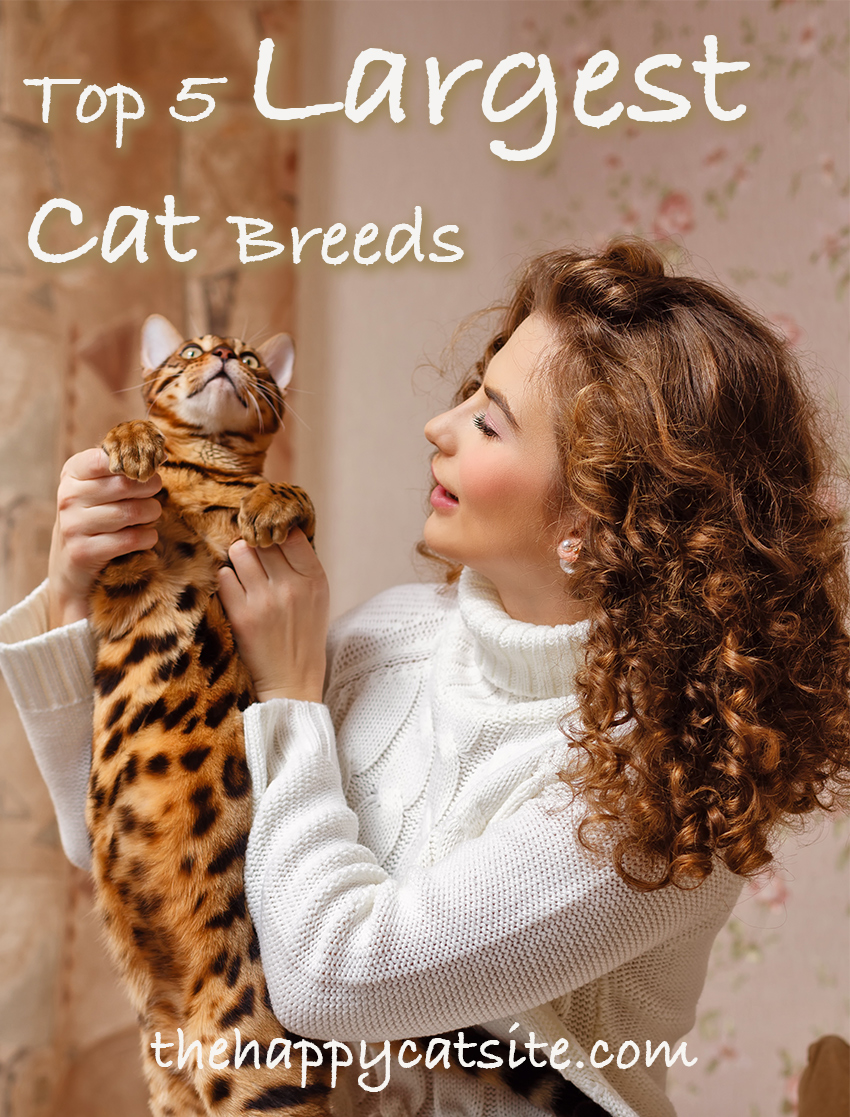 The Asian leopard cat is immune to feline leukaemia. So Dr. Centerwall used the Bengal to discover if the immunity gene could perhaps be reproduced in the hybrid offspring. Sadly, this proved not to be the case.
These big domestic cats are very talkative, highly intelligent and extremely active. They require lots of attention and interaction but are not for everyone.
They love climbing as high as possible and are also happy splashing around in water and playing fetch. Most Bengals get along with other pets and love people. Because they're very loving and loyal, they're ideal for families.
Bengal cats have leopard patterned coats, of very soft, satin or silky feeling fur. They also have a dusting effect, which gives the coat a gold or pearlescent sheen to it. They can be anywhere from 8 to 15lbs, with males being heavier than females in general.
As a pedigree breed, Bengal cats are more prone to some hereditary diseases. Bengal cats live from 12 up to 16 years on average. You can read more about them here.
Egyptian Mau
The Egyptian Mau, with its exotic good looks, is one of the few big domestic large cat breeds with a natural and distinctive spotted coat pattern. These cats are named after the Egyptian word for cat — Mau. These large house cats are considered one of the oldest breeds of domestic cat known to man.
The Egyptian Mau are usually small to medium in build. Adults typically weigh between 6-14 lb.
The breed is physically striking — their back legs are slightly longer than their front legs. This makes Egyptian Mau cats exceptionally fast runners and strong climbers.
They're lively and playful and have moderate to high energy levels. They thrive on socialization and human contact. So, they can become depressed and lonely if unable to have sufficient attention and playtime from their humans.
However, Egyptian Mau can be shy and skittish if they have not been properly socialized.
Egyptian Maus tend easily affected by temperature and naturally prefer warmer environments. They are also considered more sensitive to anesthesia and medicines compared to other breeds.
Still, besides the common feline ailments, these large pet cats are generally healthy.
Like most domestic large cat breeds, Egyptian Maus typically live 12 to 15 years. However, they have been known to reach 18 to 20 years of age with proper diet, health care, and good fortune. Read more about this breed in our full breed article.
Large Cat Breeds with Spots
Savannah Cat
In April 1986, the Savannah breed developed after the unplanned mating between a serval (medium African wild cat) and a domestic cat.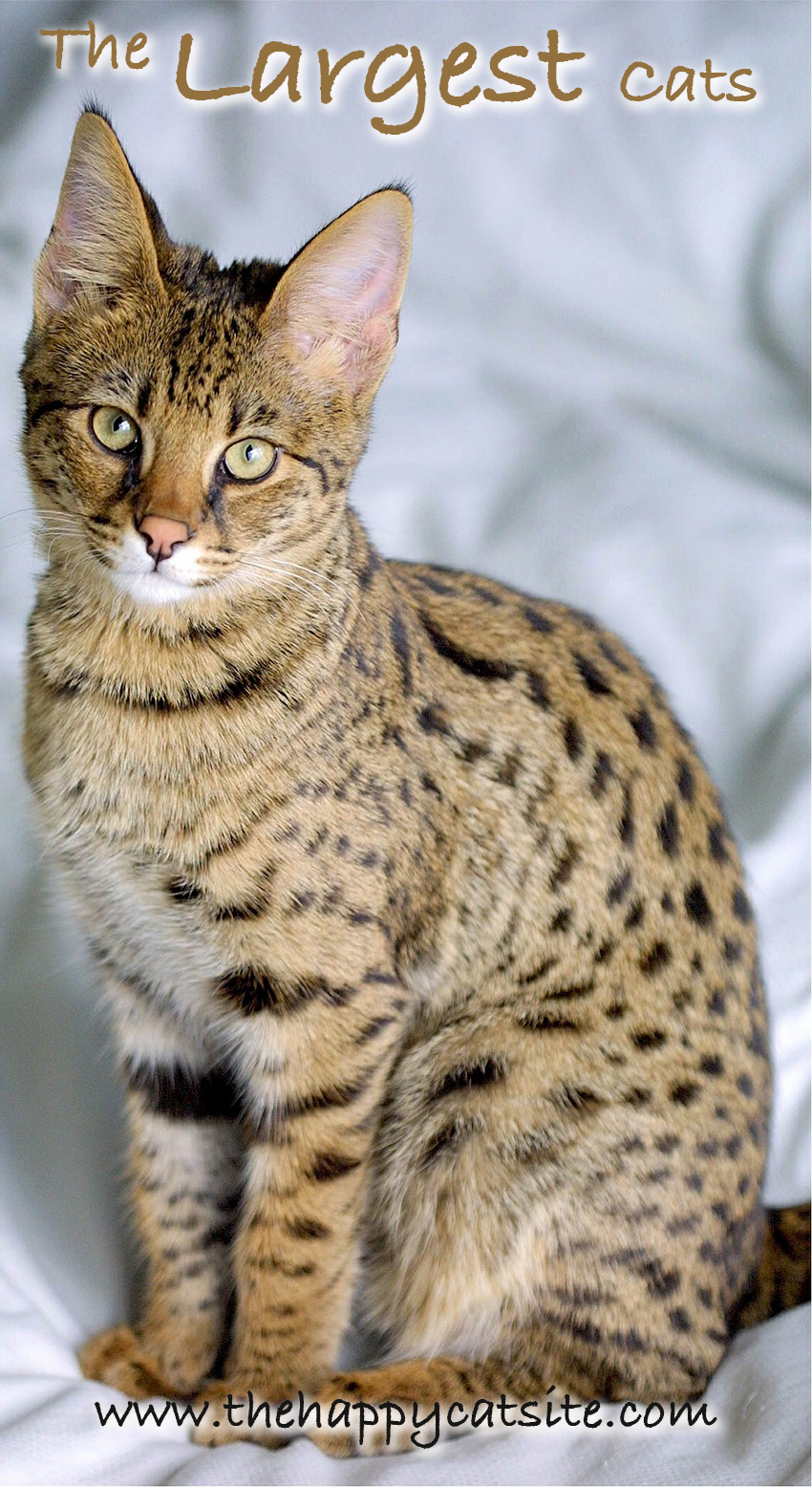 The outcome was a beautiful, medium-sized, spotted kitten. This breed was named "Savannah" after the African grasslands.
Patrick Kelly and Joyce Stroufe then worked together to create and improve the Savannah by crossing African Servals with domestic felines. Thereafter, they mated the offspring to big cat breeds such as the Egyptian Mau.
The Savannah has long legs and a long body. Since 2006, these large house cats have held the Guinness Book of Records for the world's tallest domestic cat.
These large cats are energetic, alert and adventurous and interact well with people. However, they don't like being fussed and cuddled. They are not suitable for first-time cat owners as they demand constant attention. The Savannah needs to be occupied, becoming bored and disruptive otherwise.
They've even been known to open doors, knock things over and chew anything in their path!
These large house cats have a great sense of humor (with the joke normally on you!). They possess a dog-like personality, following their owners all over the house.
Because of their wild ancestors, Savannahs have strong hunting instincts. So, we would not recommend leaving them with small pets, such as hamsters, in your home.
Health, Lifespan, and Restrictions
The Savannah's popularity has increased over the last few years. Still, they can be very expensive, with some costing up to $20,000!
Because they are a hybrid, some states, such as Hawaii, Georgia, and Nebraska, have banned the Savannah with restrictions in others. It is vital, therefore, that you check the laws for your area before buying one of these amazing cats.
Savannah cats fall somewhere on a scale between domestic cats (9-11lb) and servals (20-40lb). Usually, they are around 11 to 30lbs in weight. Most Savannah cats enjoy pretty good health. However, heart troubles and male infertility are common issues. Estimates on Savannah cat life expectancy vary. However, most reports tend to put them between 15 to 20 years. More on the Savannah cat here.
Large Cat Breed Grooming
No two large cats are exactly the same, so grooming is different for each breed. You'll find more information on shedding, brushing, and general care and grooming in each of the original breed articles.
Large Cat Breed Products
Large house cat breeds often need specific products. Especially when it comes to things like litter boxes and perches. If you've just adopted any of the large house cats, you'll find our recommendations helpful.
Choosing a Large Cat Breed
If you are looking for a new feline addition to your family, then you might be considering a few different large house cats.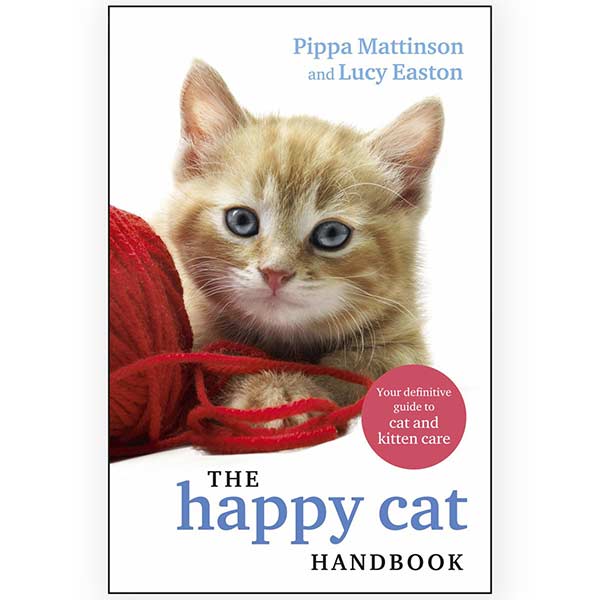 But is the biggest cat breed the best cat breed for you? Size has its appeal. But the most important factor in your new pet is probably going to be their personality.
Domestic cat temperament can vary quite a lot between large cat breeds. So once you find a large cat you like, make sure to get to know his breed's traits.
Or you might like to consider adopting an older rescue cat instead. You won't get the cute kitten stage. But you will have a good idea of their personality – and just how big your large cat is going to grow.
Large house cat breeds can be a joy to have. There's more cat to cuddle and they often have personalities as big as themselves.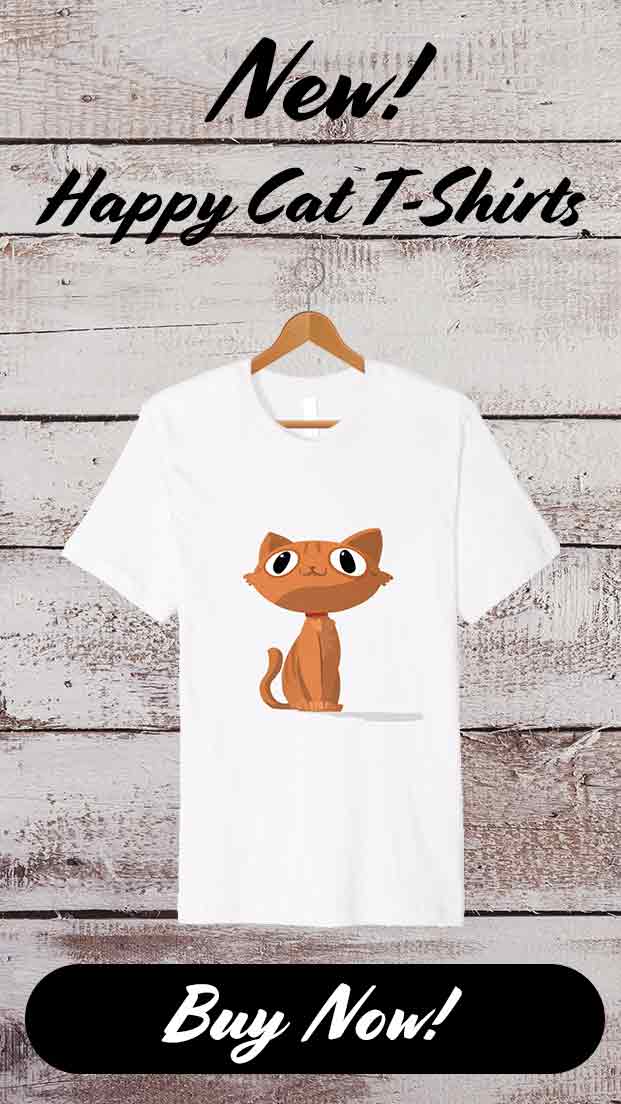 However, some of these large pet cats have more health issues than others. This is often due to a lack of genetic diversity and inbreeding. They're also pretty expensive, especially breeds like the Egyptian Mau. Plus, breeds like the Savannah cat may even be illegal in some parts of the US.
Breeds for You
If you want a loving, needy, affectionate large cat, try: Ragdoll
For families, these breeds may be best:
Maine Coon
Bengal
Egyptian Mau
If you'd prefer an active large cat, go for: Savannah Cats
Do you have a large cat breed in your life? We'd love to hear all about them in the comments below.
References and Resources
Gough A, Thomas A, O'Neill D. 2018 Breed Predispositions to Disease In Dogs and Cats. Wiley Blackwell
Hawes et al. Factors Informing Outcomes for Older Cats and Dogs in Animal Shelters
O'Neill et al. Longevity and mortality of cats attending primary-care veterinary practices in England
Universities Federation for Animal Welfare. Burmese – Diabetes Mellitus
Siegal, Mordecai; Cornell Feline Health Center (Editors) (1989). The Cornell Book of Cats: A Comprehensive Medical Reference for Every Cat and Kitten. New York: Villard Books. ISBN 0-394-56787-0.
This article has been extensively revised for 2019.
Your Amazing Cat!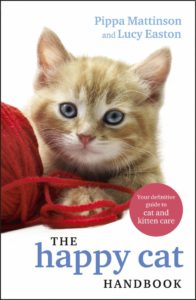 We are so excited to share our new book with you!
If you have enjoyed your visit to The Happy Cat Site we think you'll love The Happy Cat Handbook.
Written by the founders of this website including the author of the hugely successful Happy Puppy Handbook, it's packed with cat care information and fascinating cat facts.
Grab your copy today!
Free Updates For Cat Lovers!
Our cat care articles, tips and fun facts, delivered to your inbox