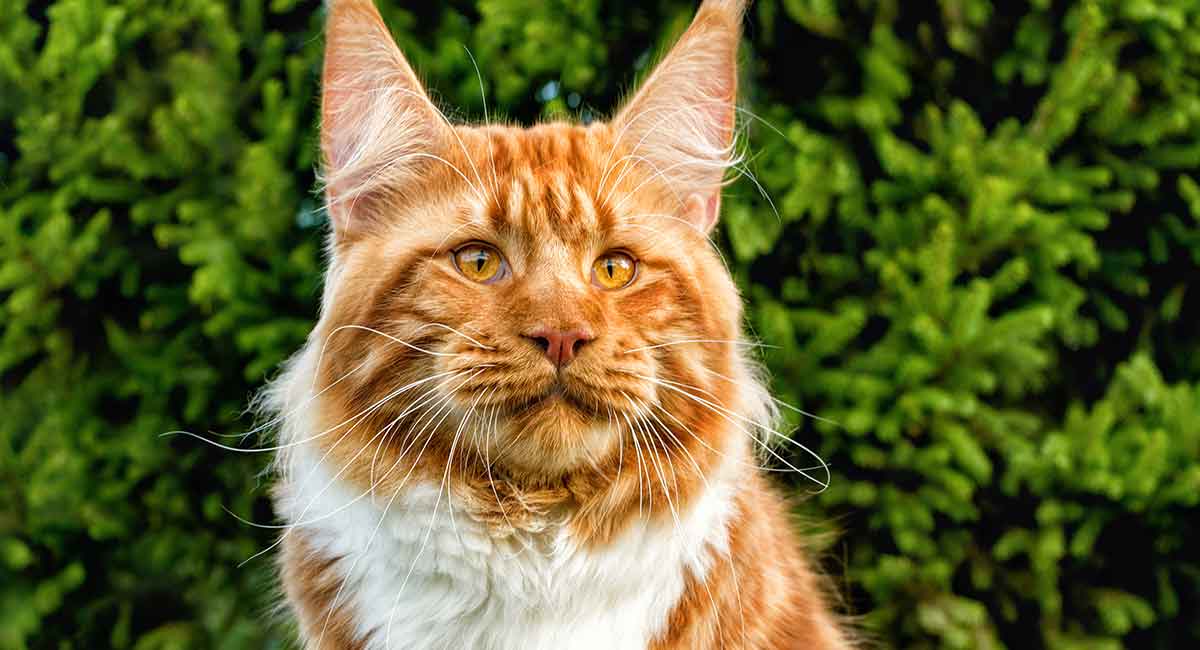 Large house cat breeds are physically bigger and heavier in size than smaller cats. Not because they've bulked up for the cold season, but because they have a larger body structure. Big house cats have the same temperament as regular pet cats, in a slightly more impressive but still family friendly form!
Contents
There is a certain appeal to a tiger or a lion as a pet, but let's face it, we all know how that story ends! Today we are going to take a look at some of the most popular large cat breeds. Helping you to decide which one will make the perfect pet cat for your family.
Ragdoll Cats
Ragdoll cats are a large cat breed with blue eyes. Famous for being gentle, playful, and unusually friendly. The breed has striking blue eyes and a semi-long-haired coat. They also have gorgeous dark markings and soft feeling fur.

The Ragdoll cat is a big house cat — in fact, it's one of the biggest. Typically, this large cat breed weighs between 10 to 20 pounds, depending on their sex. Males are bigger on average than females, but there is some crossover.
Although sociable and affectionate, these cats are also independent and not overly demanding. Their calm and easy-going natures make them excellent pets. They also get along well with children.
Maine Coon

The Maine Coon is a large cat breed with a long haired coat. It's also one of the most popular big domestic cats. This massive cat originated from the State of Maine in the USA. It was often seen on ships as well as on farms as a mouser.
The Maine Coon is one of the world's largest domestic cat breeds. These cats are both long and tall, and weighing up to 25 pounds in adorable fluff! These big house cats weigh between 12-18 pounds, with males generally being heavier.
Maine Coons have gentle, loving personalities with a kind nature. They are excellent with children and get on well with other animals, but are much better with friends than strangers. I've known several Maine Coons that routinely hide whenever visitors are in the house, only emerging when the coast is clear.
Norwegian Forest Cat

The Norwegian Forest cat directly descended from Nordic wild cats. These large cats weigh between 12-16 lbs. Males typically weigh a bit more, while females can fall a bit under 9 lbs. In fact, alongside the Maine Coon and Ragdoll, it is one of the three largest breeds of pedigreed cats in the world.
They are intelligent, mischievous, and affectionate. But these cats are no pathetic kitties — they're also very strong and fast. They can be entirely happy living the sheltered life of an indoor cat, and may even prefer it thanks to their social nature and desire for company.
Burmese Cat

The strikingly beautiful Burmese cat is a large cat breed with a short haired coat. It is also much heavier than it looks. It's often described as a "brick wrapped in silk." These short-haired, friendly cats love their owners, possessing many similar qualities to a dog.
They are quite clingy pets and do not like to be left alone. But their vibrant energy and playfulness will keep you entertained. They often rumble like a wild cat when they want your attention and can be very chatty!
American Burmese cats come in four distinct colors. Sable (a deep, rich brown), champagne, platinum (a pale, silvery grey Burmese cat) and blue Burmese cat.
Bengal Cats

With their unique, spotted coat and large, muscular physique, the Bengal is a large tabby cat breed that combines the look of a wild jungle cat with the personality of a domestic feline.
These big domestic cats are very talkative, highly intelligent and extremely active. They require lots of attention and interaction but are not for everyone. They love climbing as high as possible and are also happy splashing around in water and playing fetch. Most Bengals get along with other pets and love people. Because they're very loving and loyal, they're ideal for families.
Bengal cats have leopard patterned coats, of very soft, satin or silky feeling fur. They also have a dusting effect, which gives the coat a gold or pearlescent sheen to it. They can be anywhere from 8 to 15lbs, with males being heavier than females in general.
Egyptian Mau

The Egyptian Mau are usually small to medium in build. Adults typically weigh between 6-14 lb. The breed is physically striking — their back legs are slightly longer than their front legs. This makes them exceptionally fast runners and strong climbers. They're lively and playful and have moderate to high energy levels. They thrive on socialization and human contact.
However, Egyptian Mau can be shy and skittish if they have not been properly socialized. Egyptian Maus tend easily affected by temperature and naturally prefer warmer environments. T
Savannah Cat

The Savannah has long legs and a long body. Since 2006, these large house cats have held the Guinness Book of Records for the world's tallest domestic cat. They are usually around 11 to 30lbs in weight.
These large cats are energetic, alert and adventurous and interact well with people. However, they don't like being fussed and cuddled. They are not suitable for first-time cat owners as they demand constant attention. The Savannah needs to be occupied, becoming bored and disruptive otherwise.
Because of their wild ancestors, Savannahs have strong hunting instincts. So, we would not recommend leaving them with small pets, such as hamsters, in your home.
Choosing a Large Cat Breed
Large house cat breeds can be a joy to have. There's more cat to cuddle and they often have personalities as big as themselves. However, some of these large pet cats have more health issues than others. This is often due to a lack of genetic diversity and inbreeding. They're also pretty expensive, especially breeds like the Egyptian Mau. Plus, breeds like the Savannah cat may even be illegal in some parts of the US.
If you want a loving, needy, affectionate large cat, try the Ragdoll. Or for families the Maine Coon, Bengal or Egyptian Mau might be a better fit. Savannah cats are great active cats, but can be a lot to handle!
Large Cat Breed Grooming
There are several large long haired cat breeds, and these kitties might not a hand keeping their fur tidy. Getting your big kitten used to being combed from an early age will help. Then you will just need to do a gentle maintenance brush a couple of times a week around those tangly areas. Such as the back end and long fur on the legs.
Feeding a Super Sized Cat
Giant breed kittens and cats benefit from a good quality food which supports their build, but doesn't encourage them to over eat. Specialist cat foods are available aimed at larger pet cats and these are the best place to start looking. Try to find a food that is high in fat and protein, but low in carbohydrates and other fillers. Remember, cats are carnivores and meat is the very best thing for them.
Although these kitties are above average size, you can still start by using the food quantities advised on the packaging. It's better to adjust up than guess an amount far too high and then need to put your cat on a rather resented diet!
The Right Products
Large house cat breeds often need specific products. Their extra size can put strain on some of the more flimsey products on the market, and they sometimes literally just don't fit. Fortunately, you can buy large litter boxes, which have stronger sides and your full grown kitty won't be reluctant to climb in to. There are also some great options for cat perches, scratching posts and trees that are designed to support a heftier build.