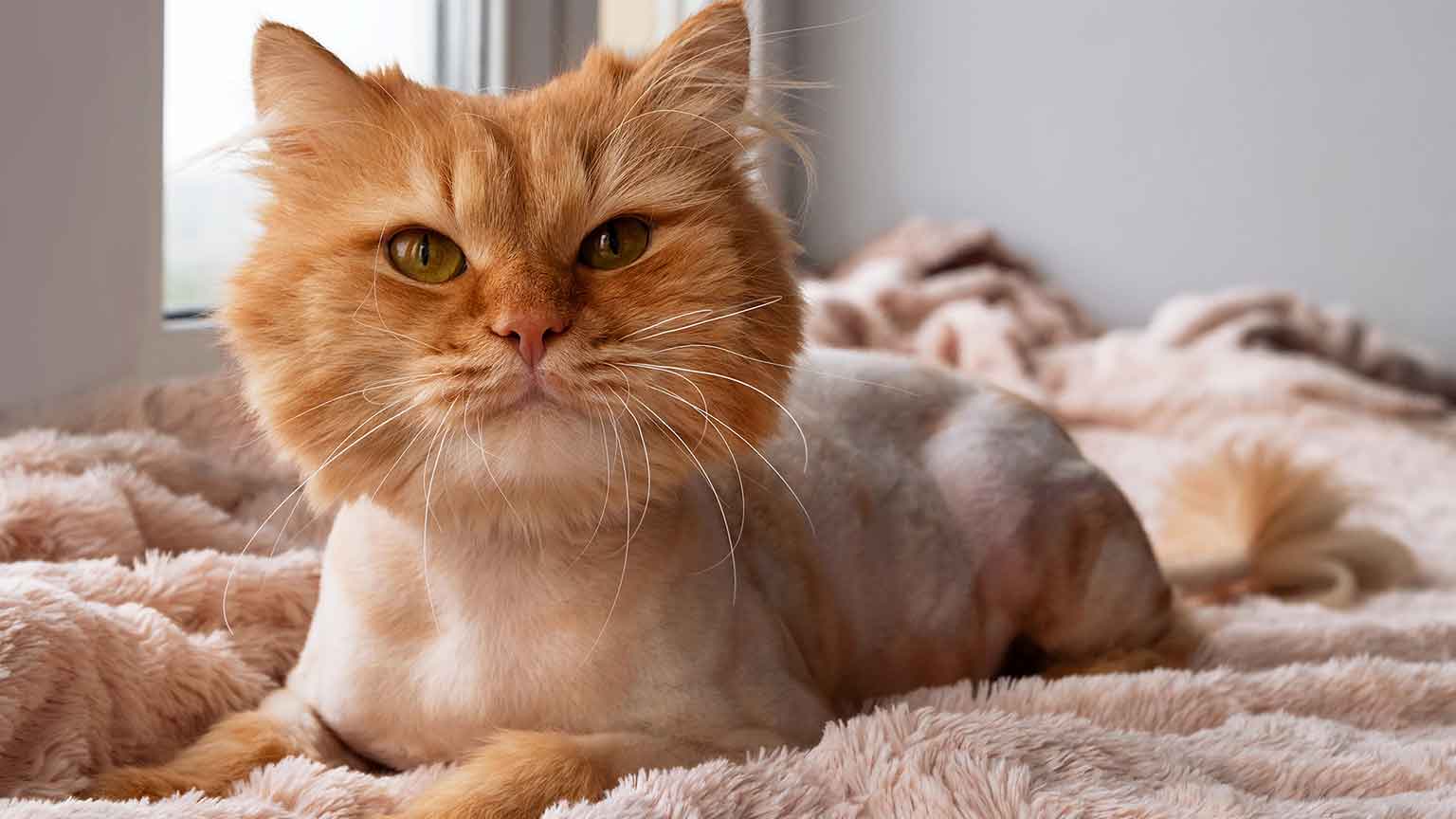 A lion cut cat has had all the fur shaved from their body. All that's left is the fur on their face, head, tail, and feet.
Lion cut cats get their name because the ruff of fur left at their neck resembles a mane.
They are gaining popularity due to social media, and because they require less grooming.
But there are risks associated with shaving a cat too. Let's take a closer look at the controversial lion cut cat.
What Is A Lion Cut Cat?
A 'lion cut' is a grooming technique where clippers are used to shave large parts of a cat's body.
Typically the hair is removed from their:
shoulders
chest
back
tummy
haunches
and bottom area.
The fur may also be removed from
the fore legs as far as the wrists
the hind legs as far as the ankles
and the tail as far as the last inch, to leave a lionesque tuft on the tip.
How Short is the Fur?
The shorn hair is taken back to anything from a few millimeters, to a couple of centimeters long.
The aim is usually to leave a marked contrast between the cut areas and the untouched fur.
So how short the shaved areas need to be cut depends upon how long the remaining coat is. And how much visual impact the cats owner wishes to create.
Why Give A Cat A Lion Cut?
Cats are famously beautiful. And without a doubt, their coats are an important element of their looks.
In fact, through years of careful breeding, domestic cats now sport coats in a dizzying array of lengths, textures and colors.
And some purebred cats like the fluffy Persian are officially recognized in over 90 different color classes!
So why are cat owners becoming interested in removing so much of their cats' coats?
Easier Grooming
Long haired cats like the Persian, Ragdoll, Maine Coon, and Norwegian Forest Cat demand a notorious amount of grooming.
Their long coats need attention with a slicker brush at least every couple of days.
On top of this, older cats might need additional help to prevent or remove mats, and outdoor cats might accumulate debris in their fur on a daily basis.
So much grooming can be time consuming, and not all cats are willing to cooperate.
Lion cut cats are more likely to be able to take care of their own grooming. And any help they do need is quicker to get done.
Making a Style Statement
Part of the recent surge of interest in lion cut cats is undoubtedly due to social media.
We humans are eternally preoccupied with the image we project into the world, and our pets are an inevitable extension of that.
Today we live in a world dominated by social media, where a striking image can attract the attention of thousands of people just in hours.
And what better way to make our cats stand out from the crowd than by giving them a dramatic haircut?
So we can see why lion cut cats are a hit with some owners. But how might our cats feel about them?
Are Lion Cuts Good For Cats?
Cats' fur isn't just about looking beautiful. They depend upon it for other reasons too.
Temperature control
This is the obvious one. Cats' fur keeps them warm in cold weather, and cool in hot weather.
Breeds with soft, dense undercoats can withstand freezing temperatures and icy winds by trapping cushion of warm air next to their skin.
And on sunny days, the same cushion of air becomes a buffer of coolness against the heat of the sun.
Lion cut cats have more trouble keeping their body temperature constant, regardless of the ambient temperature around them.
UV protection
Fur also acts as a natural barrier against harmful UV rays.
All colors of cat can get sunburn if their skin is uncovered. But cats with pale fur have less melanin in their skin than cats with dark fur, so they are especially at risk.
Cats with a very short lion cut are more likely to get burned on sunny days.
Cushioning against bumps and scrapes
This is particularly relevant to outdoor cats.
Cats' fur acts like a layer of padding. So bumps and knocks whilst climbing, hunting and exploring glance off without breaking the skin.
As well as being less painful, it also means they're less likely to pick up infections through open wounds.
Cats with a lion cut are more at risk of sustaining scratches which break the skin, and picking up infections through them.
Communication
Last but by no means least, a cat's complete coat plays an important role in their communication with other cats, and animals of different species.
Cats use tiny muscles at the base of each hair along their back and tail to make their coat stand on end when they feel threatened. Or when they want to warn off unwanted attention.
This is known as raising their hackles, and it serves the purpose of making a cat's outline look bigger. A way of saying "back off, I'm big and tough".
Lion cut cats no longer have this important way of expressing themselves.
Is It Cruel To Shave A Cat?
Through millions of years of evolution, cats' coats have adapted to protect them and help them communicate.
Of course, it sometimes necessary to shave part of a cat for surgery, to treat a wound, or to remove mats which can't be combed out.
But shaving a cat to make a style statement about yourself, or for convenience to avoid brushing them, is unkind.
Our pets deserve to live in comfort and dignity, and express their normal behaviors.
Lion cuts prevent our cats from doing those things.
Are Lion Cuts Good For Cats?
We've already mentioned a couple of scenarios in which areas of a cat might need to be shaved.
But can routine shaving ever be an acceptable part of a cat's grooming schedule?
Some long haired cats can have difficulty grooming their armpits, belly, and bottom area. Especially if they are old, or overweight.
Regularly trimming these areas with scissors or clippers can help prevent mats which tug at the skin or trap moisture underneath.
But usually there is a happy medium that is somewhere in between "helpful haircuts" and lion cuts.
How Long Does A Lion Cut Take To Grow Out?
If you're thinking of taking the plunge, how long can you expect the results of a lion cut cat to last before they grow out?
It has to be said, cats' fur does not grow all that fast.
The general consensus among groomers and owners is that a short haired cat with a lion cut will return to normal in around three months.
Long haired cats might have to wait up to six months.
Lion Cut Cat Summary
A lion cut is a dramatic choice of haircut for your cat.

There are some good reasons for shaving or regularly trimming areas of a cat's fur.
But it should always be undertaken as a sincere way of improving their quality of life. Not to make our own lives more convenient, or for esthetics.
Does Your Cat Have A Lion Cut?
What has your experience been with the lion cut cat? Let us know and join in the debate using the comments box!
More Cat Guides
References And Resources