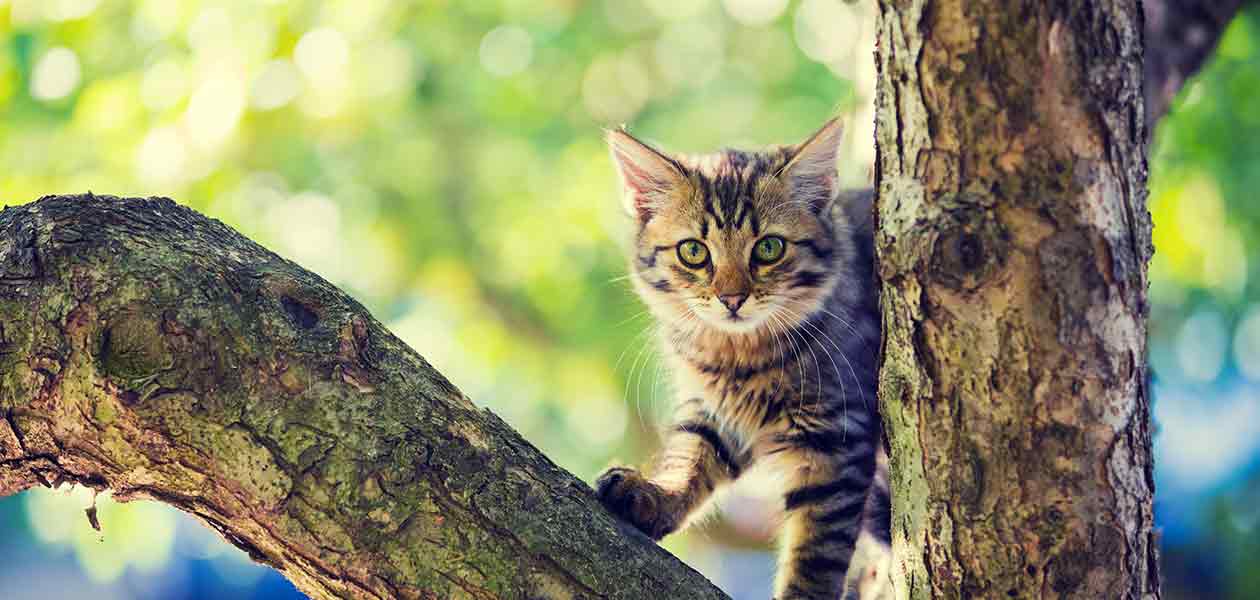 Working out how to get a cat out of a tree is a problem most cat owners hope they never have to face.
It's imperative not to risk your own safety in order to reach the cat, or bring them down.
Luckily, cats climb up trees all the time. And we've got some tried and tested advice for getting them safely back down to earth.
If your situation is urgent, click here to jump straight to step 1 in our 5 step plan of how to get a cat out of a tree.
How To Get A Cat Out Of A Tree
Cats are famously good climbers. Some breeds, like the agile Bengal, are especially so.
They have sharp, curved claws, powerful back leg muscles and responsive tails. These body parts give them the tools, strength and balance to make dramatic tree ascents look easy.
And there are lots of good incentives for climbing trees too – the pursuit of squirrels and birds, 360⁰ views of their territory, and sheer whimsy, to name but three.
For the most part, climbing within the limits of their ability, and getting back down safely afterwards, are part of a cat's natural instincts.
But every now and then, cats get carried away in the heat of the moment. Or misjudge their surroundings.
And that's when they climb past the point they can comfortably get down from.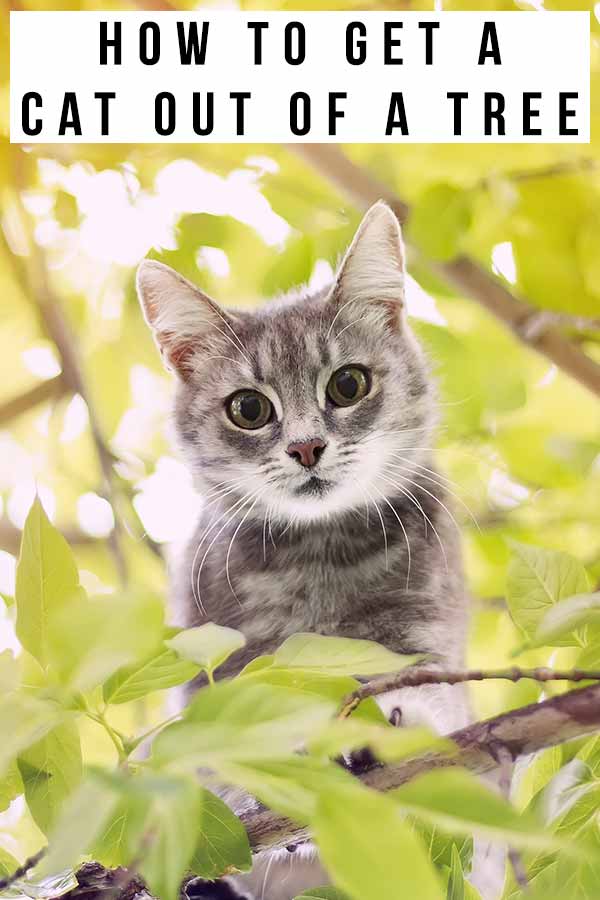 Here are five practical steps for how to get a cat out of a tree.
1. At First, Do Nothing
Like us, cats who have found themselves in a predicament might feel, and behave, a bit panicky at first.
But given a little time, most of them will regain their composure, and eventually find their own way down.
Whilst you're in the watchful waiting stage, here are a couple of things to consider:
Take a look at your cat's position from as many angles as possible.
Look for possible routes down, places you might be able to approach them from if needed, etc.
You might even discover they're not really that stuck at all, just a little melodramatic!
Is anything on the ground deterring them from coming down?
Things like noisy garden machinery, sprinklers and loose dogs can all make leaving their tree seem pretty unappealing.
If it's within your power, remove these things from the area.
How soon is your cat going to start getting tired, hungry, or need medication?
Things like this will influence how long you can wait before you have to go up there after them.
A healthy adult cat who's just had a big breakfast could spend 24 hours in a tree in good weather, and eventually find their own way down with no harm done.
If your cat needs urgent medication in the next two hours, and missing that will make it even less likely they can get down independently, then you'll need to intervene sooner.
2. Make Getting Down Easier
Cats are brilliantly adapted for climbing up steep gradients, but less well adapted to getting back down.
Are there other fallen branches nearby, or bits of timber which you can wedge firmly against the tree, to create a route down?
They don't need to reach all the way to your cat, but to within leaping distance of the lowest bough.
Once your route down is in place, step well back and watch from a distance.
It could take an hour or two for them to try it, which is fine if they're not in any more immediate danger.
3. Tempt Them Down With Treats
What does your cat love to eat? What would they move heaven and earth to get to, but are never normally allowed?
As long as it's not poisonous, this is the time to make that wish come true!
Ideally, the treat you offer should also be exceptionally stinky, so that they can't miss it, even up in their new perch.
Warmed up tinned fish is perfect.
Place some at the bottom of the tree and stand back again. Hopefully the new incentive to get down will overcome their apprehension.
Find Their Own Way
As you can see, the goal, if at all possible, is to let them find their own way down.
But cats are nimble, and good at landing safely after a fall.
Their route out of the tree might ultimately be a little ungraceful. But they're still far better equipped to make it unscathed than you are, if you go up after them.
4. Send Up A Rescue Vessel
But if it becomes apparent that your cat is not going to navigate their own descent, then it's time to try bringing them down yourself.
Going up after them should always be a last resort, so first we recommend sending up an (almost) unmanned rescue module.
Usually a laundry basket on a rope!
You'll need a long enough rope to reach a strong branch of the tree, a robust vessel with handles, and that stinky delicious treat from earlier.
You'll also need another pair of hands to help you out.
How to Use It
Secure one end of the rope tightly to the basket, and throw the other end over the branch. Put the irresistible treats in the basket, and hoist it up into the tree.
Once the cat jumps into the basket to grab their snack, you'll need to move in a fast and controlled way to lower them down to the ground.
Two people should hold onto the other end of the rope. Both to support the weight of an unbalanced cat, and stop one person alone getting friction burns from the rope sliding through their hands.
5. Go Up After Them
Unless you're an experienced climber, with safety equipment, we don't endorse following a cat up a tree yourself.
Climbing trees is risky. If you lose your footing, or a branch gives way under your weight, you could be seriously injured in the fall.
And never underestimate how much harder climbing is once you're wrangling a squirming cat as well, even one restrained in a carrier.
So assuming you're not qualified to climb up after the cat yourself (and there's no shame in that – the vast majority of us aren't!), where do you look for someone who is?
Do The Fire Service Get Cats Out Of Trees?
In kids cartoons, it's usually the fire service who save the day and retrieve felines in a fix.
However, it's unlikely that a fire crew will be able to come and help you in real life.
What's more, it's incredibly important that you do not call your national emergency number if your cat is stuck in a tree.
You could try calling the local number for your nearest fire service, but be prepared to be rebuffed.
Some services are unable to come out to stuck cat situations because it might affect how quickly they could respond if a human emergency unfold at the same time.
Other crews have simply found from experience that the standard equipment on their truck isn't suitable for reaching into the canopy of trees.
Generally, small local fire crews are more likely to be able to come out and help than large, busy stations.
Alternatives
So where else to turn? We've got a few ideas!
You can try approaching other local businesses who are equipped for working at heights. Tree surgeons, window cleaners, and roofers, for example.
It's usually worth contacting vets and cat rescues in your area as well. They're likely to know who has rescued stuck cats in your area in the past, and might be able to put you in touch.
Finally, you could harness the power of social media to find someone in your local community who can help out.
Somebody who enjoys climbing as a hobby might have the kit and enjoy applying their skills to a practical challenge!
Once Your Cat Is Down
Once you've followed this guide to how to get a cat out of a tree and your cat has all four paws safely on the ground again, the first priority is to make sure that they, and anyone involved in rescuing them, are unharmed.
Depending on how long your cat was stuck in the tree, they are likely to be hungry and thirsty.
If they've missed a dose of medication, read the packaging carefully or call your vet to find out how to get them back on track.
If someone else helped you catch your cat, make sure you get their contact details, so you can thank them properly later.
Has Your Cat Ever Been Stuck Up A Tree?
Tell us how far up they got, and how you got them back down again, in the comments section down below!
Readers Also Liked