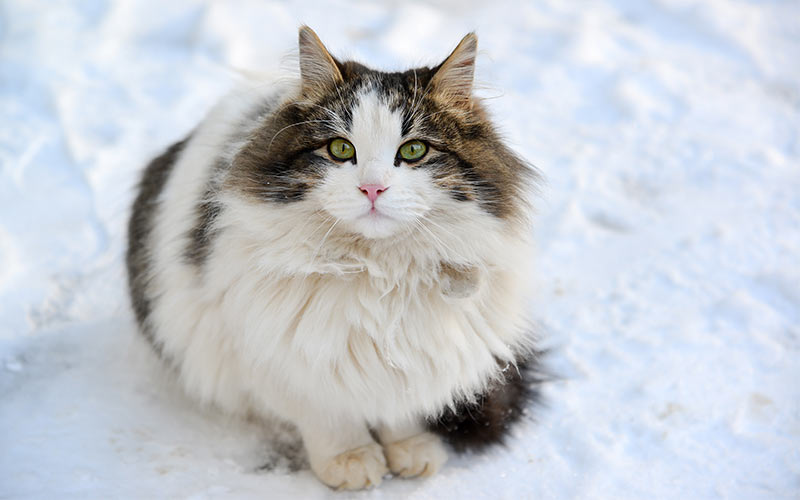 Welcome to our complete guide to long haired cat breeds. Looking at which breeds of cat have the longest hair and what makes their hair so long. Including a great guide to caring for your long haired cat breeds beautiful coat.
Are you looking for a beautiful long haired cat? Do you want to find out which cat has the longest hair?
Is your kitty a competitor for the title of hairiest cat?
Or perhaps you are looking for the perfect new hairy companion?
Well, you've come to the right place!
In this article we are going to give you all the information you want, and need, about long haired cat breeds.
Cat Coat Length
Contrary to popular belief, there are no hairless cats. Even the so-called "hairless" Sphinx cat actually has a thin layer of very fine, short hair covering its body.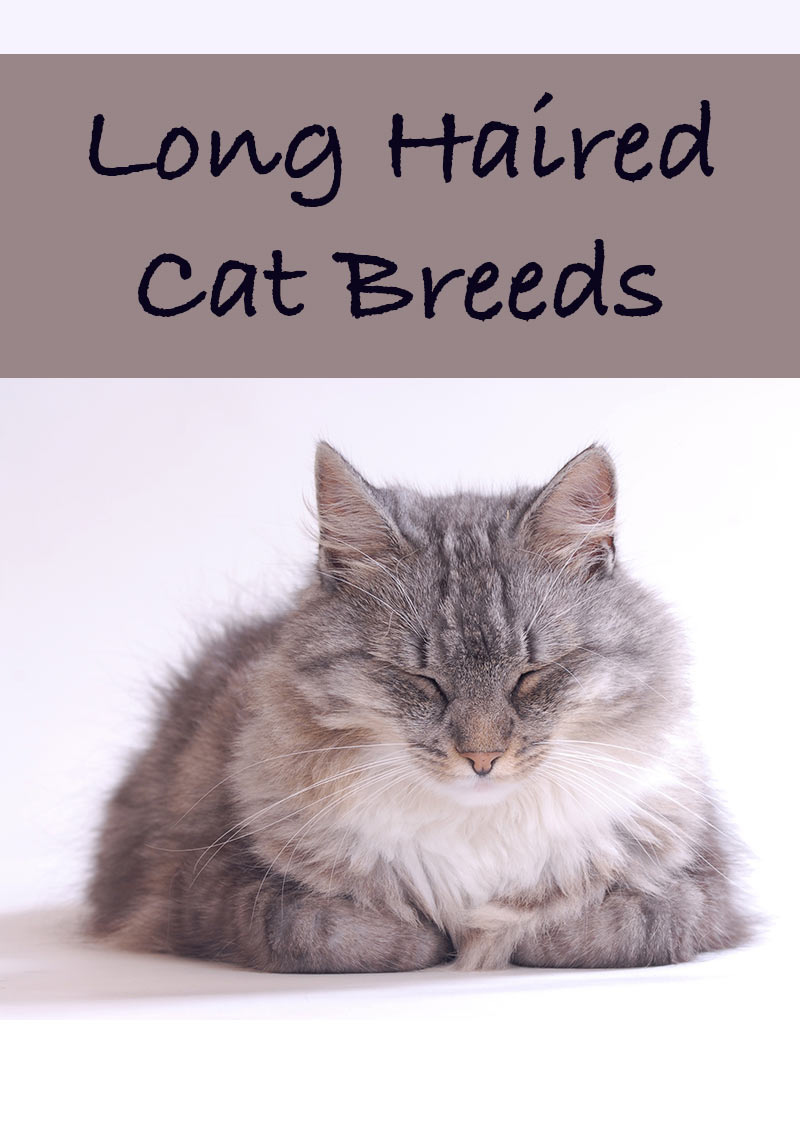 But in terms of cat hair length, all cats are definitely not created equally.
Some cats' hair is quite short. Others are truly deserving of inclusion in the category of "long haired cat."
Even among so-named long haired cat breeds, some long haired cats have longer hair than other long haired cats!
There is really quite a range.
In fact, if you want to get truly technical about it, you could separate the domestic longhair cat into long haired, semi long haired and short haired cats.
But to keep things simple here, we are going to focus on true breeds of long haired cats.
So let's begin!
Why do some cats have long hair?
Scientists are just as curious about what causes types of long haired cats as are cat owners. Now research studies have isolated a specific type of genetic mutation that results in cats with long hair.
With further studies, researchers have narrowed down the most significant factor to a gene called Fibroblast Growth Factor 5 (FGF5), or FGF5 for short.
With the help of this new genetic information, researchers have also been able to explain why two cat breeds, the Manx cat and the Scottish Fold cat, can have both short haired and long haired kittens too!
Having a cat with long fur is an important added responsibility. So let's take a look at caring for a member of the long haired cat breeds.
Caring for a long haired cat
If you are reading through this article while trying to decide whether you should bring home a short haired cat or a long haired cat, it is important to know about some key differences in their care requirements.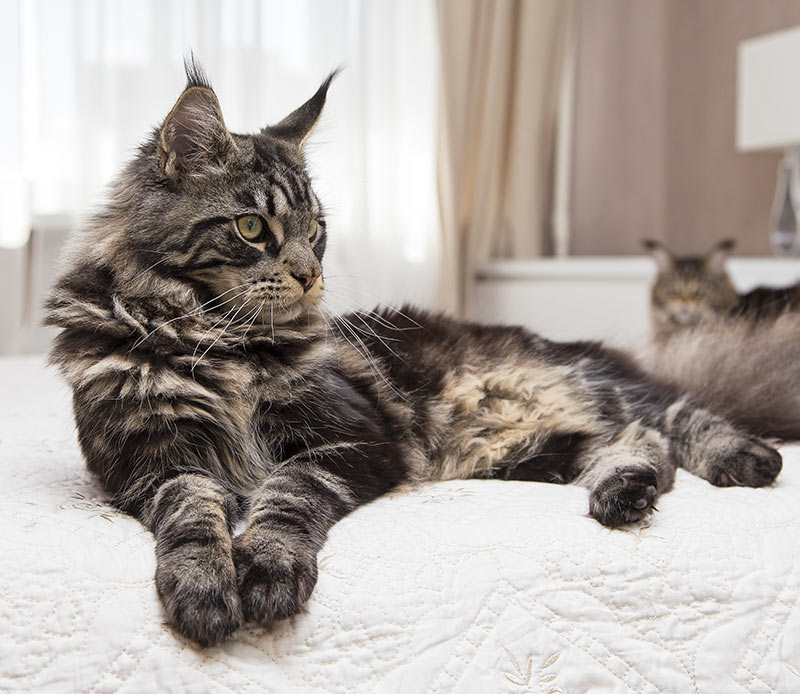 For instance, because of their long hair, a domestic longhair kitten or cat may be more prone to attractive vermin. Including ticks, fleas, and lice.
Also, it may be harder for you to initially spot these pests and treat them early because they can easily hide in the long fur on your cat.
So this will require more regular at-home fur checks as well as possibly trimming long haired cats coats for their own health and safety (and your time and sanity).
You may also want to opt for what is called a "vanity cut" around the tail to shorten the hair for easier cleaning in case your cat has elimination issues.
This can be particularly helpful for long haired kittens and senior cats.
But either way, long haired cats all need some amount of grooming.
Long haired cat grooming
Did you know your long haired cat may have as many as 130,000 hair follicles per square inch of skin growing at any one time? That is a lot of hair to groom!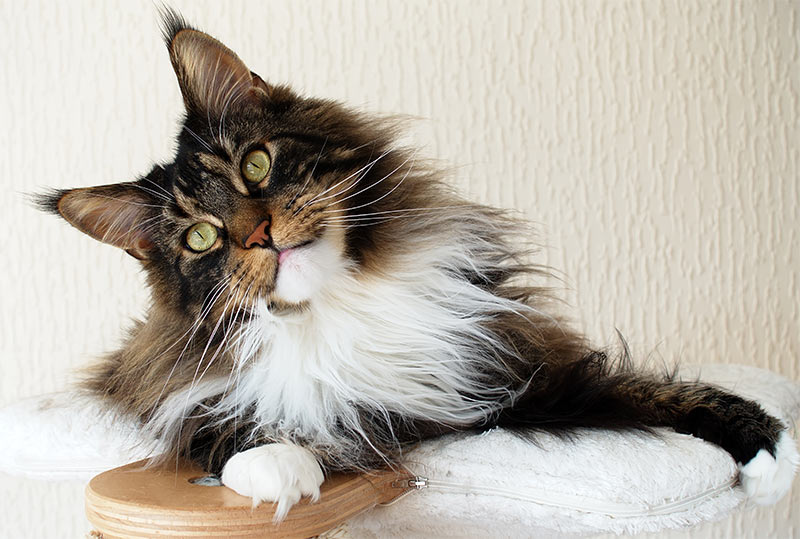 In addition to protecting your kitty from the cold, your cat's coat does all of the following:
Gives him sensory information in both the outer coat, which contains the guard hairs, as well as in the whiskers, which are the tactile-sensing hairs.
Offers protection from wind, rain and sun.
Helps produce essential nutrients.
As well, your cat's coat may change seasonally in both thickness and length.
This can give rise to different grooming needs based on the time of year.
You can find loads of top tips for grooming your cat here. 
Best brush for long haired cats
When it comes to selecting a cat brush for long haired cats, not all cat brushes are created with the long haired cat's special grooming needs in mind.
As well, not all long haired cats devote equal attention to grooming all areas of their long fur.
This can cause mats to develop quickly in certain areas (near the tail is a prime source of trouble).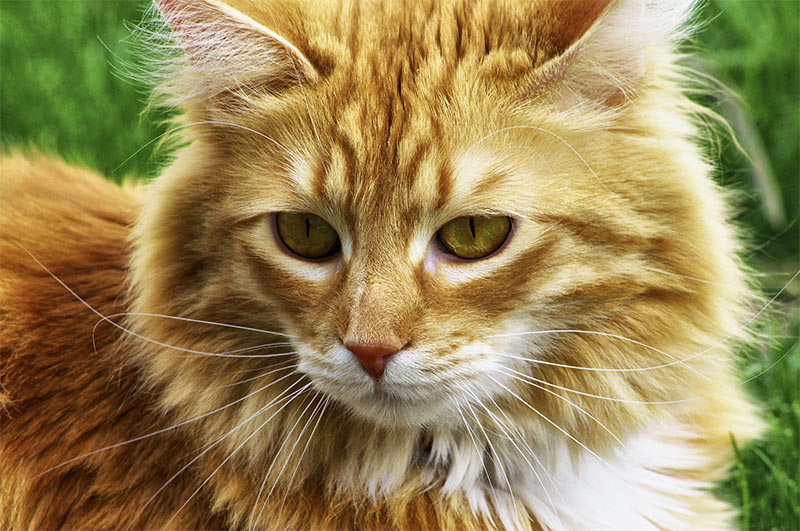 These long haired cat grooming brushes and brush/comb sets will make short work of mats, remove loose hair, and keep your kitty's lovely mane healthy and smooth.
Each brush listed here is rated best brush for long haired cats with rave reviews from happy long haired cat owners. Here, there is no single best choice, but rather just the choice that you and your cat prefer!
Slicker Brush For Long Haired Cats
Pet Republique Slicker Brush Series for Long Haired Pets. This highly rated brush comes in two types: self-cleaning and protective tips. Choose the protective tips version if your cat displays a sensitivity to being brushed or groomed.
The self-cleaning version has retractable brush bristles so you can easily collect and dispose of discarded hair after a grooming session. The brush is an attractive yellow color with black accents.
The manufacturer offers a 30-day money back guarantee as well as a one-year warranty.
Order your Slicker Brush For Long Haired Cats here.
FURminator for Cats
FURminator deShedding Tool for Cats. This highly rated brush comes in small (for cats less than 10 lbs.) and large (for cats over 10 lbs.) and in two versions for short and long haired cats.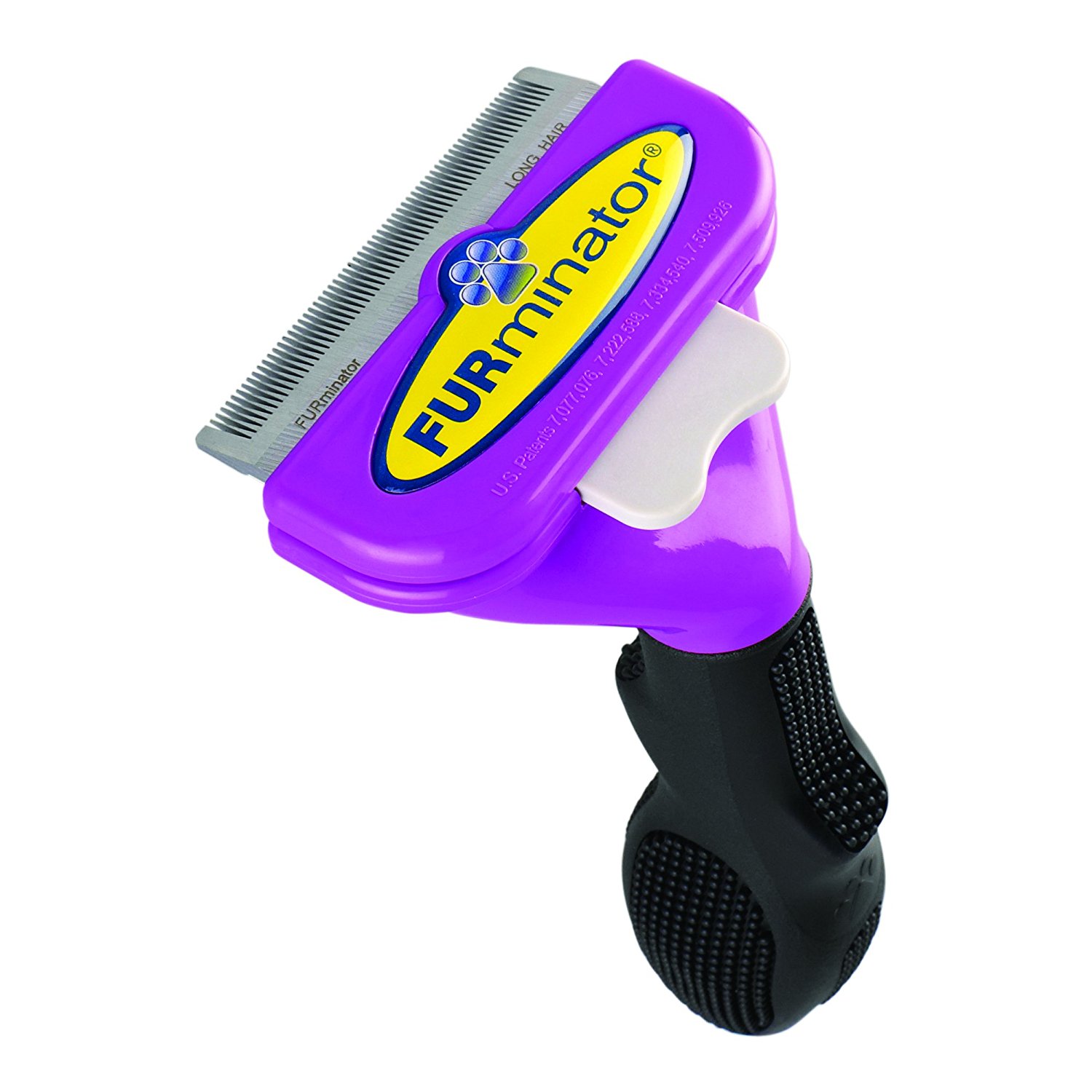 It comes vet-recommended for detangling mats and removing them before an internal hairball can become a health issue. The manufacturer states this tool will reduce shedding by as much as 90 percent.
The brush is self-cleaning with the push of a button called the "FURejector." The brush itself comes in a bright purple color.
Order your FURminator For Cats here.
Pat Your Pet Grooming Tool
Pat Your Pet Grooming Two-Sided Tool with Undercoat Rake. This long haired cat brush is two-sided. On one side you will find 9 sturdy teeth for removing mats and on the reverse side you will find 17 teeth to thin and de-shed the coat.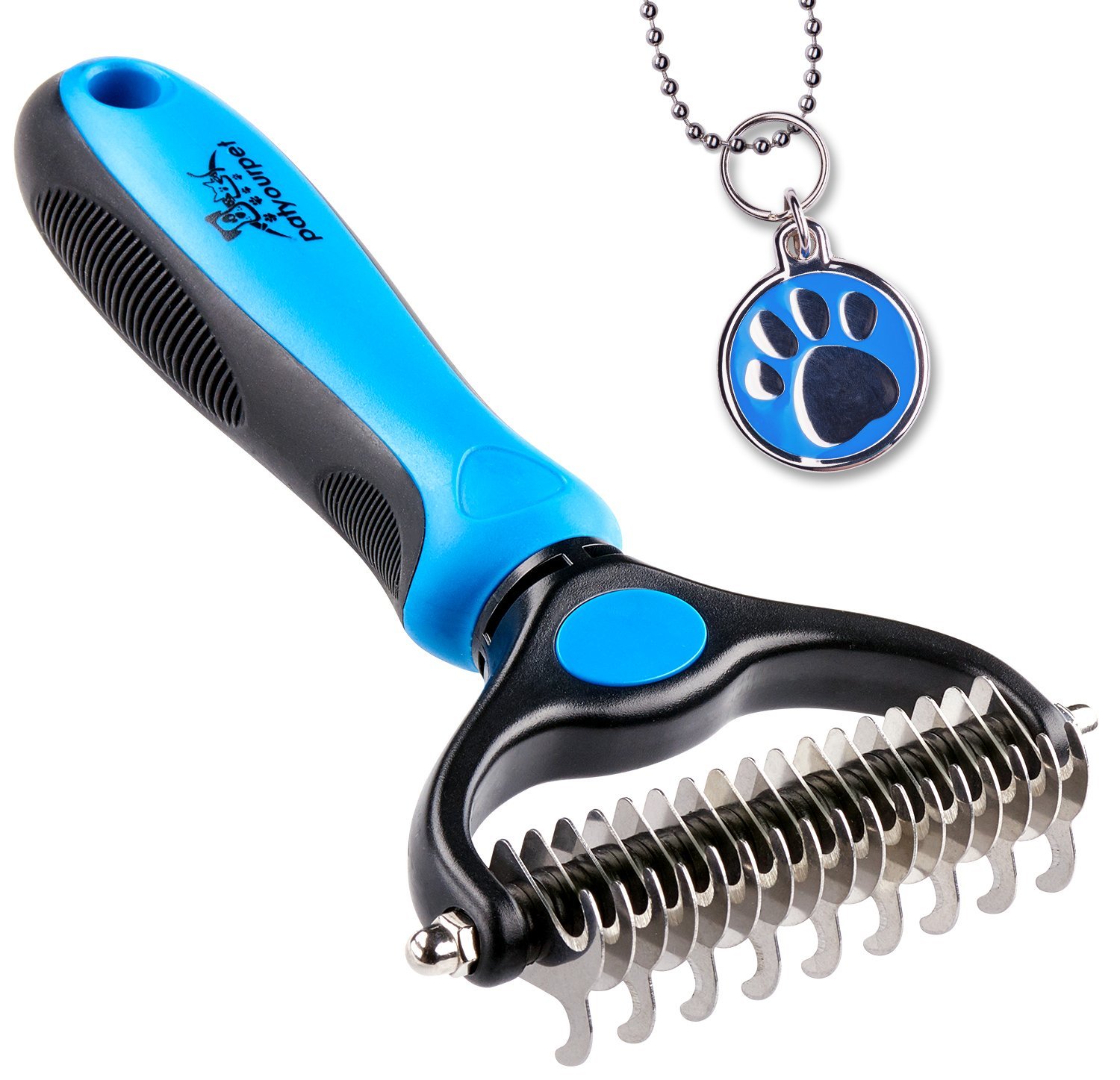 The brush is a bright blue color and the teeth are gently rounded to give your cat's skin a massage-like sensation as you brush.
The manufacturer offers a no-questions-asked money back guarantee.
Order your Pat Your Pet Grooming Tool here.
Delmo Pet Grooming Gloves
Delomo Pet Grooming & Gentle Deshedding Brush Glove. The owners of long haired cat breeds praise this unique grooming glove – one owner says her long haired cat wouldn't permit grooming until she got this glove set!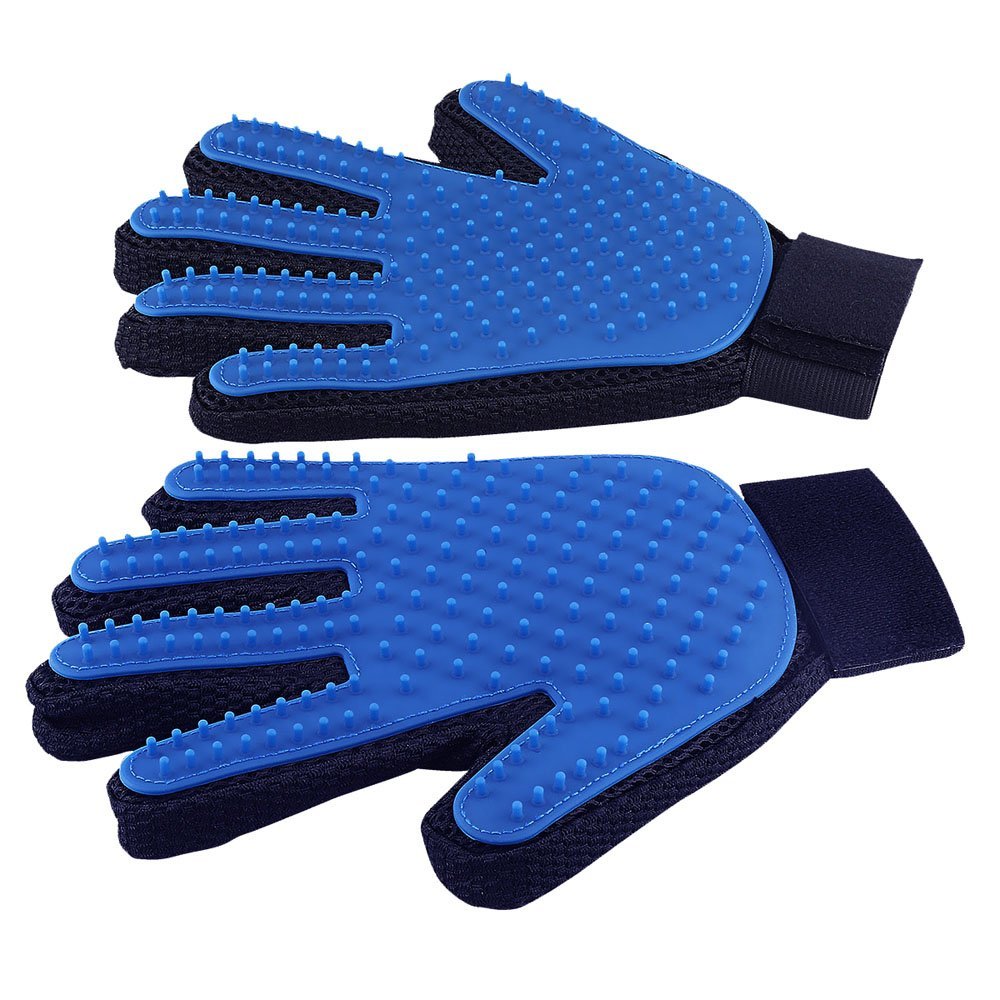 You can choose from a set of blue or pink gloves.
The gloves are made of natural, eco-friendly material and each has 180 silicone tips for grooming and massage. You can use this glove wet or dry and there is five-finger separation so no area of your cat will go un-groomed.
The manufacturer offers a money-back guarantee.
Order your Delomo Pet Grooming Gloves here.
Pet Dematting Comb
Pet Dematting Comb By Hertzko for Dogs and Cats. This special comb/brush is designed to help you easily and painlessly remove tangles, mats, knots, and loose hair from your cat. The teeth are rounded so they won't ever harm your cat's skin.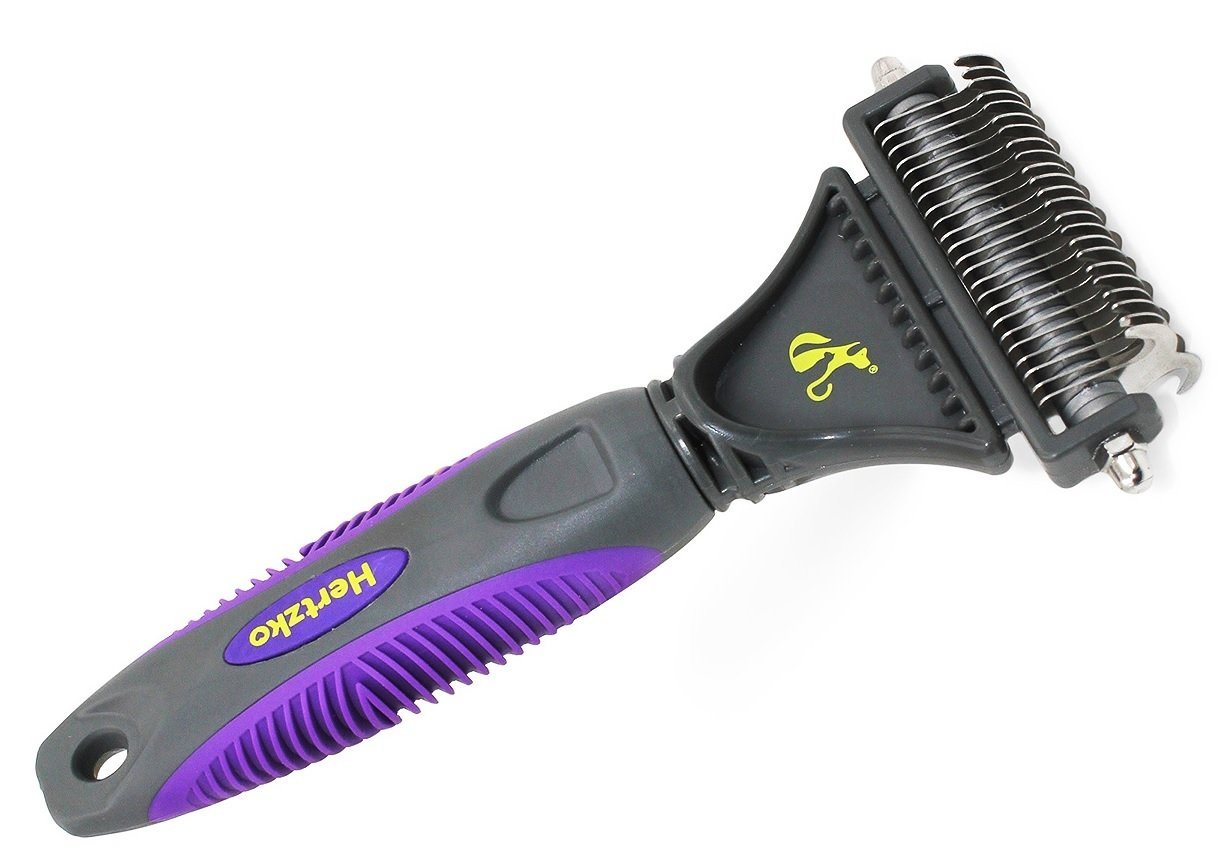 The comb also comes with an anti-slip ergonomic grip for you (especially handy if you have to groom more than one long haired cat!).
The manufacturer offers a 100 percent money-back guarantee.
Order your Pet Dematting Comb here.
There are lots more great brushes for long haired cat breeds too. You can check out our comprehensive cat brush review series here to find out more. 
Long haired cat breeds
There are lots of long haired cats around, but if you want a guaranteed length and type of fur then you are best off choosing from one of these popular long haired cat breeds.
Each of these unique and much-loved long haired cat breeds can make a great pet choice.
Once you make your decision, we would love to hear about which cat breed you choose and how you knew that was the cat breed for you!
Maine Coon Cats
The Maine Coon Cat has a striking coat of hair. They are designed to withstand harsh weather, with so much fur that even their feet are well padded!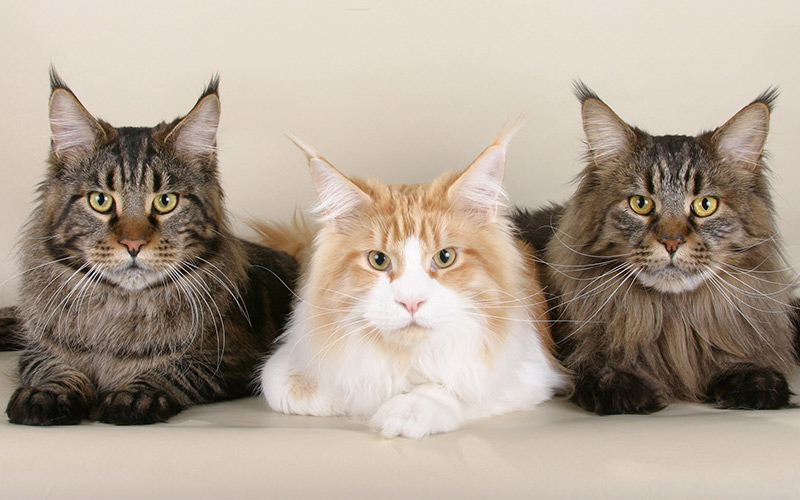 His coat is normally smooth yet shaggy, and often long in length. With the most profuse hair coming from his chest and tail.
The pattern of his fur has distinctive dark colored rings around the tail
Colors vary widely, and include solid colors, bi-colors and even tabby varieties.
They have fabulously friendly temperaments in general, and are very owner oriented. Often being described as similar to dogs!
A great choice of cat if you are intending to spend lots of time at home keeping him company.
You can find out all about the wonderful Maine Coon Cat breed here.
Domestic longhair cat
If there was an official "mutt" in the refined world of cat breeding, the domestic longhair cat would be the frontrunner for the title. The main reason for this distinction is because there is no clearly traceable breeding lineage for this longhair cat breed.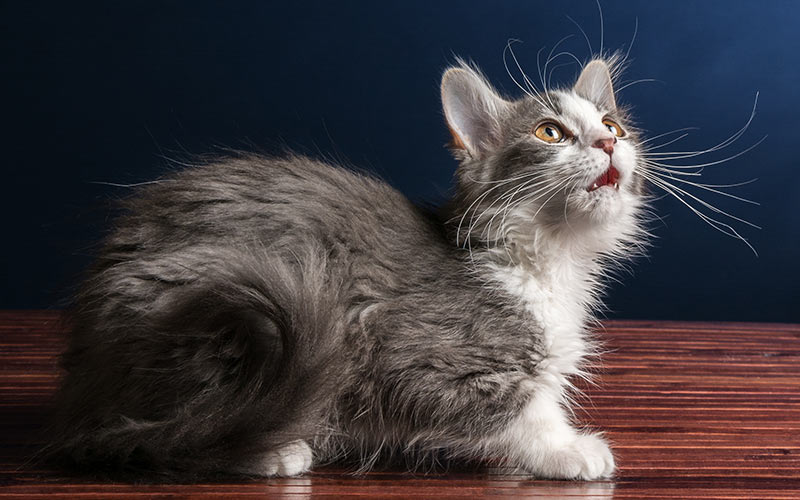 The closest approximation of a bloodline is a popular story that the domestic longhair cat was chosen to accompany the Pilgrims to the New World due to their skill in hunting rats and mice (although cat lovers know it is really because no cat owner could stand to be separated from their feline sidekick, even to colonize a new world!).
Because there is no clear purebred lineage to help calculate coloration, it is common to see tremendous color variation in domestic longhair cats, from a long haired white cat to a black long haired cat to a long haired tuxedo cat or even a long haired calico cat and more.
But by far the most common coloration (and the most popular for many cat lovers) is the long haired tabby kitten and long haired tabby cat, with their characteristic tiger-like dots, swirls and stripes.
These cats tend to look exactly like what you would think a proper cat should look like. They are of medium weight, medium build, with fun and outgoing personalities, and a rugged, "survivalist" nature that makes them great indoor/outdoor cats.
American longhair cat
The American long hair cat comes from a long history of champion cat breeding lines that actually began when the American shorthair cat was crossbred with the Persian cat.
A regal-appearing cat breed, today's American longhair cat can exhibit a great deal of color variety, from a grey long haired cat to a long haired tabby cat.
Most adult American longhair cats will weigh in at 12 lbs. or less and tend to be fairly mellow and adaptable in their personality, making them great family cats.
Persian longhair cat
The famed fur of the long haired Persian cat can grow to a whopping eight inches in length, making for a full-bodied, fluffy coat you can't help but "ooh" and "aah" to see.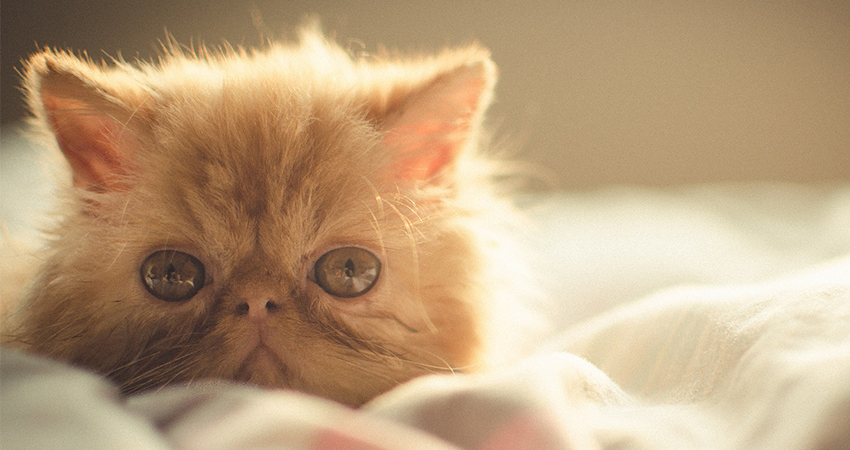 The Persian temperament is most often described as "sweet" and "easygoing." They do like their routine, however, especially when it comes to meal times.
This particular long haired cat breed will need frequent and meticulous grooming, both due to hair length and thickness. This can take some significant investment of time, which not every cat fancier happens to have, so it is important to think this it through before committing to a Persian.
They also have some potential health problems related to their structure which you will need to carefully consider.
You can find out more about the Persian Cats Breed here. 
Siamese longhair cat
The long haired Siamese cat is its own self-contained bloodline, but it also maintains close genetic ties to related breeds. Such as the Javanese Siamese cross, the Balinese Siamese cross and the Himalayan Siamese cross.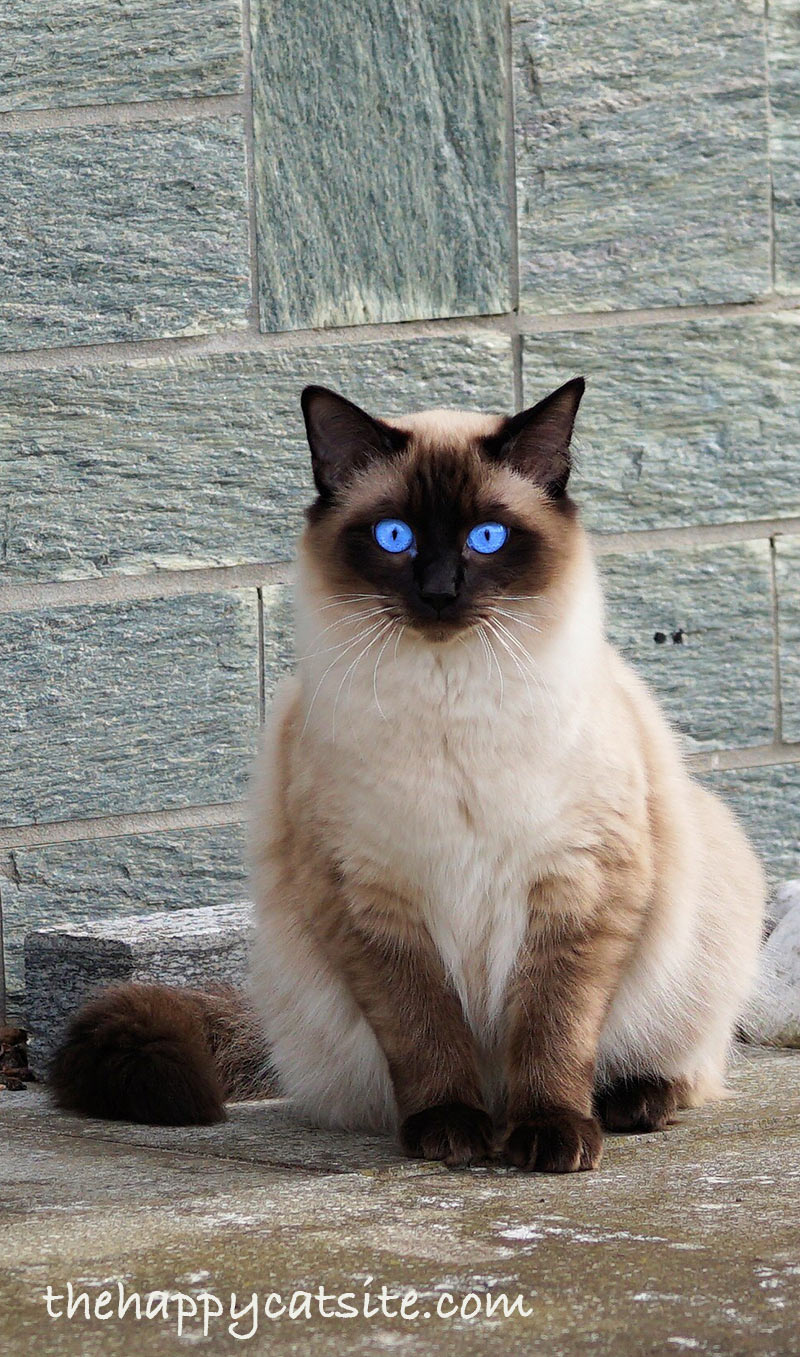 As well, some color resemblance helps maintain the relationship across these related breeding lines. It is not uncommon to see a long haired grey cat, long haired orange cat and long haired blue or lilac cat, all related in some way to the classic Siamese long haired cat.
Siamese cats are very vocal, playful, smart, and curious. They will bond closely with you, so this is not a cat for someone who won't be at home much.
They are wonderful kitties, and can make excellent family pets for the right home.
You can find out all about the Siamese Cat Breed here.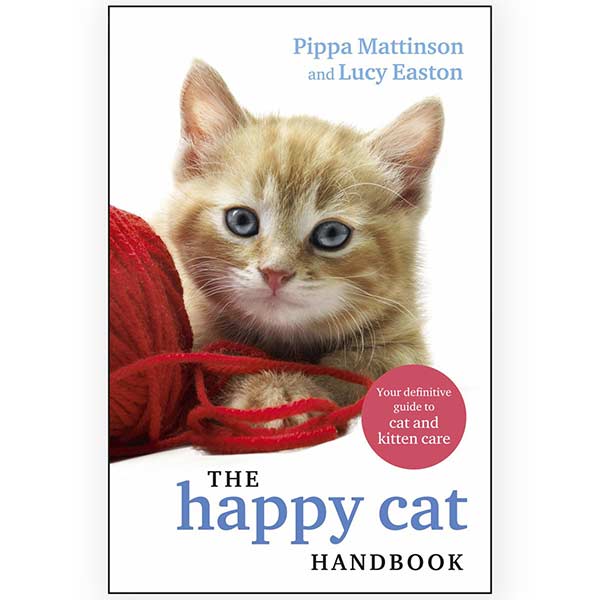 British longhair cat
The British long hair cat, or "Highlander" as some have nicknamed them, is an up-and-coming breed of long haired cat that is becoming more popular as it becomes more well known. In fact, this cat was only just recognized as a show breed in 2009 by The International Cat Association (TICA)!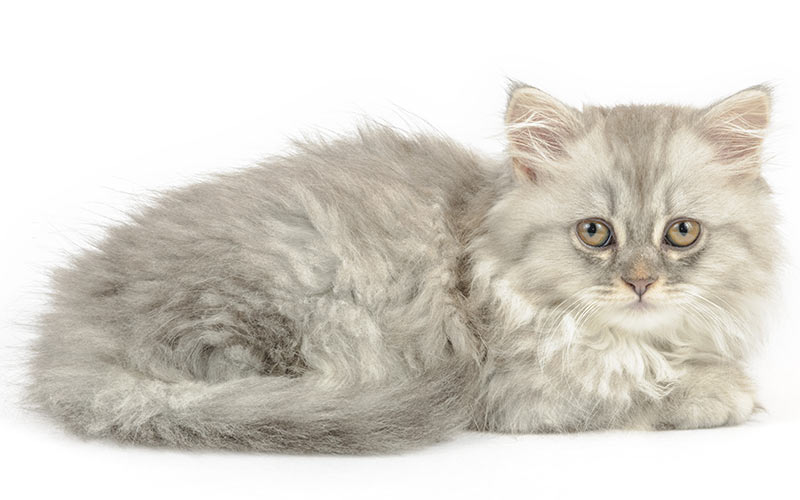 These beautiful, plush-coated cats are some of the most coloration-diverse among cat breeds. It is not uncommon to see a long haired black cat, white long haired cat, long haired tortoiseshell cat, or even a orange long haired cat that are each also classified as a British long hair cat.
The British long hair cat can grow to be 18 lbs. They have an easygoing, independent temperament, making them a great choice if you can't be in constant attendance.
But don't forget that as one of the long haired cat breeds they will need regular focus on that coat.
Best long haired cat breeds
There are so many wonderful longhair cat breeds to choose between, of which these five are just a representative sample.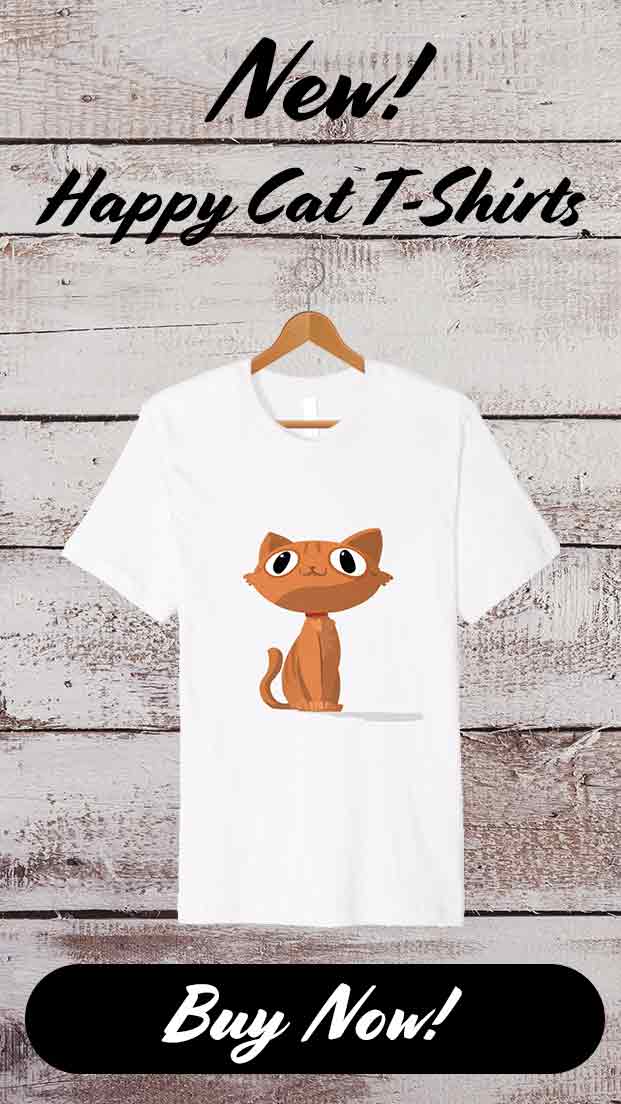 Whether you opt for a purebred from a breeder who can provide a verified bloodline or you choose to rescue a "mutt" who is in need of a "forever home," your longhair cat will completely depend on you for her health, wellness, and socialization needs.
For this reason, it can be a great idea to take your time before you choose your "forever cat.".
To feel sure in your choice, it can be a good idea to talk with the breeder or shelter about the cat's personal history, observe the longhair cat in interactions with other cats and pets, have some personal play time together, learn about any special health or grooming needs of that cat breed, and consult your gut intuition.
If you do all of this, you are sure to make the best possible choice!
Free Updates For Cat Lovers!
Our cat care articles, tips and fun facts, delivered to your inbox
Resources and Further Reading
Kehler, J., et al, "Four Independent Mutations in the Feline Fibroblast Growth Factor 5 Gene Determine the Long-Haired Phenotype in Domestic Cats," Journal of Heredity, 2007.
Pollmeier, M., et al, "Effective treatment and control of biting lice, Felicola subrostratus (Nitzsch in Burmeister, 1838), on cats using fipronil formulations," Journal of Veterinary
Parasitology, 2004.
Fries, W.C., "Cat Nutrition for a Healthy Coat," Pet Web MD, 2009.
Pierce, J.P., et al, "Sympathetically induced changes in the responses of guard hair and type II receptors in the cat.," The Journal of Physiology, 1981.
Ryder. M.L, "Seasonal changes in the coat of a cat.," Research in Veterinary Science Journal, 1976.
Your Amazing Cat!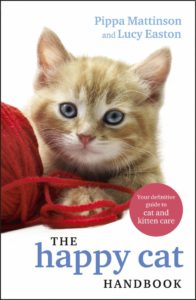 We are so excited to share our new book with you!
If you have enjoyed your visit to The Happy Cat Site we think you'll love The Happy Cat Handbook.
Written by the founders of this website including the author of the hugely successful Happy Puppy Handbook, it's packed with cat care information and fascinating cat facts.
Grab your copy today!
Free Updates For Cat Lovers!
Our cat care articles, tips and fun facts, delivered to your inbox