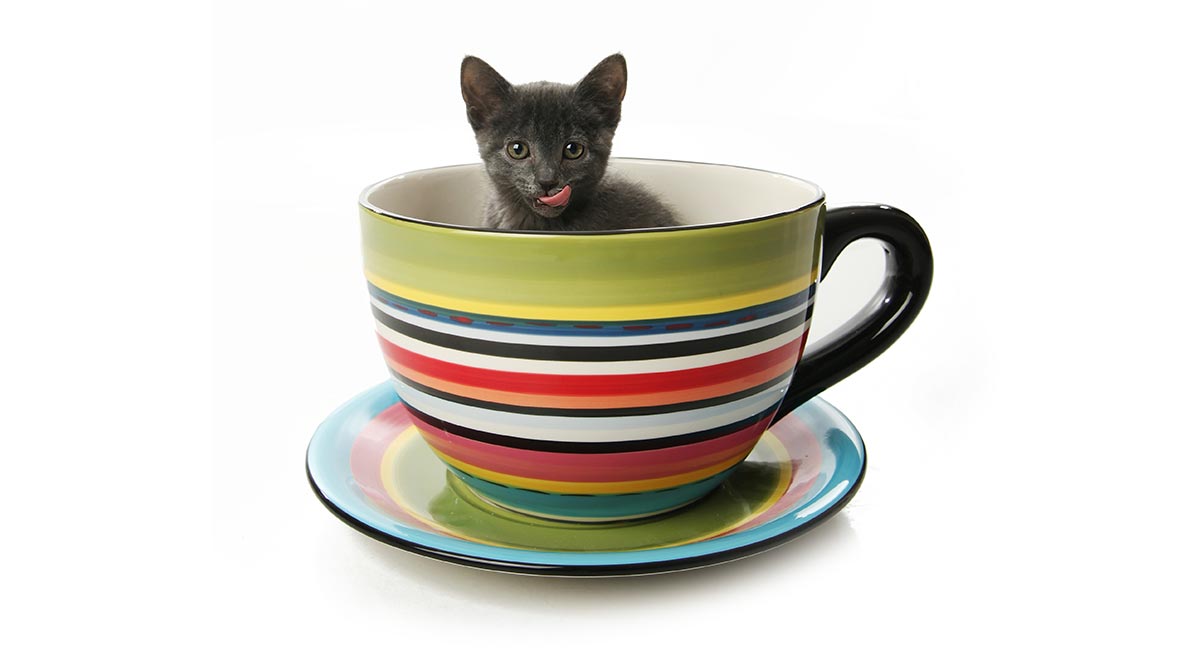 Teacup cats and miniature cats are simply cat breeds that are smaller than usual. They are small all over but in proportion, unlike dwarf cats.
Teacup cats and miniature cats are created by breeding the smallest cats from a breed. Although, teacup cats are smaller than miniature cats.
Despite being almost unheard of thirty years ago, dwarf cats, teacup cats and miniature cats have become hugely popular in a relatively short period of time.
More and more prospective cat owners are researching miniature cat breeds and teacup kitten prices. So, we take a look at these new cats on the block and the important things to consider before bringing one home.
Origins of Miniature Cats
Anecdotes of dwarf cats have been recorded since at least the nineteenth century. There's evidence that dwarf lines of familiar cat breeds have cropped up briefly before drifting out of existence several times over the course of the twentieth century.
Then, two types of extra-small cat appeared at the same time in the early 1990s. And, instead of dying out again, a new market for them exploded overnight.
Those cats were the Munchkin cat and the teacup Persian cat, and they have very different reasons for being small.
What's the Difference Between Dwarf Cats and Miniature Cats?
Because extra-small cats like teacup cats and miniature cats are so new on the scene, there's a lot of confusion about how to describe them. We'll lay out these basics before we go further.
Put simply, dwarf cats have short legs on a normal-sized body, and miniature cats are small all over. Teacup, micro and ultra-micro are just terms coined to describe different degrees of miniaturization.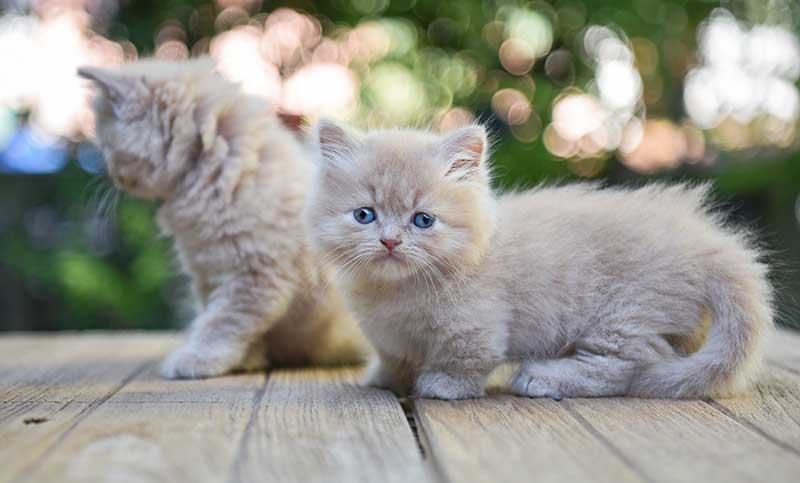 Now, let's see how that applies to our Munchkins and teacup Persians.
Munchkin, The Dwarf Cat
Munchkin cats carry a hereditary genetic mutation that gives them short legs in proportion to the rest of their body. This condition is known as pseudoachondroplasia.
Munchkin cats were the first dwarf breed of cat to receive some recognition as a pedigree in their own right. The foundation of the Munchkin breed was about as close to an accident as it's possible to get.
In 1983, a teacher in Louisiana adopted an ordinary-size stray female cat. When that cat delivered a litter of kittens, half of them were born with pseudoachondroplasia.
Where This Led
One of the dwarf tom kittens went on to live the life of Riley as an unneutered, outdoor tom. Soon enough, dwarf cats started cropping up all over the neighborhood and being sold further afield.
Then, instead of dying out like previous dwarf lines, an enterprising couple in Massachusetts took dwarf cats they bought to The International Cat Association (TICA).
In 1994, Munchkins were recognized in TICA's New Breed Development Program, and a pedigree was born.
Teacup Persian Kittens and Cats
Persian cats can also be born with pseudoachondroplasia, and a lively market for dwarf Persian cats sprang up at the same time interest was growing in Munchkin cats.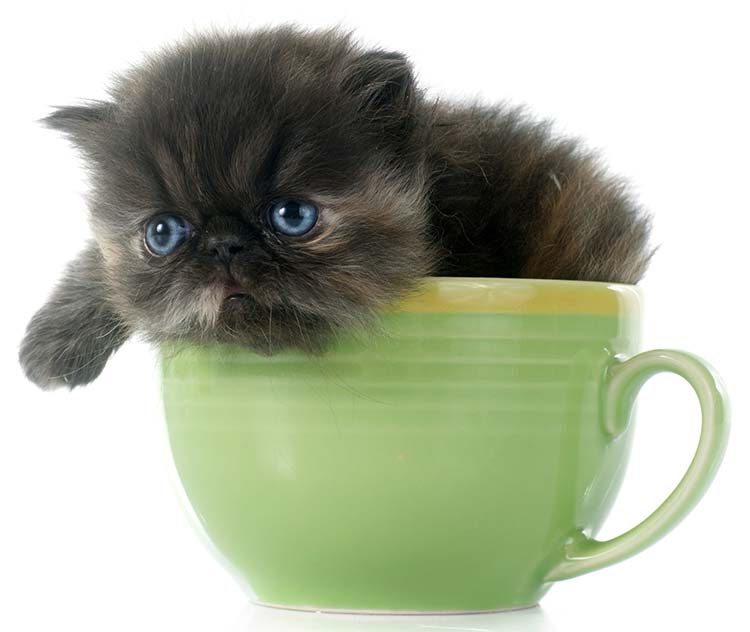 But teacup Persian cats do not have pseudoachondroplasia. They are just very small, normally proportioned Persians cats.
How Is a Persian Cat Miniaturized?
Ultra-typing is the term for a program of sustained selective breeding designed to exaggerate a particular characteristic. This process is common in breeding programs for domestic animals of all kinds.
In the case of teacup Persian cats, the smallest cats of each generation were bred together so that their offspring became smaller and smaller.
Some breeders argue that this has been made possible by another hereditary condition that is equivalent to primordial dwarfism in humans. However, there is no genetic evidence to back that claim up at this time.
How Small Are Full-grown Teacup Cats?
Munchkin cats tip the scales at four to nine pounds when fully grown. In comparison, the average cat weighs nine to eleven pounds.
Miniature cats peak at a diminutive five to six pounds, while a full-grown teacup cat may weigh only three to four pounds. There are breeders offering ultra-micro Persians which barely nudge two pounds.
Experimental Miniature Cat Breeds
The rise of Persian teacups has inspired people to search for small versions of other popular cat breeds, such as miniature Siamese cats and teacup Ragdoll kittens.
These don't exist yet, but unfortunately, there are unscrupulous breeders who falsely advertise runts and malnourished kittens as teacup varieties in order profit from them.
Sadly, these kittens often have a lot of health problems, and purchasing them supports inhumane animal breeding.
New Varieties of Teacup Cats and Miniature Cats
Meanwhile, TICA has acknowledged some new dwarf and miniature varieties with Experimental Breed status.
They are:
the Lambkin (Munchkin x Selkirk Rex)
the Skookum (Munchkin x LaPerm)
the Minskin (Munchkin x Sphynx)
the Napoleon (Munchkin x Persian)
the Genetta (Munchkin x Savannah x Bengal x Shorthair)
The aim of this final experimental breed is to create a domestic cat that looks like a wild Genet.
What Category Are These Breeds?
These breeds, especially the Napoleon, begin to blur the distinction between dwarf and miniature cats.
Some of them are so new, we don't even know what their average life expectancy is yet, so it's too soon to comment on their suitability as pets.
But if the trend for extra small-sized cats continues, expect to hear more about them soon.
Choosing a Dwarf or Miniature Cat
As humans, we are programmed to protect and nurture anything small and vulnerable.
Dwarf cats, teacup cats and miniature cats tap straight into that instinct, and they are undeniably cute.
They also seem like the intuitive choice if you have a small house or apartment. So, it isn't surprising that many people find them appealing.
Here are important things to consider if you want to bring one home.
Temperament
According to TICA, Munchkin cats are sociable, playful, curious and active.
Despite their short legs, they are still agile enough to jump onto furniture and kitchen counters, and they love to explore.
Miniature Persians and teacup Persians have the same reputation as their full-sized counterparts. They are usually loyal, friendly and docile.
Because of this, they are sometimes recommended as ideal pets for children and older people but bear in mind that their small stature makes them fragile. This often means they require special care.
Special Care
I've seen mixed advice about whether Munchkin cats should be let outdoors, and the right answer for your cat will probably depend on the environment you live in.
However, miniature Persians and smaller cats are almost certainly unsuitable for outdoor life.
In fact, the smaller they get, the more complex they are to care for.
Challenges of Caring for a Teacup Persian
Miniature Persian kittens are rarely ready to leave their mothers at twelve weeks. Often, they need to stay with her for five or six months before you can take them home.
Like their full-sized cousins, miniature Persians need daily help with grooming to prevent their coat from becoming matted.
Miniature Persians are also vulnerable to a range of health problems that require a financial and time commitment to manage. We'll come back to those issues in a moment.
Health Problems in Munchkin Cats
Munchkin cats are generally considered pretty robust, but breeders and critics are divided over the health implications of deliberately breeding cats with pseudoachondroplasia.
Fans of the breed maintain that they don't suffer any ill effects from their short limbs, but critics report an increased rate of lordosis (curvature of the spine) and pectus (rib cage deformities).
In addition, litters of Munchkin kittens are smaller than average, which suggests that embryos that inherit the dwarf gene from both parents (homozygous for pseudoachondroplasia) are not viable and die in the womb.
The Munchkin breed simply hasn't existed long enough for a proper evidence-based answer. But, the College of Veterinary Medicine at the University of Missouri has begun to research the breed, and hopefully, this will be a future objective for them.
Health Problems in Miniature Persian Cats
Miniature Persian cats, on the other hand, are incredibly delicate animals.
Being Persian, they are prone to all the same health problems of a full-sized Persian cat.
Selective breeding for very flattened faces is an increasing problem in Persian cats. This is especially true in miniature varieties because it complements their tiny, smushed-up look.
Unfortunately, it frequently results in problems with breathing, grooming, eating and eye health.
Kidney Disease
Persian cats are also prone to Polycystic Kidney Disease. This is a hereditary disease that can be screened for before cats are mated.
A responsible breeder will be able to provide evidence that this screening has been done.
You can find out more about the health problems that affect Persian cats in our breed review of Persian cats.
In addition, Persian teacup cats are prone to health problems caused by their size.
The Complications of Getting Smaller
Pet insurers, Pet Assure, list the known complications of extreme miniaturization. They include:
soft and misshapen bones, especially in the jaw and legs
diminished muscle mass, leading to reduced mobility
heart murmurs and an enlarged heart
neurological problems, including seizures
a soft spot in the skull, making them vulnerable to head trauma
shortened life spans
missing or malformed reproductive organs.
The smaller the cat is, the more of a problem these issues will be.
Miniature Cats Controversy
Dwarf cats, teacup cats and miniature cats have been created by either deliberately preserving genetic mistakes or by selectively breeding very small cats. In the new experimental breeds, both strategies have been used.
This start in life has created a massive division in the cat-loving community.
While TICA has acknowledged dwarf and miniature breeds, other agencies, including Cat Fanciers Association, Fédération International Féline, and UK's Governing Council of the Cat Fancy, have refused to recognize the breed on the basis that it is unethical to regard genetic disease as desirable.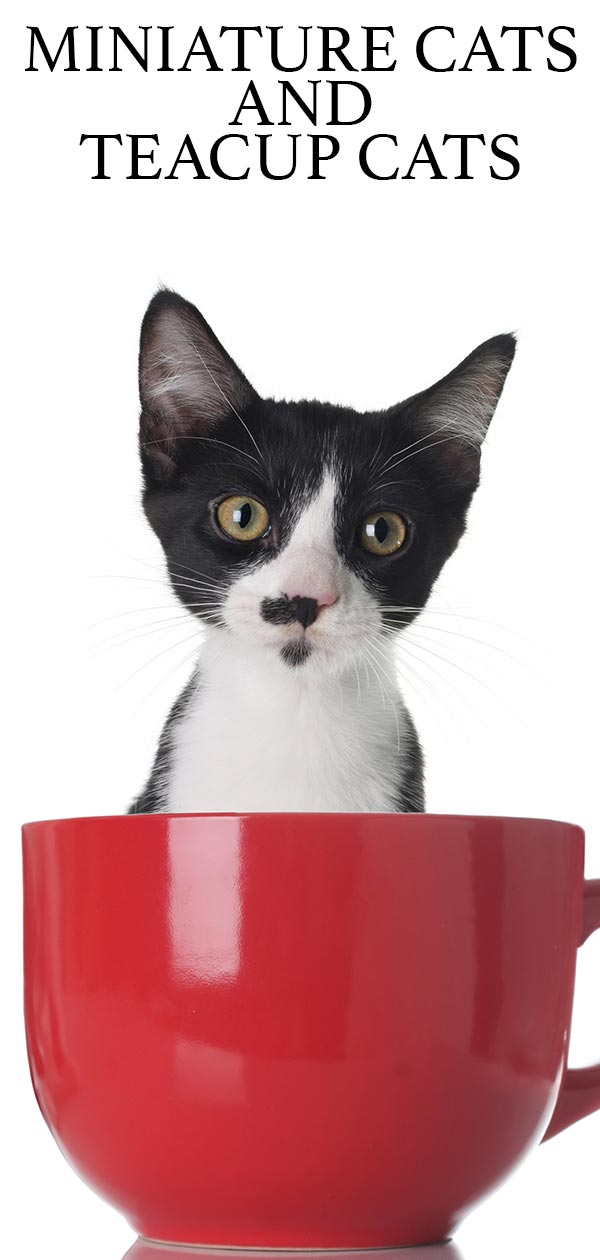 Who Else Objects
Across Europe, the European Convention for the Protection of Pet Animals effectively makes breeding dwarf and miniature cats illegal in Europe.
Many vets have also gone on record to speak out against dwarf cats, including Dr. Patty Khuly of VetSTREET.
Until dwarf, teacup cats and miniature cats have been around long enough to conduct long-term health studies, we can't say who is right.
In the meantime, be prepared that if you do decide to bring a teacup kitten home, you may have to defend yourself against some fierce criticism.
Where to Buy Teacup Cats
Owing to their controversial history and unresolved health concerns, dwarf cats, teacup cats and miniature cats are not widely available outside of the United States.
Specialist breeders can be found online, and are preferable to private ads on websites such as Craigslist.
Remember these breeds are new, so the number of responsibly-bred, healthy animals is small. That makes them valuable, so many litters are often placed by word of mouth without being advertised.
How to Buy a Healthier Teacup Kitten
Miniature cats and teacup cats sold cheaply through private ads are far more likely to be runts or emaciated kittens that should be bigger but aren't because they are very sick.
A responsible breeder will put the welfare of their cats at the forefront. They should be happy to talk candidly about the health problems facing dwarf and teacup cats.
A breeder who tries to brush these concerns under the carpet is most likely more interested in profit than animal welfare.
Dwarf Cat and Teacup Kitten Prices
Dwarf cats typically cost up to $1,000. High demand and small litters keep the number of available Munchkin kittens low and prices high.
Responsibly bred miniature and teacup kittens start at $1,000 and easily reach $2,000.
The cost of a miniature or teacup kitten from a responsible dealer will reflect the costs of screening for known health risks and careful breeding from a wide gene pool.
If a breeder wants a lot of money, but can't provide evidence of screening for health problems or a documented family tree, then alarm bells should ring. More likely than not they are just lining their pockets.
Finding Teacup Cats for Adoption
Because the number of dwarf cats and miniature cats is still small, healthy cats are valuable. Therefore, they are rarely available for adoption.
When teacup kitten are offered for adoption, the reality is that they are likely to be ill. If they are listed as free, it's tempting to take them anyway. Please don't, because this perpetuates cruel breeding practices.
If you are serious about bringing home a miniature kitten, research breeders and ask to join their waiting lists. Be prepared to be patient and to part with a significant amount of money.
Teacup Cat Alternatives – Naturally Small Cat Breeds
Should you decide that you (or your wallet) aren't ready for ateacup cat or miniature cat, don't be despondent.
These well-established breeds are naturally petite (for scale, an average domestic cat usually weighs about ten pounds):
Singapuras
Tipping the scales at five to eight pounds, affectionate and playful Singapuras have a characteristically ticked tabby coat and are known for perching in high places to get a good view of the world.
Cornish Rex
At a dainty six to seven pounds, the friendly and adventurous Cornish Rex only has a single coat of curly or wavy down hairs, making them exceptionally silky and soft.
Named after the breed's origins in Cornwall, England, these cats shed less than other cats and are known to enjoy playing fetch.
Devon Rex
Blessed with big eyes and even bigger ears, Devon Rexes are smart, mischievous and loving. They weigh between six and nine pounds and are another breed that sheds less than most cats.
Miniature and Teacup Cats – Summary
They're nothing new, but this time it seems that dwarf cats, teacup cats and miniature cats are here to stay.
They have all the makings of charming and loving pets, but it's going to be some time before we know for sure how healthy dwarf and miniature breeds are.
If you want to be a part of the growth of these small cat breeds, you'll need commitment and patience. Buying and caring for miniature or teacup kittens requires a significant amount of time and money.
And finally, more than ever in a breed review, we've had to broach the problem of dishonest and inhumane breeding practices in this article. So, please take the time to find a responsible breeder.
And, if you meet a breeder treating kittens badly, please use this link to ASPCA guidance on reporting animal cruelty.
Do You Own a Teacup or Miniature Cat?
We'd love to read about your experiences if you have a teacup cat, miniature cat or a dwarf cat with achondroplasia.
What advice would you give someone looking for their first miniature or teacup cat?
Please share your experiences with us in the comments section below.
References
The Cat Fanciers' Association
Federation Internationale Feline
The Governing Council of the Cat Fancy
Hartwell, S., "Ultra-Typing – A Breed Too Far?", www.messybeast.com, 2013.
The International Cat Association
Khuly, P., "Why I Can't Stand the Hype Over Dwarf Cats," www.vetstreet.com, 2012.
Sellers, S., Gandolfi, B., et al., "The Munchkin Cat: Phenotypic and Genotypic Characterization," College of Veterinary Medicine, University of Missouri, 2012.
Wedderburn, P., "Cat Breeds – Trophies with Hidden Problems," Journal of Small Animal Practice, 2008.