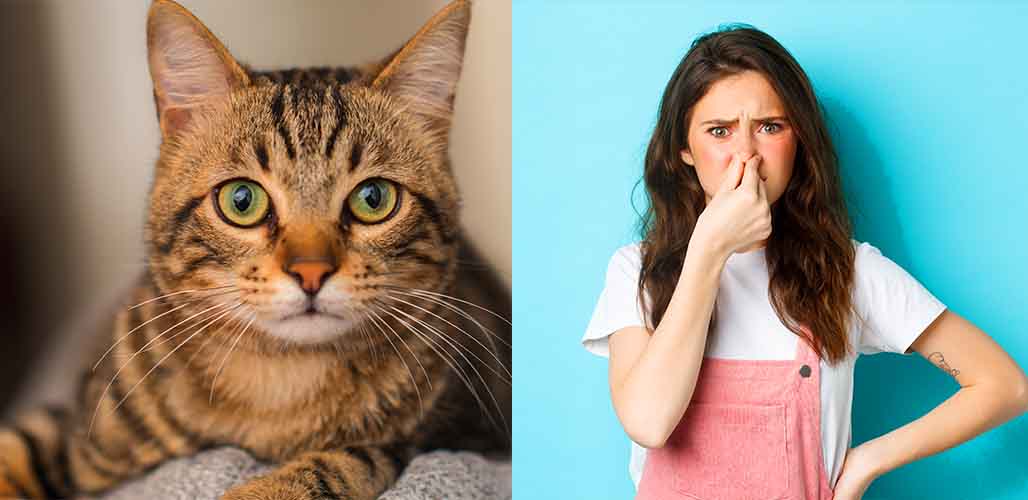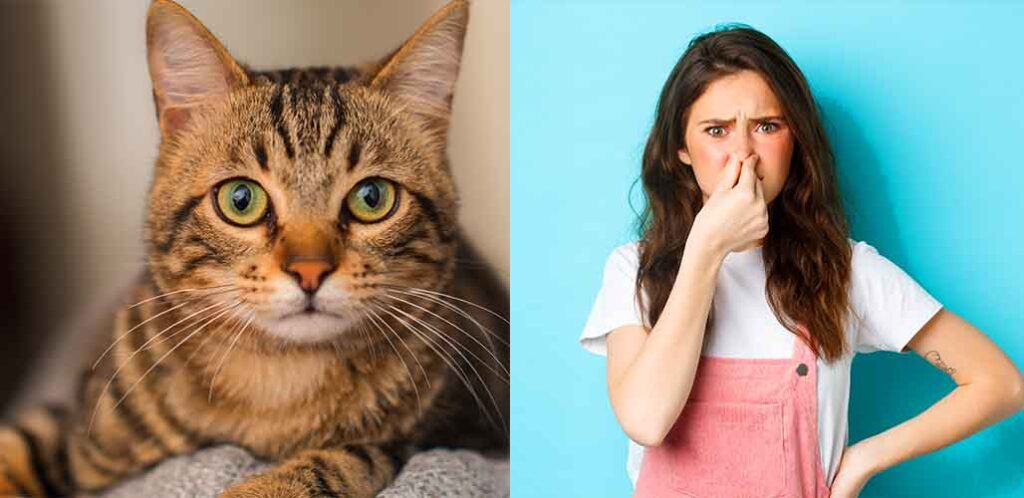 What does cat spray smell like? It mostly stinks of kitty urine, but there are other hormonal and chemical factors mixed in. Once you know the smell of cat spray, you can't unknow it. But figuring out what is causing such a stink can be challenging the very first time you smell it! In this article, we will walk you through what cat spray is, what cat spray smells like and why it smells like that.
Contents
What Is Cat Spray?
Simply put, cat spray is urine. Then why not just call it cat pee? Cats typically visit the litter box when they straight-up have to urinate. And a cat that needs to urinate will be eliminated on a horizontal surface such as the floor of the litter box.
When a cat urine-sprays, however, there is also a different reason and a different placement. Typically, urine-spraying is done on vertical surfaces. This makes the scent of the urine-spray (unfortunately for you) much stronger and easier to detect.
It's hard to stop a cat from spraying in your home once they've started, but not impossible.
Scent marking
Scent marking is used as a form of feline communication. It is a cat's way of saying "I was here" to other cats and other animals. (And when you share a house with a cat, the message may also be intended for you.)
Spray marking
Spray marking is typically used to establish personal territory boundaries. A cat that spray-marks is telling other cats "this territory is taken." When a cat is ready to mate, the cat may also spray to let potential mates know they are seeking a mate by leaving a scent trail.
Self-defense
Cats that feel anxious or threatened may spray urine as a deterrent and a warning to potential predators, territorial rivals and others. This is always a stress behavior.
Medical reasons
Finally, cats will sometimes spray because they are incontinent (unable to hold their urine) or have an underlying unaddressed veterinary issue. So it is always smart to have your cat checked out by a feline veterinarian just to rule out medical complications.
What Does Cat Spray Smell Like?
Cat spray doesn't have just one odor, although it does have certain odor characteristics (see next section here for those). Researchers that study such things have been able to identify several different chemical contributors to the signature fragrance of cat spray.
Interestingly, the quantity and intensity of each chemical can vary throughout a cat's life based on gender, age, health and also whether the cat is fixed or not.
You will always get the strongest cat spray smell from an intact adult male cat. This is called the "tom cat" smell. Intact male adult cats have urine with a higher concentration of hormones, which is why their spray is the stinkiest. But all cat spray will be stinkier than cat urine because of the vertical placement of the spray.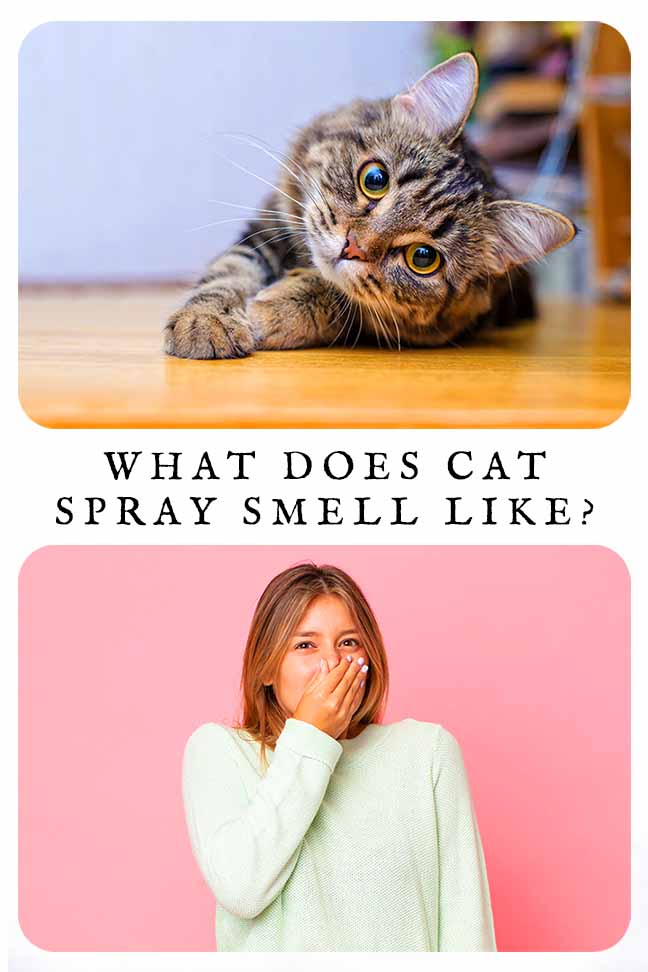 Does Cat Spray Smell Like Ammonia?
The number one scent marker of cat spray is an ammonia smell. Of course, if you are not sure what ammonia smells like, that doesn't help much. The smell of ammonia is typically described as a combination of urine and sweat and musk.
Also keep in mind that the human nose generally doesn't perceive the ammonia smell as pleasant. If you find yourself recoiling or wrinkling up your nose like you just walked into a dirty bathroom, it is probably ammonia you are smelling.
Does Cat Spray Smell Like Poop?
Even though cat spray is simply a concentrated emission of urine, it usually won't smell like cat poop. However, there are some exceptions. Like dogs, cats also have anal glands or anal sacs. These little sacs contain a highly concentrated and very smelly thick fluid. Cats use this fluid to communicate. Typically, cats express a small amount of this fluid every time they poop as a way to identify themselves.
But cats may also express anal sac fluid when they are scared, startled or threatened. And since cats may spray for the same basic reasons, there is a chance your cat's spray may include both urine and anal sac fluid.
Can You Smell If A Cat Sprays?
Cats use much less urine to spray with because the behavior isn't about needing to urinate. So if it is a smaller amount of urine, can you still smell it if a cat sprays? The key to answering this question is found in the location of the spray. Cats spray vertically to enhance the smell and make sure their message gets "read." So yes, you can definitely smell when a cat has sprayed.
How Do I Know If My Cat Sprayed?
While cat spray smells quite strongly at first, the scent will fade over time. So how do you know if your cat has sprayed once the odor is gone? The easiest method is to use a black light flashlight to find old cat spray locations in your house. When you shine the flashlight on the walls and floor, areas of cat pee will show up as green in the black light.
Does Cat Spray Smell Different Than Pee?
Now you know that cat spray can smell differently based on a number of factors. A cat's size, gender, age and status (fixed or intact) can each increase or decrease the intensity of the cat spray smell. A cat's reason for spraying can also change the smell of cat spray. And if cat spray triggers anal sac expression, the smell will be more like pee and poop rather than just urine.
What Does Cat Spray Smell Like In Female vs Male Cats?
Many cat carers don't realize that female cats spray too. But female cat spray generally will not smell as strongly as intact adult male cat spray.
What Does Cat Spray Smell Like?
So what does cat spray smell like? No matter how you analyze it, cat spray doesn't smell good – at least not to our human nostrils.
Are you dealing with cat spray in your home? Have you found any good tips to discourage your cat from spraying inside the house? We'd love to hear them – please post your insights in the comments.
Dealing With Unwanted Cat Behaviors
Why do cats fall from heights?
Why is my cat poking me?
References