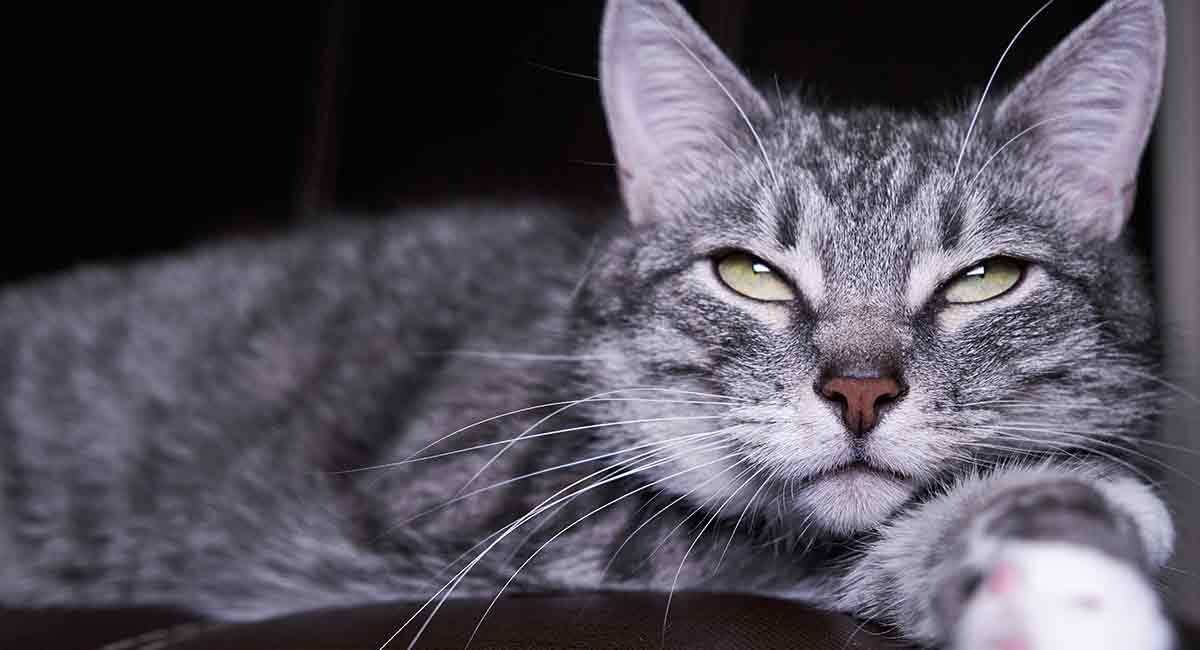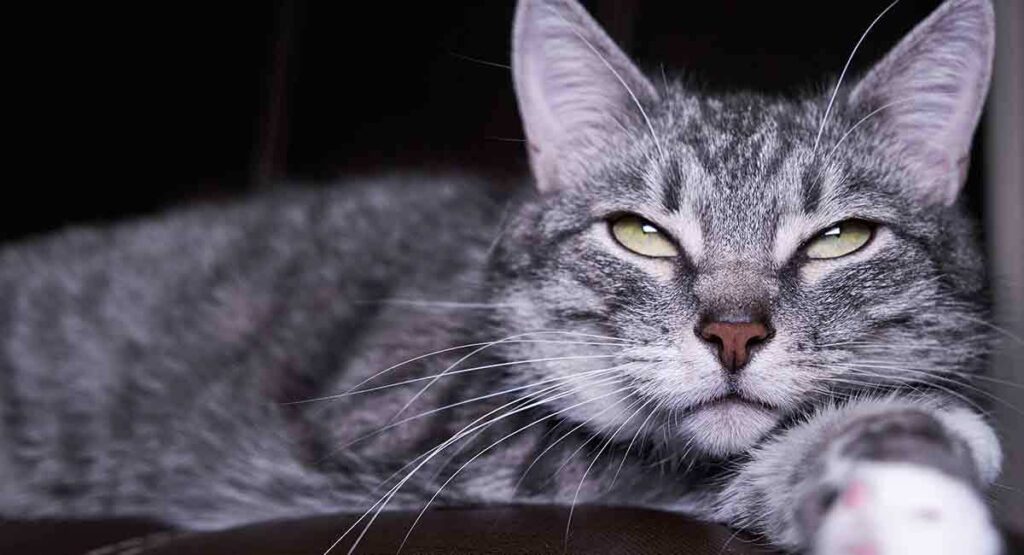 What does it mean when a cat's whiskers are down? Some cats have very long whiskers that naturally droop downwards, and others may have natural bends or curls in their whiskers.
However, whiskers flattened down against your cat's face can be a sign that they're stressed, feeling threatened, or in pain.
If your cats are drooping down towards the end, but completely relaxed, this is usually a sign they are feeling calm and safe.
Let's take a closer look at cat whiskers and what it can mean when they are down.
What Does it Mean When a Cat's Whiskers are Down?
Sadly, we can't just ask our cats how they're feeling when something about their appearance or behavior changes. It's up to us to learn what their behavior and body language means so we can keep our cats healthy and happy.
A cat's whiskers are a great place for us to look to see how they're feeling.
Cats use their whiskers every single day, to feel their way around and to show their emotions to others.
When they are feeling relaxed, cat whiskers will just stay in their natural position, with no tension or movement. In this case, some cat whiskers may naturally droop down a little.
However, if your cat flattens their whiskers down and back against their cheeks, they could be feeling stressed, upset, threatened, or even be in pain.
If you notice your cat's whiskers are down, it's important to find the cause. Is something scaring your cat or upsetting them? If not, there's a chance something is causing them a lot of pain.
If you can't find the cause, and your cat's whiskers stay down, you should take them to the vet to see if something is causing them pain.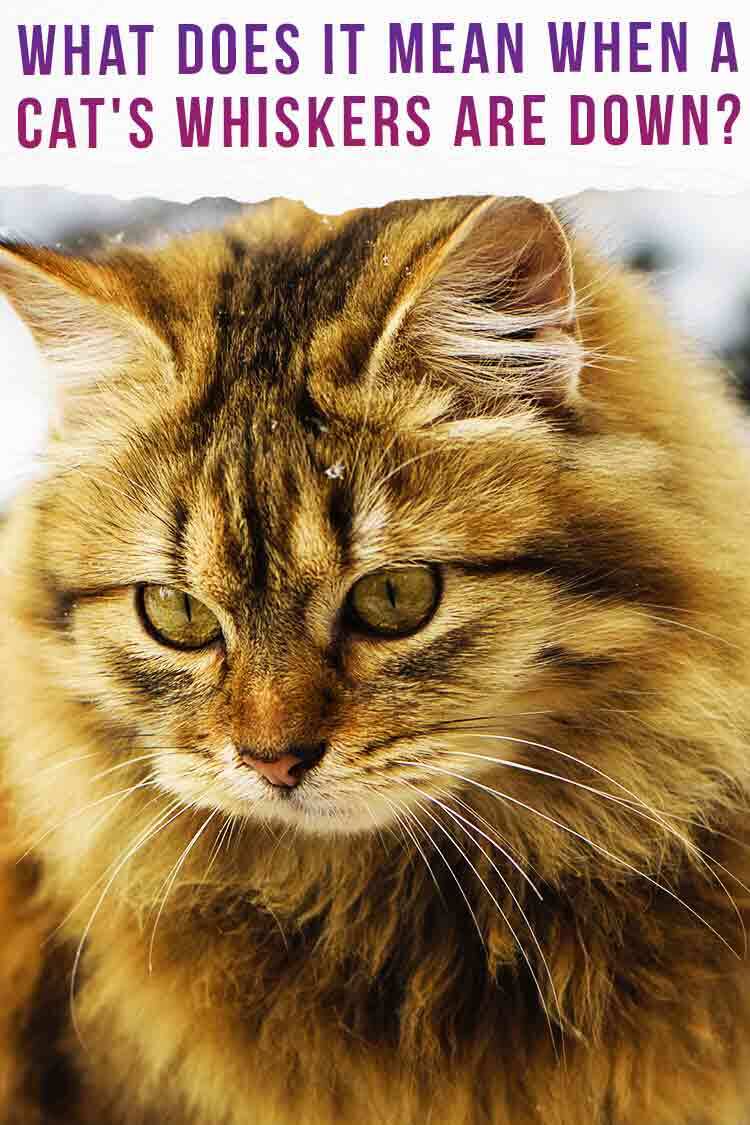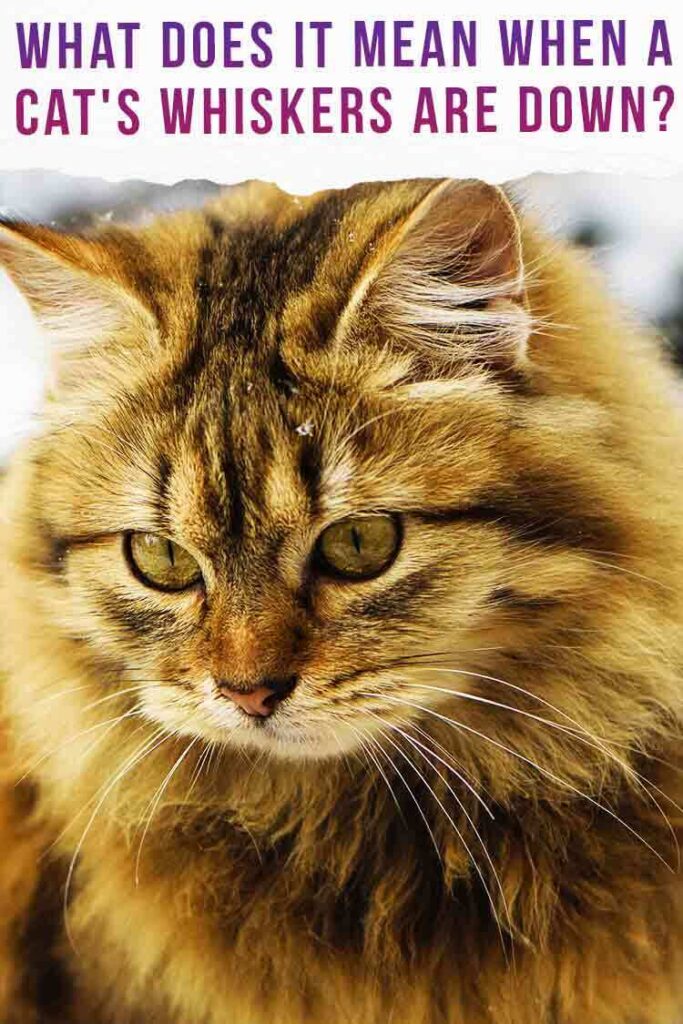 Learning About Cat Whiskers
Cat whiskers are fascinating to learn about. They're thicker and usually longer than your cat's other hairs.
The most prominent whiskers might be on your cat's cheeks, but you will also find them on their chin, above their eyes, elsewhere on the head, and even on their legs.
Cats use their whiskers to gather information about their immediate surroundings. Whiskers are very sensitive, and can even be controlled to sit in different positions.
Because of this, whiskers are vital in helping cats find their way around, especially when it's dark or hard to see their surroundings.
This practical purpose is one reason why owners should never trim their cat's whiskers. But, on top of this, cat whiskers can tell us a lot about how our cat is feeling.
Is my Cat Feeling Sad or Stressed?
What does it mean when a cat's whiskers are down? Is she feeling stressed or upset about something?
Cats that are feeling upset or stressed about something may flatten their whiskers down against their face. This is particularly true if they are feeling threatened by something.
Has something changed in your environment that could be making your cat feel upset? Perhaps you got a new pet and are no longer giving your first cat as much attention.
Or, maybe you've had to take away your cat's bed to wash it, leaving him feeling a little unsettled.
Your cat may be feeling threatened or stressed out by loud noises outside like fireworks, which are out of your control.
Some of these problems are easily remedied, but others may require a little more investigation. Speak to your vet if you're concerned that your cat is feeling anxious a lot, they may be able to help.
Are my Cat's Whiskers Down Because of Pain?
Studies have shown that our domestic cats will move their whiskers, and other features, in response to pain.
So, if you can't find a source of stress or upset when your cat flattens her whiskers down against her face, there's a chance she might be in pain.
Outdoor cats can step on thorns or easily get little cuts and scrapes that you might not initially notice.
All cats can develop internal health issues, can experience falls when leaping around, and can catch illnesses.
Speak to your vet if you notice that your cat is constantly flattening their whiskers down. It could be a sign that something more serious is wrong.
How to Tell if my Cat is Relaxed
We can use our cat's whiskers to observe how they are feeling. We've learnt that flattened whiskers mean our cat may be stressed or in pain, but how do we know when they're feeling a little more positive?
Try to observe your cat's whiskers when you know they are happy. This could be when they're playing with a toy, when they're sleeping, or when they're relaxing on your lap.
Their whiskers will be completely relaxed, with no tension. This natural shape will indicate when your cat is feeling content and calm.
There should be a significant difference between this position, and the position their whiskers take when they are feeling unhappy or threatened.
Some Cat Whiskers Naturally Turn Down
Remember that all cat whiskers are different. Not every cat is going to have perfectly straight whiskers – in fact that's quite rare!
Nearly all cat whiskers have some degree of natural curvature. Large breeds of cats can have quite long whiskers that droop down towards the ends.
This isn't necessarily anything to worry about! If your cat's whiskers always seem to droop down, even when you know they're relaxed, it could just be how they naturally fall.
Some cat breeds have curly fur and kinked whiskers. Their whiskers may look like they're turning down, but again, this is a natural position, and not necessarily a sign that they're unhappy or in pain.
If you've ever in doubt about the health or emotional state of your cat, the best person to talk to is your vet.
What Does it Mean When a Cat's Whiskers are Down? A Summary
Some cats may have whiskers that naturally droop down. But, if your cat's whiskers are flattened down against their face, it could be a sign that they're stressed, unwell, or feeling threatened.
It's important to learn about your cat's body language so you know when they need a bit of help, or when they're not feeling great.
Does your cat have whiskers that naturally droop down? Or is there something that is making your cat flatten their whiskers?
References and Resources