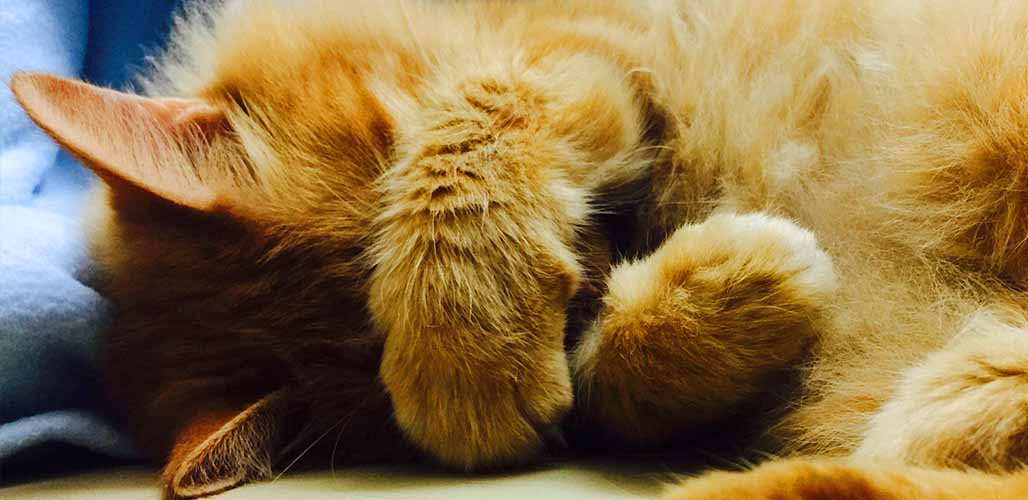 Many a cat parent has wondered why do cats cover their eyes when they sleep? It's always struck me as an odd habit for such alert and observant animals. And as it turns out, there are a number of intriguing explanations for why cats cover their eyes or their face while they are sleeping. From shutting out the world, to keeping warm. And it could mean something rather flattering about you too!
Contents
Why do cats cover their face when they sleep?
Lots of cats like to sleep with their nose tucked under a paw. Or, if it is long enough, they will even use their tail to partly conceal their face during a nap. Behaviorists think this could serve a variety of purposes:
Blocking out light and sound.
Keeping warm.
Self soothing at bedtime.
Getting comfortable.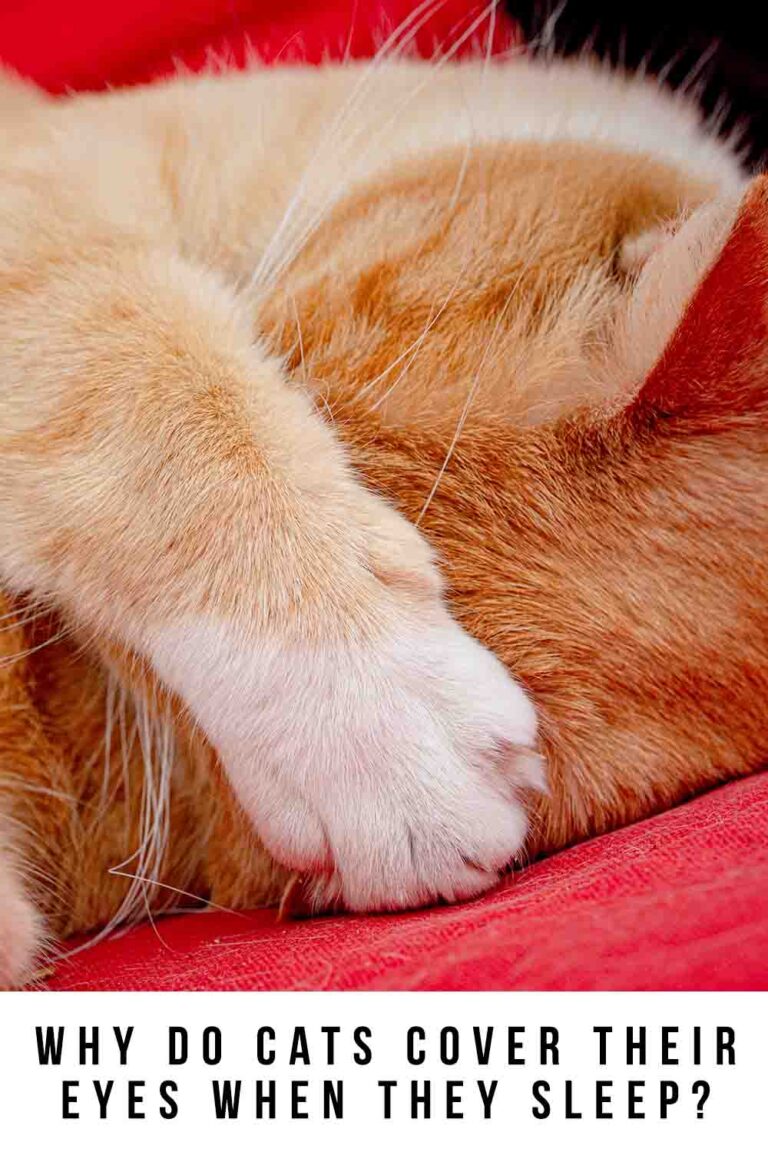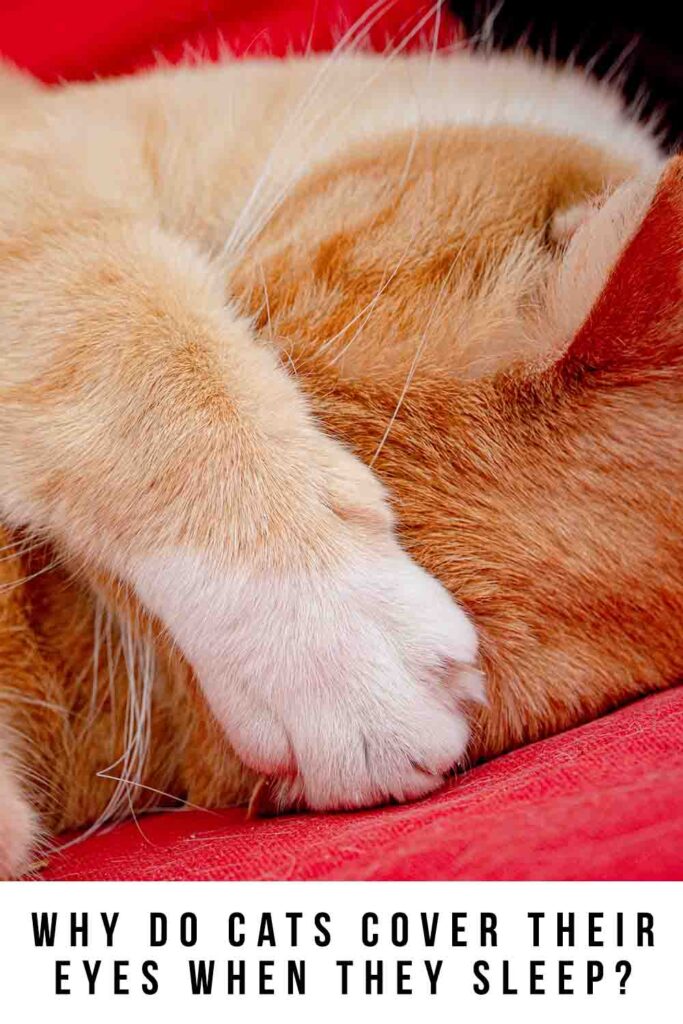 Blocking out light and sound
All cat species are nocturnal, which means they are more active between dusk and dawn. At these times, low light conditions make it easier to hunt prey without being spotted. During the day, wild cats typically seek out the shelter and light-blocking protection of trees or bushes to rest and sleep.
These sleep patterns are partly genetically determined, so even though domestic pet cats can sleep when and where they want, they still tend to stick to the habits of their wild ancestors. Which means they have to contend with daylight, noise and other sensory interruptions from their household while they try to catch a daytime cat nap.
This leads many feline researchers to hypothesize that pet cats cover their eyes (and often their ears, whiskers and faces as well) to block out intrusive stimuli such as light, sound and air movement. Specifically, some cat researchers have suggested that face covering could be linked to sleep cycles. During the REM (or dream) stage of the sleep cycle, cats' eyes sometimes move, and the eyelids can flicker open briefly. Putting their paws over their eyes may help to protect the cat's eyes from light intrusion or inadvertent damage during REM sleep.
Keeping warm
Behaviorists also speculate that cats cover their face with their paws when they sleep to trap a little extra body heat. This makes sense given how cats definitely show a natural affinity for warm and cozy resting and sleeping spots! During sleep, a cat's body temperature naturally drops, and it will drop the most at the cat's extremities such as on the face and at the paws and tail. Covering one with the other traps a little of that heat and stops it escaping, so they stay warm and snug until it's time to wake up.
Self-soothing at bedtime
Another theory is that snoozing under a paw doesn't affect the quality of sleep directly, but they just fell asleep that way whilst doing something else. Specifically, whilst grooming either to keep clean, or self soothe.
Cats have been observed to groom themselves for up to half of all their daily waking hours. That is a lot of grooming time, and it's enough to make anyone fall asleep mid-wash. But lots of cats can also be observed licking their paws or cleaning their face as a way to lull themselves to sleep. This is called self soothing. And if your cat uses it to help them drift off, then the paw on their face really just says 'I fell asleep like this'.
Getting comfortable
Finally, covering their face might not serve any purpose or point to any connected behaviors at all. Some cats might simply be most comfortable in that position! Perhaps it reminds them of sleeping in a nest pressed up against their siblings. Maybe it just feels right.
What a cat sleeping with their face covered says about you
Wait, why am I bringing you into this? Well for a nice reason, I promise! In a wild setting, cats occupy a unique place in the food chain as both predator and prey. This is especially true of smaller wild cat species. And it is definitely true of feral cats, stray cats or even indoor/outdoor pet cats. This can mean it is hard to truly relax and fall asleep. In fact, lots of cats sleep very lightly, and come out of deep sleep at frequent intervals to reduce the likelihood of being caught unawares by a predator.
Modern cats are still quite like their wild feline ancestors in so many biological ways. But in terms of the modern cat's ability and willingness to form bonds with humans, a lot has changed in the transition from wild feline to pet cat. For instance, recent research indicates that pet cats see their people as a mothering figure – a source of reliable comfort, nourishment and protection.
Seen from this perspective, a sleeping cat who covers their face is clearly showing you that they feel so safe and protected in your company that they can reduce their vigilance, go to sleep and rest deeply.
Why do cats hide their face in your arm?
Cats can display lots of endearing behaviors when they are bonded to you. But one of the hands-down cutest things cats do is hide their face in your arm when they are sitting next to you or lying on top of you. A cat that sleeps next to you or on you is showing you they feel utterly safe and protected in your company. And a cat that hides their face in your arm is adding an exclamation point to that fact!
A hidden reason why your cat might hide their face in your arm is that they are marking you with the scent glands on their face. Once marked in this way, the cat has declared you as part of their "territory." Ultimately, there is only one reason why a cat would choose to hide their face in your arm and then to fall asleep in that position. The reason is that the cat is bonded to you and sees you as a totally trustworthy protector and guardian in their life.
Why do cats cover their eyes when they sleep – summary?
Some facets of feline behavior will always be open to speculation. After all, we'll never be able to just ask them for an explanation! Animal experts have some ideas about why covering their face with a paw might help them sleep though. Or why they might fall asleep in that position in the first place. They could be blocking out environmental disturbances, keeping warm, still left in the position they self soothed in to settle down, or simply getting comfy. Since this position makes it harder to keep one eye on their surroundings, it's a pretty clear sign that they feel exceedingly safe in your home.
Does your kitty cover their eyes or face with their paws while they sleep? Do you have a cat that likes to hide their face in your arm or body while they sleep? Share your stories in the comments.
More help interpreting cats' behavior
References