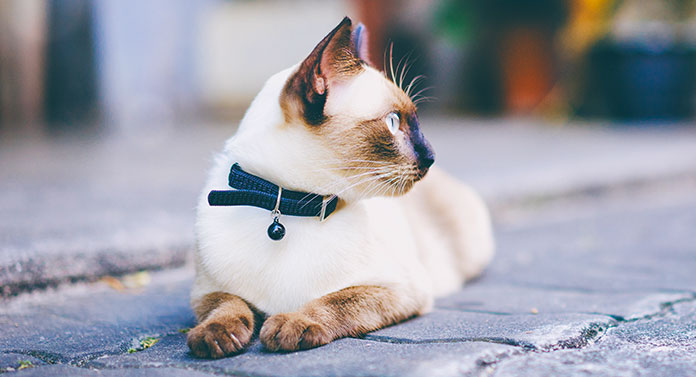 The size of cat collar you need will depend on your cat's breed and age. Kittens start tiny and grow fast. Most kittens need a 6 inch collar to start off with. Depending upon how big they grow, and how much that collar extends, you might need to upgrade to a larger collar when they're grown up. Measure your cat's neck carefully, and choose a collar which extends a little bigger, so it fits properly. Cat collars come in kitten sizes and a range of adult cat sizes. The one you choose should fit closely enough that it doesn't slip easily over their head. But loosely enough that you can fit one or two fingers underneath it. Today, I'm going to take the stress out of choosing a correctly-fitting collar!
Contents
The Importance of Cat Collar Size
It's impossible to overstate the importance of putting a properly fitting collar on your cat. The American Humane Association predicts that only 2% of cats who go missing are reunited with their owners. Lack of identification is a big contributing factor to that. One survey of people who lost their pet cat found that only 1 in 5 of them had been wearing any form of ID (tag or microchip) when they went missing.
Indoor cats need collars too!
In the same survey above, 40% of respondents who had lost a cat said their missing pets had been "indoor only cats". So, even indoor cats get out sometimes.
And what's more, they're more likely to lose their way, be scared into running away, or get hurt because they're not used to the risks of being outdoors. So it's equally important for indoor cats to wear well-fitting collars.
Collar or microchip?
Ideally, both! Microchips are a painless, permanent way of identifying your cat, and linking them to you. They are also presumed to be proof of ownership, in case of theft.
Collars are a great visual way of showing that a cat is owned (rather than being a stray). You can add a tag to it which says something like: "I'm microchipped – if lost, please take me to a vet." Or you can add your cell phone number on the tag. Some clever collars can even have phone numbers embroidered into them.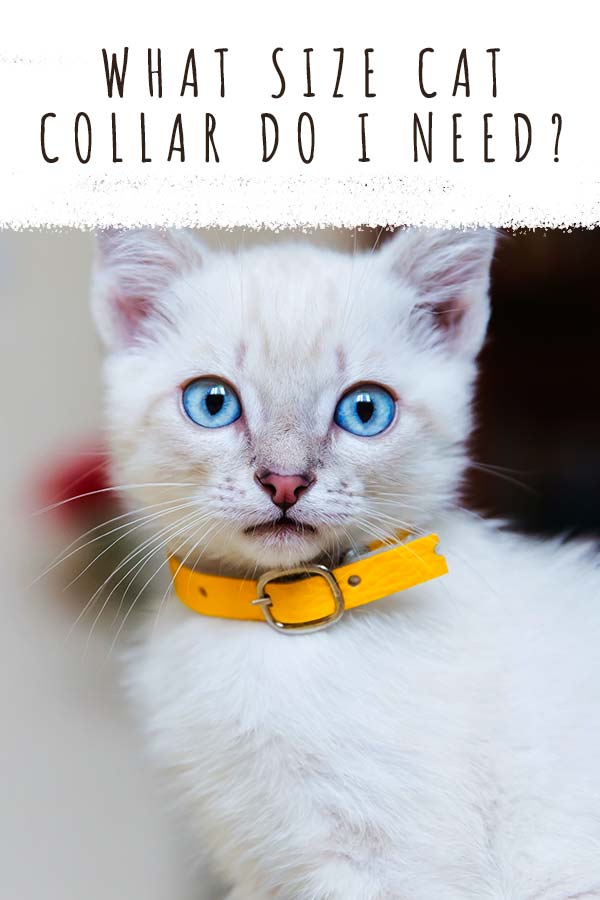 What Size Cat Collar Do I Need?
Cats come in a wide range of sizes. From the dainty Singapura, which weighs as little as 4lbs, to the mighty Maine Coon, which can weigh up to 25lbs!
Average cat neck size varies from barely six inches in kittens, to a whopping 12 inches. When you collect them, the breeder or rescue center will be able to tell you what size collar they need at that point. If they're a very young kitten from a large breed, you might have to purchase a small collar at first, and a larger one later.
Cat Collar Size Guide
You can measure your cat's next for a collar using a tape measure, or a narrow strip of paper. Try to get it as flat against the skin as possible. But, don't squeeze their neck.
If they wriggle out of the way, try spreading a puree cat treat*(paid link) on a plate for them to lick up and grab your measurements while they're busy.
If you use a strip of paper, lay it out on a flat surface and use a ruler to find out how long it is. To avoid buyer's regret later, measure your cat's neck twice before you order a collar. If you get two very different sizes, measure a third time!
What Size Cat Collar Do I Need?
To choose a perfectly fitting collar your cat, remember these simple rules:
Cat collars are often adjustable over several inches. So if in doubt, choose one where your cat's neck measurement is in the middle of the range.
When the collar arrives, adjust the length so that you can fit one or two fingers between it and the back of your cat's neck. But make sure the collar doesn't easily slip over their head.
Some collars have elastic panels in them. This is not so they can grow with your kitten, or stretch around larger necks! It's to prevent asphyxiation and potentially allow your cat to wriggle to safety if their collar gets caught on something.
Now let's take a look at the range of cat collar sizes available.
Kitten Collar Size
In litters of very similar kittens, the first collars their breeder might use are usually simple pieces of ribbon or yarn in different colors – just to tell them apart.
Traditional collars for kittens usually start at about 6 inches around, with a bit of extension in them for letting out as they grow up. Very small or slender cats like Singapuras and Cornish Rexes might fit a kitten-size collar their whole life!
Azuza Breakaway Cat Collar with Bell
You can adjust these kitten collars*(paid link) from 6 inches long to 8 inches long. You can choose from sweet nature-inspired designs, smart plaid patterns, or funky skulls and leopard prints!
As well as a break-away fastening for safety, they have a sturdy D-ring for attaching an ID tag to. They come in packs of four. This might sound like a lot for one cat, but buying multipacks of kitten collars isn't just for breeders.
Since they're designed to release your kitten quickly and easily if they get caught on something, having back-up collars in the cupboard is a smart precaution for everyone! When your kitten grows up, you can purchase these same designs in 8-12 inch length as well.
Adult Cat Collar Size
Not all adult cat collar sizes fit all cats. Their design typically allows for about 4 inches of adjustability. So you get collars for medium to large adult cats, and collars for large to extra large adult cats.
Some cat owners will be able to choose from any of them, but if in doubt, always size up. A cat's collar should never rub or bite their skin.
KUDES 2 Pack Cat Collar with Cute Bow Tie
These irresistibly cute bow tie collars*(paid link) come in pairs – one and a spare!
Even if you're not convinced your indoor cat needs one for ID, are you sure they shouldn't have one just to look fabulous in?
You can adjust these collars between 7.8 and 10.5 inches.
If you cat falls near the top or bottom of that range though, bear in mind that the manufacturer allows up to a half inch margin or error in their sizing, so you could be disappointed.
Bemix Cat Collars
Bemix's cute and quirky cat collars*(paid link) fit from 7 inches to 11 inches.
They have 22 designs to appeal to all kinds of interests.
From tasteful florals to quirky dinosaurs and kitsch avocados. There is something for everyone!
They also come in a smart box. So, they're a perfect gift to the special cat in someone else's life.
Large Cat Collars
Maine Coons and Norwegian Forest Cats are just two of the extra-large cat breeds which might need an extra large cat collar.
GoTags Personalized Cat Collars
We recommend Go Tags personalized cat collars*(paid link) time and time again here on the Happy Cat Site!
The innovative design is bright, fun, highly customizable, and practical too. By embroidering your contact details directly onto the collar, there's no need to worry about an additional ID tag. These collars fit from 8 to 12 inches.
Taglory Reflective Cat Collars
These excellent value collars*(paid link) have a gamut of safety smart features.
As well as extending up to 12.5 inches, they are also reflective. So, they're ideal for outdoor cats who roam after dark. They're also great value, and available in 8 different color ways.
Waaag Glow In The Dark Safety Cat Collar
Finally, these striking collars*(paid link) will make any cat look a million dollars.
The standard size can be adjusted up to 15 inches around. This is enough for even seriously huge felines. And did we mention they glow in the dark??
Affiliate link disclosure: Links in this article marked with an * are affiliate links, and we may receive a small commission if you purchase these products. However, we selected them for inclusion independently, and all of the views expressed in this article are our own.
Readers Also Liked