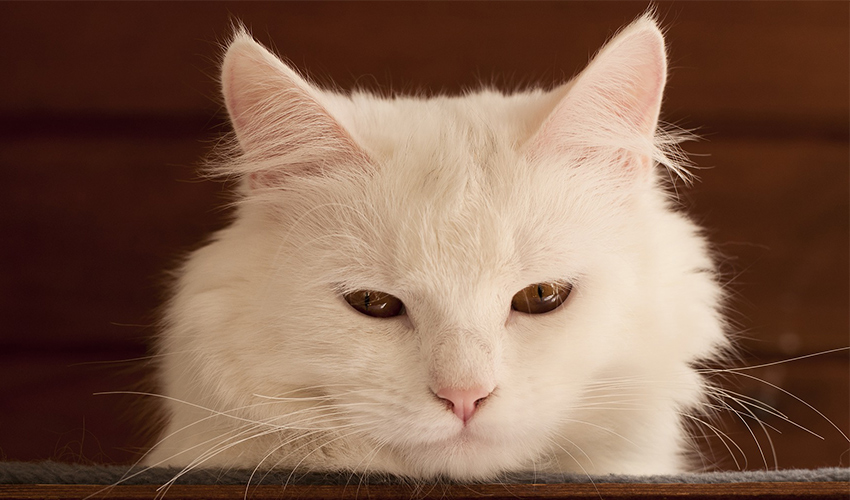 The words senile cat and cat dementia can be scary. In this article vet Eman Magdi explains what happens when elderly cats suffer from cognitive dysfunction and how you can help your senile cat continue to enjoy life.
Whether your cat is turning lethargic or missing the litter tray, old age might not be the only culprit.
Can cats get dementia?
Like humans, senile cats can show signs of cognitive dysfunction and dementia.
Signs of cat dementia can vary.
From being puzzled and disoriented, to lacking interest in playing or sleeping for long hours.
Can cats get Alzheimers?
If you are thinking, "As in Alzheimer's?" I'm afraid the answer is yes!
New studies at Universities of Edinburgh, St. Andrews, Bristol and California suggested that a certain protein has been found to accumulate in a cat's nervous system.
The accumulation further worsens a cat's cognitive abilities.
What Is Cat Dementia?
Cat dementia is also known as Cognitive Dysfunction Syndrome. It tends to happen predominantly in elderly cats.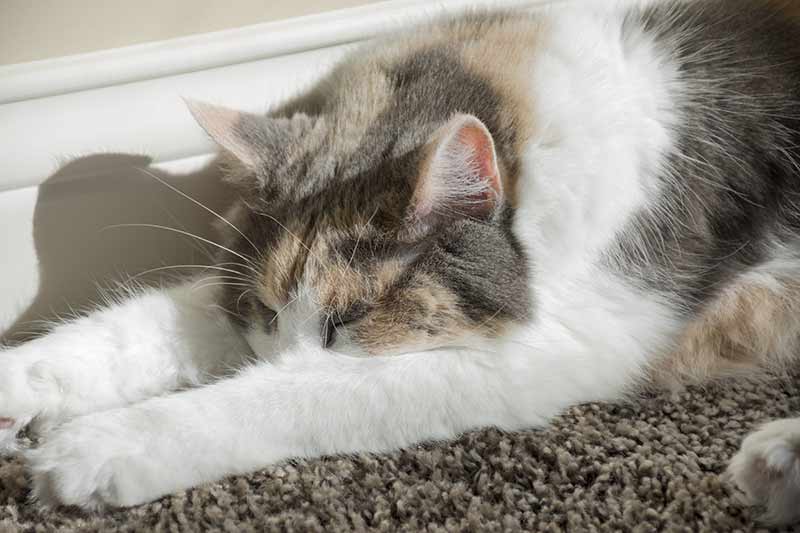 Amyloid plaques, proteins that build up in or around nerve cells, have been found to lead to difficult learning ability and impaired vision.
Does my cat have dementia?
Only a qualified veterinarian can tell you whether or not your cat definitely has dementia.
But many older cats will have some degree of senility.
The Ohio State University's College of Veterinary Medicine, cited a study done by Moffat & Landsberg as saying that an estimated 28% of cats between the age of 11 and 14 have shown at least one sign of dementia.
However, over 50% of cats aged 15 or more have been found to show signs of dementia.
Signs of Dementia in Cats
Akin to Alzheimer's in humans, Cat dementia manifests itself in behavioral symptoms at the age of 10 years and above.
Cats with dementia show signs of straying from home, little to no interest in interacting or playing, imbalance and disorientation, staring at empty spaces, sleeping for longer hours per day, howling at night and peeing and defecating out of the litter box.
Additionally, vision and hearing are impacted, and navigation around objects is heavily affected.
A drop in energy, grooming, appetite and response to people or other cats was noticeable. Cats suffering from dementia showed signs of restlessness, anxiety and depression.
Diagnosing cat dementia
A proper diagnosis should be only given by a qualified veterinary practitioner.
Signs would be the first indicative way to diagnose dementia in senile cats, given all behavioral changes attributed to other diseases are eliminated, Bolter, Helen said.
This makes dementia's identification a diagnosis of exclusion; through which all other causes can be eliminated by running blood, urine and other tests.
Cat dementia treatment
Upon spotting these symptoms, a qualified veterinarian should see and diligently diagnose the cat.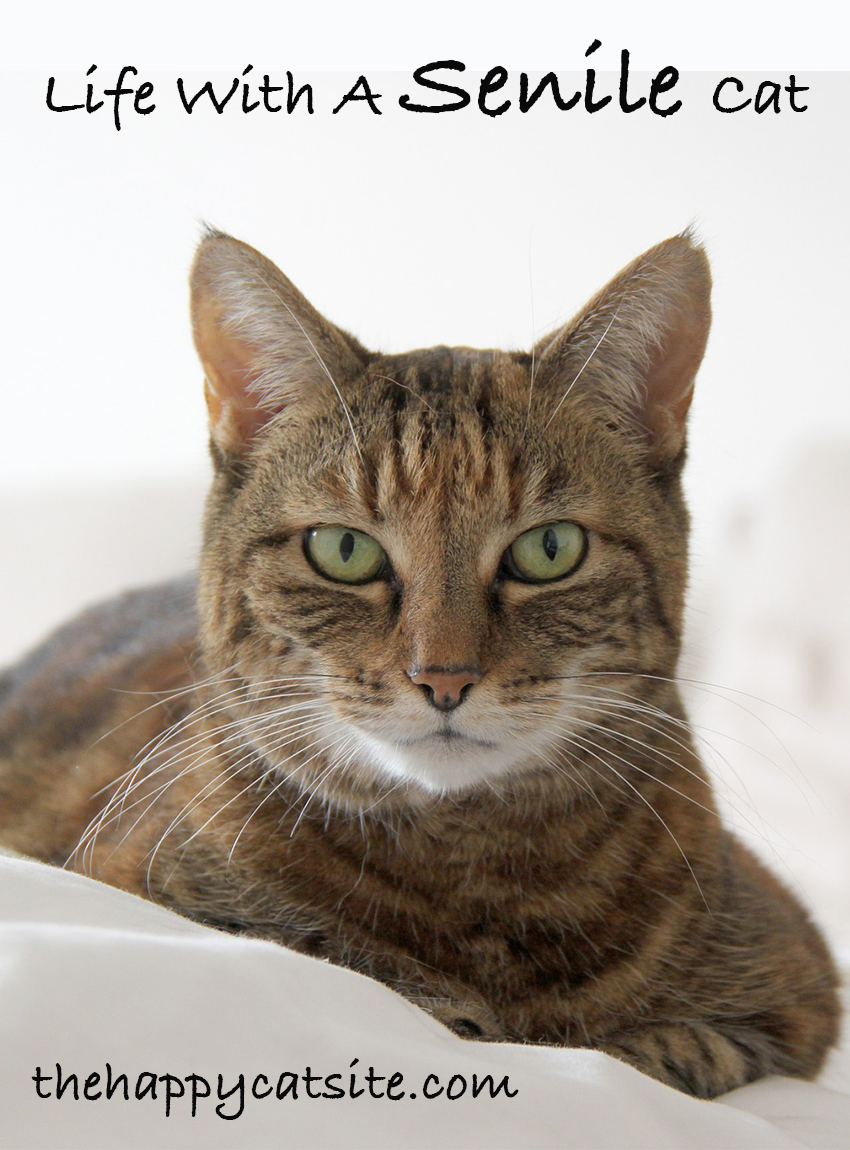 Because dementia is usually so advanced by the time a cat is brought in to the vet's office, there is not a concrete treatment for it. However, there are methods that have been proven to delay the advancement of the disease.
Changes in food regimen to include vitamins E and C, and antioxidants such as flavonoids and carotenoids which can be found in fruits and vegetables showed progress.
L-carnitine was found to enhance mitochondrial performance, and omega-3 fatty acids boost cell membranes' efficacy. As such, dietary supplements can be as helpful.
As for learning and memory functions, exercise and introducing new learning skills seemed to have a noticeable impact.
Psychoactive drugs containing the active ingredient, selegiline, were recommended and approved by The American Association of Feline Practitioners for cats with dementia, provided a veterinarian diagnoses dementia and does the necessary tests to eliminate any drug interactions between selegiline and other medications.
Prognosis: what will happen to my cat?
Dementia is a progressive disease and while it cannot be cured, there are steps you can take to keep your cat happy and safe.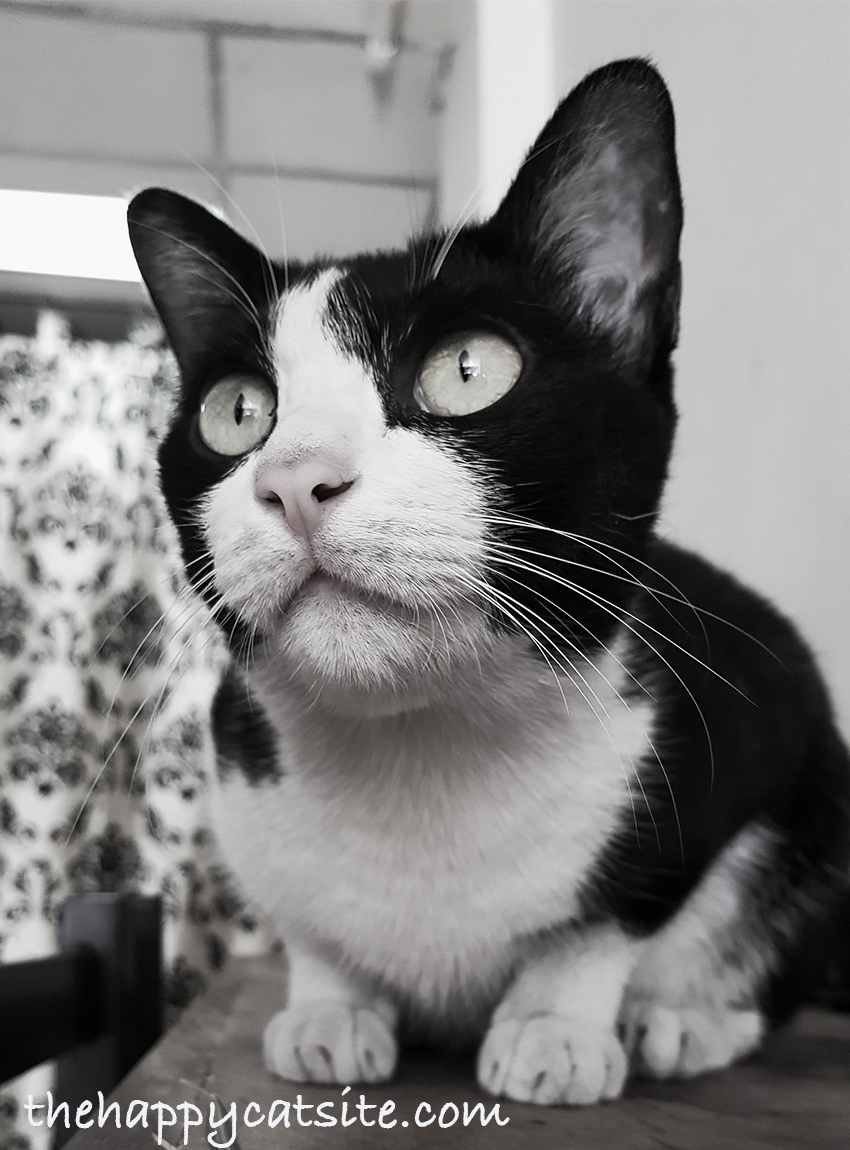 In the early stages symptoms may be quite mild
In cases where severe signs of dementia can be seen in cats, any change in environment or habits can lead to more stress.
Stress in itself can manifest itself in even more severe signs of dementia such as complete lack of appetite and anorexia, state Houpt, K A and Beaver, B, 1981.
How To Take Care of Your Senile Cat with Dementia?
Along with the dietary supplements, medical care and environmental adjustment, cat owners should be aware of the progression of dementia. The more progressive dementia is, the more stressed a cat can be due to changes in diets, surroundings or activities.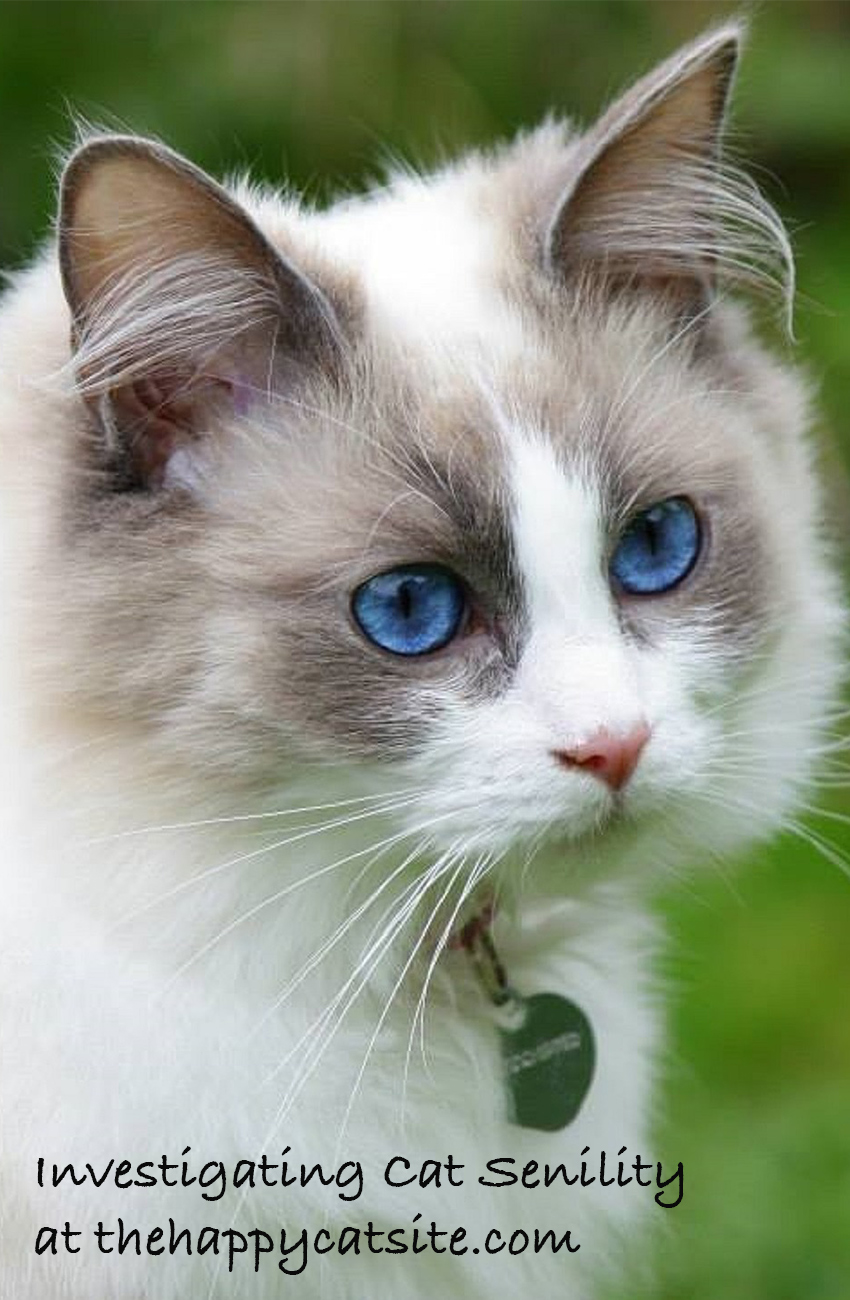 Your senile cat will benefit from familiar surroundings and routines. Try not to make changes in diet unless advised to do so by your vet, and consider keeping elderly cats indoors if they begin to show signs of getting lost
Gunn-Moore, Danielle, 2014 recommended keeping change to the bare minimum or at a gradual pace to build trust.
In some cases, Gunn-Moore recommended the confinement of a cat with dementia in one single space or room. Together with everything he or she needs in the way of bedding, water, litter box etc.
Although this might seem unkind, it can actually help your cat to avoid unnecessary stress and to stay happy.
Your senile cat and dementia – a summary
Signs and symptoms of dementia in cats over the age of fifteen year are common.
There are steps you can take that might lower the risk of your cat getting dementia, or that may help slow the progression of the disease and reduce the severity of its symptoms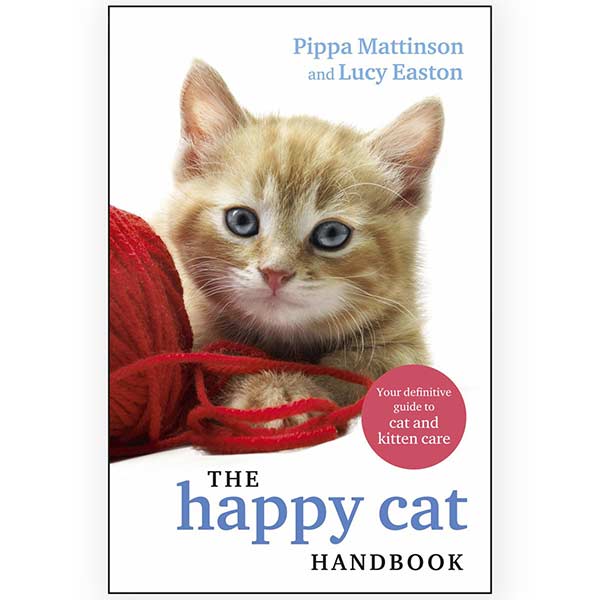 Professor Christina Clarkson at the University of Minnesota explains that prevention and mitigating the severity of dementia in cats can begin at an early age. "A combination of healthy diet, supplements and exercise can go a long way as to decrease chances or severity of dementia."
Though our cats live longer nowadays than they used to, senility and dementia signs will show as our cats age, yet there are ways to make sure they live a happy, comfortable and long life in a loving and considerate home.
We wish you all the best of luck in caring for your cat with dementia. If you have any tips or suggestions of ways you have kept your senile cat comfortable, why not let us know in the comments section below.

Free Updates For Cat Lovers!
Our cat care articles, tips and fun facts, delivered to your inbox
References & Further Reading
2006. Feline form of Alzheimer's. University of St Andrews.
Bolter, H. 2016. Cognitive dysfunction syndrome. How to help older cats with dementia. VETcpd – Feline.
Cognitive Disfunction In Cats. Cornell Feline Health Center.
Cognitive Dysfunction Syndrome. Ohio State University.
Cory, J. 2012. Identification and management of cognitive decline in companion animals and the comparisons with Alzheimer disease: A review. Journal of Veterinary Behavior: Clinical Applications and Research
Laflamme, D. 2014. Nutrition of Aging Cats. Veterinary Clinics of North America: Small Animal Practice
Pittari, J et al. 2009. American Association of Feline Practitioners. Senior Care Guidelines. Journal of Feline Medicine & Surgery
Zhang, C et al. 2013. Morphological and Functional Alterations in Cerebral and Cerebellar Cortices of Old Cats. Journal of Animal & Plant Sciences
Your Amazing Cat!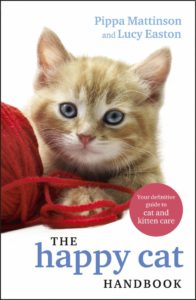 We are so excited to share our new book with you!
If you have enjoyed your visit to The Happy Cat Site we think you'll love The Happy Cat Handbook.
Written by the founders of this website including the author of the hugely successful Happy Puppy Handbook, it's packed with cat care information and fascinating cat facts.
Grab your copy today!
Free Updates For Cat Lovers!
Our cat care articles, tips and fun facts, delivered to your inbox