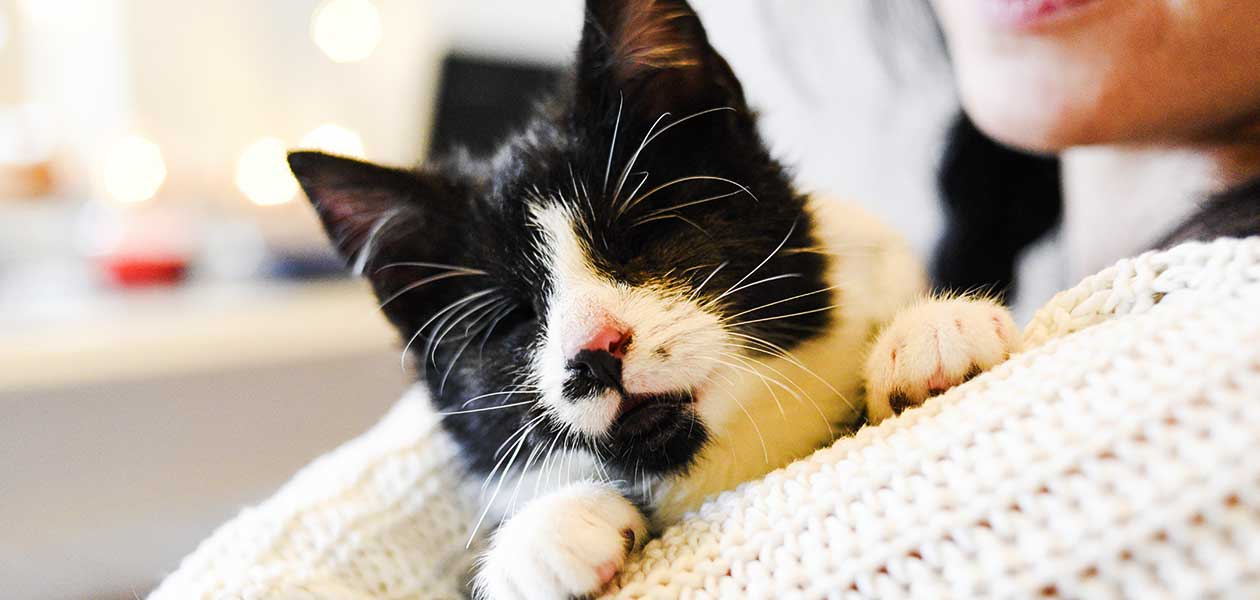 A blind cat might have lost their sight for many reasons, some of which resolve themselves or can be reversed, and some of which are permanent.
Even if permanent, a blind cat can adapt so well to their sight loss that few onlookers would even realise they're blind at all.
Blind cats do however usually benefit from their owners making a small number of minor adjustments around the home to keep them safe.
Once done, they can often enjoy the same quality of life as any fully sighted cat!
Blindness In Cats
This article is all about loss of vision in cats.
Cats can lose their eyesight temporarily or permanently, in one or both eyes. Loss of sight can be sudden, or very gradual.
We're going to look at:
But first, let's find out how much cats really rely on their eyesight in the first place.
Cat Eyesight
Cats have arrestingly beautiful eyes, which have inspired myths, legends and superstition since Ancient Egyptian times.
But their visual perception of the world is very different from our own.
For a start, their field of vision is wider than ours, but not as deep. Objects get blurry when they are less than one foot away or more than 20 feet away.
Cats can only see a narrower spectrum of colors than us too – possibly only blues, violets, and some ultraviolets.
But they are better able to focus clearly on things in low light conditions, and things which are moving – perfect for stalking prey species that are most active at dawn and dusk.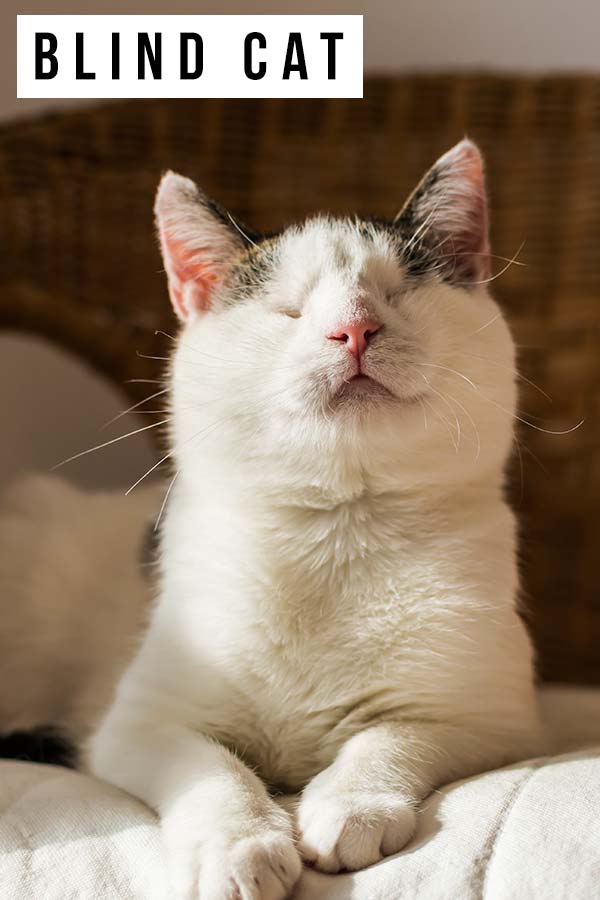 Other Senses
We have no way of knowing whether cats have a "mind's eye", or how much they value being able to conjure up a mental image of something they've seen before.
But we do know that cat's eyesight is also complemented by powerful senses of hearing, smell and touch.
And that cats who lose their sight at all ages still enjoy an excellent quality of life supported by these three senses alone.
What Can Cause A Cat To Go Blind?
There are many causes of blindness in cats.
Some of them affect the eye itself, and cause sight loss because they stop the eye receiving information in the first place.
The rest are neurological.
In these cases the eyes still receive information, but either it isn't relayed to the cat's brain properly, or the brain can't interpret it on arrival.
Now let's look at some specific causes of sight loss in cats.
Vascular causes
This means causes relating to blood supply.
High blood pressure (hypertension) can cause the retina at the back of the eye to become detached.
It can also cause glaucoma – pressure on the optic nerve which stops signals being relayed from the eye to the brain.
High blood pressure around the eyeball can be an ongoing problem, or a short term problem relating to a specific event – for example the use of a spring loaded mouth clamp during anesthesia.
Infectious disease
Several bacterial, viral, fungal and parasitic infectious diseases in cats can cause blindness.
Conjunctivitis is the most common eye infection in cats, which left untreated can lead to permanent loss of vision.
But other infections of the whole cat can also cause sight loss – in particular feline leukemia virus and feline herpesvirus.
You can read about eye infections specifically here.
Poisoning
Cats can lose their sight temporarily or permanently when they ingest some toxins.
A common example is permethrin – the active ingredient in Frontline flea treatments for dogs.
Other examples are lead (in paint) and metronidazole (an antibiotic).
Cancer
Tumors in either the eye or the brain can cause changes in vision and ultimately blindness in cats.
Trauma
Trauma means injury, for example from a fight with another animal, a fall, or being hit by a vehicle.
But it can also mean injuries like corneal scratches, sustained by flat faced cats like Persians.
Cats with flat faces have shallow eye sockets, which makes the eyeball protrude further than normal.
So they're more likely to receive scrapes and scratches from things in the environment.
Degenerative disease
Some cats breeds are prone to hereditary eye diseases, which cause progressive blindness as they get older.
Particularly affected breeds include Bengals, Persians, Abyssinians, Somali, Oriental Shorthair, Balinese and Siamese cats.
These cats all have Siamese ancestry in common, which is thought to be where the genetic anomaly responsible began.
Nutritional deficiency
Cats can also lose their vision due to nutritional deficiencies.
In particular, inadequate quantities of the essential amino acid taurine in home made diets can lead to sigh loss.
Birth defects
And finally, some kittens are born with birth defects including missing or underdeveloped eyes, which mean they have no, or limited, vision.
These cats are wonderful testament to the fact that with the right care, visually impaired cats can lead fabulous lives.
They have no idea that they're different to other cats, and they behave in practically all the same ways as other cats too.
Before we find out how cat parents can help to make that possible, let's examine how to tell if your cat is blind.
Is My Cat Blind?
When cats lose their eyesight gradually, they are often so successful at compensating for their changing circumstances that owners don't even realise it has happened.
Since the visual field of each eye overlaps by about 50%, if they only lose the sight in one eye, the other will still be able to fill in much of the missing picture.
Cats with visual impairment also score better in sound localisation tests.
Which indicates that at least one of their other super senses is stepping up to compensate for the loss of vision.
How to tell if your cat is blind
The first clues you might notice are changes in behavior, navigation, or the appearance of the eyes themselves.
For example:
Loss of confidence
Bumping into things
Not tracking silent moving objects with their eyes
Less enthusiasm for jumping up to high places
Walking with exaggerated careful footsteps
Sticking to the edges of rooms
And not putting their feet out in preparation when you put them down
Behavioral Changes
Sometimes where blindness is a symptom of something affecting the brain (such as a tumor, swelling caused by infection or a degenerative illness) you might also spot changes in behavior which aren't obviously linked to eyesight.
Such as listlessness, aggression, forgetting learned habits and changes in appetite.
Are there such a thing as blind cat eyes?
Whether the appearance of a blind cat's eyes changes depends upon the reason they have lost their sight.
If the reason is neurological, their eyes might look exactly the same as they did when they had sight.
Their pupils might become fixed and dilated – that is, they stop shrinking in response to bright light.
However, if your cat lost their sight due to a structural problem with the eye, you might be able to see a difference in their appearance.
For example:
Eyes which appear red all over, due to blood leaking into the tissues.
A cloudy film over the surface of the eye due to cataracts.
Or an exceptionally bright reflection of light from the back of the eye.
Getting veterinary diagnosis
Cats are so good at concealing problems with their vision, that the first their owner knows of it is when a vet picks it up at their annual check up.
However, you should also consult your vet if you notice your cat behaving in a way which is out of the ordinary, or in keeping with any of the signs of sight loss above.
To diagnose a blind cat, a vet will start by taking their full medical history and performing a physical examination of the eye.
They might also test their blood pressure, perform blood and urine tests, or recommend a brain scan, to pinpoint the exact cause of blindness.
Can a blind cat be cured?
Once diagnosed, some types of blindness can be treated and reversed.
For example blindness caused by high blood pressure might be reversed if their blood pressure can be managed. Some cataracts can be removed by surgery.
Sometimes blindness in cats is permanent though.
This can be shocking and upsetting news to receive. After all, it would be a dramatically life altering event for us humans.
But fortunately for cats, their experience is very different. We'll move on to that next.
Caring For A Blind Cat
Vets agree that provided the cause of blindness is not also causing them pain, most blind cats adapt very well and enjoy a good quality of life.
It is not regarded within the veterinary community as a good cause for euthanasia.
Adjusting to life after sudden loss of vision can take a cat weeks or months.
And in the short term, it can be distressing for them.
But they do adapt, given time. Young cats often adapt quicker than older cats.
And there are some simple steps you can take to make sure they stay settled and safe despite their new impairment.
How To Care For A Blind Cat
Blind cats still love to live life to the full.
Our top 10 tips for taking care of blind cats are:
1. Keep everything in the same place
Cats can keep a remarkably accurate mental map of their surroundings.
So, try to keep furniture in its usual place, and make sure doors that are usually open stay open.
In particular, don't move the things your cat uses, such as their bed or litter tray.
You'll be surprised how effortlessly they are able to navigate by touch, smell, and memory!
2. Block off hazards
To keep a blind cat from coming unstuck, walk through your house looking for hazards they might not see coming.
For example, keep the lid down on toilets, close doors to balconies, and fence off or cover pools or ponds.
If you have stairs at home, place baby gates at the top to stop them losing their footing at the top and falling down.
3. Keep your cat trees in place
Blind cats still love to climb and hang out in high spots, so don't take down their cat tree just yet!
Keep their favorite perches in place and use your voice, or treats with a strong aroma to help them find their way back to them
Be patient, it might take a little while for them to take the leap.
And you may notice they climb down backwards at first instead of leaping out forwards!
4. Find toys which incorporate sound or scent
Blind cats still enjoy playing, and even chasing pretend prey.
Toys which vibrate, make a noise, or have a scent, will help to engage the senses they still have.
Try securing them with elastic to a door handle or the leg of a heavy table, so your cat can always find them.
5. Make the most of scratching posts
Scratching is an important part of a cat's normal behavior repertoire.
Blind cats still like to scratch to stretch their muscles and keep their claws in good condition.
What's more, scent glands in the paws leave olfactory messages behind on the surfaces they scratch.
For a blind cat, these messages can become helpful landmarks around the home for orienting themselves.
6. Always return them to the same spot
If you pick your blind cat up, or find them looking lost and confused, always return them to the same spot.
For example by their food and water bowl.
This way, they will always be able to reorient themselves, and set out again with their bearings back in place!
8. Keep them indoors
Unfortunately, the outdoors isn't a very safe place for blind cats.
The risk of colliding with something that could hurt them, stepping on something sharp, falling, or otherwise walking into danger is too great.
Lots of blind cat owners report that their cat still likes to gaze out of the the window though!
So do open it a crack if it is safe, and let them enjoy the sounds and smells of the outdoors.
7. Use a harness outdoors
The outdoors is a risky place to explore independently now, but it doesn't have to be out of bounds altogether.
Gently acclimatize your cat to cat to wearing a harness and lead, and you can take them out to explore, whilst keeping them safe from hazards.
8. Make sure they wear identification
It's a great idea (and in some countries even a legal requirement) to get any cat microchipped, so they can easily be returned to you if they get lost.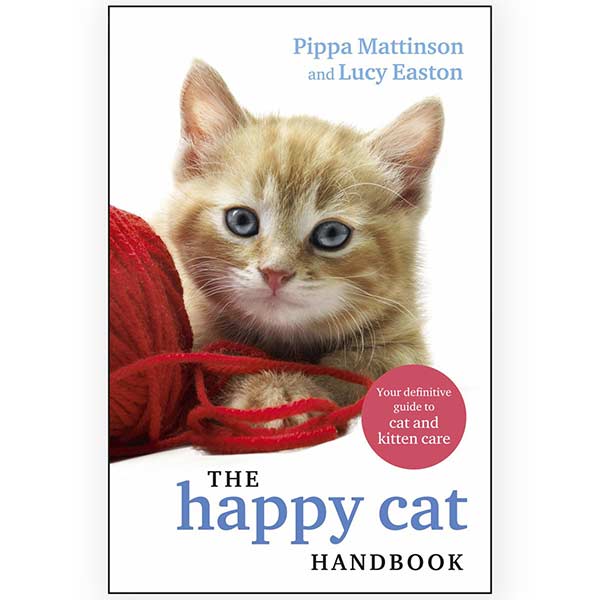 It's an even better idea for a blind cat, since they will lose their bearings and get lost more easily if they stray beyond the boundary of your property.
You might also consider a personalized breakaway collar, which lets people who find them know that they're dealing with a blind cat.
9. Take care introducing other animals
If you introduce a new pet to your blind cat, do so gradually.
A blind stare can be mistaken by other animals for aggression at first.
Although it doesn't take long for seeing animals to realise when that's not really the case!
10. Put bells on your other pets
A blind cat can hear humans coming a mile off, but the arrival of light-footed other animals can take them by surprise.
If this becomes a problem, you can try putting a bell on the collars of your other pets.
Blind Cats – Summary
Cats can experience different degrees of blindness, triggered by a multitude of causes.
But fortunately, their other senses are powerful enough to make up for the missing information, and most blind cats continue to lead very rich and happy lives.
Is your cat blind or visually impaired?
What adjustments have you made at home to help your blind cat?
Let us know in the comments box down below!
References And Resources
Stiles et al, Post-anesthetic cortical blindness in cats: Twenty cases, The Veterinary Journal, 2012.
Falzone et al, Blindness and behavioural changes in the cat: Common neurological causes, Journal of Feline Medicine & Surgery, 2011.
Boland & Angles, Feline permethrin toxicity: Retrospective study of 42 cases, Journal of Feline Medicine & Surgery, 2010.
The Feline Patient, 5th Edition, Wiley & Sons Publishing, 2018.
Renier et al, Cortical plasticity and preserved function in early blindness, Neuroscience and Biobehavioral Reviews, 2014.
Menotti-Raymond et al, Widespread retinal degenerative disease mutation (rdAc) discovered among a large number of popular cat breeds, The Veterinary Journal, 2010.
Mitchell, Cats living with blindness: Part 1, Veterinary Nursing Journal, 2010.
Mitchell, Cats living with blindness: Part 2, Veterinary Nursing Journal, 2010.
Your Amazing Cat!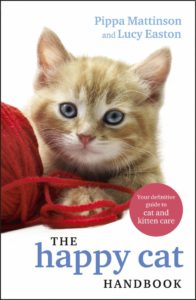 We are so excited to share our new book with you!
If you have enjoyed your visit to The Happy Cat Site we think you'll love The Happy Cat Handbook.
Written by the founders of this website including the author of the hugely successful Happy Puppy Handbook, it's packed with cat care information and fascinating cat facts.
Grab your copy today!
Free Updates For Cat Lovers!
Our cat care articles, tips and fun facts, delivered to your inbox