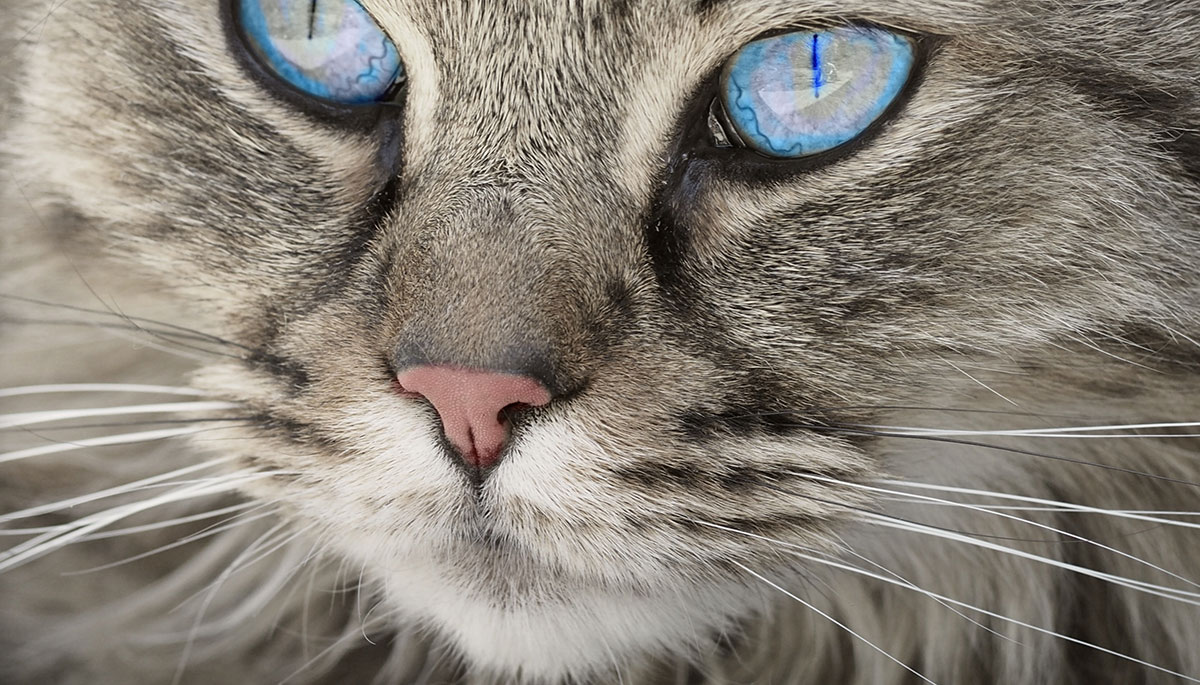 Why do cats whiskers fall out? And will your cats whiskers grow back again if you cut them? Sarah Holloway answers all your whiskery questions with her in-depth guide.
Whiskers aren't an unusual feature in the animal kingdom. All mammals have them, except us humans (and doesn't that make you want them a little bit too?).
But what do whiskers do? What are cat's whiskers made out of? Why do cats have whiskers? And should you worry about a cat losing whiskers?
In this article we've compiled the answers to some of the most-asked questions about whiskers.
How many whiskers does a cat have?
I bet you're thinking of cheek whiskers? After all, nothing quite evokes the appearance of a cat like it's cheek whiskers do.
On average, domestic cats have eight to twelve whiskers on each cheek.
But they don't just have whiskers on their cheeks!
They also have whiskers on their upper lip, chin and eyebrows, and on the back of their legs, just above their paws.
Some of them are obvious (the majestic eyebrow whiskers of the popular American Shorthair breed for example). Others are shorter and harder to distinguish from the rest of your pet's coat.
But if they look like the surrounding fur, what makes them whiskers? Well the answer to that is hidden beneath the skin… Ever wondered what are cats whiskers made out of?  Let's find out.
What are cats whiskers made out of?
Whiskers are made of the same thing as hair: a strong fibrous protein called keratin.
But whiskers are two to three times thicker than the other hairs in your cat's coat. That's why the long whiskers at the cheek and eyebrow protrude so gracefully from cats' faces.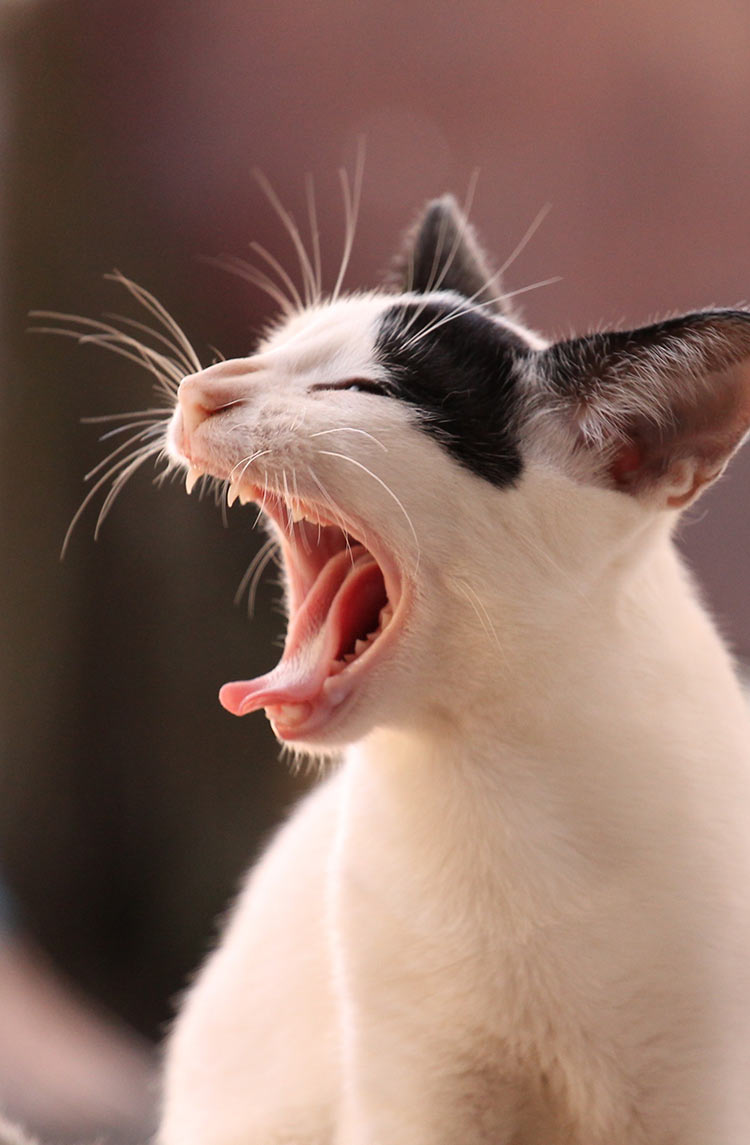 Whiskers aren't just longer and thicker than normal hair. What really sets them apart takes place at the follicle – the root of the whisker underneath your cat's skin.
In the 1980s Dr Frank Rice at Albany Medical College, New York, studied the whiskers of cats, rodents, and rabbits and found that each individual whisker had a rich blood supply, and 100-200 nerve endings at its follicle.
This turns each whisker into a powerful specialized tool for receiving information about the cat's environment and sending it to the brain.
In particular, cat's whiskers send signals to the brain which trigger a lightning-fast reactions in the eyes too, helping their senses work together with great precision.
What do cats use their whiskers for?
Whiskers provide cats with a heightened sense of touch. Let's see how they put that to use.
#1 Spatial awareness
Cats' cheek whiskers are roughly the same width as their body, helping them to gauge confined spaces.
It's a popular myth that cats can use their whiskers to judge whether their whole body will fit through an opening.
In fact, the length of a cat's whiskers are genetically predetermined, so they don't grow or recede if it's weight changes.
This means cats can't always rely upon their whiskers to avoid getting stuck!
#2 Hunting prey
We know this one IS important. Keith McSporran of the New Zealand Veterinary Association explains:
"During hunting, [the cheek whiskers] are moved forward to envelop prey carried in the mouth and to provide information as to its disposition: and cats deprived of the whiskers on their upper lip often have difficulty killing prey because they are unable to determine its orientation and are therefore less able to deliver a killing bite to the neck".
In addition, the whiskers on the back of cats legs are extra sensitive to movement away from the cat's body, for example an animal trying to escape it's grasp.
#3 Communication
Did you notice Keith McSporran said cats can move their whiskers forward?
Muscles below the cheek and eyebrow whiskers make it possible for cats to control their backwards and forwards motion, and they also use that movement to communicate information about their mood.
"Forward-facing whiskers signify an inquisitive and positively interactive mind-set, whereas backward-facing whiskers indicate a defensive or aggressive mood", says Keith.
Anything else?
Well, maybe yes!
Whilst whiskers generally have fascinated scientists for decades, and a huge amount of research has been done to understand how other species use theirs, very little attention has been given specifically to domestic or feral cats.
For example we know that rat pups use their cheek whiskers to help latch onto their mum for the first time after they are born, but we don't know if kittens do too.
And squirrels use the whiskers on the backs of their legs to assist with climbing, but we're not sure if that's true of cats.
The purpose of whiskers is still an active research field, and perhaps in time we'll find out more about how the cats in our homes use theirs.
So, if whiskers are so useful to cats – why do cats whiskers fall out from time to time, and should you worry if your cat is missing a whisker or two!
Why do cats whiskers fall out?
Just like moulting from the rest of their coat, cats occasionally shed their whiskers.
Don't worry if you find one in your pet's bedding, or if one accidentally becomes dislodged while you're grooming them.
It's perfectly normal.
Do cat whiskers grow back?
If your cat loses a whisker or two, they will grow back.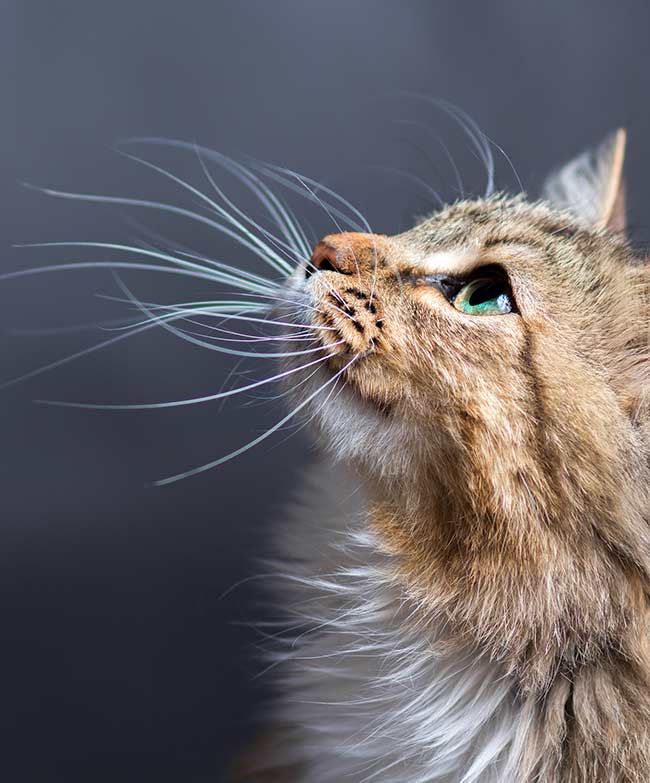 But take heed the answer to our next question…
Can you cut cat whiskers?
Thinking of cutting a cat's whiskers? Please, don't do it!
There is no reason to trim cat whiskers.
Inevitably, if your cat likes to explore outdoors, and they are long and proud of whisker, you might occasionally spot a bit of dirt or detritus caught on their whiskers.
But cats are also zealously clean, and they will quickly tidy themselves up.
What happens when you cut a cat's whiskers?
Please don't cut your cat's whiskers to keep them "clean" or "tidy".
It is unnecessary, and your pet will be disorientated and distressed by losing their super sensory powers.
Not only that, but there could be permanent damage to the cat's ability to use his whiskers effectively even after the whiskers have regrown.  A study on rats published in  July 2017  looked at the effects of depriving the animal of information from its whiskers and found permanent changes to the nerves that transmit information from them.
We don't know if this would happen to cats, but there is no reason to suppose it would not.
The temptation to play with a cat's whiskers or cut them is especially strong in children.
When you bring a new cat home, make sure children understand how sensitive to touch their whiskers are, and that it is unkind to tease them or cut them.
Do all cats have whiskers?
Ok, confession time. I know I said earlier that all mammals have whiskers. But there is an exception besides us, and of course, it just had to be a cat.
You might have even guessed it already: the cat without whiskers is the hairless Sphynx.
Sphynx cats have a genetic mutation which stops them producing keratin for hair growth.
This affects the whiskers of some Sphynxes more than others: some still manage to retain full whiskers, some have broken whiskers and some have none.
Summary
Cats use their clever whiskers to gather information for navigating and hunting.
Watch your cat closely, and you'll also learn to read their mood by the way they hold their whiskers.
Always remember, your cat's whiskers are incredibly sensitive. Resist the urge to play with them, and NEVER, EVER cut them.
Are you particularly proud of your cat's whiskers?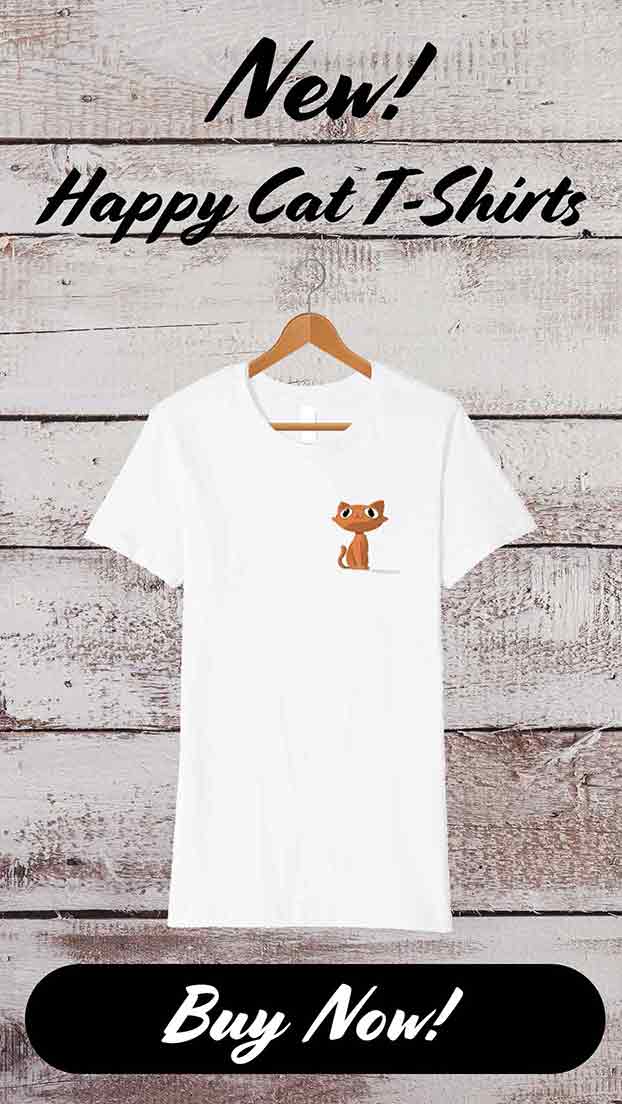 Or has your cat managed to get stuck head first in a narrow space, despite it's whiskers? Tell us more in the comments section below.
"Today's article is by Sarah Holloway. Sarah holds a bachelors degree in Zoology and has a special interest in animal behavior and communication"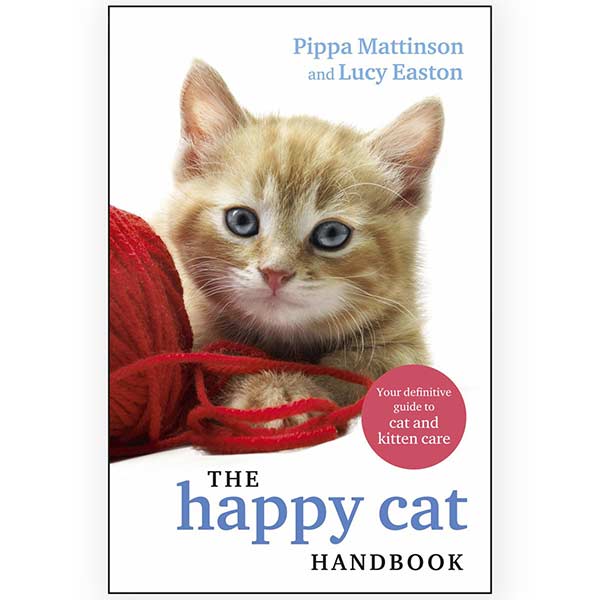 References
Dykes, R. W., (1975), "Afferent fibers from mystacial vibrissae of cats and seals", Journal of Neurophysiology, Volume 38, no. 3.
Gogan, P., Guerituad, J. P., Horcholle-Bossavit, G., Tyc-Dumont, S., (1981), "The vibrissal pad as a source of sensory information for the oculomotor system of the cat", Experimental Brain Research, Volume 44, Issue 4, pp 409-418.
Rice, F. L., Mance, A., Munger, B. L., (1986), "A comparative light microscopic analysis of the sensor innervation of the mystacial pad. I. Innervation of vibrissal follicle-sinus complexes", The Journal of Comparative Neurology, Volume 252, Issue 2, pp 154-174.
McSporran, K., (2011), "Just the cat's whiskers", New Zealand Veterinary Association, www.nzva.org.nz.
Prescott, T. J., Mitchinson, B., Grant, R. A., (2011), "Vibrissal behavior and function", Scholarpedia, 6(10):6642.
"Why do cats whiskers fall out" has been revised and updated for 2017
Your Amazing Cat!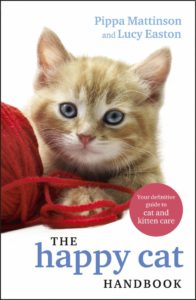 We are so excited to share our new book with you!
If you have enjoyed your visit to The Happy Cat Site we think you'll love The Happy Cat Handbook.
Written by the founders of this website including the author of the hugely successful Happy Puppy Handbook, it's packed with cat care information and fascinating cat facts.
Grab your copy today!