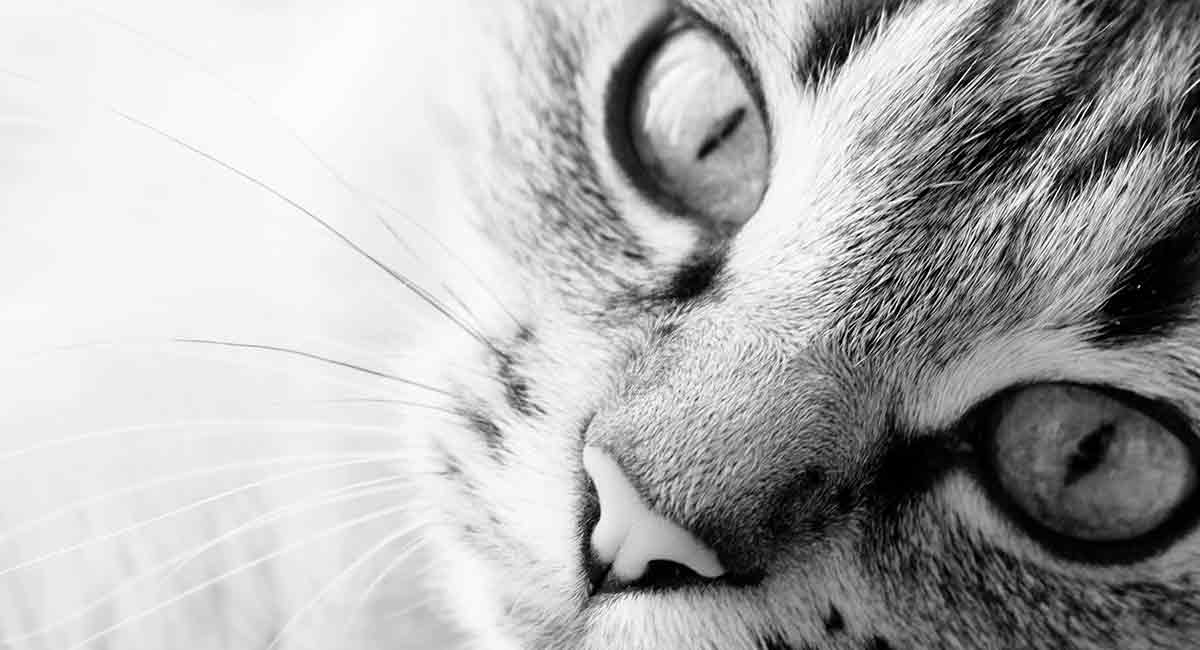 Are cats color-blind?
Have you ever wondered if your cat sees color the same way that you do?
If you've ever looked closely at a cat's eyes, you'll notice the structure is quite different from ours.
It makes you wonder if your kitty is living in a world where everything is black and white.
Can cats see in color or are cats color-blind?
In this article, we'll answer this question and also look at other ways your cat sees the world in a different light.
Are Cats Color-Blind?
At one time, scientific studies came to the conclusion that cats are color-blind.
Today, this is still a common misconception.
Although cats are unable to see the full spectrum of color the way that humans do, they aren't completely color-blind.
We know they can see different colors, but not with the degree of vibrancy that we see them.
Are Cats Color-Blind or Can They See Some Colors?
Although there have been numerous studies done on exactly what colors cats see, science has yet to come to a consensus.
Some experts think that cats can only see blue and gray.
Others believe that their ability to detect color is similar to that of a dog's.
Behavioral tests indicate that dogs are unable to tell the difference between red and green.
This suggests that guide dogs for the blind interpret traffic lights by the position of the light rather than the actual difference in color.
Red may appear as yellow, but they are able to distinguish red from blue.
In fact, a dog's ability to detect color is comparable to that of a person who is color-blind.
This study found that a cat sees color in the same way that a rhesus monkey does.
If this is the case, then they would see color in the same way humans do, just not with the same clarity or intensity.
Interestingly, a recent study suggests that cats may be able to see into the ultraviolet range.
This is something humans can't do at all.
To understand how a cat sees color, we need to understand how their eyes work and how they differ from ours.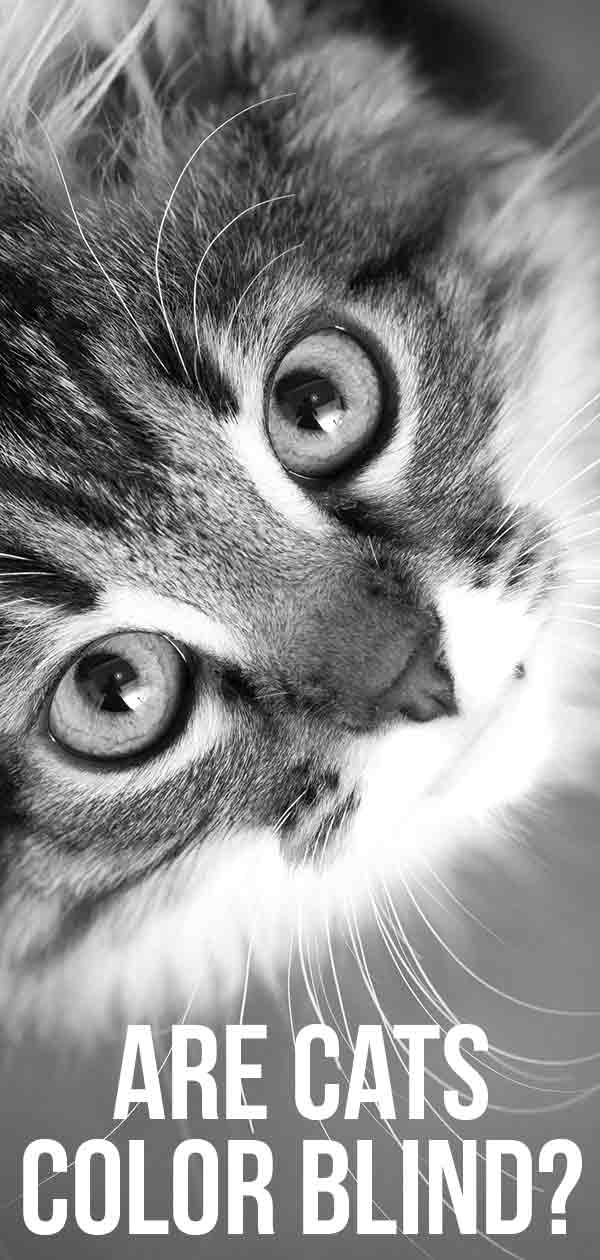 Anatomy of a Cat's Eye
Color is distinguished by the nerve cells in the eyes.
The retina of the eye, in both humans and animals, has two main types of cells.
Cones allow us to differentiate colors, and rods perceive light and motion.
Humans have 10 times more cones than cats do, allowing us to see many more color variations than they can.
We also have three types of cones able to identify red, green and blue.
There is some evidence that cats also have trichromatic vision.
However, others maintain that cats only have green and blue cone cells.
This means that red and pink look like gray to a cat, while blues and greens would be more vibrant to them.
So, to answer the question "are cats color-blind?" the answer is, sort of.
Cat sight is comparable to that of a person who is color-blind.
This means they can still detect color, just not the full spectrum and the multitude of shades that we see.
Cat Vision at Night
Although we can see color better than our feline friends, when it comes to night vision, cats have a definite advantage.
One reason is that they have about six to eight times more rods than we do.
These extra rod cells make it easier for them to see and detect moving objects in low light levels.
Cats are crepuscular animals, meaning they're most active at dusk and dawn.
While it's harder for us to see when the light isn't bright, cats can actually see better in dim lighting.
Having the ability to notice even the slightest movement when the light is faint helps them survive in the wild.
It's useful for both tracking prey and to avoid becoming the target of predators.
But extra rods aren't the only reason that cats can see so well when the sun starts to go down.
The Unique Cat's Eye
Have you ever looked closely at a cat's eyes? Their eyes are huge in proportion to their body.
A cat is able to open the iris of the eye very wide to let more light in.
According to this study, their elliptical pupils have the ability to dilate nine times more than the circular human pupil.
This allows the maximum amount of light in.
Cats aren't able to see in total darkness, but need only about one-sixth the amount of light that humans need to see clearly.
If you've ever seen your cat suddenly exposed to bright light after being in the dark, this dramatic change to the iris happens quite quickly.
Cats also have a tapetum lucidum.
These are reflective cells under the retina that reflect light that passes through the retina back into the eye.
It also improves their ability to see in subdued light.
Additionally, the tapetum is what gives cats that eerie shiny eye look when you take an indoor photo of them with the flash on.
Peripheral Cat Vision
But better night sight isn't the only way that a cat's vision is superior to ours.
They also have a wider field of view.
Because their eyes are located farther apart, it gives them a broader range of peripheral vision.
This is another way that makes it easier for them to spot prey.
Their field of vision is about 200 degrees, while for us it's about 180 degrees.
Are Cats Nearsighted?
However, when it comes to sight, cats don't have all of the advantages.
Since they have more rods and fewer cones than we do, cats are unable to decipher details in the same ways humans do.
Cats are often described as being nearsighted or having a harder time seeing things in the distance.
While a human with 20/20 vision can see clearly for 100 to 200 feet, things that far away would be blurry for a cat.
In fact, they can only see objects sharply up to about 20 feet.
So although they have a wider view range, they don't have the depth perception or the visual acuity we do.
Can Cats See Up Close?
Although cats are considered nearsighted, they are not close-sighted.
Anything closer than about one foot in front of them is hard for them to see.
Once again, this is due to their large eyes and their pupils' inability to focus.
This explains why when you put a toy or food right in front of your cat, she has a hard time finding it.
However, in the case of a tasty treat, their keen sense of smell would likely kick in and show them exactly where the food is.
Cat Eye Health
Watery eyes, blinking excessively, squinting, discharge or pawing at the eye are all signs of eye problems in your cat.
It could be the result of a common cold or something far more sinister.
If your cat has any of these symptoms, have her eyes examined to ensure she doesn't have any of these serious eye diseases.
Feline Upper Respiratory Infection
In addition to the above-mentioned signs, fever, poor appetite and sneezing can mean your cat has an infection such as feline calicivirus or feline herpes virus.
Conjunctivitis
Also known as pink eye, this inflammation of the pink lining around your cat's eyes make them appear red and swollen.
Other signs of conjunctivitis include sensitivity to light and a thick eye discharge.
Glaucoma
Most cases of glaucoma in cats are the result of an eye disorder such as lens luxation or trauma.
Symptoms include red eye, tearing, enlarged eyes, cloudy cornea and eye pain.
Severe cases of glaucoma can lead to blindness.
Are Cats Color-Blind?
Although cats are not color-blind, they are unable to see color the same way that we do.
They don't see as many colors or as many variations of each color on the spectrum.
However, cat's eyes are well-designed so that they can see much better than we can in low light.
They also have better peripheral vision.
We don't know at this point if cats are attracted to some colors more than others.
However, it seems likely that yellow or blue toys would be more appealing to them than red ones.
But it's just as possible that if your cat has a favorite toy, it's the shape or movement it makes that she's drawn to, rather than the color.
References and Further Reading:
Banks, MS, et al., 2015, "Why Do Animal Eyes Have Pupils of Different Shapes?" Science Advances
Binns, S.H., et al., et al., 2000, "A Study of Feline Upper Respiratory Tract Disease with Reference to Prevalence and Risk Factors for Infection with Feline Calicivirus and Feline Herpesvirus," Journal of Feline Medicine & Surgery
Buzhardt, L., "Do Cats See Color?" VCA Hospitals
Conway, B.R., 2009, "Color Vision, Cones, and Color-Coding in the Cortex," The Neuroscientist
Cook, C., 2009, "What Do They See & How Do We Know?" Clean Run
Douglas, R.H. and Jeffery, G., 2014, "The Spectral Transmission of Ocular Media Suggests Ultraviolet Sensitivity Is Widespread Among Mammals," The Royal Society Publishing
Gagin, G., et al., 2014, "Color-Detection Thresholds in Rhesus Macaque Monkeys and Humans," Journal of Vision
Gregg, F.M., et al., 1929, "Are Dogs, Cats, and Raccoons Color Blind?" Journal of Comparative Psychology
Hillström, A., et al., 2012, "Evaluation of Cytologic Findings in Feline Conjunctivitis," Veterinary Clinical Pathology
Kruger, J. and Fischer, B., 1973, "Strong Periphery Effect in Cat Retinal Ganglion Cells. Excitatory Responses in On- and Off-Center Neurones to Single Grid Displacements," Experimental Brain Research
Long, J., et al., 2010, "Catalyst: Seeing Through the Eyes of a Cat," ResearchGate
Nathans, J., et al., 1986, "Molecular Genetics of Human Color Vision: The Genes Encoding Blue, Green, and Red Pigments," Science
Ofri, R., 2018, "Vision in Dogs and Cats," American Veterinarian
Ringo, J., et al., 1977, "Trichromatic Vision in the Cat," Science
Siniscalchi, M., et al., 2017, "Are Dogs Red–Green Colour Blind?" Royal Society Open Science
Wilcock, B.P., et al., 1990, "The Causes of Glaucoma in Cats," Veterinary Pathology