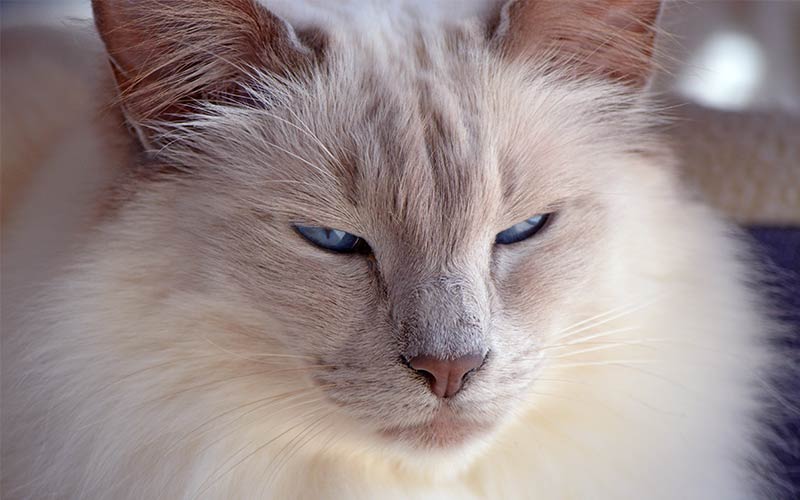 Balinese cats are sometimes misidentified as long-haired Siamese cats. Which makes sense, because that's where they came from! The first breeding programs for Balinese cats began in the 1950s after long-haired kittens spontaneously showed up in two Siamese litters. The cats' owners decided to develop more of them. Balinese cats today are a breed in their own right. They have hung on to the fine bones, chatty, affectionate nature and slim, silky appearance that defined their ancestors.
Contents
The cats were called Balinese because their grace reminded one of these owners of Balinese dancers. There is no connection between Balinese cats and the country of Bali.
Cat Confusion
Balinese cats have been compared to Himalayans, but there is no close relation between these types in reality. Despite appearances! Balinese cats can also be mistaken for Javanese cats. Javanese cats were created by crossing a Balinese cat and a Colorpoint Shorthair. However these cats are no longer recognized by the Cat Fanciers' Association as a separate breed.
The history of the Balinese cat is fairly short. An 1871 magazine called Penny Illustrated refers to a long-haired Siamese cat, and there's a registration record for one at the 1928 Cat Fanciers' Federation.
Are They Good Pets?
Balinese cats are outgoing and gregarious. But with that comes a certain amount of demand for attention. They are also mischievous and playful. These cats are considered to be smart and loving. They like to be involved in everything. But be warned, like some other outgoing cats breeds, if not given enough attention, they may become destructive.
However these cats are also affectionate. They are demonstrative about this affection too, which is lovely. These cats bond closely with their families.
They get along well with children and other pets. Sometimes they feel threatened by dogs, however. If you have a dog you'll want to introduce your Balinese kitten to her carefully, and make sure that she is well socialized and happy in his company.
These cats may look aristocratic, but they are clowns at heart. Many believe they are less vocal than Siamese cats, with a softer voice, but they still like to talk. Balinese cats like soft places to sleep and enjoy sharpening their claws, so a scratching post is a good investment if you want to get a Balinese cat.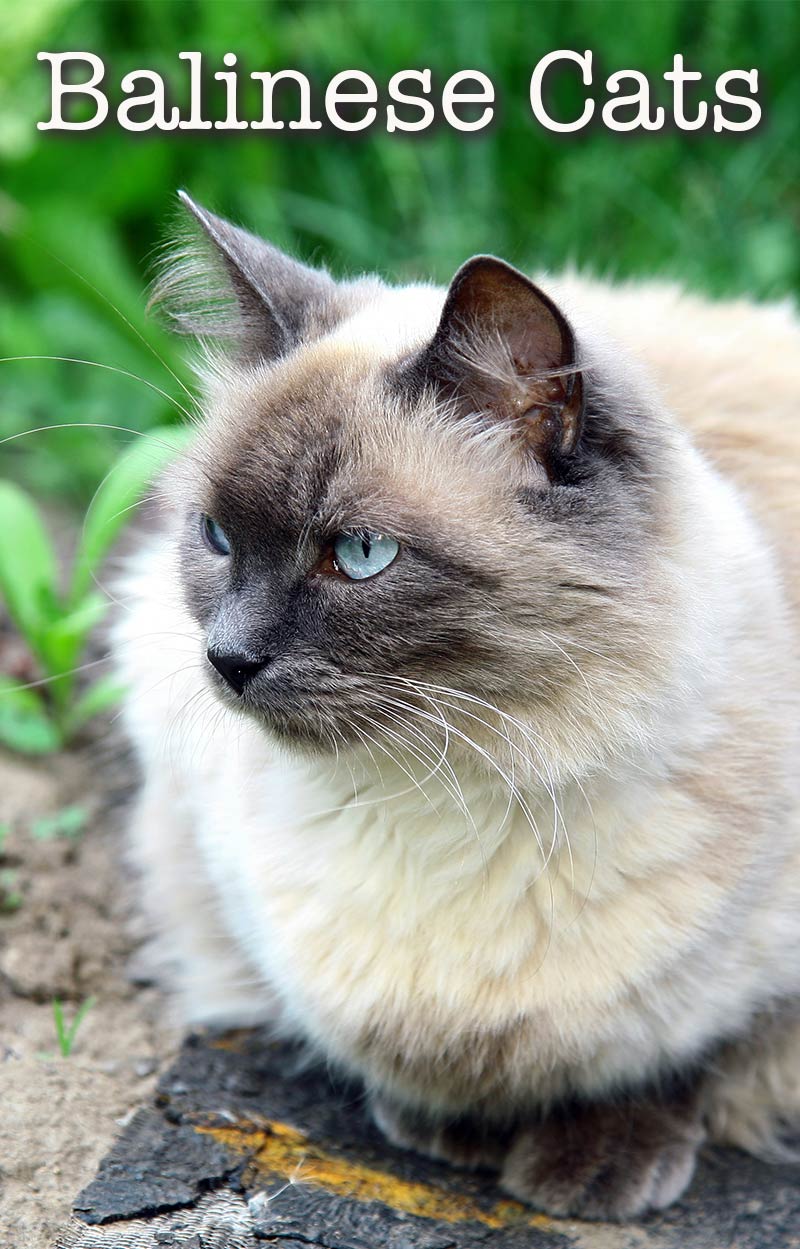 Balinese Cat Size
When fully grown, these cats are medium-sized. Males usually weigh between 6-8 lbs. Females weigh 5-7 lbs.
They are sleek and dainty cats with fine bones and musculature. They appear long and lithe in legs, body, and tail. Balinese cats can grow to be about 1.5 feet long, with a one foot-long tail.
Coats and Colors
Because they were originally bred from Siamese cats, pedigreed Balinese cats have the same colors as traditional Siamese cats. They have sapphire blue eyes and a pattern in which the body is creamy white, while the face, ears, legs, and tail may have a contrasting color. These are referred to as color points.
There are seal point Balinese, red point Balinese, lynx or tabby point Balinese, tortoiseshell point Balinese, blue point Balinese, chocolate point Balinese, and lilac point Balinese.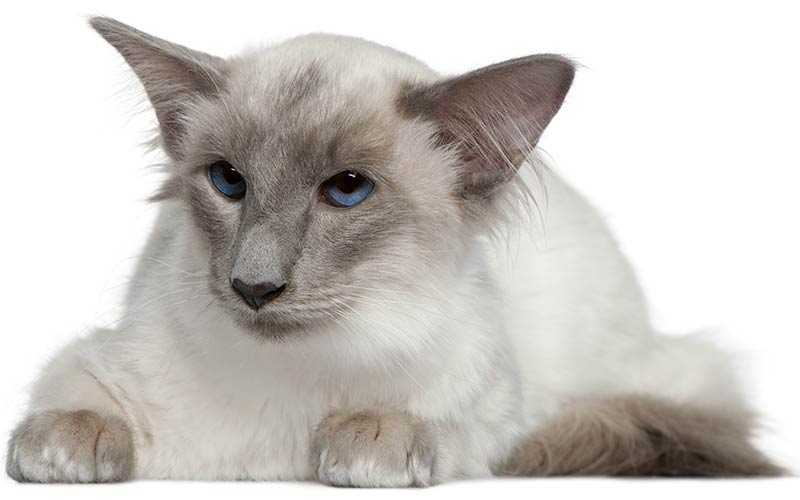 Long Haired Cat Grooming
The coat length of a Balinese cat is really what separates it from Siamese cats. The silky coat of these cats is fine, growing to half an inch or two inches over the body. But, unlike most long-haired cats, which have an undercoat and an outer coat, the Balinese just has a single coat of hair.
Hair lies close to the body, flowing naturally towards the cat's tail. So, a Balinese cat still looks slim and svelte. The hair does not obscure the long lines of the body. Their tails, however, are often plumed and luxurious, with hairs up to five inches long.
Double coats can get frequently matted, but the single coat of the Balinese does not. Balinese cats require just a quick combing now and then to remove loose, dead hair.
Are They Hypoallergenic?
Some breeders and others claim that Balinese cats are hypoallergenic. This has not been scientifically proven. In fact, scientific research has not shown that any hypoallergenic cat breeds exist.
However, Balinese cats do secrete less Fel d1, a cat-specific allergen that people react to, than some other cats. Fel d1 is created in the saliva, tears, skin, and perianal glands. During grooming, it becomes distributed across fur. The perianal glands secrete it onto feces, too.
However, Fel d1 only accounts for about 60 percent of cat allergies. Over 12 other substances found in mammals can cause allergic reactions. So, there are other factors to consider.
The lack of an undercoat in Balinese cats makes it possible that allergy sufferers may react less to Balinese cats than to other long-haired breeds. Less hair means fewer allergens. Spend time with a cat to determine if it triggers your allergies! There are no guarantees for cat allergy sufferers. Frequent baths and brushings can help, however.
Overgrooming Issues
Balinese cats can be prone to feline hyperesthesia syndrome. This causes oversensitivity of the skin, and results in over grooming or rippling of the skin.
Doctors believe this is a nervous disorder that can resemble a skin disorder. Treatment consists of reducing anxiety, limiting physical activity, and perhaps anti-seizure drugs.
Balinese cats also been known to succumb to psychogenic alopecia, in which the cats groom themselves excessively. This can be a behavioral or dermatological issue, caused by allergies or stress.
Eventually, amyloidosis can lead to rupture and internal bleeding.
Potential Health Problems
All pedigreed cats have health problems that are specific to the breed. This is due to small population sizes, population bottlenecks, and founder effects, which occur when a population is descended from a small number of ancestors.
Siamese cats and their variants were once considered delicate and prone to health issues, but are much hardier today. Some conditions to watch out for include:
Chronic bronchial disease
Central nervous system issues
Heart problems
Liver amyloidosis
Vision difficulties
How Long Do They Live?
The life expectancy of a cat is based upon a number of factors, including diet, lifestyle, environment, and genetics. Most Balinese cats live from 10-15 years.
Finding a Good Breeder
If you want a purebred Balinese cat, make sure you are dealing with a conscientious and ethical breeder. Find out if your breeder is registered, if you're interested in a pedigreed cat.
Meeting the kittens themselves is recommended. You can ascertain health and living conditions, and view the sire and dam of the litter for yourself. Ask questions. Find out what kind of home the breeder is looking for to place the kittens in. This can tell you how concerned the breeder is about the kittens' welfare.
Don't forget to ask about health issues. Good breeders will have had genetic testing done, and can tell you the cats' medical history in detail. View any health documentation before you commit. If you have any concerns about the health of the parents or feel the breeder is being evasive on the topic of their family history, then walk away and re-start your search.
Breeders will generally make Balinese kittens available between 12-16 weeks of age. They should have basic inoculations at around 12 weeks. At this time, they should have enough social and physical stability to thrive in a new environment.
Kittens
Purebred kittens of any breed can cost quite a bit. The amount you pay a breeder depends on factors such as age and the value each breeder assigns to individual genetic lines. In general, expect to pay $800 or up for a Balinese kitten.
Good breeders normally charge more as they spend time and money ensuring that their breeding pairs are in the best possible health. This will include health testing as well as good diets and high levels of care.
Do They Turn Up In Rescue Shelters?
Breed-specific rescues do exist for Balinese cats. Balinese cats may also appear in regular shelters, but this is rare. Getting a cat from a shelter costs less, but the chances of getting a purebred kitten are extremely low.
You may not have options regarding the cat's age or pedigree status. Also, you may not receive any information on the cat's health. If these things don't matter to you, adopting a Balinese cat from a shelter or breed-specific rescue might be a great idea! But be patient. This process might take time.
Do you own a Balinese? Are you thinking of getting one? What's yours like? Let us know in the comments!