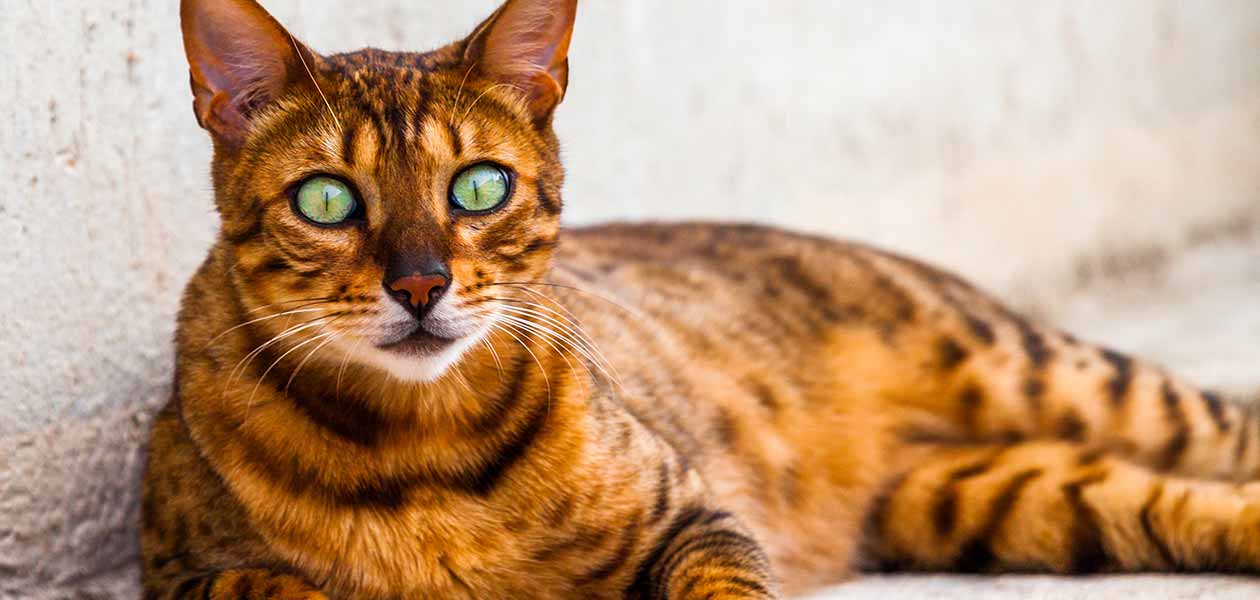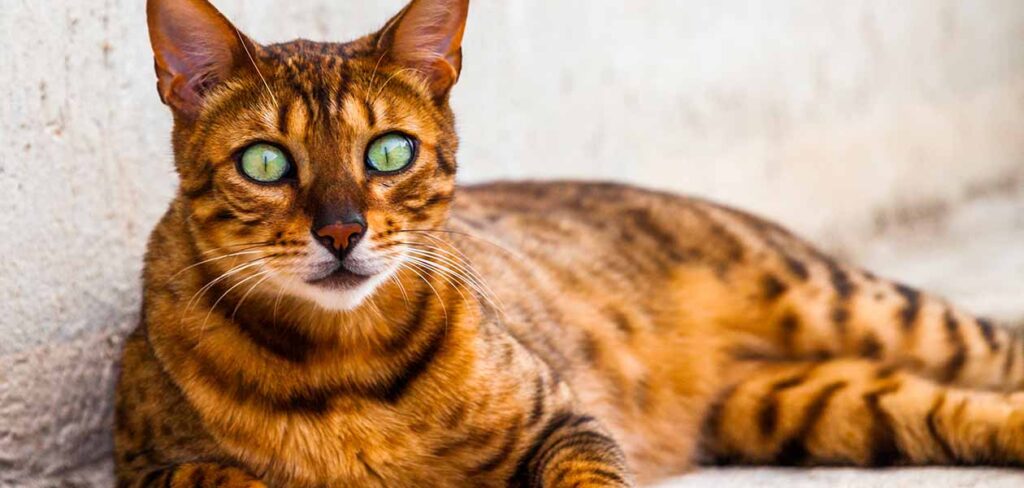 The California Spangled cat was one of the first domestic cats bred to resemble exotic wild spotted cat species. And they were launched into the public imagination like no other breed before them.
But ultimately they weren't as successful as other exotic looking breeds.
These cats are affectionate, loyal, and intelligent. They are full of energy.
In this article, we'll look at what happened, and which modern breeds are the best substitutes for the California Spangled.
What's In This Guide?
Most of our breed reviews attempt to capture interesting information about a cat breed, together with practical information about owning them.
This one is a bit different, but hopefully no less informative, or less helpful!
We're going to cover topics including
From the past tense and talk of extinction, you've probably guessed what's coming up for the poor California Spangled.
But their story is no less intriguing or worth reading because of it. So let's get stuck in!
What is a California Spangled Cat?
The California Spangled cat breed was founded by Paul Arnold Casey Jr in the 1970s and 80s.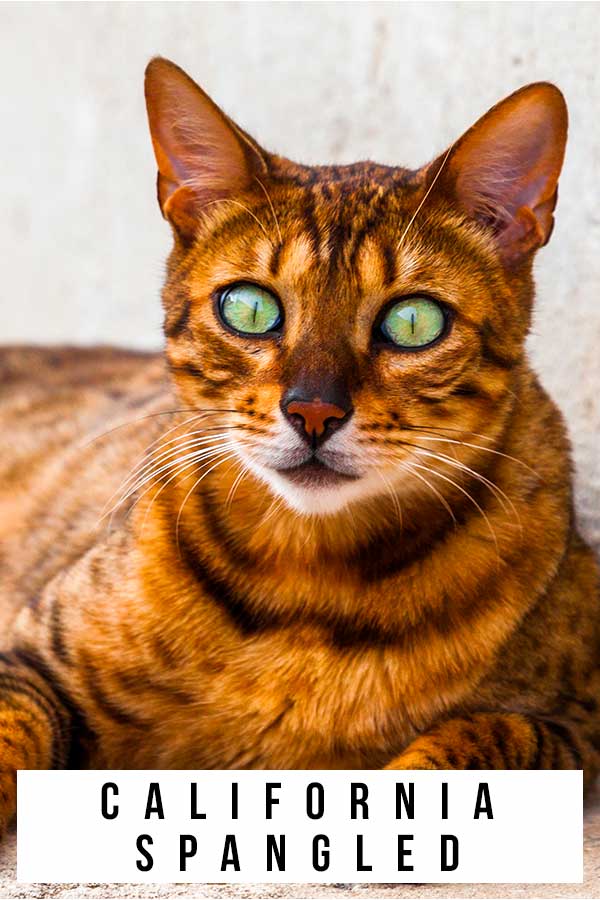 His inspiration was to create a domestic cat which closely resembled a scaled down wild leopard.
However, he was adamant not to use any wild cats in his breeding program – in contrast to the Bengal, which was also in development at the same time.
Which breeds were used to create the California Spangled?
It appears that Casey had a detailed breeding plan in place before he even started work, and the breeds which contributed to the California Spangled include
These breeds were chosen to contribute specific traits, like softness of coat (the Turkish Angora) or specific color genes.
The Launch of the California Spangled Cat
Once perfected, the California Spangled cat made an impressive entrance onto the cat fancy scene.
Casey took the unusual and controversial decision to advertise his new breed as a gift idea in the Neiman Marcus 1986 Christmas catalogue.
This generated huge interest in them very quickly, and even made the national press.
It was criticized at the time by animal welfare activists and other members of the cat fancy community.
But it seems that Casey actually ran an extremely diligent and principled breeding program.
Casey's Breeding Program
He kept meticulous breeding records and vetted everyone who wanted to purchase one of his kittens thoroughly.
He also managed to keep close control over breeding by his kittens' new owners, so that the pedigree wasn't compromised by outcrosses or ill-advised mating choices.
Ultimately the California Spangled was well regarded by feline geneticists, and even triumphed on the show bench too.
Is The California Spangled Cat Extinct?
So the California Spangled was a clever fusion of good breeding and savvy marketing.
But sadly they weren't to last.
These cats had a high price tag. They started at $1,400 – the equivalent of $3,300 today – to discourage people from buying them purely for their novelty value.
This price certainly bought you a high quality cat.
But the up and coming Bengal breed was available for a much lower cost, and came with the added excitement-factor of containing real wild-cat blood.
In 2007 Casey passed away, and by 2016 only 58 California Spangled cats were still registered with TICA.
Today, this special cat breed is regarded among the cat community as being extinct.
Fun facts about California Spangled cat
The Spangled's founder Paul Casey was a screenwriter and playwright who also wrote scripts for Lassie!
In their short time of the show circuit the Spangled performed remarkably well, even winning the Best of the Best award at The International Cat Association (TICA) International Cat Show in 1987.
California Spangled Cat Appearance
The California Spangled cat was a medium-sized, muscular and athletic cat breed.
The most desirable individuals had a high degree of colour contrast between their spots and their background color.
Colors ranged from leopard-esque bronzes to unusual blues and charcoals.
They had a low slung walk which called to mind the image of a wild cat prowling through the jungle.
And they were notable for having unusually large whisker pads.
California Spangled Cat Temperament
This cat's temperament made them popular and successful pets.
They were amiable and affectionate with people, and formed close bonds with their families.
Owners reported that they enjoyed playing tracking and pouncing games, and climbing in search of good vantage points to watch the world go by.
They had lots of energy and intelligence, and were talented hunters if allowed outside.
Will The California Spangled Cat Ever Return?
It takes a huge investment of time and resources to launch a new cat breed.
Some pedigrees have come near to extinction, and been brought back from the brink – the Havana Brown is a notable example.
It's unlikely now that any of the original bona fide California Spangled cats are still alive.
Although descendents of them might be.
This means the original breed cannot be revived. But it's possible that new breed founded on the same principles could be.
However, the popularity and availability of alternative wild-looking breeds means that it's unlikely another breed quite like the California Spangled will gain much traction again.
Alternatives To The California Spangled
Luckily for cat fans who love a wild look, there are several other cat breeds that fit the bill which you can still bring home.
Bengal
The best known of the spotted cats, Bengals were created by mixing Asian leopard cats with domestic cat varieties.
Since they were founded in the 1970s, their rise in popularity has been stratospheric.
Today the number of Bengals registered with TICA far outstrips any other breed.
These large cats are talented acrobats, and their affectionate disposition is regularly described as being almost doglike.
Unfortunately, possibly due high frequency of inbreeding to meet demand for kittens, Bengal cats are prone to come hereditary conditions including hip dysplasia and heart disease.
Ocicat
The Ocicat was created by mixing Abyssinian and Siamese cats – two of the breeds which also gave rise to the California Spangled.
They are a similar size to the California Spangled, and look similar in many ways. However their ears are somewhat larger, and their spotted tabby coat is arranged in a slightly different pattern.
Ocicats are chatty and friendly. And like many of the spotted cat breeds, very playful, athletic and energetic.
Since spotted cats were often bred to especially resemble a scaled down wild cat, lots of energy and high spirits were usually considered an authentic bonus.
However the lovely Ocicat achieves this without containing any real wild cat DNA – which makes them an easier proposition to keep at home!
Savannah
The Savannah cat is another spotted wild cat hybrid. It was created by crossing domestic cats with African servals.
Savannah cats are noted for their unusually long legs, and retaining rather wild temperaments.
Many regions have restrictions on owning them due to their wild cat ancestry.
Cheetoh
The Cheetoh cat is one of the newest spotted cats.
Created by mating Ocicats to Bengals, the Cheetoh isn't recognized as a pedigree in its own right yet.
It is notable, through a fluke of genetics, for being far larger than either parent breed.
Males can reach up to 26lbs!
Serengeti
Finally, the Serengeti cat.
Serengetis are one Californian breeder's attempt to create a long-legged spotted cat reminiscent of the Savannah, but without the wild cat ancestry.
This means there's no restriction on owning them, and they don't have any of the complex or difficult to manage wild cat behaviors.
They have achieved developmental status with some registries, but they're still low in numbers.
So finding a Serengeti cat is often the biggest obstacle to owning one!
The California Spangled Cat
This cat represents a fascinating episode in cat breeding history.
They were created with single minded determination, and had many desirable and admirable qualities.
But demand for them was outstripped by demand for rival breeds.
Luckily, several of the spotted cat breeds still extant today share many of the Spangled's charming qualities.
Have You Ever Met A California Spangled Cat?
Were you even lucky enough to own one?
Do let us know in the comments box down below!
References and Further Reading