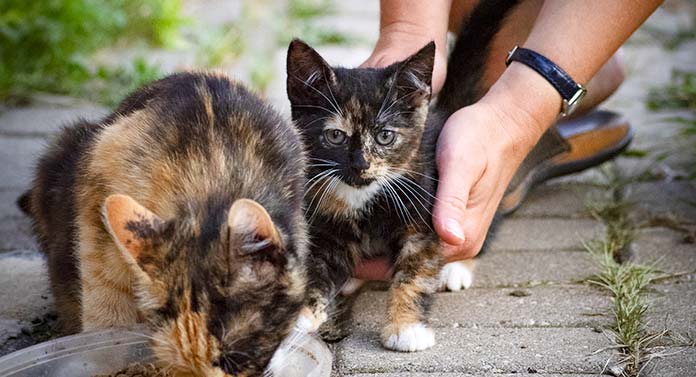 A brindle cat is usually a female tortoiseshell cat. But cats of either sex with narrow tabby markings might also be be described as brindle.
Since brindle is a coat pattern rather than a breed name, there is lots of variety in size, coat length, personality and health of brindle cats.
This means that it can be hard to predict if one will suit your family. But, since it isn't a specific breed, you can always look for another brindle cat, if the first one you find doesn't suit your needs!
What is a brindle cat?
A brindle cat isn't a breed in its own right – the word brindle is an unofficial term some cat lovers use to describe a purebred or mixed breed cat with narrow stripes.
In fact, the term brindle is more usually associated with dogs. Many dog breeds are specifically accepted in brindle patterns according to their official breed standards.
But brindle is not a term traditionally associated with cat breed standards, even though some feline coat patterns look very similar to it.
That's because brindle-esque patterns on felines are actually either a type of tortoiseshell marking, or a type of tabby marking.
And both of these are genetically distinct from the way true brindle markings are created in dogs.
Brindle colored cat genetics
There are several locations in a cat's genetic code which contain information about coat pattern and color. Each of these locations is called a locus.
And at each location, or locus, there are a variety of different genes which could potentially be present.
Exactly which genes a cat inherits at each locus determines their coat color and pattern.
Brindle genes
True brindling, in animals like dogs, is produced by a gene called the brindle gene, sitting at the agouti locus.
Cats have an agouti locus in their DNA sequence too. It's where the genes for things like smoke, chinchilla, or silver-tipped coats are located, if a cat has them.
But for cats, the brindle gene is not an option at this locus. It is simply missing from them altogether.
Tabby genes
A different locus cats have is the tabby locus.
The genes for mackerel, blotched, spotted or ticked tabby patterns all sit in this spot, if a cat has them.
Of these, mackerel tabby coats caused by the mackerel tabby gene are most likely to be described as brindle.
Tortoiseshell genetics
Another type of cat fur which might be described as brindle is the tortoiseshell coat.
All cats carry instructions for producing either black-based or red-based coat pigment on their X sex chromosome.
Males only have one X chromosome, so they only produce either black-based or red-based pigment, all over their body.
Female cats have two X chromosomes, so they can inherit instructions for both pigment types.
To avoid doubling up on contradictory instructions for each strand of fur, every cell in their body 'switches off' one X chromosome at random.
So, a female cat's coat may end up with patches of skin that produce red-based pigment, and patches of cells that produce black-based pigment. In other words, a tortoiseshell cat.
Getting it right, and the role of white
Tortoiseshell coats look like brindle when the patches of black and red are very small.
Interestingly, the more white patches a tortie cat also has, the bigger the patches become. Which eventually results in a calico cat.
But it is also why you don't get brindle and white cats, even though you get brindle and white dogs.
Brindle gray cats and other colors
We've talked so far about black-based and red-based pigments.
Unmodified, these result in a black and red brindle cat.
But, if a cat also inherits genes that modify how much black or red pigment is made, you could also get a brindle gray cat, for example.
Brindle cat breeds
So, which of our noble