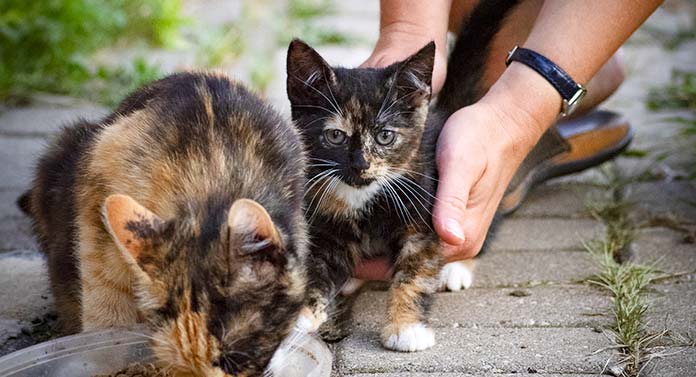 A brindle cat isn't a breed in its own right, or even an official color description. The word brindle is simply a term some cat lovers use to describe a purebred or mixed breed cat with narrow stripes. In reality they are normally a female tortoiseshell cat or tabby. Since brindle is a coat pattern rather than a breed name, there is lots of variety in size, coat length, personality and health of brindle cats.
Contents
Brindle Colored Cat Genetics
There are several locations in a cat's genetic code which contain information about coat pattern and color. Each of these locations is called a locus. And at each location, or locus, there are a variety of different genes which could potentially be present.
Exactly which genes a cat inherits at each locus determines their coat color and pattern.
Brindle genes
True brindling, in animals like dogs, is produced by a gene called the brindle gene, sitting at the agouti locus.
Cats have an agouti locus in their DNA sequence too. It's where the genes for things like smoke, chinchilla, or silver-tipped coats are located, if a cat has them. But for cats, the brindle gene is not an option at this locus. It is simply missing from them altogether.
Tabby genes
A different locus cats have is the tabby locus. The genes for mackerel, blotched, spotted or ticked tabby patterns all sit in this spot, if a cat has them.
Of these, mackerel tabby coats caused by the mackerel tabby gene are most likely to be described as brindle.
Tortoiseshell genetics
Another type of cat fur which might be described as brindle is the tortoiseshell coat.
All cats carry instructions for producing either black-based or red-based coat pigment on their X sex chromosome.
Males only have one X chromosome, so they only produce either black-based or red-based pigment, all over their body. Female cats have two X chromosomes, so they can inherit instructions for both pigment types.
To avoid doubling up on contradictory instructions for each strand of fur, every cell in their body 'switches off' one X chromosome at random.
So, a female cat's coat may end up with patches of skin that produce red-based pigment, and patches of cells that produce black-based pigment. In other words, a tortoiseshell cat.
Getting it right, and the role of white
Tortoiseshell coats look like brindle when the patches of black and red are very small.
Interestingly, the more white patches a tortie cat also has, the bigger the patches become. Which eventually results in a calico cat.
But it is also why you don't get brindle and white cats, even though you get brindle and white dogs.
Brindle gray cats and other colors
We've talked so far about black-based and red-based pigments. Unmodified, these result in a black and red brindle cat. But, if a cat also inherits genes that modify how much black or red pigment is made, you could also get a brindle gray cat, for example.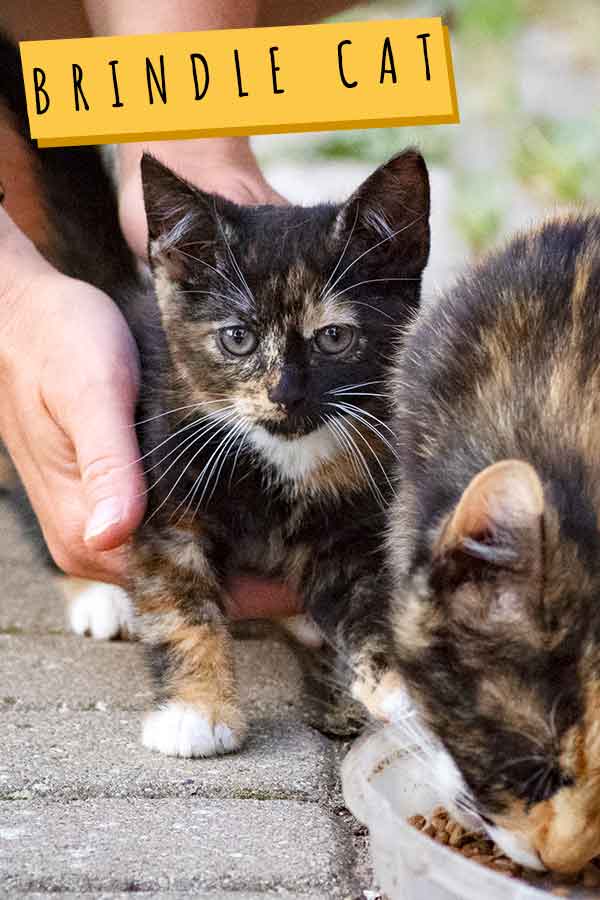 Brindle Cat Breeds
So, which of our noble Mackerel tabbies

Many pedigree cat breeds can also come with mackerel tabby stripes. This is because mackerel tabby stripes are the original coat pattern of cats' wild ancestors.

Everything else has basically been developed as an alternative, by breeders harnessing and replicating spontaneous genetic mutations.

Some breeds famous for coming in mackerel stripes include:
Unique Stripes
Every mackerel tabby cat's stripes are as unique to them as a fingerprint. Some have very broad stripes which aren't much like brindling at all. Whilst others have tightly packed narrow stripes, which are very resemblant of brindling.

Very pronounced examples of this are sometimes described by fans as "pinstripe tabbies", although the term isn't used in any of the official breed standards.
Tortoiseshell brindle
From the pedigree cat breeds which commonly come with tortoiseshell costs, you could chose:
Cornish Rex
Devon Rex
Exotic Shorthair
Japanese Bobtail
Ragamuffin
And even the hairless Sphynx and Peterbald cats, which can still have a brindle tortoiseshell pattern on the surface of their skin.
Brindle Cat Temperament
Since there's no single brindle cat breed, there is no single brindle cat temperament either.

Their personality will depend upon factors such as:
Breed
Many cat breeds have distinctive, signature personality traits.

For example Bengals are famously curious, playful, and intelligent. Their owners often describe them as cats that think they're dogs.

On the other hand, Persian cats are known for being very docile and affectionate.
Upbringing
Kittens who are introduced to a wide range of people and have lots of positive experiences of being handled and petted before they reach 7 weeks old are likely to be more confident. And keen to engage with humans when they're grown up.

Likewise, if they have encountered things like washing machines, vacuum cleaners and car engine noise, they won't be as nervous of normal household noises.
Brindle Cat Health
Neither of the coat patterns on cats which most closely resemble brindling are linked to any specific health problems.

Since it is usually only female cats that can inherit tortoiseshell coat patterns, you'll have to think about the issues which usually affect female cats. Such as whether to get her spayed to prevent unwanted pregnancies.

Regardless of how your brindle cat gets their coat pattern, they will also be vulnerable to any health problems notable in their breed. For example Persian cats are at risk of breathing difficulties and eye injuries as a result of having such flat faces.

Bengal cats are notable for having higher rates of heart disease than other cats. And large brindle breeds, such as Maine Coons, are more prone to joint diseases such as hip dysplasia.
Grooming
How much grooming your brindle cat will require is another matter which comes down to their breed more than anything.

Short haired domestic cats, Bengals and Cornish Rexes with a brindle pattern will need very little in the way of help with keeping clean.

Long haired domestic cats, Maine Coons and Ragamuffins meanwhile need regular brushing to remove dirt, debris, and tangles.

Hairless cats with a brindle pattern on their skin often need regular baths to remove excess oils from their skin and prevent acne.