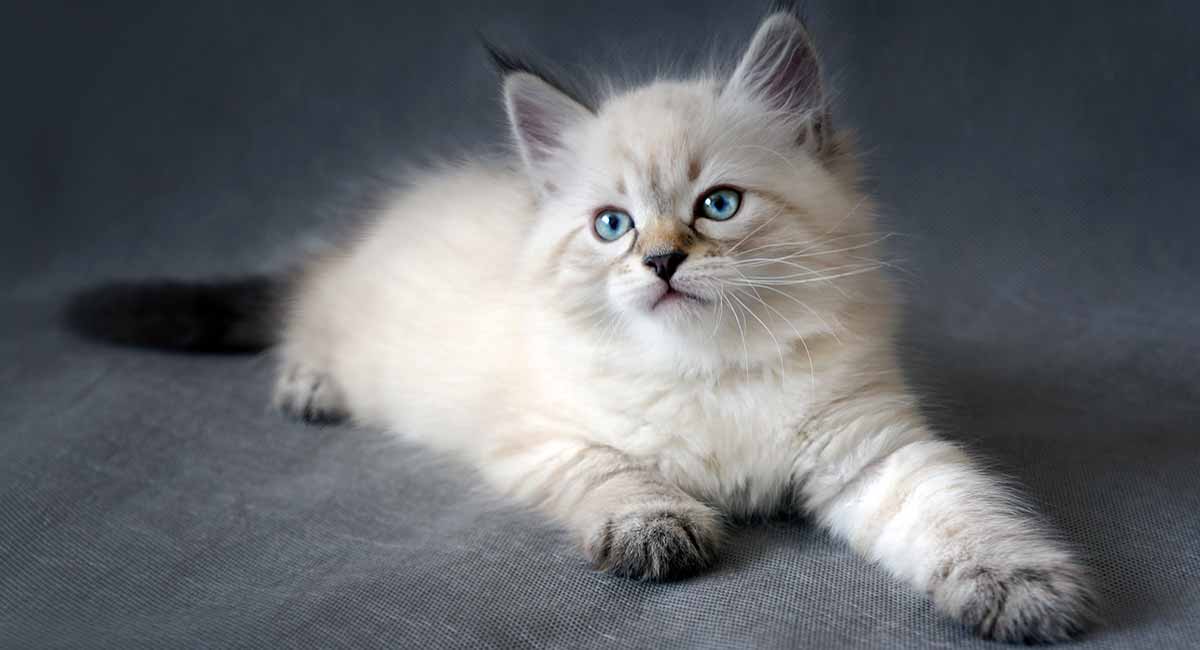 The Siberian cat is an adventurous and athletically built cat with a gentle and affectionate disposition. They are a medium to large breed, weighing anywhere from 12 pounds to 25 pounds. The gorgeous Siberian Forest Cat have a dense semi-long-haired coat, that comes in a wide range of colors. And the great news is, this is one of the healthier cat breeds too! Minimal hereditary issues means a longer and happier lifespan for this unique kitty.
Contents
Where Do They Come From?
A Siberian cat is a specific breed that originated in the cold weather climate of Russia. There they are referred to as forest cats because traditionally they roamed wild in the subarctic conifer forests, or taiga, of Siberia. Because of their cold and wet environment, Siberian cats have a long, waterproof fur coat.
Their existence is speculated to date back a thousand years, with references to them found in old Russian fairy-tales and children's stories.
Even though the Siberian cat has been around for centuries in Russia, it was only recently that they were recognized as a formal breed and bred for their aesthetic qualities. In 1871, they became part of the first cat show with only four other breeds. Records and registrations of the breed have been kept since the 1980s.
Siberian cats weren't found in the United States until the 1990s, after the end of the Cold War, when opportunities for export opened up. The breed first arrived in Britain in 2002 and since then the number of breeders has steadily grown.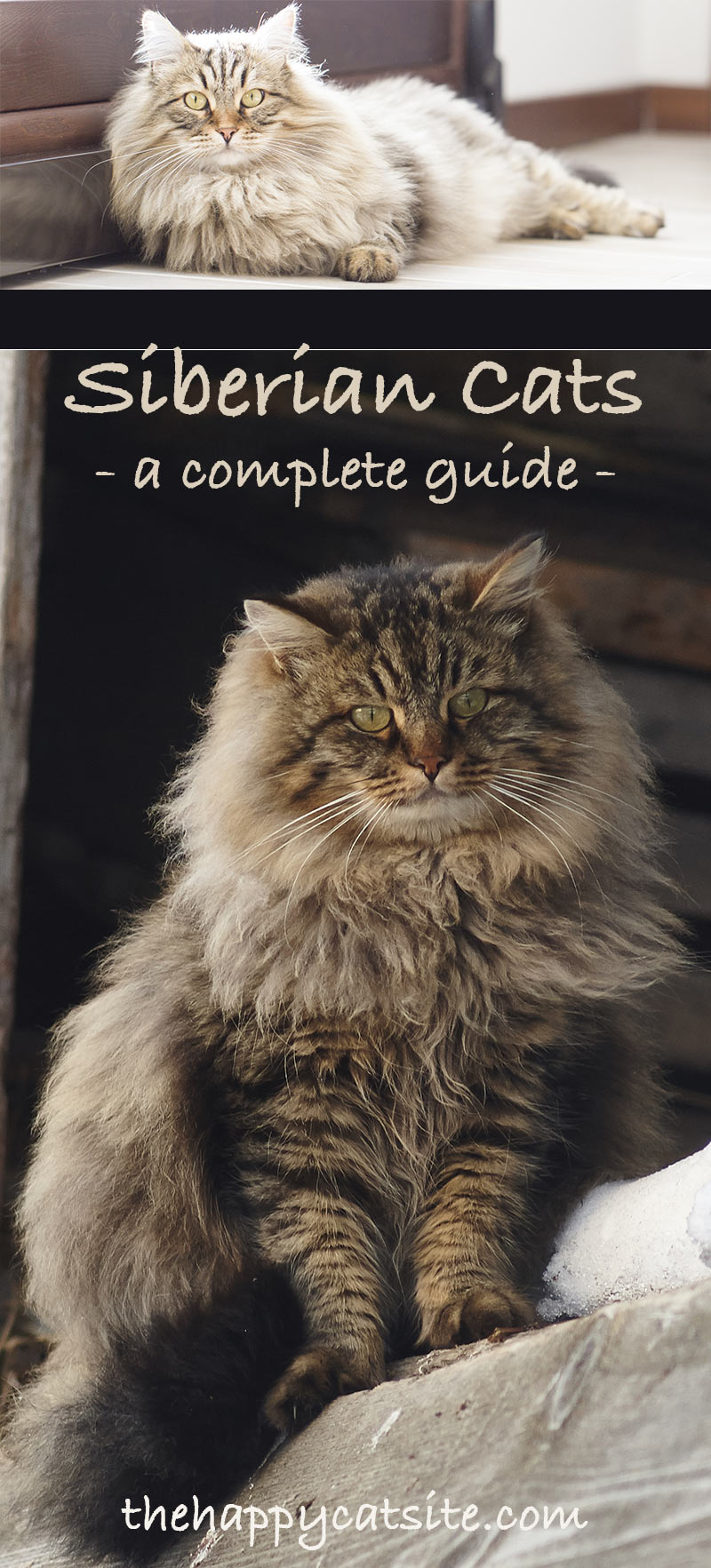 Size and Weight
Siberian cats have a stocky and athletic build. They can range in size and weight, from medium to large, depending on gender and muscularity. Males can weigh between 15 to 20 pounds. on average, but a muscular unneutered Tom may even reach 25 pounds! Females tend to be smaller and can weigh between 10 to 15 pounds.
Those I have come across fell into the middle of the range, but they still stand fairly impressively in terms of stature.
Their heads are shaped like a rounded wedge and their body is barrel-shaped. Siberian cats have hind legs that are slightly longer than their front ones. Overall, they look well-balanced and rounded. They are agile and acrobatic.
Siberian Cat Colors and Coats
Siberian cats are considered a semi-longhair breed. They have a warm and dense triple coat as a result of their icy, northern origins. Their coats are thickest in winter and shortest in the summer, and the fur is sturdy and waterproof. They often have a ruff around the neck, fluffy britches, and bushy tails. When you push your fingers into their coats it has an unusual depth too it, and is incredibly soft for it's density.
Siberian cats come in all color combinations, but in general they sport medium-long fur that's tabby-patterned. Common colors include black, white, gray, orange, and blue. Their large, round eyes can be green, gold, or a blend between the two. Some even have eyes of two different colors!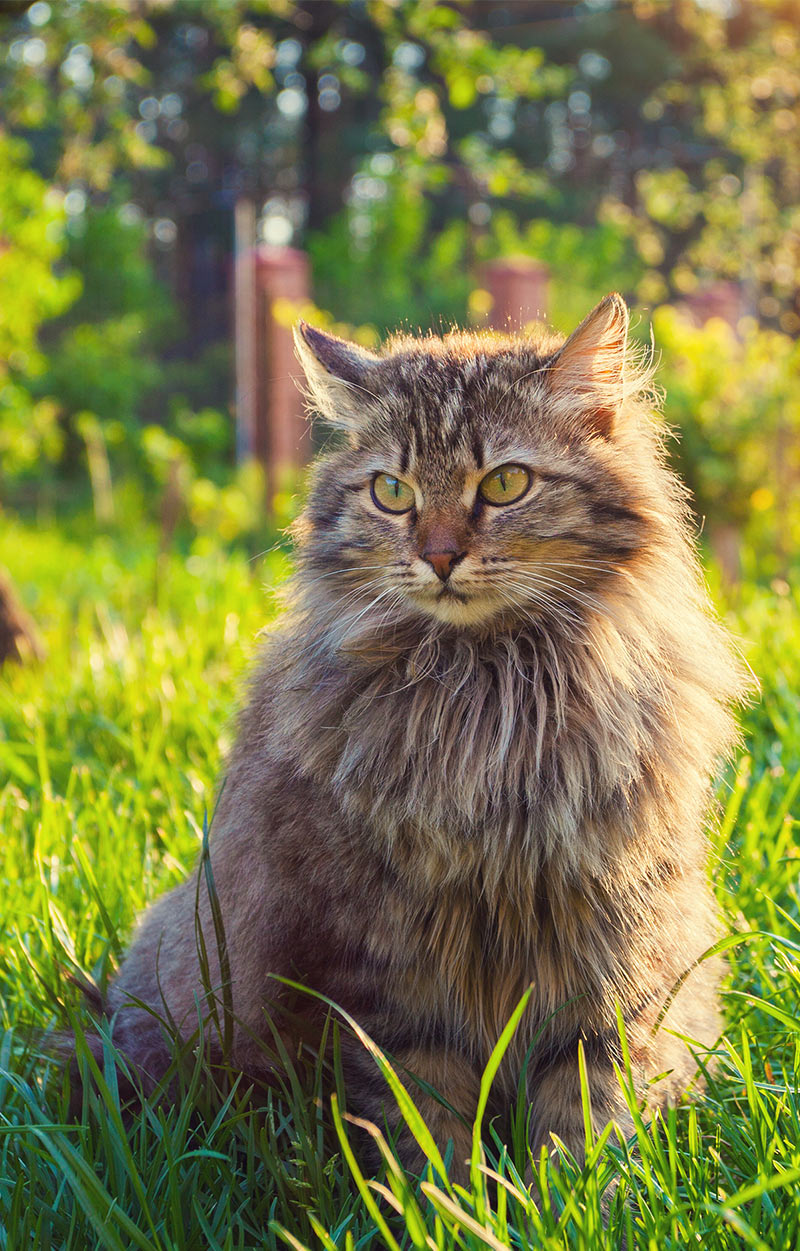 Grooming and Shedding
Siberian cats do shed. However, considering how much hair they actually have, it's not unmanageable. Twice a year, Siberian cats shed their coat. Their longer, heavy winter coat is shed in spring, while their shorter summer coat is shed in the fall.
Although Siberians have long, lustrous fur, fortunately, it does not have a tendency to tangle or mat. Bi-weekly grooming sessions with a steel comb are often sufficient to keep them healthy and reduce the incidence of hairballs.
They also need weekly nail trimming and ear checks for signs of infection. If the inside of the ear looks dirty, gently wipe it with a damp cotton ball. Regular teeth brushing is also recommended to prevent any dental or gum issues. Start these grooming habits early on with your kitten so that they become used to and accepting of them.
Are Siberian Cats Hypoallergenic?
Some breeders and others claim that Siberian cats are hypoallergenic. This has not been scientifically proven. In fact, scientific research has not shown that any hypoallergenic cat breeds exist.
It is true that Siberian cats have less "Fel d 1," a cat-specific allergen that people react to than some other cats. "Fel d 1" is created in the saliva, tears, skin, and perianal glands. During grooming, it becomes distributed across the fur. The perianal glands secrete it onto feces too.
Are They Family Friendly?
The Siberian is a beloved breed in Russia and has long been a popular family pet due to their easy-going and sociable nature and their patience with children. They are also considered to be quite smart. Some can even play fetch, and boy do these gorgeous kitties also love to play. Siberians adore all types of toys and remain vibrant throughout their lives.
Siberians are fearless and adventurous but also naturally calm. They are gentle and loving which shows in their sweet facial expressions. These cats tend to be relatively quiet, and they express themselves in a melodious way through mews, trills, chirps, and deep purring.
They are natural mousers and excellent jumpers. Some of them appear to enjoy the water as well. So be prepared for your kitty to want to get wet! It is not unheard of for a Siberian cat to make a surprise visit to its owner while in the bath or shower.
Siberian Cat Health Problems
All cats may suffer from certain illnesses. Kidney disease, cancer, urinary crystals, and gum disease are common to many breeds. Yet Siberian cats are a healthy, hardy breed, in general. Studies show that they are one of the cat breeds with more genetic diversity within their population.
This makes them less prone to problems from inbreeding, however, Siberian cats are still bred for specific traits. As such, these cats are prone to certain health conditions. The most common concern for Siberian cats is heart disease.
DNA testing is available for HCM so ensure your breeder can provide certificates that both parents are not carriers. Other recommended genetic testing includes: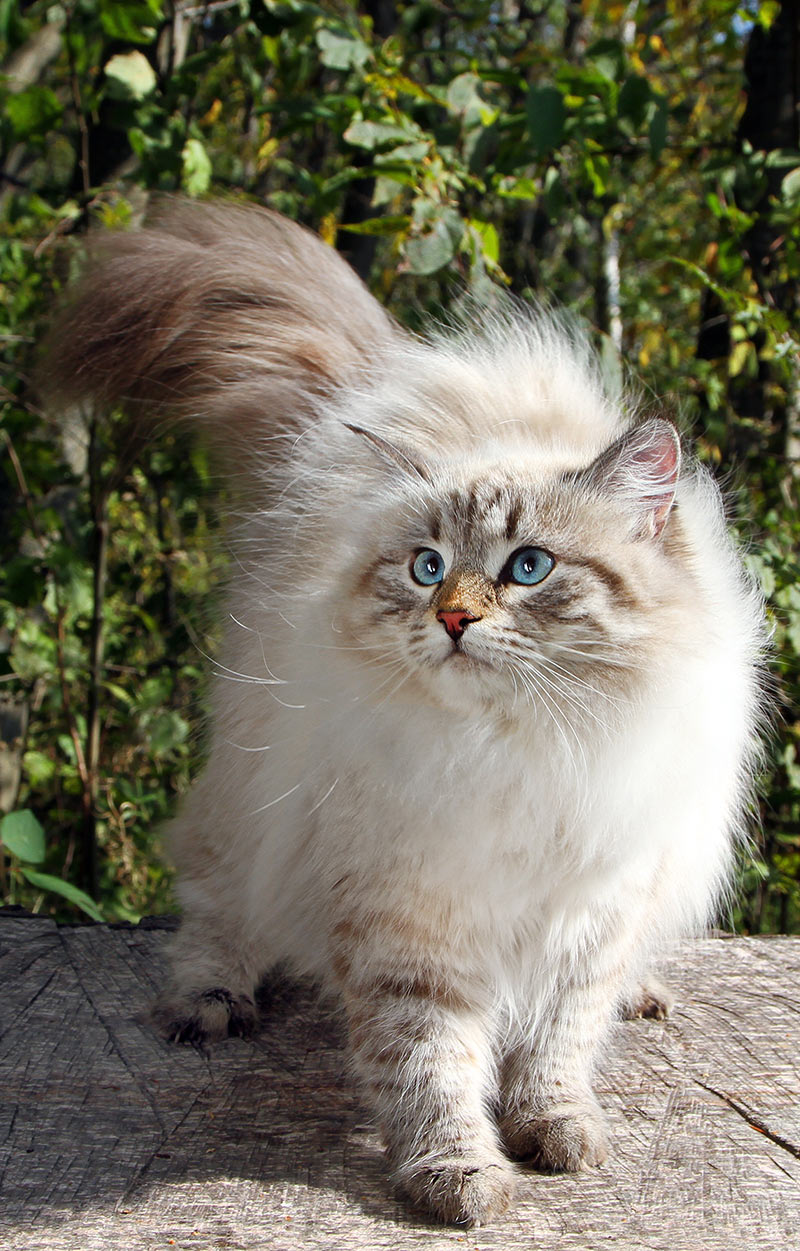 Siberian Cat Lifespan
The life expectancy of a cat is based on a number of factors, including diet, lifestyle, environment, genetics, and breed. The average expected lifespan of a Siberian cat is 12 to 15 years.
Finding Breeders
Choosing a reputable breeder can drastically improve your chances of taking home a healthy kitten. It is important to know if you want a pedigreed, championship-quality Siberian forest cat, or just a healthy cat for a family pet.
A visit to the breeder is also helpful so you can see the conditions under which the kitten lives. Ask about health issues and about results of genetic testing. Make sure to view the results of previous parental health testing before you commit to buying from a breeder.
Siberian Kittens
Siberian kittens are absolutely adorable, but don't let their cuteness blind you. You should still do your research about the breeder and the genetic line of the cat you wish to purchase. Caring for a vulnerable Siberian kitten is a big responsibility.
Siberian kittens are usually available at 12 to 16 weeks after inoculations. These Siberian kittens mature at a slow rate and may take up to 5 years to reach full maturity.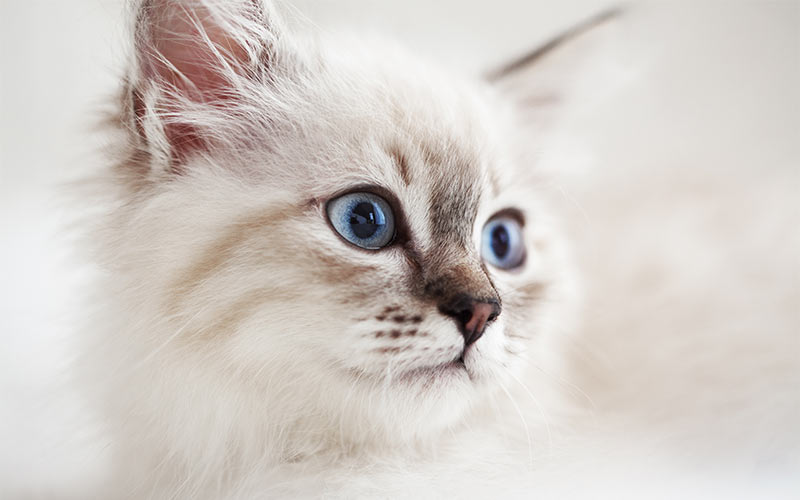 Rescuing A Siberian Cat
Breed-specific Siberian cat rescues do exist. And occasionally, Siberian cats also turn up in regular animal shelters. The advantage here is that you may find a Siberian cat for a cheaper rate. However, you may not have options regarding the age of the cat or their health.
Chances are a rescue cat will not be championship-quality. If this doesn't matter to you, adopting a Siberian from a shelter might be a good option. But be prepared. It may take time to find a one that needs rescuing.