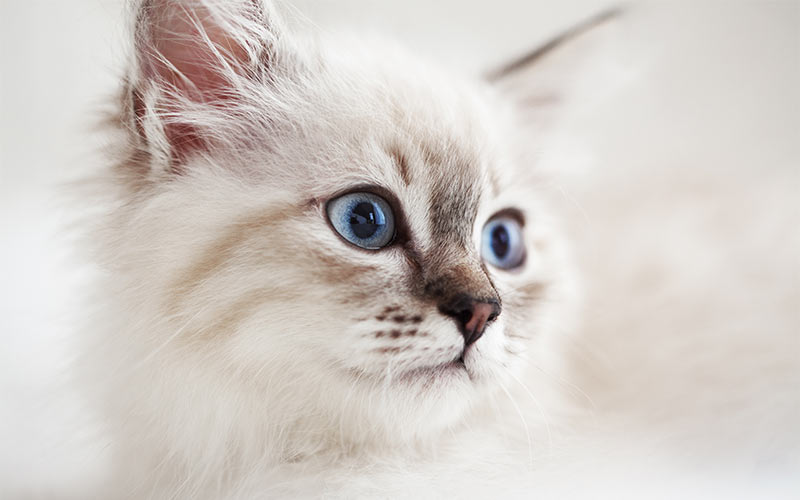 This article will tell you all about the beautiful felines called Siberian cats. You will learn how to care for them, what considerations Siberian cat owners must face, and what's special about Siberians!
If you already have a Siberian cat, or if you're considering getting one, this article contains important information for you.
Any time you get a new pet, you should know as much as you can about its needs.
Each breed is different.
This makes them wonderful in unique ways, but you should also know if you can handle health problems or other issues specific to it.
Consider this article Siberian Cat 101, and get ready to learn!
What is a Siberian cat?
A Siberian cat is a specific breed of cat that originates in the cold-weather climate of Russia.
There, they are called forest cats, because they roamed wild in the subarctic conifer forests, or taiga, of Siberia.
They may also be also called Russian cats, forest cats, mountain cats, Siberian house cats and snow cats.
Because of their cold and wet environments, Siberian cats have long, waterproof fur, especially in winter.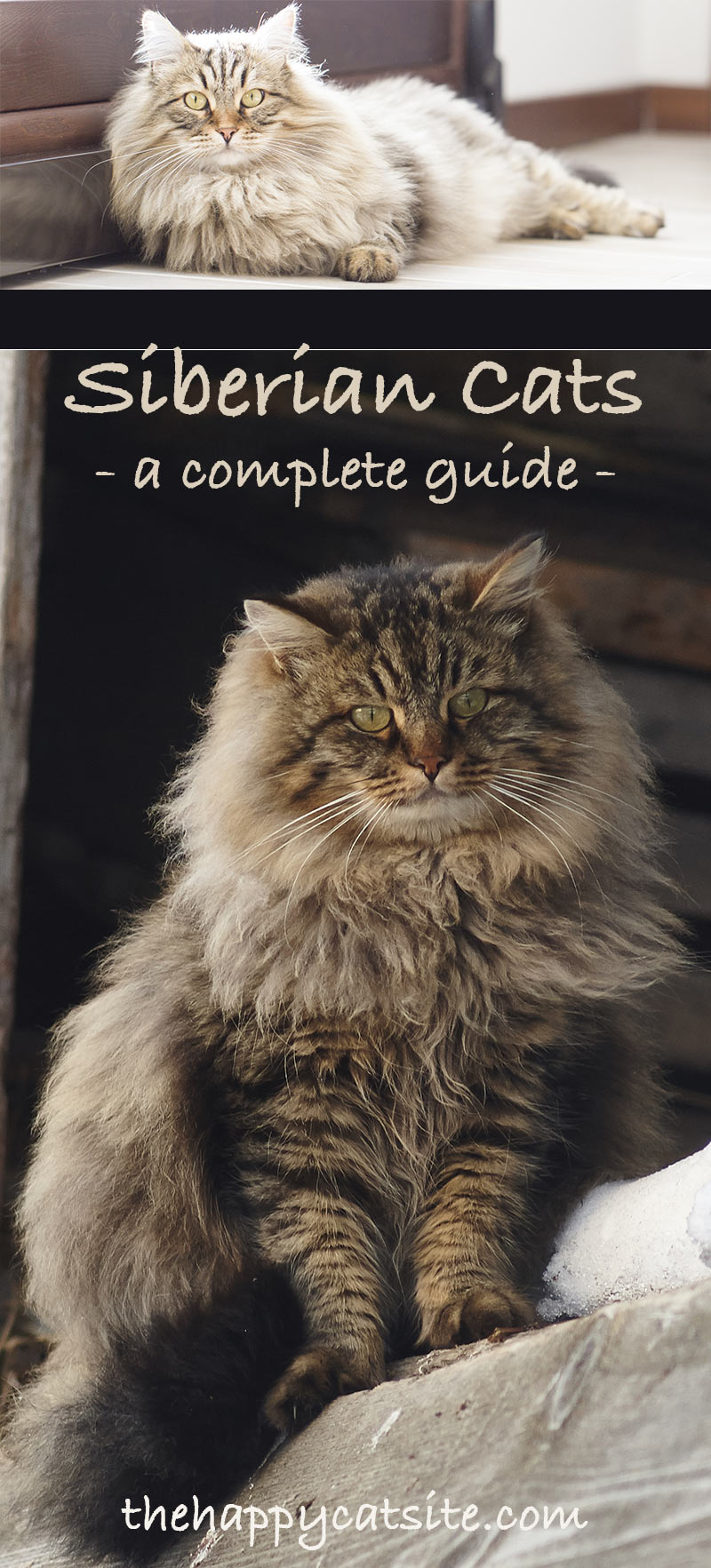 Siberian cats are medium to large cats with a dense triple coat in winter and a shorter coat in summer. The fur is sturdy and waterproof. They are considered a semi-longhair breed.
Siberian cats often have a ruff around the neck, fluffy britches, and bushy tails. Their body is barrel-shaped. Their heads are shaped like a rounded wedge.
Sometimes, they will show lynx-like tipping on the ears. They may have hair on the tops of their ears that make rounded ears look more pointed.
Siberian cats have hind legs that are slightly longer than their front ones. Overall, they look well-balanced and rounded. They are agile and acrobatic.
Even though the Siberian cat has been around for centuries, it was only recently that they were recognized as a separate breed and bred for their aesthetic qualities.
In 1871, they were part of the first cat show, with only five breeds.
Records and registrations of the breed were kept starting in the 1980s. U.S.-based breeding began in 1990.
Siberian cat personality
Siberian cats are considered to be quite smart. Some can even play fetch!
They are loyal and like to be near their owners. They enjoy the company of children and other animals.
These cats tend to be relatively quiet, and they express themselves in a melodious way – through mews, trills, chirps, and deep purring.
They are natural mousers and excellent jumpers. They appear to enjoy water as well. So be prepared for your kitty to want to get wet!
Siberian cat temperament
Siberians are fearless and naturally calm.
They are gentle and affectionate, which shows in their sweet facial expressions.
These gorgeous kitties also love to play. Siberians adore all types of toys, and remain vibrant throughout their lives.
Owners of Siberian cats say that they seem to know when their owners need moral support.
Sometimes, Siberians are called the dogs of the feline world because they are friendly, highly adaptable, and like laps. They may even come when called.
Siberian cat weight
Male Siberian cats weigh between 15-20 lbs. Females can weigh 10-15 lbs. They can even get as big as 25 lbs in some cases.
You'll probably notice that they are shorter and stockier than other types of cat.
Siberian cat colors
Siberian cats come in all color combinations.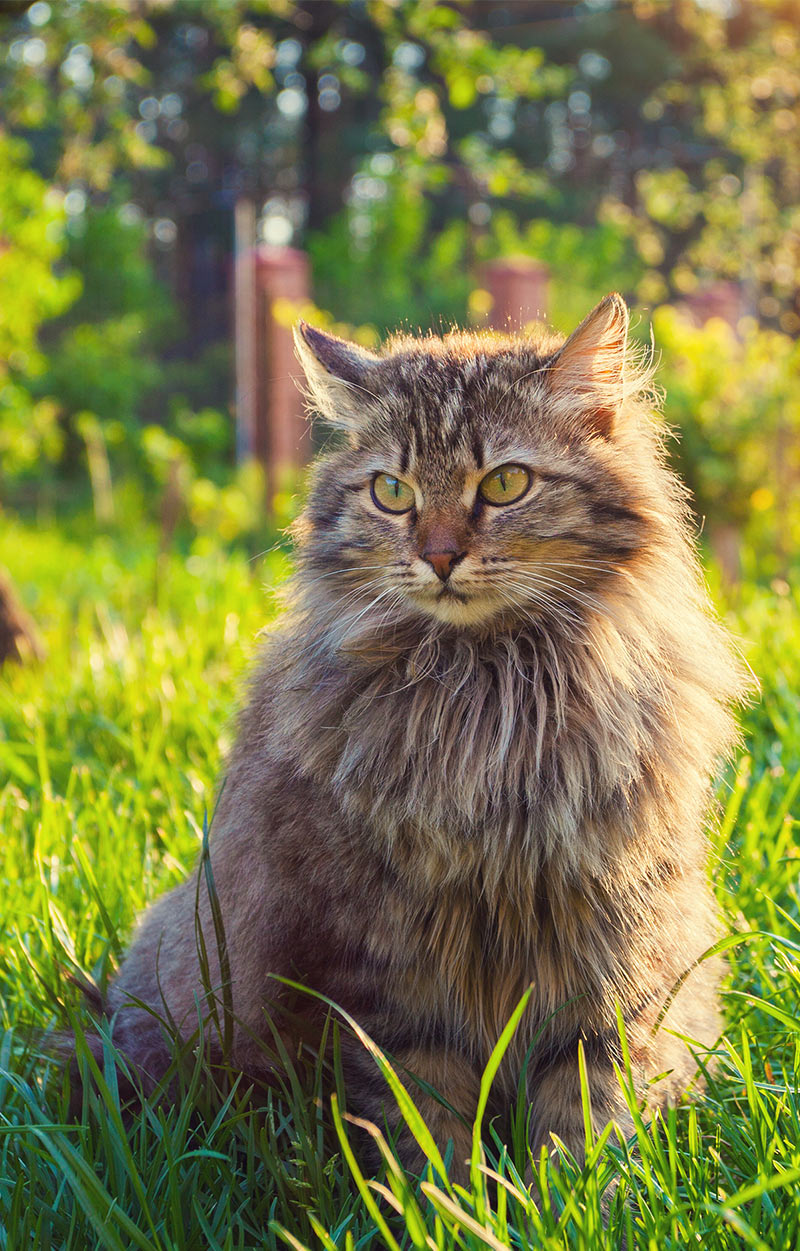 Their patterns and colors can be deep and dramatic. They sometimes have white markings and can be color-pointed, like Siamese cats.
In general, however, they sport medium-long fur that's tabby-patterned.
You can find black Siberian cats, white Siberian cats, gray Siberian cats, orange Siberian cats, blue Siberian cats, and many other colors. There are even lynx point Siberians, too.
Their eyes can be green, gold, or any shade in between. Some even have eyes of two different colors! The eyes are large and rounded.
Siberian cat grooming
Fortunately, though Siberians have such long, lustrous fur, it does not have a tendency to mat or tangle.
When they are not shedding profusely, a 10-minute grooming session once a week is sufficient to keep them healthy and reduce the incidence of hairballs.
You can find out all about grooming your cat and the best cat brushes here. 
Siberian cat shedding
Siberian cats do shed. However, owners say that considering how much hair they actually have, it's not unmanageable.
Several times a year, Siberian cats do release hair in clumps because of warming weather. You may wish to groom daily under these circumstances for optimal health.
Siberian cat – hypoallergenic?
Some breeders and others claim that Siberian cats are hypoallergenic. This has not been scientifically proven.
In fact, scientific research has not shown that any hypoallergenic cat breeds exist.
It is true that Siberian cats have less Fel d1, a cat-specific allergen that people react to, than some other cats.
Fel d1 is created in the saliva, tears, skin, and perianal glands. During grooming, it becomes distributed across fur. The perianal glands secrete it onto feces, too.
However, Fel d1 only accounts for about 60 percent of cat allergies. Over 12 other substances found in mammals can cause allergic reactions. So, there are other factors to consider.
Siberian cats with low allergen levels often – but not always – have kittens with low allergen levels.
If you are looking for a cat that will not trigger an allergic reaction in you or someone you love, the best way is to spend time with your potential cat.
There are no guarantees for cat allergy sufferers. However, a Siberian cat may have a lower chance of triggering allergies than other breeds.
If you are looking for a low shedding cat breed, check out this handy article. 
Siberian cat health
All cats may suffer from certain illnesses. Kidney disease, cancer, urinary crystals, and gum disease are common to many breeds.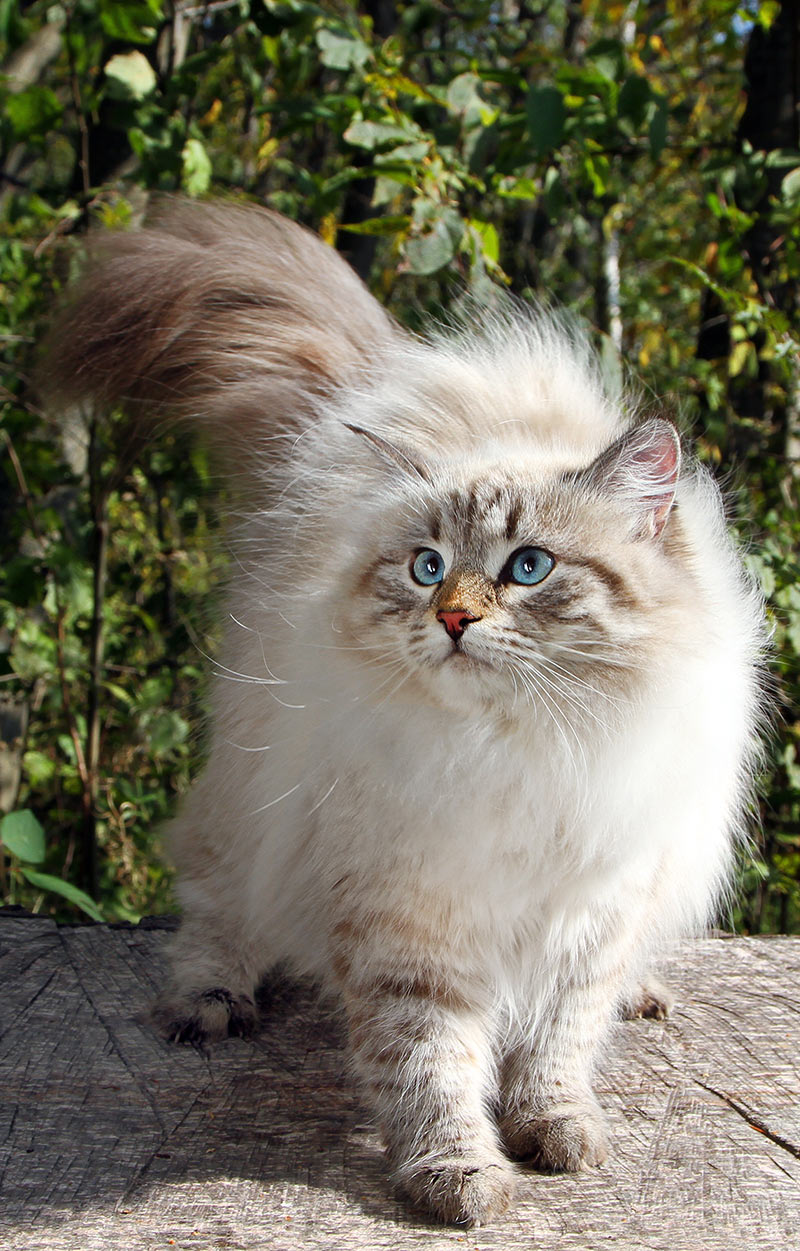 Siberian cats are healthy, hardy cats in general. Research shows that they are one of the cat breeds with the most genetic diversity within their populations.
This makes them less prone to problems from inbreeding. But, Siberian cats are still a type of cat bred for certain traits. As such, the cats are prone to certain health conditions.
The main concern for Siberian cats is heart disease.
If you think your cats are showing symptoms of illness, please have a veterinarian examine them!
Heart Disease (hypertropic cardiomyopathy)
This hereditary disease is a major cause of deaths in house cats. It causes the heart wall to thicken, leading to heart failure, fluid in the lungs, or lethal blood clots.
In the Siberian cat, it can show up at any age. Heart disease can result in death anywhere from one year to eight years of age.
Just one defective gene from one parent can result in this disease. Some lines with heavy inbreeding suffer the most deaths.
Because Siberians are a young breed, studies are ongoing about the genetics that cause this disease.
When you buy a Siberian kitten, ensure that there is no family history of heart disease.
Siberian cat food
Like all cats, Siberian cats are obligate carnivores. They are therefore adapted to a diet that consists of the raw flesh of other creatures.
They need a diet that is high in animal proteins. Protein helps cats manufacture antibodies, enzymes, hormones, and tissues.
Protein also helps cats maintain proper pH balance and assists in growth and development.
Certain types of fat provide cats with a concentrated source of energy. Linoleic and arachidonic acids are essential for cats. DHA, for vision, reproductive health, and the immune system, is also important.
Additionally, cats need a variety of vitamins and minerals for all their biological processes from oxygen transportation to metabolism regulation. They need antioxidants, too.
Cats also need some amino acids that other animals don't need, such as taurine. Taurine comes from animal protein sources.
They do not need carbohydrates, such as what you would find in grains.
Siberian cat life expectancy
Life expectancy of a cat is based on a number of factors, including diet, lifestyle, environment, and genetics.
Breed matters as well. You can expect your Siberian cat to live from 11-15 years.
But Siberian cats are sturdy and have minimal health issues. They are a generally long-lived breed.
Siberian cat price
Although Siberian cats have been exported from Russia since about the late 1980s, they are relatively rare in the U.S. Many are show-quality.
This means that purchasing one can be a pricey proposition. Cost depends on factors such as age and the value breeders put on individual genetic lines.
You should expect to pay $1200-$1600 for a Siberian kitten. Some breeders will charge less; some will charge more.
Siberian cat breeders
Siberian cat breeders can be found all over the United States. Some can be located at the TICA website.
Know if you want a pedigreed, championship-quality Siberian forest cat, or just a healthy animal for a family pet. This may make a difference in terms of finding an appropriate breeder.
You may wish to find out if the breeder is registered; this can help make it more likely that your cat is healthy, with championship bloodlines.
Be sure to locate an ethical and responsible breeder. Do some research to make sure the breeder has a good reputation.
A visit to the breeder is also helpful if allowed, so you can see the conditions under which the cat lives. This can help determine how healthy your cat is.
Ask questions, and pay attention to the answers. A breeder that wants to make sure their cats are going to good homes is a positive sign.
Ask about health issues and about results of genetic testing. Make sure to view any previous health documentation before you commit to buying from a breeder.
Siberian kittens
Siberian kittens are absolutely adorable, but don't let their cuteness blind you.
You should still do your research about the breeder and the genetic line of the cats you wish to purchase.
Kittens should still be tested for genetic predisposition to illness.
Siberian cats are usually available at 12-16 weeks, after inoculations. These Siberian kittens mature at a slow rate, and may take up to five years to reach full maturity.
Siberian cat rescue
Breed-specific rescues for Siberian cats do exist. Occasionally, Siberian cats also turn up in regular animal shelters.
The advantage here is that you may find a Siberian cat for less cost.
However, you may not have options regarding the age of the cat, or the health. Chances are a rescue cat will not be championship-quality.
If this doesn't matter to you, adopting a Siberian from a shelter might be a good option.
But be prepared. It may take time to find a Siberian house cat that needs rescuing.
Siberian cat mix
In general, cats have been domesticated for much less time than most other animals. They also tend to freely breed in ways that other domesticated animals do not.
It's also possible that breeders may attempt to create more allergy-friendly cats by mixing Siberians with other domestic cat types.
So, Siberian mixes do exist.
If you can find one you would like to get, be cautious and responsible. You'll want to make sure a kitten has the combination of qualities that you want.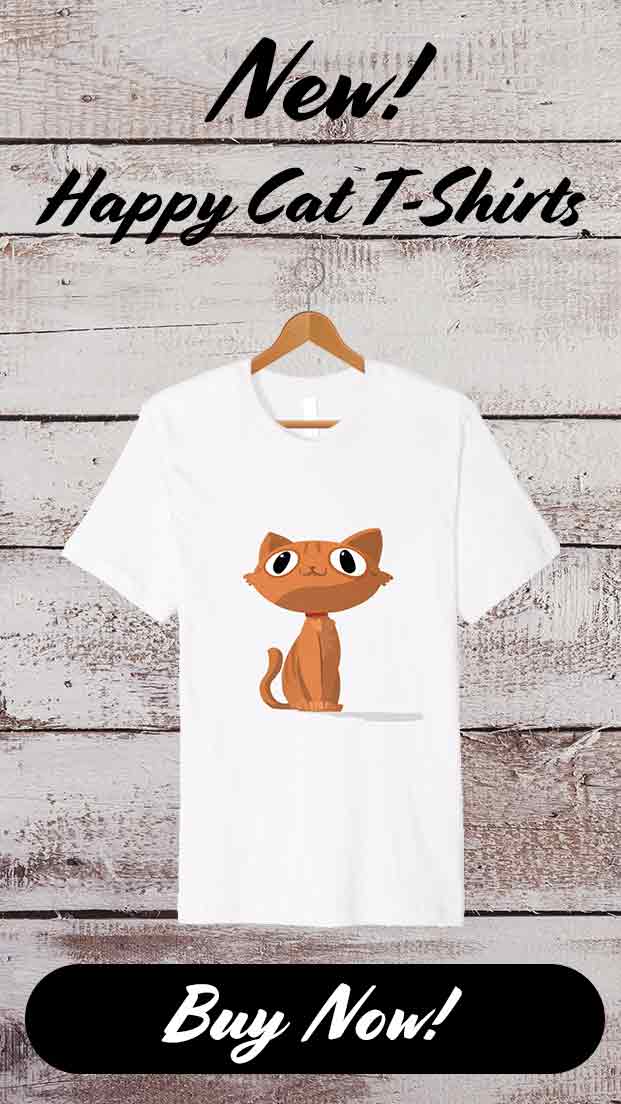 You'll also want to check on the kitten's health. Both parents should be tested for any potential genetic issues.
Siberian mixes don't have too many hereditary health problems – but other cat breeds might.
Should I buy a Siberian cat?
That depends. Now that you've learned all the basics about Siberian cats, you can hopefully make an informed decision.
Siberian cats have great personalities. They love to play, and they get along with animals and people alike. They love laps.
These gorgeous kitties are beautiful, with long fur and sweet faces.
They are hardy and don't have too many hereditary health issues. But they are prone to heart disease.
If you're looking for a cat like that, a Siberian cat might be the one for you.
Do you own a Siberian? What is your cat's personality like? Do you want one? Let us know in the comments!
Free Updates For Cat Lovers!
Our cat care articles, tips and fun facts, delivered to your inbox
Further Reading and Resources
Butt, A., et al (2012). "Do hypoallergenic cats and dogs exit?" Annals of Allergy, Asthma & Immunology, 108 (2).
The Cat Fanciers' Association, "About the Siberian."
The Cat Fanciers' Assocation, (2015), "Siberian Show Standard."
The International Cat Association, "Siberian."
Kurushima, J. D., et al (2012). "Variation of cats under domestication: genetic assignment of domestic cats to breeds and worldwide random-bred populations." Animal Genetics, 44.
Lipinski, M. J., et al (2007). "An international parentage and identification panel for the domestic cat (felis catus)." Animal Genetics, 38.
Lipinski, M.J., et al (2008). "The ascent of cat breeds: Genetic evaluations of breeds and worldwide random-bred populations." Genomics, 91.
Mucha, S., et al (2010). Inbreeding rate and genetic structure of cat populations in Poland." Journal of Applied Genetics, 52.
Siberian Research, Inc., "Heart Disease."
Schultz, K. (2015), Feline Nutrition Foundation, "Your Cat's Nutritional Needs: The Basics."
Free Updates For Cat Lovers!
Our cat care articles, tips and fun facts, delivered to your inbox