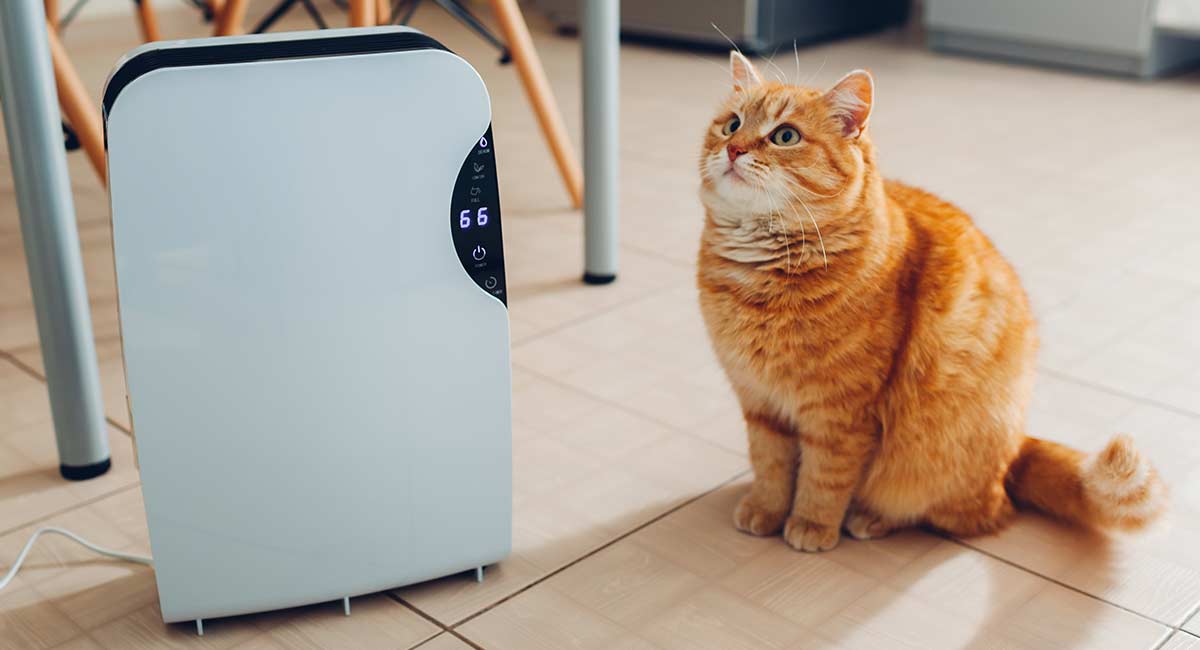 What's the best air purifier for pets if your favorite furry family member is making you sneeze?
Allergies are annoying. They make our eyes red, our throats itchy, and our noses runny! Worse, allergies can aggravate asthma symptoms and even lead to colds and infections.
There are no known cures for seasonal or pet-induced allergy symptoms.
But there are a few things we can do to help make our quality of life better while living under the same roof with a pet who sheds.
Let's talk about the best air purifier for pets!
What is an Air Purifier?
Air purifiers come in all shapes and sizes, and they can perform more than one job depending on the particular needs of the buyer.
One of the most basic functions all air purifiers have in common is that they purify the air in our indoor living spaces to help reduce allergy symptoms and keep us healthy and happy.
So, how do air purifiers work?
Many air purifiers use a high-efficiency particulate air filter, or HEPA filter, to attract and then trap allergy-inducing particles floating in the air.
This can be quite helpful to pet owners who suffer pet-induced allergies.
Keep reading to learn more.
Why Use an Air Purifier for Pets that Shed?
According to the Asthma and Allergy Foundation of America, pet allergies are extremely common and can cause pesky allergy symptoms and even worsen asthma.
Not only that, but there really is no such thing as a 100% hypoallergenic pet.
So, if you have a dog, regardless of if it's a curly-haired Poodle or a double-coated German Shepherd, you may find yourself sniffing a bit more when they are in the home.
But how can an air purifier help to reduce pet-induced allergies?
Functioning somewhat like a fan, an air purifier can essentially help to reduce pet allergy symptoms by catching
dander
pollen
dust, and
other allergy-inducing particles
that are stuck to your dog's loose and shedding fur.
Air purifiers can also help eliminate contaminants from pollution, smoke, and even mold.
Are you ready to get your home one of the best air purifier for pets so you can enjoy time with your furry friend without suffering through the sneezing?
Well, you're in luck! We've compiled a list of the best air purifiers for pets to help reduce your pet allergies and keep you and your pet happy and breathing clean!
Let's begin!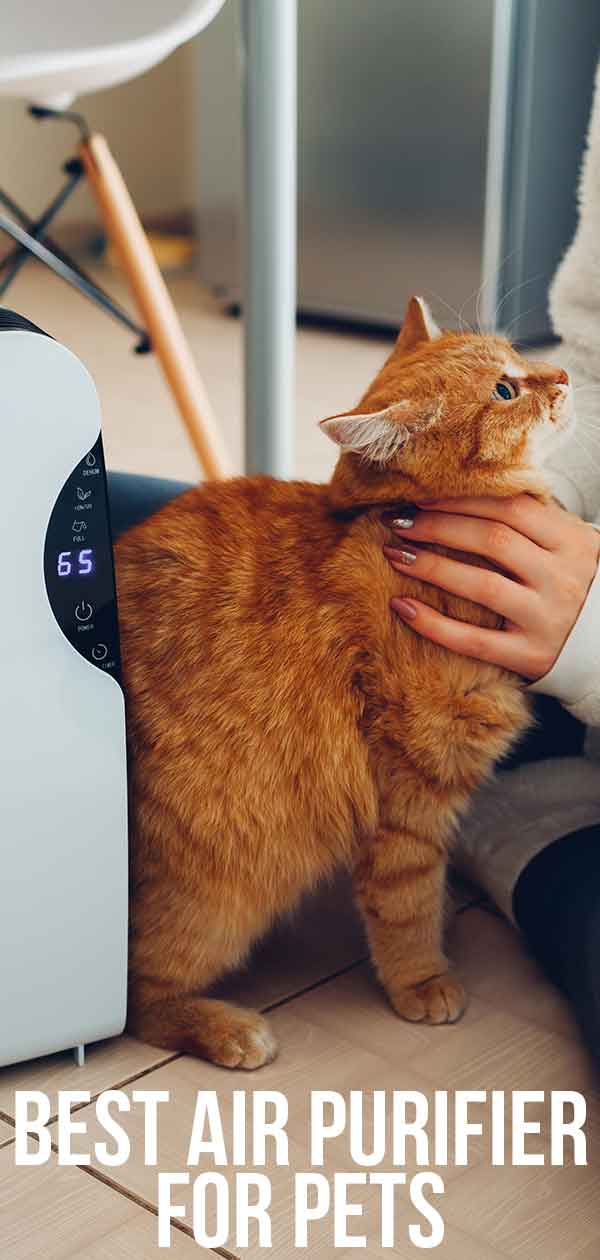 Top Pet Air Purifiers
As we mentioned above, there are a number of best air purifiers for pets on the market to pick from.
But how do you know which one is right for you, and what is the best air purifier for pets if you're allergic to them?
Below are some of the best air purifiers for pets we could find that specifically target pet allergies.
For example, the IQAir Medical-Grade Air Purifier won the Best Buy award by Consumers Digest.
It is rated number one for its help with reducing allergy and asthma symptoms.
It utilizes its medical-grade filtration system to keep your home's air clean and keep you and your pet breathing happily.
The Hathaspace Smart True HEPA Air Purifier 5-in-1 is another air purifier we would recommend.
Based on its wonderful reviews it's highly recommended for pet dander and other allergens.
Along with pet dander, this air purifier is also a great tool to be used in the homes of smokers.
It can help reduce pollutants in the air from smoking that are toxic to family members.
The GENAINI Home Air Purifier with True HEPA Filter for Allergies and Pets is as glamorous looking as it is efficient.
Perfect for medium to large sized rooms and great for allergies caused by pets, smoke, dust, and more.
This is a top air purifier for those looking to mix function with style.
Dyson Air Purifiers
Dyson Pure Cool, TP04 – HEPA Air Purifier and Tower Fan, White/Silver is another one of the top air purifiers available.
With Dyson's wonderful reputation, it's no surprise that this air purifier and fan in one is not only stylish but effective, reducing 99.7% of allergens in the home.
Another Dyson product we recommend is the Dyson Pure Cool, DP04 – HEPA Air Purifier and fan, White/Silver.
With a more compact build and a circular design, the Dyson Pure Cool DP04 promises 350-degree turns!
However, you may find that you need an air purifier that is more versatile and works just as well for seasonal allergies and other air pollutants.
Keep reading!
Air Purifier for Allergies
If you find that you are allergic to your dog or cat, then chances are you probably suffer from other allergies as well.
Pollen, mold, dust, and other pollutants in the air can cause allergy symptoms similar to those we feel when our dog or cat comes in from outside.
Luckily, an air purifier like the AeraMax 100 Air Purifier is great for allergies of all kinds you may encounter in the home!
We also recommend that you take a look at the Hamilton Beach Air Purifier, Odor Eliminator for Allergies and Pets.
This is the perfect purifier for the allergy sufferer who has pet and seasonal allergies.
Similarly, the Pure Enrichment PUreZone 3-in1 True HEPA Air Purifier for Pollen, Dust, and More is an excellent air purifier for pet dander.
As well as those other annoying allergens like dust, mold, pollen and even smoke!
The OION Technologies Permanent Filter Ionic Air Purifier is another purifier we love for its ionizing technology and air sanitizing filtration system.
Of course, we can't leave out the Ivation 4-in-1 Air Purifier with HEPA, Carbon and Charcoal Filter for Allergies.
We love its compact and sleek design, and the fact that it is great for helping to reduce pet dander and other allergies floating around your home.
But what if you find yourself suffering from allergies specifically at night? Or what if your pets have a designated room for their crates, toys, bedding, and more?
If this sounds like you, then take a look at our list of air purifiers for smaller rooms below!
Air Purifier for Small Rooms
If you notice that high traffic areas and surfaces like bedding and blankets are often covered in loose dog or cat hair, a smaller air purifier specifically for that room is what you need.
The Holmes Small Room 3-Speed HEPA Air Purifier with Quiet Operation is the perfect solution for smaller rooms that need a bit of purification.
It is small, quiet, and will help alleviate all kinds of annoying allergens in small spaces where your pets hang out most.
Not sold? Then check out the Coway Air Purifier with True HEPA and Eco Mode.
The HEPA filter and sleek design mix modern technology with a fashionable home filtration system you are sure to love.
Next on the list is the Levoit Air Purifier with HEPA Filter for Pet Dander and other Allergies.
This is an air purifier specifically geared towards pet dander and other allergens.
It is a perfect size and has just enough power to effectively purify small to mediums sized rooms.
The HomeLabs 3-in-1 Compact Ionic HEPA Air Purifier is another great option for those looking to reduce pet dander that may be causing allergy symptoms.
Like many purifiers on this list, we especially love that it works quietly and helps to eliminate odor as well.
And last on our list for air purifiers for small rooms is the Mooka Air Purifier Air Cleaner with HEPA Filter.
This air purifier promises a true HEPA filter and is nice and compact, making it portable and easy to use both at home and at work.
Air Purifier for Large Rooms
Larger rooms may need a bit more power when it comes to an air purifier.
So you will want to make sure you pick the right one to help ensure you, your family, and your furry friends are feeling their best.
We love the Winix Air Purifier with True HEPA, Odor Reducing Washable AOC Carbon Filter for larger rooms like living rooms, basement hang out spaces, large kitchens, and more.
We also like the Blueair Blue Pure Air Purifier with Washable Pre-Filters for Medium to Large Rooms.
This activated air purifier turns itself on when it senses the air needs cleaning.
It also helps to eliminate odors and other impurities to keep the large areas in your home clean and pure!
Another wonderful air purifier for larger rooms is the GermGuardian Air Purifier for Large Homes.
The charcoal filter helps element and reduce odors while helping keep your air clean.
The Airthereal Pure Morning Air Purifier for Large Rooms is a fabulous choice for pet owners looking to purify the air in their homes while also keeping family members healthy.
In fact, this is a great option for families with children and pregnant women.
Last but not least, we recommend the Hathaspace Smart True HEPA Air Purifier for large rooms due to its automatic air flow system.
Of course, you can also use this system for smaller rooms as well.
Best of all, it is easy to use and tells you when it is time to change the filter!
So, What is the Best Air Purifier for Pets?
Finding the best air purifier for your home and family is going to depend on a number of things.
The pet you have will play a role in the air purifier you need, especially if you are getting an air purifier specifically due to pet-induced allergies.
Remember, not all pets shed equally, and there is really no such thing as a 100% hypoallergenic dog.
With that being said, there are breeds who shed much less and produce less allergy-inducing dander on their fur than some.
Furthermore, the pet itself will play a role. Some people may find themselves allergic to only cats while others are only allergic to dogs.
If you have a pet in the home who is a moderate to heavy shedder, and who enjoys outdoor time, an air purifier is a great option to reduce allergy symptoms.
Even if you find that you suffer from allergy symptoms if your pet is around or not, an air purifier may still help get you through the fog.
However, you should note that while an air purifier can help reduce allergy symptoms, it cannot cure them.
So, what is the best air purifier for pets?
We recommend that you pick an air purifier that is suited to your individual needs based on
the severity of your symptoms
the amount your pet sheds
the size of the room the purifier will be going in, and
the allergens you are trying to reduce.
How Else Can I Reduce Pet-Induced Allergy Symptoms?
Along with investing in a good air purifier like the ones listed above, there are some other ways you can help reduce pet-induced allergy symptoms at home.
Make sure you are practicing consistent and proper grooming techniques with your pets to help keep loose hair and allergens from building up on their skin and coat.
You can also help keep your pet clean and dander free by wiping him down with unscented baby wipes or grooming wipes after he comes in from playing outside.
Another way to help reduce allergy symptoms in the home is to vacuum and dust often.
Also, keep windows closed during allergy season to help reduce dust and pollen from entering the home.
And remember, pets can suffer from allergies too. Keep an eye out for allergy symptoms in your dogs and cats like itching, sneezing, watery eyes, and a draining nose.
Do you have any tips on reducing pet-induced allergy symptoms? Leave us your ideas in the comments below!
References