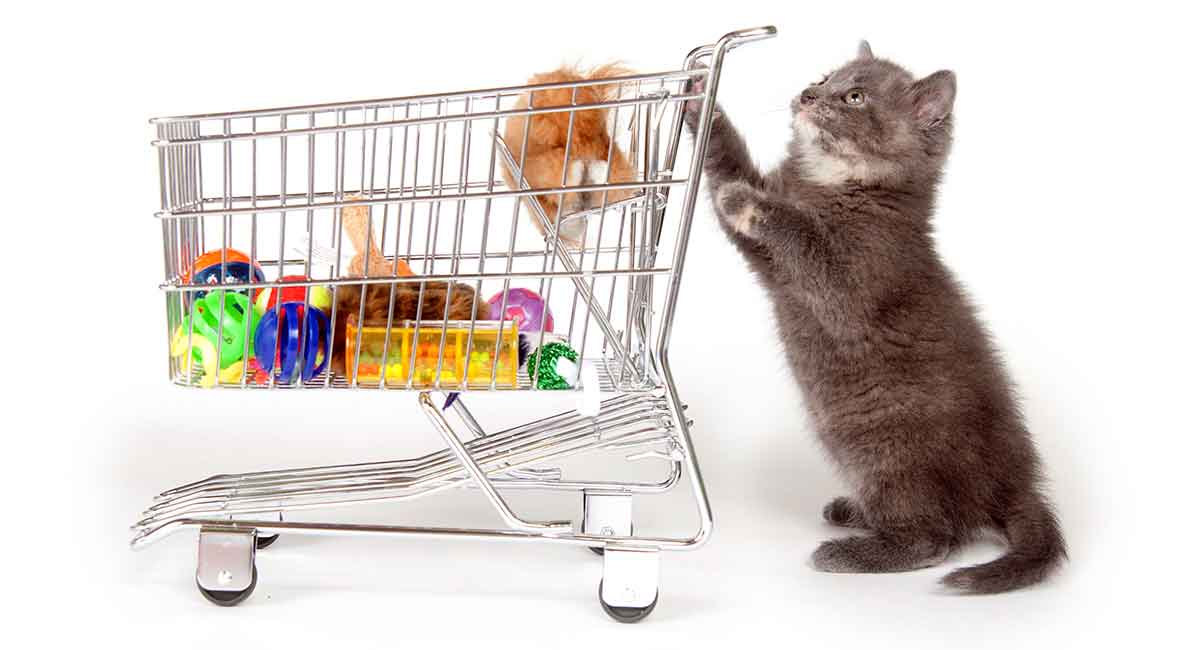 Happy New Year to you, and welcome to our rundown of the best cat products for 2019!
Whether you already have a much-loved kitty, or you're planning for a new cat, there are purrfect products, cult items and new gadgets you need to know about this year.
To save you the time and effort of scouring the web for the best cat products for 2019, we've reviewed the our top ten right here.
Click on the links to see the full product details and to read reviews left by other cat lovers who bought the products.
All of these products were carefully and independently selected by The Happy Cat Site team. If you decide to make a purchase from one of the links marked by an asterisk, we may earn a small commission on that sale. This is at no extra cost to you.
Best cat products for 2019 – Cat beds and bedding
A cat bed or some bedding is an essential purchase, whether you're getting a kitten or an adult rescue cat.
Cat beds come in a variety of styles, shapes, and sizes. The bed you choose will depend on your cat's personal preference.
Many cats love to lounge in a donut-shaped, fleecy bed.
Others like the security of a hide-style bed.
And some love the idea of a hamburger bed where they have to crawl right inside!
Whatever style of bed you choose, go for a washable fabric that's well-padded.
Cats love to be warm, so pick a bed that has cozy fleece or a silky-soft fabric cover for ultimate comfort!
The cult cat cube
Our top pick of cat beds is the MidWest Curious Cat Cube.*
The cube is a cat bed and cat den combined!
The cube has a comfortable cushioned bed on the top and a hideaway area beneath.
There's a hanging ball for playtimes and hide-and-seek cutouts in the sides of the cube, too.
The cube even folds flat for travel and storage.
The cube comes in stylish, neutral grey or chocolate brown faux suede lined with snuggly fake sheepskin.
For extra comfort and warmth, you might want to team the cat cube with the Comsmart Fleece Pet Blanket.*
The double-sided fleece is deliciously warm and cozy and makes the perfect lining for the cube. The blanket is machine washable.
Best cat products for 2019 – grooming equipment
All cats benefit from being groomed.
Grooming helps to keep your cat's skin and coat in great condition and also promotes good circulation.
Most cats love the attention too, and enjoy the bonding experience with their owner.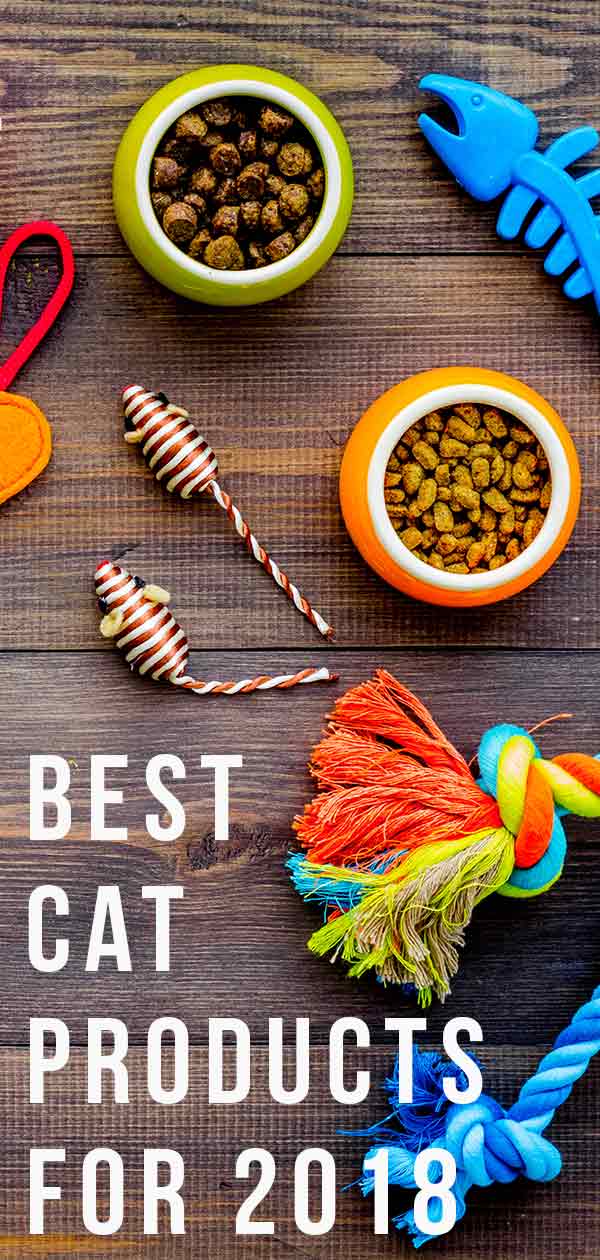 If you have a long-haired breed of cat, you'll need to groom your cat at least twice a week to prevent her coat from becoming tangled and matted.
If you've never owned a cat before, check out this article that explains how to go about grooming your kitty.
There are several different styles of cat brush.
Do-it-all grooming gloves and shining slicker brushes
Rubber grooming mitts* are great for larger cats. You put the mitt on your hand and groom the cat with a stroking motion.
This one from Pat Your Pet is a fantastic example.
Slicker brushes have a handle that extends from the brush head.
Slicker brushes are usually double-sided.
One side is covered with fine wires that tease out loose hair. The other side has a soft, bristle brush for smoothing the coat and lifting away any remaining loose hairs from the top of the coat.
Some slicker brushes have retractable pins, which makes the brush easier to clean.
The Pro Slicker Brush for Dogs and Cats* is a very well-made product that quickly and easily removes loose hair and debris from your cat's coat.
Shedding brushes are essentially a clipping blade attached to a long handle.
This grooming tool is perfect for long-haired cats, especially when they're changing their coat.
The best selling FURminator Short or Long Hair deShedding Tool for Cats* is indispensable.
This tool has a quick-cleaning button, too.
Best cat products for 2019 – feeding and water bowls
Every cat needs food and water bowls!
It's very important to keep food and water bowls clean and in good condition.
Bowls that are chipped or scratched can provide a breeding ground for germs, potentially putting your cat's health at risk.
Cute and cool crockery
The Necoichi cat food bowl* is made from dishwasher-safe, non-absorbent porcelain.
When a cat eats from a dish, her mouth is lower than her stomach, increasing the risk of backflow.
The raised bowl is designed for maximum comfort while your cat is eating.
This bowl keeps food centered so that your cat won't have to chase her food around the bowl!
The bowl has an inner lip that prevents spills, too.
Best cat products for 2019 – cat carrier
From time-to-time, you may need to take your cat out and about with you.
That may be for a trip to the vet clinic for her vaccinations or to the cattery for her vacation while you take yours!
The safest and least stressful mode of cat transport is a good-quality cat carrier.
Place a comfy, non-slip mat in the bottom of the carrier so that your cat is not sitting on the bare floor.
If you're concerned that your pet might have an "accident" in the carrier, place a puppy training pad* underneath the mat to catch any liquids.
Put the cat carrier on the back seat of your car, immediately behind the passenger seat, and secure the carrier with a seat belt so that it doesn't slip onto the floor if you have to brake hard.
The does-exactly-what-it-needs-to travel solution
Our favorite pet carrier is the Petmate Two Door Top Load Dog Kennel.*
Although the carrier is branded as a dog kennel, I have one for my medium-sized cat and it's perfect!
There's plenty of room for her to relax inside the carrier, the ventilation is excellent, and the top-loader option is very useful, too.
I like to line the carrier with a piece of this washable vet bedding* that's thick, cozy, and doesn't slip.
Best cat products for 2019 – scratching post
All cats love to sharpen their claws, and that's bad news if they choose your carpets or furnishing to do it on!
The simple solution to damage caused by scratching is to buy a scratching post!
The ultimate scratching post
The Pioneer Pet SmartCat* is an excellent product that's well-made and plenty big enough to allow your cat to get a full stretch while satisfying her natural urge to sharpen her claws.
The post is covered with fibrous, durable sisal. Assembly is easy and the post has a sturdy base that prevents it from wobbling and tipping.
Best cat products for 2019 – Litter tray or box
Unless your cat lives outside for most of the day, you'll need a litter tray or box.
Choose a litter box that's big enough to comfortably accommodate your cat and avoid spills and "near misses."
There are several different styles of litter boxes to choose from.
Litter boxes that laugh at the rest
The traditional litter box* is simply a flat tray that you place the litter inside.
The main drawback with this style of litter box is that overenthusiastic digging in the litter can leave most of it scattered all over the floor!
If you choose a tray, you'll also need one of these excellent mats* to go underneath it.
A more sophisticated style of cat litter box is the hooded version.
The idea of an enclosed box is that it allows your cat some privacy while preventing litter from being flung out of the tray.
Our favorite hooded litter box is the Catit Jumbo Hooded Cat Litter Pan.*
The tray has a cat-flap style front entry door and features an integral carbon filter that removes odors and keeps your home smelling fresh.
Recent additions to the market are cleverly designed hidden cat litter boxes, and we especially love this best-seller!
The Good Pet Stuff Company Hidden Cat Litter Box* is designed to look like a clay pot.
You can even place a growing house plant in the top section of the box!
Best cat products for 2019 – toys
Most cats love to play, even older kitties!
So, don't forget to spring clean and restock your cat's collection this year.
Cracking cat capers
The Hex Bug Mouse Cat Toy* looks just like a real mouse, scurrying around, pausing, stopping, and starting again randomly!
The mouse can even negotiate tricky corners and tight spots, righting itself if your playful cat flips the toy onto its back.
The Yofun Interactive Cat Toy* has a spinning ball that shoots out beams of red light to tempt your cat into playing.
The toy has a tantalizing display of feathers too, and there's an integral treat dispenser that drops your cat's favorite nibbles as the toy spins around.
This toy is perfect for house cats that are left home alone.
The auto shut-off feature means that the toy will turn itself off after 10 minutes if your cat loses interest.
A toy that's perfect for action-loving cats is the Interactive Cat Toy 360 Degree Self Rotating Ball Automatic Light Toy.*
The ball has a red flashing light to catch your cat's attention.
The toy changes direction on contact with a piece of furniture or wall, keeping the game going.
Our final choice is the Friends Forever Interactive Cat Laser Toy – Pet Laser Pointer for Cats.*
This USA-made, battery-operated toy comes with a money-back guarantee.
The laser pointer toy spins, throwing a pattern across the walls and floor of your home, triggering your cat's natural hunting instinct.
Best cat products for 2019 – summary
We hope you've found lots of inspiration in this article for gifts for your cat. And don't forget your friends' and family's cats, too!
We'd love to know what toy or accessory your cat loves best, especially if it's one of our recommendations!
Tell us about your kitty and her favorite things in the comments section below!
Affiliate link disclosure: Links in this article marked with an * are affiliate links, and we may receive a small commission if you purchase these products. However, we selected them for inclusion independently, and all of the views expressed in this article are our own.
References and Further Reading