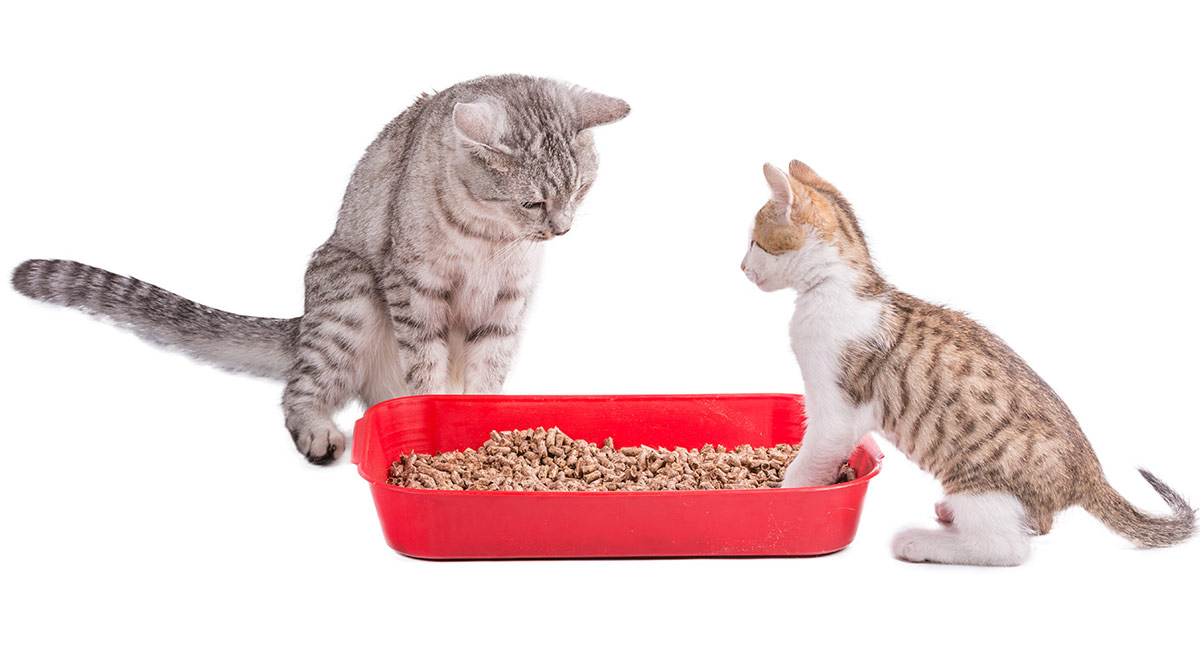 Welcome To Our Complete Guide To The Very Best Litter Box Options. Helping You To Pick The Right Kitty Litter Tray.
The days of setting out a drab grey rectangular plastic bin for kitty's business are gone.
Today you can buy a sifting litter box, self-cleaning cat litter box, hidden litter box or even an automatic cat litter box!
Let's face it, most of the kitty litter box alternatives are for the benefit of us pet parents.
I know that my silly cat Fuzzy would be just as happy using a cardboard box, because I've actually caught him trying to do this when I wasn't looking!
All of the latest and greatest litter box options are heaven sent for cat owners.
There are even litter boxes disguised to look like chic furniture.
But of course, the best litter box choices still must meet kitty's needs.
In a rush? You can check out some of our favorites here:
You can find out more about these below, along with loads more options for the best cat litter box.
Choosing the best cat litter box
The best litter box is one that your furry feline will happily use when he needs to, and at the same time meets your needs. Considering your individual circumstances for space, cleaning time, etc.
Depending on the size and age of your cat you may want a large cat litter box or a small cat litter box.
Whichever type of box you choose, it should be large enough and deep enough to accommodate your cat comfortably. It should also be located in a quiet place where kitty can finish her important business without being disturbed or interrupted.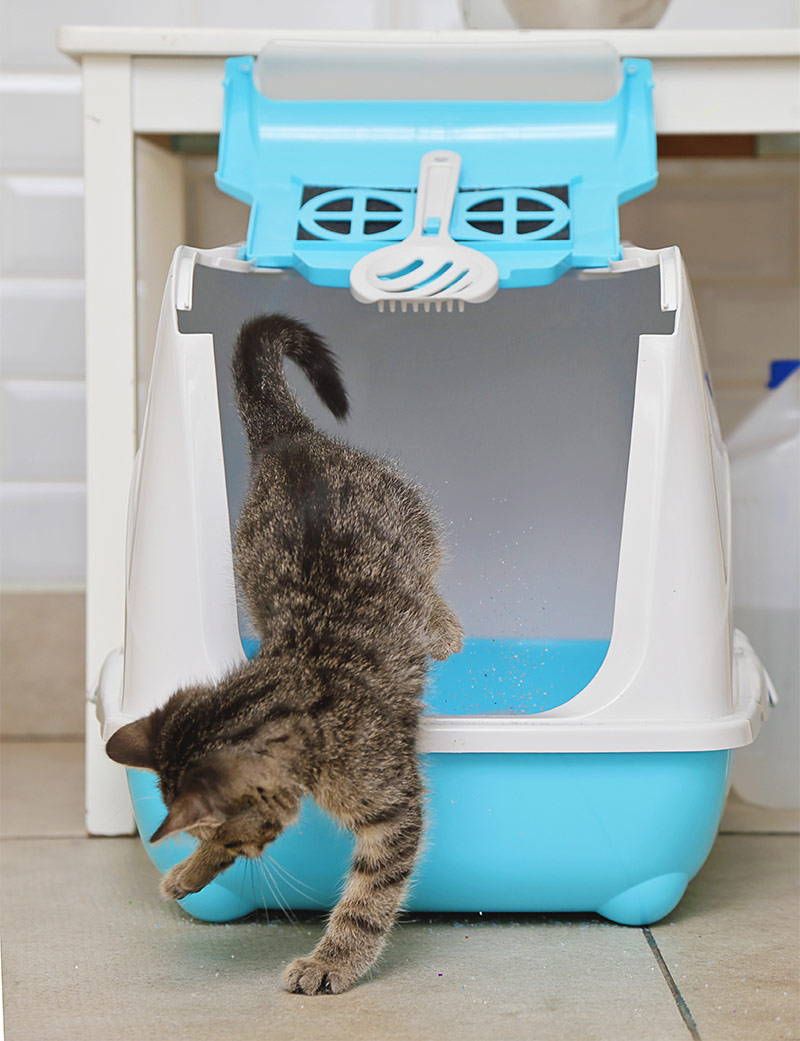 It should go without saying that you should avoid setting the box next to the food and water bowls; you don't eat in the bathroom, right?
Did you know that most experts agree that multiple cat households should have a litter box for each cat, whenever possible?
Be sure to place the boxes apart if one cat is a bully and tries to block the other cats' access to the box!
Experts also recommend that pregnant women avoid cleaning out the litter box for the duration of their pregnancy due to the risk of acquiring toxoplasmosis, a dangerous infection that can be transmitted via cat feces.
If the situation cannot be avoided, a self-cleaning or automatic litter box is an option to consider since these limit human contact with the waste.
So, with these considerations in mind, let's take a look at the best litter box options for litter box furniture, a hidden cat litter box, as well as the best self-cleaning litter box, and virtually everything in between!
We've reviewed the best litter box options available today, and you're sure to find one or more choices sure to make you and your favorite feline happy.
Self cleaning litter box
Pet parents shouldn't mistake "self-cleaning" to mean that there's zero clean up to be done!
Self-cleaning litter boxes allow for the waste to be removed by means other than scooping, for example by removing a disposable litter tray.
Other designs deposit (pun intended!) the waste into an area separate from the main litter area.
Self-cleaning litter boxes are terrific options for owners who aren't able to get to the box as often as they'd like to during the day or night.
Omega Paw Self-Cleaning Litter Box
This wonderful Omega Paw Self-Cleaning litter box uses clumping litter only and is large enough for big cats.
No liners or electricity are needed: once the owner rolls the box over, the waste deposits in a convenient pull-out cat litter tray.
PetSafe ScoopFree Ultra Self-Cleaning Litter Box
Another option is the PetSafe ScoopFree Ultra Self Cleaning Litter Box.
A disposable tray with a leak-proof lining collects kitty's waste. And it claims to be over three times as effective as clay or clumping litter at odor reduction.
A handy counter keeps track of how many times your cat uses its box, and it comes with a privacy lid for shy cats.
PetSafe Simply Clean Self-Cleaning Cat Litter Box
Something a bit different is the PetSafe Simply Clean Self-Cleaning litter box.
This product has a circular "box" that rotates throughout the day to dump waste into a receptacle.
There isn't a lot of room for bigger cats to climb in, but curious kittens should have no problem.
Clumping litter only is to be used, but it comes with a one year warranty.
Automatic litter box
Automatic litter boxes combine the convenience of a manual self-cleaning box with the wonders of electricity (or batteries).
The dandy options below will automatically remove the waste from the litter for easy, minimal clean-up on the part of cat moms and dads.
Litter-Robot III Open-Air – Automatic Self-Cleaning Litter Box
This futuristic looking Litter Robot III Open Air litter box comes with all the bells and whistles!
It uses clumping litter and senses when your cat exits, at which time the waste is delivered to a carbon filter drawer.
A flashing light indicates when the drawer is full, and the machine can be programmed for sleep mode. A backup battery can be purchased and an 18 month warranty is included.
LitterMaid LM680C Automatic Self-Cleaning Classic Litter Box
This nifty LitterMaid Automatic litter box is suitable for cats up to 15 pounds and includes a paw cleaning ramp.
You can use either the AC adapter or a battery.
Eight waste boxes with carbon filters are included and the basic design is easy to assemble, but a video is kindly included!
CatGenie Self Washing Self Flushing Cat Box
Kitty will think he's using a smaller version of the toilet bowl with this cute CatGenie Self Washing litter box!
It automatically "flushes" the waste and then cleans itself.
The washable litter is cleaned with water and the box comes with two hoses for hookup. The machine is not recommended for kittens.
Cat litter box furniture
If your cat's litter box has to be out in the open, why not get one that does double duty as a furniture accent piece? At the very least, these attractive boxes will cleverly disguise and even hide kitty's bathroom!
ecoFlex Litter Loo, Litter Box Cover/End Table
The ecoFlex Litter Loo comes in two sizes and four colors. It has a generous front opening and a side panel vent.
The material is moisture resistant, so misses can be wiped away. As an added bonus, there's no assembly required!
The Refined Feline RLB-MA Wood Cat Litter Box
This well-made Refined Feline Wood Litter Box looks and acts just like a real end table/cabinet.
It comes with a plastic liner and rear slots hold carbon odor absorbing sheets.
Kitty can come and go from either the left or right side, and a matching kitty ramp collects stray particles.
Covered litter box
A covered cat litter box provides your fur baby with a bit more privacy while at the same time trapping odors inside. It's a great addition for multi-cat households, or as a second box for pampered cats.
Favorite Jumbo Covered Enclosed Cat Litter Box
You can buy the Favorite Jumbo Covered clear-cover box in three colors, and it's large enough for the biggest of fat cats.
The extra thick plastic is both durable and washable.
The top-rated box has an easy-clamp lid and is lightweight enough to take anywhere.
Petmate Clean Step Litter Dome
This little Petmate Clean Step igloo gives your cat lots of privacy and comes in four trendy colors including Pearl and Titanium.
It's roomy enough to suit large cats and comes with an odor absorbing carbon filter. A convenient cat ramp collects unwanted litter.
Van Ness Odor Control Extra Giant Enclosed Cat Pan with Odor Door
The versatile extra-large Van Ness Odor Control covered box has multiple uses.
The roomy top and bottom sections can be used separately or together.
A convenient handles makes it fully portable and the swinging cat door traps odor inside.
Top entry litter box
A top entry litter box is the perfect option for kitties who love to dig and kick litter all around. The enclosed sides prevent the litter from leaving and reduces unwanted odor.
Nonetheless this neat and clean box alternative is not recommended for elderly or disabled cats who have trouble jumping or leaping.
Clevercat Top Entry Litter box
This basic Clevercat Top Entry litter box may look like an ordinary storage bin, but it's clever design means it does much, much more than store kitty's doo-doo.
The ridged lid keeps kitty's paws from tracking litter through the house and the generous 9 inch opening can accommodate bigger cats.
Favorite 25″ Large Top Entry Enclosed Hooded Cat Litter Box
Kitty will love jumping inside this spacious Favorite 25" Large Top Entry Litter Box to take care of business.
It comes in three modern colors and has a non-slip top with a cute paw design.
The highly rated box is constructed with durable plastic and can be used indoors or outdoors.
Modkat Litter Box with Scoop and Reusable Liner
This deluxe, modern-design Modkat Litter Box comes in five colors.
It will look great in any room of your house.
The accessories include a tarp liner and a scoop, and the one-piece base eliminates unwanted leaks.
Dog proof litter box
Dogs don't belong in litter boxes, but try telling them that! If you have a pup who likes to dig in the litter box and create messy problems for mom and dad to clean up, we suggest the following litter boxes as terrific options.
These upright litter boxes will eliminate the temptation and access for dogs who like litter a little too much!
Petmate Top Entry Litter Pan
This economical Petmate Top Entry litter box will meet your cat's privacy needs and keep poochie away at the same time.
The top cover is designed to trap paw litter and a built in hook will hold your scoop in place.
Marchioro Freecat Maxi Covered Cat Litter Pan
This Marchioro Freecat Maxi litter box uses long-lasting filters for odor absorption and comes in two attractive color options.
A bag, mat and scoop are optional accessories.
The top cover has an enclosed entryway that discourages other, larger animals, as well as a grid to vent the inside.
IRIS Top Entry Cat Litter Box
This is a handsome Iris Top Entry upright box that will look good in any room, but limits dog access at the same time.
It comes in a ton of colors to match any paint scheme and the lid has a generous opening as well as grooves to trap and hold escaping litter.
A complimentary scoop is included.
High sided litter box
Messy and vexing litter scatter will be a thing of the past when you use any one of these top-rated high-sided litter boxes.
IRIS Open Top Cat Litter Box Kit with Shield and Scoop
Thousands of customers have chosen the highly rated and very economical Iris Open Top Litter Box.
You have five color choices, and each comes with a matching scoop.
Nature's Miracle High-Sided Litter Box
This unique Nature's Miracle design includes a scooped opening that allows for stress-free disposal of used litter, as well as molded handles for easy portability.
PetFusion BetterBox LARGE Cat Litter Box
A non-stick, anti-microbial coating and one year warranty make this PetFusion best litter box stand apart from the crowd.
Disposable litter box
When you're on the go with kitty, a disposable litter box is a must. I like to keep a few in the car for unexpected trips, emergencies, vet visits, etc.
Nature's Miracle Disposable Litter Box
This Nature's Miracle could be the best litter box for those looking for a disposable option. It  can be used with any type of litter. And it is produced from recycled paper and contains baking soda for odor control.
It is both shred and leak proof and can be purchased in 1, 2, or 3 packs.
Cat's Pride KatKit Disposable Trays
This all-in-one Cat's Pride KatKit plastic tray and litter combo is made from recycled bottles.
It can be purchased in 5 or 10 packs.
Easyology Extra Large Disposable Cat Litter Boxes
Perfect for bigger cats, these biodegradable Easyology Extra Large boxes come in packages of 5 or 10.
Made from recycled paper, they are leak proof and won't shred or tear.
Corner litter box
Corner boxes are great space-saving alternatives. They're terrific options for apartment dwellers, multi-cat households and when you want to add a second box but don't have a lot of room.
Van Ness Corner High Sides Cat Litter Pan
This economical, high-sided choice is also perfect for cats who like to send litter flying everywhere.
The bright blue box is stain and odor resistant.
Nature's Miracle Advanced High Sided
This sturdy Nature's Miracle Advanced High Sided litter box comes in basic black but it has a glittery sheen and the non-stick surface is a major plus.
Cat Love Space Saver Corner Hooded Cat Pan
This space saving Cat Love Space Saver litter box is distinguished by a handy lid that has a built in handle for easy portability.
Best litter box
We hope you have enjoyed learning about some of the best litter box options available today.
We'd love to hear from you in the comments section below about the type of litter box that best suits your feline's needs!
Sources
Cottom, N., Effect of an odor eliminator on feline litter box behavior, Journal of Feline Medicine & Surgery, 2007
Kravetz, J.D., Toxoplasmosis in pregnancy, The American Journal of Medicine, 2005
Stella, J.L., et al, Sickness behaviors in response to unusual external events in healthy cats and cats with feline interstitial cystitis, Journal of the American Veterinary Medical Association, 2011
Free Updates For Cat Lovers!
Our cat care articles, tips and fun facts, delivered to your inbox