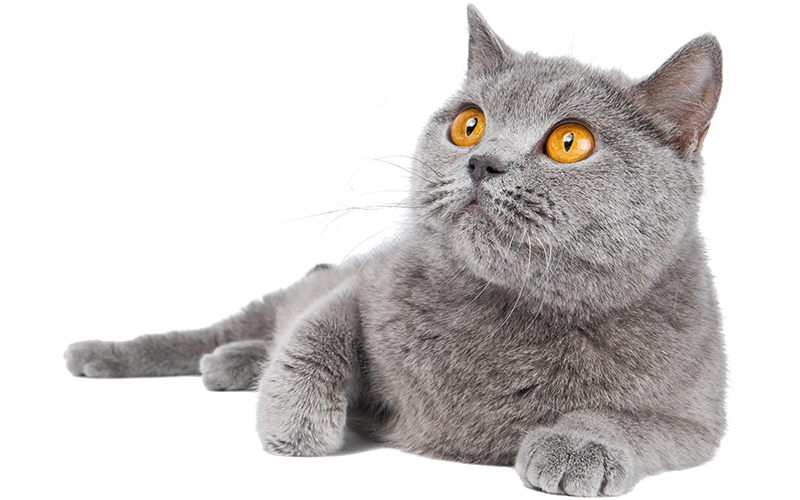 Welcome To Your Complete Guide To The British Blue Cat Breed. From Choosing A British Blue Kitten, To Understanding And Caring For British Blue Cats.
If you are a cat enthusiast, or a felinophile so to speak, then you may be extremely familiar with some of the most common cat breeds.
While nothing screams unique like a Devon Rex or a Sphynx, the tried and true breeds like the British Shorthair or the British Blue are some of the more sophisticated and traditional kitty options.
If you really just want an adorable and beloved family feline with a cute face and big round cheeks, then you may want to know just a little bit more about the British Blue. Where it came from, and whether or not there are some problematic health issues with the breed.
We are going to explore just these types of things today.
British Blue Cat Origin
You may not know this, but the British Shorthair, British Blue, or the British for short, is the first cat fancy breed.
In other words, the British is the first breed to be developed, and Harrison Wier is credited as the father.
Harrison Weir, an artist born in 1824, also organized the first cat show in the UK and one of the first national feline organizations.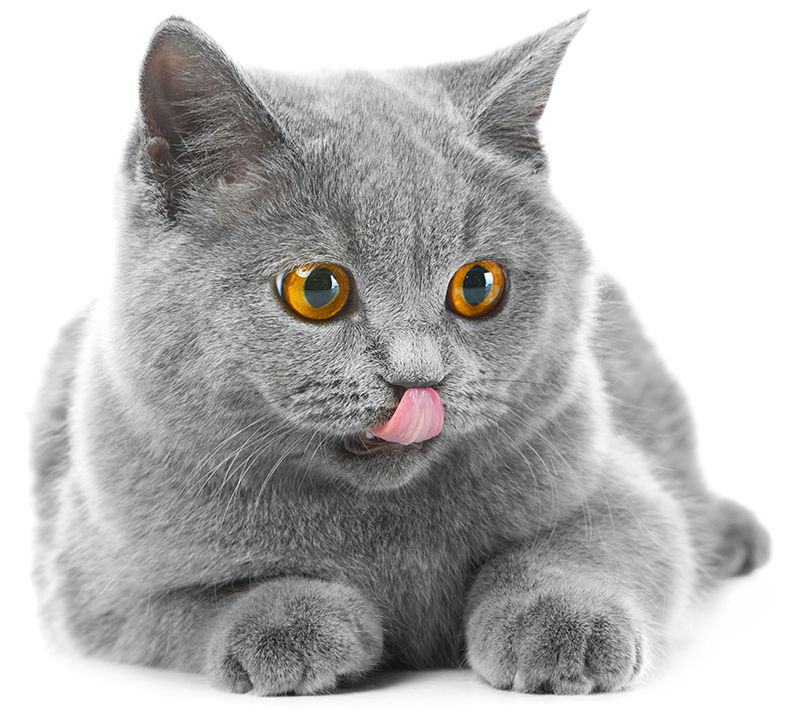 The British is traditionally referred to as the British Blue due to the unique blue coloring commonly seen in these cats.
However, since hair color is varied, they are typically referred to as British shorthairs now.
While the British Shorthair is the single oldest European cat breed, the breed was almost completely wiped out during Word War II.
Due to this, the cats were bred with domestic shorthairs, longhair Persians, and other cats to save the British Blue cats from dying out.
This is one reason why the coloring is varied even though many of the physical characteristics of the cat are very similar to their ancestors from the 1800s.
British Blue Color
As the name implies, a great many British Blue felines have the distinctive deep blue gray coloring.
However, the cats can also have hair ranging in color from lilac, white, chocolate, black, and light gray.
The patterns of these cats vary as well and feature solid, tabby, smoke, calico, and patched.
If you want a more traditional British Blue, then you should know there are a wide variety of terms used to describe the blue coloring your desire.
Some common names include solid blue, slate gray and maltese. Blue can also be used to describe a light gray color, so the term may refer to a medium or lighter gray instead of the darker blue gray.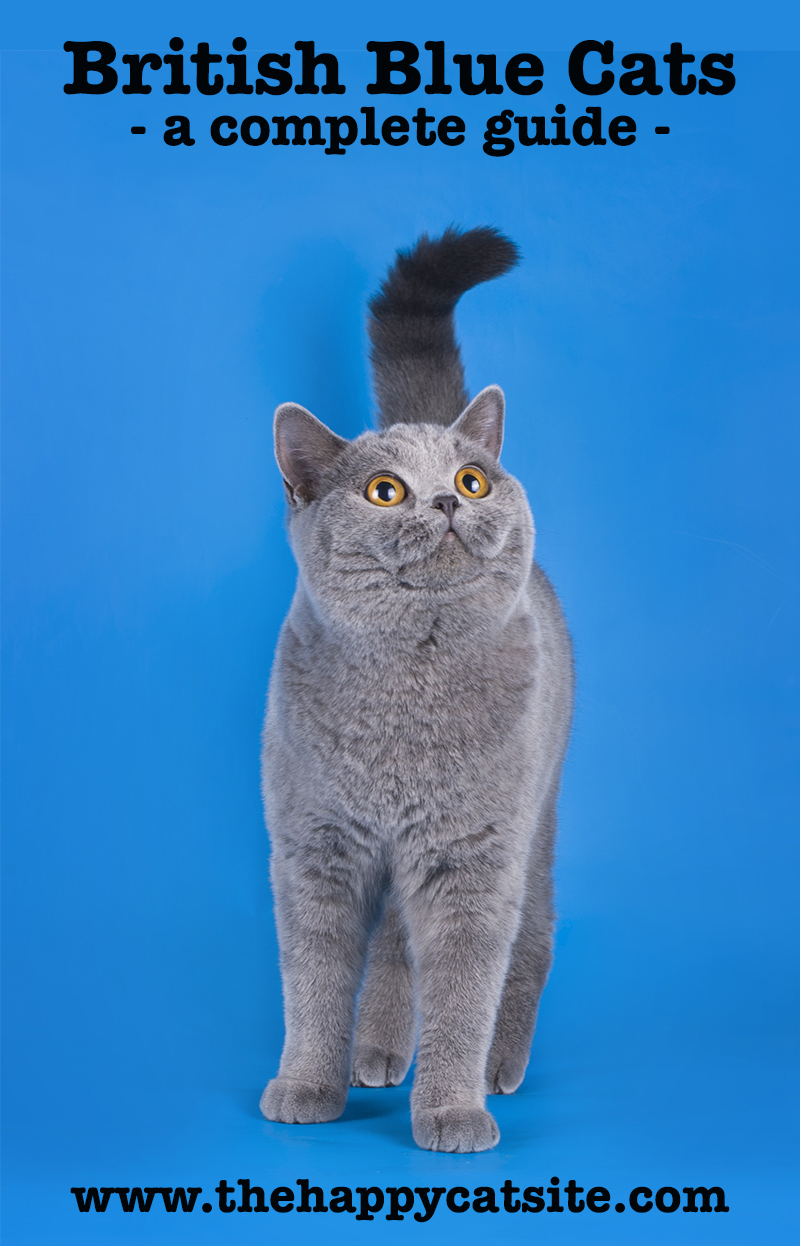 When it comes to hair color, a picture may just be worth a thousand words. Especially if you are looking for that unique blue gray toned feline from from your local breeder.
British Blue Shorthair Cat
When it comes to hair length, the British Blue Cat has some more variation to choose from. The most common of the breed are shorthair cats, and these are the ones that are most closely related to their original ancestors, even though the gene pool was expanded to include Russian Blue and Chartreux felines.
British Blue Longhair
In an attempt to keep the British Blue breed alive and well, and with its original telltale color, some of the cats were bred with Persians.
This is where the British longhair comes from.
These cats have the same "teddy bear" features as the shorthair varieties, but they have the longer hair of a Persian cat.
If you are concerned about the possible grooming issues involved with the British Longhair, the good news is that the hair is more medium or medium-long due to the genetic mix that makes up the feline.
This requires a bit less grooming and far less trouble with knots and tangles.
British Blue Cat Temperament
If you are described as fun and easy going, then the British Blue cat is the right pet for you.
These felines are described as warm, calm, and affectionate. However, the cats are rarely considered "lap cats." You can expect your feline to sit close to you, but not on top of you.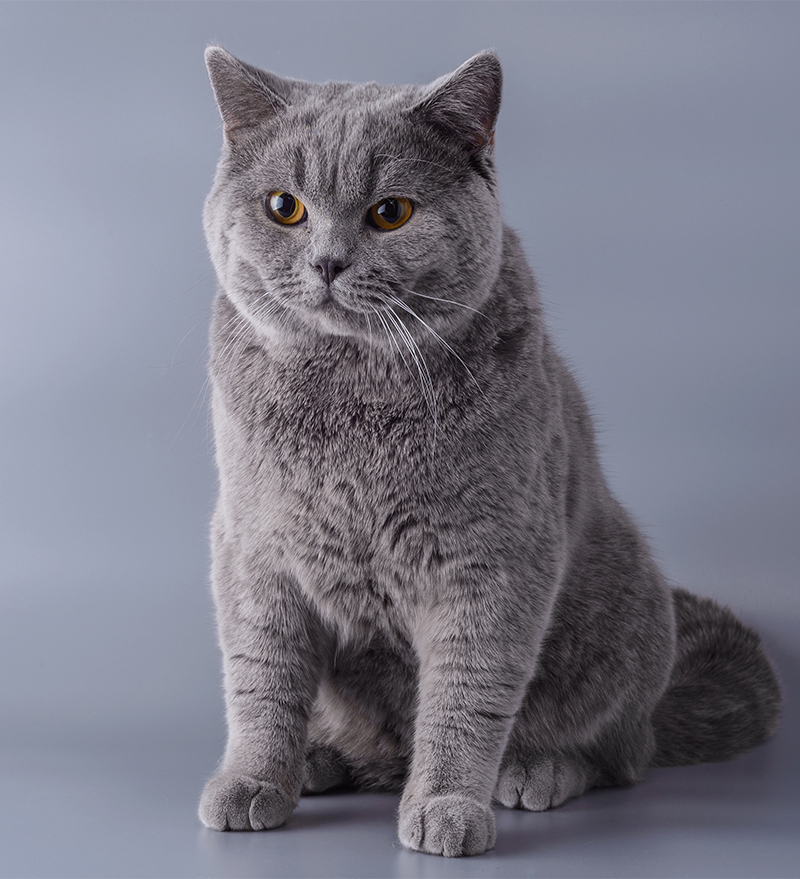 Although, you may notice your feline friend following closely behind you as you walk.
These cats have somewhat meek voices compared to their cousins, but they do have big personalities and a love of children and other animals.
As far as kitties go, British Blue cats are ideal for both families and quiet homes.
If you do have a family, then you will notice that your cat will be unlikely to favor one member over another. This can really cut down on hurt feelings if you have several children.
British Blue Cat Personality
While most British Blues are mellow and calm, adult males are sometimes a bit more energetic. Do not be surprised if you see a strong case of the zoomies in your feline.
This energy also carries over into the hunting department, even when it comes to the more gentle and laid back cats.
This may not be shocking when you realize that the breed was originally developed from British barn cats.
As a natural protector of the barn, your feline will be an excellent mouser. If rodents are not a concern in your home, then it is wise to introduce some teaser toys to your feline's environment.
However, do not let your cat's mellow personality fool you.
Research shows that cats do enjoy social interaction with their humans more than they desire toys or food, so make sure to give your feline all the attention and play time he can get.
While cuddles are a good choice, do not pick up your British Blue cat.
These cats are often described as the dignified Winston Churchill creatures of the cat world and enjoy keeping all four feet on the ground.
British Blue Cat Weight
British Blue cats are hefty with broad and strong muscles.
This musculature adds density to the cat's body. If you have ever heard the saying, "muscle weighs more than fat," then you may not be surprised that the hefty breed weighs a whopping 18 pounds on the heavier end.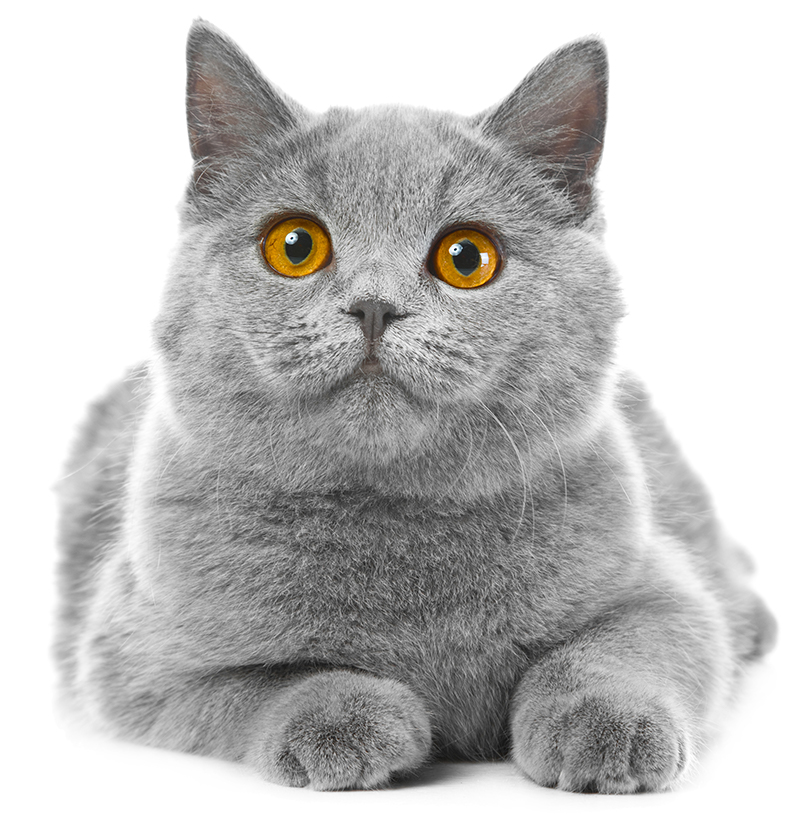 Lighter felines are still likely to weigh about nine pounds. While this is an average weight for British Blue cats, you do need to be aware of obesity issues. Since the cats are a bit calmer and more sedentary, you may eventually see quite the fat cat in your home.
When it comes to the general cat population, about 50% of all cats seen by veterinarians are overweight, according to the Cornell University College of Veterinary Medicine.
Since British cats are broad and muscular, it can be hard to determine whether you feline is muscular or obese.
Ask your veterinarian about the body condition scoring system. This system is used by many animal professionals to assess weight, and it can be used at home to help you identify weight issues before they cause health issues.
Like other cats, obese British Blues can develop diabetes. In fact, chunkier felines may be as much as four times more likely to form diabetes than ones with a healthy weight.
Research indicates that a dry food diet can increases risks in cats who are already susceptible to diabetes. So you may want to think about switching your British over to a wet food diet instead of a free-fed dry one.
British Blue Cat Health Problems
British Blues have a fairly broad or varied gene pool compared to other cat breeds. While some cat fanciers may turn their nose up at this sort of variance, it is a very good thing if you want a happy and healthy feline friend.
When gene pools are smaller, this amplifies certain defects. While many defects and serious genetic anomalies are carried on recessive genes, it is likely for these genes to double up in future generations when gene pools are smaller. This can result in one of three types of anomalies that include lethal, impairing, and cosmetic varieties.
One such anomaly is the presence of a rare blood type in your British. While most cats have type A blood, many British cats have type B blood. While this does not lead to a serious health issue on its own, it can create an emergency situation if your feline needs an immediate surgical procedure. Basically, your veterinarian may not have the blood type on hand.
A simple blood test and a descriptive note in your cat's chart can help to reduce future problems. If you want to help other felines with the rare blood type, then you can even go as far as setting your cat up as a blood donor.
Your vet can tell you more about this, and you should know that your cat will need to meet certain health requirements to give blood.
British Blue Cat Life Expectancy
Due to the large gene pool of the breed and few overall health problems, you can expect your adorable teddy bear faced friend to live 14 to 20 years.
British Blue Cat Price
British Blue catss are not rare, but you can expect to pay the average purebred fee for these felines.
If you are serious about the lineage of your cat then you may need to spend somewhere between $800 and $1,200 for a kitten.
British Blue Breeders
There are several resources you can use to find British Blue breeders. The International Cat Association (TICA) is one such resource. You can also look for The Cat Fanciers' Association logo on breeder websites. Their logo means that the breeder is in good standing with the association, and has registered at lest one litter with the CFA within the last two years.
Of course, your vet is also a great resource when it comes to finding a reputable breeder.
British Blue Cat Kitten
If you do decide to go with a breeder, then you should choose your British Blue kitten carefully.
Since British cats are on the calmer side, you may want to choose one of the livelier kittens, especially if you have children or other pets in the home who may want to play.
There are just a few other things to keep in mind as well. You should make sure the eyes and nose are clear with no discharge.
Ears should be clean, and the mouth should show light pink gums.
The body should be symmetrical as well with no lumps, sores, or matted hair.
British Blue Cat Rescue
There are very few dedicated British Blue cat rescues that can be contacted for adoptions. Since the felines are healthy, affectionate, and calm, they do not pose some of the same problems as others breeds that make them prone to abandonment.
There are some wonderful purebred cat rescue organizations in the United States though, so contact one of these rescues to see if they have a British Blue available.
British Blue Cat Cross
If you are not interested in paying a small fortune for your feline and if you cannot find a rescue, then you can go with a cat cross, a mix, or a hybrid.
In the most basic sense, a mixed cat may be something like a purebred British bred with a common house cat.
This feline may not have its papers declaring it a purebred, but if you are really looking for the cutesy face and laid back personality of the British Blue cat, then this may be a great option for you.
You also have the option of looking for a hybrid feline.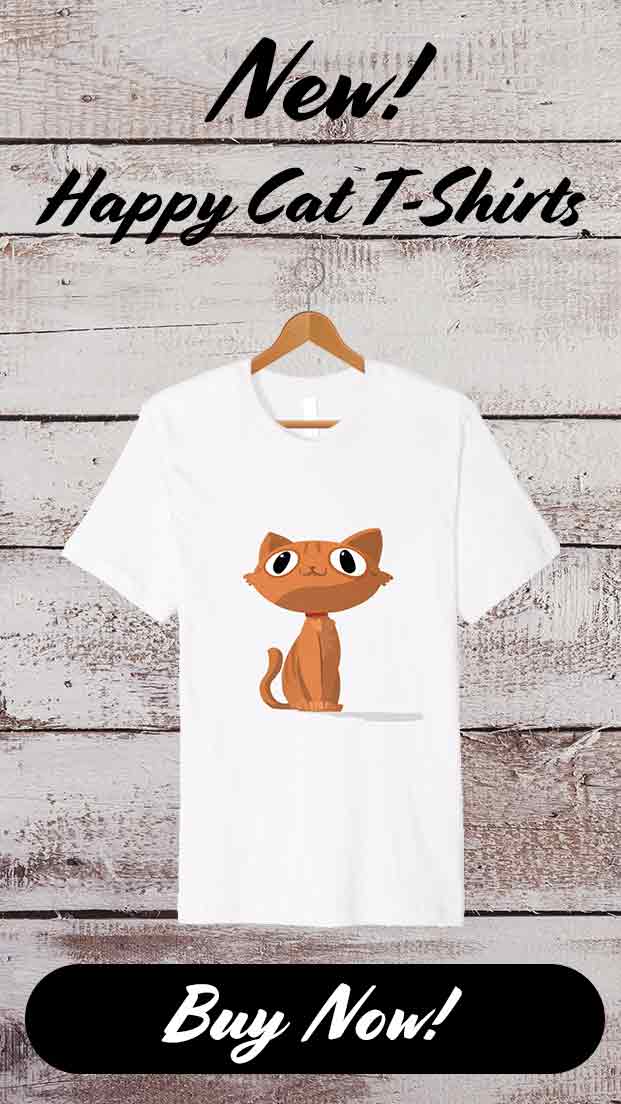 When it comes to domestic hybrids, the California Spangled is what you should be looking for.
This cat is a Manx, Siamese, British, and feral cat hybrid and has the distinctive chubby and teddy bear face of the British Blue.
Unfortunately, the California Spangled is a newer and rarer breed. This means that, at the moment, the cat may be way out of your price range.
Should I Buy A British Blue Cat? – A Conclusion
British Blues are cute, calm, and healthy cats. Not only are the felines a great choice for families, but they do well with other pets and with singular owners too.
The British felines are quite common as well, so you surely will not have trouble locating one, but your veterinarian can help you if you want to locate the most reputable breeder as possible.
Do you have your own British Blue cats or are you searching for the cat with the most pinchable cheeks? Let us know in the comments below.
References
Kristyn R. Vitale Shreve, Lindsay R.Mehrkamb, Monique A.R. Udell. Social interaction, food, scent or toys? A formal assessment of domestic pet and shelter cat (Felis silvestris catus) preferences. Behavioural Processes. Volume 141, Part 3, August 2017, Pages 322-328
M. Öhlund,corresponding author 1 A. Egenvall, 1 T. Fall, 2 H. Hansson‐Hamlin, 1 H. Röcklinsberg, 3 and B.S. Holst. Environmental Risk Factors for Diabetes Mellitus in Cats. J Vet Intern Med. 2017 Jan-Feb; 31(1): 29–35. Published online 2016 Dec 1. doi: 10.1111/jvim.14618
Sarah Hartwell. 2008-2015 Genetic Anomalies of Cats
Free Updates For Cat Lovers!
Our cat care articles, tips and fun facts, delivered to your inbox