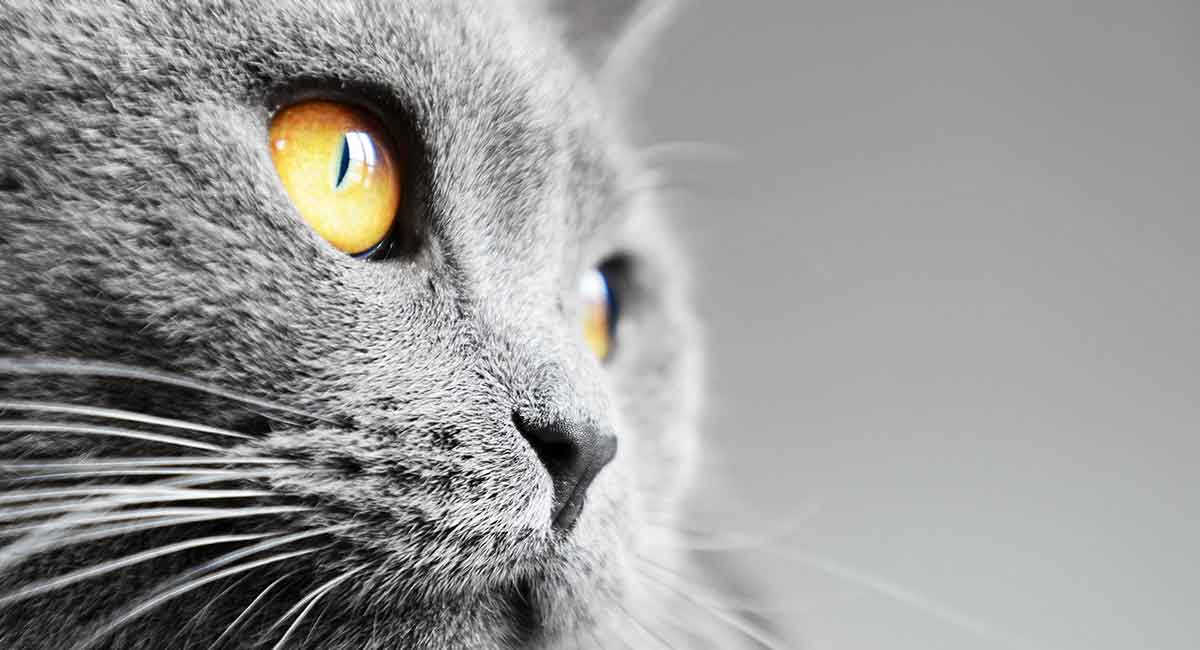 The British Blue cat is mellow and calm in nature. A member of the British Shorthair breed, this gorgeous companion has a dark, thick short coat. Husky, muscular cats they range in weight from nine to eighteen pounds, and are generally quite healthy. Though they may not be as cuddly as some kitties, and don't typically like sitting in laps or being held, they're nonetheless very attached to their humans.
Contents
Deep set orange eyes and a coat you could lose your fingers in when you pet them makes this a real standout pet. But perhaps the greatest thing about the British Blue is not that insanely unusual appearance, but the fact that they are both a loving yet not pushy pet. The bossy trait that carries through most cats seems to have escaped these almost alien looking felines, leaving instead a kind, quiet companion.
What Is A British Blue Cat?
If you really just want an adorable and beloved family feline with a cute face and big round cheeks, then you'll almost definitely be interested in the British Blue. This friendly breed is highly intelligent and typically very keen on her human companions.
The British Shorthair, British Blue, or the British for short, is the first cat fancy breed. Harrison Wier, an artist born in 1824, is credited as the creator of the breed standard. Wier also organized the first cat show in the UK, which took place in 1871 and featured the breed. He also founded one of the first national feline organizations.
This anceient breed is said to have had its origins in Egyptian cats, which were eventually brought over to England by Roman invaders. However, it wasn't until later, around the beginning of the nineteenth century, that there was a focus on selectively breeding to develop the British Blue.
In more recent history, the breed was almost completely wiped out during World War II. Due to this, the cats were bred with domestic shorthairs, longhaired Persians, Russian Blue cats, and other breeds to save the British Blue cats from dying out.
This is one reason why the coloring is varied. However, many of the physical characteristics of the cat are very similar to their ancestors from the 1800s.
In the 1970s, the British Shorthair was formally recognized by the Cat Fanciers Association and The International Cat Association. While there are variants on color in the actual British Shorthair breed, the British Blue cat is the most popular.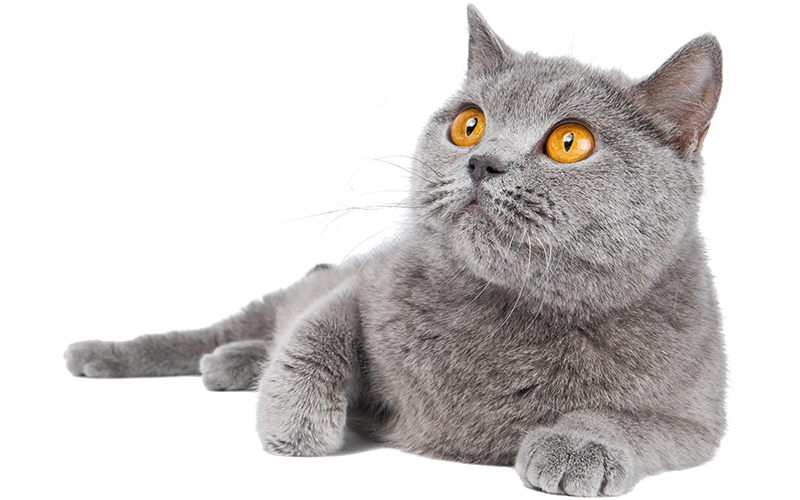 British Blue Cat Size
These are no dainty, delicate kitties. A solid, broad breed they tend to be well packed with muscle that can make them look on the chunky side even when they aren't carrying extra weight. Healthy individuals can be up to 18lbs and still in good shape.
Anywhere from 9 – 18lbs is average for the breed, but if you are concerned about your cat's weight run your hand down their back. The spine should be noticeable to your hand but not by eye.
British Blue Colors And Coats
These furry felines have the distinctive deep blue-gray coloring. However, they can range in color from lilac, white, chocolate, black, to light gray. Some common names include solid blue, slate gray, and maltese. Blue can also be used to describe a light gray color, so the term may refer to a medium or lighter gray instead of the darker blue-gray.
Are British Blue Cats Hypoallergenic?
This is not a high-shedding breed. Some upkeep is needed to prevent surplus hair from being left everywhere, especially during spring. But it shouldn't be too hard of a task.
Although they don't leave fur around the house as much as other breeds, they do still produce the dander that causes reactions in allergic humans.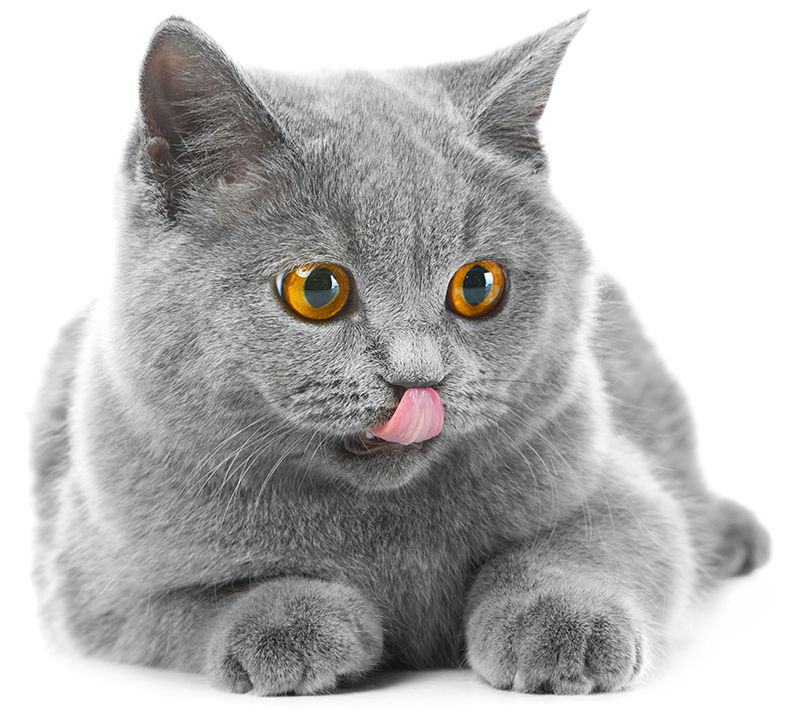 British Blue Personality
Chilled out by nature, they are often warm and docile pets, if not the ideal lap cat. They are more likely follow you from room to room, relaxing by your feet whenever you stop than curling up for a cuddle. But personally, I find that a lot more rewarding as a trait.
Their quiet voices mean they aren't as frustrating around mealtimes as some kitties. And don't confuse their calm nature for boring, even adults can have a crazy moment from time to time. Enjoying playing with toys, or having a good zoom around the kitchen counters!
This energy also carries over into the hunting department, even when it comes to the more gentle and laid back cats. This may not be shocking when you realize that the breed was originally developed from British barn cats.
Are They Good Family Pets?
British Blue cats are ideal for both families and quiet homes. Your cat will be unlikely to favor one member over another, which can really cut down on hurt feelings if you have several children.
Can British Blue Cats Go Outside?
The indoor vs outdoor cat debate is one that is highly controversial, and massively subject to location. In much of the USA it's not really safe to let your cat out unattended due to natural predators. However, you might be interested to know that most British Blue cats in the UK has constant access to the outside world.
These independent, strong and healthy kitties love getting out and about, but as long as you have plenty of indoor enrichment it's not an essential part of their lives.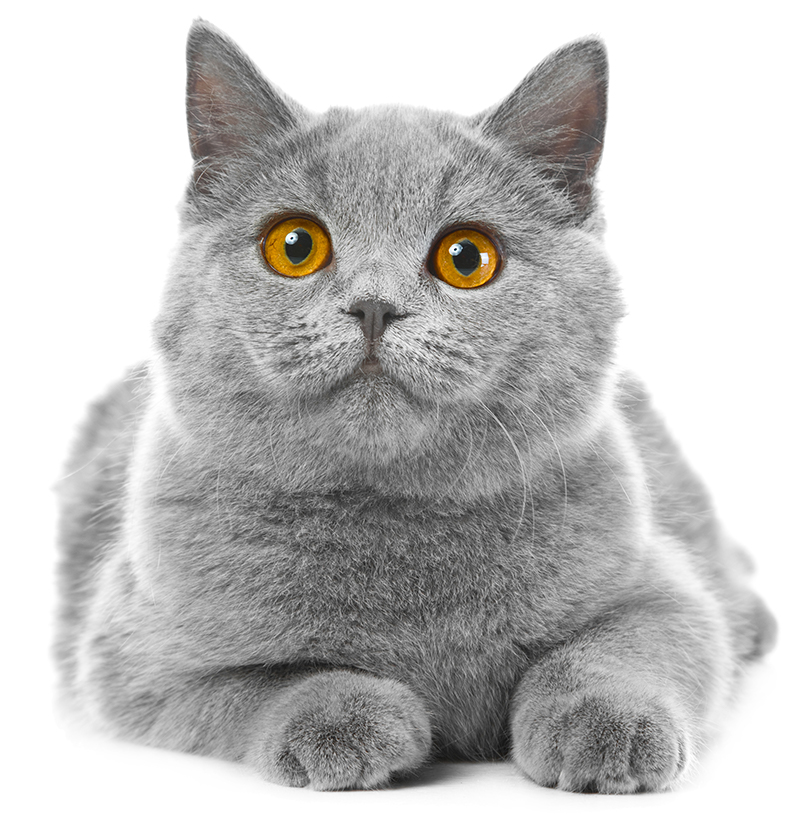 British Blue Health Problems
British Blues have a fairly broad or varied gene pool compared to other cat breeds. While some cat fanciers may turn their nose up at this sort of variance, it is a very good thing if you want a happy and healthy feline friend.
However, while most cats have type A blood, many British Blue cats have type B blood. Though this does not lead to a serious health issue on its own, it can create an emergency situation if your feline needs an immediate surgical procedure. Basically, your veterinarian may not have the blood type on hand.
A simple blood test and a descriptive note in your cat's chart can help to reduce future problems. If you want to help other felines with the rare blood type, then you can even go as far as setting your cat up as a blood donor. Your vet can tell you more about this, and you should know that your cat will need to meet certain health requirements to give blood. Other possible inheritable health problems for British Blue cats include:
Heart disease
Arterial thromboembolism
Polycystic Kidney Disease
Cataracts
Neonatal Isoerythrolysis
Deafness
Weight Problems
Since they are broad and muscular, it can be hard to determine whether your feline is muscular or obese. If you aren't comfortable checking by eye, ask your veterinarian about the body condition scoring system. This is used by many animal professionals to assess weight, and it can be used at home to help you identify weight issues before they cause health issues.
Obese cats can develop diabetes. In fact, chunkier felines may be as much as four times more likely to form diabetes than ones with a healthy weight. Research indicates that a dry food diet can increases risks in cats who are already susceptible to diabetes. So you may want to think about switching her over to a wet food diet instead of a free-fed dry one.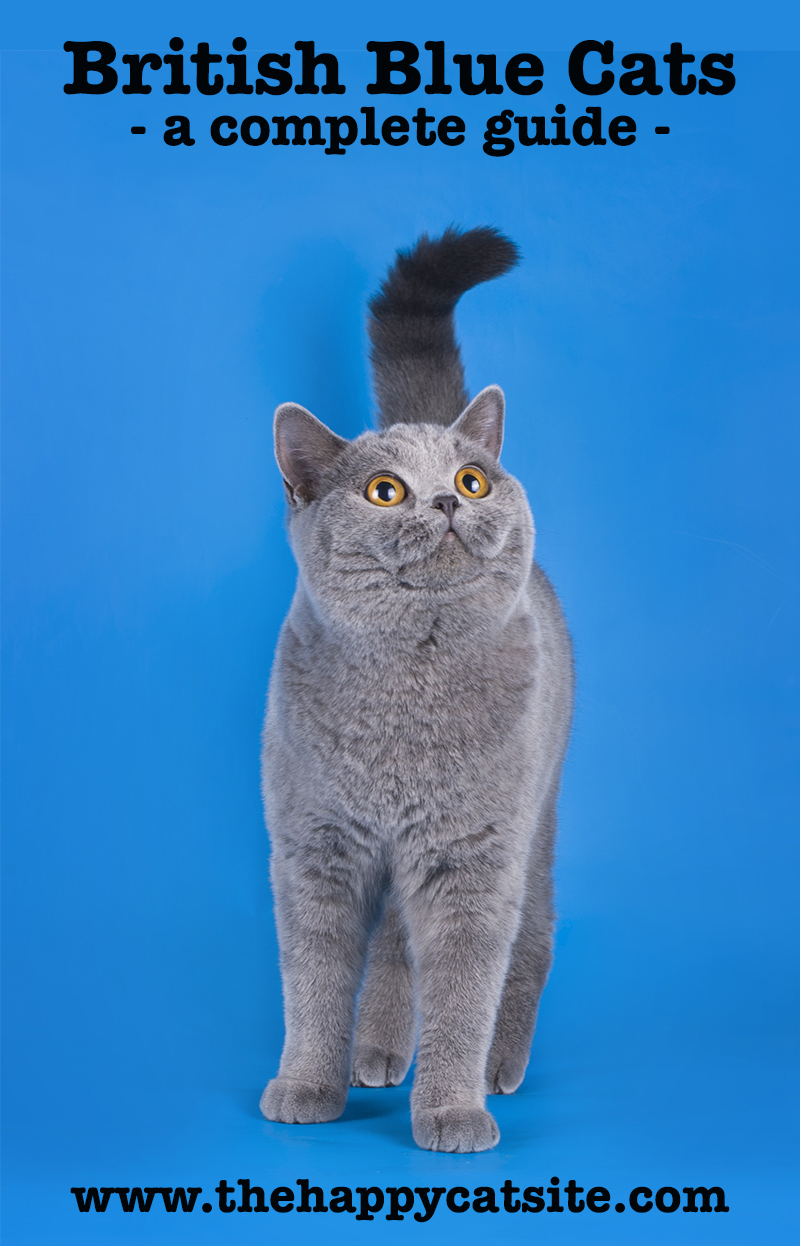 British Blue Lifespan
Everyone wants their beloved pet to live forever. And frequently, cats can live quite a long time. The British Blue is no exception. Due to the large gene pool of the breed and few overall health problems, you can expect your adorable teddy bear faced friend to live 14 to 20 years.
Kittens vs Rescue Cats
Buying a kitten from a reputable breeder is a good way to know exactly what you are getting. The breeder should perform health checks of the parents and each kitten, and be aware of the importance of socialization. Make sure to avoid pet stores and other disreputable sources that don't put the health and welfare of their animals above a quick payday.
Your kitten's eyes and nose should be clear with no discharge. Ears should be clean, and the mouth should show light pink gums. The body should be symmetrical, with no lumps, sores, or matted hair. A good breeder will let you take your fur baby home at some point between 8 to 12 weeks old.
However, kittens aren't the only option. If you decide to rescue a cat, there are a few benefits. Adult cats have established personalities, so you'll know just what you are getting. Adoption fees are lower than the sale price of a baby cat, and they are likely to be health checked and given their shots too.
That being said, there are very few dedicated British Blue cat rescues that can be contacted for adoptions. Since the felines are healthy, affectionate, and calm, they do not pose some of the same problems as others breeds that make them prone to abandonment.
Should I Get A British Blue?
British Blues are cute, calm, and healthy cats. Not only are the felines a great choice for families, but they do well with other pets and with single owners too.
The British Shorthair breed are quite common as well, so you surely will not have trouble locating one. But your veterinarian can help you if you want to locate the most reputable breeder possible.
Do you have your own British Blue cats or are you searching for the cat with the most pinchable cheeks? Let us know in the comments below.