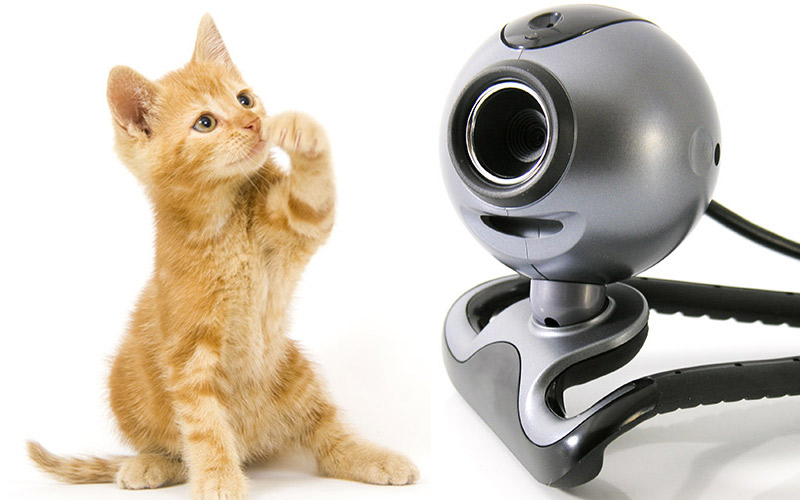 Welcome To Your Complete Guide To The Best Cat Cameras And Monitors! Reviewing The Top Models Of Kitty Camera To Help You Pick The Right One For Your Cat.
If you're like many cat owners, then you are probably curious about what your feline friend does while you're away or asleep.
You may also want to know what's going on if you come home or wake up to toppled pieces of furniture or evidence of a scuffle between cats.
Or perhaps, you're wondering where your indoor/outdoor cat's adventures take him each day.
Fortunately, there is a way to track what kitty is doing. With a stationary cat monitoring system that acts as a surveillance camera inside your home. Or with a camera for cats to wear on their collar!
In this article, we'll dig into some of the best cat cameras and monitors.
Including the aforementioned video camera for cats' collars, and even thermal imaging cameras!
What is a pet camera for cats?
Pet cameras are common in households where pet owners must spend extended periods of time away from home.
Some smart phones can be equipped with thermal imaging cameras to help you find your aloof kitty.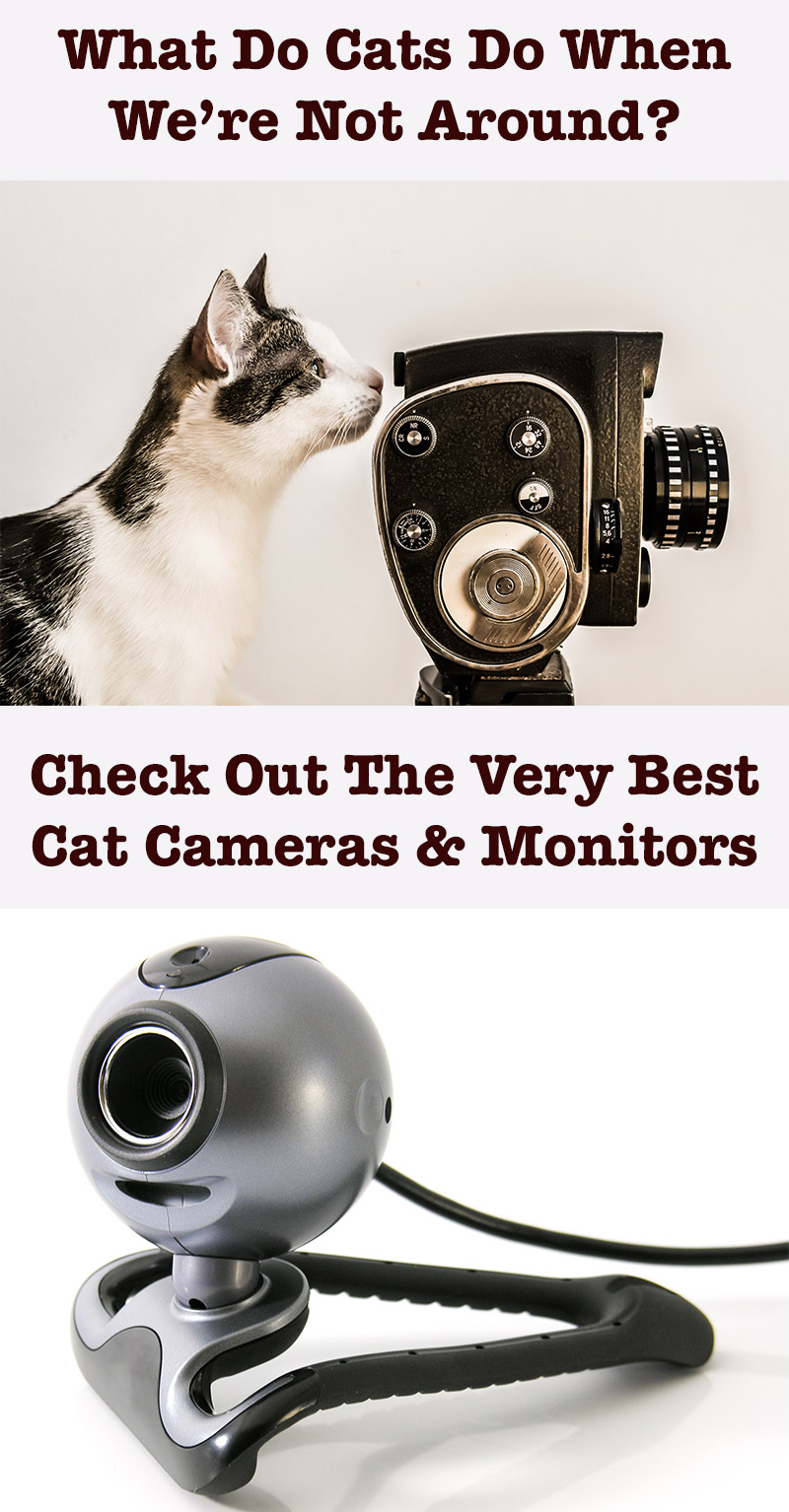 Some pet cameras are surveillance-type cameras that record the goings-on of the room that they're placed in.
Many of these cameras sync with your smart phone or device so that you can check on your pet (and home).
Some even have interactive features that allow you to video "chat" with your pet and/or play with them via a digital laser pointer.
Other pet cameras are meant for mobile application, meaning that they are meant to be worn by your pet.
These cameras record your kitty's actions as he does them. Regardless of where he is in your home, with the added bonus of recording his activity outside of the home (if he's allowed outside).
Wait, camera ON cat?
How does that work?
We'll talk about the differences between cat camera monitors and cat camera collars in the next section.
Cats n' cameras – cat monitor vs. cat collar camera
A camera for cats could be a static camera – one that's strategically placed in a location inside your home and captures your cat going about his day.
Similarly to a baby monitor, this camera only records your pet should he or she happen to enter into the room that the camera is placed in.
However, some cat monitors have an extensive "swivel," meaning that they can sweep a pretty large area if placed in an open area of the home.
Additionally, some cat monitors have motion sensing technology. So if your cat is in the same room as the camera but just out of eyesight, the camera will pick them up when they move.
Cats and cameras – talk about a picture being worth a thousand words!
You may also purchase cat video cameras, or cat cameras for cats to wear.
In other words, the product is a collar camera for cats, or a camera that's designed to hang from either a special camera cat collar or a regular (but preferably breakaway) collar to capture kitty's actions from his point of view.
You won't be limited to just one room in the home with this option!
Cat with a camera…what could be more adorable?
Let's get into some examples of the best cat cameras and monitors, shall we?
Cat monitors
If you know where your kitty spends much of his time, then placing a cat camera/video monitoring system in his preferred location will let you keep an eye on his activities that take place in the camera's viewing area.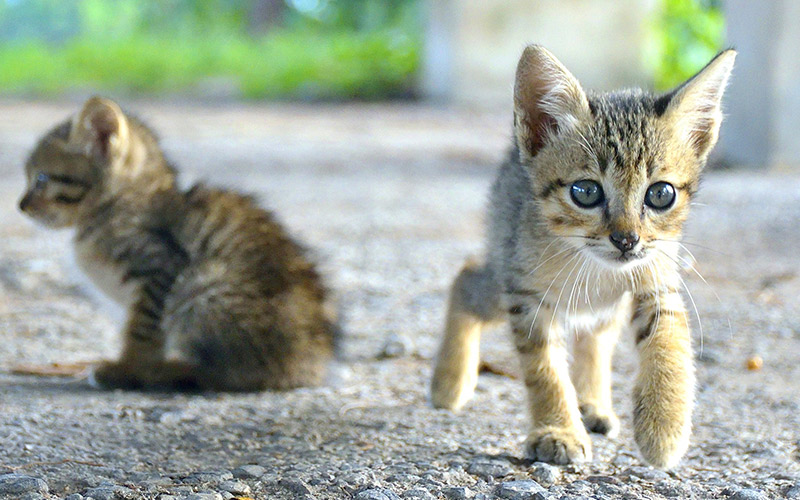 Some cat monitors do more than survey and record the viewing area, though!
Some cat monitors are outfitted with night vision. Some monitors are freestanding, and some are meant to be mounted on a wall or piece of furniture that will enable the best vantage point.
Additionally, some monitoring cameras have two-way audio capabilities that let you see and hear your cat, and vice versa.
Best Cat Monitors
We like these two cat monitors, both of which are flush with amenities!
Wansview Home Camera
The Wansview Home wireless camera/video recorder would make the perfect cat monitor!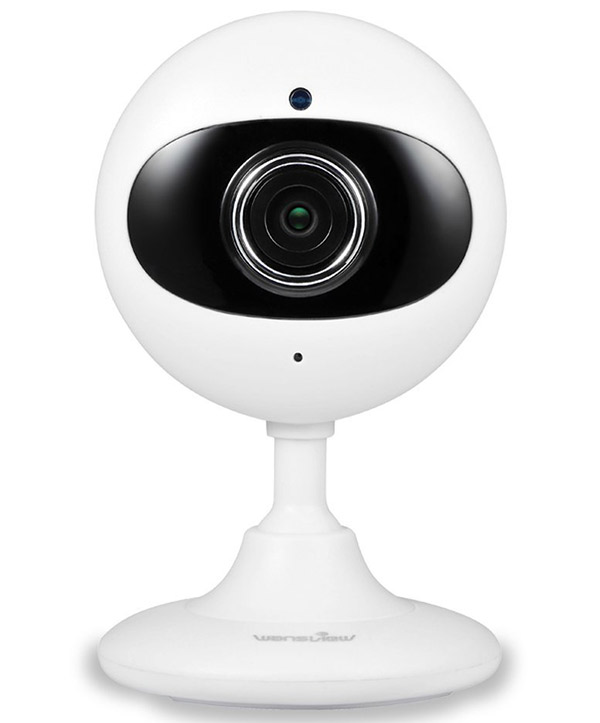 It may be small in size, but don't let that fool you! The extra wide lens lets the camera monitor a large room without the need to manipulate it – it has a viewing angle of 120 degrees!
The camera's excellent night vision (not to mention its super clear day vision) allows it to capture anything within 20 feet of it, even when it's black as pitch!
The microphone lets you talk to kitty when your tablet, phone, or iPad is connected to the camera – built-in WiFi lets you connect the camera with your device via a simple application!
You'll need to keep the camera plugged into a direct power source.
Petcube Play Pet Camera
Here is the Petcube Play WiFi-compatible cat cube camera!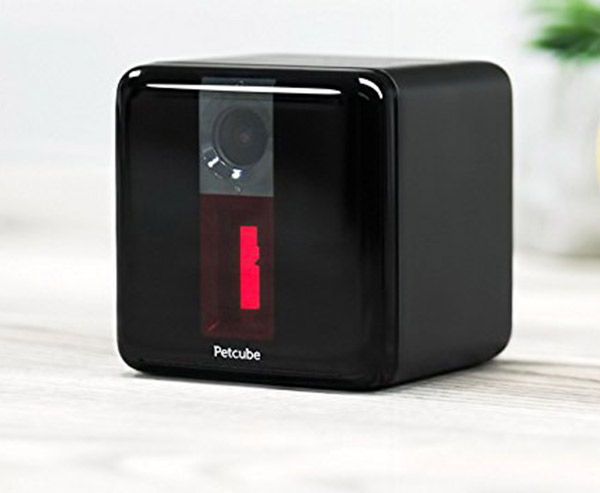 This unique, interactive video camera is literally shaped like a cube! With its unique design and non-slip base, you can place it on any flat surface without fear of it being bumped or moved.
The 138-degree viewing angle captures an extra wide area. You can even connect your device to the camera and activate the built-in laser pointer for a little play time while you're away.
Like the aforementioned cat monitor, this one also must be plugged into a power source, but the good news is that the cord is chew-proof!
Camera collars for cats
If you'd like to know exactly what your furball does with herself when you're not looking, then a camera for cat collar could be the perfect way to track her every move – literally!
Some people refer to these types of pet cameras as "spy" cameras due to their somewhat intrusive nature.
If your indoor-outdoor kitty does a bit of "snooping", a.k.a. roaming about the neighborhood, then a camera cat collar may capture what your neighbors are doing in addition to what your kitty is doing!
Cat collar with camera…so, what does that look like?
It's actually not that complicated. A lightweight camera clips onto the front of your kitty's existing collar or a specialized collar that comes with the camera. Where it records what your kitty sees, either through video or in snapshots of pictures taken at varying intervals.
Some pet collar cameras are larger than others, so be sure that the one you purchase isn't too big for your cat, especially if he or she is a smaller breed.
We recommend avoiding camera collars for kittens, as their tiny bodies are too small to carry even a lightweight camera. (And let's be honest, we don't know of any kittens that would be able to resist playing with something dangling from their neck.)
Best cat spy cameras
Here are some cat-friendly collar cameras that should provide hours of kitty cat adventures for your viewing entertainment:
Uncle Milton National Geographic Pet's Eye View Camer
The Uncle Milton National Geographic Pet's Eye View Camera collar camera is the ultimate compact package!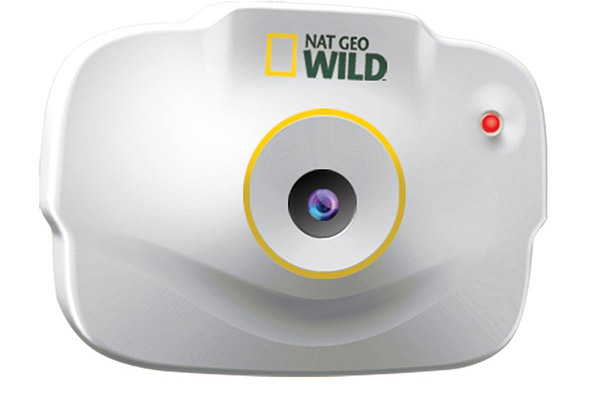 At 5.6 ounces, it's small enough for Fluffy to wear comfortably, but don't let its tiny size scare you away.
This camera takes high-resolution pictures (at 1, 5, or 15 minute intervals, depending on how you set it) and has enough memory to store about 40 images.
You can also print your images into 4-inch by 6-inch paper photos! If you're looking for collar camera reviews, this one has over 200 customer reviews!
DOGTEK Eyenimal Cat Camera
Here's a DOGTEK Eyenimal Cat Camera cat collar video camera that does it all!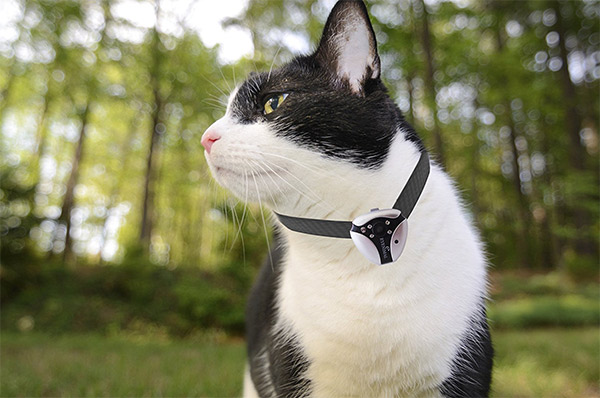 Not only can it record up to 2.5 hours of video AND audio in two different modes. One of which includes motion sensing, but it can also record at night!
That's right, the night vision can detect images up to 7 feet away! Four gigabytes of memory ensure that you'll be able to record and keep enough footage of your cat's antics to last a lifetime!
This model weighs less than half an ounce, making it a great option for smaller cat breeds.
Uncle Milton Pet's Eye View Camera
Another great product from the Uncle Milton line, this camera has the same amenities as the National Geographic version.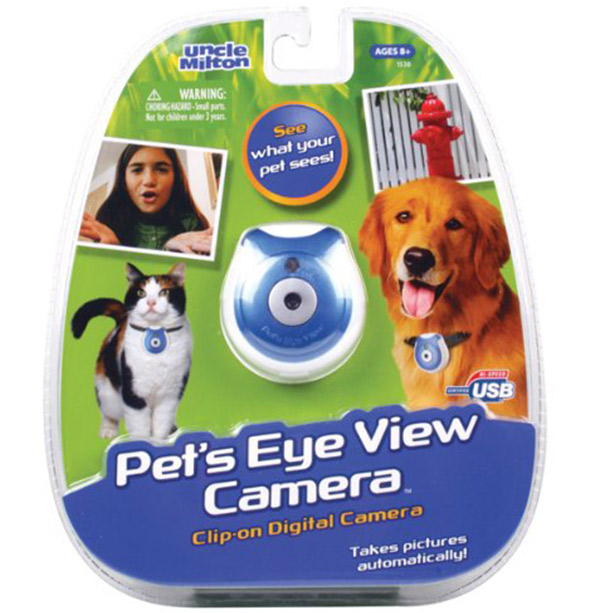 However, it's a bit smaller (3.5 ounces) and differently shaped. It "dangles" more so than its National Geographic counterpart, so we recommend this model for larger kitties only.
This model also comes with a USB cable for connecting to a laptop, phone, tablet, or other device on which you can upload photos.
Cat thermal cameras
Does your kitty like to play hide and seek, but the kind in which only he does the hiding?
As many feline owners know, cats are very talented at keeping themselves unseen and unheard. They can do this for as long as they wish to remain undisturbed. Which, let's be honest, may be most of the time for some particularly aloof kitties.
They're also quite good at finding hiding places that we mere humans would never consider!
If you happen to have a kitty that is a serial "hider," then a cat phone/thermal camera could make finding your precious baby a little bit easier!
A cat thermal camera phone is just a normal smartphone that can be outfitted with a separate thermal imaging camera (which is meant to be plugged into a phone or other device), or it may be a smartphone that has a thermal imaging system built directly into it.
Thermal cameras work by detecting infrared light rays (emitted from body heat or the environment) and displaying them in an image of differing colors based on the captured objects' temperatures.
The higher the temperature, the warmer the color (red, yellow, or somewhere in between). The lower the temperature, the cooler the color (green, blue, or somewhere in between).
The type of thermal imaging camera that you purchase depends on how much you're comfortable with spending.
Already have a smartphone? Then the most affordable option would be to simply purchase a thermal imaging camera that's compatible with your phone.
If you're on the market for a new phone as it is, then you might consider purchasing a smartphone that already has a thermal imaging camera built in.
Best Cat Thermal Cameras
Here are Amazon's finest examples of a smartphone-compatible thermal camera and a cat phone with thermal camera already included:
Seek Compact Thermal Imager for Android or Apple iPhone 
For those of you with Android or iPhone smartphones, the Seek Compatible Thermal Imaging Camera may be the perfect tool to help you locate your cat!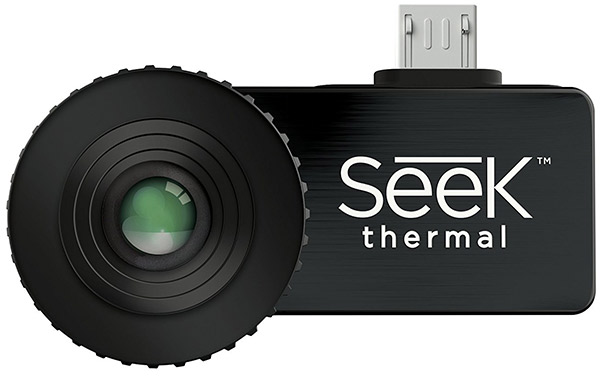 The camera has 36 degrees of view that can capture anything within a temperature range of -40 to 626 degrees Fahrenheit (most things that you'd encounter in your home or yard are far within this range), and that are up to 1000 feet away.
If your cat is like mine and loves to hang in warm places, such as in a spot of sunshine or near a fireplace, then the adjustable lens will help to differentiate between temperatures even more!
You can opt for the "Compact" or "XR" size – both are manageable, but the XR is even smaller than the Compact.
CAT Phones S60 Rugged Waterproof Smartphon
The CAT Phones S60 Rugged Waterproof Smartphone with Integrated FLIR Camera is great.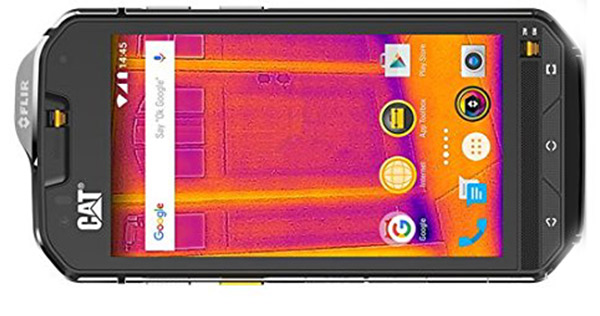 If you're looking for a phone that doesn't require the hassle of a separate thermal imaging system, then the CAT s60 camera phone is the perfect mix of the two!
With this smartphone (that's waterproof, to boot!), a thermal camera is available in the form of a super easy-to-use application. Just push the icon and poof, camera on!
You can even set the phone in a room that you suspect your kitty is in with the video recorder on, and it will capture and record heat movement up to 100 feet away from the camera. If you record a video, you can play it back with a time-lapse feature!
This incredibly rugged phone will hold up to being dropped onto a solid surface as well as water. Making it great for use with kitties who enjoy hiding in spaces that are hard to navigate to (ahem, trees).
Cat tracker cameras
Looking for a pet camera collar that doubles as a GPS tracker?
This seems to be a relatively new product, as there are many GPS tracking collars available for cats and dogs alike, but unfortunately not many models that also include cameras.
We did find the following option on Amazon, though its specifics are unclear: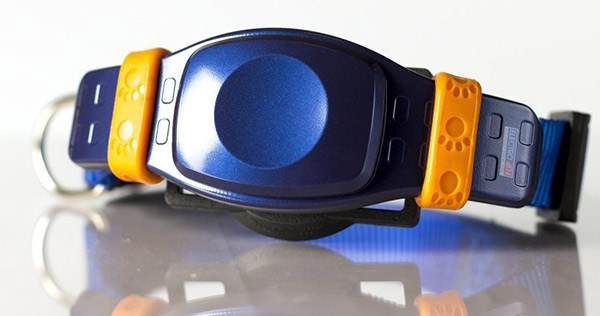 GoPro camera for cats
We've mentioned a few cameras that can be attached to a cat's collar, but none of them were from GoPro.
GoPro cameras are incredibly popular in many sectors for their multi-use abilities. And are well-known for their incredibly hardy structure.
Not to mention being waterproof for longer and in deeper water than many other similar cameras, and their less shaky video quality.
Best GoPro For Cats
If you'd like to use a GoPro camera with a cat camera strap (or collar), we recommend the following model:
GoPro HD Hero Naked.
This ultra-light, yet shock-proof GoPro HD Hero Naked Camera weighs less than a quarter of a pound. Making it small enough for use as a cat collar camera!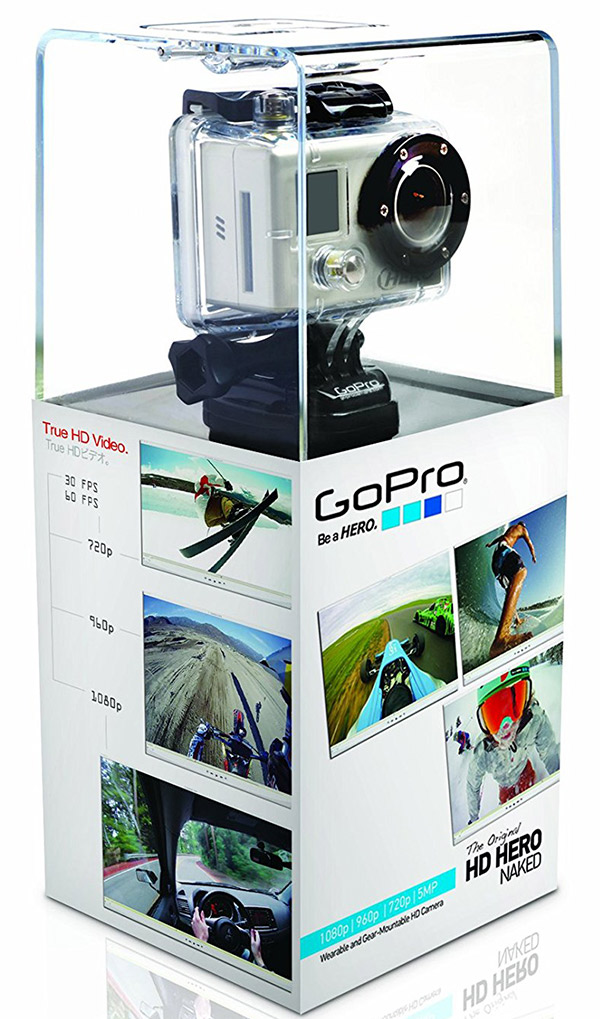 It has an extra wide lens that will capture up to 2.5 hours of your cat's world in one of three extra clear resolutions.. If you use the SD card that comes with it, but longer if you purchase a separate, larger SD card.
It will also take pictures automatically every 2, 5, 10, 30, or 60 seconds. Until the end of the lithium ion battery's charge or until the SD card is filled to capacity.
This model is waterproof to 180 feet of depth!
Cat disposable cameras
Not everyone wants to spend a lot of money on a camera, especially if it's going to be attached to an animal and could possibly end up wet or muddy.
Unfortunately, there isn't a disposable cat camera option…unless you just want to take pictures of kitty with a Kodak throw-away camera, '90s style!
Looking for a cost-efficient cat camera? Your best bet may be to purchase a cat collar camera without too many bells and whistles.
We'd also recommend placing it on an indoor-only cat. Or one who isn't likely to come into contact with anything wet or that could damage the camera.
Best cat cameras
Seeing what your cat is up to when you're not at home or determining where she spends her time is easy with a cat camera!
You can set up a monitoring system that records kitty's actions in a particular part of your home. Or you can put a camera on your kitty's collar that will record everywhere that her adventures take her.
Just be sure to only use a cat camera collar on a mature cat. Kittens are too small to carry even tiny cameras on their necks!
If connecting a camera to your home or your cat isn't your thing, but you'd still like to be able to locate your kitty, then you might use a thermal imaging camera that's either built into a smartphone or can be attached to one.
Free Updates For Cat Lovers!
Our cat care articles, tips and fun facts, delivered to your inbox