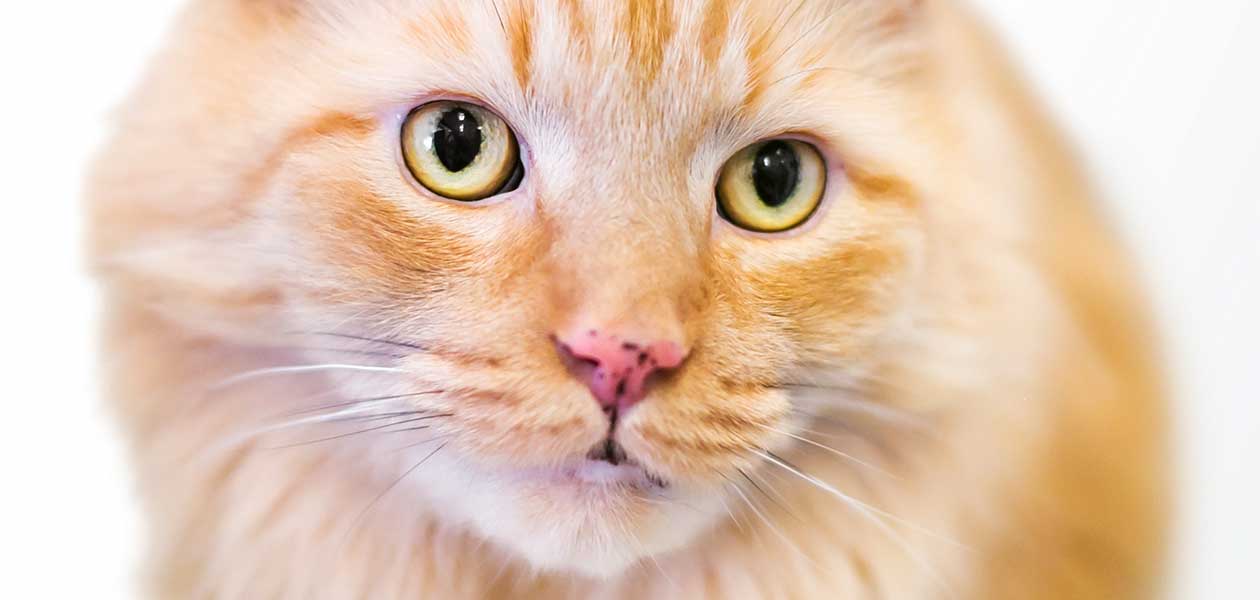 Cat freckles are brown or black spots and markings that appear on your cat's nose, lips, gums, eyelids, and footpads. Our orange cat has them on his nose, lips and even inside his mouth. In fact, ginger tabbies are the most likely holders of these cute dots. Technically known as lentigo simplex, cat freckles aren't a worry in terms of health. However, there are some health conditions that can masquerade as them! Today I'll share what gives your cat freckles, when they appear, and how to separate adorable harmless freckles from other more worrying signs.
Contents
What are Cat Freckles?
Cat freckles are actually caused by a condition called lentigo simplex. This isn't harmful to your cat at all. It is simply the appearance of flat marks on your cat's skin, caused by an excessive production of melanin. These marks are often either black or brown in color, but have a clearly defined edge.
Your cat may start with just one or two marks at first. Such as black marks on cats' lips or black marks on cats' noses. But, as she grows and ages, more lentigines can appear. Each individual mark can grow to be between 1mm and 1cm wide.
Freckles vs Coat Colors
Not every cat will develop lentigo simplex. In fact, it is quite a rare condition in cats. It is most commonly found in cats with certain colored fur, like:
What Age do Cats Develop Freckles?
If you have a kitten that is one of the colors mentioned above, you might be waiting to see if they develop any of these cute little markings!
Cat freckles will usually show up in cats before they are a year old.
But, they may only have one or two markings at this point, and it could be somewhere that is hard to see, such as their gums or inside their lips.
Cats with lentigo simplex usually develop more markings as they grow, generally until they are middle aged.
So, if your cat has this condition, you should see the markings develop throughout the first half of his life.
But, you don't need to worry if your cat doesn't develop lentigines! It doesn't present any additional health benefits, and it's perfectly normal for a ginger, or light colored, cat not to have these markings.
Where Can Cats Get Freckles?
There are lots of places that you might notice these markings on your cat's body. Lentigo simplex can commonly be seen in the following places on your cat:
Black spots on your cat's fur aren't lentigo simplex. And, black marks on your cat's iris are also not this condition.
Lentigines are flat marks that can grow up to 1cm in diameter. So, any raised bumps should not be mistaken for cat freckles.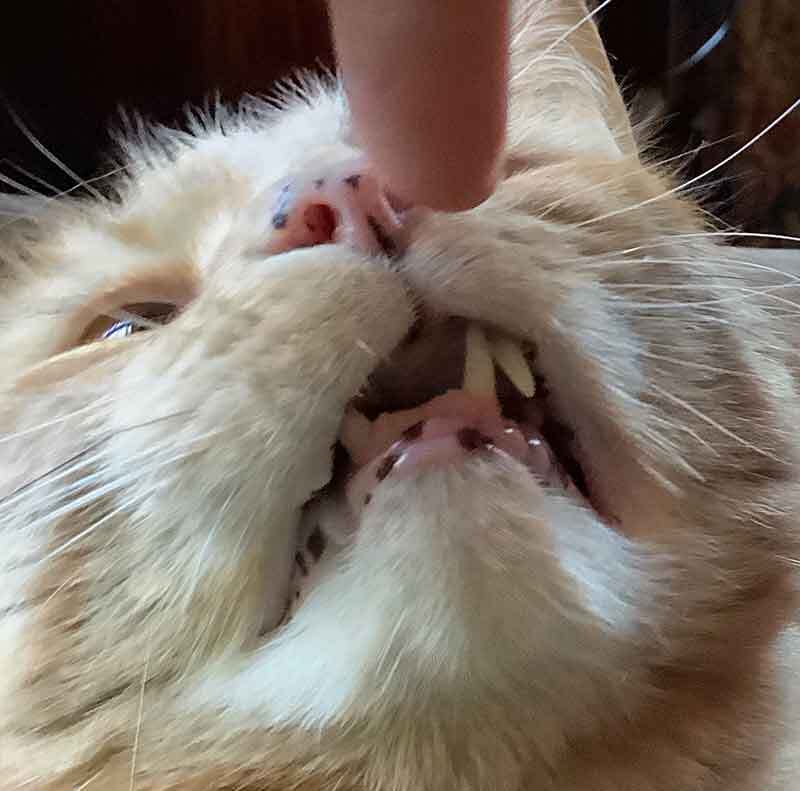 Do Cat Freckles Grow in the Sun?
Unlike human freckles, cat freckles aren't actually influenced by the sun. Lentigo simplex is not linked to sun exposure. And, cats will commonly start to develop lentigines in areas that the sun can't even access! Such as the inside of their mouths.
It can be hard to see if your cat has these markings inside their mouth, as most cats don't like you taking a look! But, if you brush your cat's teeth, or feed him a treat, you might be able to take a quick glimpse!
Do They Hurt?
Luckily, cat nose freckles, and lentigines anywhere else don't hurt your cat. They are safe, flat markings that shouldn't itch or irritate your cat. If your cat has raised markings, or spots develop that seem to be causing your cat pain or irritation, this isn't lentigo simplex.
Is Lentigo Simplex Dangerous?
If your cat has started to show these markings, you don't need to worry. They aren't dangerous, and they aren't a sign of cancer in your cat.
However, there are other times when black marks on your cat can be dangerous. If you notice a change in pigmentation in your cat's eye (iris), for example, this can be a sign of something more serious.
Warning Signs
Although lentigo simplex isn't a dangerous condition for your cat to have, there are times when black marks on cats can be dangerous. Lentigines are flat dark markings that will only appear on your cat's skin. If you have found markings that are raised and appear to be causing your cat irritation, you should contact your vet to determine the cause.
Allergies and Dermatitis
Cats who have allergies to something can develop markings on their skin. However, these are often accompanied with irritation which can be a sign of issues such as skin problems or allergies. Some symptoms of these include:
over-grooming
scratching
alopecia
flaky skin
and redness.
Melanoma
Another, potentially quite dangerous, problem that can be mistaken for cat freckles is melanoma. Melanoma is a type of tumor that involves pigmented skin cells.
Melanoma can be benign or malignant, and this can depend on where the tumor is based. They are more threatening when found in the mouth, lips, eyes, and feet of cats. Compared to harmless cat freckles, dangerous melanomas tend to be larger, less uniform in color, and have a blurry outline.
Iris Melanoma and Melanosis
Melanomas can also present in the eye, and 60 – 70% melanomas in feline eyes are malignant and have the potential to spread. So, we will concentrate on this type in a little more detail. Melanoma in your cat's eye can start to appear as a flat marking on the iris, very similar to lentigo simplex on the skin. But, lentigines will never appear on your cat's actual eye.
Iris melanosis is slightly different, and less of a concern. This is a benign condition, where your cat will develop flat dark spots on its iris. This is more common in older cats. But, it is very difficult to distinguish between iris melanosis and malignant melanomas in their early stages. So, if you notice any dark marks developing on your cat's eye, take them to the vet straight away.