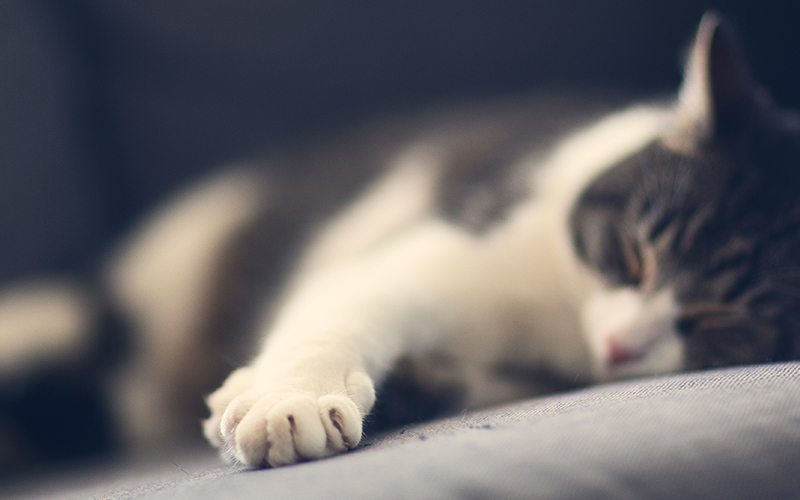 Welcome to our reviews of the best cat scratching posts.
We're going to take a look at what a cat scratching post is and why they need them.
To help you choose the best styles for your feline friend.
Giving you the very best cat scratching posts to pick from.
Why do cats scratch?
Scratching is a normal, inherited behaviour in cats.
Cats scratch to mark their territory and to remove the dead outer layer of their claws.
It is also great exercise for them.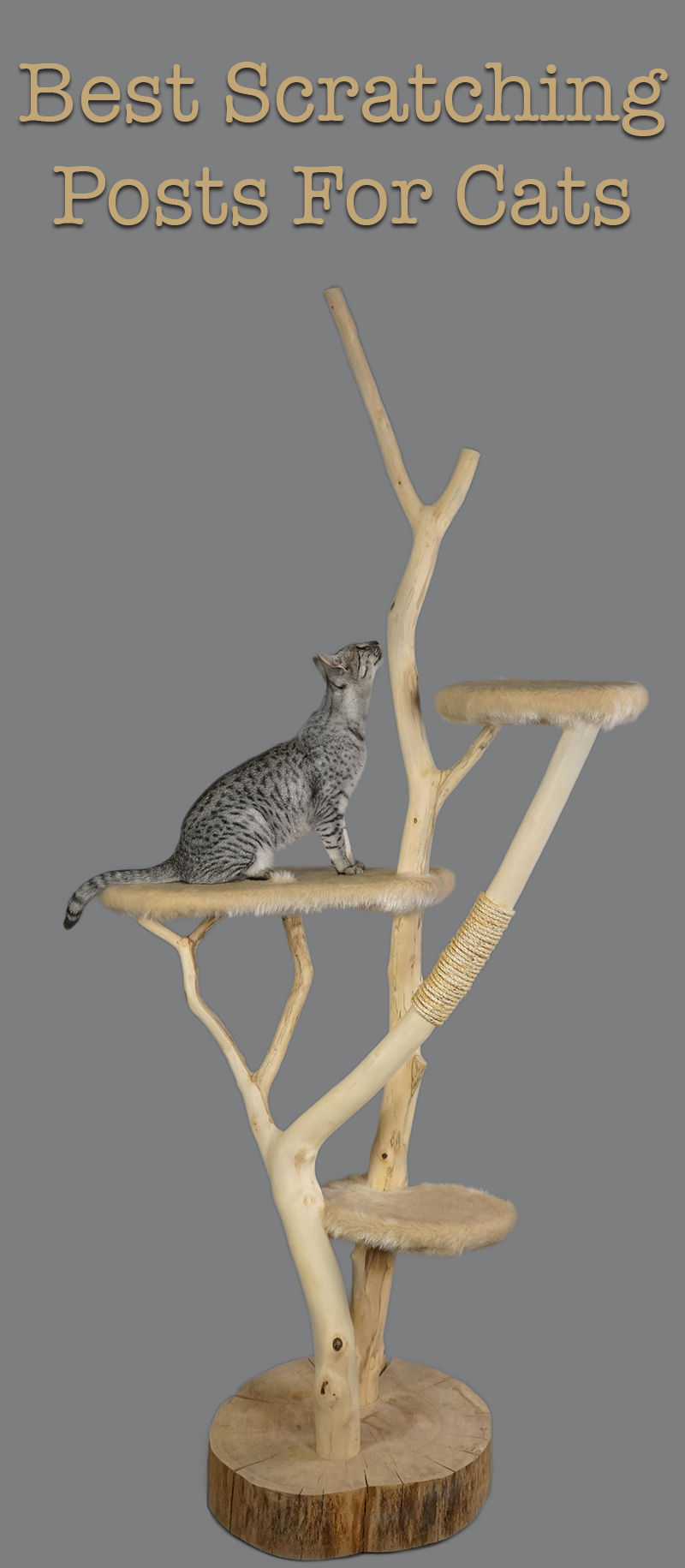 But, if you want to stop your cat scratching furniture and carpets in your home, then you need to find an appropriate alternative.
Declawing is one method, but increasing numbers of people are very concerned about whether it's a humane one. You can find out more about that here.
A cat scratching post is an effective alternative, as well as a much better and kinder option!
What is a cat scratching post?
A cat scratching post is a pole covered in a rough fabric. Designed for a cat to dig in its claws, so it can scratch and stretch.
The most commonly used materials are carpet, cardboard, sisal rope and sisal fabric.
Cat scratching posts come in an array of shapes, sizes and designs.
Scratching posts for cats
Because cats use scratching to mark their territory, you should place as many cat scratching posts as possible around your home.
A kitty likes to scratch and stretch both vertically and horizontally. It is therefore essential to provide a variety of tall, flat and angled cat scratch pads and posts.
Position them where your cat's activities take place, such as sleeping, playing and looking out the window.
Let's look at some of the different designs available.
Large cat scratching post
For pet parents looking for a large cat scratching post, the Pet Fusion Jumbo Cat Scratcher Lounge is ideal.
This two-tiered design has ample surface areas for scratching, lounging and interactive play. Making it highly attractive for cats.
It can hold up to four large cats and is reversible, so owners benefit from twice the use.
This recycled cardboard cat scratcher is durable and sturdy, and owners comment that it doesn't shed as much compared to others.
It has a stylish design that blends into any home and its delicate curves making scratching easier for cats.
Tall cat scratching post
The SmartCat Ultimate Scratching Post is a number one bestseller on Amazon.
This tall, smart looking cat scratching post measures 32 inches in height. Allowing for a complete stretch from the longest of cats.
The post is square-shaped and has a durable and fibrous sisal covering for active scratching. It also has a sturdy wooden base to prevent it from tipping over.
Quickly put together, it is excellent value for money with an attractive design that looks good in any home.
Cardboard cat scratcher
We all know how cats love to either scratch or lay on our expensive sofas!
Well, now you can give your kitty his own with the Feline Be Mine Cardboard Cat Scratcher Sofa.
Produced using advanced premium corrugated cardboard means your cat is unable to shred it into small pieces.
Classically stylish, this cardboard cat scratcher allows any size cat to lie comfortably.
It is rated highly with cat owners who all express how much their pets love it!
Cat scratching tree
Owners looking for a cat scratching tree that can also entertain should consider the Favorite 57" H6 – Tier Multi-function Condo Cat Activity Tree.
This cat tree has different platforms that allow your cat to either play or take a rest.
The posts and ladder have a sisal surface that is perfect for scratching.
Cat scratch pole
The Max and Marlow 26-inch Sisal Scratch Post makes a great cat scratch pole.
The pole has a durable fabric covering wrapped with sisal rope for an efficient scratch time and stretch.
A hanging bird toy is attached at the top so your kitty can enjoy some fun playtime as well!
The base and top are covered in a stylish but hard-wearing designer fabric to blend into the most elegant of homes.
Cat scratch tower
For the ultimate cat scratch tower, the Miguel Fold and Store Cat Tower is a popular choice.
This attractive cat tower comes complete with hammock, hiding hole, hanging balls and natural sisal scratching surface.
It is approximately 2 feet tall and is ideal for small spaces.
Owners say how sturdy it is and like the fact that it is simple to fold and store away.
It comes in a choice of either brown/beige, or gray/light gray so blends perfectly into any home.
Cat scratch board
The Evelots Cat Scratch Board is durable with a wave design making it perfect for cats to scratch with all four paws. It also acts as a lounger.
This cat scratch board is made from recyclable cardboard and is reversible so lasts twice as long.
Some cats much prefer scratch boards to posts, so it's a great choice for a kitty who ignores the pole.
Cat scratch pad
The Cat Claws Scratching Pad has been a popular choice with cat owners for many years.
The surface has an exclusive honeycomb texture which cats love, allowing for visual scratching.
It's easy! Just tear the perforated lid, and your cat can use his cat scratch pad straight away!
Cat Scratcher House
For the perfect cat scratcher house, consider The Nature In Hand Cat Scratching Pad Playhouse.
Made from durable, corrugated cardboard, it also comes with Catnip.
This all-in-one house is quick and easy to assemble and for use as a bed, playhouse and scratcher.
Cat scratch toys
When looking for the best cat scratch toys, you won't do much better than the Bergan Turbo Scratcher Cat Toy.
A number one Amazon best seller, many owners say how this scratch toy keeps their pets amused for hours, even enticing old cats.
It is round-shaped with a channel for small ball play.
In the middle is a textured scratch pad, which is both durable and replaceable. Replacements are available in packs of two.
Reasonably priced, this fun scratch toy has a non-skid base and comes complete with ball and Catnip.
Cat scratch bed
Cats love to scratch as soon as they wake up which is why you should provide your kitty with a cat scratch bed.
The Necoichi Cat-Headed Scratcher Bed is an attractive choice for cat owners.
This cat scratcher bed is sturdy and made from a scratchable material with soft borders.
Its round shape makes a comfortable place for your kitty to sleep and scratch.
As cats often love boxes, many owners think this is the reason why their pet loved this product so much!
Durable and long-lasting, it's modern, stylish design blends easily into any home.
Modern cat scratching post
For owners looking for a more modern cat scratching post, the Pet Fusion 3-Sided Vertical Cat Scratcher is a perfect choice.
The winner in 2014 of the Cat Fancy Magazine Editor's Choice Award for Best New Product, this creative design is very well received.
Available in sizes large and medium, it provides a cat with many stretching and scratching angles and features a cubby hole for hiding.
Made from recycled cardboard, this modern piece of cat scratching furniture is extremely sturdy and durable.
Rotate it for three times the use.
Complete with silicone floor grippers, owners find it lasts longer than most cat scratchers.
Corner Cat Scratcher
Many owners complain about their cat scratching furniture, especially the couch.
Sofa-Scratcher has come to the rescue by designing a product made especially for your couch – a corner cat scratcher and furniture protector.
Handmade in the USA using woven sisal fabric, it fits under the leg of your couch and has a carpeting backing to protect your furniture.
It has a clean look and is available in nine different neutral colors.
You can buy for either a rounded or square corner.
Grey cat scratching post
When searching for the best cat scratching post, you should consider The Parla Scratching Post.
This platinum grey cat scratching post has natural sisal fiber wrapped around it along with a broad and stable base.
Standing approximately 2 feet tall, many owners state this cat scratch pole is taller than the average scratching post allowing cats a full stretch.
Economical and durable, it is good value for money and is also available in beige.
Wooden cat scratching post
For a quality wooden cat scratching post, the USA made wood Cat Scratching Post Triple Cat Scratcher is a must.
Cat owners love that their pet has a choice of three types of scratching surfaces from wood, carpet and sisal rope.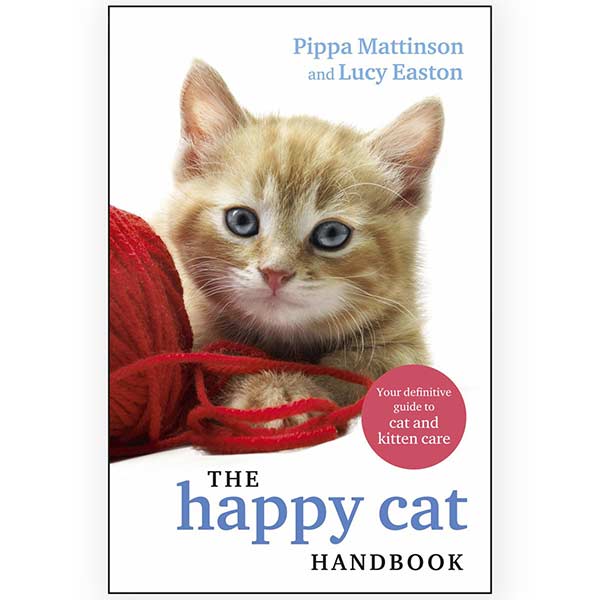 It is a good height too at 24 inches high and is topped off with a perch for lounging.
Cheap cat scratching post
If money is an issue, it is still possible to purchase a cheap cat scratching post that is suitable for your kitty.
One that is inexpensive is the Catit Style Scratcher Urban Bench.
It has a corrugated scratching surface and is 20 inches wide making it ideal as a lounger too.
The Urban is also reversible, allowing for extended use.
Best scratching post
When looking for the best cat scratching post, ensure that it is sturdy as one that wobbles could topple over and seriously injure your kitty.
Always provide both horizontal and vertical cat scratchers using a variety of materials and scratching surfaces.
And remember, the cat scratcher should appeal to your cat's tastes and not yours!
Free Updates For Cat Lovers!
Our cat care articles, tips and fun facts, delivered to your inbox
Resources/Extra Reading
Assessment of claims of short-and long-term complications associated with onychectomy in cats
GJ Patronek – Journal of the American Veterinary Medical …, 2001 – Am Vet Med Assoc
Healey, JM. 1993. Cat scratching housing and bed apparatus
Hart, BL. 1980. Starting from scratch: a new perspective on cat scratching. Feline Practice.
Your Amazing Cat!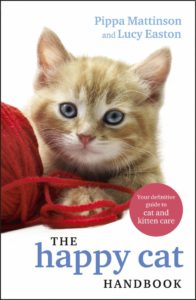 We are so excited to share our new book with you!
If you have enjoyed your visit to The Happy Cat Site we think you'll love The Happy Cat Handbook.
Written by the founders of this website including the author of the hugely successful Happy Puppy Handbook, it's packed with cat care information and fascinating cat facts.
Grab your copy today!
Free Updates For Cat Lovers!
Our cat care articles, tips and fun facts, delivered to your inbox