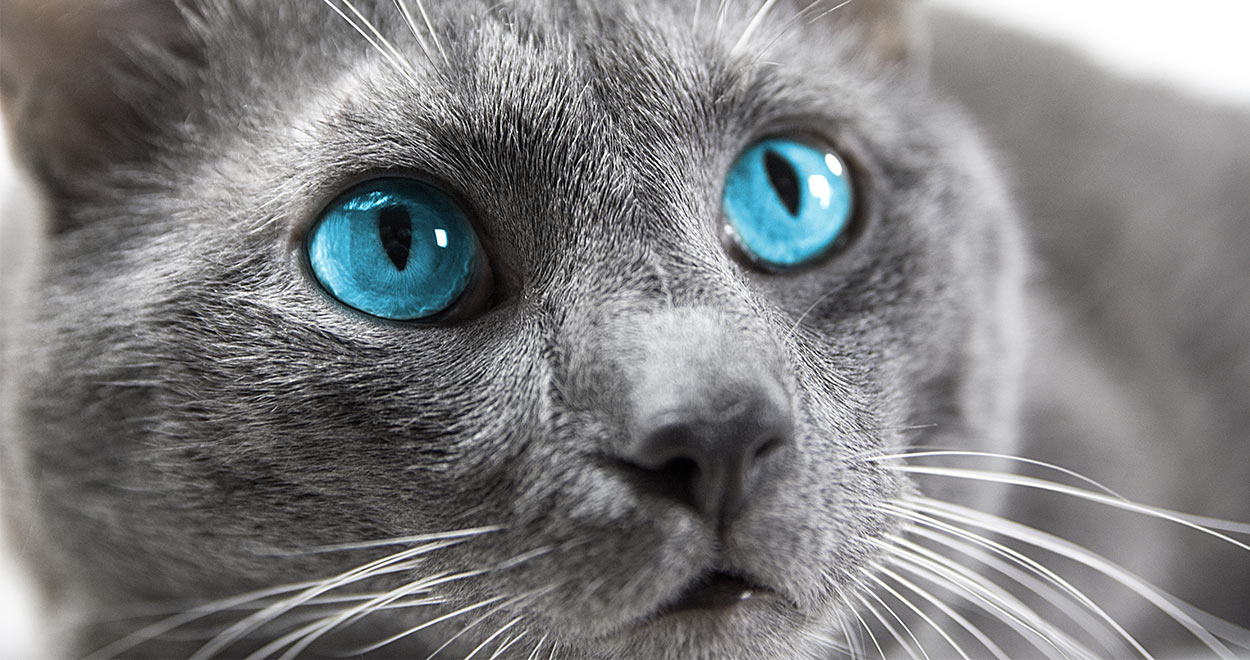 In general a cat's eye color depends on their fur shade and patterning, not their breed. But of course certain breeds are more likely to be particular colors, so there is a correlation in that sense. Blue eyes are most common in white cats and those with point markings. So you'll see them most often in Siamese, Persian, Javanese, Ragdoll, Turkish Van, Himalayan, Birman, and Tonkinese cats.
Contents
In my eyes every fuzzy feline is precious and adorable, but cats with blue eyes are something special! I mean what's not to love when you come face to face with a fluffy, blue-eyed ball of whiskered delight? And for many a cat lover, moggies with blue eyes are simply the ultimate in kitty cat cuteness. There is just something about blue eyes on cats and kittens that put the candles on the cake. If you've ever gazed upon a white cat with blue eyes, a mostly black cat with blue eyes, or a grey cat with blue eyes, you know what I'm talking about!
Cat Eye Colors
Feline eye color varies from shades of yellow such as golden or amber, to green or hazel, and on to gorgeous shades of blue. Blue eyes normally come with pale coats, but they are not the exclusive domain of these moggies: black and white (tuxedo), tortie, and tabby cats can also be blessed with azure eyes.
Are All Cats Born With Blue Eyes?
Yes! Kittens are born with very underdeveloped eyes, which is why they stay closed for at least the first week after being born.
Producing melanin is one of the last things to start happening in a kitten's eyes, and before it accumulates, all kittens' eyes appear blue.
How Long Do Kittens Eyes Stay Blue?
Most cat eyes start to take on their permanent color between six to eight weeks after being born. The exception to this occurrence is the white kitten; white baby cats will likely keep their baby blues.
Interestingly enough, many breeds can be born with one blue and one yellowish eye, or one blue and one green eye. If a white cat has bi-colored eyes and is deaf, deafness is more likely to occur in the ear on the same side as the blue-colored eye.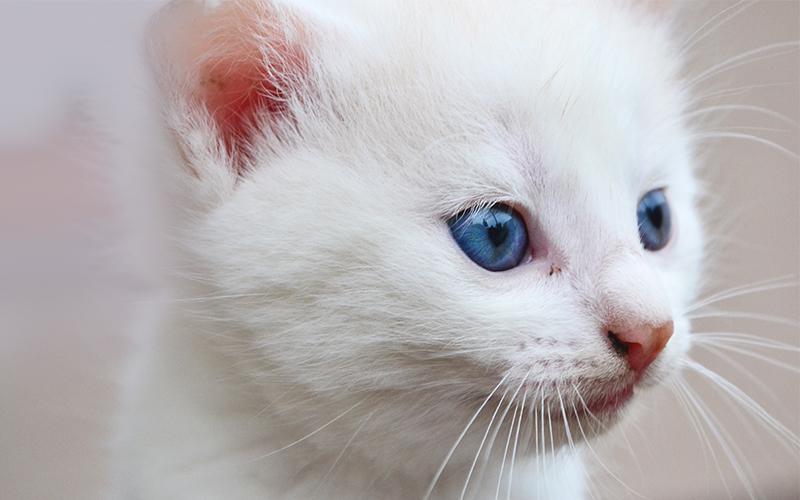 Why Do Some Cats Have Blue Eyes?
Eye color is determined by melanin, a pigment responsible for coloring eyes, hair and skin. Cats with blue eyes are the result of low levels of melanin in their irises.
Green colored eyes have medium amounts of melanin, while brown eyes have the highest levels. The amount of melanin your cat has is decided by the genes.
Males and Females
Blue eyes occur with nearly equal frequency in both female and male kitties!
Are White Cats with Blue Eyes Deaf?
Roughly 5% of cats worldwide are all-white and these moggies have about a 20% chance of having some degree of deafness. When a fully white cat has two blue eyes the chance of it having some degree of deafness skyrockets up to 85%.
What if a completely white cat has one blue eye? In this case the odds are almost 50/50 that the moggie will have some degree of deafness, either in both ears or (less commonly) in one ear.
It's All About Genetics
The same gene which tells our cat's eyes and skin to produce melanin is also one of the genes responsible for telling their ears to produce tiny, sound-detecting hair cells in the ear canal.
White cats and blue eyes carry a mutated version of that gene, so they don't produce pigment in their eyes or coat, and are more likely to lack hair cells in their ears.
Because development of the ear and hearing is controlled by many other genes as well, this one mutation does not automatically make them deaf though – it just puts them at much higher risk.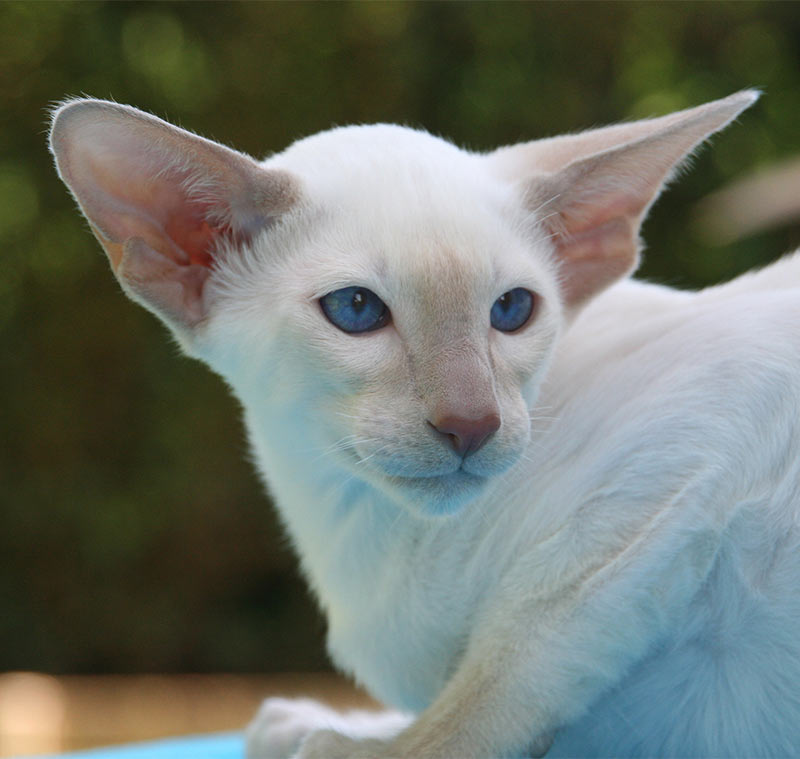 Can Black Cats Have Blue Eyes?
Due to genetics, it is rare to see a completely black cat with blue eyes; it is more common to see a black and white cat with blue eyes. If you have a black cat, you know that these midnight moggies often have green or yellow eyes.
Siamese Cats with Blue Eyes
Breeders and owners alike are drawn to the Siamese, in no small part because of the cat's uniquely tinted eyes that range from a deep sapphire to a light azure.
Despite their lovely blue eyes and pale coat, Siamese do not suffer from the same rate of deafness as do white cats with blue eyes.
Can you guess why? The answer lies in their fur!
Siamese cats are pointed cats, meaning they have a light colored body, and darker points on the tail, face and paws. Color point coats are governed by a different set of genes to white coats, so color point cats neatly side-step the link with deafness And color point cats are not only stunning to look at; they may come with a positive health benefit as well.
A study of nearly 5,000 color point breeds found a decreased risk of hyperthyroidism among the subjects, which included Siamese and Persian breeds.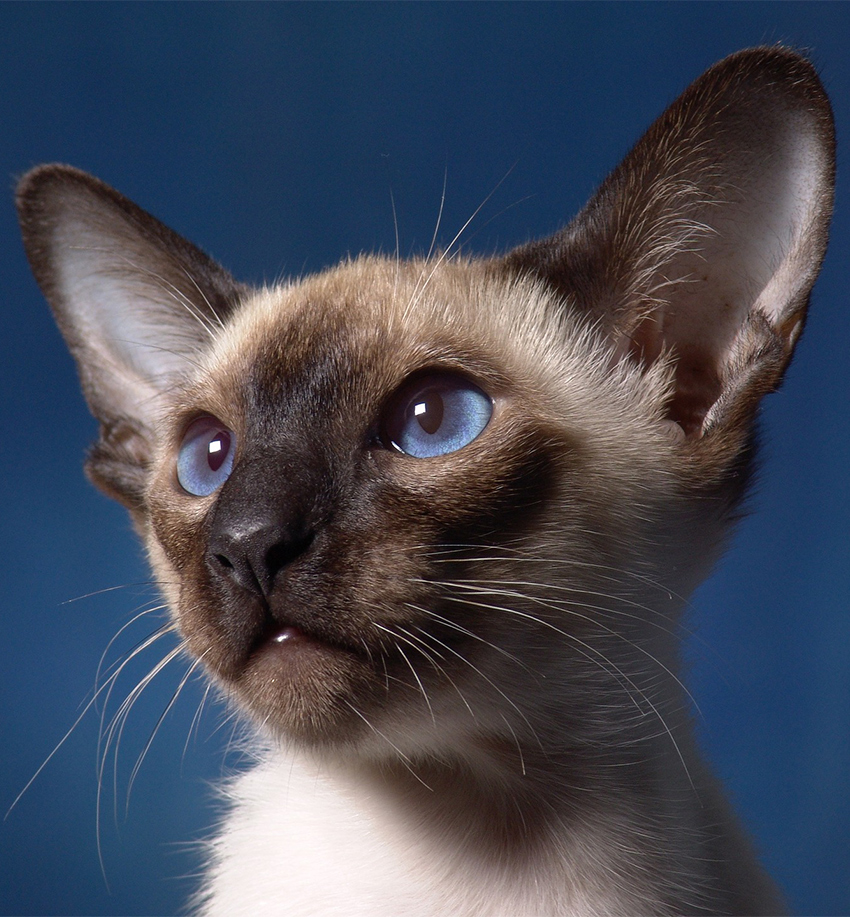 Persian Cats with Blue Eyes
The longhair Persian is the most popular pedigreed cat in the U.S and their eye color matches their fur.
Himalayan color point Persian kitties have blue or copper-colored eyes, while Golden Persians have blue or blue-green eyes. Bear in mind that a pure white Persian cat will have the mutated gene which also increases the risk of deafness.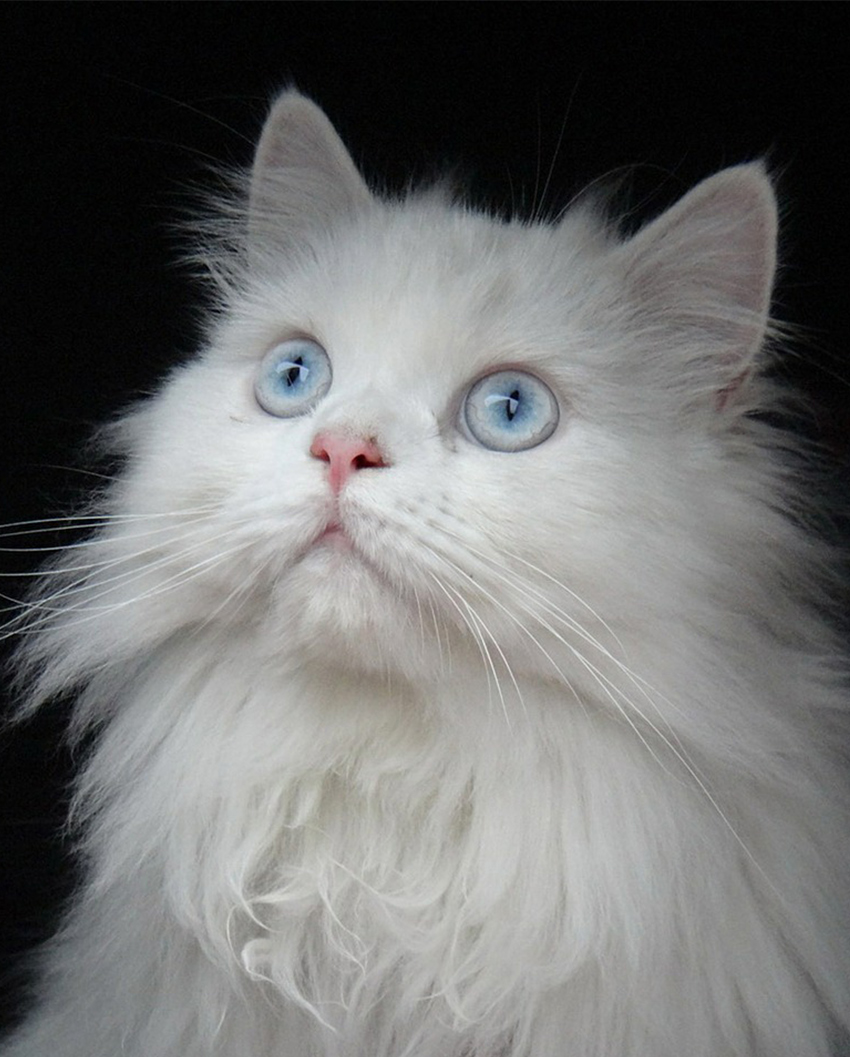 Ragdoll Cats with Blue Eyes
One of the most unique felines in the domestic kitty kingdom also has blue eyes: the inimitable Ragdoll!
Ragdolls enjoy being with their human and they will happily follow you around the house. The name Ragdoll refers to the way they easily plop over in total comfort whether they are held, draped on a couch, or lolling about in the sun.
They are a super friendly cat with a gentle nature, and their habit of going limp and relaxed at the drop of a hat is a sight to see! Ragdolls come in shades of seal, chocolate, red, lilac, blue, and cream.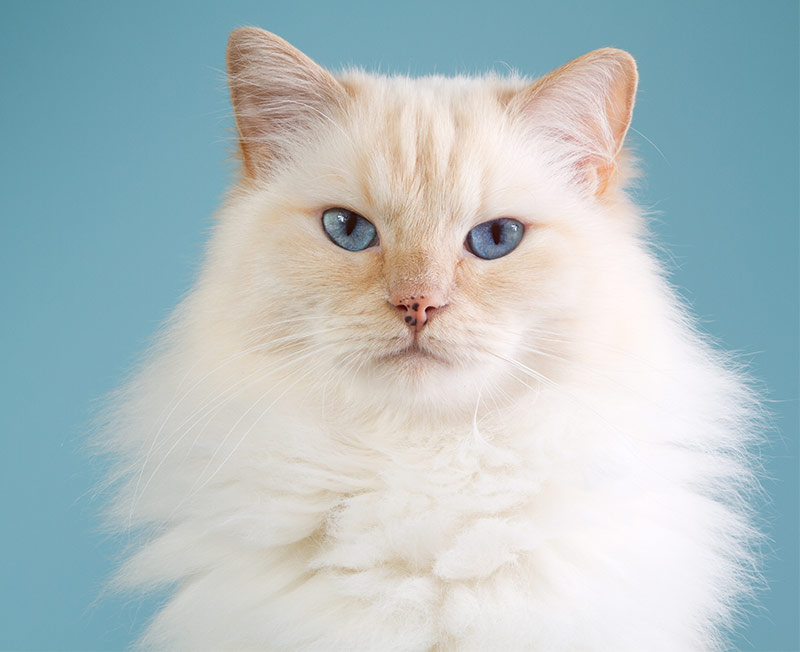 Birman Cats with Blue Eyes
The Birman breed is a color point cat with mesmerizing blue peepers. There are various theories as to the Birman's origins: did they originate in Burma? No one knows for sure, but what is certain is that this strikingly beautiful cat has found a permanent place in the hearts of cat fanciers.
Birman cats sport a medium length coat that feels silky to the touch. Birman colors include blue, chocolate, cream, and red, all shades that contrast to striking effect with the breed's icy blue eyes.