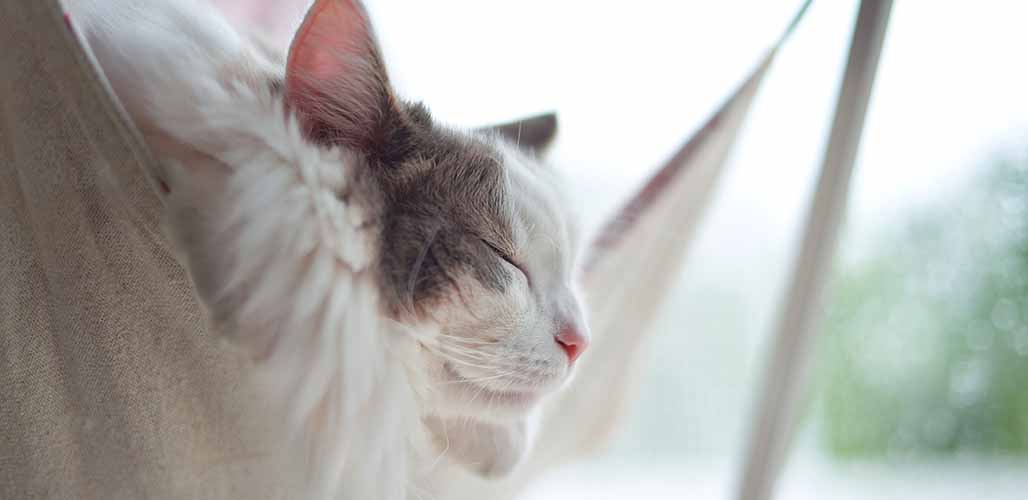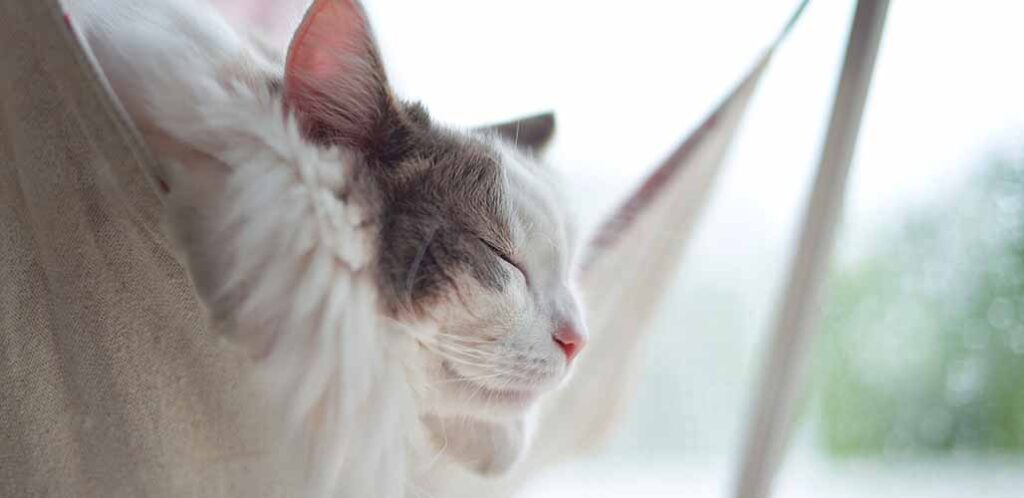 Do cats sleep more when it rains? I have two cats, and both tend to be extra sleepy on gloomy days than they are on sunny days. They only wake up to eat or use the litter box and then promptly return to their beds for more snoozing. At first, I thought I was missing something. But when I did some research, I found out that cats really do sleep more on rainy days, just like humans. In this guide, I'll take a closer look at what makes cats so sleepy on rainy days, whether you need to worry, and how to re-energize your cat.
Contents
Do Cats Sleep More When it Rains?
The simple answer is yes. Cats do tend to sleep more when it rains. While there hasn't been much scientific research conducted on this subject, personal observation of pet owners tends to show that cats sleep significantly more during rainy days.
Of course, however, all cats are different. So, they won't all sleep the same amount. And, the rain won't affect them all in exactly the same way. Some cats may be inclined to sleep more than usual on a rainy day, but others might seem to cause more mischief – or even show signs of fear. Particularly if that rain is accompanied by thunder and lightning.
Why Do Cats Sleep More When it Rains?
If your cat is one of the ones that tends to snooze when the skies open, there are a few potential reasons. One possible explanation for this is that cats are naturally sensitive to changes in barometric pressure. When it rains, the air pressure drops and can make cats feel more sluggish and sleepy than usual. Cats also tend to be more active when it's sunny outside, so they may sleep more when it's raining as a way to conserve energy.
Another possible explanation is that cats may instinctively respond to the sound of rain, as some cats find it soothing and sleep-inducing. Cats are also very sensitive to changes in temperature. So, if the air feels cooler or more humid when it rains, they may naturally gravitate towards a cozy spot for an extra nap.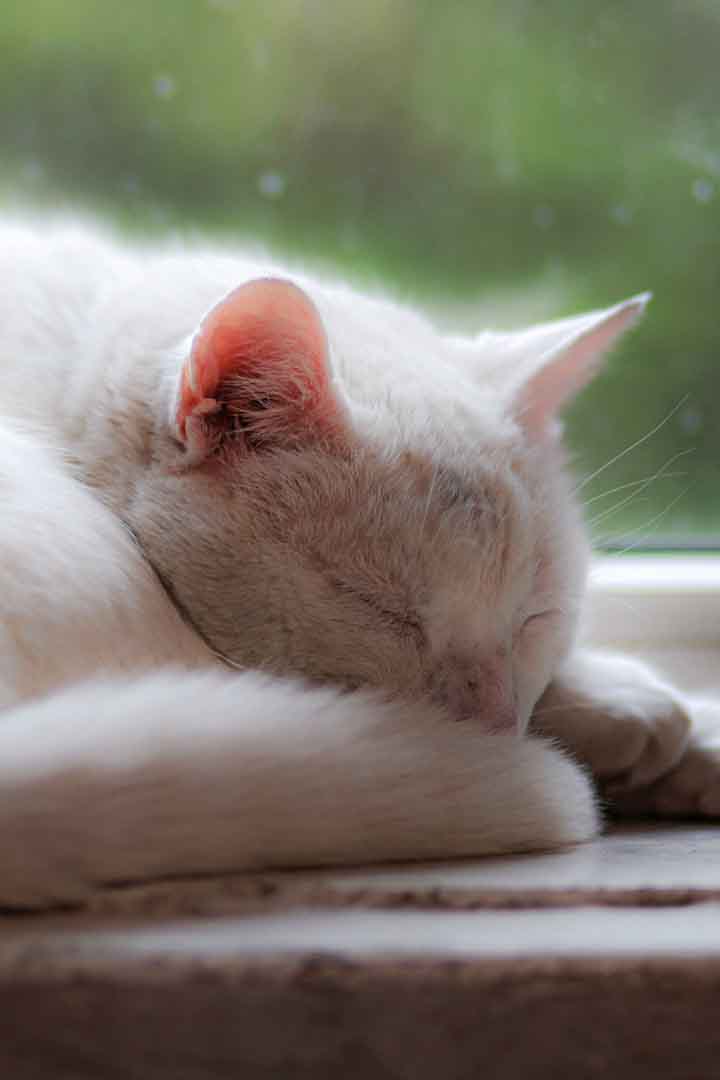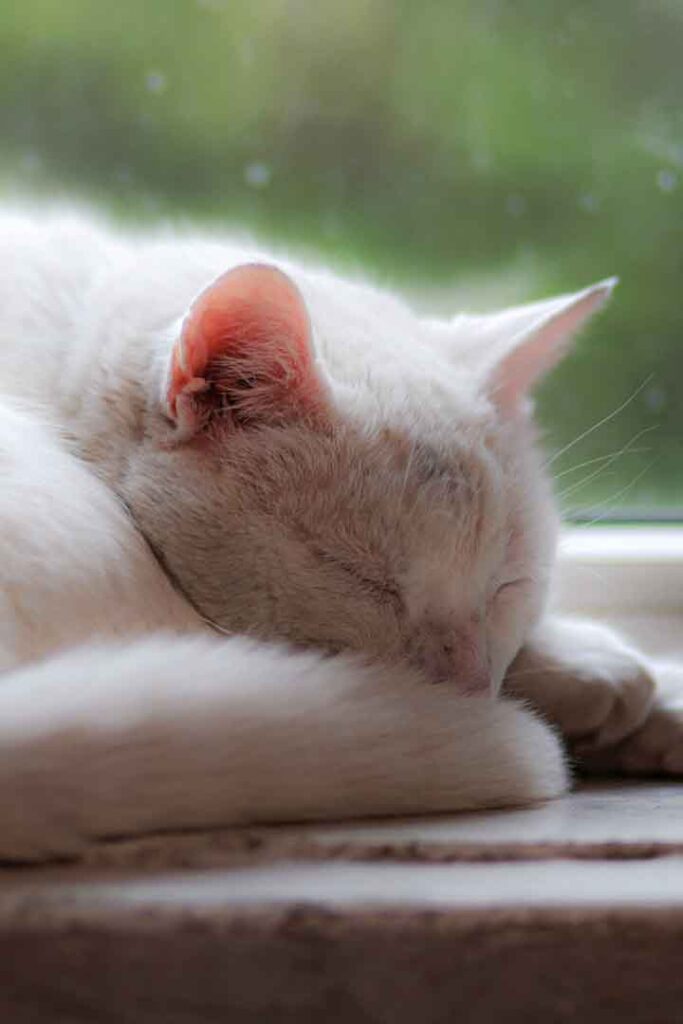 How Does Rain Affect Cats?
We've already considered that rain and the associated noise and temperature can make cats snooze more around your house. But, in addition to sleeping more, cats may also act differently when it rains. They may become more affectionate and clingy than usual, or they might be more irritable and groggy due to the change in barometric pressure.
There's no one-size-fits-all reaction in our feline pets. So, the only way to know how rain will impact your cat's behavior is to observe them during the next shower.
Should I Worry if My Cat Sleeps More When it Rains?
It's natural to be concerned when your cat exhibits a new behavior. After all, lethargy is a common symptom for plenty of health issues. But, you don't necessarily need to panic if your cat is sleeping more on rainy days. As I explained earlier, there are a few harmless explanations for this behavior.
However, it's never a bad idea to observe other behaviors from your cat. If you notice more than one unusual thing – such as a cat suddenly being put off their normal food or reluctance to put pressure on a body part – take your cat to the veterinarian. They'll be able to do a full body check to find any potential issues.
How to Energize My Cat When it's Raining
Some owners are happy to leave their cats to snooze all day when it's raining. But, in some instances, this can lead to an energetic, mischievous cat when you're trying to sleep and the rain has dried up. One way to combat this is to try and help your cat burn off some extra energy through the day when it's raining.
You can try playing a game with your cat. Choose toys that will stimulate their hunting instincts, such as a feather on a string. Or, invest in some interactive games that involve treats to keep your cat occupied.
Do Cats Sleep Through Rain Because it Scares Them?
Most cats are not happy seeing too much water around them, so they may become anxious or scared when it rains. Cats have a hard time staying dry when exposed to rain and may try to avoid it at all costs. Their fur may become waterlogged and heavy, which makes them uncomfortable. Some cats may start hiding under furniture and avoiding the outdoors altogether. This doesn't necessarily mean they're scared of the rain, but they might consider it unpleasant to be in. And, some will be afraid if the rain is accompanied by thunder and lightning.
Thunder Phobia
While cats may not openly show their fear of thunderstorms, they can still be sensitive to loud noises. Which isn't surprising really, as plenty of us humans aren't the biggest fans of them either. The sound of thunder may cause cats to become scared and hide away in a quiet corner.
Cats have very sensitive hearing ability and may become startled by the crash of thunder. To reduce their fear, try to provide a safe and secure place for them to hide during storms, such as a quiet closet or room.
How Do I Calm My Cat When it's Raining?
While cats may not like the rain, there are still ways you can help them feel more comfortable on a wet day. Here are some tips to keep your cat calm during a storm:
1. Provide a Hiding Spot
Make sure your cat has plenty of dens around the house. You can create a cozy nest in a closet or under furniture where they can take shelter from the rain.
2. Create a Comfortable Environment
Ensure your cat has access to plenty of relaxing places to sleep, such as beds or soft blankets. You can also provide toys or treats for them to enjoy while the rain is pouring outside.
3. Play Music
Soothing tones in the background can help calm your cat during a storm. The low notes of classical music or jazz can help chill out or distract from the overwhelming elements. I know it helps me when I'm stressed out!
4. Snuggle Up With Your Cat
Spending some quality time with your cat can be a great way to help them unwind. Cuddling up on the couch and petting your cat may help reduce their anxiety and make them feel safe during a storm.
Do Cats Sleep More When It Rains? Final Thoughts
Cats may sleep more when it rains due to the change in barometric pressure or because they just feel like taking a nap. In addition to sleeping more, cats may also act differently when it rains. They may become scared or anxious, clingy and affectionate, or irritable and groggy.
To help your cat relax during a storm, provide them with a safe and secure hiding spot, create a comfortable environment, play music, and snuggle up with them. Cats also prefer mild weather conditions that provide them with plenty of opportunities to explore and have fun. No matter the weather outside, cats can still enjoy their days by finding ways to stay happy and content indoors. With the right care and attention, cats can have a great time during the rain or shine!
Other Cat Questions Answered
Do cats know how to get home?
Is it okay to give my cat dog food?
What should a 10 month old kitten eat?
Signs a cat doesn't like being picked up