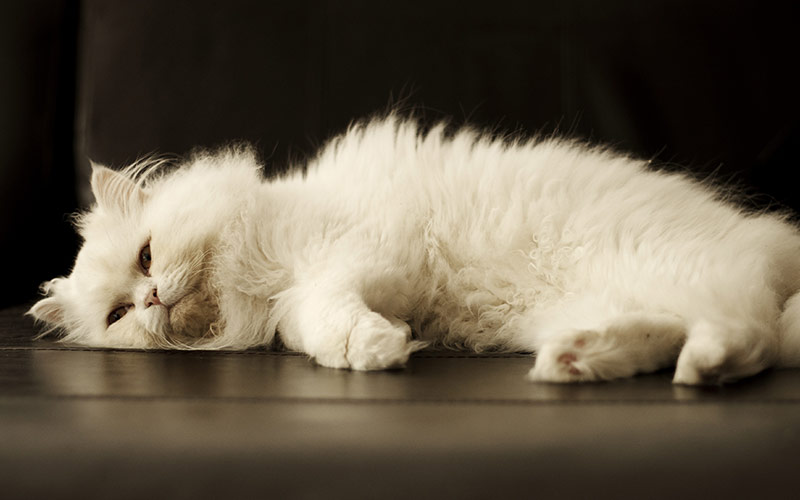 Welcome To Our Fluffiest Cat Breed – Top Ten!
Looking At Ten Amazing Fluffy Kitties, And Giving You Top Tips For Caring For Their Soft Coats.
What is better than picking up your feline companion and feeling your hands sink deep into a sea of plush, soft, fluffy fur?
We can't think of anything, actually! What a great way to start – and end – every day!
If you are currently searching for a feline best friend and "fluffy" is high up on your wish list, you will definitely want to spend some time reading all about these wonderfully furry and fluffy cat breeds!
Fluffy cat breeds
These 10 fluffy cat breeds will have you blissfully drowning in fluffiness – we guarantee it!
Maine Coon cats
What do you get when you cross the biggest cat in the world with one of the fluffiest cat breeds? You get the Maine Coon cat, of course!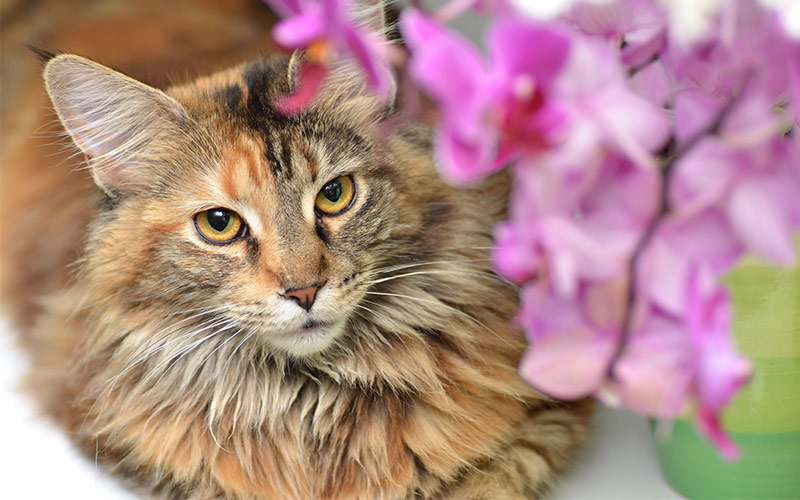 Perhaps this is why the state of Maine wasted no time in declaring the Maine Coon as their official state cat!
The Maine coon coat is quite long and also fluffy.
But since it has an oilier texture that acts sort of like an in-house coat conditioner, this breed isn't as prone to mats as other fluffy cat breeds.
If matting does begin to appear, it is likely because the undercoat is shedding, and you can brush it more frequently to relieve the mats.
Maine Coon's have adorable, outgoing personalities as well as being a top ten contender for the fluffiest cat breed.
With proper maintenance and vet care, a Maine Coon lives on average 11 years.
They make great family pets for owners who spent a lot of time around the house, and are happy to give them plenty of company and interaction.
You can find out more about the Maine Coon cat breed here.
Norwegian Forest cats
The Norwegian Forest cat has collected several nicknames, including Wegie (thankfully pronounced "wee-gee") and Skogkatt (which means "forest cat").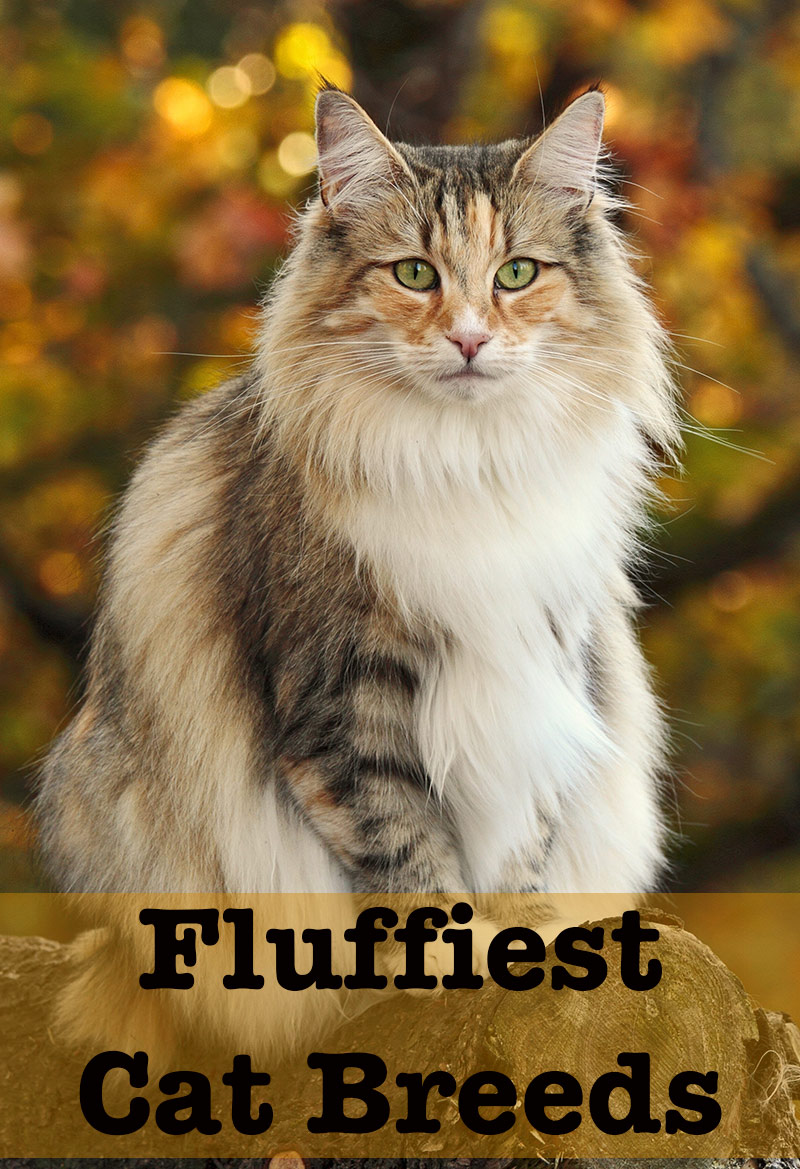 Not surprisingly, this large, smart, strong, native breed cat originally hails from Norway, where King Olaf declared the Wegie the official cat of Norway.
The Norwegian Forest cat's cute fluffy kittens may look like petite palm-sized fur balls, but they won't stay that way for long!
As a certified member of the fluffiest cat breed club, this adorable kitty will need some coat care. But not as much as some.
Most Norwegian Forest cats need no more than a weekly coat grooming and brushing for maintenance.
This will increase to twice per week during the spring shedding season.
Since their coat is naturally water-resistant, you don't need to bathe them often either.
They are low shedding, and you can find out more about hypoallergenic cat breeds here. 
Given proper care and attention a Skogkatt can live 15 years or longer.
Siberian cats
It probably won't surprise you to learn that the Siberian cat is the official cat of Russia.
These wonderfully cute fluffy cats have triple thick coats designed to repel the harsh Russian winters.
They are instantly recognizable as one of the fluffiest cat breeds around.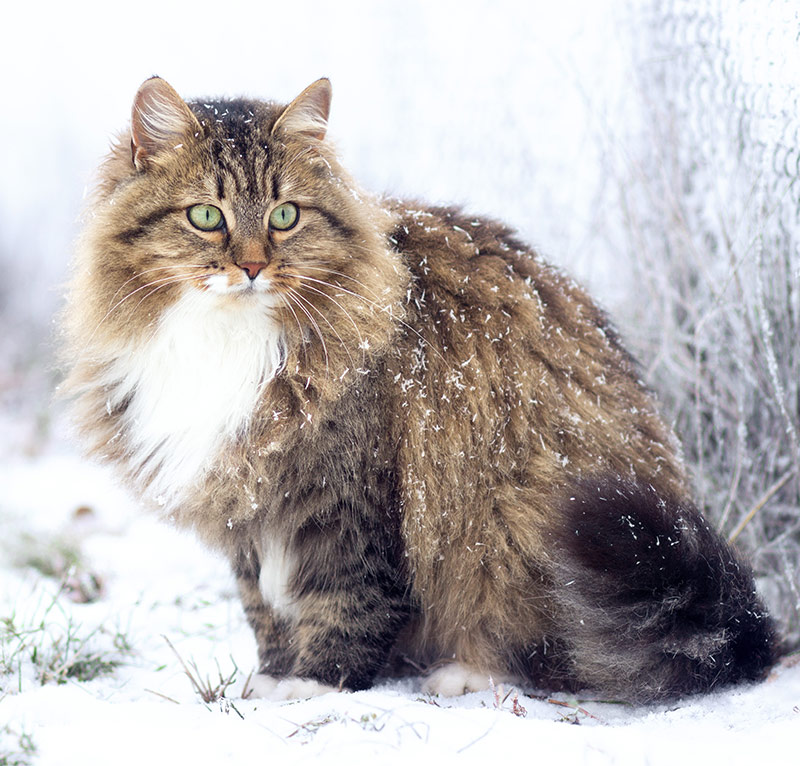 Cat lovers have the end of the Cold War to thank for breeders' ability to bring Siberian cats out of Russia and share them with the rest of the world.
Despite being a relatively new breed throughout the States and in Europe, Siberian cats have a very ancient natural lineage in their home country.
Their coats are water resistant and they have a long fluffy cat tail that this cat sometimes uses as a scarf to warm her head, neck and ears.
The Siberian cat has a few distinctly canine traits, including a natural love of playing in water and a keen interest in games of "fetch."
Despite the long, fluffy coat of the Siberian cat, its water-resistant properties make the fur less prone to tangles and mats.
However, because it is triple thick, you will need to groom and brush your cat at least two to three times per week and more frequently during the summer shedding season.
If you suffer from pet hair problems, you may still be able to have a Siberian cat, as these cats are widely considered to be low shedding.
But it's not quite so straight forward, so make sure you check out our hypoallergenic cats article before you commit to your kitty. Especially if you have allergies.
The calm yet playful Siberian cat can live up to 15 years.
Thinking of getting a Siberian cat? Find out all about them in this complete guide. 
Persian cats
If there were a supermodel of the feline world, this honor would probably go to the Persian cat. With its super-silky fluffy coat and doll-like heart-shaped squished face.
But sadly these often considered cute flattened features, hide some serious health problems.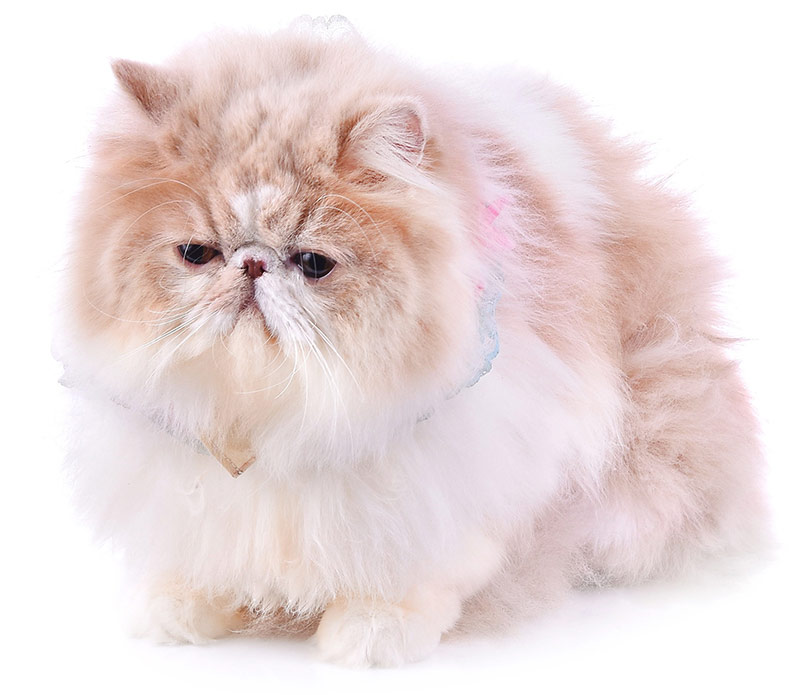 While often thought of as a white fluffy cat or a grey fluffy cat, the Persian cat breed of today can actually display up to 80 different coat colors and patterns.
The Persian cat breed is an ancient natural cat breed that hails from what was first Mesopotamia, then later Persia and now Iran. For this reason, it is sometimes also called the Iranian cat. In Iran, however, the Persian cat is called the Shirazi cat.
Today, there are two sub-breeds of the Persian cat, the Show and the Traditional. The Show Persian has more pronounced features than the Traditional to conform to cat breeding show standards.
Just looking at a Persian cat, it would be easy to assume these are fat fluffy cats, simply because of their layers upon layers of silky fur, soft round faces, big bushy tails, and tendency towards lounging for long periods of time.
In fact, they are widely considered to be the fluffiest cat in the world by many cat lovers! With a well earned place on the top ten fluffiest cat breed list.
Interestingly underneath all that fur, they shouldn't be naturally any heavier than any other cat breed.
Because of the Persian's long, silky, fluffy layers of fur, you will need to be prepared for a lifetime of near-daily grooming, brushing, de-shedding and overall maintenance.
A Persian cat lives on average 14 years, although due to their brachycephaly this time can be uncomfortable for them.
If you are thinking of buying a Persian kitten, please check out this article on the Persian cat. 
Ragdoll cats
Ragdoll cats get their name from their habit of going limp in your lap while being petted.
They quite simply love people, to the point where some consider them more human than feline.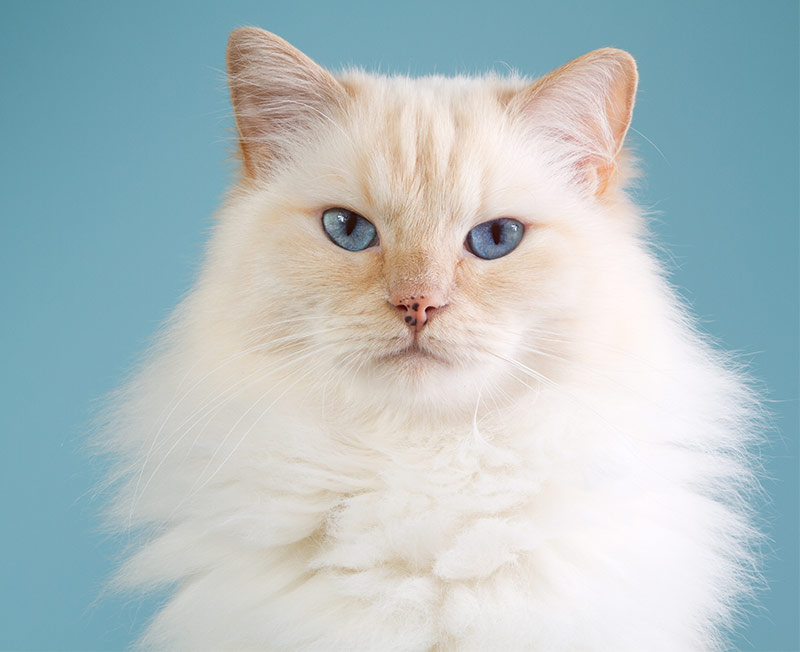 The first Ragdoll cats came out of a cross between a white female longhaired cat and a variety of local male cats until the breeder, Ann Baker, landed on a litter of fluffy kittens with the looks and temperament she wanted.
As one of the fluffiest cat breed picks, these cats are actually semi-longhaired, but this makes their fluffy cat coats stick out even more, which is likely where they got their affectionate nickname, "Ragamuffin cat."
Even with their extra fluffy coats, Ragdoll cats don't need a lot of grooming and brushing, and they shed less than many other fluffy cat breeds.
A sturdy steel comb or brush can help keep tangles and mats at bay.
Sadly this breed has a comparatively shorter lifespan, with an average of just 10 years.
If you are thinking of buying a beautiful Ragdoll kitten, check out this complete guide to this cute contender for the fluffiest cat breed.
Somali cats
This gorgeous fluffy orange cat is actually a longhaired version of the popular Abyssinian cat breed.
It is thought the Somali cat breed first arose in the 20th century when breeders crossed the Abyssinian with local longhaired cats and this triggered a recessive Abyssinian longhaired gene.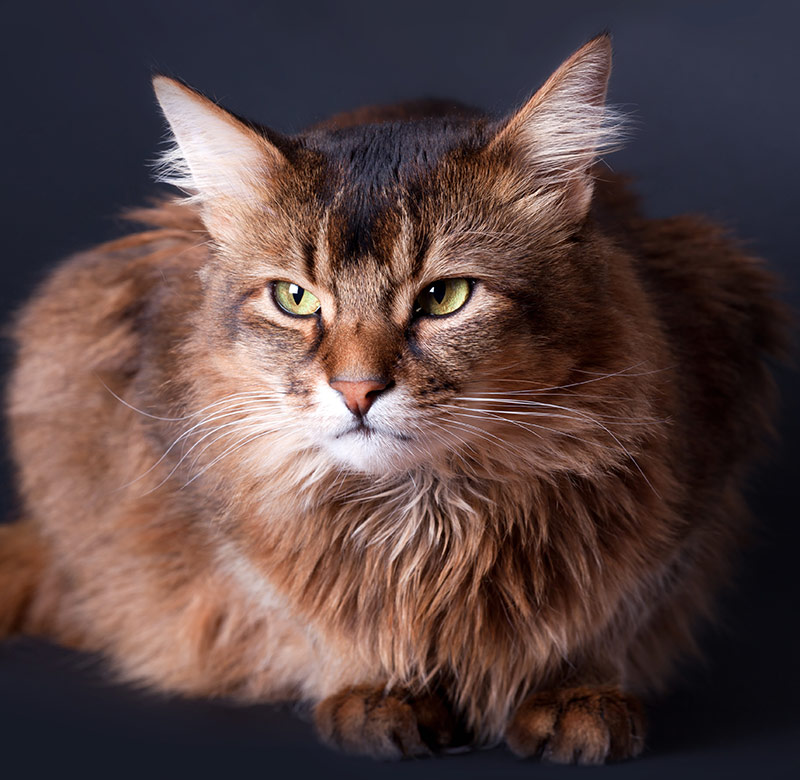 With a bushy coat and equally bushy tail, the Somali has earned the nickname of "fox cat."
Somali cats do need regular brushing and grooming to avoid tangles and mats.
Plan on twice per week brushing with a steel comb or brush throughout the year and up to daily grooming sessions during the spring shedding season.
The Somali cat is energetic, social, active and eager to play, climb and explore. Somalis are smart and very trainable if you want a cat companion who can do tricks.
They excel in homes who have family members around for much of the day, and who are happy to provide lots of games and entertainment.
These cats can live up to 16 years with proper grooming and vet care.
You can find out all about the gorgeous Somali cat in this complete guide. 
Birman cats
The Birman cat has beautiful blue eyes and a soft, fluffy single-layer coat that has earned it the nickname of "The Sacred Cat of Burma."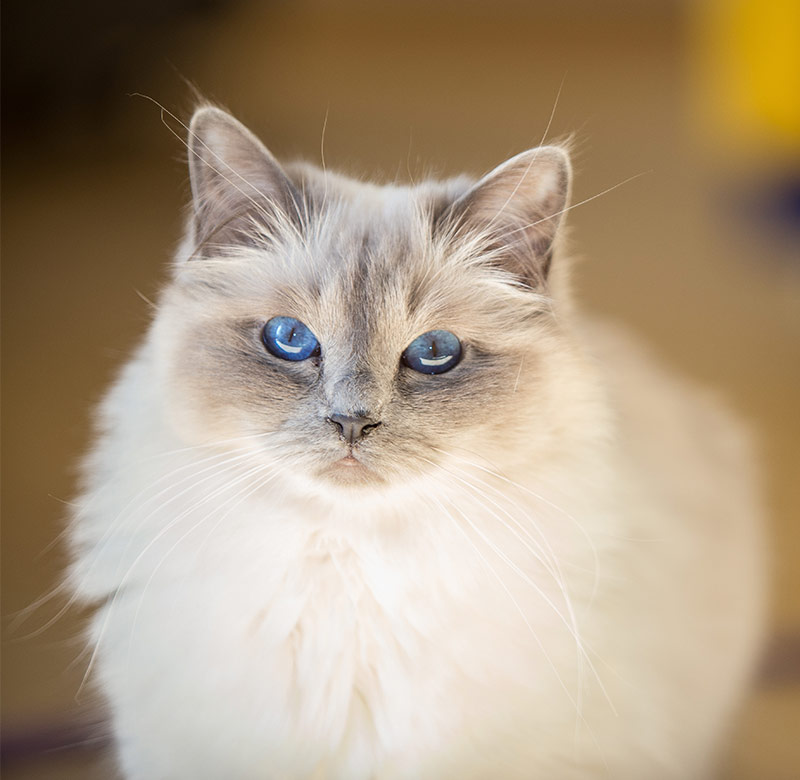 No one is completely sure how this cat breed came to be, although there are many unconfirmed theories!
Birman kittens are born pure white, and then can develop into many different colors and patterns, including a black and white fluffy cat.
Their coat doesn't tend to tangle or mat and doesn't shed much except during the spring shedding season, when you may need to brush or comb your cat daily.
Otherwise, weekly grooming sessions typically suffice for this fluffiest cat breed.
The Birman cat personality is often compared to that of the Siamese, but without all the vocalizing. They make for great family cats and are good with kids and other pets.
These medium-size cats can live up to 16 years with proper at-home and vet care.
You can find out all about the adorable Birman cat breed in this great article.
Siamese cats
Perhaps a bit of a curve-ball, but if you have met and snuggled with a Siamese Cat you will understand.
Because of their long, lean legs and bodies, not all cats in this breed will look like a fluffy Siamese cat, but if you look closely, you will see how plush the short, fine-haired thick coat of your Siamese truly is!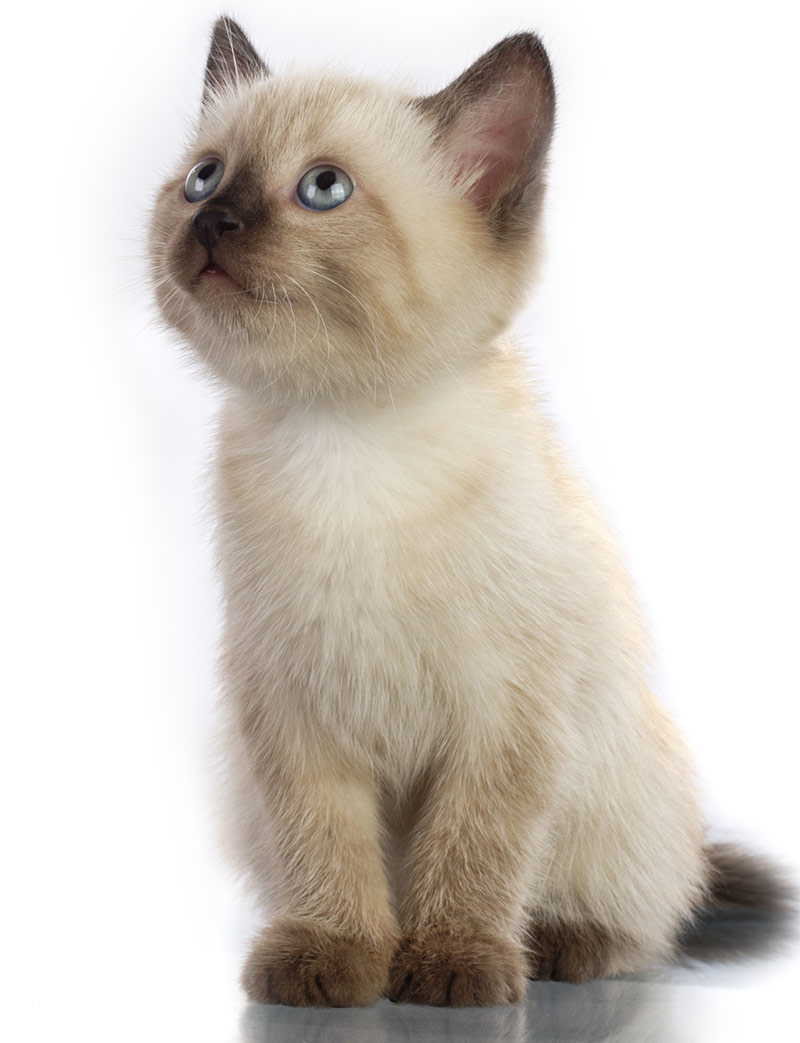 When you push your fingers gently into her coat, she is incredibly soft and fluffy. Despite the short length.
The Siamese cat is a natural breed with a truly ancient history that extends all the way back to the Kingdom of Siam (now Thailand).
Siamese cats are very smart and playful. They are active, vocal, social cats. Their habit of "talking" continually in the form of purrs and meows has earned them the loving nickname of "Meezer" (Sia-mese = meezer).
With good at-home and vet care, your Siamese will live on average around 14 years.
Check out our complete guide to the Siamese cat here.
Exotic Shorthair
The Exotic Shorthair cat has many features of the Persian cat without the intense grooming requirements.
The origins of the Exotic Shorthair extend back just five decades, when a breeder named Carolyn Bussey crossed a Persian with a Burmese cat.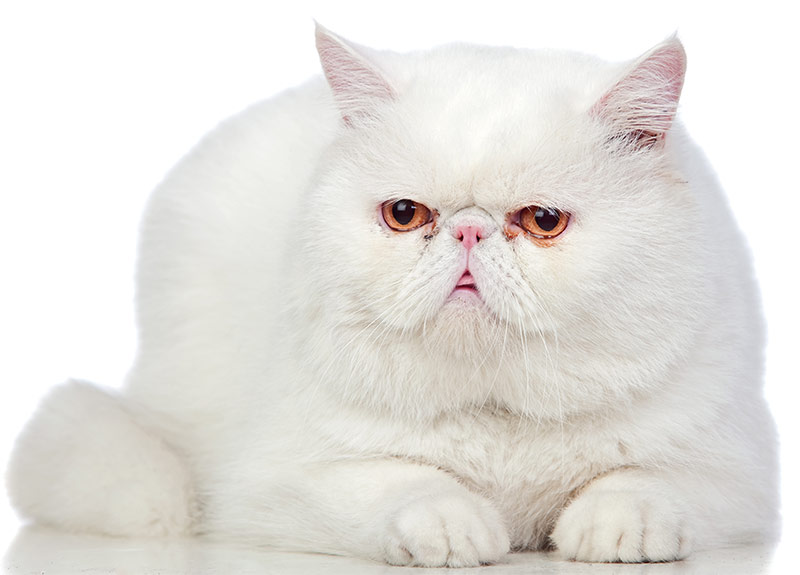 Enthusiasts have described this cat as "round" in all ways, from face to form to feet. In fact, from black to white, tabby to tortoiseshell, and every pattern and color in between, this breed is still characterized more by their Persian-like facial features than any other feature.
For instance, a fluffy black kitten will still grow up to be a fluffy black cat with a pushed-in face, upturned nose and a short, plush and fluffy coat that only requires brushing with a steel comb once or twice per week except during the annual shedding season.
Unfortunately, like the Persian cat, this flat faced kitty comes with a huge host of potential health problems.
If you are thinking of buying an Exotic Shorthair Kitten, then please check out this complete guide first. And pay close attention to the extensive health section.
British Shorthair
Even as a grey fluffy kitten, the British Shorthair cat has the characteristic dense, thick coat. Making it one of the fluffiest cat breed choices around.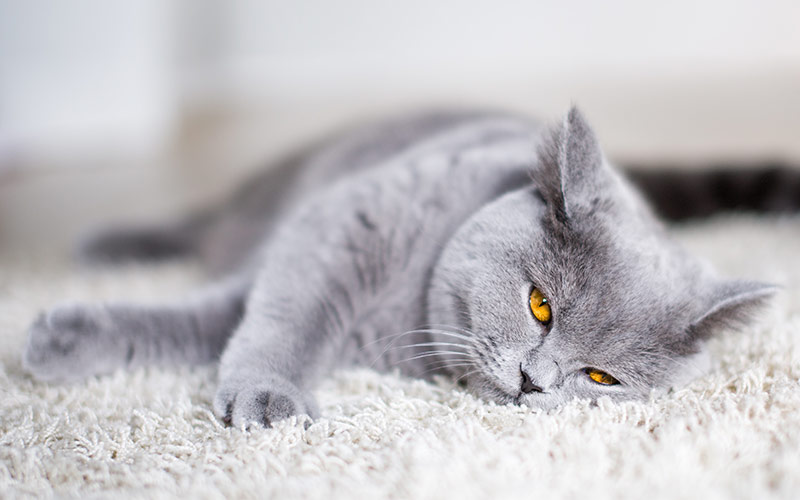 It needs near-daily grooming in the spring and two to three times per week brushing at all other times of year.
This is one of the oldest native English cat breeds, with the typical laid-back, mellow personality and quiet voice.
The British Shorthair cat lives on average around 12 years.
You can find out all about this adorable breed in our complete guide to the British Blue cat.
Fluffy cat grooming
Each of these cat breeds will deliver all the fluff you can handle and then some! But as you will soon learn, they can have very different brushing and grooming needs.
Some fluffy cat breeds, such as the famous Persian, need daily grooming sessions to maintain their silky fur.
Other fluffy cat breeds, like the Norwegian Forest Cat, will only need a weekly grooming session unless they are seasonally shedding.
Stainless steel cat combs or brushes are widely recommended for use with fluffy cat coats.
These are sturdy and hypoallergenic, easy to control and fine-toothed to gently comb or brush through every layer of your cat's fur to remove loose hair, tangles, mats and debris.
Grooming Tools For The Fluffiest Cat Breed
Any of these highly regarded combs or brushes will do the job for you and your fluffy cat!
Furminator deShedding Tool for Cats
This stainless steel Furminator deShedding self-cleaning brush comes in two sizes (small, large) and two styles (short hair, long hair).
It reduces shedding by up to 90 percent.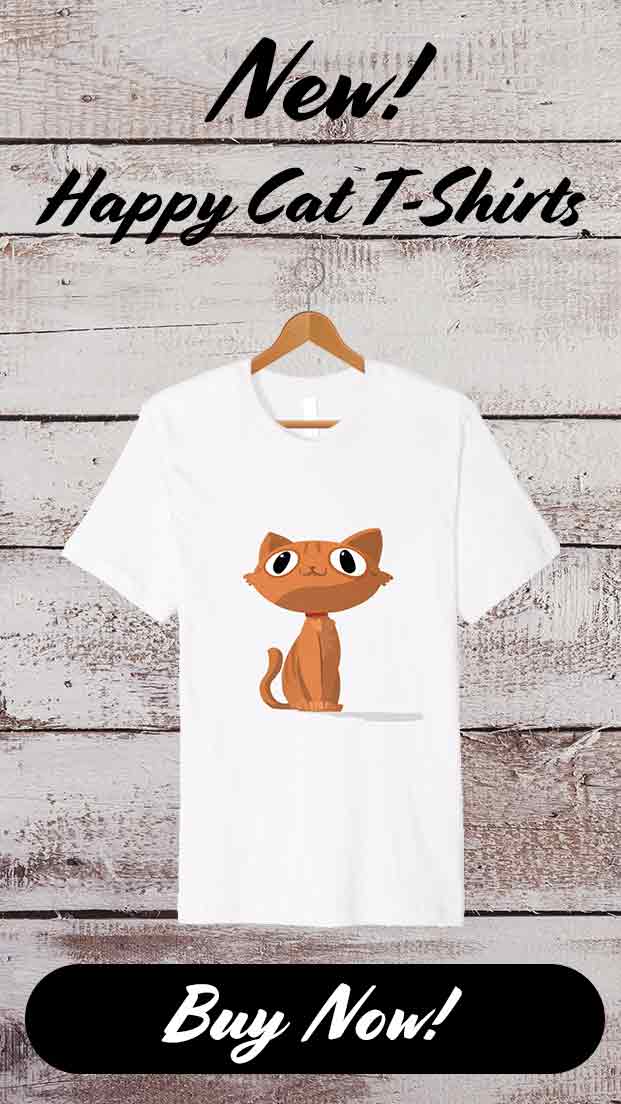 Pet Neat Pet Grooming Brush
This stainless steel Pet Net grooming brush reduces tangles and shedding by up to 95 percent.
The manufacturer offers a lifetime money back satisfaction guarantee.
Hertzko Self Cleaning Slicker Brush
This durable Hertzko Slicker brush features a comfort handle with a no-slip grip and a self-cleaning button that pushes all the hair off the brush for easy clean-up.
It gives your cat a gentle massage while brushing out debris, dirt, mats, tangles and loose hair.
Fluffiest cat breed
We hope you have enjoyed learning about some of the softest and fluffiest cat breeds to care for, cuddle and love!
Which fluffy cat breed is your favorite and why? Share your story in the comments section here!
Resources
Yuill, C., DVM, MSc, CVH, "Grooming and Coat Care for Your Cat," VCA Animal Hospitals, 2010.
Satorina, J., et al, "Do hypoallergenic cats exist? — Determination of major cat allergen Fel d 1 production in normal and hypoallergenic cat breeds," Clinical and Translational Allergy, 2014.
Bukowski, J., DVM, MPH, PhD, et al, "Description and Physical Characteristics of Cats," Merck Veterinary Manual, 2016.
Giron, J., "How to Keep Your Feline Looking Great In Between Grooms," Irvine Veterinary Services, 2015.
Mark, J., "Cats in the Ancient World," Ancient History Encyclopedia, 2012
O'Neil, DG et al 2015. Longevity and mortality of cats attending primary care veterinary practices in England. Journal of Feline Medicine and Surgery.
Free Updates For Cat Lovers!
Our cat care articles, tips and fun facts, delivered to your inbox