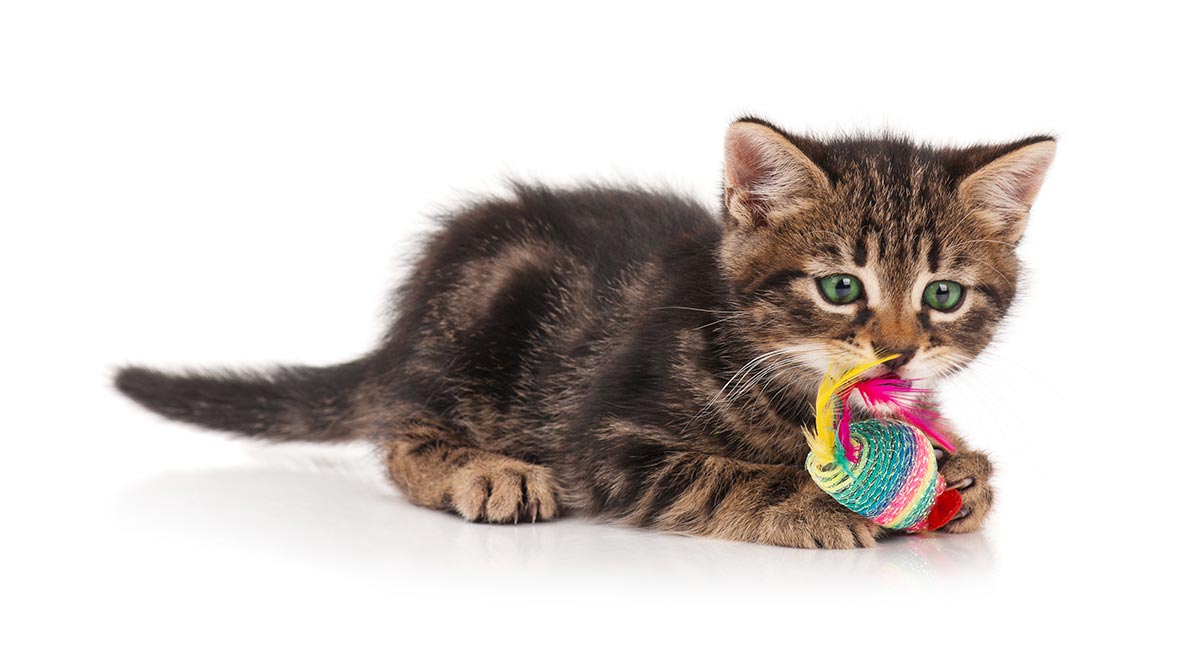 In a world where there's an ever-increasing variety of games for cats to play we might be forgiven for wondering whether they really need them all?
After all, our little darlings are just as likely to turn their noses up at the more-often-than-not expensive toys we've lovingly bought for them as they are to actually play with them.
However, if I were to be asked 'what can we do to make the world a better place for cats?', I would say without hesitation that offering them opportunities to play is one of the most important things we can do for them.
Play helps to keep cats fit and active.
And, by keeping them distracted and stopping them getting bored and frustrated, it can also reduce the opportunity for them to perform undesirable behaviours.
In this article we'll look at what play really means for cats.
We'll cover the type of toys they are more likely to play with, and what we can do to keep our cats' toys interesting.
What Does Play Really Mean for Cats?
Play is an important and instinctive activity for our cats and one which we all love watching.
But what does play really mean for them?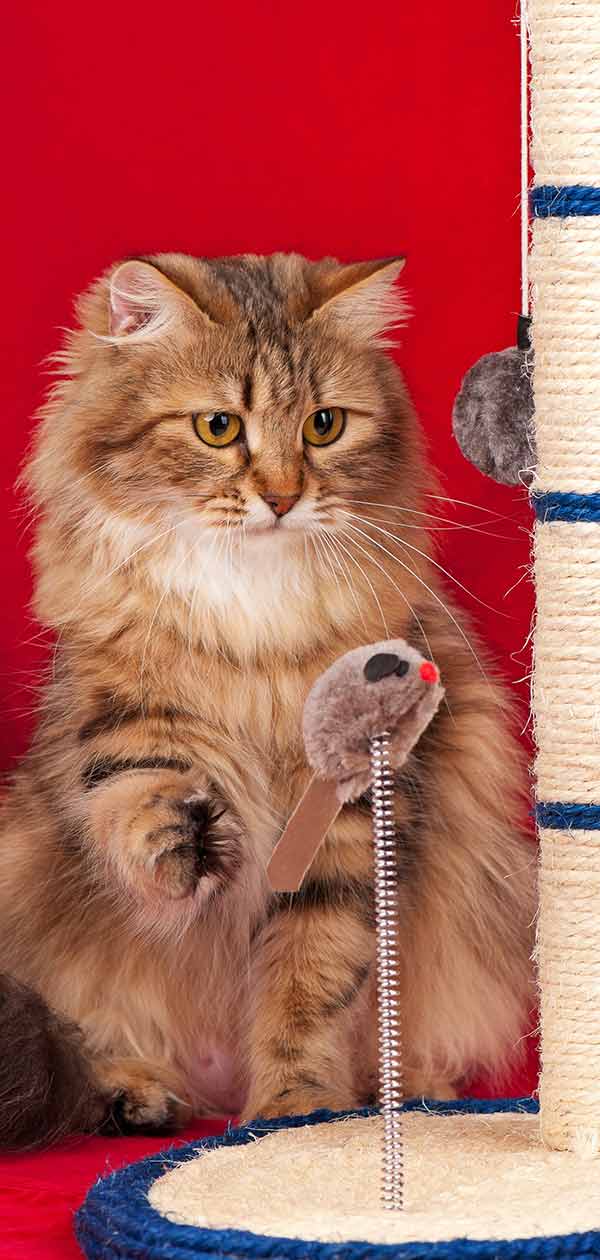 Kittens start to play with objects from around the age of five weeks onwards.
This is the time in kitten development when they need to start getting themselves 'match fit' for their future life as efficient killing machines.
They need to start working their muscles and getting their eye-to -paw movements coordinated.
They also need to practice running and climbing so, when the time comes, they can go out and look for prey.
Learning Through Play, The Feline Way
So, at around this time mum will start bringing live prey back to the nest for them to 'practice on'.
If you were to observe this, you'd see that all the movements they're using on the poor, ill-fated victim, are the same as those they use with the toys we provide them with.
That is, poking, pouncing, chasing, batting them with their paws and tossing them in the air.
Hunting is a very rewarding behaviour for cats and because play is so closely linked to hunting, it's likely to be just as rewarding.
This may be especially true for young cats, those that are naturally more playful and for cats that are kept exclusively indoors.
In fact, play can be as powerful a reward for cats as food!
The Benefits Of Games For Cats To Play
Not only does play help kittens develop their hunting skills, but it also provides stimulation for indoor cats and is a fantastic way of preventing boredom.
For timid cats it's the best way to challenge the brain, release tension in the body and raise their mood.
And let's not forget our elderly cats.
Gentle, regular play over short periods can help with any tendencies for them to gain weight, increase cognitive function and give them a better quality of life.
So now we understand the benefits that play can bring to our feline family members, let's take a look at the different types of games for cats to play.
Games For Cats To Play
So, what makes a good cat toy?
Well, there's no easy answer as each cat usually has his own preference – some like jumping up at dangly feathers others prefer chasing balls
Others like nothing better than rolling around with something smelly, like catnip.
This means that buying our cat a brand-new toy (which let's face it, we're usually more excited about than they are!) can be a lottery.
Perhaps then it's just as well there's a vast array of toys available for us to choose from.
These can range from toys that replicate a cat's natural predatory instincts, to those that satisfy their sophisticated sense of smell, to those they can simply watch!
Let's first take a look at interactive games that we can play with our cats.
Games to Play With Your Cat
Playing interactively with cats can be as much fun for us as it is for them, especially if the emphasis is on predatory games using toys that they can chase.
The best examples I've found are wand toys (also called fishing rod toys) that have something furry or feathered attached to the end of a length of cord or elastic.
The cord in turn is attached to a wand that is held by the owner – there are some great examples in this article.
These can be moved around to simulate the type of toy attached.
If it's a mouse you might want to move it in a straight line along the floor, whereas those with feathered attachments can be made to fly!
These toys allow your cat to chase, jump and pounce without your hands becoming collateral damage.
However, you needn't necessarily buy a toy, a length of thick shoelace with a feather tied to the end can do just as well.
Knotting the shoelace along its length also gives the cats something to chew!
To avoid cats getting caught up in strings, laces and elastic always remember to put wand toys securely away when the play session is over.
Laser Games For Cats
Also available are laser games for cats.
These come in the form of small pens that emit a dot of red light for cats to chase.
A word of caution though, because there's nothing actually there for cats to get their paws on, these toys can cause frustration.
So, I would advise using them for just a minute or two at a time.
And always have another small toy or treat in your hand that you can throw to allow your cat to capture, bite and complete the kill!
Now let's take a look at the games for cats to play that don't necessarily require our presence.
Solo Kitty Games For Cats
Although our cats might think that we live to keep them amused 24/7, like it or not, most of us have to work.
And this can mean leaving them on their own for hours on end, and not only during the day.
Most of us humans sleep at night, unlike our cats, some of whom make it their mission to wake us up, assuming we'll want to play just because they do.
So, for times when providing interactive play with our cats isn't possible, there are a number of different types of toy we can leave for them to help keep them challenged and stimulated.
#1 Fragrant Toys
These make the most of the cat's highly evolved sense of smell and usually come in the form of catnip.
Catnip contains an compound called nepetalactone and this is what cats respond to.
You might see them rolling around, licking and cheek-rubbing the toys or even running and jumping around.
But what goes up must come down and such heady sessions are usually followed by a nice nap.
Not all cats are interested in catnip, in fact whether or not they are, is something that is genetically determined.
For these cats other naturally scented toys are available such as those containing valerian and silver vine.
#2 App Controlled Toys
These are toys that can be operated by an app on your smartphone, wherever you happen to be.
However, the market for these is still its infancy and appears to consist mainly of laser-based games.
As already mentioned, lasers work best when some form of tangible reward is available for cats to physically catch which usually requires us to be on hand.
However, there is a product I've come across which not only allows us to remotely monitor our cats' activities, but it also incorporates a laser light game and dispenses treats.
It's called the Pawbo Life Wi-Fi Pet Camera.
I've tested this product and can personally recommend it although I'm sure there are others that do a similar job.
Or you might even be tempted by some of the motion activated cat toys on the market.
We've reviewed more excellent toys for cats home alone over here.
Low Cost Kitty Games For Cats
Sophisticated products such as these can be expensive, but there are some more low-cost ways to keep our cats' idle paws busy when we're not at home.
Leaving different sized cardboard boxes or paper bags (handles removed) with treats, a toy or pinch of catnip inside can make exploring fun!
We've written more about low-cost and no-cost cat toys right here.
Another great idea is to leave cat biscuits or treats around the house for cats to forage for.
They can be left directly on surfaces or, for extra challenge, they can be placed in containers such as egg cartons, yoghurt pots, loosely wrapped in greaseproof paper or concealed in specially designed toys.
Don't forget to incorporate these treats into your cat's daily allowance of food.
Computer Kitten Games For Cats
I've also discovered, or should I say my cat Billy has discovered, a new breed of kitty games for cats to play.
Although not great for exercise, there are now a number of video games especially created for cats.
Sometimes called kitten games for cats or bird games for cats, these videos have images of birds, mice, pieces of string, fish etc.
The "bait" moves around the screen and darts on and off the sides.
Other videos are available which simply feature wild birds and mammals scurrying and fluttering outdoors.
Again, bear in mind that your cat might find these a tad frustrating, so if you're going to leave one playing for your cat, choose one of the shorter videos.
Tips for Keeping your Cat Interested in Toys
Here's a top tip to avoid spending more money than necessary on an ever-increasing stockpile of toys,
Keep all toys locked away in a sealed plastic bag containing a mixture of catnip and valerian leaves.
Then, rotate the toys by selecting one or two each day for kitty to play with.
No matter how much clawing and biting takes place some cats toys remain completely intact.
For our cats this might mean that either this particular prey is proving to be difficult to subdue, or that it wasn't a meal in the first place.
Toys that disintegrate, or that are taken away and look different when they come back might encourage a cat to persist with it.
When cats are hungry their hunting instincts are enhanced, so try offering them toys when they are waiting for a meal.
They might just show more interest and play more intensely!
The Importance Of Games For Cats To Play
Play provides our cats with an outlet for mental and physical energy and is an integral contributor to their health and well-being.
The fact that play is linked to hunting means that it may be possible to satisfy our cats' predatory instincts simply by playing with them.
When playing interactively with your cat play in short bursts up to a maximum of 5 minutes.
However, if your cat wants to keep going, let him.
So let the games begin!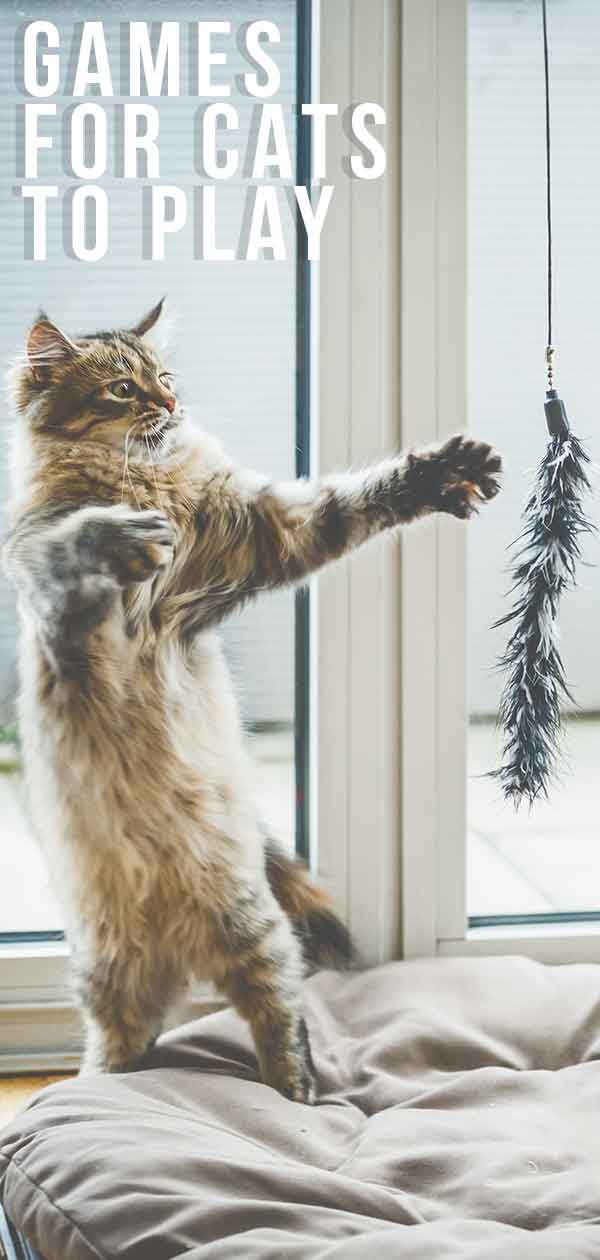 Which Games Does Your Cat Love To Play?
Which games spark your cat's enthusiasm, and which leave him flat?
Does he have any unusual games that he just can't get enough of?
Inspire us with your antics using the comments box below!
Clare Hemington is a cat behaviorist with over a decade of experience in the UK, holds a Cat Behaviourist accreditation with Distinction through the Centre of Applied Pet Ethology, and is an Associate member of the Coape Association of Applied Pet Behaviourists and Trainers.