Monday 31st October : Billy is nine weeks and six days old
We had a better 'togetherness' session with my bouncy young Lab Rachael. Today I had her in the kitchen off leash together with Billy.
And she was okay. A little pushy still, prodding him with her nose, but he stands his ground, which is perfect.
I am hopeful now that her intentions are basically friendly, but rather like a well intentioned toddler I think she regards Billy as more of a toy than a 'person'.
As a result I am not yet confident that she won't make a 'grab' for him, and I am mindful of my obligation to protect him from her exuberance.
I did some clicker training with Rachael, while Billy sat and watched on one of the kitchen chairs, and she was calm enough this time to ignore him and engage with me properly
At the moment, if he ran, I think she might chase and 'bounce' him, so I will continue to supervise, and reward her for ignoring him, until he is a little bigger and stronger.
Relaxing by the fire
We have an open fire in our living room which we light in the evenings. I have been watching Billy closely to make sure he doesn't take a flying leap into the flames!
Fortunately, like most cats, he seems to have a natural and healthy respect for fire and anything that is very hot.
Which is good because while nursery fireguards are great for toddlers and dogs, I don't possess, and have never come across, a fireguard that would keep out a determined cat.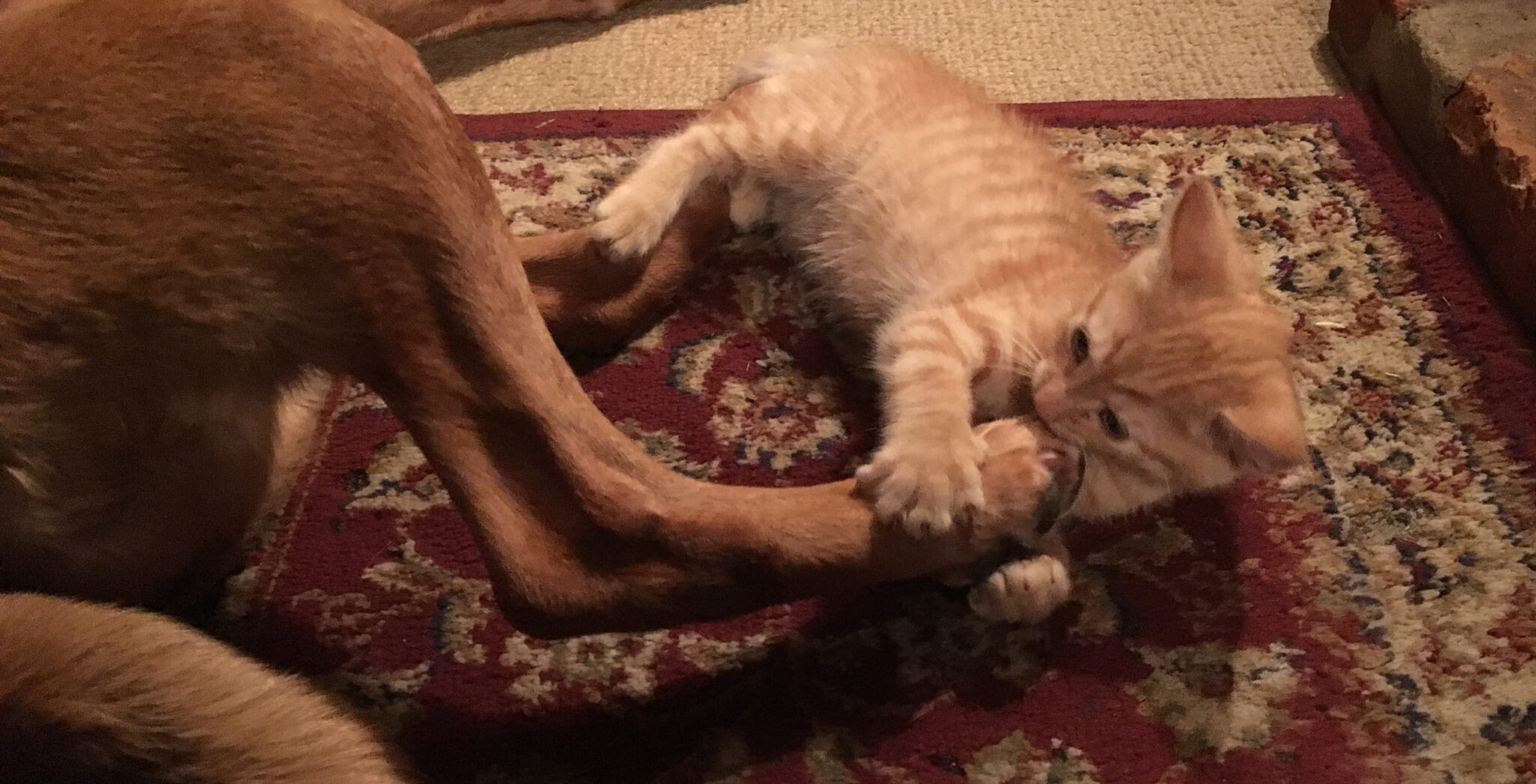 Here he is, testing gentle Tess's patience to the limit!
Watching the birds
Billy loves the living room. In the daytime he like to sit on the windowsill and watch the birds in the garden.
And he enjoys settling down for a nap in the evenings draping himself across anyone who happens to be sitting on the sofa.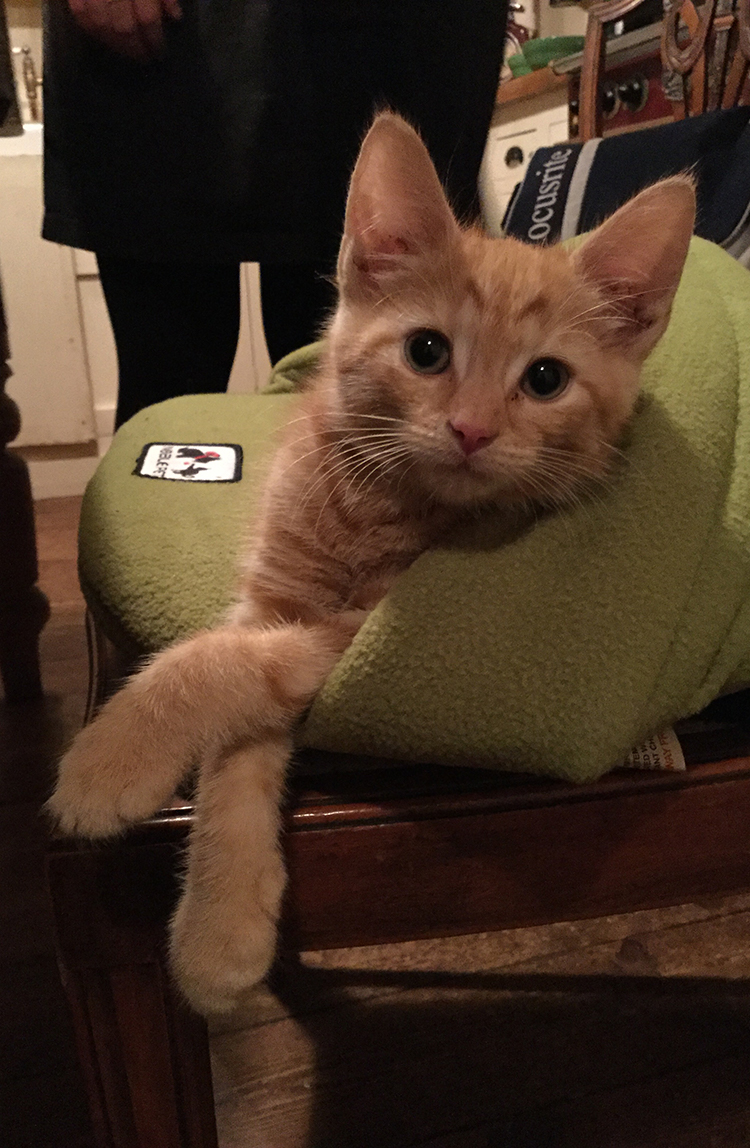 And when we gather in the kitchen and are thoughtless enough to stand about so that he can't sit on us, he likes to chill in his kitten cave
Billy will be ten weeks old tomorrow, Toilet training has gone remarkably well and Billy has not had a single accident in the two weeks he has been with us.
Today I set up a second litter tray in our bathroom and opened the bathroom door for him to explore. Which he thoroughly enjoyed doing!
He also climbed in the litter tray before I tipped up the hinged front end, which is great.  I'm really pleased to see he wasn't put off by the lid.
I would like to have proper lids with door flaps on both litter trays eventually but didn't want to risk putting him off using them by from the start.
Bathroom safety for kittens!
There's a notice on the bathroom door reminding people to keep the toilet lid closed as I was initially frightened that Billy might drown if he fell in.
He has grown quite a bit in the last two weeks and is much stronger so I feel pretty confident that if a bad human were to leave the lid up, and Billy did fall in the toilet, he would be able to jump out quite easily.
Having said that, if I leave Billy alone in the house, I'll make sure that the bathroom door is closed. At least for a few more weeks.
Eventually, I want to remove the litter tray from my office and have Billy just use the one in the bathroom. But we'll take that slowly
Robot games
A new game for Billy is stalking my robot vacuum cleaner as it does the rounds of the house.
He is not exactly scared of it. But treats it with a little respect, keeping what he considers to be a safe distance.
Following it around and preparing ambushes for it keep him amused for at least half an hour.
Table rules
There seems to be very little that scares Billy, he's an extremely bold and confident little thing.  And very determined.
We are currently engaged in a battle of wills over the kitchen table.
Every time Billy gets on it, I lift him down. This goes on many times until he gets bored and stops trying. Or until I leave the room.
Usually he follows me, but sometimes…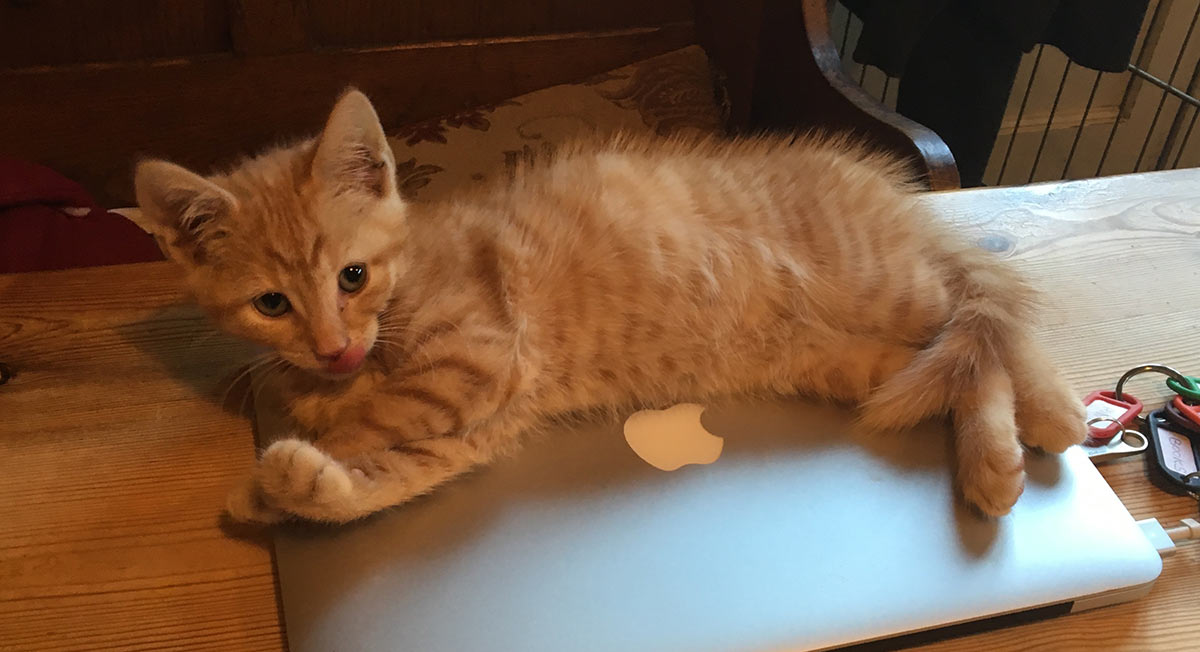 And sometimes, when I tire of the challenge, I throw some kitten kibble on my office floor and shut Billy in there with it for ten minutes, so I can eat my meal in peace!
But I will win, I promise!
Continue reading Billy's Blog..
Free Updates For Cat Lovers!
Our cat care articles, tips and fun facts, delivered to your inbox