Am I allergic to my new kitten?
There is a question I never thought i'd ask myself before he arrived home…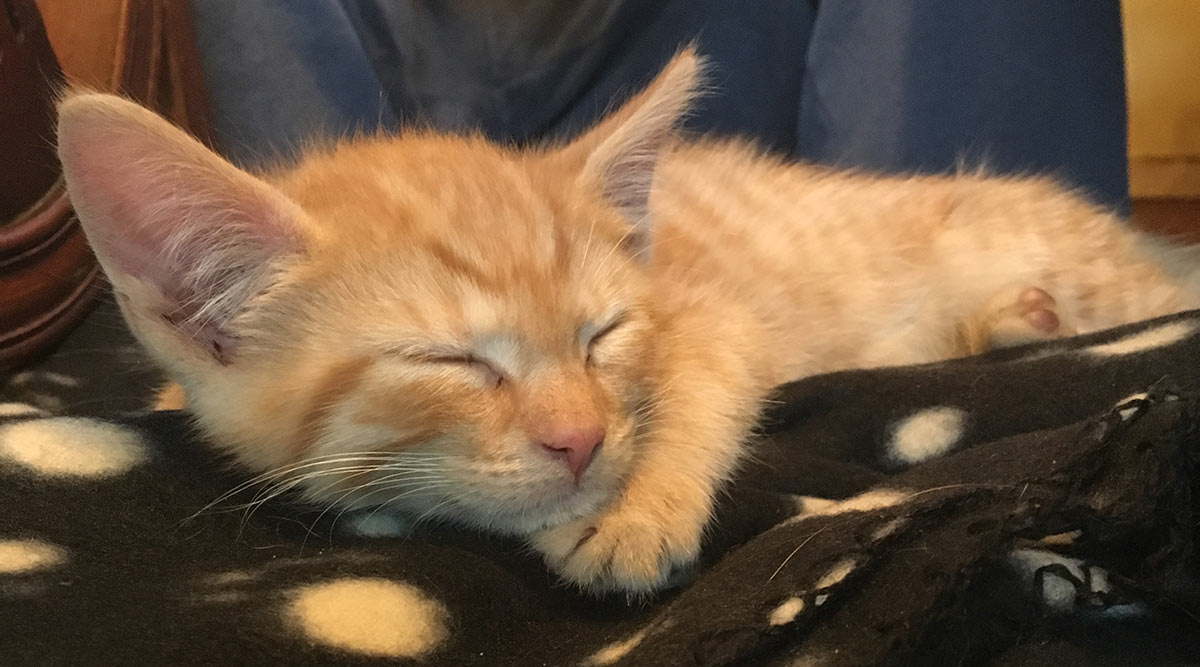 Wednesday
On Billy's third day in our home, and I woke early in the dark, with a feeling that something was not right.
A visit to the bathroom mirror confirmed my suspicions
Staring right back at me, balanced on the top of my neck, was a giant marshmallow with slits for eyes.
Above and below my eyes were big balloons of swollen flesh.
Not good. Not good at all!
And to make things more interesting, the rest of me was covered in large pink welts.
I had a fairly striking case of urticaria (hives) together with some fairly dramatic angioedema.
It would appear that I was having some kind of allergic reaction. But to what?
Am I allergic to my new kitten?
By 6 am, my husband had let Billy out of his crate and set off to the local supermarket in search of antihistamines.
While I waited for a fix, my mind was working overtime.
Am I allergic to my new kitten?
Surely, surely I couldn't be allergic to Billy… Could I?
No, of course not. I grew up with a cat.
And apart from the last couple of years, we have had a cat for virtually all of my adult life.
Then I remembered. Last night, just before I went to bed, I had emptied the filter on the vacuum cleaner.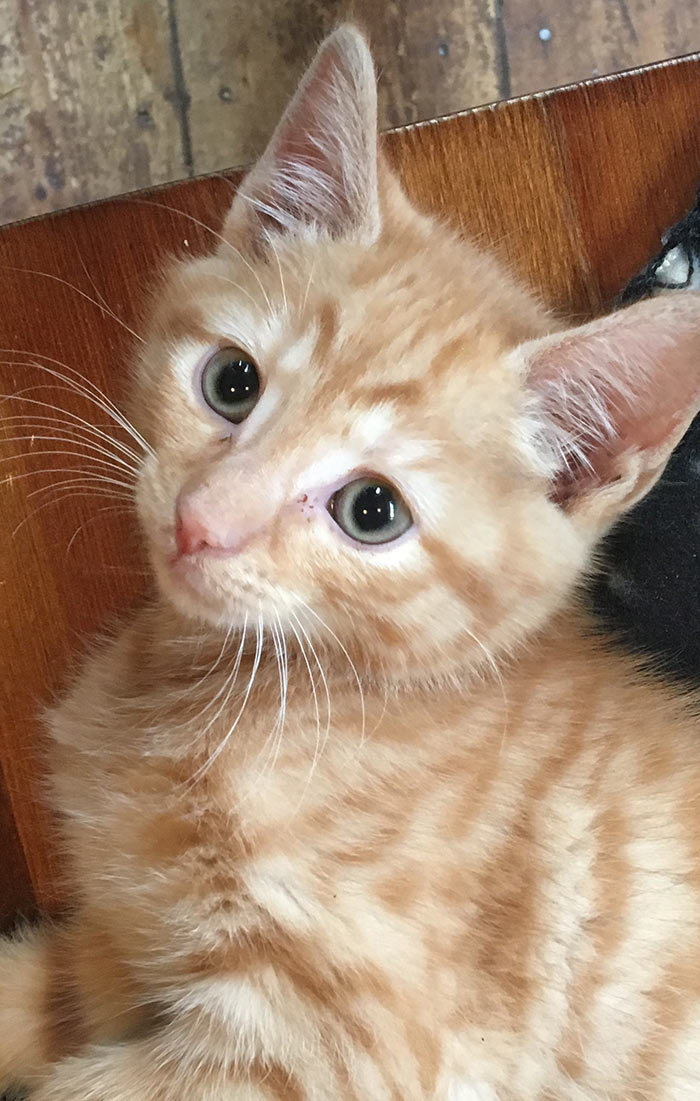 I had pulled a load of dust and dog hair out of the filter with my hands, while himself chided me for not wearing rubber gloves.
(I HATE rubber gloves).
Thinking about it, my hands did itch a little afterwards…
That would be it then! Not Billy at all. Phew.
Denial?
But, but, I've handled plenty of dirty dusty vacuum cleaner filters with bare hands before, so maybe not…
However, we had cod for supper. Fish can cause allergies. Perhaps it was the fish!
Round and round in circles went my brain.
Always coming back to the same question. Am I allergic to my new kitten…
The antihistamines kick in
I took an antihistamine tablet as soon as my husband returned, and by lunch time the swelling was a lot better.
Just as a precaution I let everyone else cuddle Billy for the rest of the day.
I also tried to keep him away from my face, and washed my hands after touching him.
Hives usually go away quite quickly, and as the day progressed I became more hopeful.
Optimistic that this attack of hives was just an isolated event and probably nothing to do with Billy at all.
Today also brought a development that was much more important than my puffy face, Billy was starting to react to noises.
Making friends with Tess
Billy's confidence seems to grow by the minute, and early this morning he ventured into the kitchen with our Labrador Tess for the first time.
By lunch time he was bold enough to launch an attack on her waving tail tip, and to take a nap in the basket by the kitchen radiator, without freaking out when she peered in at him.
All in all, Billy had a good third day.
Trying to be positive, and ignore the strange burning sensation in my hands that evening, I put Billy into bed in his crate at 10pm and climbed the stairs to bed.
Kitten Day Four
20th October – New kitten day 4. Billy is eight weeks and two days old today!
The burning sensation I had ignored at bedtime yesterday woke me soon after 2 am as the urticaria intensified and covered me with huge welts again.
Billy was pleased to see us up early again and was more adorable than ever.
Oblivious to the trouble that he might be causing, Billy entertained himself playing with a toy on the kitchen floor.
We drank coffee and waited for the rest of the world to wake up.
The facial swelling wasn't quite as bad this time.
This wasn't surprising considering the fact that I was stuffed full of antihistamines, but it was all around my mouth now.
And a bit too close to my airway for my liking.
My family were getting really worried. It was time to get some medical help
I phoned a local allergy clinic only to discover that the specialist who ran sessions at all the local centers was on holiday.
It would be three weeks before anyone could see me.
Three weeks!
I decided that I would either be recovered or have lost the will to live in three weeks, and made an appointment to see my local doctor.
He took one look at me and wrote me out a prescription for steroids with instructions to take more antihistamines.
Pointing the finger at Billy
Obviously he couldn't tell me for certain what was causing my problem, but the doctor seemed very confident of the likely culprit.
"It's your cat", he said, "but don't get rid of him just yet. Some people get over it."
The doctor's plan is for the steroids to stamp out my over enthusiastic immune response and give my body chance to get accustomed to having a cat in the house again.
His statement that 'some people get over it' overshadowed by his emphasis on the words 'just yet' and 'some'.
He didn't beat about the bush though. The chances of me and Billy walking into the sunset together were beginning to look dim.
I went home to my kitten with a heavy heart.
And began to research ways that someone with a cat allergy might be able to carry on living with a cat.
Billy and Tess
Billy meanwhile has had a lot of fun today. He is much more comfortable around Tess.
Our kitten hasn't arched his back at her and has tolerated her doggy enthusiasm for saying hello with a bum sniff, and for bumping his face with her wet nose.
He mostly has the sense to stay out from under her paws when she is trotting around, and she has only tripped over him once.
She seems to like him, and I think perhaps they are going to be friends.
I'm going to give it at least another day though, before I introduce him to the bouncier dogs.
Litter training our 8 week old kitten
Billy is doing amazingly well with his litter tray. It is in my office, with the office door open, and a baby gate across to keep the dogs out.
Billy has the run of all the rooms with wooden floors, office, kitchen, and hall PLUS the stairs and landing.
And spends most of his time in the kitchen.
We are keeping bedroom and bathroom doors closed for now.
So far Billy has found his way to his litter tray without fail, every time.
Obviously that success depends in part on Billy's ability to orientate himself in the house.
That's one of the reasons we are limiting the number of rooms he has access to initially.
Because of my suspected cat allergy, I'll keep Billy out of my bedroom for now.
Tomorrow I may let him into the first of the two downstairs carpeted rooms for a short explore, and to help him get his bearings.
Socialising our kitten
Visitors have called to see Billy today too, and he charmed them with his friendly greeting and loud purr.
The window for socialisation closes much earlier in cats than it does in dogs, but a little extra socialisation after that point does no harm.
And Billy just loves to meet and cuddle with new people.
What happens next?
I may have to "get rid of Billy" at some point, the doctor had implied this morning.
The truth is, I really don't want to think about that. Tiny Billy has already pressed his ginger pawprints firmly into my heart.
"Some people get over it" the doctor had said. And I am holding on to that thought.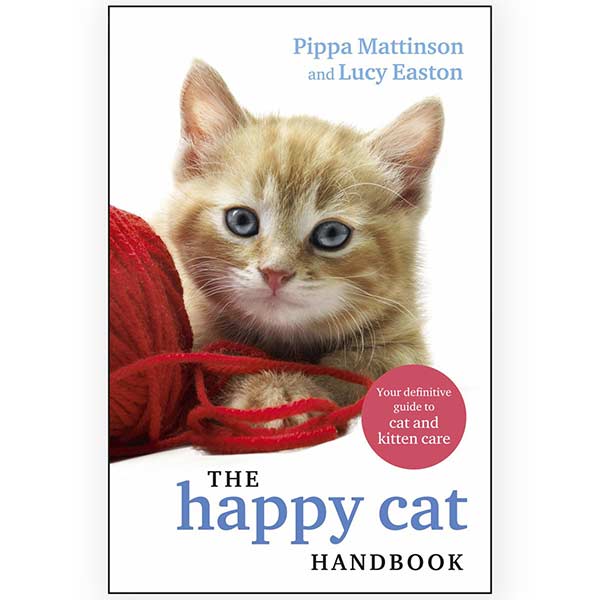 I will be one of those people who get acclimatised to having a cat in the house again.
And Billy and I will stay together. That is today's decision.
Continue reading Billy's Blog…
Was I Allergic To My Kitten? An Update!
It is now four years since I first wrote this entry. For those of you who want to know how the story ended – the allergy was the dust.
I was not allergic to my new kitten!
Billy continues to be a wonderful companion and fabulous part of the family. And I have been happily hive free for a long time!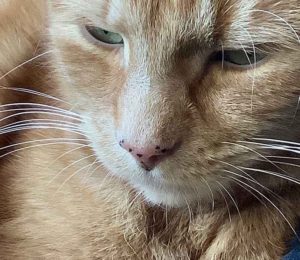 Free Updates For Cat Lovers!
Our cat care articles, tips and fun facts, delivered to your inbox
Your Amazing Cat!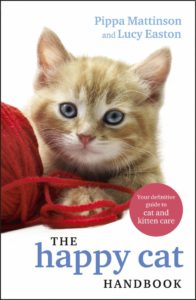 We are so excited to share our new book with you!
If you have enjoyed your visit to The Happy Cat Site we think you'll love The Happy Cat Handbook.
Written by the founders of this website including the author of the hugely successful Happy Puppy Handbook, it's packed with cat care information and fascinating cat facts.
Grab your copy today!
Free Updates For Cat Lovers!
Our cat care articles, tips and fun facts, delivered to your inbox