3rd November. Billy is ten weeks and two days old.
Today is vaccination day. And I have not been looking forward to it
Vaccinations are incredibly safe and serious side effects are very rare.
But there's always the worry, in the back of my mind, when vaccinating baby animals, that this little animal will be the exception to the rule.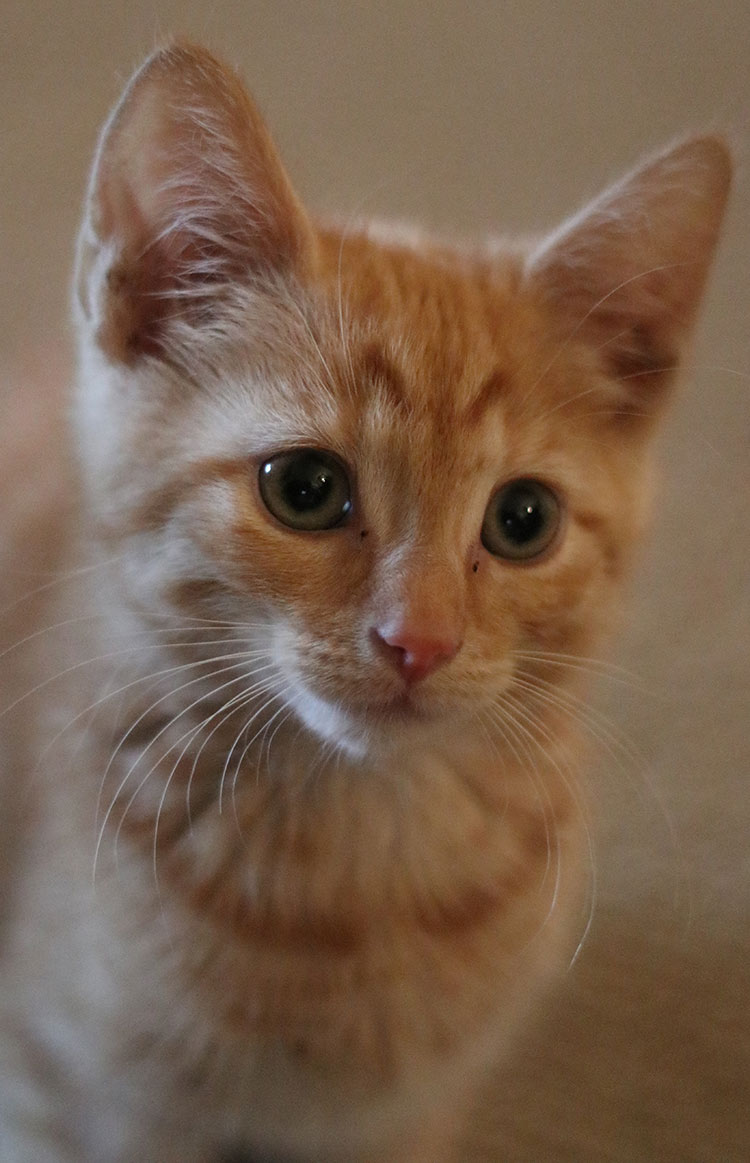 It's the right thing to do though. I've no doubt about that. Especially as Billy will probably be allowed outside at some point.
It's only a ten minute walk to the surgery but to minimise the time Billy has to spend in his crate, and to avoid the stress of carting him through the village, with traffic and all the other strange sights, I decided to drive there today
Off to the vet
Our appointment was at ten o'clock. I left it as late as possible to put Billy in his crate. Here he is, ready and waiting to go.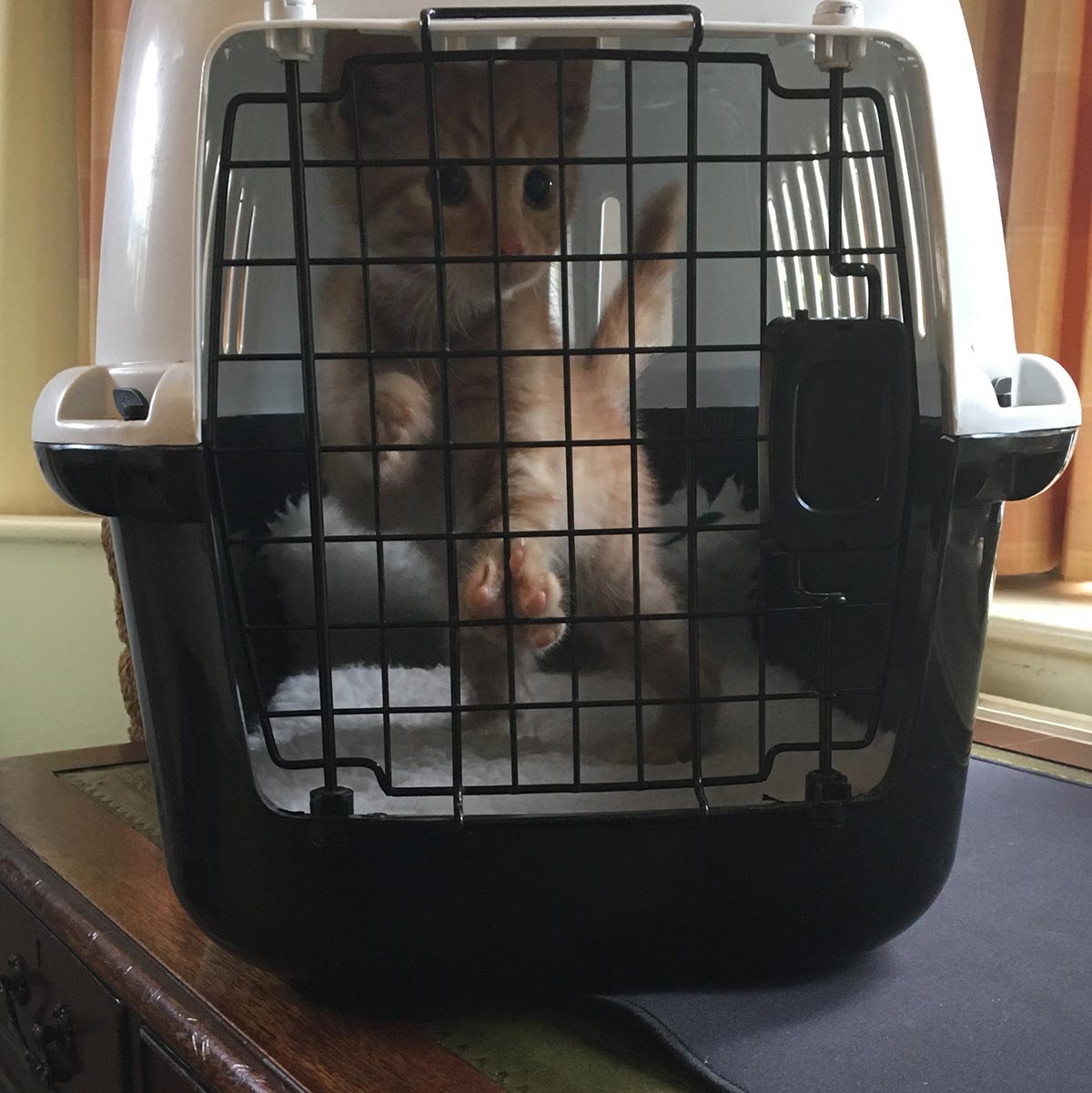 Billy loves his carry crate, or at least he did! He still sleeps in it every night – and all I have to do to get him in there is place a few bits of kibble inside.
I hope today hasn't put him off!
The only time Billy has been in a car was when we bought him home two weeks ago. So being put in a car today must have been stressful for him.
He seemed very calm though, and didn't make any noise at all on the short journey to the other side of the village
In the waiting room
We had quite a long wait at the surgery but Billy was very patient in his crate, mostly sitting quietly and looking around, and occasionally patting at my hand through the bars.
He was much admired by the receptionist and watched a nice young springer spaniel trot about the waiting room with interest
Billy was charming and friendly to the vet, patiently putting up with having his heart listened to and ears inspected, but gave a piercing cry when the vaccination needle went in. Ouch!
Billy's ears and hearing
I was keen for the vet to look in Billy's ears as the ear canals were lookng a bit grubby.
With his apparently poor hearing when we first brought him home, I wanted to rule out any kind of infection.
Fortunately, while he may have had a problem at  some point, there was nothing wrong with his ears now.  Which was a relief.
It is possible that he had had ear mites at some stages, and that those had been cleared up the the Advocate I gave him when I treated him for fleas when he first arrived.  The main thing is, he's fine now.
When to microchip a kitten
I talked to the vet about microchipping and as Billy is still so small, we decided to leave it until he is neutered.
We also talked a bit about the pros and cons of neutering early or late.  The practice is happy to neuter from around four months of age.  Though my inclination is to wait a little longer – six months or so.
Just as in dogs, neutering delays the closure of the growth plates, but the vet seemed convinced that this wasn't relevant to cats.
While I was there, I had also hoped to briefly discuss the pros and cons of vaccinating my elderly spaniel, as I had read that adverse reactions to vaccination are more common in older dogs
The vet was keen to tell me what she had experienced – which was mainly reactions in young animals. But didn't seem aware of the study I referred to.
Finding the right vet
One of the problems with this large veterinary practice, is that there are so many vets, we never see the same vet twice. So it is difficult to build up a relationship with someone that you can discuss these important matters with.
I really miss our old vet practice where you got to know the vets really well and where they were interested in discussing the latest research.
This group is hard to beat though, on cost, for vaccinations and other routine procedures. So I will probably stick with them for now
Billy was popped on the scales while at the vet and weighed in at two and a half pounds (1.1kg)
Recall training our kitten
I've spent many years training dogs. So I suppose it's natural that I want to have a go at training Billy. And recall seems a useful and important place to begin.
I'm using the bag of Royal Canin Kitten Food I bought for Billy as training treats. I don't let him have too much as, as far as I can tell, Billy still isn't drinking any water.
Now Billy comes flying to me when I whistle him for food, I can add a new 'cue' to get him to come.
His name is the obvious choice.
I'll keep both cues going – whistle and name – but I anticipate that once Billy is allowed outside, that's where I'll use the whistle while in the house, I'll probably just use his name.
In animal training, once you have a good response to a cue – in this case my whistle – it is very easy to add a new cue.
Every now and then I get a few tiny pieces of kitten kibble in my hand, and call 'Billy' followed by his whistle. This evening, I called Billy and dropped the whistle.
And guess what? Billy came running. Result!
More kitten toys
Billy's hedgehog balls arrived today. They are very small, but I bought them to go in his puzzle toy. And they are just perfect for the job.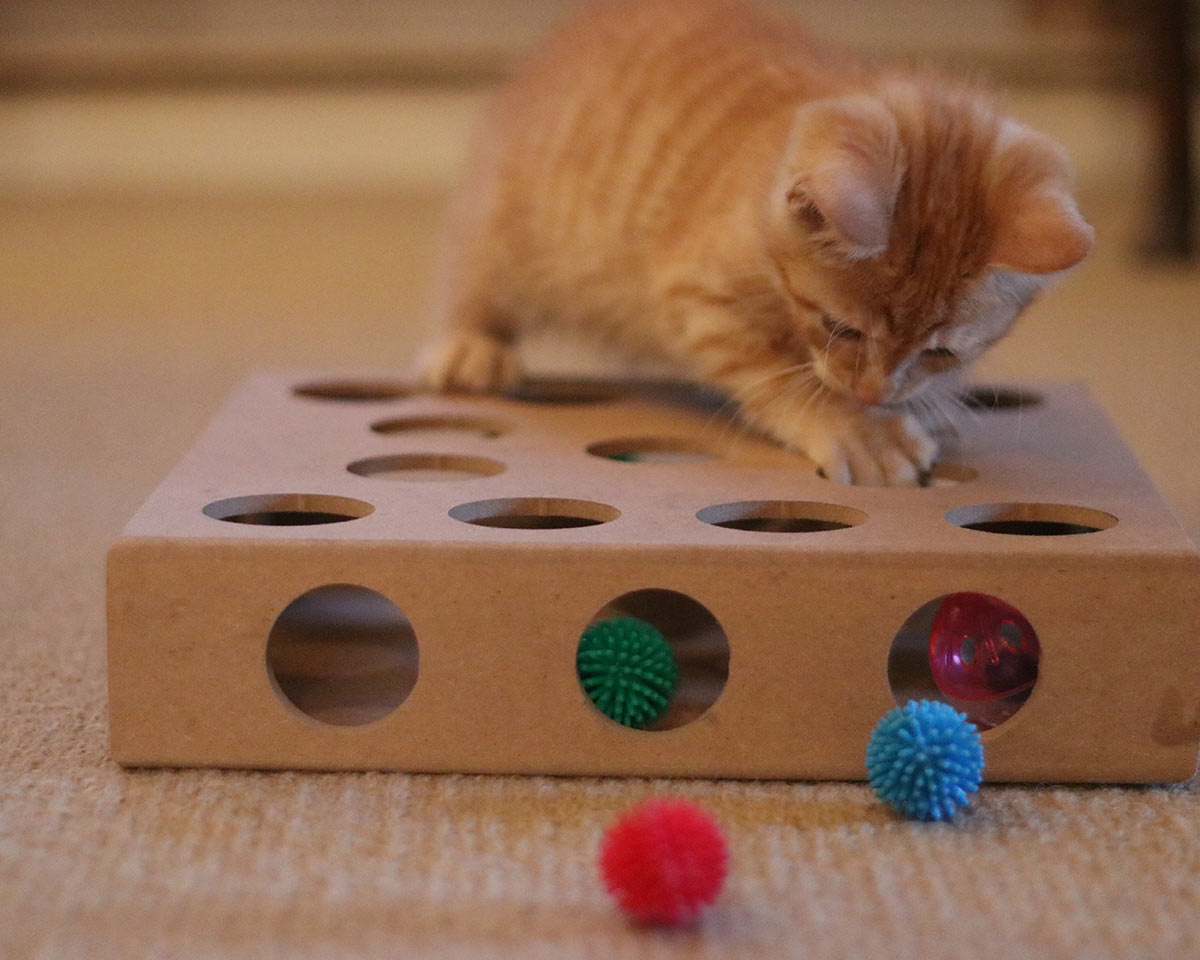 It took him ten or fifteen minutes to get all the balls out of the toy and onto the floor, and he enjoyed every second of it!
Another toy that arrived today was this purple mouse. This has catnip in it, and Billy loves it.
The most interesting thing was the way he carries it around, just like a little dog.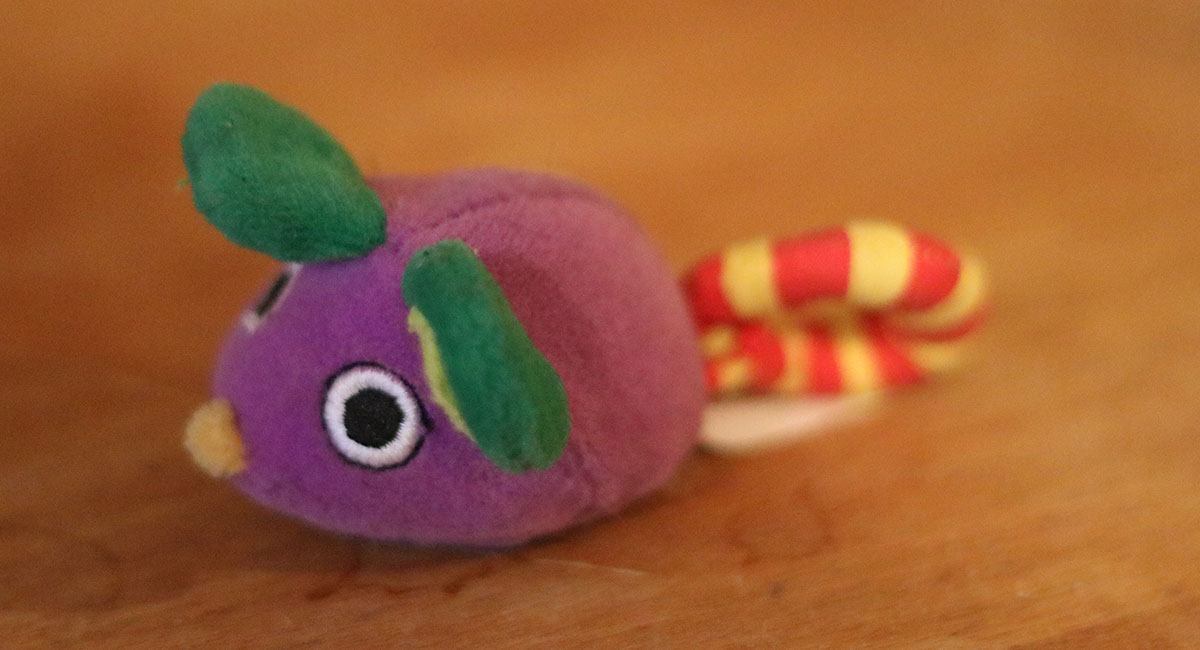 I've not seen a cat do that with a toy before. It's giving me ideas about teaching him to 'fetch' things!
Billy had a good 'fight' with it first though. Here he is, swiping purple mouse around the dining room chair legs.
Poorly kitten
Billy became more subdued as the afternoon wore on. He at his supper at 6pm. Which is good. But didn't play at all before or afterwards.
As I write now, it's evening, and Billy is definitely feeling under the weather.
If disturbed he sits up for a while, and looking for all the world like someone who has eaten something that disagreed with them, but is trying to pretend they are okay.
He is very subdued and lethargic, which is not an abnormal reaction to a vaccination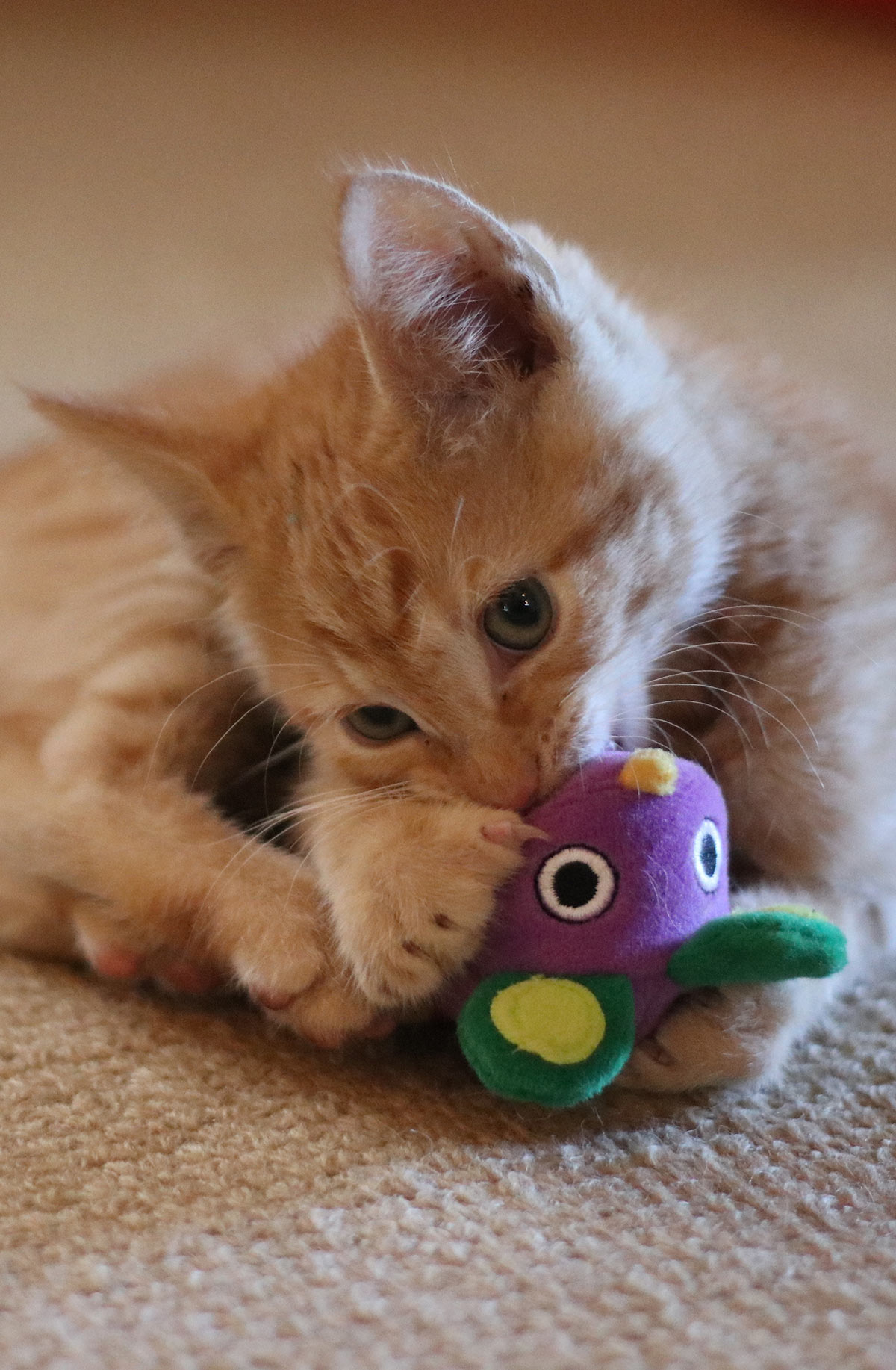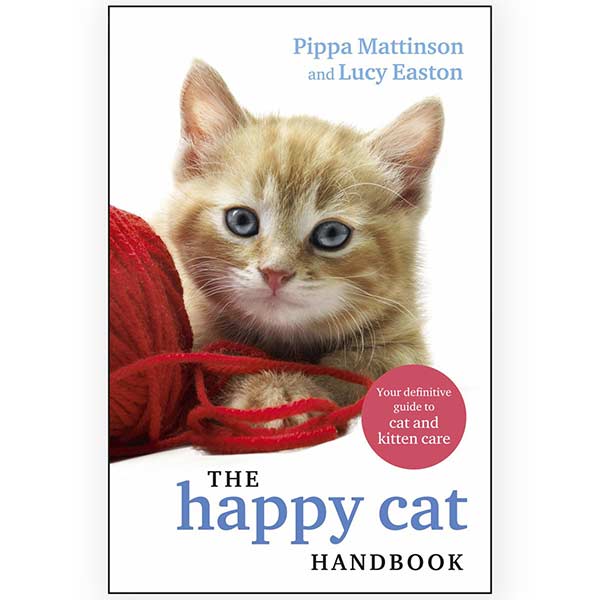 If left alone, he just sleeps, which is probably the best thing. I feel sorry for him though.
I know he'll be fine, but I feel kind of worried. And responsible. For doing this to him. I hope he feels better in the morning
Continue reading Billy's blog..
Free Updates For Cat Lovers!
Our cat care articles, tips and fun facts, delivered to your inbox
Your Amazing Cat!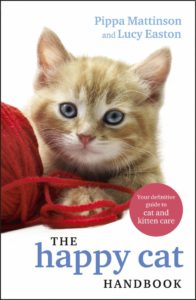 We are so excited to share our new book with you!
If you have enjoyed your visit to The Happy Cat Site we think you'll love The Happy Cat Handbook.
Written by the founders of this website including the author of the hugely successful Happy Puppy Handbook, it's packed with cat care information and fascinating cat facts.
Grab your copy today!
Free Updates For Cat Lovers!
Our cat care articles, tips and fun facts, delivered to your inbox