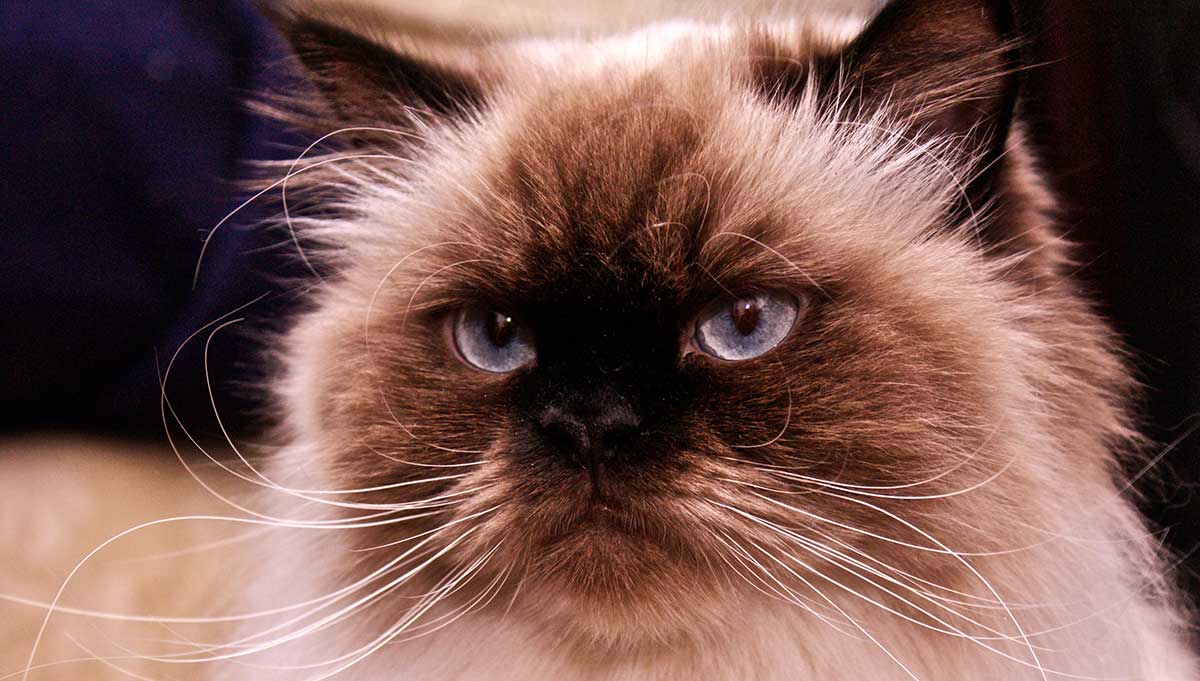 Take the body and coat of a Persian and mix with the markings of a Siamese. Behold, the sweet-faced Himalayan! These cute kitties are social media gold, with huge eyes and adorable features. But sadly they can also carry along with them some of the serious problems associated with the flat faced Persian breed. Today I'll share the facts about this cool new cat, and help you to weigh up their loyal, loving personality with the question mark hanging over their health.
Contents
Whether you classify these sweet, fluffy-faced kitties as Himalayan cats, Persian Himalayan cats or Siamese Himalayan cats, read on to learn all about them. From Himalayan cat temperament and personality, to how to care for these glamorous kitties, and whether a Himmy is right for you.
What Is A Himalayan Cat?
This experimental breed has been "in production" since 1931 and finally gained breed recognition in 1957. However, not all cat fancier societies recognize the Himalayan as a singular breed. The Cat Fancier's Association (CFA), for instance, considers Himalayans a division of Persians – the Persian Himalayan Cat.
Himalayan Cat Colors
Himmy kittens are born white (since they are warm in the womb), but will begin to show shades of color points as early as one week old. Nonetheless, most kittens won't show their true colors for 12 to 16 weeks. Himalayan cat eyes are bright blue from the moment they open their little kitten eyes.
Let's get to the point. The color point, that is. The coloration of Himalayan cats runs the gamut from ivory white to pale cream bodies with darker hues on the "points." The points are the paws, legs, face (mask), ears, tail, and – in males – the scrotum.
On the face, specifications for "mask" colors relate to the area starting above the eyes, down to the chin and across the cheeks. Nose "leather" coloration will also be noted for each breed variation. Paw markings include specified coloration of the fur and the pads. Ideal ear markings may apply to the tips of the ear, the whole ear or even the inside of the ear.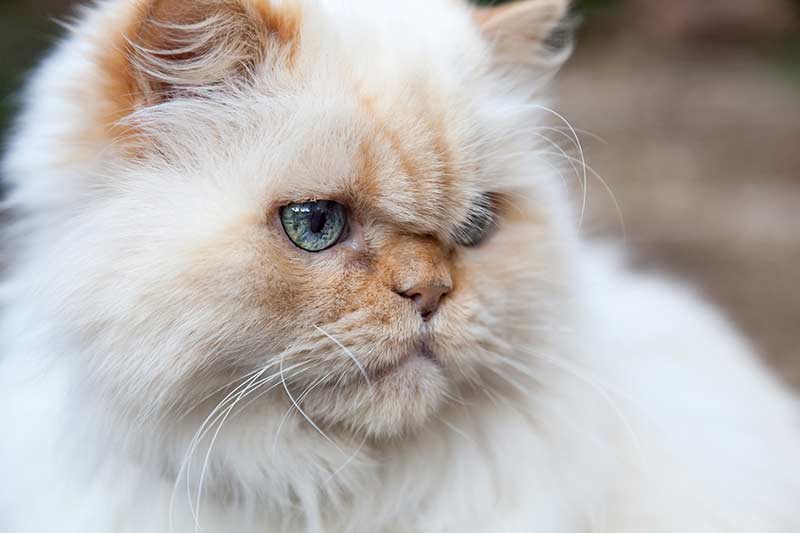 Color Point Cats and Body Temperature
Color points are created by a mutation of the enzymes that make melanin pigment. The mutation works in combination with natural body temperature and environmental temperature. The mutated enzyme allows pigmentation to occur only on the coolest parts of the body – the extremities – or points.
Temperature is so important to point coloration that cats who live in cooler environments will actually show darker points than cats in warmer environments. In the coolest environs, pigmentation may be visible on the outermost tips of the body hair giving the Himalayans an overall dusky hue. Pretty cool.
Colorful Himalayan Cat Varieties
Himalayan cats are bred in a rainbow of colors – Black Himalayan cat, Blue Himalayan cat, White Himalayan cat. There are many variations in color and patterns which are derived from the four basic point colors of the Siamese: Seal, Chocolate, Blue and Lilac.
The popular and striking Seal Point Himalayan cat exhibits deep brown – almost black – points. These are most similar to the typical Siamese cat. The Chocolates have a more subtle brown, milk chocolate hue.
The Blue Point Himalayan cat has dusky bluish grey points. The palest coloration – Lilac – exhibits frosty, grey colored points, sometimes called frost points.
Breeding for additional colors has produced the Flame Point Himalayan cat. Their points are brownish orange. Meanwhile, the Ginger Himalayan cat's reddish hues are brighter and more pronounced again. If your Himmy will be a show cat, be sure to research the most desirable hue of the body fur and the ideal saturation and tone of colors points.
Mixing It Up
In some cases, kittens produced by two Himalayans are predictable such as with the Lilac Point where two Lilac Points will necessarily breed Lilac Point kittens. However, two Seal Points may produce Seal, Blue, Chocolate or Lilac Points. Likewise, breeding a Blue Point to a Chocolate Point may produce Seal, Blue, Chocolate or Lilac Points.
Himmies can also exhibit patterns typical of lynx or tortoiseshell cats, producing a Chocolate Lynx or Seal Tortie Lynx, for example. The exact coloration of the litter is not always known until kittens start showing their colors.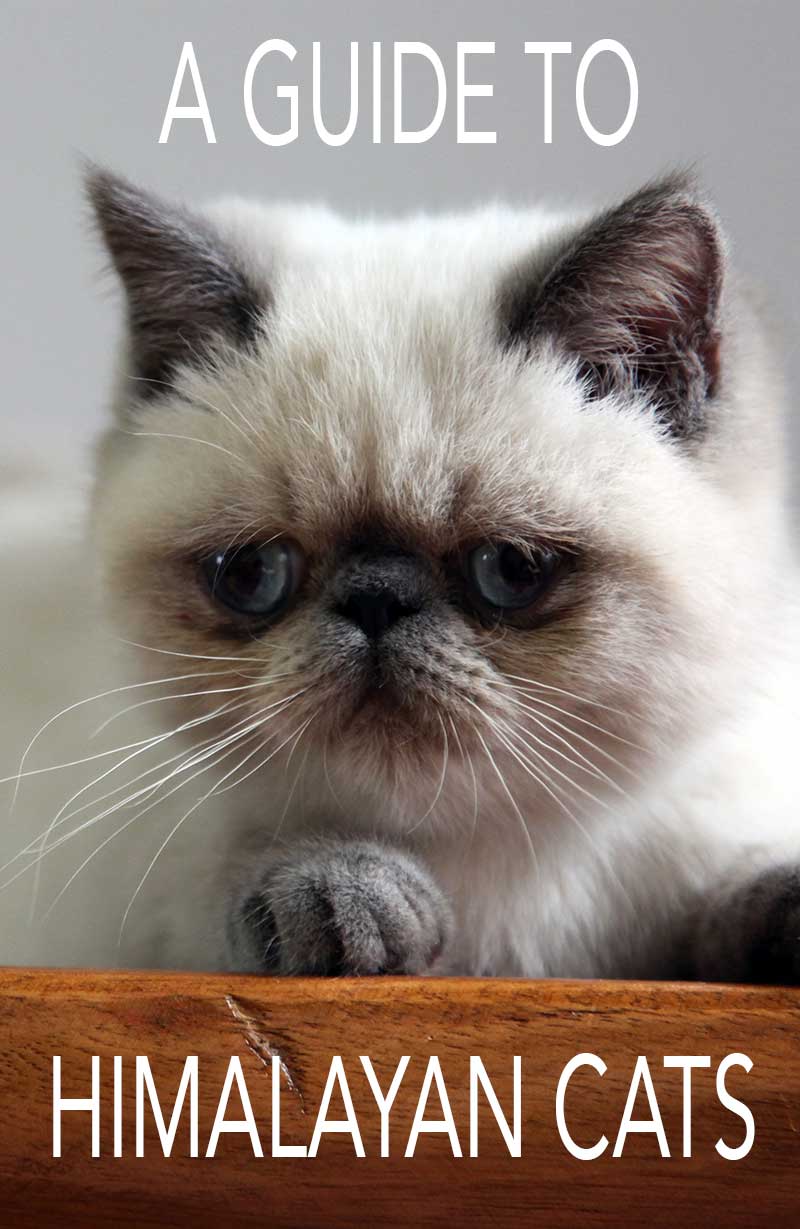 Long Haired Himalayan Cat Grooming
Speaking of fur, your Himalayan cat has a lot of it. Expect to spend 15 to 30 minutes brushing your Himalayan cat every day. Begin at kitten age and try not to miss a day.
Even one day of not brushing makes your sweet kitty more susceptible to matting. Which makes the next grooming time much less enjoyable for both of you and increases the likelihood of hairballs. We've detailed top tips for grooming long haired cats in our article about Long Haired Cat Breeds.
Are They Hypoallergenic?
While shedding and allergen production are not directly correlated, if allergies are a concern, a Himalayan is not the best choice. Himalayans are considered high- to heavy-shedding cats. This means they deposit more allergen coated hairs around your house and on your clothes than low-shedding cats.
A benefit of regularly grooming your Himalayan cat is a reduction in shedding, but be prepared for a lot of shedding all the same.
Himalayan Cat Weight
A full grown Himalayan male generally weighs 9 to 14 pounds while females are smaller at just 7 to 11 pounds. They have a medium to large square build which, along with their long fur, makes them appear larger than their weight suggests.
Due to their solid physique they might even look fat, but if they are in the range indicated, they're at a healthy weight.
Purrfect Personality?
These colorful beauties may look regal and serious. But they are true sweethearts. They have adopted the Persian's affectionate nature with just a dose of the Siamese's chattiness. Your Himalayan cat may not be loudly demanding. But he will make his presence known with sweet mews and plaintive stares from those big blue eyes.
These fancy faced kitties enjoy being petted and brushed and tend to be sweetly insistent and irresistible. This is a lover, not a fighter.
Himmies are not rambunctious climbers or jumpers but do love to play and cuddle. They're happy to play with a ball of paper or store-bought toys. They're content to lounge about lazily when you're not home or cuddle up with you at the end of the day.
Himalayans are a smart breed. They'll gauge your mood and react in kind. Just like their color points, these cats are cool. For that reason, they're not always the best cat for small kids since they don't really operate at the manic pace of young children.
Health Problems
One of the drawbacks to this lovable breed is that Himalayans are susceptible to many health problems. Hairballs caused by inadequate brushing can lead to digestive and respiratory complications. But most important of all, the Himalayan cat shares the same skull problems as the Persian breed.
Also known as 'brachycephaly' the shortened skull of flat-faced cats is a serious problem for cats that have been bred to look this way. The most well known health issue caused by brachycephaly is difficulty breathing. This is one of the reasons that cats with flat faces are often lethargic or lacking in energy.
It's not that they don't want to run around like their longer nosed cousins. It's that they can't get enough oxygen into their system to power a more active lifestyle. The flat face is in effect a disability.
Difficulty breathing leads to a more sedentary lifestyle, weight gain, and poor body temperature control. But it isn't the only problem caused by the flattened skull.
Himalayan Cat Eye Problems
Brachycephalic cats also have distorted tear ducts. So instead of the moisture in their eyes draining naturally down into the nose, it flows down their faces. This can cause dermatitis and tear duct infections, not to mention unsightly staining of the fur.
The shortened skull means that eye sockets are too shallow. So that the eyes bulge and are vulnerable to damage and corneal problems which can be very painful. In some brachycephalic cats the fur folds around the eye actually rub the eye surface causing pain and irritation.
Another serious concern for your Himalayan cat's eyes is early-onset progressive retinal atrophy (PRA). This is an inherited mutation common to Persians which generally leads to complete blindness by about 16 weeks of age. Your breeder should be aware of this mutation and cats afflicted with PRA should be neutered or spayed.
Himalayan Cat Kidney Disease
Himalayan cats are also prone to polycystic kidney disease (PKD).
PKD is an inherited condition causing enlarged kidneys and kidney dysfunction. PKD is costly to treat and can ultimately contribute to your cat's untimely death.
Fortunately, there is a DNA test for PKD and your breeder should confirm the kitten you buy has tested PKD negative.
Himalayan Cat Life Expectancy
Many sources claim that the Himalayan cat has a life expectancy of 15 years or more. But there is not much evidence to support these claims. As a member of the same cat group, lifespan data for the Persian cat breed should be a reasonable indicator of longevity for Himalayans. One study into feline longevity carried out in England found that Persian cats had an average lifespan of 14 years. This is comparable with crossbred cats and better than that of several other pure breeds.
This moderate lifespan is in spite of the Himalayan cat's somewhat compromised respiratory system (we'll look at that in a moment). Which also interferes with this breed's ability to cool itself effectively. Because, Himalayans struggle in warm temperatures, they fare best in a cool, air-conditioned environment. They should not be allowed outside when it is hot and in fact most Himalayans are kept indoors year-round.
Aside from keeping their body temperature regulated, keeping Himalayans indoors reduces the likelihood they will need to defend themselves against other animals. Or become sick from exposure to other animals or environmental hazards.
Breeders and Kittens
Finding a healthy kitten for purchase starts with a reputable breeder. Look for breeders who are registered with one or more cat fancier associations such as the CFA, TICA or FIFe. These associations require members to adhere to a code of ethics as to the care of cats and the legitimacy of bloodlines.
If the breeder is local, make an appointment to visit the cattery and meet the breeder and kittens in person. And if the breeder is remote, check their website and review the history of winning show cats and testimonials. Choose the kitten with the longest face, and no signs of eye discharge.
Himalayan Cat Price
The Himalayan cat cost starts around $700 for pedigreed cats. For Himmies bred of champion queens and toms, expect to pay more than $1000 for a pet or more than $1500 to secure breeding rights.
Some Himalayans are specified for sale as "pets only". If you intend to show or breed your kitty, be sure to clarify your rights to do so with your breeder. And be prepared to pay for breeding privileges.
Adopt vs Shop
Because Himalayans are susceptible to many health problems and require daily grooming. It is not uncommon to find them put up for adoption or left with rescue agencies.
If you adopt a Himalayan, you may not have lineage information for breeding. But you'll save money and, more importantly, you'll save the life of the kitty! As with purchased cats, be sure you are prepared to take proper care of your adopted Himalayan before you bring him to his forever home.
Are They Good Pets?
There is growing concern among the veterinary profession and animal experts worldwide about the deliberate breeding of animals with serious disabilities. Many people now consider brachycephaly to be such a disability.
For this reason, despite it's many charming qualities, we cannot recommend the Himalayan cat breed to you. If you have decided to buy a Himmy kitten, chose from parents with the longest noses you can find.
Be aware of the many health concerns common to Himalayans. And seek a breeder who is willing to discuss these concerns and explain what they are doing to improve the health of their breed.