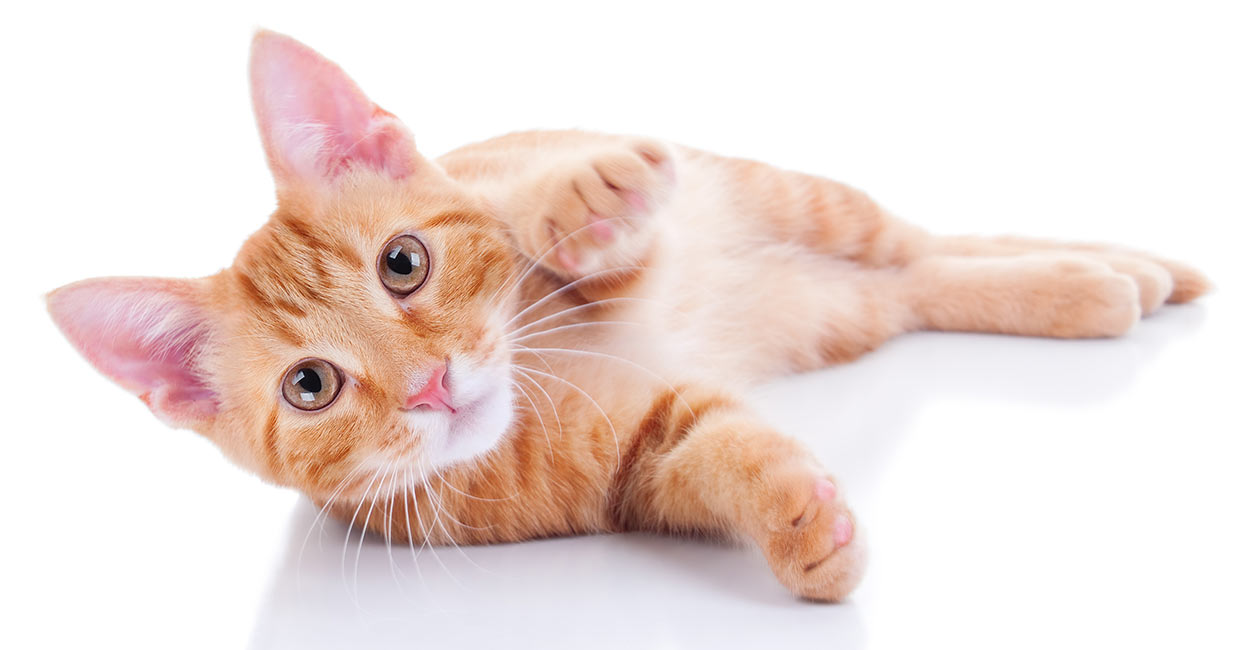 How Do Cats Communicate?
Expert Feline Behaviorist Clare Hemington Let's Us In On The Secrets!
Looking at How Cats Chat To Each Other, And How It Differs From Our Human Ideas Of Cat Communication.
Helping You To Have A Better Understanding Of What Your Kitty Is Trying To Tell You!
Last year I received a birthday card showing a cartoon cat appearing to stare adoringly at his owner.
Her response was "Yes, Mummy loves you too!"
What she couldn't see however, was the little thought bubble next to him which indicated that what he was really saying was "Gimme food – NOW!"
I have to admit that, on a regular basis I'll let my Siamese cat Billy know how much I love him, but what the cartoon was actually highlighting was the owner's wild misinterpretation of her cat's behavior.
As a human species we have an in-built tendency to treat our cats like fully paid-up members of the human race.
Attributing them with human traits, emotions and intentions, rather than as a unique and highly specialized species that is capable of adapting to live with us.
I've lost count of the number of times I've heard owners describe theirs cats as lazy or fickle, or even refer to them as being jealous or embarrassed!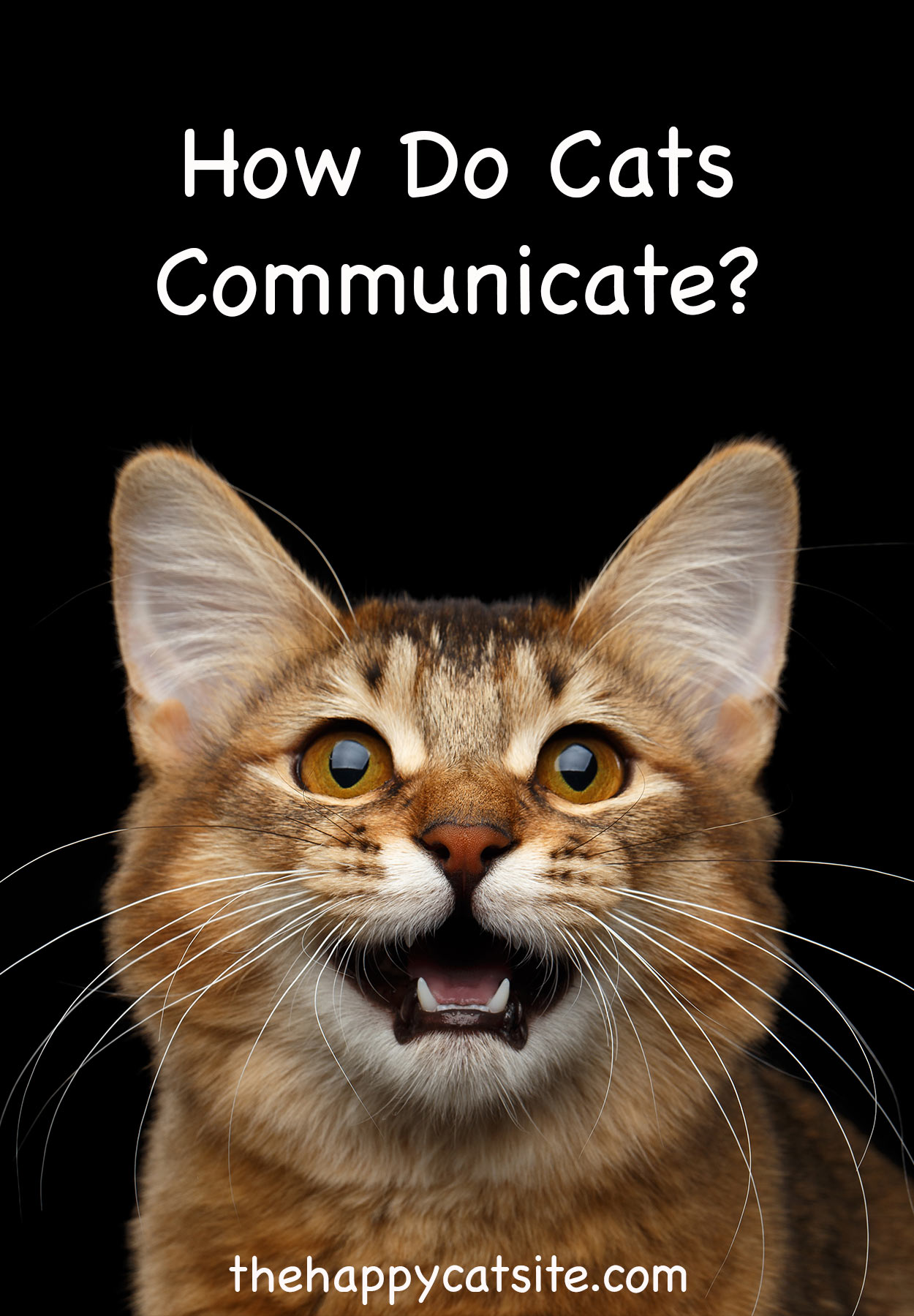 Whilst there are still areas of cat communication that are yet to be studied, for many years researchers have been observing cats in different contexts in order to better understand cat communication, and this, combined with studies of the cat's brain, have helped us figure out what they are trying to tell each other and us… most of the time.
In this article, we'll be asking how do cats communicate with other cats and with humans, and how, by communicating with them in a language they'll understand, we can enhance our relationship with them as well as better serve their welfare needs.
Do Cats Communicate?
Before we look at answering the question of how do cats communicate, we need to check that they do it at all!
Of course, the answer to this is yes.
But almost certainly not in a way that many of us believe they do.
Our domestic cat evolved from the African Wildcat, a solitary desert-dwelling survivalist.
His only chosen social interaction was with others of his species, and then only to mate or rear young.
His life was all about smelling out and avoiding danger.
As such, there was little requirement for him to have a sophisticated suite of communications skills.
Throughout the process of domestication, cats have been selectively bred for physical appearance, rather than for sociability.
This means that, although our cats today might not be quite as solitary as their African ancestor and are capable of forming social bonds with their owners, it's unlikely that their communicative abilities have changed that much1.
Even their faces are designed to show less variation in expression, with fewer facial muscles than a more social species such as dogs.
The cat's brain is also relatively small and there are indications that not only are there fundamental differences between their brain and our own, but that their world may be a far simpler one than ours2.
So, how do cats communicate?
The answer lies in how they use their bodies, ears, eyes, tails and whiskers, as well as through their (very!) subtle facial movements, their vocalizations and the scent messages they leave.
Let's explore these in greater detail, and specifically how cats use them in their relationships with others of their species and how cats communicate with humans.
How Do Cats Communicate With Each Other?
Cat communication is all about controlling distance, facilitating social interaction when appropriate, and expressing intentions and emotions.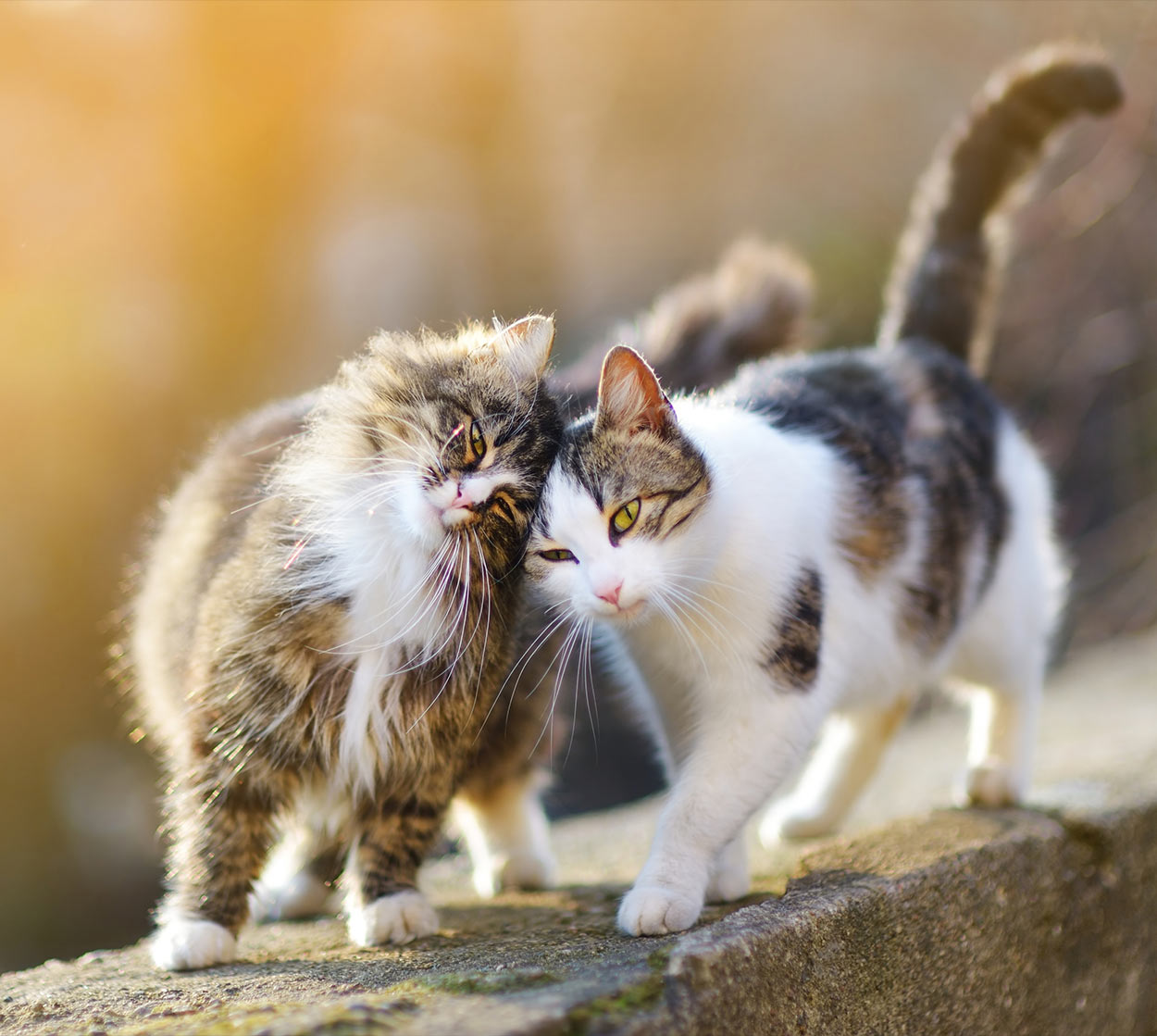 They do this using three methods: olfactory, visual and vocal.
Which method they use depends on the situation the cat finds himself in.
Let's look at each of them.
Olfactory Communication
This relates to a cat's sense of smell that is highly sensitive and much better than ours.
This is because cats use scent to detect and hunt prey, to orientate themselves within their environment, and importantly, as a way of putting distance between themselves and other cats.
But how to cats communicate with smell?
Having evolved from solitary hunters, territory is hugely important to the cat, and in order to maintain territorial rights over his hunting ground, he has to ensure he stays fit and healthy.
Leaving scent messages for other cats to find will hopefully divert them away from his territory without the need for any physical confrontation, thereby reducing the chances of him getting injured.
Cats deposit scent using glands located on the chin, corners of the lip, temples, base of the tail, and the pads of the feet.
They leave the scent where other cats are likely to pass by.
These scent marks contain information about who left the scent, when it was left and possibly even the emotional state the cat was in at the time of leaving it4.
Cats also use urine and feces to communicate with their fellow felines.
When cats expel a small jet of urine onto a vertical surface in a standing position this is known as 'spraying', and can be used to mark the boundaries of their territories as well as to communicate their availability for mating5.
Under certain circumstances cats may drop feces, as a form of marking, in an area of particular territorial significance.
This is known as middening.
So, unlike our visual and vocally oriented world, the cats rely more heavily on scent-focused communication.
Visual Communication
Cats use a complex sequence of visual signals to signal their intentions to other cats that they meet.
But how do cats communicate through visual signs alone?
These include body posture, shifting their weight, blinking, licking, yawning, sniffing, looking or not looking, pupil dilation and constriction, tension in their facial and body muscles, movement of their whiskers and the position of their eyes, ears and tail6.
Which signals they use and when, depends on the situation and on the nature of their relationship with the other cat.
If they share a close bond they may greet each other with tails upright, touch noses and/or rub along each other's body.
They may even sleep curled up together or groom each other.
If the cats are unknown to each other or have a poor relationship they might initially use visual signals to diffuse the situation and avoid physical contact.
For example, if you've ever seen your cat sitting in your garden a few feet away from his neighbouring nemesis, it might seem to you that the two cats are ok with each other's presence.
What you mightn't notice is the fact that they're avoiding looking at each other, the tail of one or other may be curled around his feet6, his ears maybe pulled close to the head and folded downwards5, and he might be occasionally blinking and licking his lip.
Eventually one of the cats might walk away, head lowered and in slow motion, so as to keep arousal levels lower and discourage a chase.
Only when he believes there to be sufficient distance between himself and the other cat, will he run.
However, if fighting is inevitable, cats will display either defensive or offensive body language along with vocalizations.
A cat preparing to defend himself will crouch down or lie on his back, legs ready to rake at his opponent's belly.
The fur along his tail and spine will be erect, his ears will be flat against his head, his eyes will be wide with dilated pupils and his mouth will be open.
Meanwhile, the offender cat will turn sideways-on to make himself look bigger, his tail will have an arch at the but will be held downwards, his pupils will be constricted, and his ears slightly drawn back.
For cats that share a home the conflict may be more passive for example urine-spraying or blocking access to important resources such as the cat flap, beds or litter tray5.
Vocal Communication
Cat communication sounds are mainly used between mothers and kittens; during confrontations and to attract mates.
Every kitten has a distinctive call so that his mother can identify him from the others.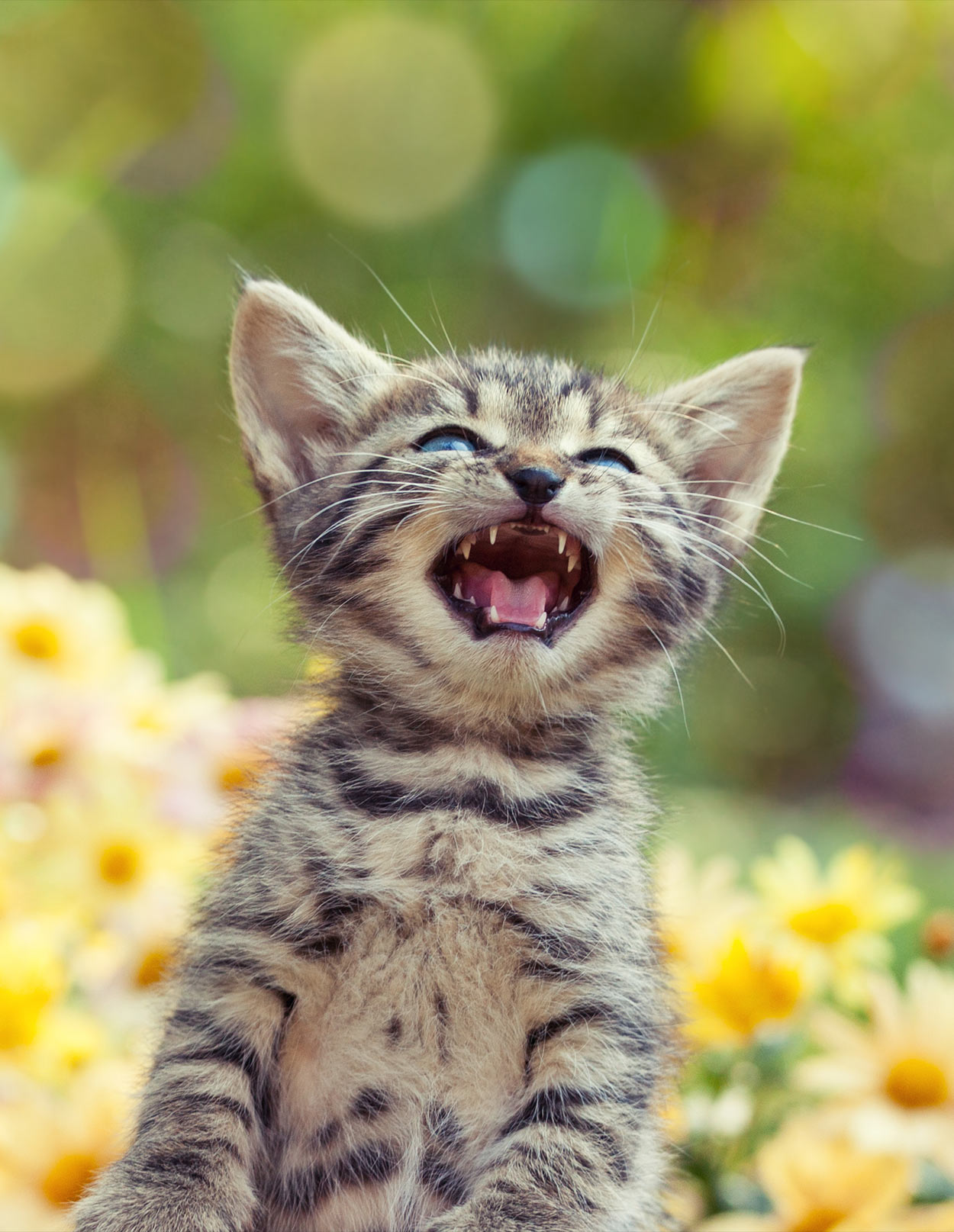 She will respond by using a chirrup kind of trill that he can distinguish from the sounds made by other breeding mums4.
As they get older the kittens will use their call less and less.
During encounters adult cats use a variety of vocalizations to express their intentions.
Sounds such as growls, yowls and snarls are made with the mouth open and indicate offensive aggression.
The hiss and spit are defensive sounds designed to tell another cat to stay away.
Female cats vocalize to let male cats know when they are in season.
Males cats will also call to females as well as to other males that may already be soliciting her attentions.
How Do Cats Communicate with Humans?
Let's face it, when communicating with us, most cats don't give a lot away emotion-wise, but there's a good reason for this.
As the ultimate survivalist, it's not in their interest to show when they're anxious, frightened or even in pain.
This can make understanding them particularly tricky!
So, here's a general guide to cat communication with humans, the behaviours to look out for and what they mean.
How do cats communicate positively
To indicate that they're relaxed in your presence or want to interact with you, your cat will approach you with a vertical tail, may jump onto your lap or stay in close proximity to you.
He may even roll over to expose his belly.
This isn't an invitation to give him a tummy rub, but simply a sign of his trust in you.
He might even slow blink at you – the real cat language of love!
Cats also use scent to communicate with us.
By rubbing their faces against our legs, they may be soliciting our attention, or it could be that our legs simply represent a piece of furniture that they're scent marking!
Either way, this activity is associated with a positive emotional state4.
We've already seen that cats use vocalization relatively little when communicating with each other, but this may not be the case when communicating with us.
The reason for this could simply be that we humans are more verbally orientated and as a result of living with us, cats have learned that they can use their sounds to manipulate us.
Of course, there are some breeds that are much more vocal with us than others, such the Siamese.
How do cats communicate with purrs and miaows?
The two most well recognized sounds that cats use with us are the purr and the miaow.
It is well known that cats purr when they're happy such as when they're being stroked by their owner, however they can also purr when they are anxious for example, during a veterinary visit, or when they're in a lot of pain.
A relatively recent study has also found that cats have a special purr that they use when they want something from us.
It's called the solicitation purr which has a high frequency element embedded in it which gives it a greater degree of urgency.
You may recognize this when your cat is trying to wake you up in the morning or asking for food!
So, when your cat is purring, it's very important to pay attention to the context.
Cats will also use their miaow to get our attention and they will have probably learned that using a specific miaow in a specific situation will get them what they want!
For example, a chirrup may get them a nice stroke, a short miaow might mean that a door is opened for them, whilst a long miaow means they get food.
How do cats communicate when they are conflicted
To indicate tension and/or a reluctance to interact cats might stiffen their bodies, turn away from you, hold their bodies low, stop purring, start avoiding you or struggle when you hold them5.
There are many other things that cats do when they are experiencing emotional discomfort.
These are called conflict behaviours and include:
Rapid blinking with the eye lids pressed tightly shut.
A head shake which usually occurs once the conflict has passed, for example when being handled by a vet.
Tongue flicking where the tongue flicks upwards touching the nose (not to be confused with a cat that, having eaten, is using its tongue to wipe its lips and whiskers).
Short bursts of grooming with only a few tongue strokes and usually on one shoulder blade or at the base of the tail. A cat may also bite its fur/skin with its front teeth. This might happen if he has experienced handling he's not comfortable with or even following an accidental fall (not to be confused with embarrassment!)
Twitching skin, usually on the middle or lower back. This indicates frustration or a growing intolerance when being stroked.
Also watch out for your cat's tail movements.
Cat tail communication includes a wagging tail which can indicate emotional conflict that might result in aggression, or it could be an indicator of pain or discomfort.
However, if swished languidly from side to side whilst raised off the ground, this could signify contentment.
Another indicator of a cat's emotional state are his ears.
When experiencing fear, they will start to flatten.
In a very frightened cat they might be so flat as to give the cat a completely round head.
Ears that are rotated may be indicative of a frustrated cat.
There are also vocalizations that cats will use to communicate negative emotion when interacting with us.
These are commonly the hiss and growl, used to tell us to get out of their space!
How to Communicate with Your Cat
The way we behave towards our cats must seem pretty strange to them.
I'm constantly berating my husband for picking Billy up and draping him around his neck as if he were the latest in live neckwear.
My mantra to people who want to know how to communicate with cats is "less is more".
For example, it's important to our cats to move around freely without being stopped in their tracks by humans wanting cuddles!
If we want to earn our cats trust, it's important that we give our cats the freedom to choose whether they want to interact with us.
Allowing them to initiate all physical contact will endear them to us, as will allowing them to dictate the duration of the contact.
Whilst humans can enjoy extended periods of physical contact, cats prefer to keep it brief.
This means touching them for just a few seconds at a time. Leave them wanting more!
Most cats would also prefer us to focus contact around their foreheads, cheeks, ears and chin.
Avoid touching your cat's tummy unless he shows definite signs enjoying it – learn to read the signals!
The same goes for picking your cat up.
Cats are the ultimate control freaks, and many don't feel comfortable when their ability to escape is restricted in this way.
The same principle applies to non-physical contact.
Without realizing it, we might be spending much of our time focussing on our cats or talking to them more than is strictly necessary.
From our cats' point of view, one of the most positive interactions we can have with them is through play, especially if it involves games that replicate predatory behaviours such as chasing and jumping!
How to communicate with your cat – from kitten to adulthood
When considering how to communicate with cats, it's also important to remember that they will want different things from us at different stages of their life.
A kitten will need more play interaction, whilst an elderly cat might appreciate more lap-time.
Of course, this doesn't apply to all elderlies, some of whom still enjoy some gentle play!
We've still got lots to learn about the way cats communicate, but what we can be pretty sure of is that emotions such as embarrassment require a sense of self-awareness, a perception of who you are to others, something only primates are capable of.
However, there are many emotions that cats are capable of feeling, but how they communicate them to us can be incredibly subtle and open to misinterpretation.
Taking the time to learn how our cats communicate isn't only important in terms of understanding when they may be feeling pain, or experiencing behavioural issues, but also has huge benefits to our cat-human relationship, both from their perspective as well as ours.
REFERENCES
Did you notice that? Feline behaviours we often miss. Sarah Ellis. International Cat Care Conference 2016
Think Like a Cat. John Bradshaw
From the cat's perspective – how to readjust your thinking. 2007. Rachel Casey
Cat Communication. Vicky Halls
Cat Communication. Positive Cattitude. Carol A. Byrnes; Jacqueline Munera
The development of an emotional ethogram for Felis silvestris focused on FEAR and RAGE. Finka L, Ellis SLH, Wilkinson A and Mills D