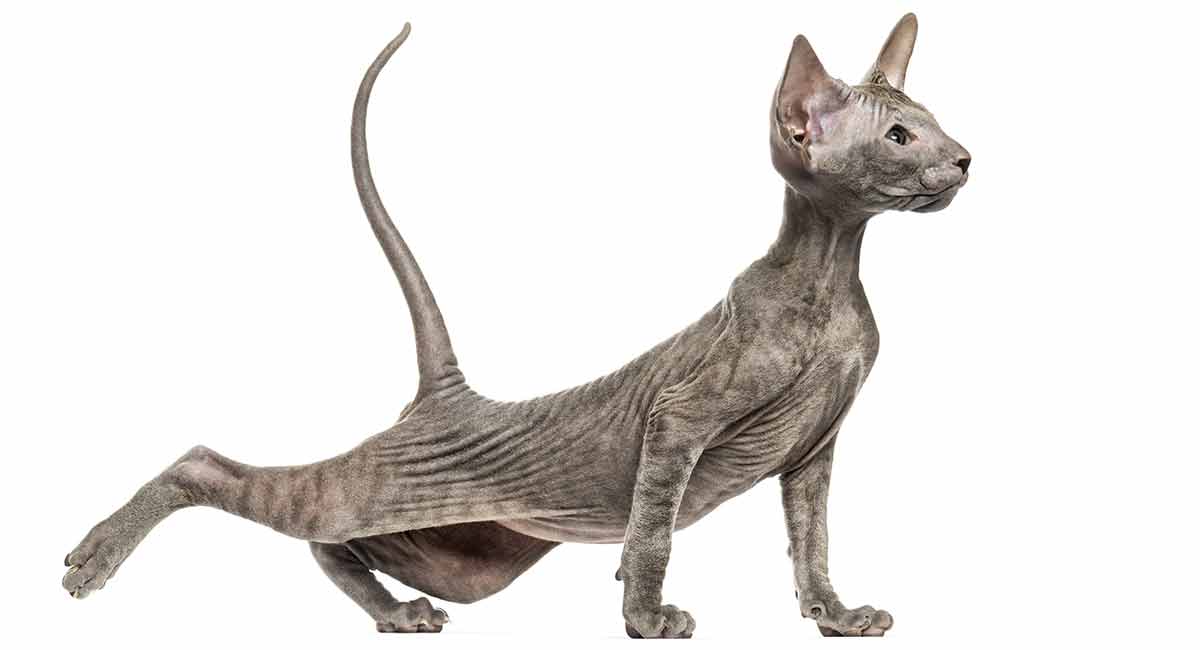 What is a Peterbald? If you've never heard of a Peterbald cat before you are in for a treat!
The Peterbald cat breed is one of the rarest cat breeds in the world today.
This little-known hairless cat breed is only bred by a handful of Peterbald breeders and can come with a hefty Peterbald price tag!
Not only does the Peterbald cat have a reputation for being intensely affectionate. This cat breed can get along well with family members of all ages, including other pets!
So let's dive in and learn everything you need to know about the Peterbald cat!
What is a Peterbald cat?
The Peterbald is also called the Russian Peterbald.
In 1986, in the small town of Rostov on Don, Russia, a breeder named Elena Kovaleva rescued a young feral female cat and named her Varya.
Ms. Kovaleva soon noticed that Varya was losing her coat.
After making every effort to determine if Varya was ill, her owner learned that the continual shedding was due to a genetic mutation.
At first, Ms. Kovaleva assumed Varya was a Sphynx cat, but later realized her error (although the two breeds do share a similar gene responsible for altered coat).
With subsequent breedings, a new cat breed emerged on the Russian show circuit that was called the Don Sphynx, the Donsky, the Donskoy or later, simply the Don hairless.
How did the Don give way to the Peterbald?
In 1993 in St. Petersburg, Russia, Olga S. Mironova, another cat breeder, crossed a Don hairless male with an Oriental shorthair female.
This litter ushered in yet another new cat breed, called the Peterbald after its city of origin.
Today, every single Peterbald cat in existence can trace its genetic lineage back to this first Russian Peterbald cat litter.
Because of the shared hairless gene, sometimes the Peterbald cat is also incorrectly called the hairless Peterbald Sphynx or simply the Peterbald Sphynx.
The Sphynx and Peterbald cats do share a similar hairless coat gene in common, but differ in how the genes express themselves.
In Sphynx cats, the gene for hairlessness is recessive, which means a kitten needs to receive the gene from both parent cats in order to express it.
In Peterbald cats, the gene for hairlessness is dominant, which means a kitten who only receives the gene from one of their parents will still have an altered coat.
Next let's find out exactly what that means.
Peterbald cat genetics
From the outside looking in, the world of feline genetics can seem like a pretty confusing place!
As this unfortunate article highlights, it is important to develop at least a baseline awareness of Peterbald genetics so you can make sure you are working with a reputable Peterbald breeder!
According to The International Cat Association (TICA), the precise genetic encoding which produces altered coat/hairless cats is still not fully understood.
Today, it is suspected that more than one gene contributes to the Peterbald's unusual coat.
However, what is fairly well understood is the basic mechanics (called Mendelian genetics) of how Peterbald kittens inherit their fur type from their parents.
Types of Peterbald coat and how they come about
Cats with two copies of the Peterbald coat gene – one from each parent – are almost completely hairless, with only a few wispy areas of fur around the face, paws and tail.
Some have a very small amount of downy coating which resembles chamois or velour.
Cats with one copy of the Peterbald coat gene and one "normal coat" gene have an altered coat – it only grows to around 5mm long, and is called a "brush coat". Brush coats are completely unique to Peterbald cats.
And Peterbald cats with two normal coat genes will have a normal coat. They are still a Peterbald though!
Clearly, a Peterbald breeder has their work cut out for them in producing Peterbald hairless kittens, especially since not all kittens will be bald at birth.
And some Peterbald kittens will develop hair at first and then go through a process of shedding it out (called "undressing") as they grow up.
This is definitely something to look for when you are choosing a Peterbald cattery to visit. Look for a genetics-knowledgeable breeder will be able to walk you through their breeding pairs' lineage.
It's still not an exact science, but they will be able to best-guess which kittens in their litter will display each coat type at maturity.
Peterbald size and appearance
The size of a Peterbald is described as medium, with an adult weight varying between 6 and 12 pounds.
Females tend to be a couple of pounds lighter than males at maturity.
Truly hairless Peterbald kittens may be smaller in size and lower in weight throughout life.
The body of a Peterbald cat is long and lithe and lean from birth.
The tail is quite long. This cat's head is triangular and often described as "wedge-shaped" with large, wide-set almond-shaped eyes and pronounced triangular upturned ears.
Is the Peterbald cat hypoallergenic?
All of this discussion of hairlessness may naturally lead you to wonder is the Peterbald cat hypoallergenic?
Unfortunately, science today tells us that producing a truly hypoallergenic pet cat is simply not possible.
This is because all cats excrete a protein called fel D 1 through their saliva, skin and urine.
Some cat breeds naturally will secrete more of this protein and some will secrete less. Cats that secrete less will leave less of the protein circulating in your air and on your home furnishings.
But since the protein is produced in three ways, (and in the hair follicles isn't one of them) being hairless won't remove the problem.
The Peterbald cat may trigger an allergic reaction less frequently than cat breeds which shed larger volumes of fur, but the only way to know for sure is to visit one and find out!
Peterbald cat personality
If you are seeking a lively, loving, affectionate feline sidekick who wants to be wherever you are and doing whatever you are doing, you can't do better than a Peterbald cat!
This cat breed is known to be vocal and very social and can be quite demanding and energetic overall.
It is said that the females are more demanding than the males, although there are some exceptions.
The Peterbald cat is a natural athlete and loves to play and climb and jump and exercise.
This is NOT a cat breed to choose if you have to be out of the home for hours or days at a time!
They can get very stressed when left alone and may develop health issues (more on that in the next section here).
Peterbald cat health
One thing to be very aware of about the Peterbald cat is that these cats must be kept indoors.
If you do take your Peterbald cat outside, you must first apply sunblock.
Because these cats have less or no hair than their coated cousins, they can burn very easily.
Their skin can also easily get scratched and infected.
However, your Peterbald cat will also naturally seek out warm spots because this cat is less well able to stay warm naturally.
This can make it vital to "cat proof" areas that may feel warm but are not safe for your cat to sit on (such as the radiator)!
Peterbald cat metabolism
Your Peterbald cat's metabolism will likely be higher than a fully coated cat because of the extra energy required to stay warm.
You may need to adjust your cat's diet accordingly, and your vet can help you judge this.
Some Peterbald cat owners also provide suitable warm cat clothing for use in cold environments and during the winter season.
Feline ectodermal dysplasia
This health condition is linked to the gene that causes altered/hairless coat. N
ot all Peterbald cats will develop it.
Cats that have the condition can have poor tooth development and ongoing oral health issues.
Breeding queens can experience lactation issues that may require hand-feeding the kittens.
Peterbald cat grooming and care
Your Peterbald cat will have certain ongoing care and grooming needs that you will need to assist with.
Most of these needs relate directly to the altered or hairless coat.
Eyes
Some Peterbald cats don't have any eyelashes.
This can cause pooling in the corners of the eyes as the tear ducts do their job.
You can use gentle warm cloth or extra gentle contact lens saline solution on a Q-tip to clean your cat's eyes.
Ears
Some Peterbald cats don't have any hair inside their ears.
This can mean the wax and debris piles up and there is a risk of it becoming impacted (since there is no hair to catch it and keep it out of the inner ear canal).
You should take your veterinarian's recommendation for the best method of ear cleaning and the best type of solution to use.
Face
The Peterbald cat can have pronounced skin creases or wrinkles on the face, especially around the nose area.
You can wipe these down with a gentle warm pad to remove any trapped debris.
Teeth
The Peterbald cat will benefit from tooth brushing as often as daily along with an annual professional teeth and gum cleaning.
Coat
The Peterbald cat will need some help from you to stay clean and well groomed.
The less hair your Peterbald cat has, the more quickly skin oils will build up on the skin's surface.
You want to bathe your cat frequently enough to remove harmful skin oil build-up but not so frequently the skin dries out – aim for every 3 to 4 weeks and take your vet's advice going forward.
Tail
Your Peterbald cat's hairless or altered tail may develop blackheads.
You can ask your vet for the right solution to use to clean the tail.
Paw pads and nails
Some Peterbald cat's need help trimming their nails every week or so (providing a scratching pad or post can cut down on frequency).
Also be sure to carefully wipe the areas between the paw pads and toes.
Peterbald lifespan
The Peterbald cat has a reasonably long lifespan of 12 to 15 years.
This cat's chances of living a long and healthy life with you will directly relate to diet, enrichment, daily exercise, lifestyle, access to preventative veterinary care and appropriate skin and coat care.
Peterbald kittens
Peterbald cat breeding programs vary from one country to the next.
Most typically, two Peterbald parent cats are bred to produce Peterbald kittens.
However, it is also common for a Peterbald cattery to outcross (interbreed) a Peterbald cat with an Oriental Shorthair cat or a Siamese cat to create or fix new colors and traits.
All of these pairings are valid in the show cat world.
Peterbald cat price
If you are serious about bringing home a Peterbald kitten, you had better get out your wallet because these cats are still rare and they don't come cheap!
For hairless Peterbald kittens, the cost will be steeper still.
The starting Peterbald cat price for a Peterbald kitten will run too $1,000+.
Is a Peterbald cat right for me?
Peterbald cats are easily one of the most unusual cats out there today.
They have the perfect personality for someone who wants lots of company from their cat, and has the time to spend with them.
Their coats are short (or even non-existent) but that doesn't make them low maintenance – these cats will need regularly baths and help to keep on top of personal hygiene.
It the moment, this cat breed is so new and rare that it's price will put it out of the reach of many.
But if the passion and enthusiasm of Peterbald breeders continues as it is, we think there'll be far more of them around soon!
What do you think?
Does the Peterbald sound like your dream cat?
Please post us a comment – we'd love to hear your thoughts!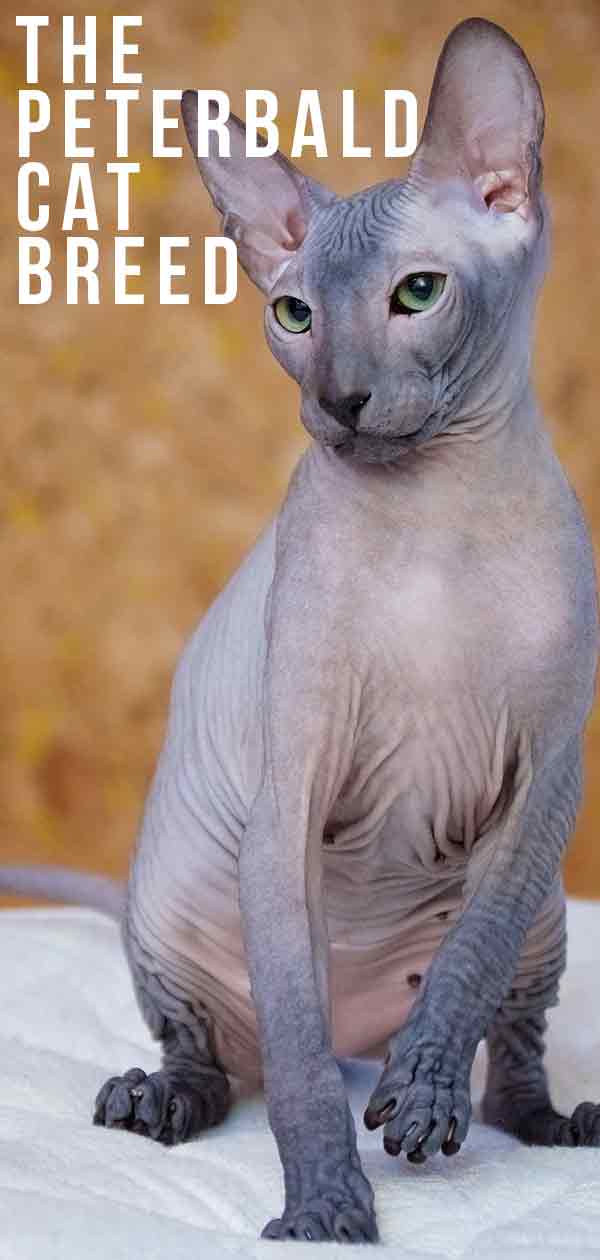 Sources
Shon, S., et al, "Peterbald Introduction," The International Cat Association, 2018.
McLean, P., "Mendelian Genetics," North Dakota State University, 2000,
Lockey, R., et al, "The myth of hypoallergenic dogs (and cats)," The Journal of Allergy and Clinical Immunology, 2012.
Main, B., "Care & Maintenance," Heavenly Hairless Peterbald Cattery, 2018.