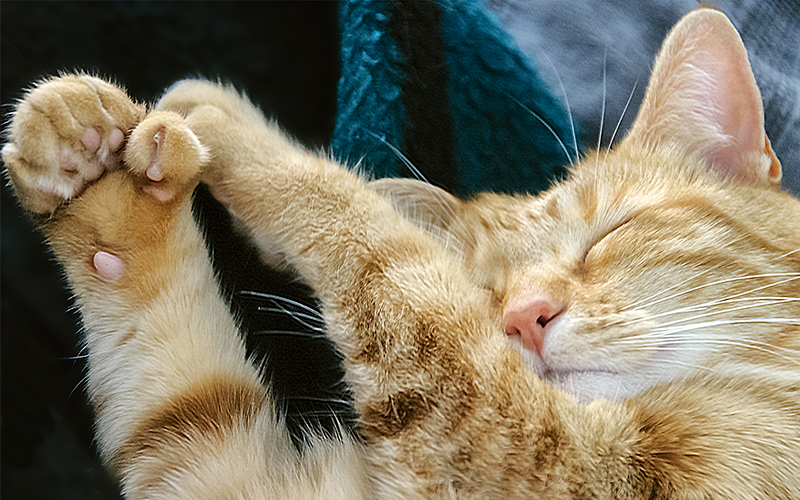 Polydactyl cats inspire great affection in their human friends. Also known as mitten cats, or six toed cats, each polydactyl cat has more toes than usual. This gives their paws a cute wide look. Polydactyly is an inherited, and usually harmless, genetic abnormality that some cats are born with.
Polydactyly can affect all cats but is a more common trait in some breeds, such as the large Maine Coon, than it is in others. Polydactyl cats are also more common in certain parts of the world, particularly South West England and Eastern USA
We're going to look at the origins and causes of feline polydactyly. We'll find out where polydactyl cats come from and how they are affected by their unusual paws. Let's dig down into those digits!
Contents
Growing up, I was fascinated by my aunt's cats. She had several Maine Coons, which she had rescued from behind a dumpster. And one of them had enormous paws with extra toes.
I could not quite wrap my head around this as a kid. In fact, it wasn't until much later that I realized this trait had a name: polydactyly. And it turns out, that polydactyl cats are really quite fascinating. Here's polydactyl cat Ernie showing of his gorgeous big paws
What is a polydactyl cat?
Most cats have 18 toes. Their front paws have five, and their back paws have four. Polydactyl cats are different. These big-footed kitties have more than the normal number of toes on their paws. This can make them look like they are wearing mittens or snow shoes. Some even appear to have thumbs!
The most toes reported on a polydactyl cat were a whopping 28 on a Canadian cat named Jake.
Six toes are of course more common than 28. Most extra toes are found on the front paws, although they can occur on the hind paws as well.
What causes Polydactyly in cats?
Polydactyly is an inherited condition. This means that cats with the polydactyl trait are more likely to produce polydactyl kittens.
A good example of this is the Hemingway Estate in the Florida Keys. Ernest Hemingway, the famous American author, was given a polydactyl cat by a ship captain. He named the cat Snow White.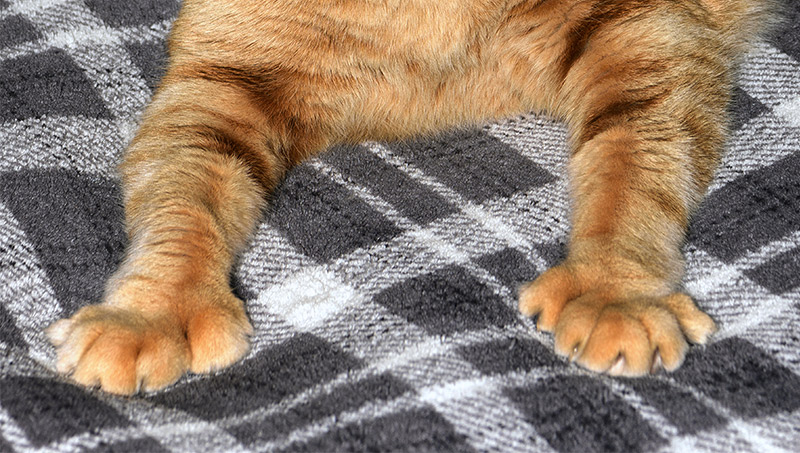 Polydactyl cats were considered lucky by sailors, and were often found on ships, where they were believed to be superior mousers. Sailors also thought that extra toes gave them better sea legs, though there is no proof to back this up.
Snow White proceeded to have kittens, and now the Hemingway Estate is home to her descendants. There are between 40 to 60 cats who call the Hemingway Estate home. Around half of them are polydactyl, thanks to the autosomal dominant trait.
Are Polydactyl cats rare?
Polydactyly is relatively common in cats.
This condition can affect can be any breed, although it is seen more frequently in some breeds than in others.
However, these cats are rarer than their eighteen toed relatives, especially in certain parts of the world.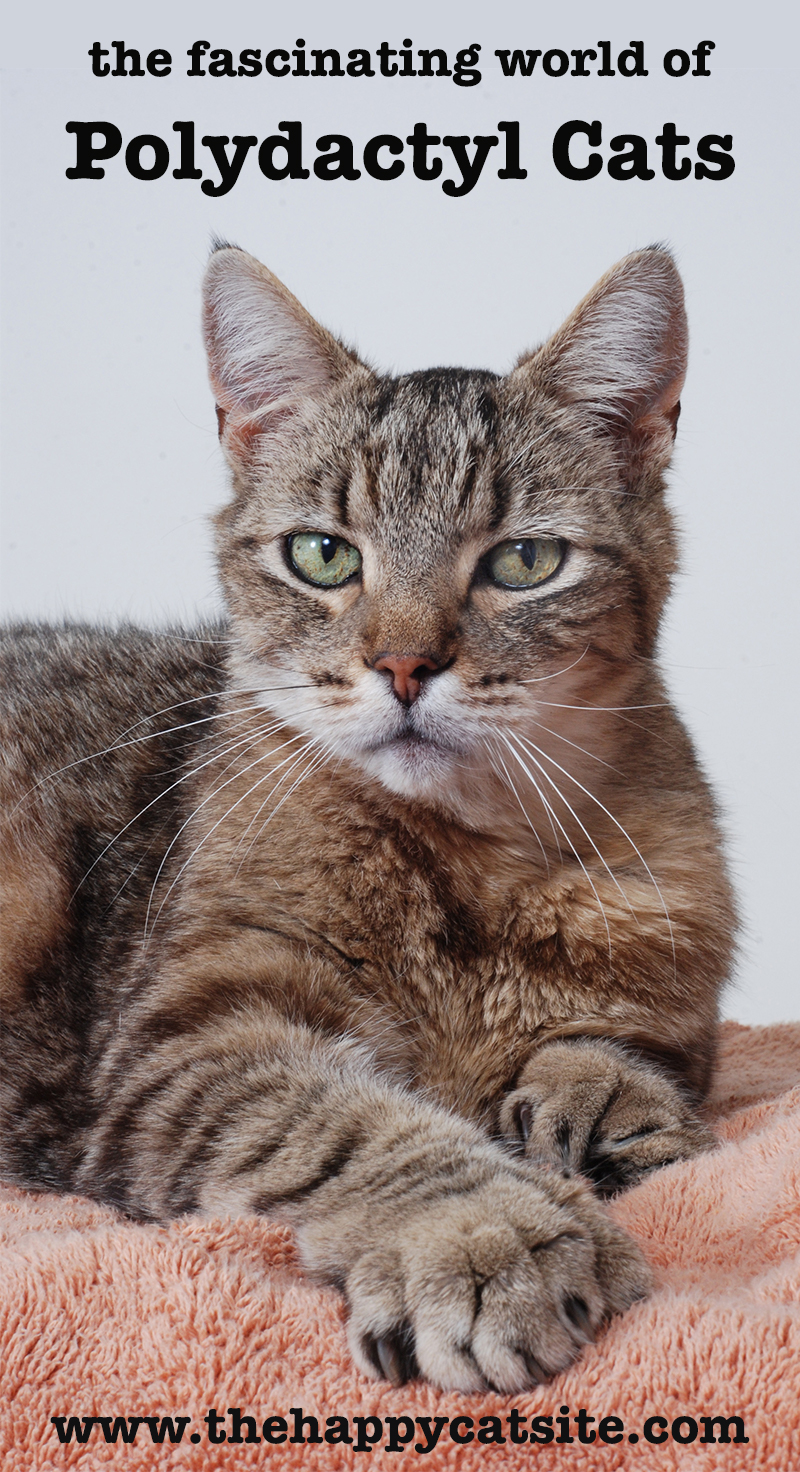 Polydactyl cats are most common on the East coast of the United States, Wales, and Southwest England.
It is believed they were brought to the East Coast of the United States from ships sailing from England and Wales.
This also explains why the trait is more common in Maine Coon cats.
Polydactyl cat breeds
Polydactyly can occur in any breed of cat regardless of the coloring. Maine Coon cats used to have a large percentage of polydactyl cats in their bloodlines.
Some Maine Coon breed experts think that up to 40 percent of the breed was polydactyl in its early years. These days, polydactyly is still common in Maine Coons, but not quite as prevalent as it used to be.
Currently, only one breed of cats is bred selectively for polydactyly. However, the American Polydactyl cat breed is not recognized by most cat fancier associations. It bears some resemblance to Maine Coon cats in personality, but the defining feature is polydactyly.
Detractors of the breed argue that since polydactyly occurs naturally in all cat breeds, there is no need to select for it. Despite this, the American Polydactyl is not alone. Some breeders of Maine Coons select for Polydactyly, and there are regional names for polydactyl cats around New England, like the Boston thumb cat and the Vermont snow shoe cat.
Polydactyl cats personality
In most cases, a polydactyl cat's personality reflects the personality of the cat's breed.
For instance, a polydactyl Maine Coon may have the Maine Coon's friendly, highly social personality, whereas a polydactyl Siamese may be vocal and curious.
If you are looking for a specific personality in addition to extra toes, you may want to choose a cat breed that reflects your needs. You can also purchase or adopt an older polydactyl cat, as it is easier to determine the personality of a grown cat over a kitten.
Polydactyl cat behavior
Polydactyl cats act like cats. They can be mischievous, playful, skittish or friendly.
In most cases, there are no additional personality traits that set these cats apart. However, those extra toes can give them an advantage over their eighteen toed relatives.
Some owners of polydactyl cats report that their cats have an increased ability to open doors and cupboards, thanks to their extra toes, and cats with 'thumbs' may have increased grasping ability.
This unique behavior means life will a polydactyl cat will never be boring.
Polydactyl cats health issues
The polydactyl trait is a normal, inherited abnormality. The trait is not usually linked to any serious health problems, and having extra toes won't slow your cat down.
However, having extra toes may increase your cat's odds of injury. The more toes, the higher the chance that one gets stepped on or caught in something. In most cases, these injuries are not serious, and can be resolved with veterinary treatment.
Other types of abnormalities in your cat's paws and limbs, like radial hypoplasia, can be harmful and can mimic polydactyly. Cats that appear to have difficulty walking, have twisted limbs, or shortened limbs in addition to polydactyly could have radial hypoplasia or another condition. These traits may be obvious or may only show up on an x-ray.
Cats with radial hypoplasia, sometimes called 'squittens,' 'patty feet,' or 'hamburger feet,' should not be bred, as the condition is serious.
Polydactyl cat claw problems
Besides the obvious difficulty of clipping more nails, polydactyl cats can be prone to a few claw problems. The most common of these is ingrown or embedded nails.
Some cats with polydactyly have extra, undeveloped toes that grow between the other toes. These nails can injure the paw pad or foot, and may need to be removed surgically.
You can keep an eye on your cat's nails by trimming regularly and inspecting the toes for any abnormalities or signs of tenderness. Since some of these nails may not get worn down by normal scratching, this could mean trimming your cat's nails more often.
Sometimes these extra toes don't grow in properly. This can lead to difficulty walking for your cat, and could require surgical intervention. Another common problem is injury. Nails that bend outward can catch on things and tear off. While this is not usually life-threatening, it can be painful for your cat.
However, in most cases polydactyly does not cause claw problems, and these extra toes may even give your polydactyl cat an advantage while hunting.
Polydactyl cat names
Naming your polydactyl cat is one of the best parts about owning one of these many-toed felines.
From paw based names like Boots and Mittens to more creative options like Sasquatch or Thumbelina, the options are endlessly entertaining. Try naming your cat after the number of toes he has, or choose a name that celebrates his extra digits – like Digit, Tony, or Polly.
Or you could name your cat after Hemingway, or a Hemingway character, to prove you really know your polydactyl cat facts.
Speaking of polydactyl history, why not name your cat something nautical, like Captain, Matey, or Skipper? The choice is yours, but be sure and let us know what you decide in the comments below.
Polydactyl cat price
The price of a polydactyl cat can vary widely. Polydactyly can occur in any breed, so you'll need to know the price of the breed, first.
For example, Maine Coon cats can cost several hundred dollars.
With the exception of the recently developed American Polydactyl cat breed, most breeders will not charge more for a cat with extra toes. However, specialized polydactyl breeders may be more expensive.
You can find polydactyl cats online or in local advertising outlets, like newspapers or online sites like Craigslist. You could also choose to adopt a cat for a small adoption fee.
Polydactyl cats for adoption
With so many cats in shelters, why not start your search for a polydactyl kitten or cat with your local animal rescue or humane society?
Call up a local shelter and see if they have any polydactyl kittens or cats that you could meet.
Adopting an older cat with polydactyly is a great option for potential owners who do not want the added challenge of raising a kitten. You will also be giving a cat in need a home.
Should I buy a polydactyl cat?
Take the decision to buy or rescue a polydactyl cat seriously. Bringing a new animal into your home comes with responsibilities.
If you have other pets or if you have small children, think about how a new cat will fit in to your existing family.
Will you have time to spend with your new cat?
Will your cat be an outdoor cat or an indoor cat?
Can you afford potential medical expenses for your new cat?
Once you have answered these questions, the decision to get a polydactyl cat instead of a different kind of cat is personal.
Since polydactyl cats rarely come with any additional health problems, the biggest factor in your decision is whether or not you think polydactyl kitties are cute. If the answer is yes, then why not start your search for one today.
Further Reading and Resources
Hanson, R. R. DVM, DACVS, DACVECC. 'Congenital and Inherited Anomalies of the Musculoskeletal System in Small Animals.' Merck Veterinary Manual.
'The Cats.' The Ernest Hemingway Home and Museum.