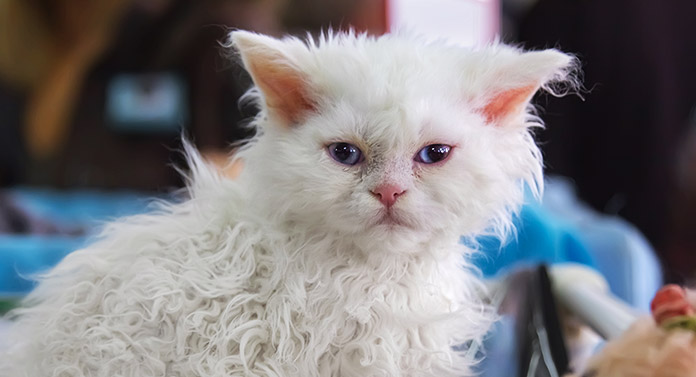 A poodle cat is not a specific breed, but it is a term that refers to cats with curly, fluffy coats. Some even have crinkled whiskers!
Poodle cat breeds are not hypoallergenic, but they are low shedding. So, some people with allergies may find them acceptable as pets.
However, cats with this popular hair type can suffer from some fur-related issues, such as alopecia and skin problems.
Read on to learn more about the unique and interesting poodle cat!
Poodle Cat – Contents and FAQs
Is this interesting cat right for you? Let's find out exactly what sets them apart from other kittens!
What is a Poodle Cat?
'Poodle cat' is a term that's commonly applied to cats with curly fur.
The Selkirk Rex is the most common poodle cat breed, but other rex breeds are also often called poodle cats.
Including, the Devon Rex and Cornish Rex!
You may also find mixed breed cats with a rex parent referred to as poodle cats.
This means that each poodle cat really is unique. Aside from their coat, the rest of their appearance and temperament will depend more on their breed.
Why Are They Called Poodle Cats?
Poodle cats get their name from the curly coated dog breed – you guessed it, the Poodle!
These dogs are known for their tightly curled fur. They're popular with people who have allergies, because the curls in their fur catch and trap shedding hairs.
Poodle cats are reminiscent of this. Their fur is usually tightly curled, and can even extend to kinks in their whiskers and eyebrows.
Curly fur is the one thing that unites all poodle cat breeds.
Aside from this, they may have quite different personalities, health issues, and appearances.
So, try to find out exactly what breed your poodle cat is to learn more about what you can expect.
Do Poodle Cats Shed?
One of the main reasons that people enjoy Poodle dogs is because they do not shed anywhere near as much as most other breeds.
In fact, this trait is what makes them such a popular candidate for mixed breeds, like the Labradoodle – which was originally bred for someone who was allergic to dogs.
But, can the same trait be said for poodle cats?
Most Rex breeds are low shedding cats. So, if you have a poodle cat with curly fur, they're likely to shed very little.
Especially compared to other breeds.
However, it's still best to look at the specific breed you're choosing. If you have a mixed breed with curly fur, there's a risk they will shed more than normal. Especially if one of its parents is a high shedding breed.
Many people think that low shedding breeds are hypoallergenic. But, is there any truth to this claim?
Are Poodle Cats Hypoallergenic?
A lot of poodle cats for sale are marketed as hypoallergenic. But, sadly, no cat is truly hypoallergenic.
The proteins that most commonly cause cat allergies come from skin, eye, and saliva glands on cats
So, getting a low shedding breed isn't a guarantee that you will not suffer from allergies.
The main benefit of curly fur in cats is that the tight curls can catch shedding fur and skin flakes. But, it won't prevent them entirely.
If you are usually allergic to cats, you should try to spend time with a poodle cat before bringing it home to see if your allergies are triggered.
Allergens can concentrate highly in areas like cat bedding, soft furniture, and carpets. So, you can attempt to control allergies by cleaning your home thoroughly and regularly
But, it's no guarantee your allergies will not be triggered.
Why do Breeders Say Hypoallergenic?
So, if there's no such thing as a hypoallergenic cat, why do breeders sell poodle kittens using this term?
Sadly, there is a huge misconception about hypoallergenicity.
Some breeders simply might not realise that the term is untrue, or believe that instead it means low shedding.
But, others will be using it as a way to increase the prices of their kittens to make more profit. You'll likely notice a link between high kitten prices and "hypoallergenic" breeds.
If you're looking for a poodle cat, be wary of breeders that tell you their kittens are hypoallergenic.
Low shedding and hypoallergenic are not the same thing. And there is a risk that you will still be allergic to a poodle cat, if you normally suffer from cat allergies.
How Do You Groom a Poodle Cat?
Poodle cat fur is very different to that of other cat breeds. So, it needs careful attention.
It will also depend on the particular type of poodle cat breed you have.
If you groom your cat's fur too often, you can brush out the curls. However, groom them too little and their fur can develop nasty knots and tangles.
Poodle cats with longer fur will need to be groomed more regularly than those with short fur.
Make sure to brush them very gently to work out knots, as pulling on tangles can be painful for your poodle kitty.
If you need more help and advice, you can ask your vet, or take your cat to a professional groomer.
Poodle Cat Health
Your poodle cat's health will partly depend on the breed they actually are. So, if you see breeders selling "poodle cats", make sure you find out their actual breed.
It could be a purebred Rex breed, but it may be a mixed breed.
Finding out what breed your poodle cat actually is will help you learn about the health issues that can affect them.
You can read more about the health issues that affect the Selkirk Rex and the Cornish Rex in our complete guides.
Here are some general issues that are known to affect one or more of the Rex breeds:
patellar luxation (loose, slipping kneecaps_
alopecia (hair loss)
seborrhea and seborrheic dermatitis (scaly eczema)
muscular dystrophy and hereditary myopathy (degenerative muscle weakness)
and skin problems.
If you notice any problems with your poodle cat, particularly around their skin, you should take them straight to the vet for help.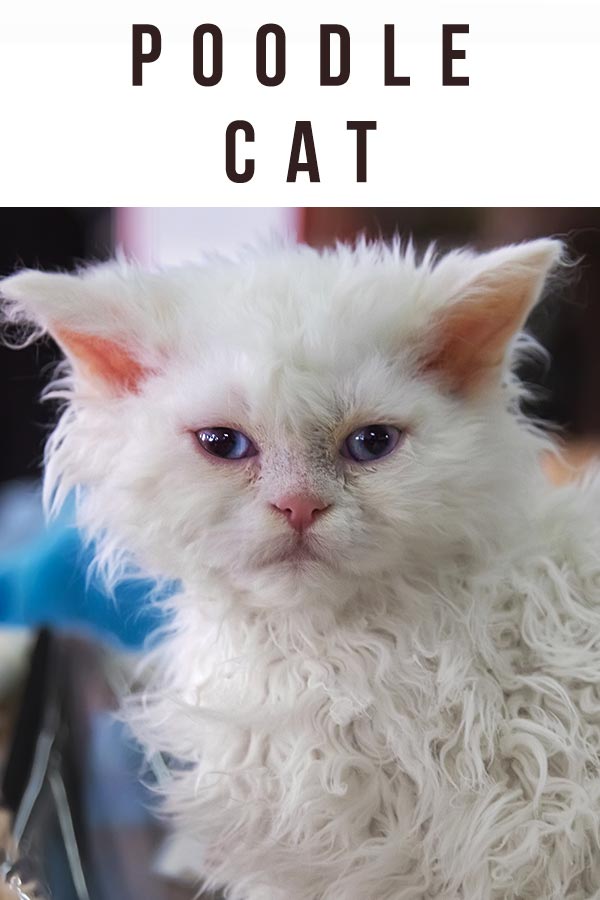 Finding Poodle Cat Kittens
As these cats become more popular, it is getting easier to find breeders. However, you must take care to choose a responsible breeder, and not just someone hopping on the trend to make a quick profit.
The best breeders will be most focused on breeding the healthiest kittens possible.
Some health conditions can be tested for, so make sure you see any possible health certificates.
Poodle cat price can vary a lot depending on where you live, the exact breed, and their demand.
Generally, you should expect to pay upwards of $500. But, you can expect to pay even more for a show quality cat.
Should I Get a Poodle Cat?
If you're looking for a low shedding cat breed with a unique appearance, a poodle kitty could be a great choice for you.
However, you should research exactly what curly coated poodle cat breed is best for you before committing to one.
Be wary of breeders who market their kittens as hypoallergenic, as there is actually no such thing as a hypoallergenic cat.
Make sure you have plenty of time to dedicate to grooming the curls of your cat. And, be prepared for any of the potential health problems they could face.
Including the common hair and skin problems like dermatitis and alopecia.
If you're keen to find a poodle cat, you should take a closer look at the many available Rex breeds.
What Do You Think About the Poodle Cat?
Do you already have one of these curly coated kittens at home? If so, we would love to hear about them!
How did you first come across these interesting breeds?
References and Resources