Welcome to Our Complete Guide To The Quirky and Unique Turkish Van Cat Breed.
Learn All About One Of The Most Famous Breeds And Decide Whether You Would Like To Share Your Home With Him .
When deciding to bring a new cat into your family, it's always a great idea to do research before hand.
Cat breeds differ in things like healthcare needs, grooming requirements and even personalities.
If you are considering a Turkish Van Cat to add to your home, then you've come to the right place to learn all about this breed.
What is a Turkish Van Cat?
The Turkish Van Cat is a famous for a multitude of reasons.
From its stunning coat, to its unique personality traits and its love for swimming, many people who own a Turkish Van Cat are entertained for hours by this amusing cat.
While all cats are unique in their personality and looks, no cat is quite as unique as the Turkish Van Cat.
Turkish Can Vat Origin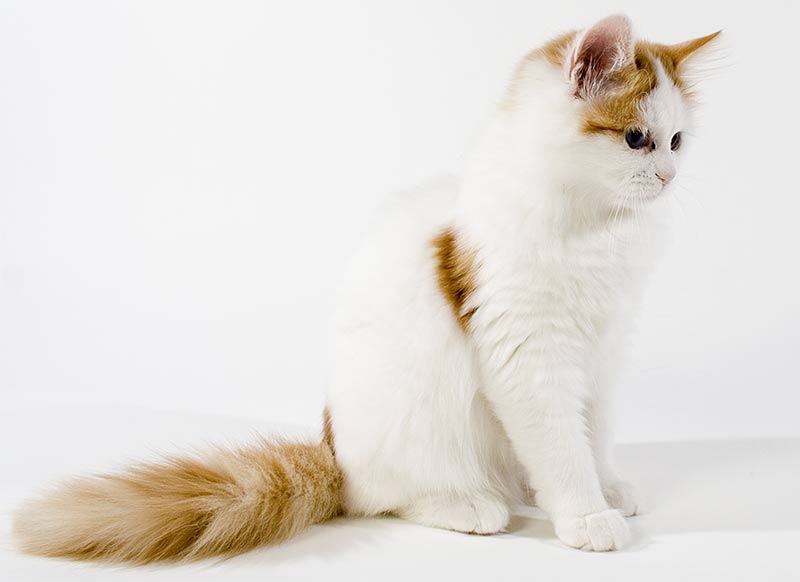 The Turkish Van Cat is one of the oldest domestic cats known to this date.
They originated from a lake region in Eastern Turkey called Lake Van, making their way to Europe in 1955. They came to America not long after in 1982.
Now, they are a well loved cat bred recognized and available across the world.
Turkish Van Cat Personality
As mentioned above, Turkish Van Cats are often described as more similar to dogs.
Maybe this is because they love to do things like swim, walk on leashes, and even play fetch.
However, Turkish Van Cats could also be described like dogs because they are extremely intelligent and trainable.
If you'd like to be able to have a cat that you can train tricks, this might be the best cat for you.
Turkish Van Cats are also famous for their ability to climb.
They can often be found on the highest point in the room, whether that be a shelf or on top of the door.
There's certainly never a dull moment with a Turkish Van Cat.
Turkish Van Temperament
The cat side of the Turkish Van Cat's temperament begins to show in their independence. They prefer not to be held or to be cuddled.
These are also very vocal cats, famous for their talkative nature.
Turkish Van Swimming
Turkish Van Cats love to swim.
Their body structure that mimics a dog's body makes swimming easy for them.
Don't be surprised if you bring your Turkish Van Cat to the pool and it starts to swim naturally.
They're also known to join in your bathtub and even turn on the facet to play!
Turkish Van Cat Weight
Like most cats, Turkish Van Cats weight varies between genders.
While a Turkish Van Cat female is usually around eight pounds, a male Turkish Van Cat can range from 10 to 19 pounds.
Turkish Van Colors
One of the most distinguishing features of the Turkish Van Cat is their stunning coat.
In fact, their breed name inspired the name of a certain coloring of cat: van.
Their most prominent color is white, covering most of their body. Their tails are ringed in circles of dark orange-red or auburn colors.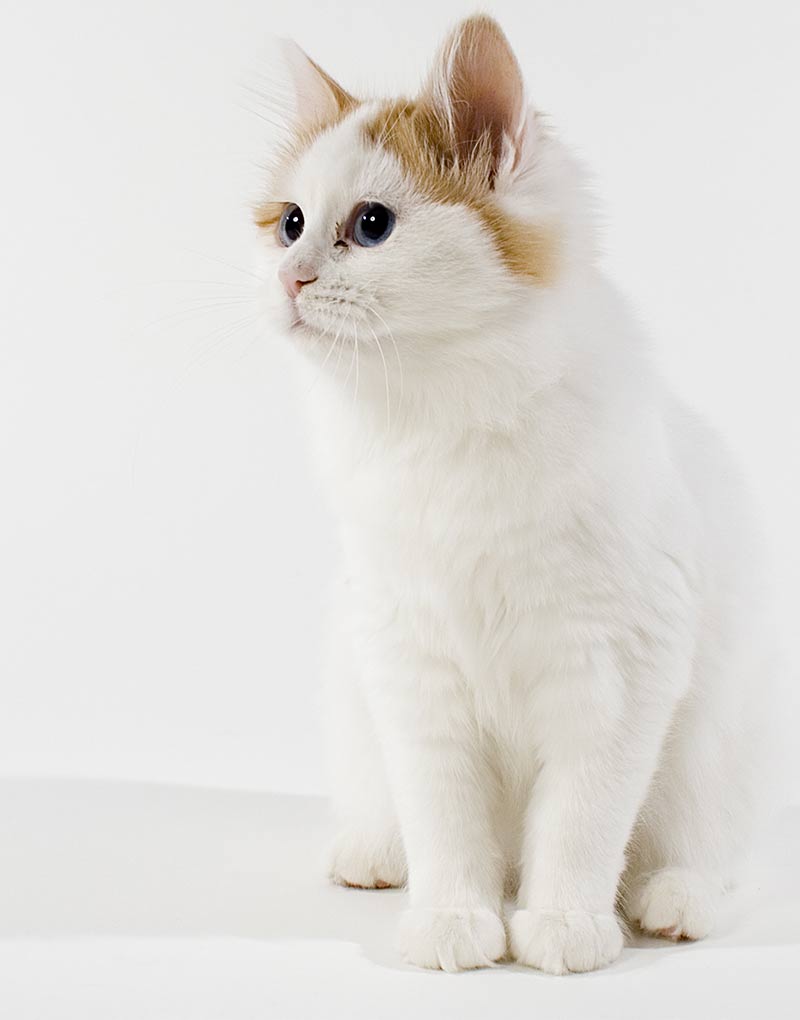 They usually have lighter red-orange blazed markings over their head and skull, sometimes stretching over their ears.
Those markings are cut off by a white blaze extending from their body to the middle of their forehead.
Included in those orange markings is a spot on their back, close to or located on the shoulder blades. This spot is famous and is often called the "thumb-print of God".
While the orange coloring is the typical coloring of a traditional Turkish Van Cat, there are many different color variations.
For example, a Turkish Van Cat Calico is a stunning version of the cat described above but this time with black and orange spots.
Their semi-longhaired silky coats are extremely soft to the touch, the texture often compared to cashmere.
These coats match their love to swim, as they are water-resistant.
The fullness of their coats changes based on the seasons.
The good news is that grooming only takes a few minutes daily.
Turkish Van Health Problems
The Turkish Van Cat is more prone to a few diseases.
They are more prone to a disease called Neonatal Isoerythrolysis, or NI, thanks to the large amount of B blood coursing through their veins.
A study of 85 Van Cats showed that 60% had type B blood, and strongly recommended that all breeders have their cats' blood tested before choosing breeding pairs.
Another study of 78 Turkish Van Cats had similar results, with 57.7% having type B blood.
NI only will affect kittens that get it from their mothers while nursing.
A kitten will slowly begin to deteriorate from this disease if not taken to a veterinarian right away, but there is an easy way to prevent this disease. Before breeding, the parents can be tested for the antibodies that carry this disease. That way, the breeder can know if NI might affect the kitten.
If you are buying a Turkish Van Kitten it is essential you go to a breeder who health tests the parents.
As well, Turkish Van Cats are still susceptible to other common cat diseases, especially to obesity. Be careful not to overfeed your Turkish Van!
If you do decide to get a Turkish Van Cat, always schedule annual veterinary appointments to make sure they are their healthiest and happiest.
They are also prone to Feline Retrovirus Infections, FeLV and FIV. A study found out of 132 cats tested, 3% were positive for FIV and 4.5% for FeLV.
It is therefore also important that the breeder has tested the parents for this condition.
Turkish Van Cat Eye Problems
One of the most interesting details about Turkish Van Cats is that their eyes can often be two different colors.
While one might be a beautiful shade of amber, the other might be a stunning hue of blue.
This is something called odd eye, and is genetically more prone to cats that are white, like the Turkish Van Cat.
Turkish Van Cat eye problems occur when genetics prevent pigment from reaching one eye during the development of the cat, therefore causing two different colored eyes.
One study speculates that the blood serum elements of Van cats may be related to their eye colors.
While sometimes this may lead to the cat becoming blind, this is not always the case.
However, due to the risk factor it might be advisable to choose a cat with the same colored eyes.
Turkish Van Life Expectancy
Remember when getting a cat you're getting a long-term commitment.
Gorgeous Turkish Van Cats can live anywhere from 12 to 14 years old if given the proper care.
Turkish Van Cat Price
When looking for a kitten, the Turkish Van Cat ranges in their price.
Markings on the Turkish Van Cat are also a good indicator for price. The closer the cat is to the breeds' characteristics, the more expensive it will be.
Don't just look for the cheapest Turkish Van kitten, as the most important factor is health. A breeder who takes the best care of their cats and does thorough health testing will need to charge more to cover their costs.
This can however save you a lot of money in vet's bills in the longer term.
Turkish Van Breeders
It can often be very overwhelming to find a good breeder for a Turkish Van Cat, especially with so many out there.
However, there are a good few things to look for when picking a breeder.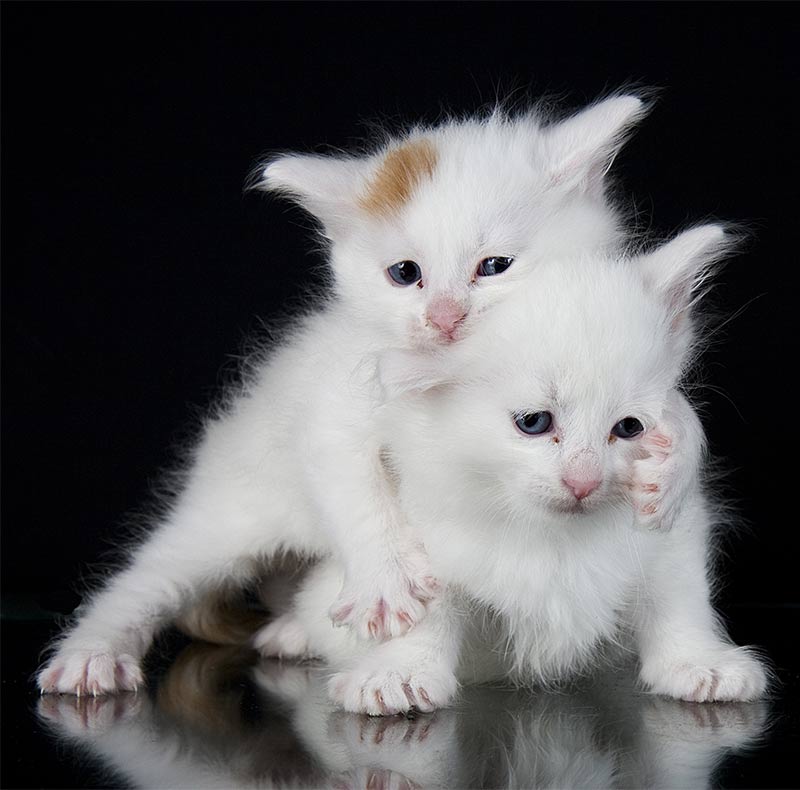 Make sure they are registered breeders. See if Turkish Van Cat websites approve these breeders and advertise on their websites.
Review the ratings of the breeders and make sure there aren't any negative experiences associated with their business.
Only pick a breeder who fully health tests and blood tests both parents, and is happy to answer all of your questions and let you meet the mother.
Turkish Van Kittens
It is worth noting that Turkish Van Cats are slow to mature. This doesn't happen until they are three to five years old.
Make sure to enjoy those kitten years that last a little longer with Turkish Van Cats!
Turkish Van Cat Rescue
It's always a wonderful idea to rescue cats versus buying them from breeders.
Rescue cats tend to be not only less expensive, but they usually are caught up on their vetting, vaccinations, and are neutered or spayed.
It's also a great option for people looking to get an older cat versus a kitten.
You'll be saving a life and giving a needing cat a wonderful home.
Turkish Van Mix
There is always the option to go for a Turkish Van Cat mix if you looking to get some qualities of the cat without having to spend a lot of money.
A Turkish Van Cat mix would be something along the lines of a Turkish Van Cat mixed with an American Short Hair. While Turkish Van Cats are already extremely healthy, the great news is that Turkish Van Cat mixes can be even healthier thanks to the combination of genes.
However, getting a Turkish Van Cat might mean losing the beautiful coloring and markings.
It could be something to consider, however, if you wanted a cat a little more unique when it comes to looks and personality.
Should I Buy a Turkish Van Cat?
You came to read this article to decide if a Turkish Van Cat is right or not for you.
These cats are beautiful, well know for their distinctive orange markings on their white pelt.
They are also famous for their dog-like personality, which comes from their love to be active by doing things like playing fetch or swimming.
Above all, if you are looking for a fun and quirky cat, then this cat might be the one for you!
However, if you are looking for more of a cat-like cat that might be more willing to sit in your lap, it might be worth looking into other cat breeds.
You will also need to make sure that your Turkish Van kitten comes from parents who have been both health and blood tested.
If you have a Turkish Van Cat or love the breed, share with us your stories down in the comments below!
Resources
The Governing Council of Cat Fancy.
Jerold Bell, Kathleen Cavanagh, Larry Tilley, Francis W. K. Smith, "Veterinary Medical Guide to Dog and Cat Breeds", CRC Press, 2012, pg. 588-589.
Yuksek, N et al 2005 Prevalence of Feline Retrovirus Infections in Van Cats. Faulty of Veterinary Medicine, Department of Internal Diseases, University of Yuzuncu
Arikan, S et al 2003 Blood Type A and B Frequencies in Turkish Van and Angora Cats in Turkey. Journal of Transboundary and Emerging Diseases.
Arikan, S and Akkan, H.A. 2004 Titres of Naturally Occurring Alloantibodies Against Feline Blood Group Antigens in Turkish Van cats.
Altunok, V et al. 2007 Selected Blood Serum Elements in Van (Turkey) Cats. Journal of the University of Veterinary and Pharmaceutical Sciences.