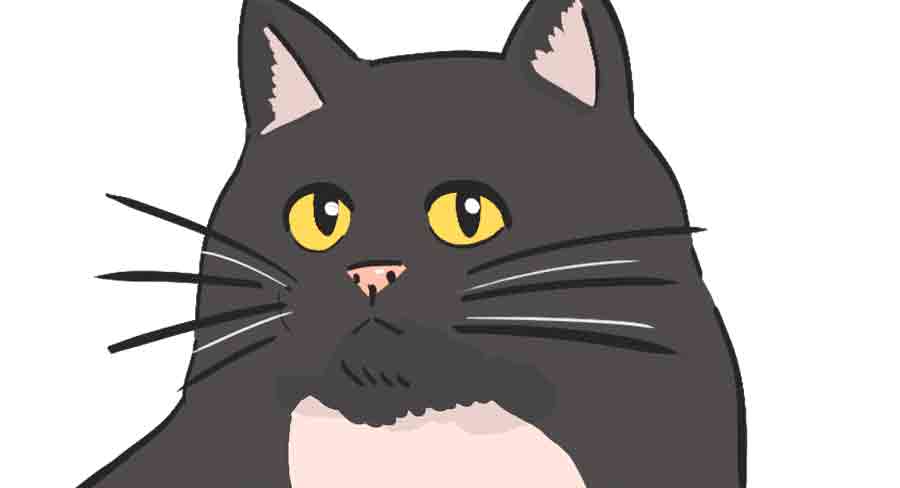 Does a tuxedo Ragdoll cat sound like your dream feline? This complete guide to Ragdoll tuxedo cats will help you turn dreams into reality (nearly).
Ragdoll Cats
Ragdolls are gentle giants of the cat world. Female Ragdoll cats weigh 10 to 15 pounds, and males can reach up to 20 pounds. They are well built and have a long coat that gives the overall impression of being a substantial cat indeed. But they are famous for being placid and cuddly when they're picked up. In fact, they're so docile about being handled that a common myth about them is that they're genetically programmed to go limp when lifted. This isn't actually true though!
What Is The Tuxedo Cat Pattern?
Tuxedo cats have a predominantly black coat, with a white bib on their chest and white front paws. Sometimes they have a white tip to their tail, and sometimes they have a white chin, or a triangle of white fur on their face. The official cat fancier's term for this pattern is 'bicolor', which really just means 'any base color or pattern, with white markings'. But lots of people affectionately call them tuxedo markings, because it makes cats look like they are wearing a smart dinner jacket and dress gloves.
There is no single tuxedo cat breed – lots of cat breeds can have tuxedo markings. Unfortunately though, the Ragdoll is not among them.
Ragdoll Cat Colors
According to their official breed standard, the only colors accepted in Ragdoll cats' coats are:
seal
blue
chocolate
lilac
red
and cream.
As you can see, black is not included, which is their first significant barrier to having a tuxedo coat!
Ragdoll Cat Patterns
Furthermore, Ragdoll cats are a pointed cat breed, like the Siamese. This means they all have a special type of temperature sensitive albinism, and they make the most pigment in their fur where the surface temperature of their skin is coolest. Namely, the ends of their legs, muzzle, ears and tail (their 'points'). All Ragdoll cats produce very little pigment over the rest of their body.
In addition, Ragdoll cats can have patterns inside or on top of their points, namely
tabby markings
tortoiseshell markings
van markings
white mittens on their paws
and bicolor markings.
Bicolor markings on Ragdoll are similar to the white markings on tuxedo cats. Remember, bicolor just means 'with white markings'. But, because Ragdolls make very little pigment in the fur on their body, the outline of the white patches tend to be quite indistinct. In other words, bicolor Ragdoll cats lack the crisp contrast of a traditional tuxedo cat.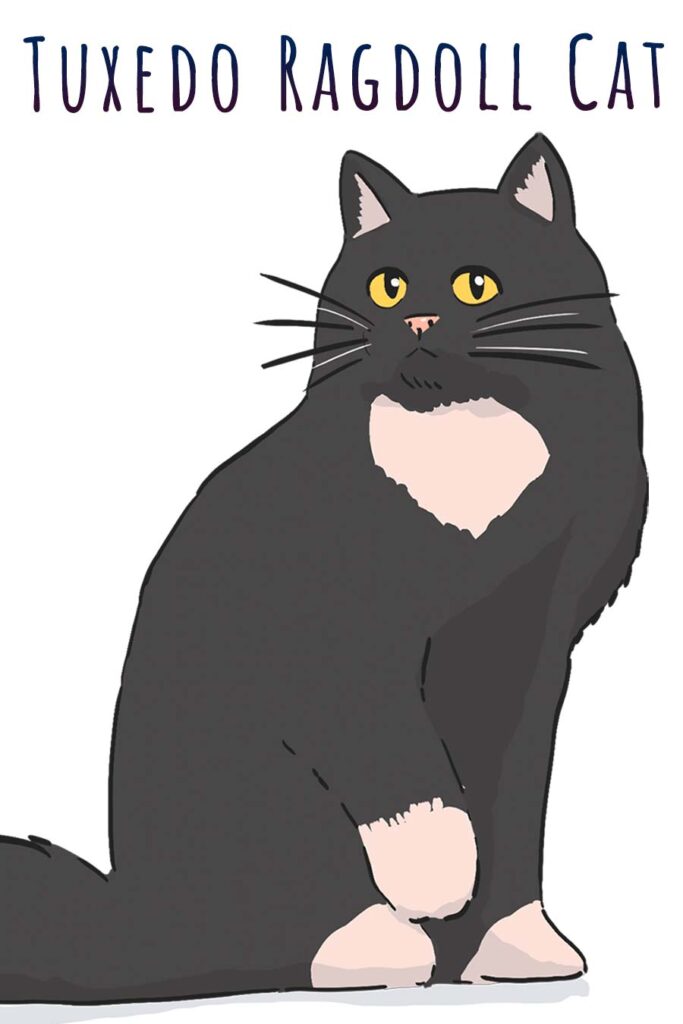 What's The Closest Thing To A Tuxedo Ragdoll Cat?
So, Ragdoll cats are gorgeous pets, and tuxedo is a dapper cat pattern with lots of fans. But, alas, the two do not exist together. So what's a cat lover to do? Well, these are the closest compromises.
Bicolor Solid Seal or Chocolate Ragdoll
Frankly, none of the accepted Ragdoll colors much resemble the classic tuxedo pattern. But the closest approximation is a bicolor Ragdoll with points of solid seal or chocolate. Seal and chocolate are the darkest Ragdoll colors, and 'solid' points means not having any pattern within them, such as tabby stripes. Seal and chocolate bicolor Ragdolls are more likely to be cream or ivory over their body than pure white, so their white bib will show up more clearly. These cats look more like they're wearing a brown suit from the 1970s than a tux, but it's something. You might also think a bicolor blue Ragdoll looks convincingly enough like a grey tuxedo cat.
Ragdoll Tuxedo Cat Mix
Although the Ragdoll breed standard is very specific and restrictive about what colors and patterns are permissible in show-quality Ragdolls, that hasn't stopped some breeders introducing other colors and patterns to suit their own tastes. For example, the gene for black fur can be introduced into a breeding line by crossbreeding a bicolor Ragdoll with a black tuxedo Persian cat. This mix is likely to throw some kittens which also have traditional tuxedo markings. Breeders can then mate these kitten to other pedigree Ragdolls, to create litters with lots of Ragdoll traits, but which also carry the genes for black and white tuxedo markings. These tuxedo kittens and their descendants are no longer pedigree Ragdolls, but they are likely to be Ragdoll-esque in lots of ways.
Tuxedo Persian Cat
Another option is to choose a tuxedo cat from a different breed that has a similar temperament to the Ragdoll. For example a tuxedo Persian. Like Ragdolls, Persian cats are sweet, placid and affectionate. They like human company, and being cuddled. And their coat, which is long and soft like a Ragdoll's, already comes in the tuxedo pattern.
However, Persians are smaller than Ragdolls – around two thirds of the size. They are also prone to significant health problems as a result of having such flat faces. They also suffer from a high rate of kidney disease.
Tuxedo Maine Coon Cat
Maine Coons are another pedigree cat which actually comes in a long hair tuxedo coat. They tend to be the same size or a little larger than a Ragdoll, and they have fewer built-in health problems than a Persian. However, they also tend to be a bit more active and less people-focussed than either the Ragdoll or the Persian. They're still generally regarded as easy going and laid back company though!
Tuxedo Domestic Longhair Cat
Finally, the vast majority of pet cats in the USA don't actually belong to a specific pedigree. Cats like these, which come from unknown ancestry, are known as domestic shorthairs or domestic longhairs, depending on their coat. Lots of domestic long hair cats have the tuxedo pattern, and if you would like to rescue a tuxedo Ragdoll cat from a shelter, then a domestic long haired tuxedo cat is likely to be the closest equivalent you'll find. There's no single tuxedo cat personality in this category though – their temperament and health are both things you'll need to be adaptable about.
Tuxedo Ragdoll Cat Summary
The tuxedo pattern is not one which occurs in the Ragdoll cat breed. Black and white Ragdoll coat patterns can only be achieved by crossing a Ragdoll cat with a cat from another breed, who carries the genes for black fur. The alternatives are either a Ragdoll cat in a different coat, or a different but similar type of cat with a tuxedo pattern.
Does your cat look like a tuxedo Ragdoll cat? Do you know what their ancestry is? We'd love to hear more about them in the comments box down below!
You might also enjoy
References
Kaelin & Barsh. Genetics of Pigmentation in Dogs and Cats. Annual Review of Animal Biosciences. 2013.
Lund et al. Health status and population characteristics of dogs and cats examined at private veterinary practices in the United States. Journal of the Veterinary Medical Association. 2009.
Ragdoll Standard. Cat Fanciers Association. 2009.
The GCCF Ragdoll Breeding Policy. Governing Council of the Cat Fancy. 2012.