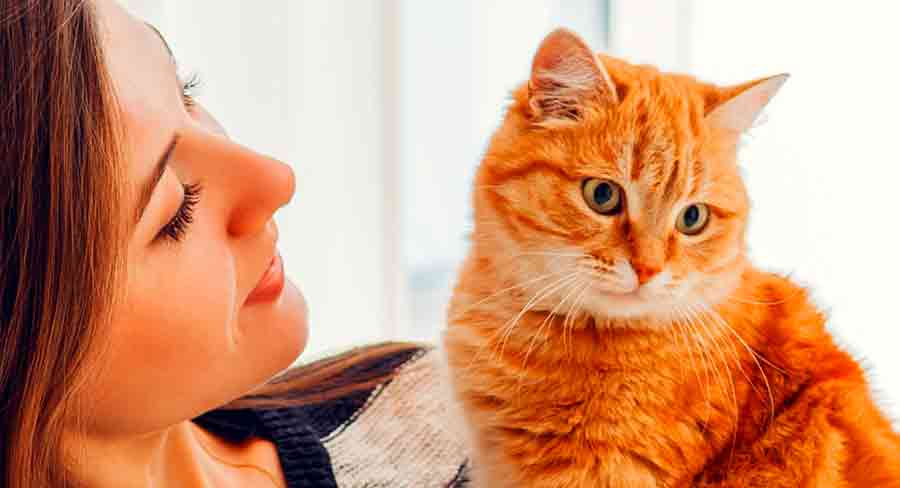 Unique girl cat names are the best way to describe your one of a kind cat.
We've cast far and wide for rare and unusual names to suit really special female cats.
We've got over 250 beautiful and quirky ideas in total. But we'll start with 50 of our absolute favorites:
Top 50 Unique Girl Cat Names
Amandine
Appollonia
Atom
Aurelia
Bambi
Barbara
Birdie
Celeste
Cinnamon
Claudel
Clemmie
Cypress
Dagger
Dove
Ember
Galaxy
Hunter
Indu
Iris
Jett
Lark
Laurel
Lilaea
Lilou
Lowri
Lux
Magnolia
Malou
Mignon
Mischa
Mouse
Nova
Olive
Paloma
Panda
Paris
Pilar
Regina
Roxie
Ruse
Skyla
Stella
Sunday
Teddie
Tokyo
Trinity
Veda
Velvet
Vita
Wren
Zena
Zephyrine
Unique Girl Cat Names
Your kitten is sure to grow up to be a one-in-a-million friend and companion.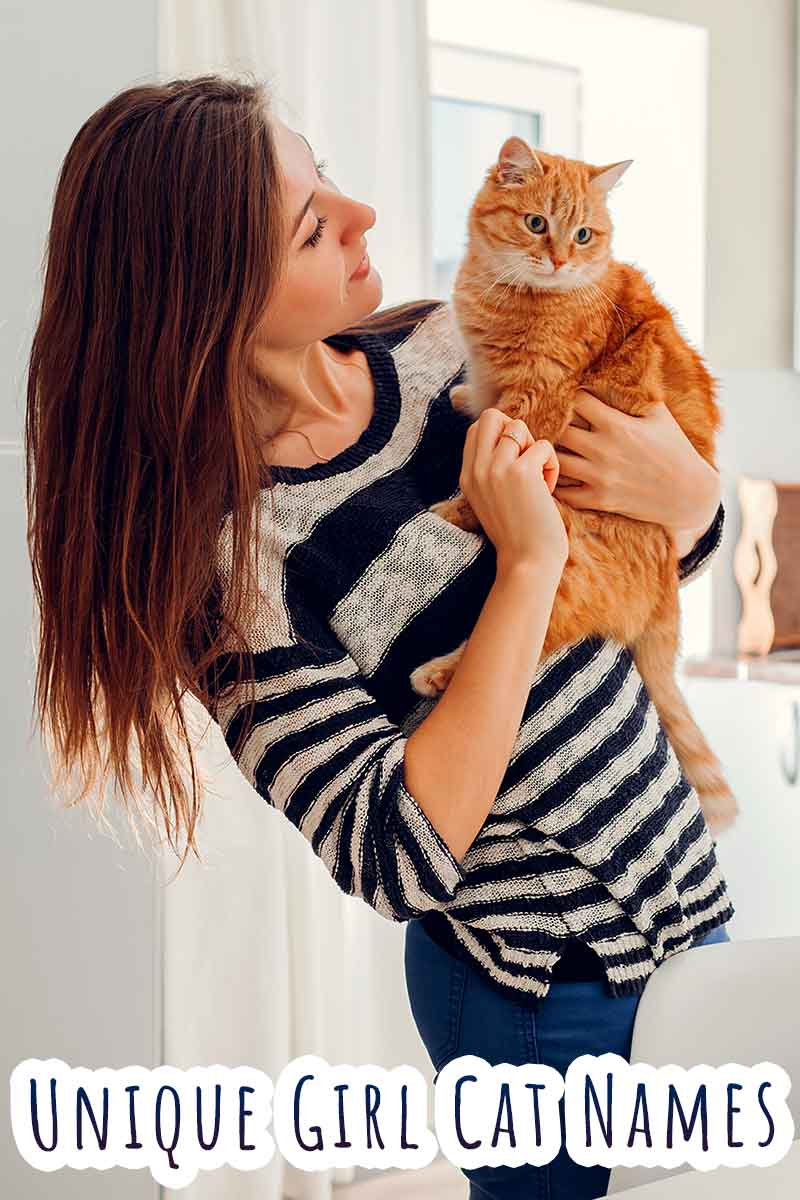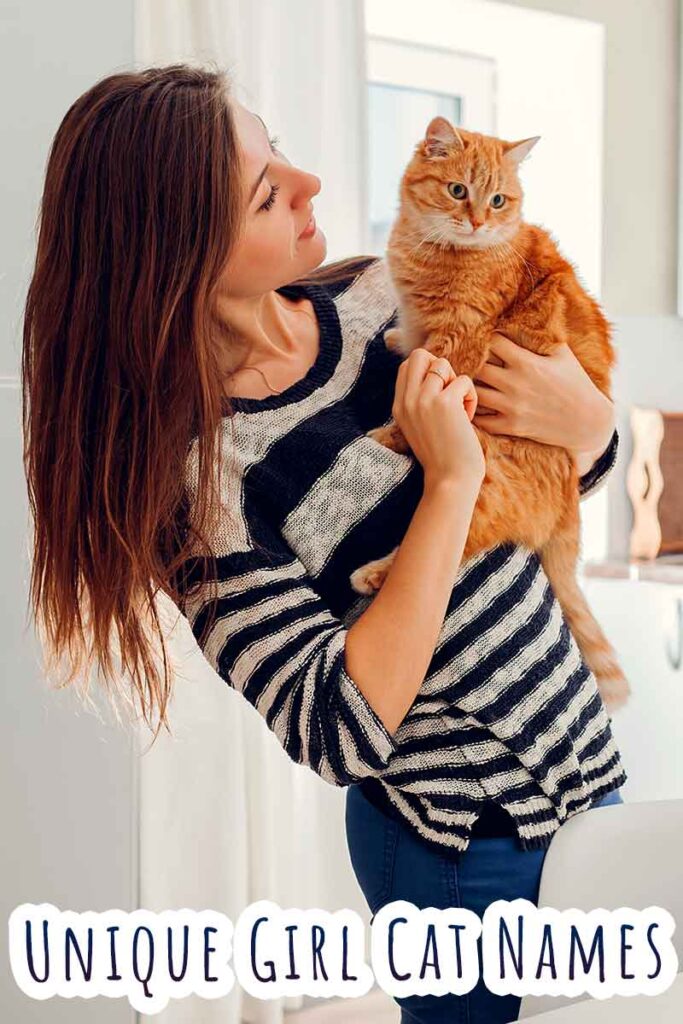 We think it makes perfect sense to spend as much time deciding a kitten's name as you'd spend choosing a baby's name. Because why not?
And do you know who is really good at coming up with distinctive, unique names?
Celebrities.
All of the surprising and unique names on this next list belong to the children of famous people. And we think they'd make ear-catching names for cats too.
Unique Celebrity Inspired Ideas
Altalune
Apple
Arkadina
Arusha
Avry
Banks
Blue
Bluebell
Chicago
Cosima
Cricket
Destry
Diva
Dusty
Egypt
Everest
Fuschia
Genesis
Gia
Harbor
Harlow
Haven
Heiress
Indiana
James
Journey
Locket
Maple
Memphis
Monroe
Moonblood
Moxie
Nesta
North
Petal
Rocket
Rogue
Rumer
Rumi
Satchel
Scout
Seven
Sonnet
Sparrow
Speck
Stormi
Sunday
Tennessee
Tuesday
True
(Note – some of these children are boys. But we think the names would sound great on cats of either sex!)
Unique Girl Cat Names Inspired By Books And Films
Books and films are a rich source of unique and unusual names.
Fantasy writers in particular often invent brand new names for every single one of their characters!
Choosing one of these names for your cat is a great way to pay tribute to a character you love. Or just use a name that no other cat is likely to have:
Aeryn
Angua
Arwen
Arya
Buffy
Daenerys
Dana
Danvers
Effie
Eowyn
Eskarina
Galadriel
Gamora
Glimmer
Guinevere
Gytha
Hela
Hermione
Inara
Jyn
Katniss
Leela
Leia
Liessa
Lois
Luna
Lyra
Magrat
Mantis
Marisa
Minerva
Mitsuko
Motoko
Nakia
Nebula
Noriko
Nyota
Okoye
Ramonda
Ripley
River
Rue
Serafina
Shuri
Shurya
Starfire
Tenar
Trinity
Wanda
Wednesday
Ysabell
Unique Female Cat Names From Ancient Mythology
Stories from ancient mythology and folklore are full of larger than life characters. Not to mention wild exaggeration, and drama.
Much like some cats, then!
These names come from all over the world. They would be an impressive moniker for any fabulous feline:
Afri
Ahti
Andromeda
Antigone
Aphrodite
Ariadne
Artemis
Atalanta
Avita
Bastet
Besna
Cassandra
Circe
Demeter
Divona
Eir
Electra
Elli
Erya
Eurydice
Freya
Fulla
Gaia
Gefion
Hebe
Hecate
Hel
Hera
Hestia
Idun
Iphygenia
Isis
Maia
Mari
Medea
Medusa
Menhit
Naria
Nepit
Nut
Nyx
Pakhet
Pandora
Penelope
Persephone
Phoebe
Sekhmet
Sif
Sigyn
Skadi
Unique Female Cat Names Inspired By Legendary Women
Human names are a popular choice for lots of cat owners because they help cement their pet's status as part of the family.
Cute, girly names are the usual go-to option. But there are still lots of female names that don't often get picked for cats.
Here are some names which your cat could share with a trail blazing scientist, writer, songwriter, athlete or activist.
We love that whenever someone asks you about your cat's name, the amazing achievements of these real-life women will get shared a little wider, and celebrated a little louder.
Our Favorites
Ada (Lovelace)
Agatha (Christie)
Amelia (Earhart)
Angela (Davis)
Aretha (Franklin)
Billie (Holiday)
Billie Jean (King)
Coretta (Scott King)
Danica (Patrick)
Daphne (du Maurier)
Dolly (Parton)
Dorothy (Hodgkin)
Eleanor (Roosevelt)
Emily (Bronte)
Etta (James)
Frida (Kahlo)
George (Eliot)
Grace (Hopper)
Harper (Lee)
Hedy (Lamarr)
Hetha (Ayrton)
Ida (Noddack)
Jane (Austen)
Joni (Mitchell)
Katherine (Johnson)
Lindsey (Vonn)
Lise (Meitner)
Mae (Jemison)
Malala (Yousafazi)
Margaret (Atwood)
Marie (Curie)
Mary (Anning)
Maya (Angelou)
Michelle (Obama)
Naomi (Osaka)
Nina (Simone)
Pauli (Murray)
Rachel (Carson)
Rosa (Parks)
Rosalind (Franklin)
Ruth (Bader Ginsburg)
Serena (Williams)
Simone (Biles)
Stevie (Nicks)
Sylvia (Plath)
Tracy (Chapman)
Venus (Williams)
Vera (Rubin)
Virginia (Woolf)
Wilma (Rudolph)
Choosing Unique Girl Cat Names
Choosing a name for your new kitten or rescue cat is usually a fun part of bringing them home.
And if you like unusual names, it's a great chance to run wild with the possibilities, and use a name (or names) which you wouldn't dare to use for a human child.
After all, your cat is never going to have to spell their name in Starbucks.
But, there are some things to think about:
You
will

have to spell their name for the veterinarian, the groomer, and the cat kennel.

I have a guinea pig called Brienne of Tarth after the Game of Thrones character.

It suits her because they have the same color hair, and they are both totally badass.

But when I called to register her with the vet's clinic, it quickly became clear my vet hasn't watched Game of Thrones.

I repeated myself a few times, eventually started spelling it out, and decided to stop at just Brienne.

If you like making eccentric choices, but get embarrassed explaining them to other people, take that into account when picking a unique cat name!
Will your cat be an outdoor cat?
Cat lovers are torn on whether to let their felines outdoors.
The truth is, there are pros and cons to both keeping your cat indoors, and letting them roam around your yard and beyond.
You can read more about them, and better inform your own decision, in this article.
If your cat is going to be allowed to roam, think about whether the name you've picked is one you're happy to shout across the neighborhood when it's time for them to come in.
If it makes you feel silly, perhaps use it as an informal middle name instead!
Unique Girl Cat Names – Summary
If you have a penchant for bold or unlikely names, then a new cat is a great chance to have fun.
Besides a stand out every day name, why not give them some unofficial middle names too?
Does Your Cat Have A Unique Feminine Name?
Please tell us what it is and how you chose it in the comments box down below!
More Name Inspiration
For further naming inspiration, take a look at these articles too: