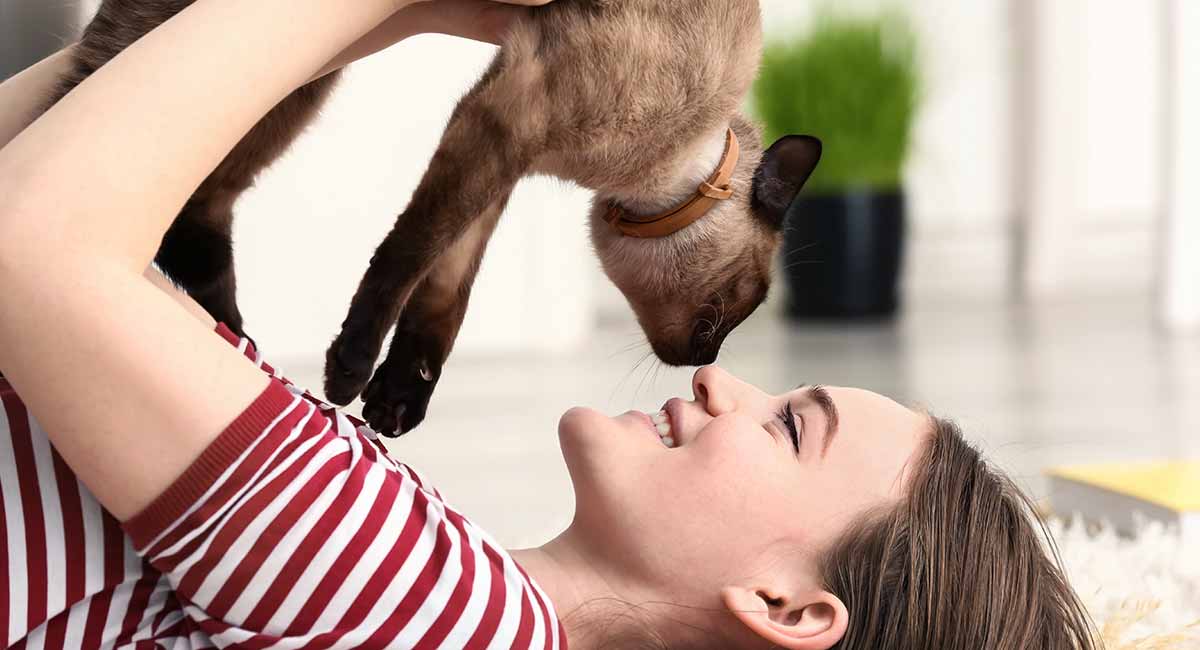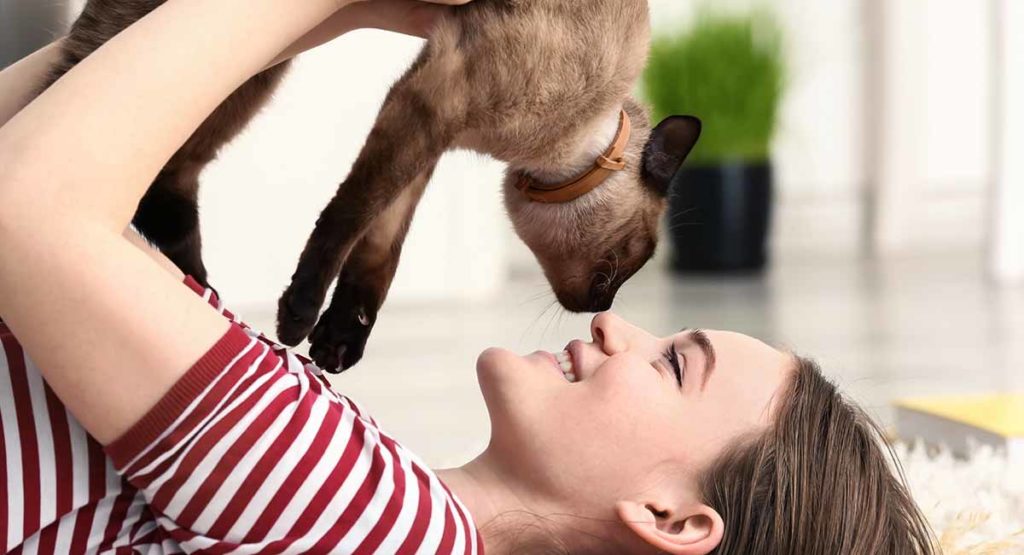 What breed is my cat is one of the most common questions cat owners ask me. Although I can't be completely sure without a DNA test, I can make a pretty good estimate at the genetic history of your kitty just by looking at him. Today I'm going to share my years of kitty experience with you, and help you to see if you can identify your cat's breed through a few key features. Cat breed traits include size, colors, pattern, coat type, face shape, tail length and even behavoir.
Contents
I thought for years that my gorgeous cat was a simple tuxedo. It wasn't until he went for his annual vaccinations one year and the vet described him as a black and white tabby that things got interesting. Because my ordinary cat, when you look very closely, has tabby markings in his coat. This fact isn't useful in any practical way, but it is somewhat fascinating when you start to think about his genetics and what could have caused that quirk. Perhaps the answer is in the breed or breeds that have come before him?
In this article we are going to help you to work out which of the various types of cats your kitten belongs to. Sharing lots of information on the signs of different cat breeds. Some factors to look at include: fur color and patterns, face shape, tail length and more! Read on to find the answer to the question: what breed is my cat!
What Breed Is My Cat?
Although DNA tests can now pick between some of the more popular breeds, there are ways to identify your cat's breed at home. Today we'll look at the factors that are likely to give the strongest indicator of type, including their size, pattern, coat, shape and even behavior.
Perhaps your cat was a rescue, a gift, or even a stray before it became part of your family. Whatever the reason, you now want to know how to tell what breed your cat is. There are lots of ways kitten breeds differ from one another. We can use these features to identify individual cats.
Let's Start With Some Easy Wins
There are a few cats that you can be fairly confident of the history of by glancing at them.
Does your kitty have tufty ears, long fur and too many toes? He's probably a Maine Coon!
Are there dark spots all over your pet's back, a slim build and an independent streak a mile long? You might be looking at a Bengal.
Is this kitten's face flattened, ears small and eyes rather protruding? You've almost certainly met a Persian cat.
Slinky bodied, long nosed, attention seeking and deafeningly loud? That's the pointed Siamese.
But sadly identifying your pet's background is not normally so straight forward.
Purebred or Mixed?
Purebred cats are kittens whose ancestors are all from the same breed. So, they often share similar characteristics that fit into their breed standard. Which makes them much easier to identify! But not all common types of cats are purebred.
Mixed breeds, on the other hand, can inherit features from either of their parent breeds. Which can make them quite hard to identify. Even mixed breeds from the same litter can look really different. The features we mentioned above are the best way to narrow your options down.
Cat Breeds By Size
One of the first and main features that shows your cat's breed, is its size. Knowing whether your kitten is a large or small cat breed can narrow down your options. But, it's important to remember that kittens of any breed can vary in size. So, size isn't necessarily a guarantee of your cat's breed, especially if it is a mixed breed.
Large Cat Breeds
Large cat breeds can weigh anywhere from 10 to 25 pounds. Although some can weigh as much as 30 pounds! Big cat breeds don't all look identical. Some of the biggest domestic cat breeds are:

Ragdolls weigh on average 10lbs, which is at the lower end of the large cat scale. But still bigger than your standard kitty!

The gorgeous Maine Coon is sometimes mistaken for a fox due to it's large build, reaching anywhere between 10-20lbs in weight.

Stunning long haired Norwegian Forest Cats don't just look big due to their flowing fur, they can also weigh up to 12lbs.

Bengal cats are famous for their tiger like looks, if not their actual tiger size! These striped kitties range from 8-15lbs as adults.

Burmese cats might be on the smaller side of the big pet scale, but they still pack in the points at 8-12lbs.

Elegant Egyptian Maus are the middle of the big kitty bunch, hitting somewhere between 6-14lbs.

The Savannah cat was bred from wild giant Ocicats, and can be the biggest of all domestic breeds weighing in at up to 30lbs!
Small Cat Breeds
Just like their larger counterparts, small cat breeds can look very different from one another. But they all share a similar small size – they rarely weigh more than 15 pounds.
Dwarf Cats
Another well known small cat breed is the Munchkin. This cat is only so small because of its short legs, caused by pseudoachondroplasia (a type of dwarfism). Munchkins have regular sized bodies and very short legs, which make it much harder for them to move and live like a normal cat. They are also at risk of a lot of health issues. There are several mixed breed cats that have been created from theMunchkin cat. For example:

What Breed Is My Cat By Fur Patterns and Colors?
The color and pattern on your cat's coat is another great feature to answer "what breed is my cat". And cat markings can be very distinctive. Let's take a look at some of the most distinguished patterns and colors you can look out for:
Solid
Solid fur patterns are pretty self explanatory. This coat has only one color, with no pattern or breaks. Solid patterns can come in a huge variety of colors. Click on the links to see which cats fall into these color categories:
What Breed Is My Tabby Cat?
Tabby cats are hugely popular and this pattern comes in a lot of different rare and common breeds! This coat pattern can come in a large range of colours, with long or short fur. Tabby coats come in one of four patterns:
Mackerel – narrow, parallel stripes
Classic – swirled pattern, circular markings
Spotted – spots of darker color on lighter background
Ticked – multiple bands of color on each strand of hair
Patched – patches of color.
The patched pattern is just seen as tortoiseshell by some. We will look at this pattern in more detail in a moment.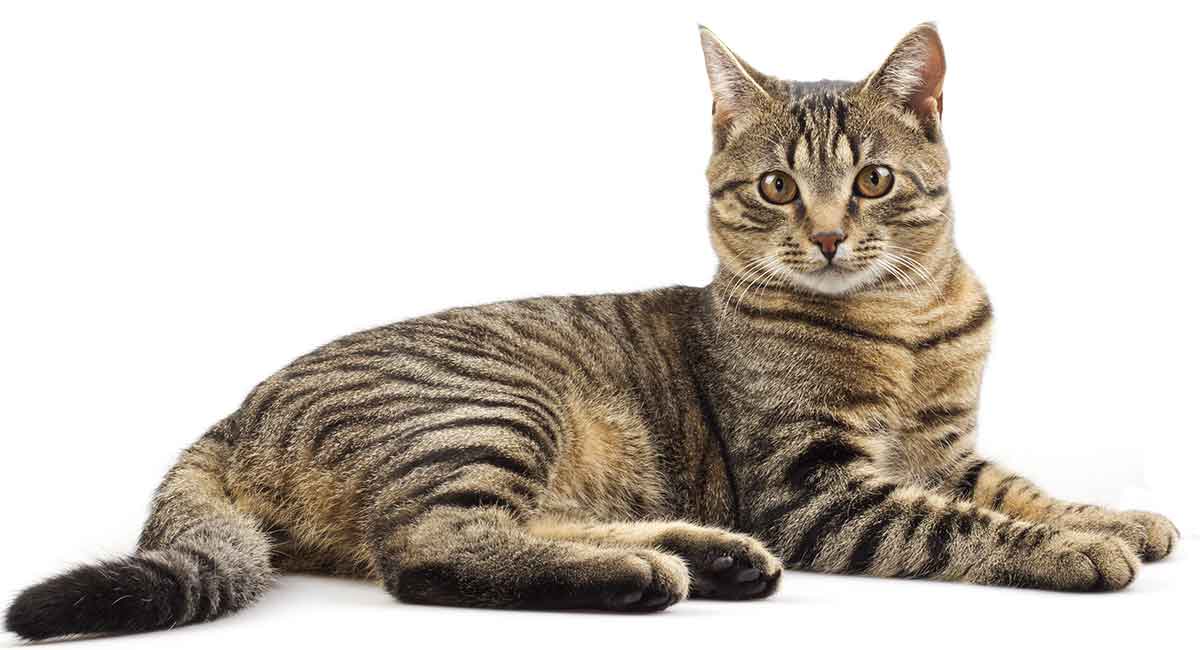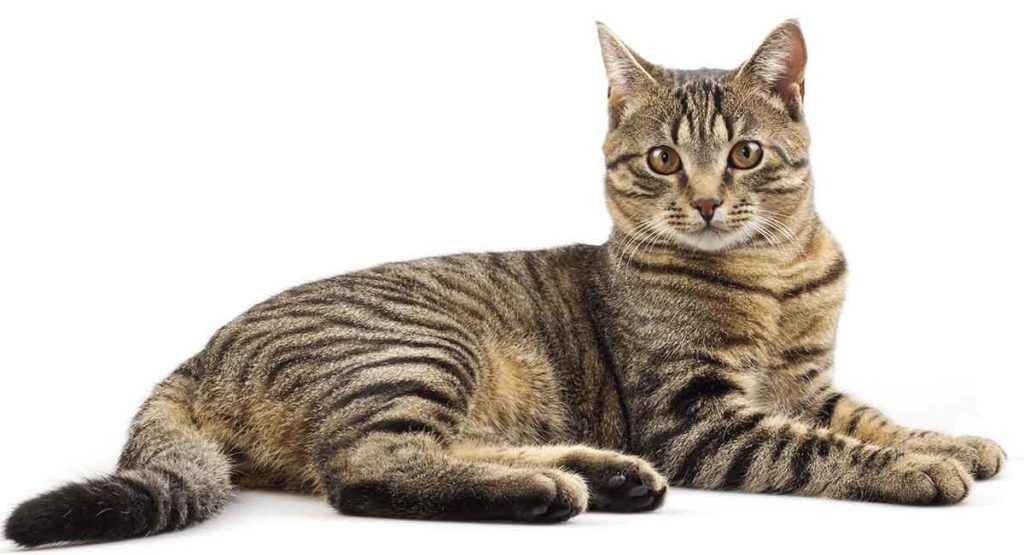 Bicolor
A bicolor cat is often also called a piebald. This coat pattern occurs when white fur mixes with another color. One of the most common bicolors is the Tuxedo. The black and white pattern on this kitten's fur makes it look as if it is wearing a tuxedo! If your cat's fur has two tones, but no white, it will be a tortoiseshell pattern.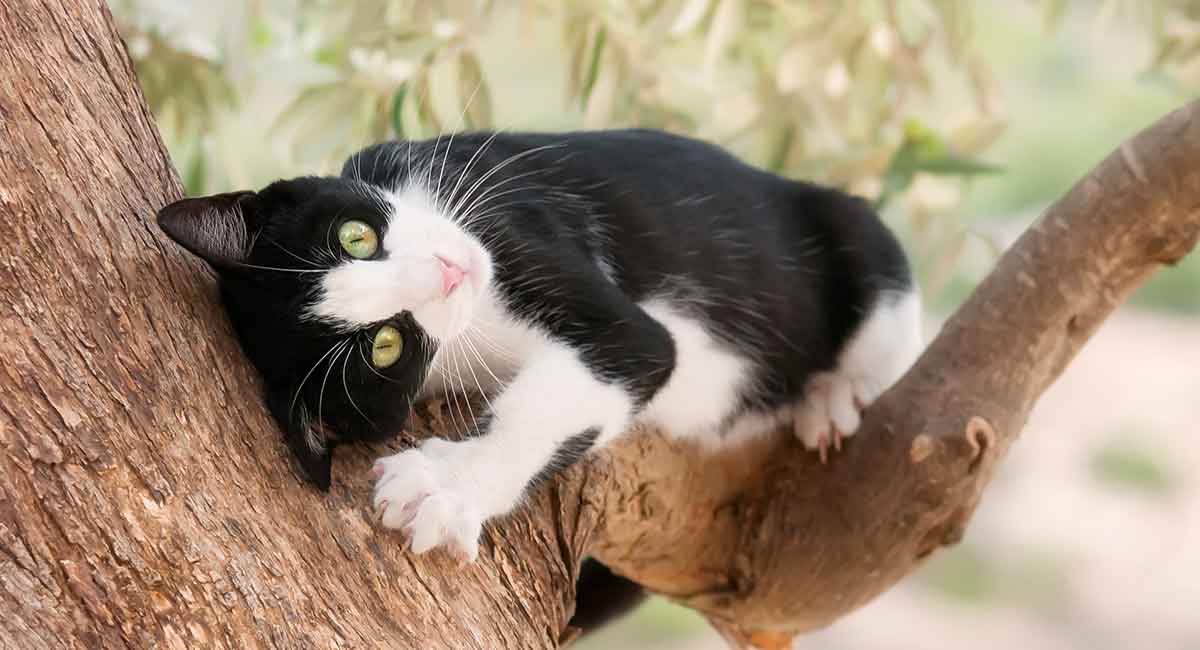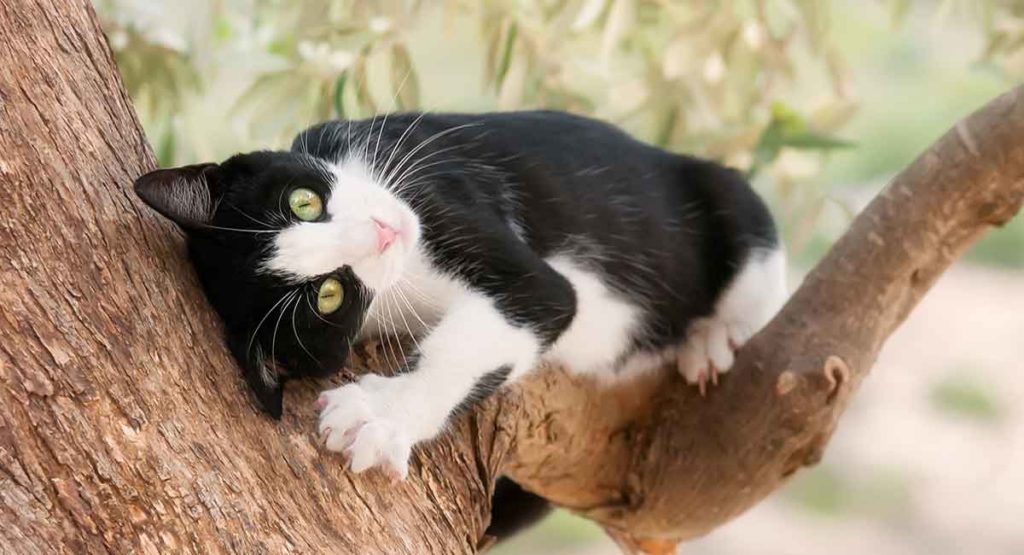 Tortoiseshell
The tortoiseshell fur pattern will have any two colors, except white. These two colours can appear mixed together, or just show up in large patches. One of the most common combinations is red and black, but tortie coats aren't limited to these colors! They can include orange, yellow, grey, or brown. To make things even more confusing, one or both of the colors on a tortie cat can be tabby patterned!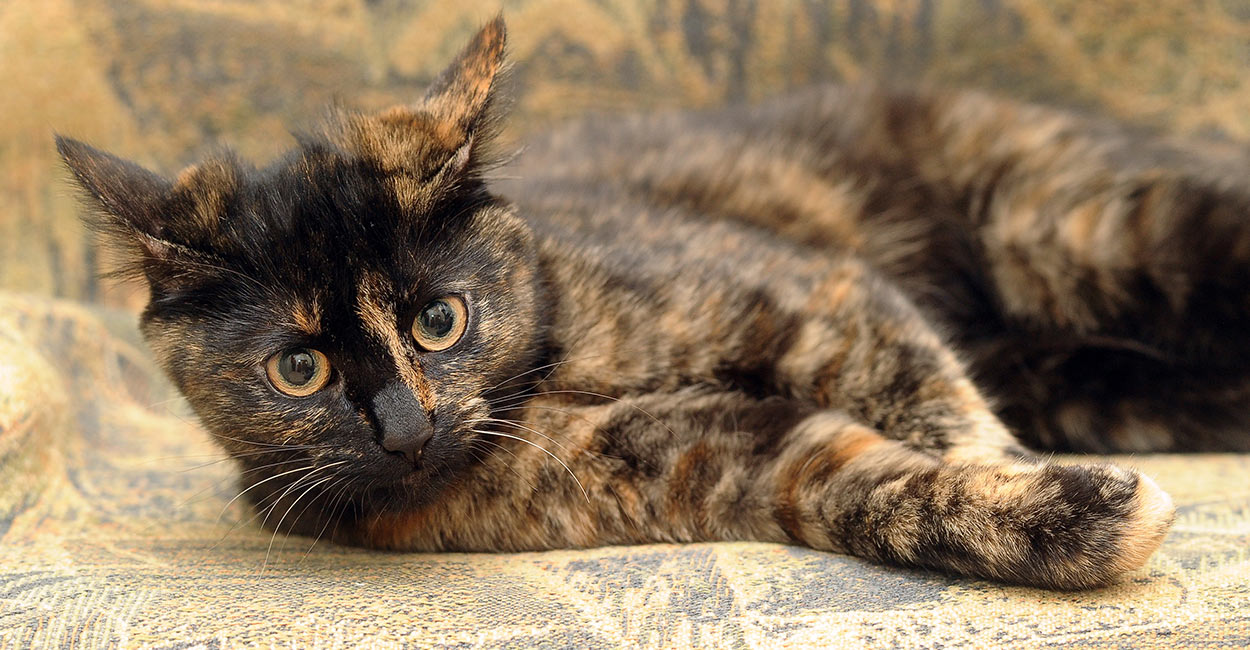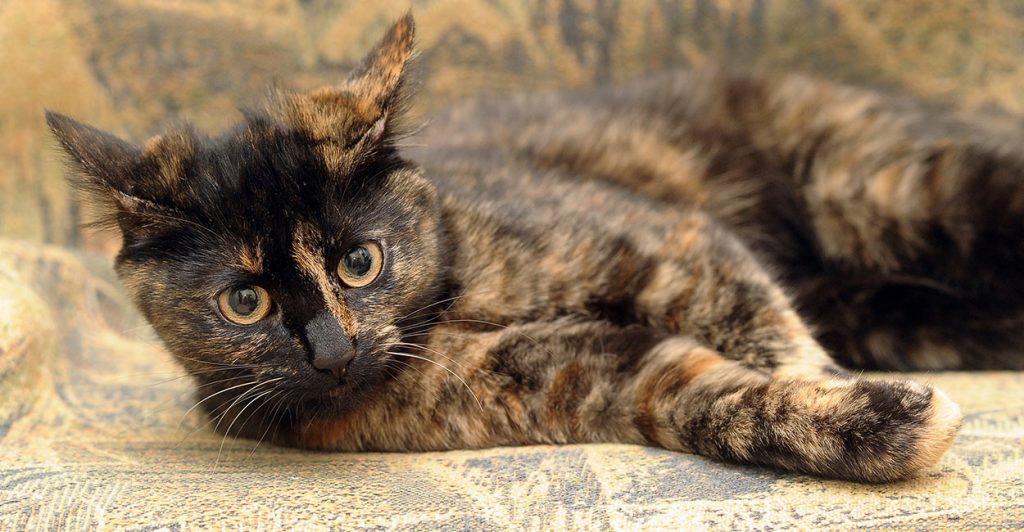 Calico
The calico fur pattern is often confused with the tortoiseshell pattern. Calico cats have three tones in their fur, but one of these is always white. If your tortoiseshell has tiny bits of white fur, it will be called a tortoiseshell and white. It needs to have large amounts of white to qualify as a calico. When the other two colors are more balanced with the white fur, you have a calico.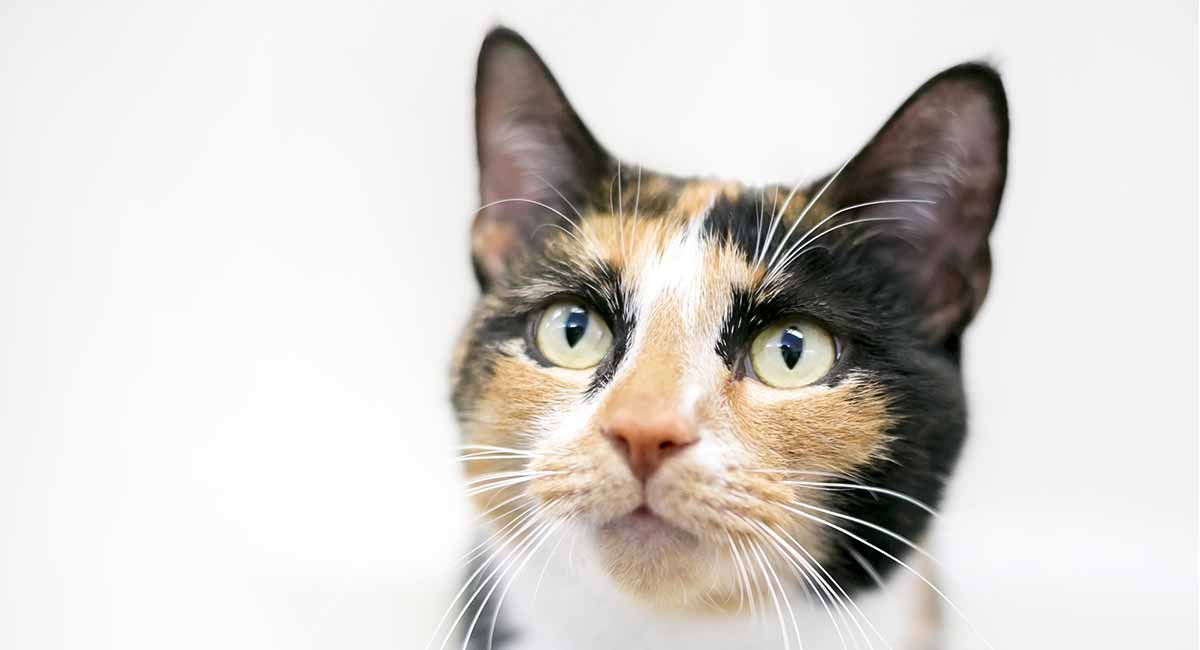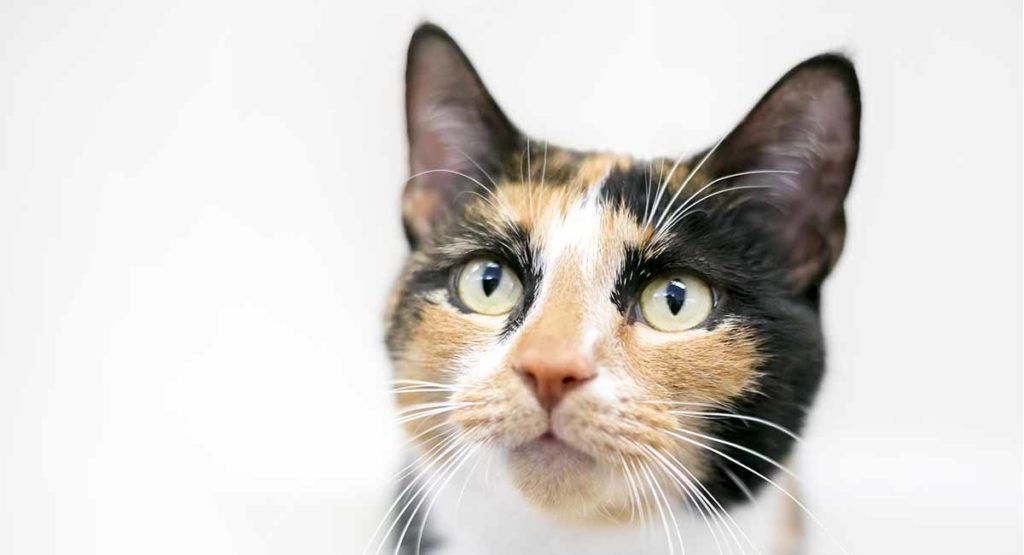 Cat Breeds by Fur Type?
As well as color and pattern, you can look at the type of fur your cat has. This means looking at the length and thickness of your cats fur. As well as the amount it sheds.
Long Haired Cats
Do you have an extremely fluffy cat in your home? We've compiled a list of some of the fluffiest to help you find out "what breed is my cat?". The following breeds are known for their long, thick fur:
American Longhair
Long Haired Siamese
There are plenty of other long-haired breeds. So make sure to examine his fur closely, to help you find out what breed your cat is!
Short Haired Cats
Not every cat has long, fluffy fur that needs lots of grooming. Perhaps your mystery kitten has a short, easily maintained coat. If so, you might have one of the following breeds:
Curly Fur
Cornish Rex
Devon Rex
Selkirk Rex
Hairless Cats
Hairless cats are popular among people with allergies. Although, allergies are caused by allergens produced in skin, urine, and saliva, as well as just fur. Many hairless cats are mixes. If you have a hairless cat, you could own one of the following breeds:
Bambino
Donskoy
Peterbald
Ukranian Levkoy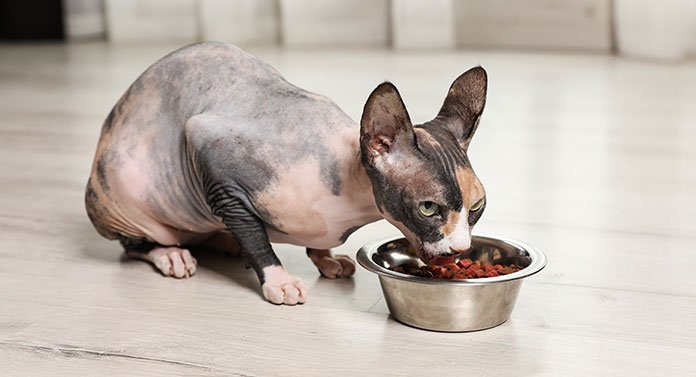 What Breed Is My Cat by Face Shape?
If you're still struggling to identify what breed your cat is from its size and fur, looking at its facial shape and features is another great idea. Some breeds have very distinctive face shapes or features such as curled ears. Let's take a look at some of these now.
Long Noses
Some cats have longer, more pointed faces than others, which makes them more recognisable. Looking at the breed standards of cats can help narrow down which breed your cat is.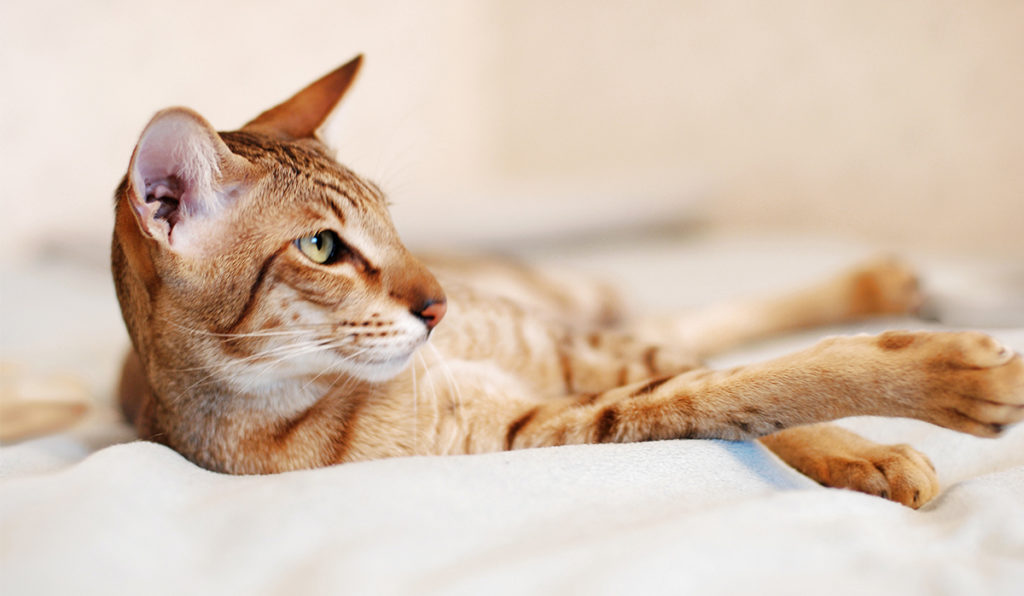 Flat Faced Breeds
Flat faced breeds are cats with very short snouts, large eyes and small ears. They are known as brachycephalic breeds. Their skull shape has been bred this way to give them a "human-like" appearance.
They are also prone to some serious health issues, such as breathing difficulties, dental problems, and eye problems.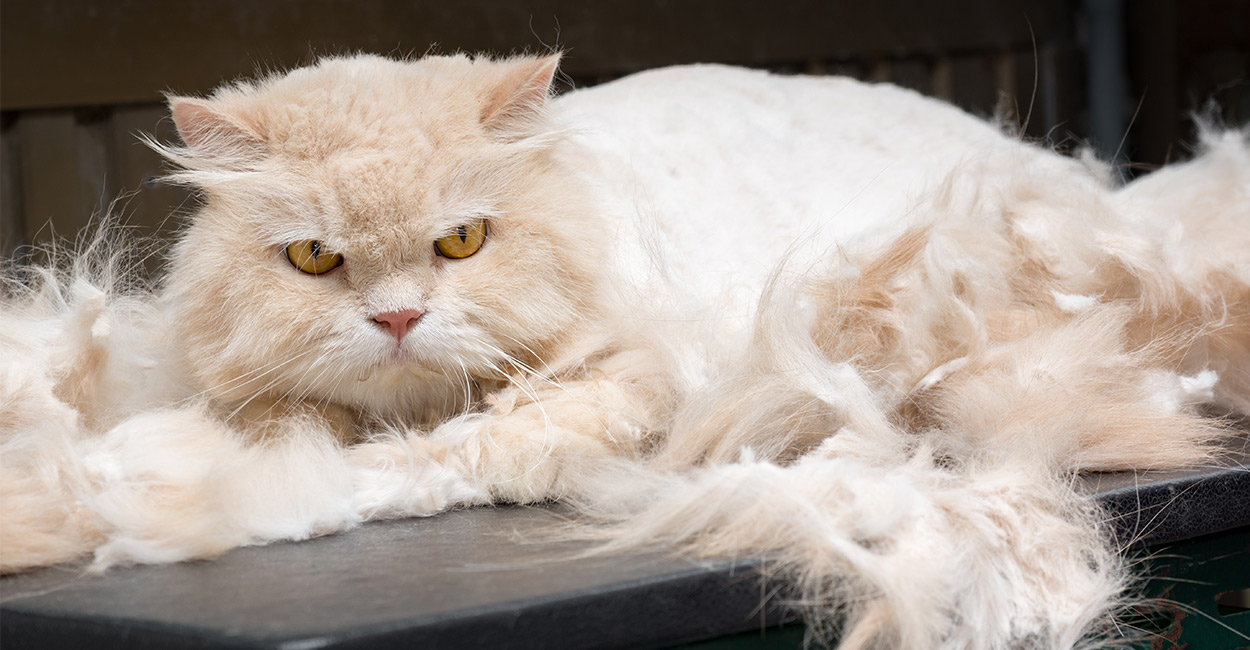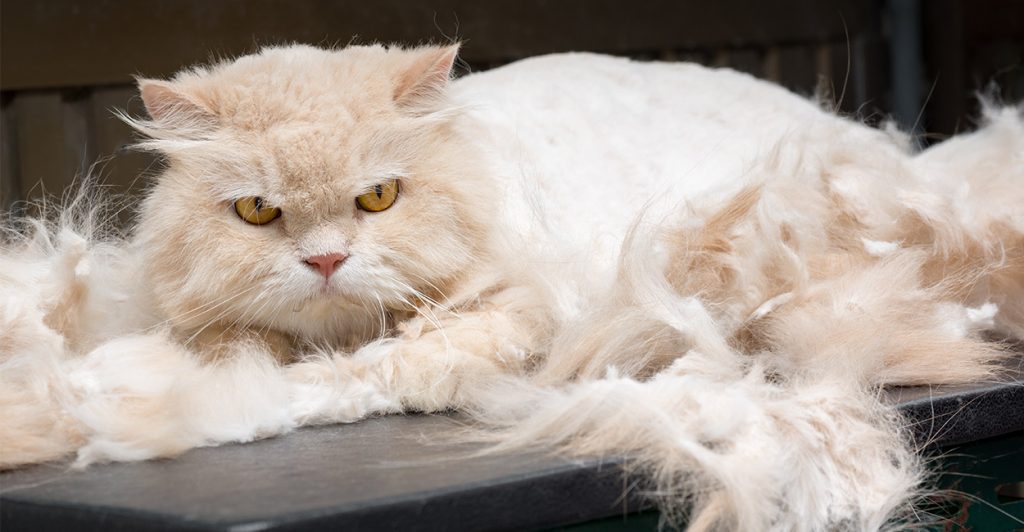 Tufted Ears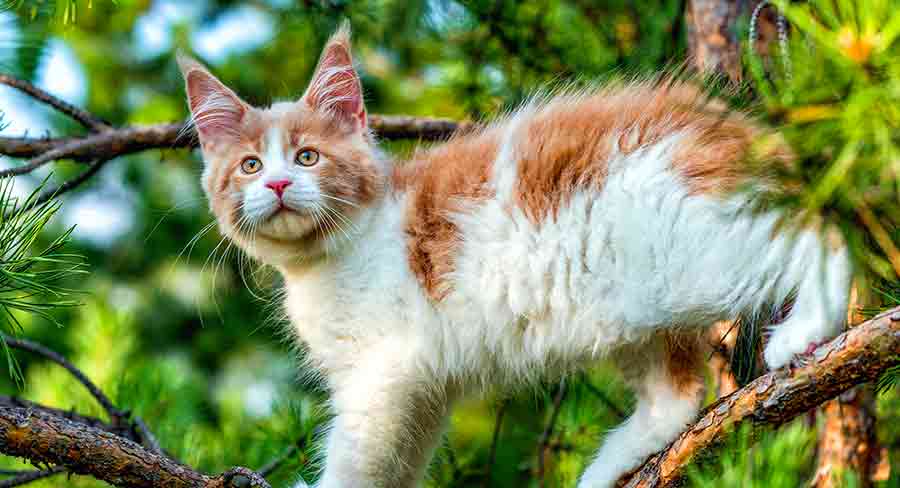 Curled Ears
Although most cat breeds have pointed, rounded ears that stand tall and straight, some breeds have ears that are curled to their heads. This is a really distinctive feature that can be a good way to identify your cat. The following breeds are known for their curled ears:
Type of Tail
Another useful feature to help you answer "what breed is my cat?" is the type of tail he has. A lot of cats have long tails. But some have much shorter tails that make it look as though they have been cropped. Some even look as if they don't have tails! The following breeds are known for having short tails like these:
Cymric
Japanese Bobtail
Kurilian Bobtail
Clues Hidden In Personality and Behavior
Does your cat have a really distinctive personality? Some breeds are known for certain traits that can help you identify what breed is your cat. Let's take a look at some traits, and see which breeds could apply!
Friendly Cat Breeds
Is your cat affectionate to anyone and everyone? Here are some breeds that are known for being friendly and loving, especially to their families.
Birman Cat
Cornish Rex
Ragamuffin
The Beauty and The Brains
Some cats are just known for their intelligence. In fact, some have even been taught tricks, just like dogs. If you have an intelligent cat, it could be linked to one of the following breeds:
Japanese Bobtail
Devon Rex
Sing it Louder For The Kitties In The Back!
Some cats love to join in our conversations and this is definitely a quality that can help identify him! Here are some breeds that are known for being noisy and vocal:
Siamese
Balinese
Colorpoint Shorthair
Oriental
Tonkinese
Quiet Calm Kitties
Not every cat is vocal, busy, and active! Some love nothing more than relaxing, and observing the world quietly. If you think this sounds like your kitten, take a look at some of these breeds:
Selkirk Rex
Russian Blue
Ragdoll
Manx
British Shorthair
American Shorthair
Bossy Behavior
Although all cats love to show their affections, some also love getting their own way! If your pet is like this, it could be linked to some of the following breeds:
Balinese
Colorpoint Shorthair
Oriental
Siamese
Singapura
Somali
Genetic Tests
Finding the answer to: "what breed is my cat" can be really tough. Especially if you have a mixed breed. If you're really eager to find out exactly what breeds are in your cat's DNA, you should take a trip to the vet!
An Impossible Dream?
You'll never pin down every single cat to their exact ancestry, even with the incredible leaps in genetic testing that are gaining momentum every day. Sometimes you'll just have a random collection of kitties converging from the past to make your current spectacular pet. And do you know what? That's okay too! Although it's great fun to speculate about where our animal friends came from, it's alright if you never find the actual answer.