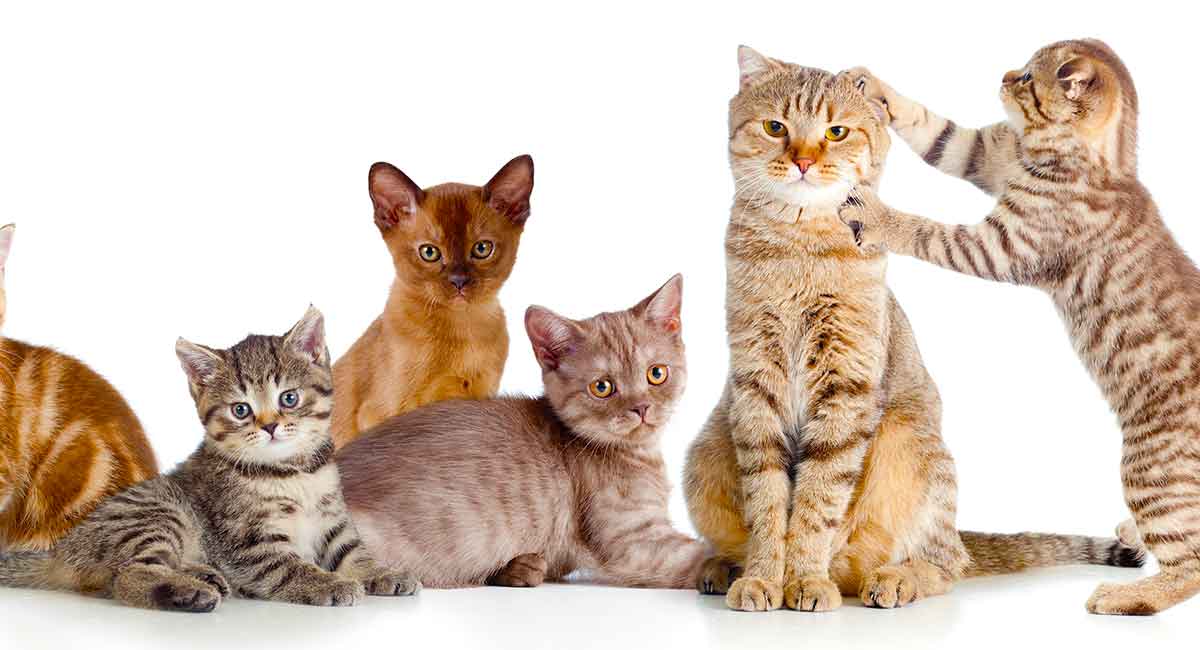 Most of us can name specific animal groups like a pack of wolves or a flock of sheep, but what is a group of cats called?
While many people are familiar with the term 'litter' for a family of kittens, very few of us know that the collective noun for a group of cats is a 'clowder.'
The reason being that felines are renowned solitary predators who prefer to hunt and live alone.
They are not usually associated with being part of a cat group.
But is it common to see a clowder of cats?
Much depends on a cat's lifestyle and whether they are domesticated or feral.
Here we find out more about the unusual word "clowder" and if it is possible for a group of cats to live together.
What is a group of cats called?
The use of various terms to describe different species of animals started in the late Middle Ages.
Many animal groups have some interesting and unusual collective nouns, and cats are no exception.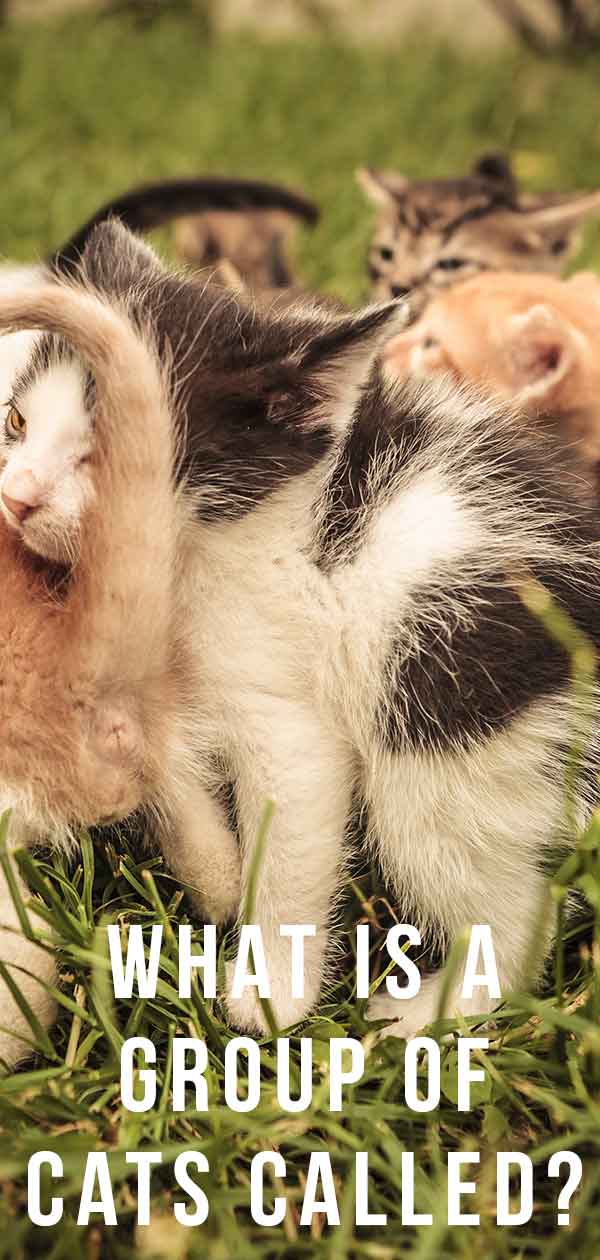 So, what is a group of cats called?
The answer is a "clowder."
According to dictionary.com, the clowder definition states "a group or cluster of cats."
Where there are numerous groups of cats, these are termed as "clowders."
But how does this bizarre term (which sounds more like the soup of the day in a restaurant!) describe felines and where did it originate?
The word clowder comes from the Middle English term "clodder" or "clutter" which came about during the late 1700s meaning "clotted mass." Over time it evolved to clowder.
Although clowder is the general term to describe a group consisting of three or more cats, others include:
Glaring – cats who do not know each other so are most likely "glaring" at each other!
Colony – feral cats living together near a food source
Cluster – defined as similar items grouped together
Pounce – as cats love to pounce, this seems an appropriate choice
Clutter – clowder is a variant of the term, although feral cats together often appear as "clutter" on the streets
Nuisance – refers to house cats (often considered a nuisance in the neighborhood!)
What is a group of wild cats called?
The correct term for a group of wild cats is "destruction," probably because they are considered destructive!
What are a group of kittens called?
There are different collective nouns to describe a group of kittens other than the commonly used word "litter" which include:
Kindle – believed to be a combination of the German word for children "kinder" along with an old English word known as "kindelen," which means to give birth, and somehow became associated with kittens!
Intrigue – appropriate because kittens are extremely curious
Entanglement – hardly used but often you will see a group of kittens entangled around one another
Is it possible for a group of cats to live together?
It is a well-known fact that dogs are social animals who can live in packs, are interdependent, and who hunt together as a group.
But can a clowder of cats live in the same way?
Cats, both big and small, are solitary predators who do not live in socially structured groups. Lions, however, are the exception, living as a pride, where they work alongside one another to kill their prey.
The lifestyle of a cat depends on whether they are domesticated or feral, but although they remain solitary hunters, they are capable of adapting to a clowder in various situations.
Feral group of cats
Feral cats are free-roaming felines who are undomesticated and not used to people. They often form clowders around food sources, such as a fishing port, and tolerate one another.
While feral cats may display wild behaviour, most rely on their food source from humans, such as being fed by a cat lady or finding scraps amongst the garbage. Few rarely survive through hunting alone.
A feral cat group living together usually consists of females who support one another by helping to raise one another's kittens and defending their territory.
They may occupy areas that consist of other female cat clowders as well.
A queen cat takes on the role as head of the clowder.
Usually, this is the oldest sexually active female. She gets the best sleeping place, the first claim on food, and can choose where to have her kittens.
A male cat, or tom, spends much of his life alone roaming territories in search of a mate and often encounters battles.
Domestic group of cats
In multi-cat households, domestic felines are forced to live in a clowder, but many adapt quite quickly depending on their personalities.
These clowders differ to feral groups as there are no gender preferences and often cats are neutered, so there is no desire to procreate, kittens to raise, or a need to hunt for food.
Some cats thrive in the company of other cats and many pairs form close bonds.
Other cats prefer to be solitary.
Each of the cats within the clowder determines their own territory and submits to the alpha cat. This position depends on how often other cats rub against them, with lower ranked kitties doing most of the rubbing.
Cats rub against one another to spread their scent and assure their affiliation within the group.
You may notice that your cat rubs affectionately against your legs which is their way of showing you that you are the chief kitty!
Managing your own clowder
In multi-cat households, each kitty should be fed in different areas of the home away from one another, as cats feel vulnerable when eating.
This trait stems from their hunting days where they would hunt and eat alone.
Multiple cat trees and scratching posts should also be spread out, along with cat trays.
Often a dominant cat will not bury their eliminations, thus marking their territory and preventing a more submissive cat from using it.
The introduction of a new kitty should be a gradual process, using the alpha cat for initial introductions.
Once they accept the newcomer, the other members of the clowder will also be accepting.
Can cats live in a clowder?
Although it is not natural for cats to live in a group compared to other animals, they can do it under certain circumstances, with some even forming close bonds.
However, they will always be solitary predators, even as part of a clowder.
Do you have a clowder of cats in your home? Do they get on together?
Share your stories with other readers in the comments box!
References and Further Reading
Suchak & Lamica, A Comparison of Cats (Felis silvestris catus) Housed in Groups and Single Cages at a Shelter: A Retrospective Matched Cohort Study, Animals, 2018.
Biro et al, Feeding habits of feral domestic cats (Felis catus), wild cats (Felis silvestris) and their hybrids: trophic niche overlap among cat groups in Hungary, Journal of Zoology, 2005.
Natoli & de Vito, The mating system of feral cats living in a group. The Domestic Cat: The Biology of its Behavior, 1988.
Packer et al, Why Lions Form Groups: Food is Not Enough. The American Naturalist, 1990.