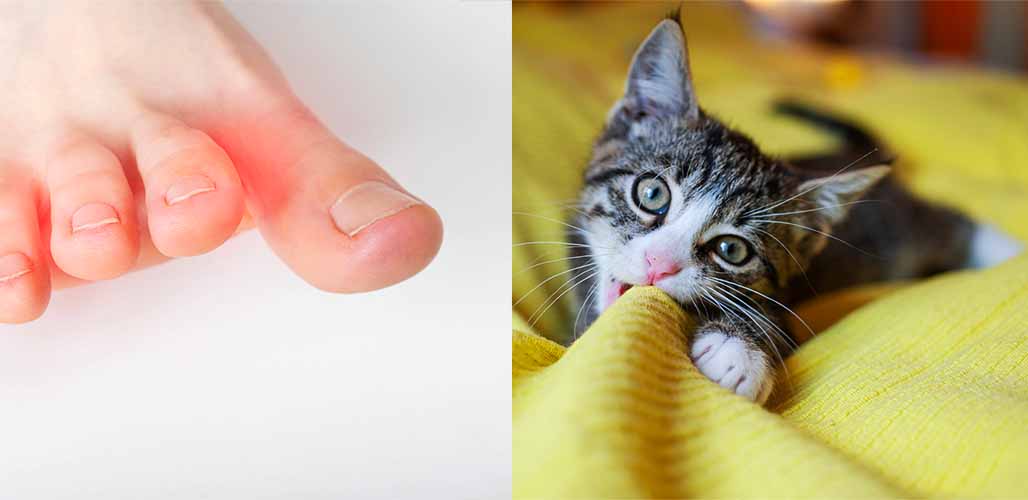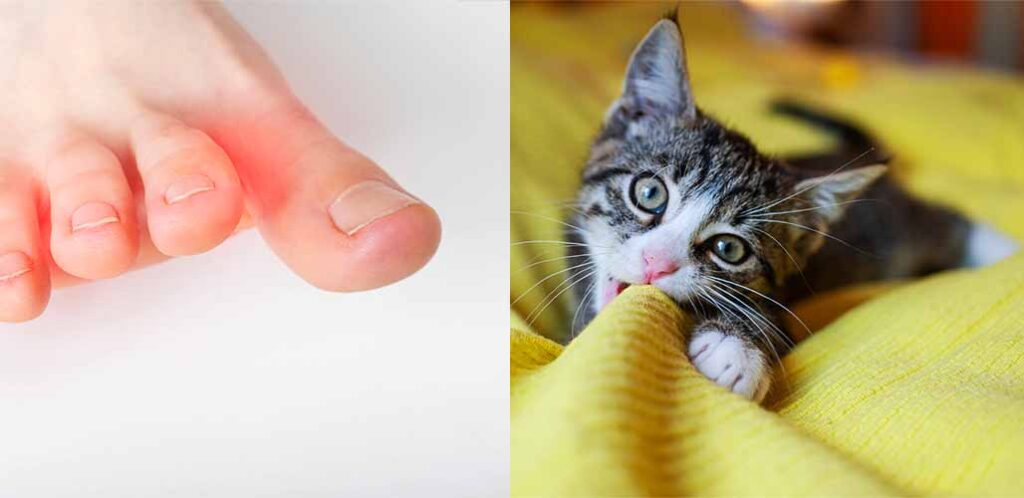 My cat bites my toes sometimes, and as much as I love him it's one of my least favorite parts of kitty ownership. Although it's surprising, upsetting and even occasionally painful when your cat chomps their teeth down onto your digits, it often isn't a sign of aggression or anything amiss. Cats bite their human parents' feet for a few possible reasons. Playing, practicing hunting, seeking attention and even affection can all be a part of their motivation. Today I'll share some tips to help you work out what your cat is trying to tell you, and how to keep your toes teeth free in future!
Contents
Why Does My Cat Bite My Toes?
Cats obviously can't communicate in the way that humans do, so to get your attention or to tell you something is up, they need to take a different approach. The top reasons they might bite your feet include:
Play
Hunting practice
Boredom
Attention
Affection
Ill health
Some Cats Play Bite
One of the most common reasons why your cat is biting your toes is because they want to play. Your feet are on the ground, in eyesight, and often moving, making them the perfect target for your cat, which gets triggered by movement.
What then escalates the biting even further is when you jerk your foot away, giving your cat the impression that you want to play too. Bites that come with playful behavior aren't typically hard, and they shouldn't penetrate your skin.
Hunting Practice
Hunting is part of natural cat behavior, and if your cat is regularly attacking your feet, then it may be practicing its hunting skills.
Typically, younger cats will display this feet-hunting behavior, especially if they don't get enough opportunities to hunt and play outdoors.
If hunting instincts are the cause of your cat's toe biting, then you may notice them stalking your feet before pouncing on them. The bites that come with hunting practice will be more painful, often drawing flood. Remember, though, that these bites aren't personal, and it's simply because their hunting instincts have taken over.
Some Cats Bite When Bored
Boredom could be another reason as to why your cat is attacking your feet. If your cat hasn't had enough chances to play, then boredom may have set in, and they're looking for a way to get rid of their excess energy.
Boredom biting would feel similar to playful biting, however, it may be harder than usual if they're overly bored and frustrated.
Cats Bite For Attention
If your cat is biting your feet when you're busy or not paying attention to them, then the nibbling could be a way to get your attention.
Your cat may want food, a treat, or to go into a room that's door is closed. If that is the case, don't reward your cat for this behavior as they will learn that biting gets them what they want.
Affection Bites
Weirdly enough, the biting could be a sign of love and affection from your little furry feline. Mother cats gently bite their kittens while grooming, meaning your cat may have learned this odd way of showing affection from its mother.
If you're preparing your cat's food, for example, and they gently bite your foot, then this is their way of showing you they appreciate and love you. They might even nibble your nose if they are on the countertop next to you!
Is Your Cat Unwell?
More aggressive foot biting could be a sign that there is an underlying medical issue that you need to address. Medical issues can make your cat more aggressive, and as your feet are one of the closest things to them, they will often become the target.
If you notice any other symptoms in your cat, along with foot biting, take them to the vet so your vet can assess them and figure out what's wrong.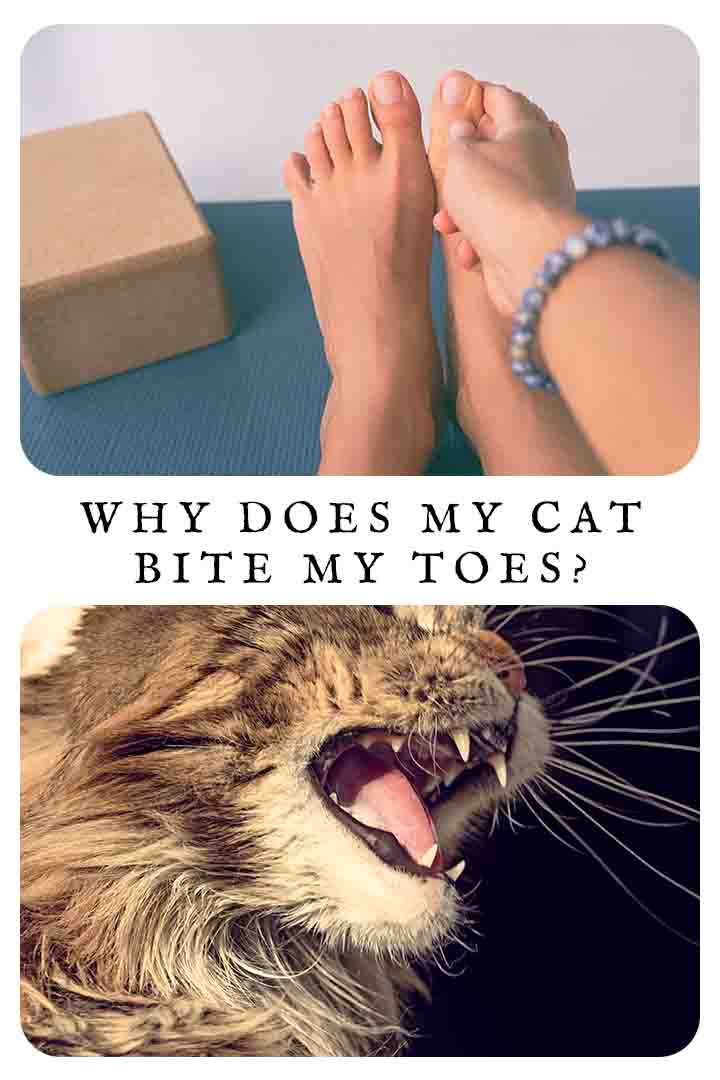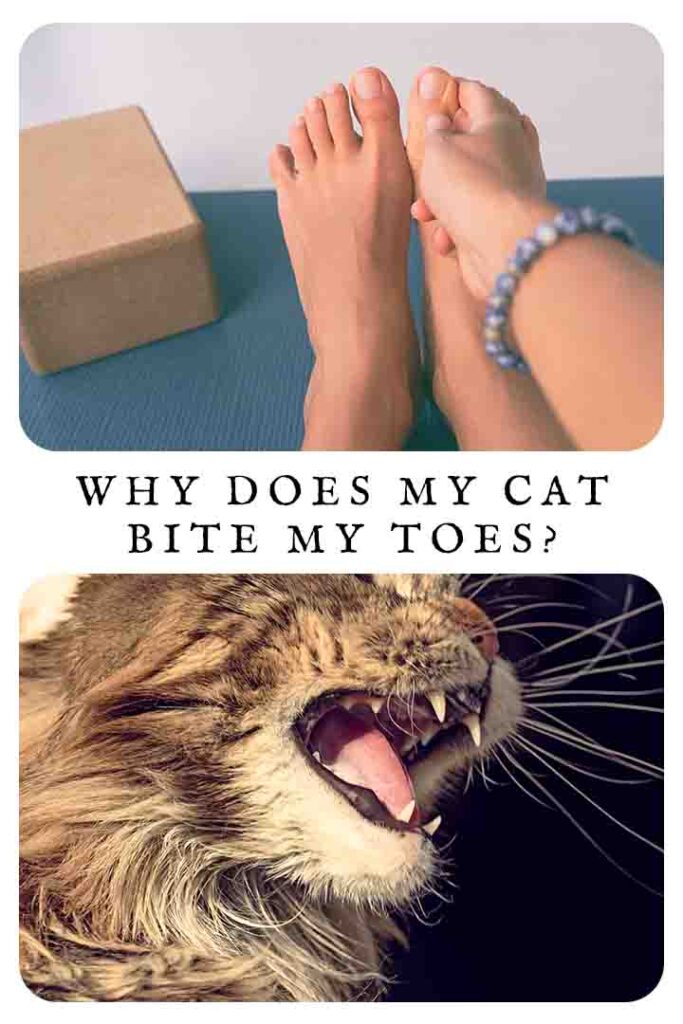 How To Stop Your Cat Biting Your Toes
There are a few tips and tricks you can incorporate to prevent your cat from biting your toes because, let's be honest, no one likes sharp teeth penetrating their skin.
Ignore
Redirect
Without attention
Entertain them
Ignore Bad Behavior
The first thing to do is to ignore your cat's behavior. If you react to your cat's toe biting, they will know that biting gets a reaction, and they will do it more often to get whatever they want.
Instead, when your cat bites, remove yourself from the cat while keeping quiet, and they will learn that biting means no more play.
Redirect Their Attention
Once you've given your cat time to calm down, redirect their energy to a toy. It also helps to have a toy in hand, so when you anticipate an attack, you can toss the toy for the cat to chase instead of your toes.
Don't Encourage Biting
Removing yourself from your cat may have the adverse effect of them thinking you want to play, so if that is the case, crouch down, and clap your hands to get their attention. Once you have their attention tell them "no." You will need to be consistent with this, so they learn that when you say no, they need to stop.
Keep Your Cat Entertained
An entertained cat is a cat that won't be biting your toes, so ensure your cat has numerous toys and other enrichment opportunities to keep themselves entertained throughout the entire day.