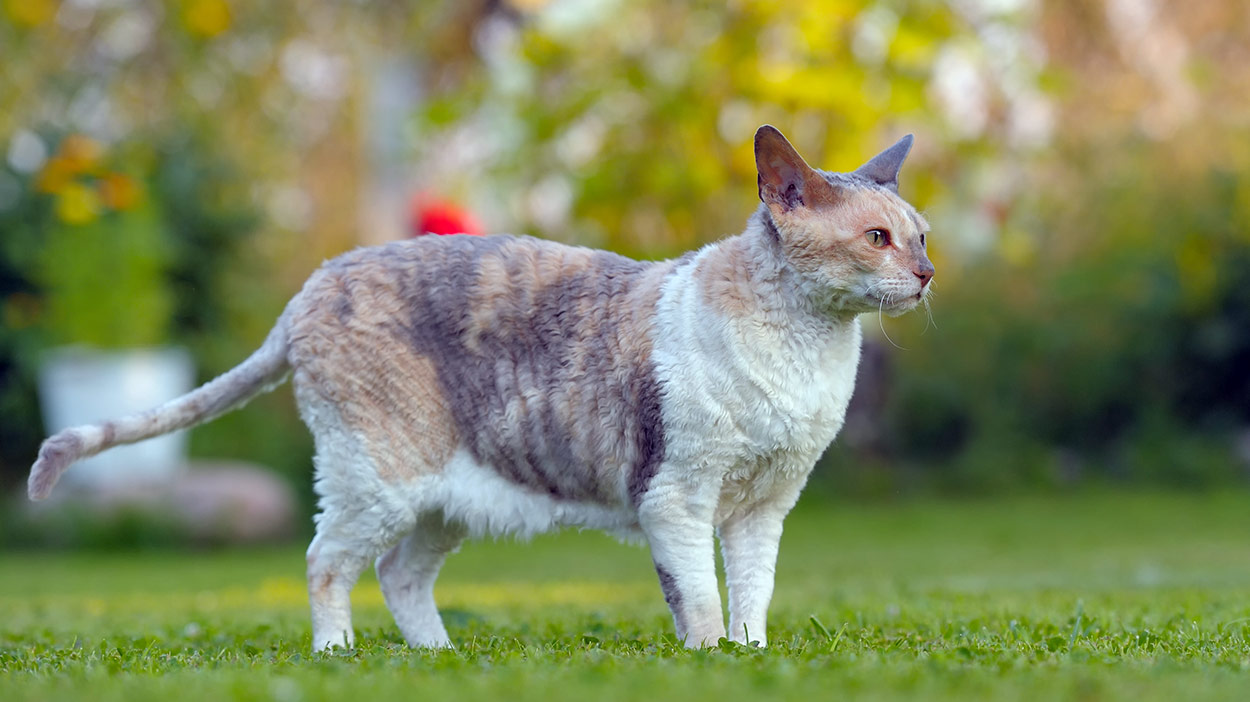 Welcome to our complete guide to the Cornish Rex cat breed, one of the most recognizable cats around!
The Cornish Rex is known for its very fine yet precisely curled coat, ovular face, oversized ears, large and expressive eyes, and rather lanky body.
You can't be fooled by their fragile appearance, though, for they are bubbling over with energy and playfulness!
Are you thinking about finding yourself a Cornish Rex cat? If so, we've got you covered!
In this article, you'll find out everything you need to know about the Cornish Rex cat breed.
We have all the details of their history, physical characteristics and temperament, expected health problems, and how to find a Cornish Rex of your very own.
What is the Cornish Rex cat?
According to The International Cat Association (TICA), the Cornish Rex is sometimes known as the "Greyhound" of cat breeds due to his super slender build and leggy appearance.
He's also an exotic-looking cat with an intriguing origin story, which we'll discover in the next section.
Cornish Rex cats are known primarily for their very thin but naturally marceled coats and kittenish personalities which remain playful throughout adulthood.
You won't find too many other cat breeds with ears quite as large and bat-like as the Cornish Rex's.
But they're only the better to hear you with, so that he might track you down and join you with whatever you're doing.
This cat is most certainly suited for family life, as he needs attention and craves affection and interaction always.
History of the Cornish Rex cat breed
The Cornish Rex may look like one of the cats famously portrayed on the walls of ancient Egyptian pyramids, but truth be told, this exotic cat hails from none other than England!
According to TICA, a tortoiseshell barn cat living near Cornwall, England had a litter of five kittens.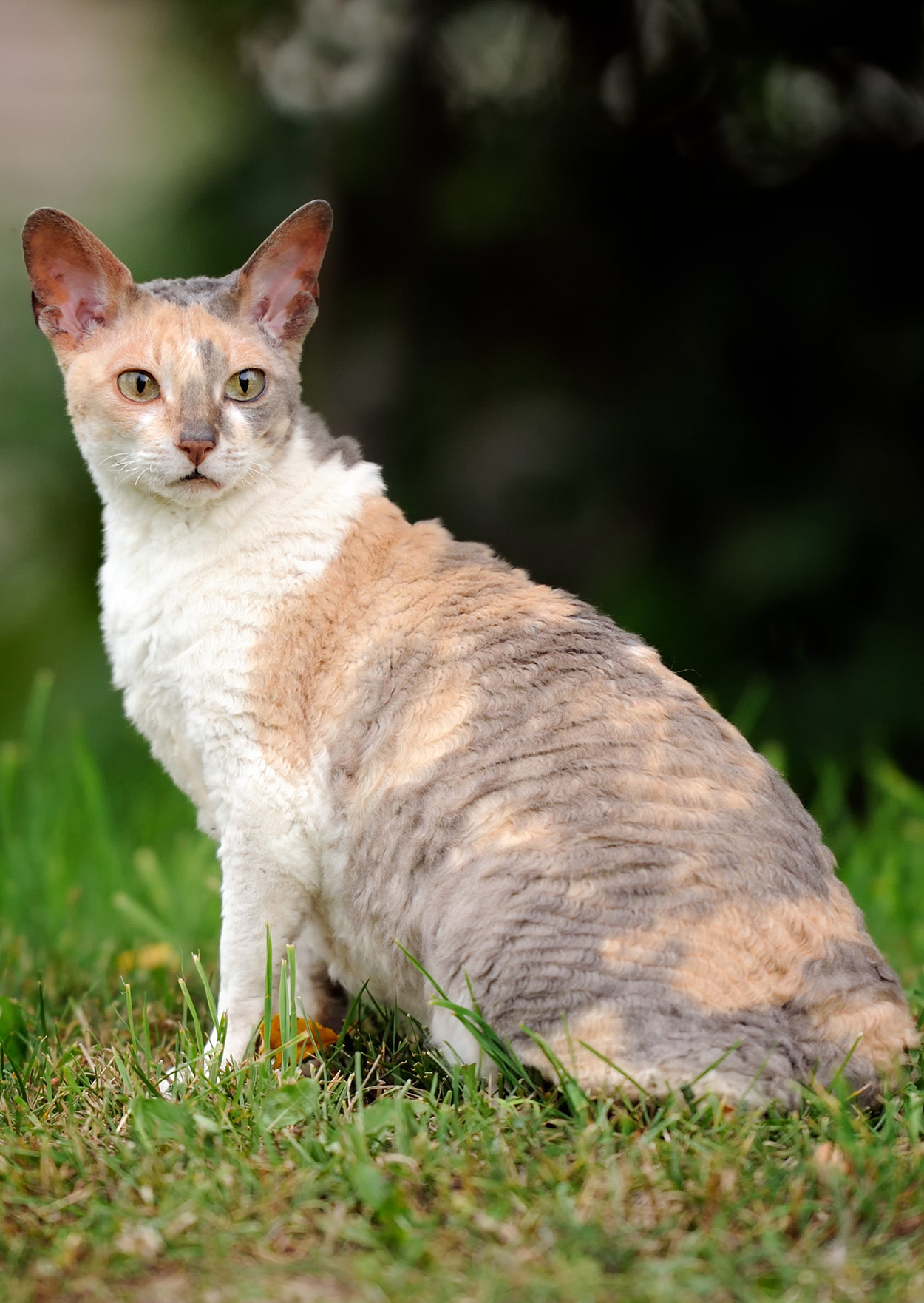 One of the kittens was a male who came out with a very fine, bicolored, and curly coat.
After speaking with her veterinarian, owner Nina Ennismore decided to breed the male, named Kallibunker (we don't know about you, but we love that name!).
Kallibunker was bred back to his mother, and the resulting litter comprised two male curly kittens and one female straight-haired kitten, two of which died.
The surviving male and Kallibunker went on to sire more curly-haired kittens, which were then crossed with several other breeds to achieve the Cornish Rex as it's known today.
Similar to the LaPerm cat, the beautiful Cornish Rex was borne of a simple gene mutation which was isolated and replicated to create a truly spectacular specimen!
Cornish Rex temperament
The Cornish Rex may look like a sophisticated and elegant cat, but don't let its dainty looks fool you!
They've already been compared to Greyhounds for their trim, athletic build and long legs.
But perhaps the Cornish Rex is more comparable to the also-curly-coated Poodle – a sophisticated animal who loves the finer things and an especially plump pillow to sleep on?
Oh, that stereotype couldn't be more wrong for Poodles or Cornish Rex cats!
Like Poodles, Cornish Rex cats are extremely intelligent and highly active pets who do not sit still for very long…unless they can sit in your lap and demand your attention!
They are very hardy cats who can roughhouse with the best of them.
Cornish Rex personality
The Cornish Rex personality borders on "goofball" and is definitely "center of attention".
A Cornish Rex cannot get enough attention from anyone, be they family or not, and they will always be up in your business, so to speak.
Cornish Rex cats love to play and find things to entertain themselves with, so it's a good idea to provide one with plenty of toys and play time.
They love to learn new things and will gladly chase after balls or other toys.
Cornish Rex size
Thanks to their trim physique, Cornish Rex cats are generally on the lightweight to medium-weight side.
Males mature to between 8 and 10 pounds, while females typically mature to between 5 and 7 pounds.
They may appear to be the opposite of big-boned, but Cornish Rex cats are actually very sturdy cats.
And they sometimes like to walk on their toes, making them appear even taller than they already are!
Cornish Rex colors
Cornish Rex cats come in any solid, tabby, pointed, or bicolored coat pattern.
These amount to over 70 officially recognized colors and patterns, some of which contain innumerable further permutations within them.
For a complete list of those coat colors, refer to The Cat Fancier's Association breed standard for the Cornish Rex.
Cornish Rex fur
The Cornish Rex made its name for its luxuriously soft and curly fur, technically referred to as marcel waves.
Cornish Rex fur may be tightly curled or similar in appearance to crimped hair, and the curling is also evident in their whiskers!
The Cornish Rex cat's fur is notable for its lack of guard hairs.
Guard hairs compose the (comparatively) coarse "outer" coat of most cats and hide the softer and thinner undercoat.
Cornish Rex cats basically just have a silky, slinky undercoat.
Whoa, how did that happen?
As we alluded to earlier, the Cornish Rex's smooth curls are the result of a genetic "rexoid" mutation.
According to a 2013 study in California, the recessive gene mutation responsible for the curl is found only in the Cornish Rex and the German Rex cat breeds.
Rex cats with the mutated gene can't synthesize a protein called LPAR6, which gives the guard hairs of straight-coated cats strength and integrity.
So without an outer coat, do Cornish Rex cats still shed? Could they be hypoallergenic?
We'll talk about that now!
Is the Cornish Rex hypoallergenic?
Unfortunately, there is no such thing as a hypoallergenic cat.
When people refer to hypoallergenic dogs or cats, what they often mean is that the breed is low-shedding.
But low-shedding does not equal hypoallergenic.
The protein which causes cat allergies in humans – the Fel D1 protein – exists in cats' skin, saliva and tears.
The protein becomes airborne when cats groom – sending particles of skin (or "dander") coated in saliva up into the air, where it finds its way to us.
Some allergy suffers report that low-shedding cat breeds don't trigger their allergies.
But the chemistry of our allergies is highly uniques and personalized.
And the only way to find out for sure if you have Cornish Rex allergies is to ask a breeder if you can visit their cats.
You can find out more about how cats trigger allergies in our article Cats That Don't Shed – A Guide to Hypoallergenic Cat Breeds.
Cornish Rex health
As is unfortunately the case with most purebred cats, inherited health issues and physical ailments are common in the Cornish Rex.
For starters, their very fine and thin coat is not a great insulator, which makes Cornish Rex cats less able to handle extreme heat or cold.
A Cornish Rex kitty will not thrive in an environment where it stays cold, unless you can get her to wear a sweater!
Same thing goes for excessively warm spaces – she will overheat very easily.
Additionally, the following health conditions have been reported in some Cornish Rex cats:
Skin conditions
Due to their thin coat and lack of an outer coat, the Cornish Rex cat may develop skin problems more easily than other cat breeds with longer or thicker fur.
Their skin can also burn easily if they're exposed to too much sun, so they need protecting from hot weather.
Some Cornish Rex cats also develop sebhorrea, which is skin irritation that results from the skin producing too much of an oily substance called sebum.
Alopecia (hair loss)
Some European cat breeds, such as the Persian, Devon Rex, and Cornish Rex, are prone to hair loss or even baldness.
Cats with "unnatural" hair coats, like the Cornish Rex, are genetically predisposed to hair loss.
In fact, technically speaking, all cat breeds which are missing guard hairs technically have "hair loss".
Without the LPAR6 protein we talked about earlier, the Cornish Rex's fragile hairs can break or fall out easily.
Sporadic actual hair loss (enough to create bald spots) can be observed in Cornish Rex cats that have sebhorrea, which prevents hair from growing well in the first place.
Congenital deafness
Some cats that are completely white with one or both blue eyes are born deaf at birth due to a white coat gene.
To learn more about the white coat gene and how it's linked to deafness, check out our article about Hearing Loss in Cats and Kittens.
According to a 1999 study at the University of Louisiana, the white Cornish Rex carries the white coat gene.
So a white Cornish Rex in a breeding program will most definitely pass on the gene to their offspring.
Hypertrophic cardiomyopathy (thickening of the walls of the heart)
This condition is one of the most common heart problems found in cats.
Hypertrophic cardiomyopathy (HCM) results in the walls of the heart muscle becoming increasingly thickened.
This change decreases the heart's ability to beat normally and can produce a rapid, irregular, or slowed heartbeat.
When left untreated, this condition leads to labored breathing, heart clots, and even death.
Unfortunately, some cat breeds are more prone than others to develop HCM.
According to a 2017 study in the United Kingdom, Cornish Rex cats and several other breeds possess a gene that may predispose them to developing HCM.
However, inheriting the gene does not guarantee that a cat will develop HCM, and nor does lacking the gene guarantee that a cat will be protected.
So, more research is needed to confirm the validity of a genetic predisposition toward HCM in Cornish Rex cats.
Patellar luxation
This condition, which causes knee cap (patella) to slip from its correct position, is not commonly seen in cats unless they've already suffered an injury.
But when it does occur naturally, it tends to show up in certain cat breeds.
A 2003 study at Istanbul University and multiple prior studies link congenital patellar luxation most commonly with Devon Rex, British Shorthair, and Siamese cats.
As the Cornish Rex is closely genetically related to the Devon Rex, patellar luxation may also present in Cornish Rex cats, even if they haven't previously injured themselves.
Cornish Rex lifespan
On average, Cornish Rex cats typically live for about 15 years old.
But it's not uncommon for them to reach 20 or so years old with a bit of luck and a lot of care.
Cornish Rex kittens
Like other thin-and-curly-furred cats, such as the LaPerm, Cornish Rex kitties may be born bald or with the thinnest curly coat pressed against their little bodies.
Due to this small amount of fur, newborn and very small Cornish Rex kitties will need to be kept in a warm (but not too hot) place until their coats fill out.
Looking into finding your very own Cornish Rex kitten?
We'll look into Cornish Rex cost and what you should look for before you buy one in the upcoming sections.
Cornish Rex price
The Cornish Rex cat price may vary based on whether you're purchasing a cat or kitten from a breeder and whether or not the cat or kitten is show-quality.
Purchasing a cat or kitten from a breeder may result in a higher cost if the breeder places a lot of value on their breeding stock.
Especially if the breeding stock are proven champions for the breed, which results from careful and selective breeding to achieve the desired results.
Cornish Rex kittens' price may also be altered based on whether or not they're already registered and if they've received any vaccinations or other veterinary services (such as spaying or neutering).
A good breeder will be transparent about what the cost of their kittens includes.
Cornish Rex kittens price
The Cornish Rex is a bit of an expensive kitty, but they may very well be worth every penny!
Generally speaking, Cornish Rex kittens cost range from roughly $800 to about $1,300 (you'll pay less for a pet-quality cat and more for a show-quality cat).
Please be advised that these figures are based on a range of prices posted by various breeders at the time of writing.
The going prices near you may be within a few hundred dollars (or more) of these.
Cornish Rex breeders
If you're going to purchase a Cornish Rex from a breeder, make sure that you're careful about who you purchase from and only purchase from a responsible breeder.
Responsible breeders maintain their stock and kittens in a healthy environment with only the best of care for all.
A good place to start is with a breeder is associated with TICA or another cat association.
Ask your breeder about patterns of hereditary illness in their cats' family trees, and whether they have undertaken any genetic screening of their breeding stock.
A reputable breeder will be passionate about the present and future welfare of the Cornish Rex breed, and discuss it frankly with you. They'll be delighted that you care as much as they do!
Be wary of breeders who are unwilling to let you meet the kittens with their mother, who always have litters of kittens available, or who try to brush off any of your questions.
When searching for a Cornish Rex breeder, a good starting point might be TICA's Cornish Rex breeders list or the Cat Fanciers Association Cat Breeder Referral Service.
Cornish Rex rescue
Are you hoping for a lower-priced Cornish Rex or a retired breeding/show cat?
If so, then Cornish Rex adoption could be the perfect option for you!
Many breeders sell their retired stock along with their available kittens, but every so often, a pedigreed cat makes it to an animal shelter or cat rescue.
Here are a couple of breed-specific cat rescues that are associated with Cornish Rex and other "exotic breed" cats:
Purebred Cat Rescue specialize in fostering and rehoming purebred cats across Midwest United States
Cornish Rex Friends are based in California and dedicated exclusively to finding new homes for Cornish Rex cats.
Is the Cornish Rex cat right for my family?
If you're looking for a cat with an impossibly soft, yet low-maintenance coat and a desire to be glued to you 24/7/365, this describes the Cornish Rex cat to a "T"!
Cornish Rex are super inquisitive and very playful critters who make it their mission to be around you as often as possible.
They love to learn new things and are very trainable!
You won't be able to leave a Cornish Rex alone for too long, or else he'll get very lonely and unhappy.
They will be very happy with a four-legged friend (or several) in addition to spending time with you and your family.
These cats are, however, prone to several health issues related to genetics as well as their skin not having much between it and the environment.
You'll need to keep an eye on a Cornish Rex to be sure that they don't overheat or get too cold.
But overall, the Cornish Rex cat has the potential to be an amazing pet for a family and a true contender for those who are interested in showing.
Do you have a Cornish Rex cat?
How did you discover this unlikely-looking breed, and how would you sum up the Cornish Rex personality?
Tell us about your Cornish Rex kittens in the comments section below!
References
Cornell Feline Health Center, "Hypertrophic Cardiomyopathy," 2015.
Duzgun, O, "A Retrospective Study: Evaluation of Patellar Luxation Cases in Cats," Turkish Journal of Veterinary and Animal Sciences, 2003.
Gandolfi, B., Alhaddad, H., Affolter, VK., Brockman, J., Haggstrom, J., Joslin, SEK. et al. "To the Root of the Curl: A Signature of a Recent Selective Sweep Identifies a Mutation That Defines the Cornish Rex Cat Breed," PLoS ONE, 2013.
Messer, A. E., Chan, J., Daley, A., Copeland, O., Marston, S. B., and Connolly, D. J. "Investigations into the Sarcomeric Protein and Ca2+-Regulation Abnormalities Underlying Hypertrophic Cardiomyopathy in Cats (Felix catus)," Frontiers in Physiology, 2017
Moriello, K. "Hair Loss in Cats," NAVC Clinician's Brief, 2009.
Strain, G. "Congenital Deafness and its Recognition," Veterinary Clinics of North America Small Animal Practice, 1999.
Ward, E. "Seborrhea in Cats," VCA Animal Hospitals, 2009.