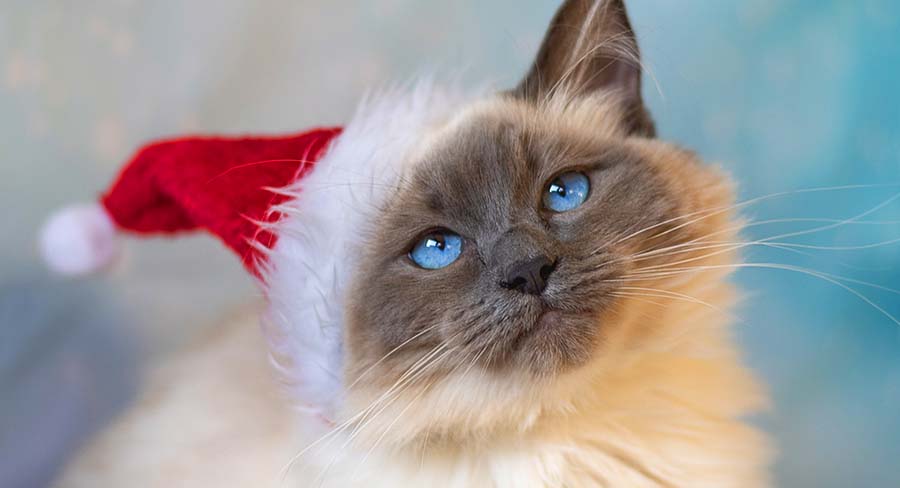 Would you like to know what sets a blue point Ragdoll apart from their brothers and sisters in other colors? This complete guide has everything you need to know about what makes their coat color so special, and whether it changes their personality or their health.
What Is A Blue Point Ragdoll?
Blue is one of the six officially recognized colors for Ragdoll cats. Of course, Ragdoll blue isn't literally blue like the sky. It's actually a beautifully muted cool grey color. A blue point Ragdoll has this grey fur on their face, ear, feet and tail (their 'points'). The rest of their body is a blueish white. Describing cats with this coloring as blue is a tradition for most cat breeds, the Ragdoll included.
Strictly speaking, according to the glossary of coat colors in their breed standard, a blue point Ragdoll's points should be a solid, unpatterned grey. But outside of the show community, it is sometimes interpreted more generously. So let's take a look at all the Ragdoll colors and patterns which incorporate beautiful blue!
Blue Ragdoll Cat Patterns
There are several patterns a blue grey Ragdoll cat can display in their points:
Blue Colorpoint Ragdoll
The simplest blue Ragdoll pattern is the straightforward solid blue point (in other words, patternless). This is the pattern most Ragdoll fans have in mind if they refer to a blue point Ragdoll. The solid blue point Ragdoll cat has:
A cool off white body, fading to bright white on their stomach and chest.
A deep solid blue mask covering their entire face and ears, but not extending over their head.
Deep solid blue points on their paws and tail.
Slate colored nose leather and paw pads
Blue eyes.
Here's an irresistible example of a solid blue point Ragdoll picture: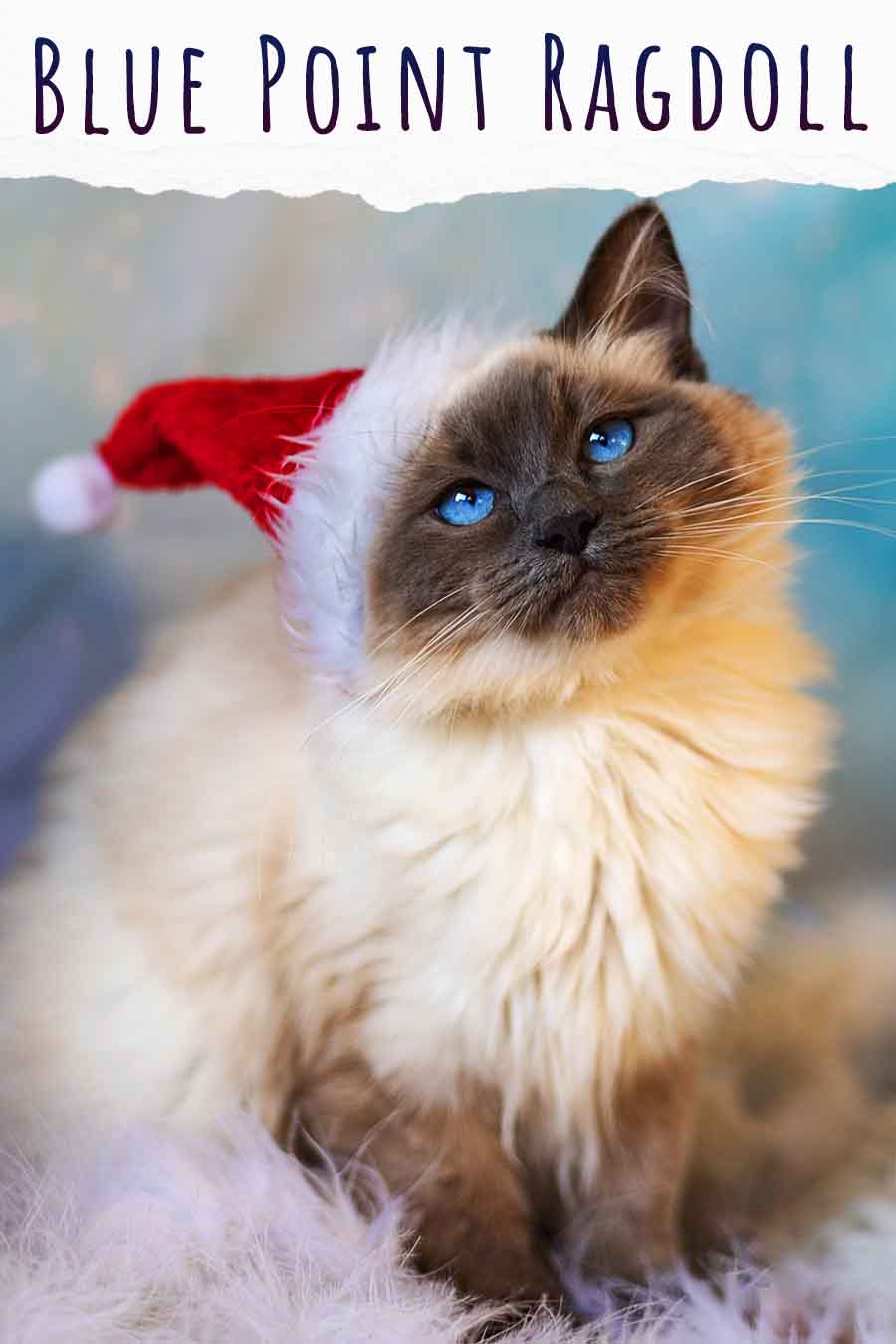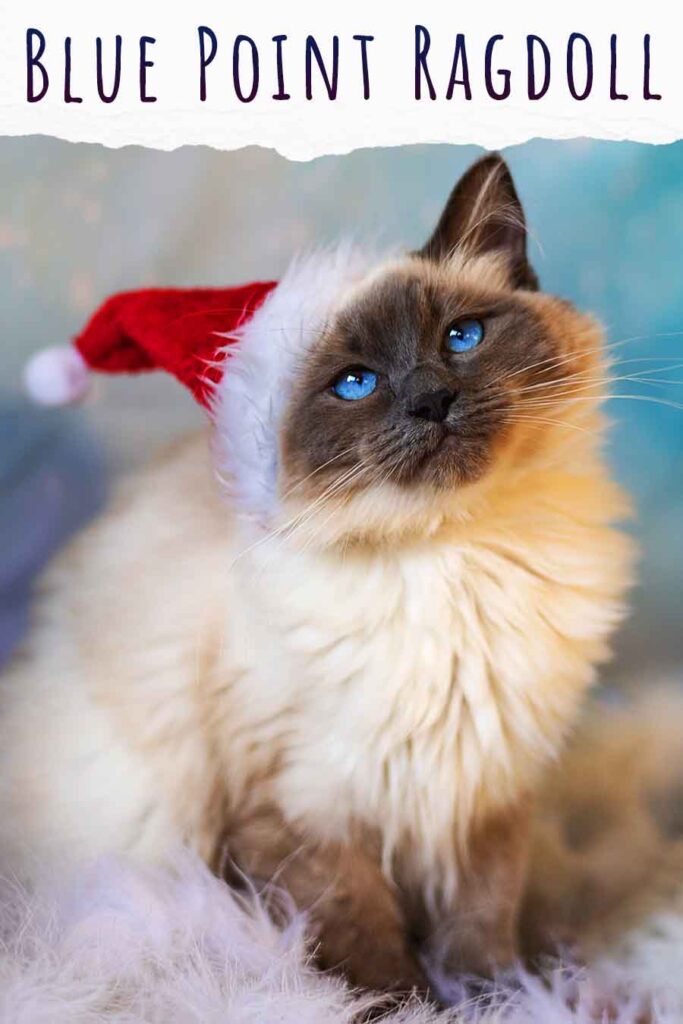 Blue Point Mitted Ragdoll
A blue mitted Ragdoll cat has blue points with a pattern of white spots overlaid on their paws. They also have a white chin, and a white blaze on their nose or forehead. The contrast between the white spots on their paws and the blue pigmented fur further up their leg makes the white patches look like socks and mittens, hence their name.
Blue Point Bicolor Ragdoll Cat
A blue bicolor Ragdoll kitten is similar to a blue mitted Ragdoll, except their white spots are larger, so they entirely obscure the blue pigment on their legs. They also have a white triangle of fur on their face which often covers their muzzle and the bridge of their nose. That just leaves blue points on their ears and tail.
Blue Lynx Point Ragdoll
Rather than having solid points, a blue lynx point Ragdoll has tabby stripes of dark and light blue-grey within their pigmented areas of fur. The lynx point pattern can be combined with the white spotting patterns above, for example to give a blue mitted lynx Ragdoll cat or a blue lynx bicolor Ragdoll.
Blue Cream Ragdoll Cat
Finally, blue cream Ragdolls have a mottled pattern of blue and cream patches in their points. These cats are also known as blue cream tortie point, or dilute tortie point Ragdolls. Like all cats with tortoiseshell markings, they are almost invariably female.
Blue Point Ragdoll Cat Genetics
Blue is a highly attractive and sought after Ragdoll color, but where does it come from? Well, despite the incredible array of colors our pet cats come in, there are only two types of pigment in their coats: eumelanin which is black, and pheomelanin, which is red. Blue fur is produced by a very low concentration of black pigment, known as color dilution. Cats display color dilution when they inherit two copies of a gene called the Dilute gene, one from each parent.
A blue Ragdoll without both copies of the dilution gene would be seal point (the closest equivalent to a black Ragdoll cat). As blue is a dilution of the seal color in Ragdolls, you might sometimes see a grey Ragdoll kitten referred to as a 'blue seal point Ragdoll'. Especially if the color in their points hasn't fully developed yet, and it's possible they could still turn out to be either. But technically it is incorrect – they are either one or the other.
Blue Ragdolls' color is restricted to their points because pigment production in their coat is temperature sensitive. Pigment is only produced in the places where the surface temperature of their skin is the coolest. For this reason, you might also notice that the depth of color on a blue point Ragdoll's body or points changes with the seasons!
Blue Point Ragdoll Temperament
Ragdolls are renowned for their friendly and affectionate personalities. Far from the aloof feline stereotype, these kitties love human contact. Ragdoll owners often report their pets following them from room to room, and positioning themselves carefully to solicit maximum attention at all times. Fans of the breed say they strike the perfect balance between playful and inquisitive, and gentle and laid back. Since they easily form emotional bonds with their human family, and enjoy human interaction, they also respond exceptionally well to positive reinforcement training. You can teach a Ragdoll to come to their name, and perform simple tricks like sitting on cue.
Anecdotally, owner surveys have found that people tend to associate particular cat colors with particular personality traits. However, there are none that are particularly associated with a blue coat, and no known link between the genes for blue color and a specific personality type either.
Blue Point Ragdoll Health
Nor has the blue Ragdoll color been linked to an increased risk of any illnesses or diseases. More generally though, Ragdoll cats are more vulnerable to following conditions, compared to the cat population as a whole:
Heart disease
Kidney disease
Hip dysplasia
Healthy blue Ragdoll kittens come from parents who have been vet-checked prior to mating, and don't have any family history of the conditions above. A well cared for blue Ragdoll can live for over 15 years!
Finding A Blue Ragdoll Kitten
If you've fallen for the ethereal charms of the blue Ragdoll cat, then you're in luck – this sought after color is popular with breeders too, and blue point ragdoll kittens with both solid and patterned points are amongst the most widely available.
Like all cats with temperature sensitive coats, blue point Ragdoll kittens are actually born completely white. The color starts to appear in the points sometime after they've reached a month old, and continues to develop for several years. This can make blue Ragdoll kittens difficult to tell apart from other colors at first! Some experienced Ragdolls might be confident identifying the blue kittens in a litter before it's time for them to move on. Other breeders may ensure that their litter only contains blue kittens, by choosing two blue parents.
Look for a breeder who only breeds from health-checked parents, and have a candid chat with them about how important color is to you, and whether they can guarantee you a blue kitten.
Your Blue Point Ragdoll Cat
Blue Ragdoll cats have temperature sensitive, dilute black pigmentation in their fur. The result is very eye-catching and sought after. Happily, their color doesn't detract from their health, or their quintessentially charming Ragdoll personality.
Have you already raised a blue point Ragdoll kitten? We'd love to hear about them in the comments box down below!
Other Ragdoll Cat Colors
If you'd like to admire some Ragdoll pictures in other colors (and who wouldn't?) don't miss the following articles:
For another famous blue point cat, don't miss out Blue Point Siamese Guide either!
References and Resources
Borgeat et al. The influence of clinical and genetic factors on left ventricular wall thickness in Ragdoll cats. Journal of Veterinary Cardiology. 2015.
Delgado et al. Human Perceptions of Coat Color as an Indicator of Domestic Cat Personality. Anthrozoos. 2012.
Ha & Ha. A subjective domestic cat temperament assessment results in six independent dimensions. Behavioural Processes. 2017.
Kaelin & Barsh. Genetics of Pigmentation in Dogs and Cats. Annual Review of Animal Biosciences. 2013.
Paepe et al. Screening of Ragdoll cats for kidney disease: a retrospective evaluation. Journal of Small Animal Practice. 2012.
Ragdoll Show Standard. Cat Fanciers' Association. 2009.
Travnik et al. Temperament in Domestic Cats: A Review of Proximate Mechanisms, Methods of Assessment, Its Effects on Human—Cat Relationships, and One Welfare. Animals. 2020.