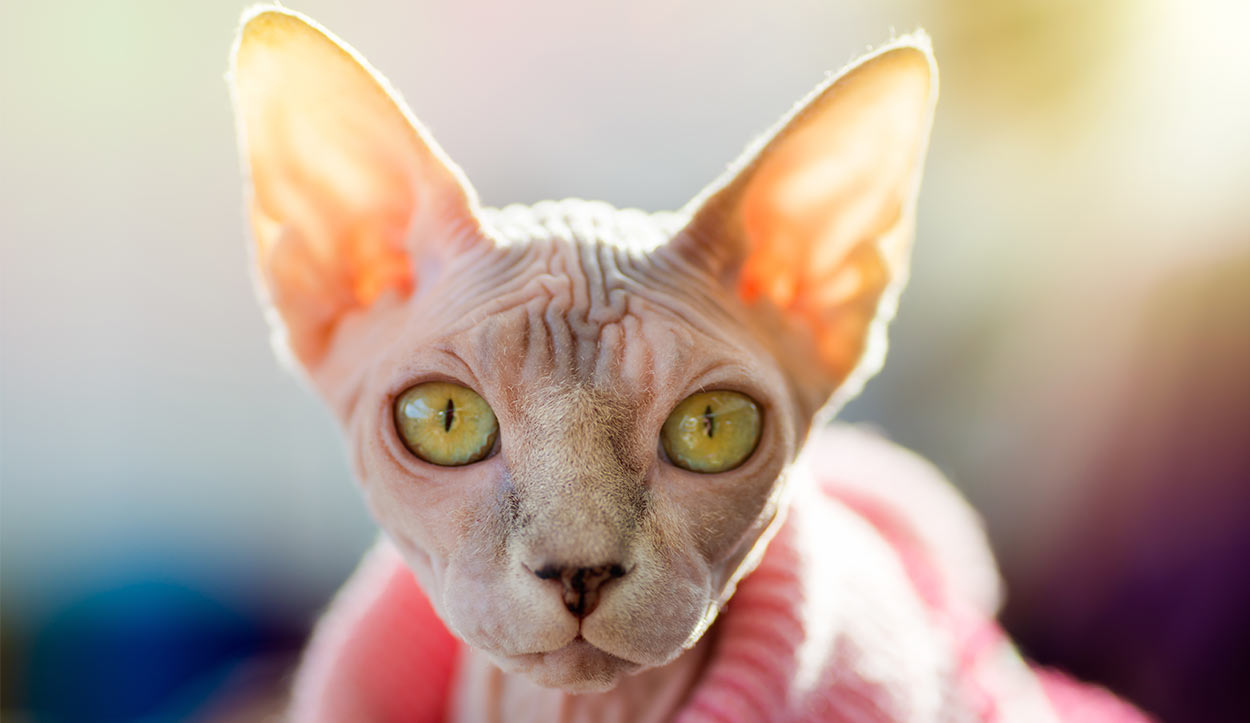 Are you stuck for Sphynx cat names?
Today Anna Burke shares her pick of the best names for Sphynx cats, so that yours can stand out from the crowd, or wear their exotic looks with aplomb.
They say that cats choose their people.
While this might be true, you do get to choose their name, and you want it to be perfect.
This is harder if you have a rare cat breed like a Sphynx.
After all, your hairless cat is going to be the subject of lots of conversation, photos, and social media posts, so her name needs to reflect just how unique she is.
The good news is that there are lots of options to choose from, ranging from regal to downright hilarious.
The bad news is that with so many options, deciding on a single name is difficult.
Here are some Sphynx cat names to help you get started on your quest and some tips for choosing the best one.
Naming your Sphynx cat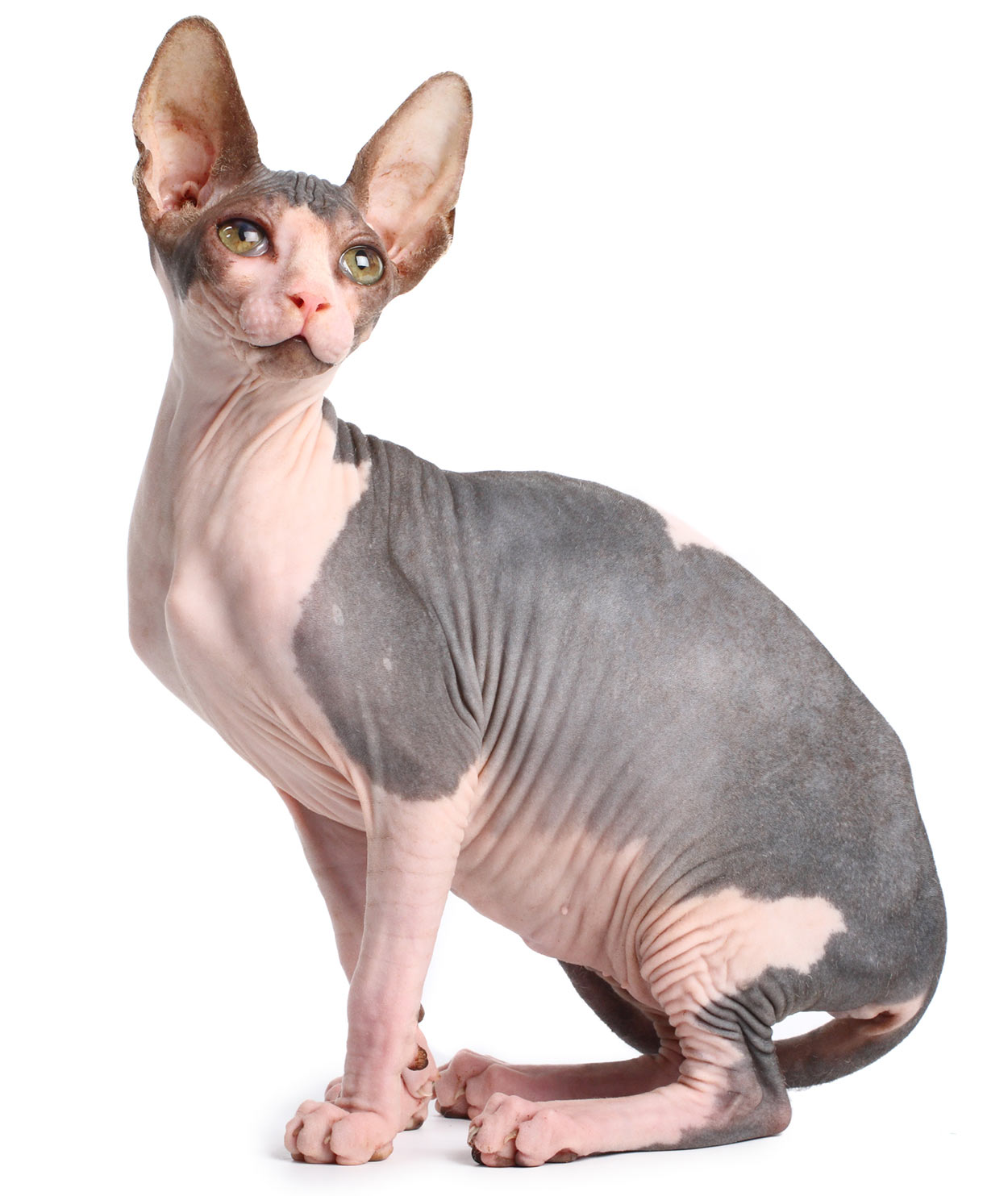 There are several ways to start looking for the perfect cat name.
An internet search for 'cat names' can lead you down the rabbit hole, so think about the kind of name you want to give your cat before you start Googling.
Are you interested in unique hairless cat names?
What about funny Sphynx kitten names?
Or are you looking for something that reflects your cat's regal appearance, like the name of an Egyptian god or goddess?
Figuring some of these things out ahead of time will help you narrow down your search and will make your hunt for the perfect name more rewarding.
Egyptian Sphynx cat names for females
The hairless Sphynx cat looks like something out of a hieroglyphic mural, so why not give your Sphinx kitten names inspired by Egyptian queens and goddesses?
Here are a few Egyptian female Sphynx names to get you started.
Cleopatra—what better name for a female Sphynx kitten than Cleopatra, Queen of Egypt?
Nefertiti—Nefertiti was another famous Egyptian Queen, perfect for your regal Sphynx.
Isis—Isis was a powerful Egyptian goddess known for her magic spells, just like the spell your new Sphynx will cast over you.
Mau—Mau is the Egyptian word for cat, which is a fun piece of trivia to share with everyone you know.
Sekhmet—Sekhmet was the Egyptian goddess of war and was depicted with the head of a lioness.
Bastet—if your Sphynx is less of a lioness and more of a housecat, consider Bastet. The cat was her symbol, and she was a gentle, protective goddess.
Egyptian Sphynx cat names for males
The Egyptian goddesses might have had a monopoly on cat idolatry, but there are plenty of male Egyptian cat names for you to choose from, too.
Horus—The god of the sky, Horus protected the Pharaoh just like your Sphynx watches over you.
Anubis—Anubis might have the head of a jackal, but this Egyptian god of the dead has an intriguing name that cats, dogs, and jackals can share.
Ra—Ra was the god of the sun and the most important god of the Egyptians, just like your Sphinx is the center of your universe.
Ramesses—Ramesses, also spelled Rameses or Ramses, was a common name for Egyptian pharaohs, including the Ramses of the Exodus.
Osiris—if your Sphynx cat is a mighty hunter, why not name him after the Egyptian god of the dead and ruler of the underworld?
Seth—Seth was the Egyptian god of chaos, ideal for inquisitive cat breeds like the Sphynx.
Funny hairless cat names
Owning a hairless cat requires a sense of humor.
If you know you're going to have to put up with good-natured teasing from family and friends, why not embrace it and choose a funny name for your Sphynx?
Check out these funny Sphynx names for inspiration.
Godiva—If Lady Godiva could ride naked through the streets, your Sphynx can parade hairless around your home.
Gillette—The endless possibilities for razor puns could be exactly what you need in a Sphynx cat name.
Rip Van Wrinkle—The name says it all. If your Sphynx has a particularly wrinkly face, this could be the name for him.
Samson—Samson is a biblical character who lost his strength when his hair was cut.
Mr. Skinner—A lesser known Disney villain from 101 Dalmatians, Mr. Skinner is also a character on the Simpsons. No matter the inspiration, any play on the word "skin" makes a good name for hairless cats.
Fuzzy Wuzzy—You know the rhyme: 'fuzzy wuzzy was a bear, fuzzy wuzzy had no hair, fuzzy wuzzy wasn't very fuzzy, was he?'
Fuzzinator—A Sphynx's fuzz is part of their charm.
Fluffy—A direct contradiction, Fluffy not only pokes fun at your cat's lack of fur, but it is also ironically unoriginal.
Buddha—Sphynx are known for their round little bellies as well as their wrinkles, not to mention their laid-back personalities, so why not name your Sphynx after the master of Zen himself?
Hairy Pawter—Harry Potter fans, here is the perfect name for your hairless Harry.
Dobby—Speaking of Harry Potter, there is definitely a resemblance between Dobby the house elf and the Sphynx.
Peachfuzz—Peachfuzz is not only a funny way of commemorating your Sphinx's unique coat, it also provides you with cute nicknames, like Peach or Peachy.
Yoda—Your Sphynx might not be green, but the big ears, occasional tufts of fur, and wrinkly expressions definitely bring to mind a certain Jedi master.
Pinky—Fans of the American TV show Pinky and the Brain might find the name Pinky amusing.
Piglet—The charming and surprisingly insightful pig in Winnie the Pooh is a sweet and funny name choice for your Sphynx.
Scarlet Nohaira—Fictional character name puns can make excellent cat names, like this play on Scarlet O'Hara.
Vin Diesel—If your Sphynx is the handsome, bald man in your life, why not name him after his big screen look alike?
Patrick Stewart—Fans of Patrick Stewart might notice a striking resemblance between the iconic actor and their Sphynx.
Unique hairless cat names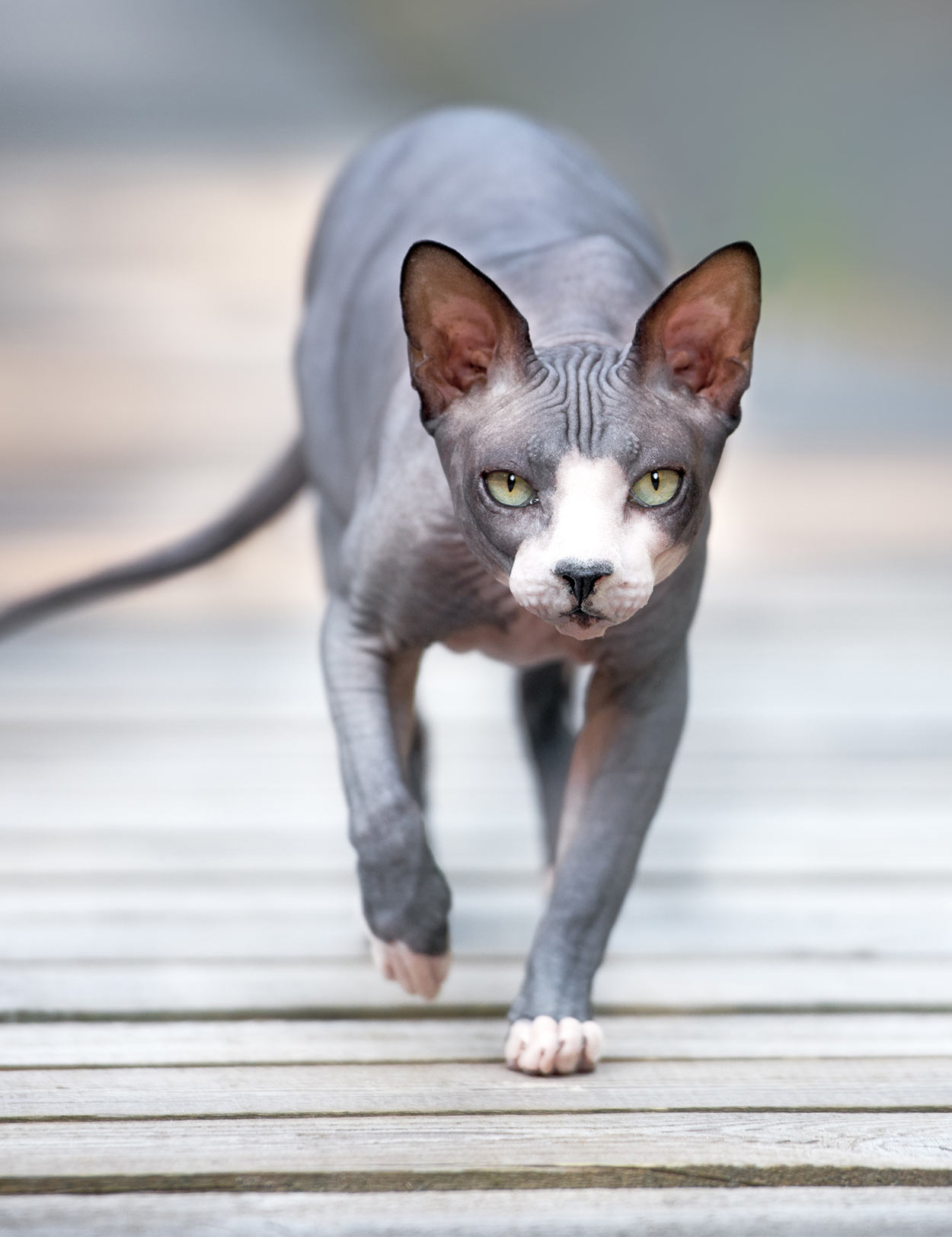 Owning a hairless cat is unique, and so it is understandable to want a name as unique as your cat's breed.
While you won't find a truly unique name in an article about Sphynx names, we can help you brainstorm ideas.
Unique names can come from anywhere.
Think about the things that are important to you. Are there any historical, cultural, or civil rights figures who you might want to name your cat after?
Do you have a favorite character from a movie, book, or TV show with a name that would be perfect for your Sphynx? (Besides Harry Pawter, of course)
What about a favorite flower, food, or beverage? A place that is special to you?
Sphynx cat names – unique male cat names
Here are a few unique male cat names to get you started brainstorming.
Varys—this Game of Thrones character shares the Sphynx's hairless qualities.
Gollum—sure, your Sphynx is precious to you, but how far would you go to keep him to yourself?
Dr. Evil—bald and ambitious, Dr. Evil from Austin Powers has a love of cats that also brought us the diabolical cat name, Mr. Bigglesworth.
Hennessy—Liquors have been inspiring pet names and fine art for thousands of years.
Jager—You could even take the name Jager one step further, to Jagermeowster.
Meow Tai—who needs a Mai Tai when you could have a Meow Tai?
Hemingway—Hemingway loved cats, and Sphynx cats certainly know how to look pensive.
Unique female Sphynx cat names
For your lady Sphynx, what about one of these lesser heard cat names?
Lagertha—Is your Sphynx a Viking shield-maiden at heart?
Maya Angelou—Your literary cat also knows why the caged bird sings.
Ching Shih—Ching Shih was possibly the most infamous pirate to ever sail the high seas, and she was also one of the few pirates to retire peacefully.
Paris—Paris (the city) has a reputation for sophistication, just like your cat.
Katniss—Or Catniss, if you will, from The Hunger Games.
Cersei—This Game of Thrones character gets her head shaven during the series, giving her temporary Sphynx status.
Chai—Sweet and spicy, just like a Sphynx.
Sangria—This wine mixed drink rolls off the tongue.
Primrose—Flower names are perfect for cats, and there are so many to choose from, like Orchid, Rose, Dandelion, Violet, Dahlia, and more.

Best Sphinx cat names
The best Sphynx cat names will depend on both you and your cat.
Funny sphynx cat names are not for everyone.
Sphynx cats are beautiful animals, so if you want your cat's name to reflect your Sphynx's regal nature, a funny name might not be for you.
Sphynx cats are also unique.
You may not want to go for the easier, Egyptian naming option, which means you will have to come up with a truly unique name that reflects your cat's personality.
Then again, if you adopt an older Sphynx your cat might help you choose the name that best fits him based on his personality and physical appearance.
The choice is up to you—with the help of your Sphynx, of course.
What is your Sphynx cat called?
Did you have trouble naming them?
Where did you get your inspiration from?
Tell us their name and the reason why in the comments section below!